Southern wfpb vegan buttermilk biscuits without oil or butter are soft, flaky and taste as good as the original version. Thanks to two ingredients that we use instead of highly-processed margarine or oils, these wfpb biscuits are perfect. We fold the dough to create these airy, flaky layers.
vegan | vegetarian | egg-free | lactose-free | dairy-free | sugar-free | wfpb | healthy | wholesome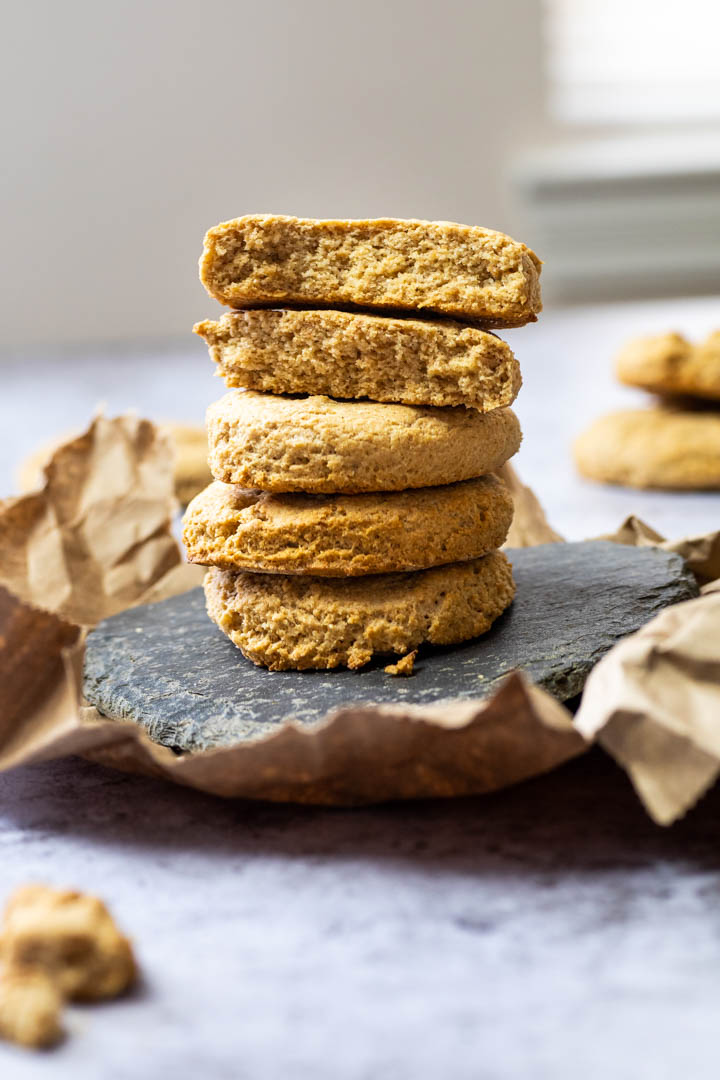 You can roll out the vegan biscuits thinner as in the photos and get about 8 biscuits. Or you can leave the dough thicker and you get 4 thick biscuits. It's up to you.
And let's face it, is there anything better than freshly baked foods like these biscuits? I don't think so. And you know exactly what you put in the dough.
You can make vegan buttermilk super fast with vegan milk and lemon juice.
Do you like flaky pastries like puff pastry? Then you should definitely try these biscuits.
These biscuits are traditionally served with savory dishes like biscuits and gravy are a classic dish. Or you can cut them open and serve them like rolls.
I have to say I've never tried a non-vegan version of American biscuits. But these biscuits were perfect. Even my son wanted to eat these biscuits plain, just the way they are.
Since we started eating 80% whole food plant-based at home, I have always tried to create traditional dishes in a healthier version.
Non-Americans think of a biscuit like a firm biscuit, cookie that you eat with afternoon coffee or tea. Or just in between. These biscuits are more like flaky pastries, which are almost reminiscent of puff pastry, but not as fluffy and flaky.
What are biscuits?
The term "biscuit" has different meanings around the world. American biscuits are similar to British scones. The pastries are rather flaky, crumbly bread / rolls without yeast. You eat these biscuits hearty or sweet. Biscuits in Britain are firm cookies.
What ingredients do I need to make vegan buttermilk biscuits?
Basically, you don't need many ingredients for delicious buttermilk biscuits:
Cashew butter or almond butter
Almond milk
Lemon juice or apple cider vinegar
Whole wheat flour (or spelt)
Almond flour (blanched almonds)
Baking powder
Maple syrup
Sea salt or Himalayan salt
Baking soda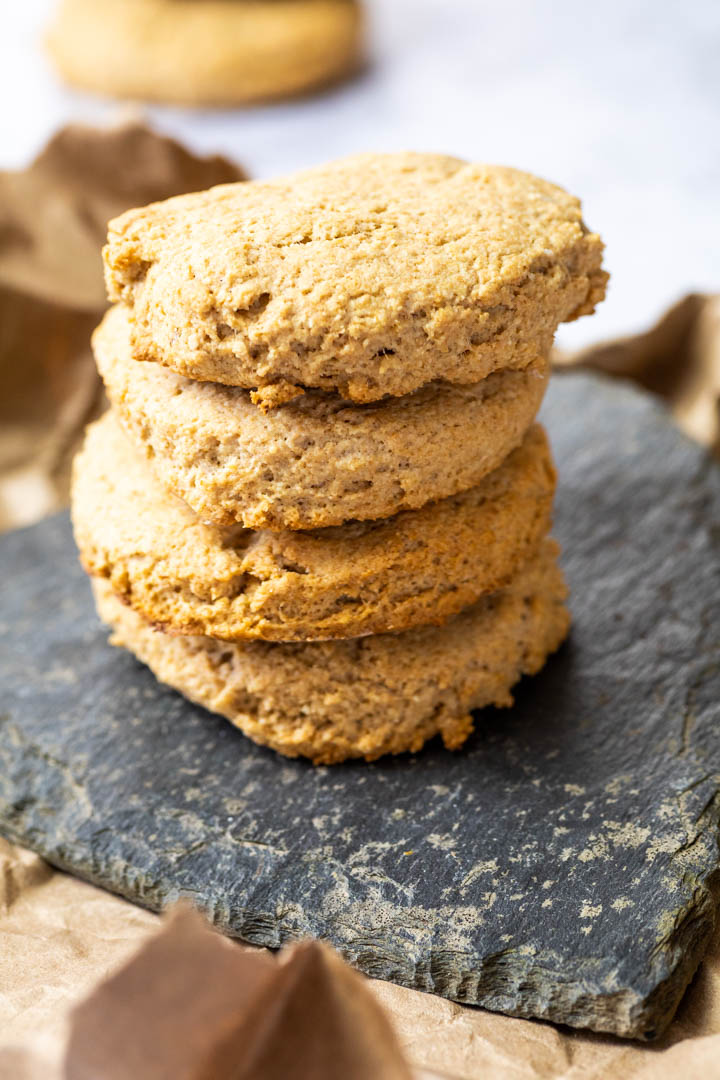 How are perfect flaky biscuits made:
Preheat the oven to 430°F (220°C). Measure the cashew butter or almond butter and put it in the freezer.
Now add the correct amount of lemon juice or apple cider vinegar to a measuring cup. And now add the almond milk until full or reaches 240 ml. Now mix it and let it rest briefly, you will now have vegan buttermilk. Place the buttermilk in the fridge.
Take a mixing bowl and add the flour, almond flour, baking powder, baking soda, salt and mix it well.
Now take a food processor and add the mixture. Take the cashew butter and make it into pieces in the food processor. Now let the food processor run for about 30 seconds. Add the remaining flour. The dough should be crumbly and do not process it too much. The dough should not be like bread dough, but rather like a crumble dough.
Put the dough back in the mixing bowl. Remove the buttermilk from the fridge and keep 2 tablespoons of the buttermilk separate. Now press a hole in the middle of the dough and pour in the buttermilk and maple syrup. Now mix quickly and gently until the buttermilk is incorporated, but do not process it too much. Remember it shouldn't be bread dough. It has to be crumbly.
Now dust a clean work surface with some flour and put the dough on it. Now use your hands to carefully press the dough into a rough rectangle approx. 1.5" (4 cm) thick. Fold the dough into thirds like a puff pastry. Now roll out the dough in about ¾" (2 cm) thick. And fold the dough back in thirds. Now roll out the dough 1" (2.5 cm) thick. For thin biscuits ½" (1 cm).
Cut the biscuits with a round cookie cutter with a diameter of 5 ⅜ " (6 cm). Push out the biscuits and do not spin them.
Place the biscuits on a baking sheet lined with baking paper and place them in the freezer for another 10 minutes. You can carefully roll out the remaining dough again. Or bake the leftovers as they are. So you have something to snack on.
Now take the biscuits out of the freezer and coat them with the remaining buttermilk. Bake the biscuits for about 16-20 minutes. It will depend on how thick you rolled it out.
How do you make biscuits gluten free?
You can use a ready-made gluten-free flour mixture for baking.

Add 1 tablespoon of potato starch to keep the biscuits together

You may need a little more milk than the recipe.

Do not roll out the dough, but carefully press out the dough with your hands.

The biscuits may not be as golden as this version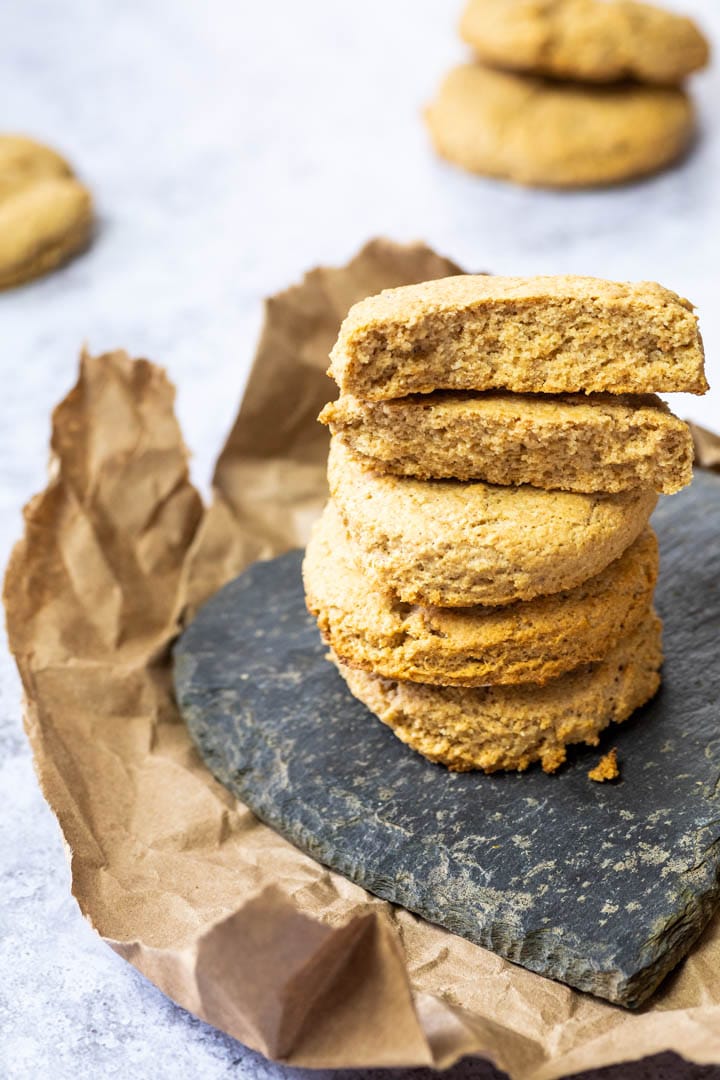 Tips and tricks for making wfpb biscuits:
The dough must not be overworked. We want a crumbly dough, no bread dough.

Use your hands to roll out instead of a rolling pin

The nut butter must be cold or even frozen, otherwise it will be processed into the dough too quickly

Make sure that all ingredients are cold

Baking soda and baking powder are a must, to make them airy

The oven must be hot, 430°F (220°C).

The biscuits rise even better when they touch.

Do not turn when cutting out, just push it down and pull it up again.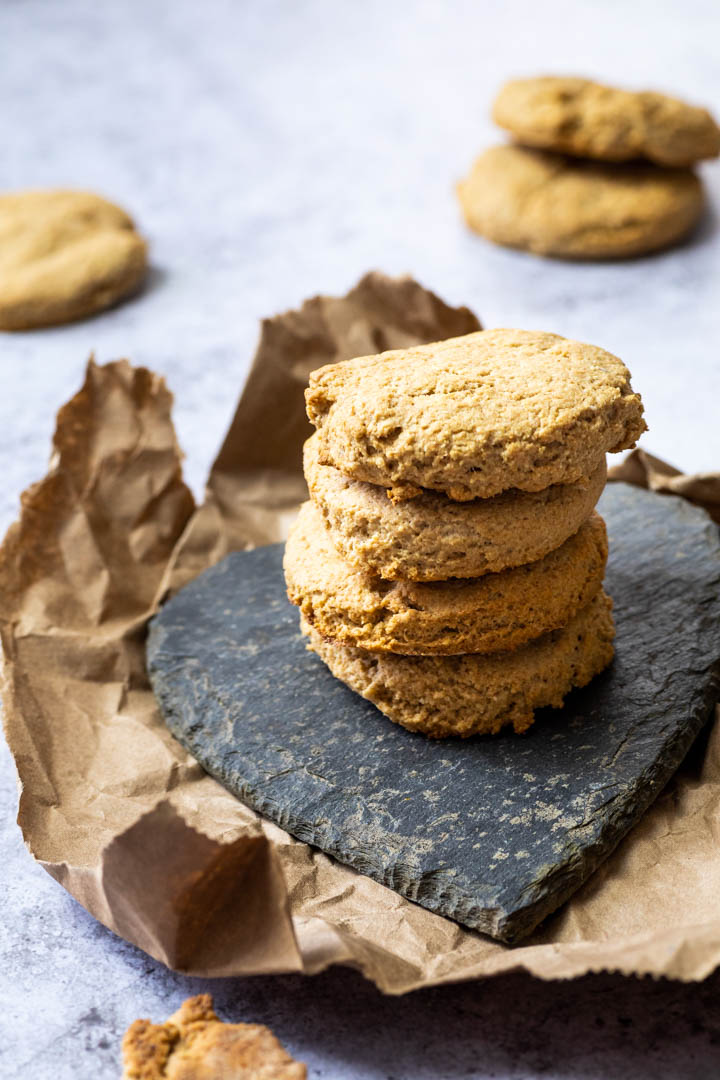 How to serve these vegan buttermilk biscuits?
As a sandwich

With jam

Sugar beet syrup

With a creamy gravy

In strawberry cake

Prepare this as a topping for the vegan chicken pot pie

To soups for dipping
How do you keep vegan buttermilk biscuits?
Biscuits taste the best fresh. However, you can keep them in an airtight container for a few days. Or freeze and then briefly bake in the oven again.
Do not forget to Pin on Pinterest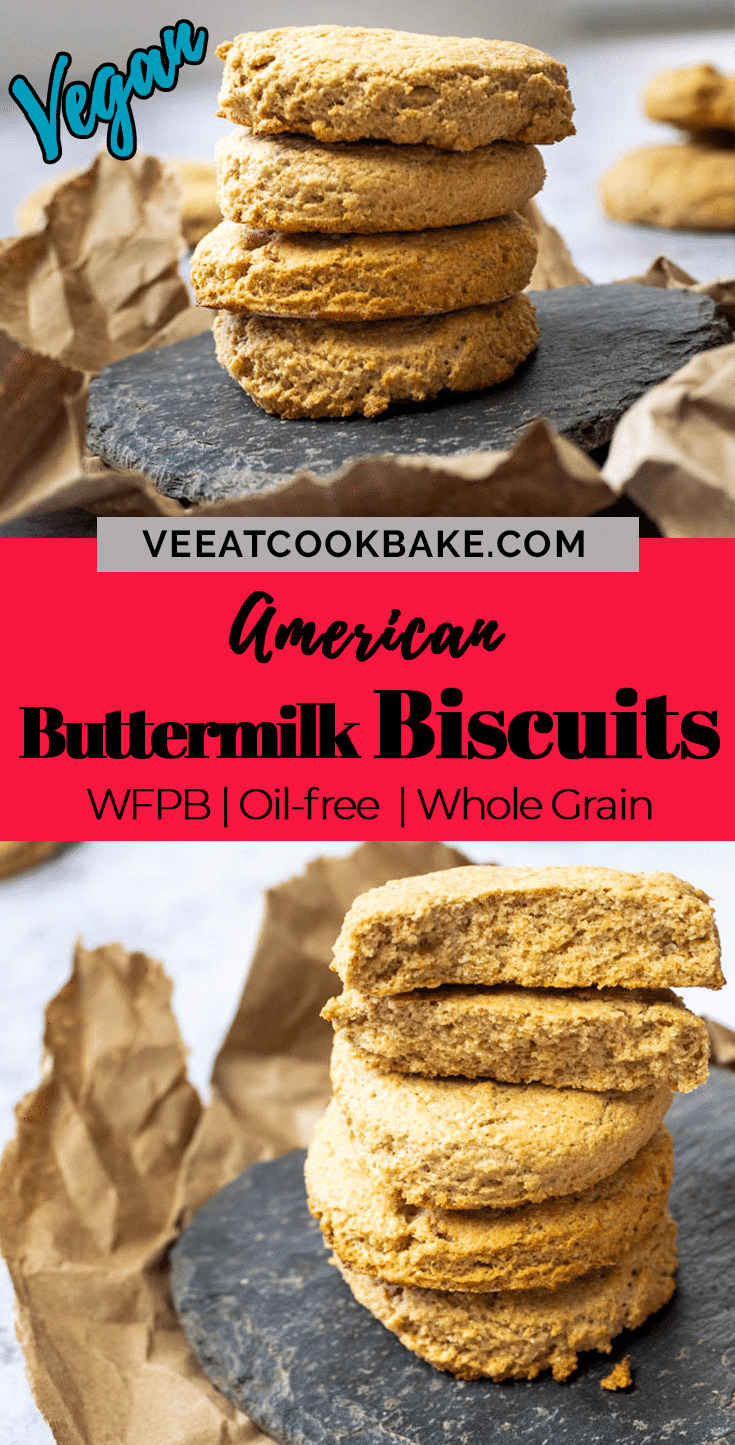 Have you tried the recipe?
If you tried the vegan Buttermilk Biscuits, be so nice ♥ and let me know by rating the recipe and writing what you think about it in the comments. Tag me on Instagram too. I am @veeatcookbake and my hashtag is #veeatcookbake. So that I can see your creation. Did you know you can add photos on Pinterest under the recipe Pin? I can't wait to see a photo of your creation there. You find me with @veeatcookbake. I also would love to hear your feedback so I can share it on my social media channels.

This post may contains affiliate links and I may receive a very small commission if you buy through these links at no extra cost. Thank you very much for supporting Ve Eat Cook Bake! More information can be found here.
---