A recipe for a satisfying vegan gourmet Toast made with salad, asparagus, beetroot and topped with creamed mushrooms. Prepare this asparagus toast as the main course for your next lunch or dinner or as a starter / appetizer for your guests.
Vegan | vegetarian | oil-free | dairy-free | gluten-free opt. | whole foods | soyfree


How to prepare the asparagus for the vegan gourmet toast?
I love making the asparagus in the oven. It goes fast and you can prepare other things while the asparagus bakes. For example, the creamed mushrooms. So that your asparagus does not get bitter and tastes delicious on your Vegan gourmet Toast, pour some fresh lemon juice over the asparagus. A lot of people put sugar in the cooking water so the asparagus does not get bitter. But since I try as much as possible to not consume sugar (also sugar substitutes) I like to add lemon juice into the cooking water or, as here, directly over the asparagus. How do you mostly prepare the asparagus?
When can I eat this vegan gourmet toast?
My mom and I had this vegan gourmet toast for lunch and it was so filling that we could not eat more than one slice. It was so delicious that I would have eaten two of them. And the best part of the vegan gourmet toast, it was super fast and full of flavor. If you want to make this vegan gourmet toast as an appetizer, just take a smaller slice of bread or cut it in half and cut the asparagus into small pieces and put it on the bread.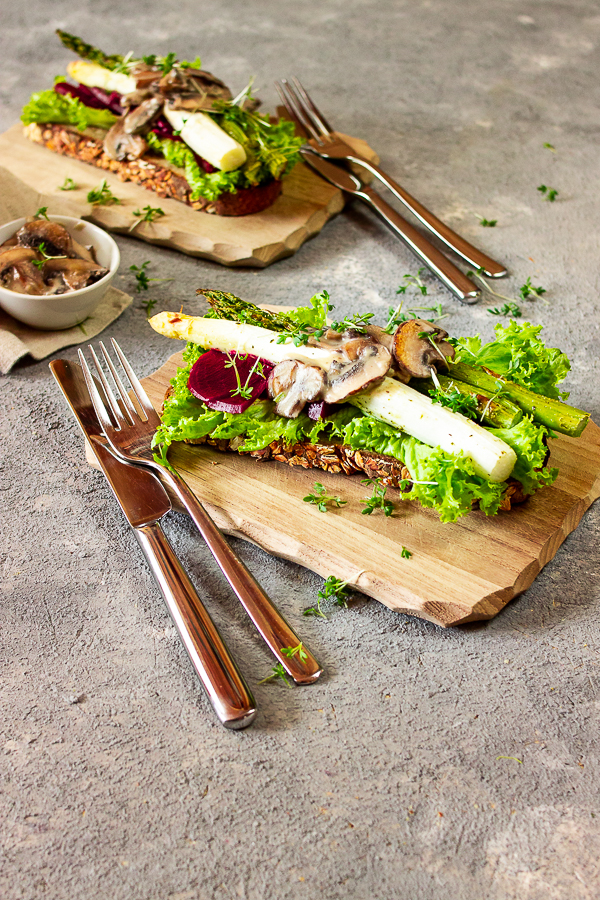 Vegan Asparagus Gourmet Toast is
a quick lunch
very filling
comforting
a great starter for your next party
You like this Asparagus Gourmet Toast with Creamed Mushrooms. Than take a look here:
What about my super comforting Majoram Dumplings with Creamy Mushroom Sauce. Or try this Creamed Spinach as your next side.
You like the recipe? Do not forget to Pin on Pinterest!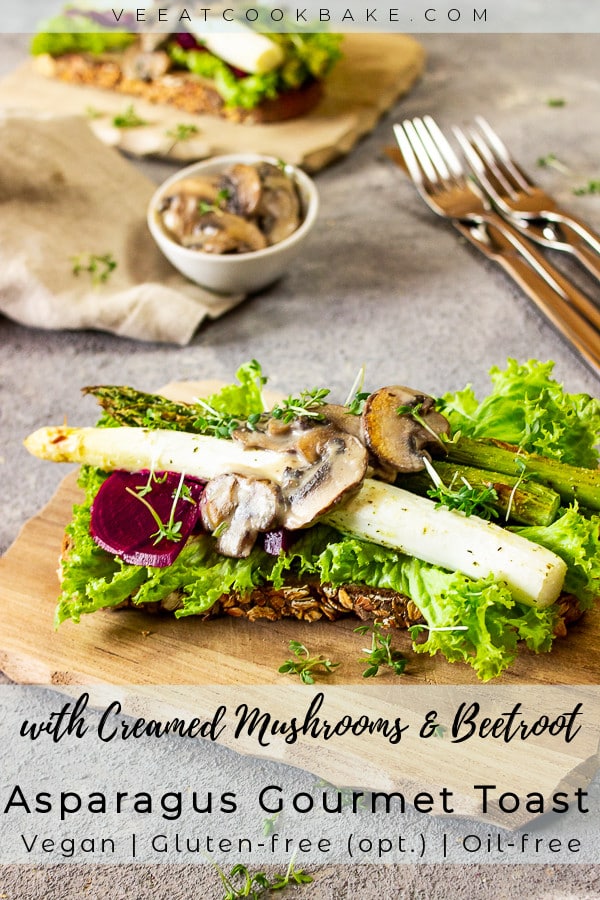 ---
Did you try the recipe?
If you did it, be so nice ♥ and let me know by rating the recipe and writing what you think about it. Tag me on Instagram or Facebook too. I am @veeatcookbake and my hashtag is #veeatcookbake. So that I can see your creation. Did you know you can add photos on Pinterest under the recipe Pin? I can't wait to see a photo of your creation there. You find me with VeeatCookBake.
---

This post may contains affiliate links and I may receive a very small commission if you buy through these links at no extra cost. Thank you very much for supporting Ve Eat Cook Bake! More information can be found here.
---
---
---