Are you looking for an impressive vegan toast to try out for breakfast or lunch? If yes, then you are in luck! Look no further because this delicious and nutritious gluten-free recipe has all the flavors that will tantalize your taste buds.
Not only is the Vegan Toast with Creamed Mushrooms, Beets and Asparagus on a bed of lettuce and topped with Sprouts incredibly easy to prepare, but it's actually a lot of fun too!

It's like taking a trip around the world – savoring exotic, earthy flavors packed with plenty of nutrients – all on top of crunchy sourdough bread. So get ready to satisfy those cravings as this unique vegan dish comes together right before your eyes…it won't disappoint!
After I have made a toast with my homemade vegan fried eggs style, I got inspired to try something new. This toast will work for Brunch, Lunch or even for an Afternoon Snack. Pairs well with a bowl of vegan cauliflower soup or potato salad.
As an Amazon Associate, I earn from qualifying purchases. This post may contain affiliate links. Read More
Jump to:
Ingredients
A quick and short list of what we will need to make these toasts with mushroom gravy or, better, creamed mushrooms and roasted white or green asparagus.
You can find the ingredients with quantities and the recipe to print out on the recipe card below.
Bread of your choice
Asparagus
Beetroot, pickled
Salad
Mushrooms
Raw Cashews
Onion
Herbs de Provence
Lemon Juice
Vegetable Broth
Caraway Seed
Garlic Clove
Sprouts
Salt and Pepper
Instructions
First you have to preheat the oven to 400°F (200°C).
Peel the white asparagus if you use white and cut off the woody ends. If you are using green asparagus, all you need to do is cut off the woody ends. Place the asparagus spears in a baking sheet and season with lemon juice, herbs, vegetable stock, salt and black pepper. Now bake the asparagus for about 10-15 minutes.
Pierce with a knife and see whether the asparagus is soft.
For the mushrooms, cut the mushrooms into slices and dice the onion, chop the garlic. Now put all three in a pan with a dash of water and fry them vigorously on medium-high heat.
Add a sip of water now and then. Season the mushrooms with caraway, salt and pepper. Refine the mushrooms with the cashew cream.
Now toast your bread and top it with lettuce, beetroot slices, asparagus and sautéed mushrooms. Now sprinkle it with sprouts. Enjoy it as a simple side dish or as a main dish. Bon Appetit!
Hint: To get all the flavor from the mushrooms, start adding water once the mushrooms starts to brown or even start to stick to the pan. It will turn out awesome.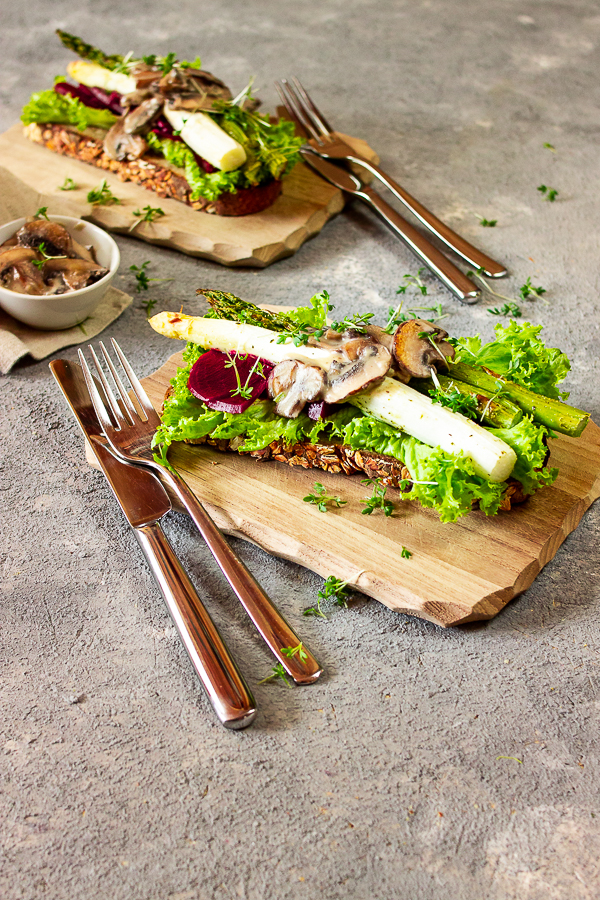 Substitutions
Bread - Here you can really toast your favorite bread. I like to have homemade whole grain bread or sourdough bread. You can also grab a delicious gluten-free bread and use that. Instead of bread you can easily toast a slice of sweet potatoes.
Asparagus - Use white or green asparagus here. Unfortunately, here in the US there is only green asparagus. I like a combination of the two, when I am in Germany. So delicious. Use whatever asparagus you can get. Purple is amazing too.
Beetroot - I love to use pickled beets, usually we make my own. You can also roast the beets in the oven along the asparagus. Beets will just take a little longer. Golden beet are amazing too.
Mushrooms - Depends on on what I get my hand on. I love to use different kinds of mushrooms like baby bella mushrooms, cremini mushrooms, shiitake mushrooms, or wild mushroom like chanterelles, king oyster mushrooms to use to make this quick recipe.
Cashews - If you don't want to use cashews to make it nut-free, just use sunflower seeds. To do this, simply take 20 g to 180 ml of vegetable stock.
Variations
I always love to make my recipes in different ways. This way it will never get boring and you always got delicious vegan recipes.
Italian Twist: Instead of the herb de provence use Italian Seasoning.
Crunch: Top the toast with pumpkin seeds, or toasted almonds for an extra crunch.
Topping: Instead of sprouts, you can also use chopped spring onions, red onion.
White Wine: Deglaze the mushrooms with a shot of white wine before you add the cashew cream.
Equipment
To make this recipe you will need a toaster, a frying pan (the brand I use), a sheet pan.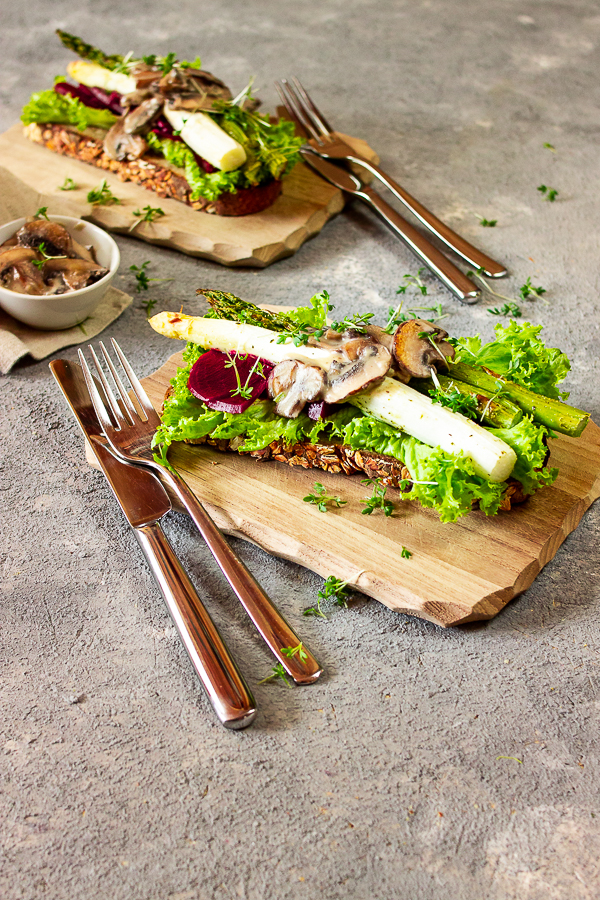 Storage
I recommend that you only top as many breads that are actually eaten. You can store all the toppings separately to make later this mushroom recipe.
How to refrigerate it?
The vegetables can be kept in the refrigerator for approx. 4 days in airtight containers. Simply heat up again briefly and then add to your toast.
How to freeze it?
You can also freeze the vegetables separately. Simply take it out the evening before and let it thaw in the refrigerator. Then you can briefly heat the vegetables in the oven or microwave.
Top Tip
Most important thing, let the cashew cream simmer, it thickens, and it becomes really creamy, when heated up.
I love it when the bread is toasted crispy, it gives the whole gourmet bread a special touch.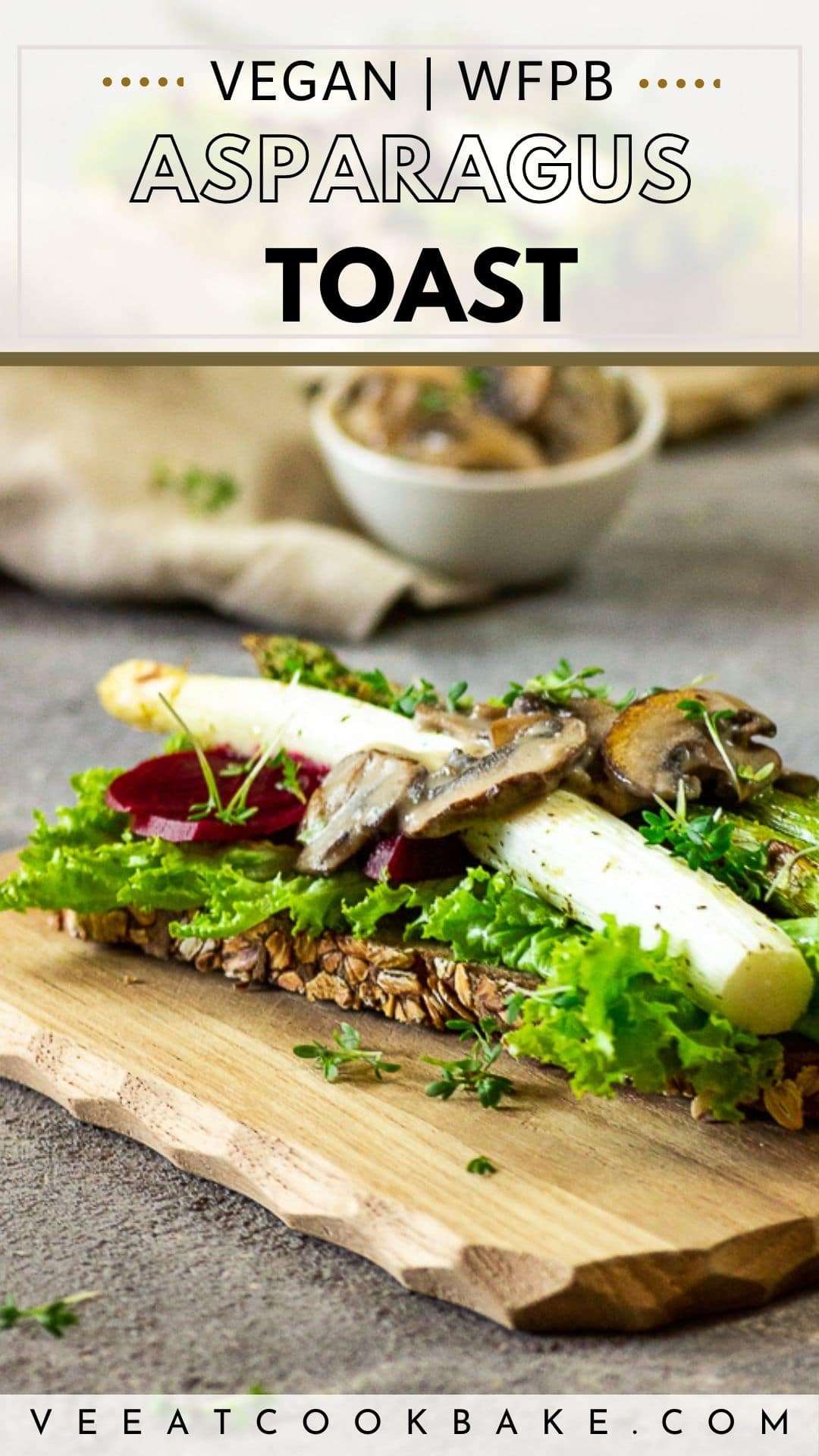 FAQ
Can I make my own herb seasoning?
Use your favorite herb mixture for the asparagus. I love the herbs de Provence. You can also make the herbal mixture yourself. For example, here is a recipe for Herbs de Provence, and maybe you already have all the ingredients at home. Simply grind all the herbs in a coffee or spice grinder.
4 teaspoons basil, dried
4 teaspoons savory, dried
4 teaspoons lavender flowers, dried (optional)
4 teaspoons oregano, dried
4 teaspoons rosemary, dried
4 teaspoons thyme, dried
Is mushroom good for breakfast?
Mushrooms may result in less hunger and greater feeling full, so it can help to consume fewer calories later when eating a mushroom rich breakfast.
How do I make my portobello not soggy?
When cooking mushrooms, the key is to use as little water as possible; they naturally release moisture when heated. For maximum flavor and texture, don't forget, you can also keep (or remove!) the gills from underneath their caps - even this part of them adds something delicious!