You can have this vegan toast with roasted asparagus, creamy mushrooms and pickled beetroot on your table as a hearty breakfast, brunch, light lunch or dinner.
Creamy mushrooms on toasted bread, whether a good sourdough bread or rye bread, this toast recipe is also suitable as a starter or as a side to a delicious salad plate.

As an Amazon Associate, I earn from qualifying purchases. This post may contain affiliate links. Read More
Jump to:
This is my take on the popular British breakfast that we take to the next level with asparagus and beetroot. What we tend to eat as dinner or brunch.
These cream mushrooms on sourdough bread are super easy to prepare. And I always look for ways to make dinner not boring.
Ingredients
Let's take a look at the list of ingredients together to give you a rough overview. You can find the exact information below in the recipe card.
Bread Slices
Asparagus
Beetroot, pickled
Salad
Mushrooms
Cashews
Onion
Herbs de Provence
Lemon Juice
Vegetable Broth
Caraway Seed
Garlic Clove
Cress or other sprouts
Salt and Pepper
Substitutions
Now let's take a look at what adjustments you can make.
Bread
Here you can really toast your favorite bread. I like to have homemade whole grain bread or sourdough bread.
You can also grab a delicious gluten-free bread and use that.
Asparagus
Use white or green asparagus here. Unfortunately, here in the US there is only green asparagus.
I like a combination of the two, when I am in Germany. So delicious. Use whatever asparagus you can get. Purple is amazing too.
Beetroot
You can either use cooked beetroot here or to add a little more flavor and zing to your mushroom toast, use pickled beetroot. So delicious!
Mushrooms
When it's mushroom season, just use chanterelles, porcini mushrooms, or a mixture of different mushrooms. Super tasty and it brings variety.
Cashews
If you don't want to use cashews, just use sunflower seeds. To do this, simply take 20 g to 180 ml of vegetable stock.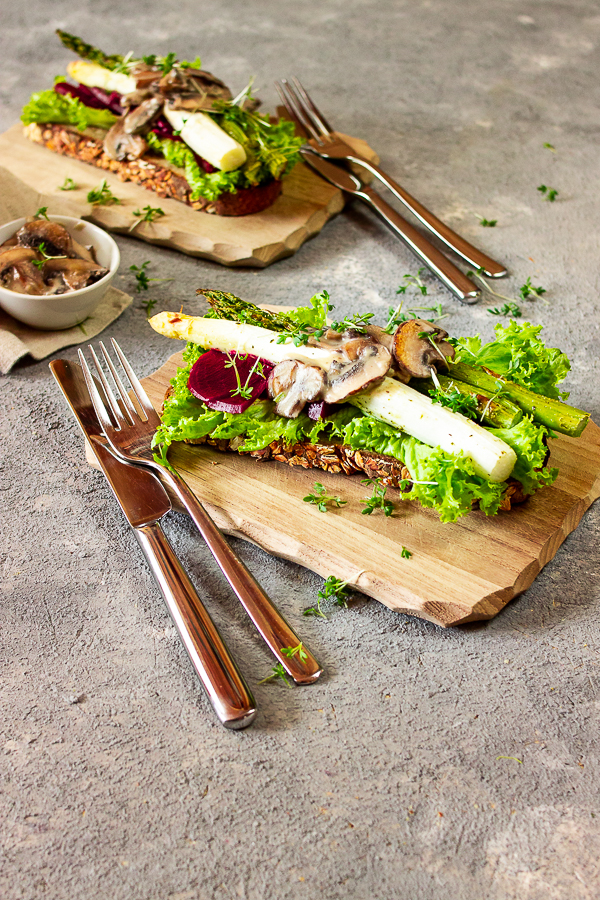 Variations
Would you like to adapt the vegan mushroom toast to other diets? Then let's just see what we can adapt and how.
The recipe is already oil-free, soy-free and made from whole food plant based ingredients.
Gluten-free
If you need to make the mushroom toast gluten-free, all you have to do is use an appropriate bread.
I already have a great gluten-free bread recipe made from buckwheat. The topping of the gourmet bread is already gluten-free and does not require any further adjustments.
Nut free
Except for the cashews, it is a nut-free recipe. Instead of the cashews, just use sunflower seeds and you will get a great vegan cream without nuts.
Low-carb
For a low-carb diet, the toppings are already all low in carbohydrates. What you would have to do here is exchange the bread.
There are corresponding seed breads that are low-carb. You could slice sweet potatoes and toast them. 
So you have a great alternative to bread
Keto
Beetroot doesn't count as keto friendly. And so you'd have to leave them out. Or replace it with another vegetable. Eggplant and zucchini are keto friendly.
Instead of the bread, just use eggplant slices, which you can also toast in the oven.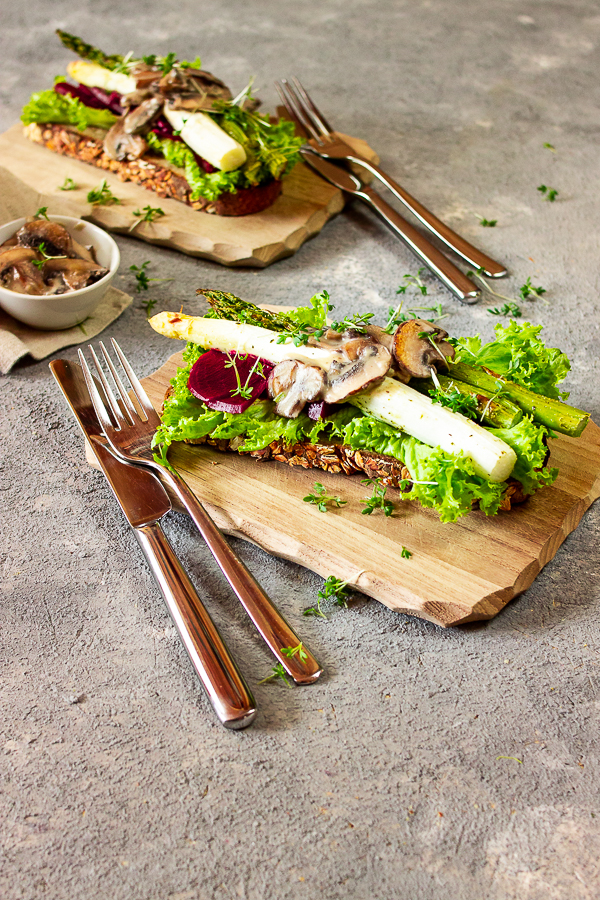 Instructions
First you have to preheat the oven to 400°F (200°C).
Peel the white asparagus and cut off the woody ends. If you are using green asparagus, all you need to do is cut off the woody ends. Place the asparagus in a baking dish and season with lemon juice, herbs, vegetable stock, salt and pepper. Now bake the asparagus for about 15 minutes.
Pierce with a knife and see whether the asparagus is soft.
For the mushrooms, cut the mushrooms into slices and dice the onion, chop the garlic. Now put all three in a pan with a dash of water and fry them vigorously. Add a sip of water every now and then. Season the mushrooms with cumin, salt and pepper. Refine the mushrooms with the cashew cream.
Now toast your bread and top it with lettuce, beetroot slices, asparagus and cream mushrooms. Now sprinkle it with sprouts or cress.
Prepare in advance
You can also prepare the asparagus and mushrooms a day in advance. All you have to do is toast the bread fresh.
Storage
I recommend that you only top as many breads that are actually eaten. You can store all the toppings separately.
How to refrigerate it?
The vegetables can be kept in the refrigerator for approx. 4 days in airtight containers. Simply heat up again briefly and then add to your toast.
How to freeze it?
You can also freeze the vegetables separately. Simply take it out the evening before and let it thaw in the refrigerator. Then you can briefly heat the vegetables in the oven or microwave.
Tips
I love it when the bread is toasted crispy, it gives the whole gourmet bread a special touch. You can also leave the bread untoasted.
Let the cashew cream simmer, it thickens, and it becomes really creamy, when heated up.
Use your favorite herb mixture for the asparagus. I love the herbs de Provence. You can also make the herbal mixture yourself. For example, here is a recipe for Herbs de Provence, and maybe you already have all the ingredients at home. Simply grind all the herbs in a coffee or spice grinder.
4 teaspoons basil, dried
4 teaspoons savory, dried
4 teaspoons lavender flowers, dried (optional)
4 teaspoons oregano, dried
4 teaspoons rosemary, dried
4 teaspoons thyme, dried
More vegan recipes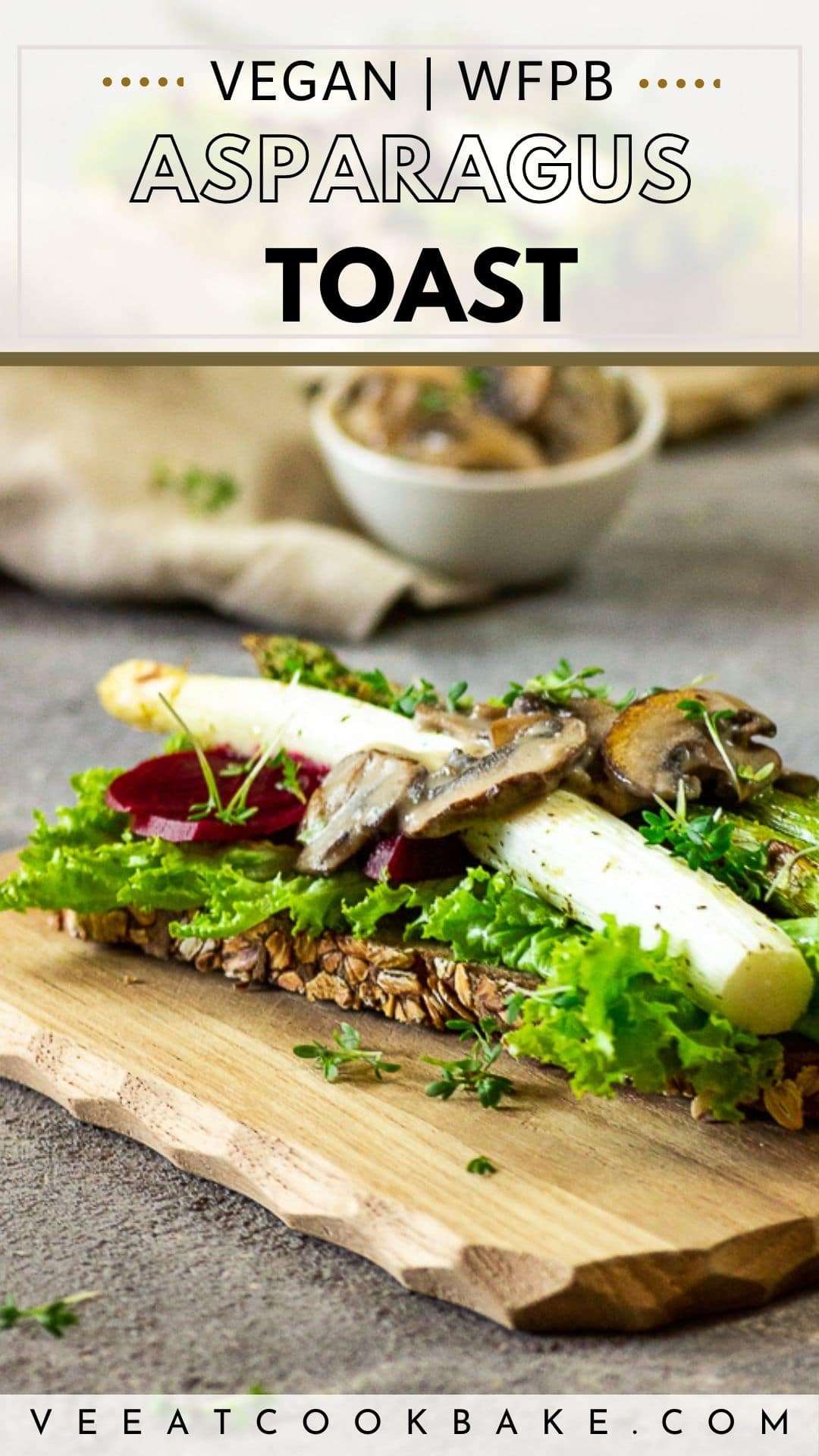 Have you tried the recipe?
If you tried the vegan Recipe, be so nice ♥ and let me know by rating the recipe and writing what you think about it in the comments. I would love to see your photo on Instagram or Facebook. To do this tag me with @veeatcookbake and my hashtag is #veeatcookbake. So that I can see your creation. Did you know you can add photos on Pinterest under the recipe Pin? I can't wait to see a photo of your creation there. You find me with @veeatcookbake.