This post is also available in: Deutsch
*As an Amazon Associate, I earn from qualifying purchases. This post may contain affiliate links. That means if you click and buy, I may receive a small commission. Please see my full policy.*
Vegan Whole Grain Waffles – With this fluffy waffle recipe, no one will realize that you made the waffles entirely without eggs or dairy products. These vegan waffles are fluffy and anything but dry. Thanks to finely ground spelt flour or even wheat flour, these waffles become a healthy alternative to traditional waffles. These delicious whole wheat waffles are not just perfect with hot cherries and whipped cream, serve them to dip with your next soup.
vegan | vegetarian | egg-free | dairy-free | oil-free | refined sugar-free | whole food plant-based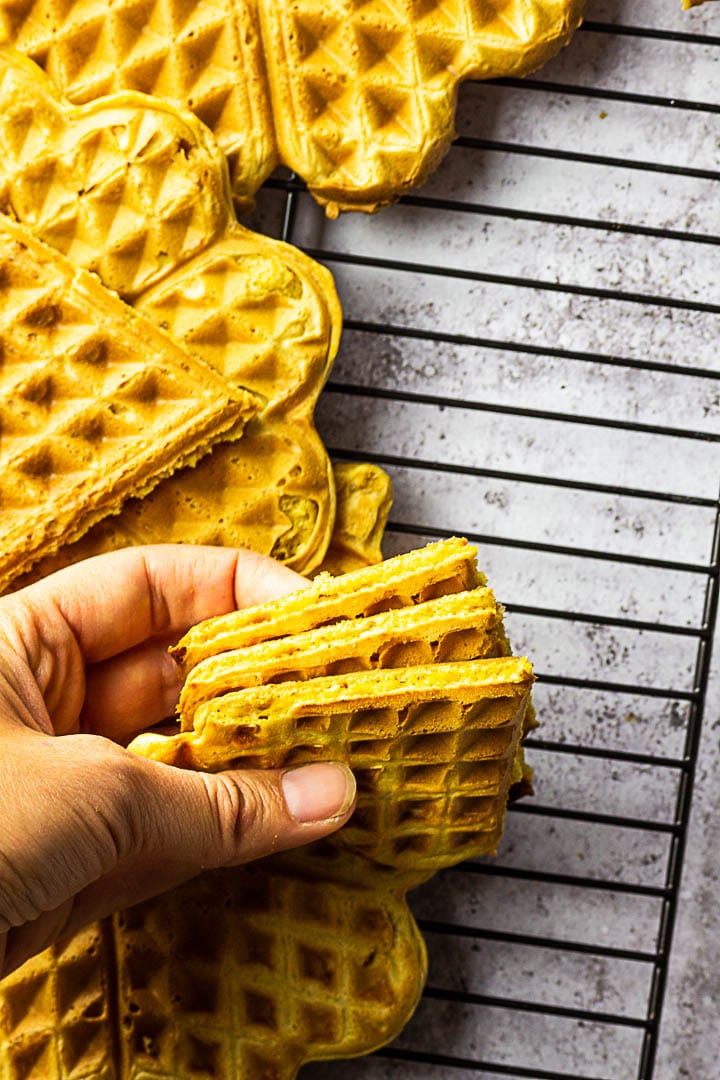 Here in the US, waffles are a typical breakfast. When I grew up we served waffles with afternoon coffee or served with some delicious potato soup (my favorite childhood feast) as dinner or lunch. Enjoy these anytime of the day for breakfast with vegan nuggets (like the Southern US loves it) or as a cake substitute with hot cherries and whipped cream or for lunch / or dinner with a bowl of soup.
With this vegan whole spelt (wheat) waffle recipe, I use my mom's recipe as the basis. This can be quickly veganized and prepared healthier. Instead of the butter you use a portion of nut butter, as a flour you use whole spelt or wheat flour, but you can also use white flour, if you do not like whole grain flour. The eggs are substituted with baking powder and potato starch. As a sweetener, you can use coconut sugar or maple syrup.

What exactly do you need to make the waffles?
I have already mentioned some ingredients above. Here I show you a short listing of the ingredients.
How are these vegan waffles made?
Put the wet ingredients in a bowl and stir until creamy. Now add the flour, as well as the remaining ingredients and stir it into a smooth dough. This should resemble pancakes from the consistency.
Heat up the waffle iron and add the waffle dough as usual. When the waffles have reached the desired browning, you can carefully remove them.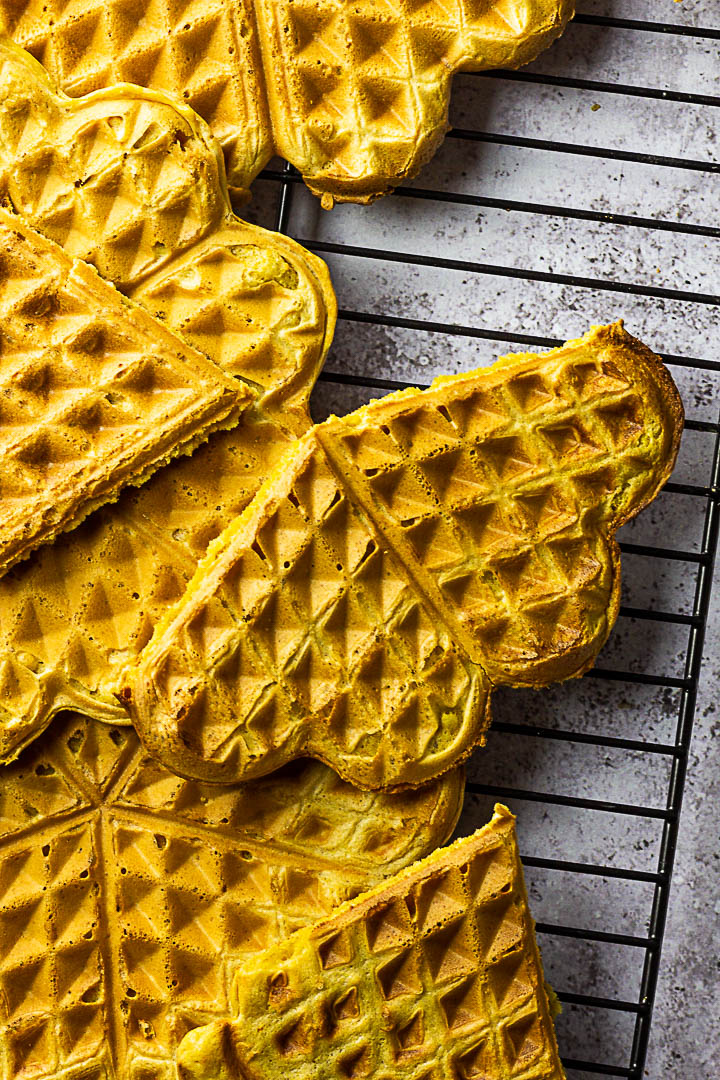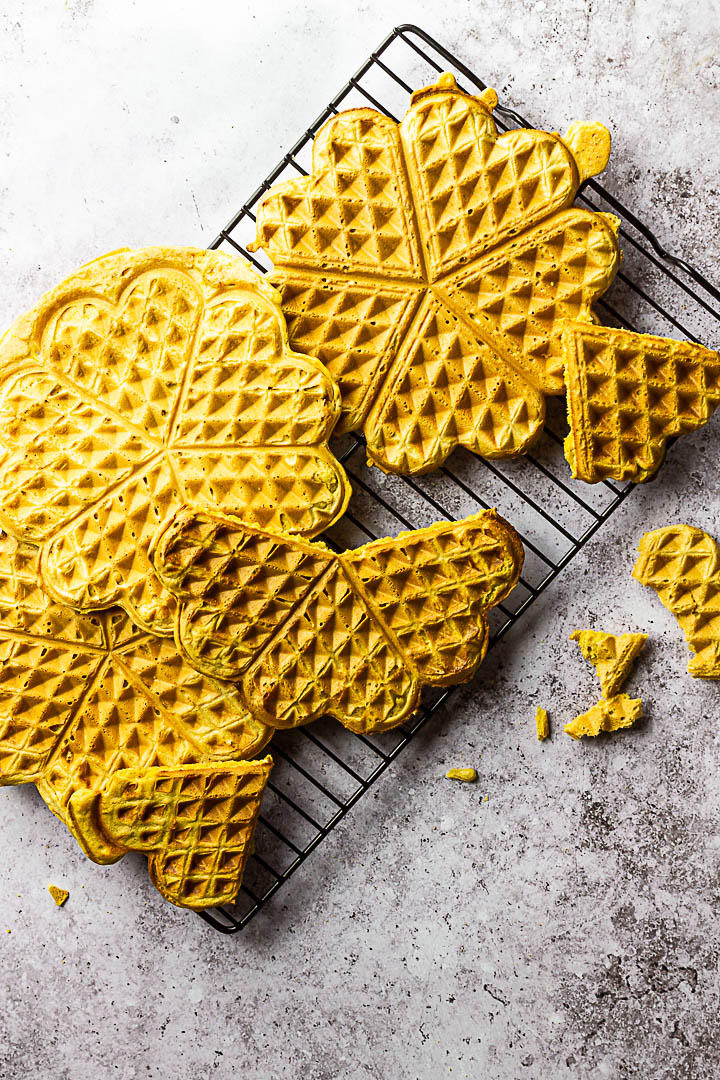 Prepare the waffles in advance – and how do you store them?
You can prepare the waffle dough the day before and store it in the fridge.
You can also freeze leftover waffles or store them in the fridge for a few days. Before you serve the leftover whole grain waffles, toast them briefly in the toaster or bake them briefly in the oven. They will be crispy on the outside again and they will taste like fresh baked.
How do you prepare airy vegan waffles?
Apple cider vinegar or lemon juice, in combination with baking powder, make the waffles rise beautifully.

Since we do not use eggs, baking powder is the key to delicious and fluffy waffles.

To activate the baking soda a bit more, add some acid, like in apple cider vinegar or lemon juice. You will not taste the vinegar later and 1 teaspoon of vinegar or lemon juice is enough.
Tips for perfect baked w hole grain waffles
Your waffle dough should be similar in consistency to a pancake batter. It should not be too thick, but not too thin either.

Pre-heat your waffle iron before adding the first dough.

If you are not sure if you have waffles, then spray the waffle iron with some oil. I once had a waffle iron that started sticking after a while and the oil helped. I have no problems with my new waffle iron, though. A non-stick waffle iron is worth it.

Remove the waffles with a wooden fork so you do not scratch the coating of the waffle iron. Scratching can cause waffles to stick later.

Only open the waffle iron when it has stopped steaming. Or if you have a control lamp when it glows green.

To keep the waffles warm and crisp, heat the oven to about 200 F (80 ° C) and put the waffles in until you are ready to serve the whole grain waffles
What can I serve with the waffles?
The waffle classic is with hot cherries and whipped cream. I like to use homemade coconut cream.

with chocolate sauce and vanilla ice cream

powdered sugar

Waffles with vegan nuggets

Simply dip the waffles in soup or stews.

Which waffle iron is the best?
I have a double waffle iron, which is coated. I am very satisfied with this and recommend it to anyone. You can also use a classic American waffle iron. A waffle iron for Belgian waffles. This dough will work fine in any waffle iron.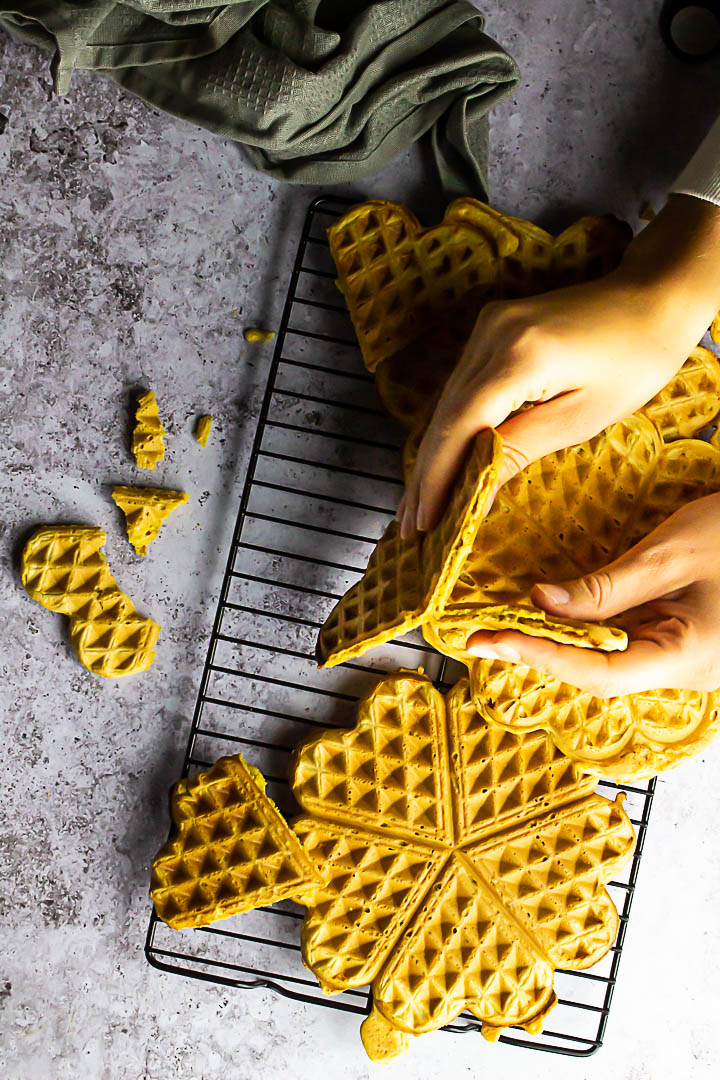 Make quick chocolate waffles
To make chocolate waffles, just add a few tablespoons (1-2) chocolate to your waffle dough. And bake it as usual.
More Breakfast Ideas:
Do not forget to Pin on Pinterest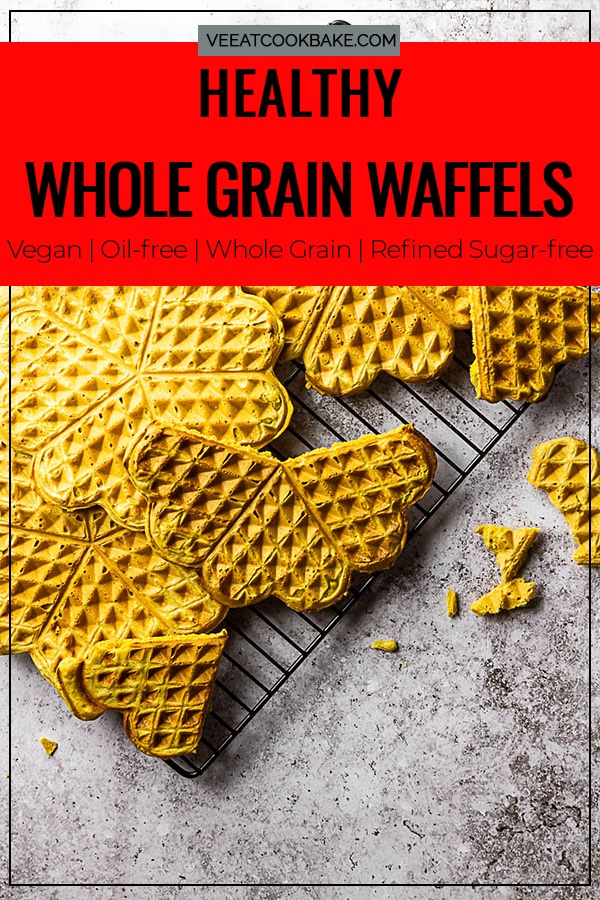 Have you tried the recipe?
If you tried the vegan whole wheat waffles, be so nice ♥ and let me know by rating the recipe and writing what you think about it in the comments. Tag me on Instagram too. I am @veeatcookbake and my hashtag is #veeatcookbake. So that I can see your creation. Did you know you can add photos on Pinterest under the recipe Pin? I can't wait to see a photo of your creation there. You find me with @veeatcookbake. I also would love to hear your feedback so I can share it on my social media channels.

This post may contains affiliate links and I may receive a very small commission if you buy through these links at no extra cost. Thank you very much for supporting Ve Eat Cook Bake! More information can be found here.
---