Homemade vegan Bircher muesli - with this vegan breakfast recipe you have a great, nutrient-rich start to the day. Swiss Bircher Muesli without milk is a great variant of overnight oats and can be prepared in advance as a meal prep.
A simple oatmeal or porridge breakfast that tastes incredibly delicious and is perfect for on the go.
Thanks to the apples, hazelnuts and creamy yoghurt made from almond milk, this muesli recipe is not only something for breakfast, it is also a snack and dessert.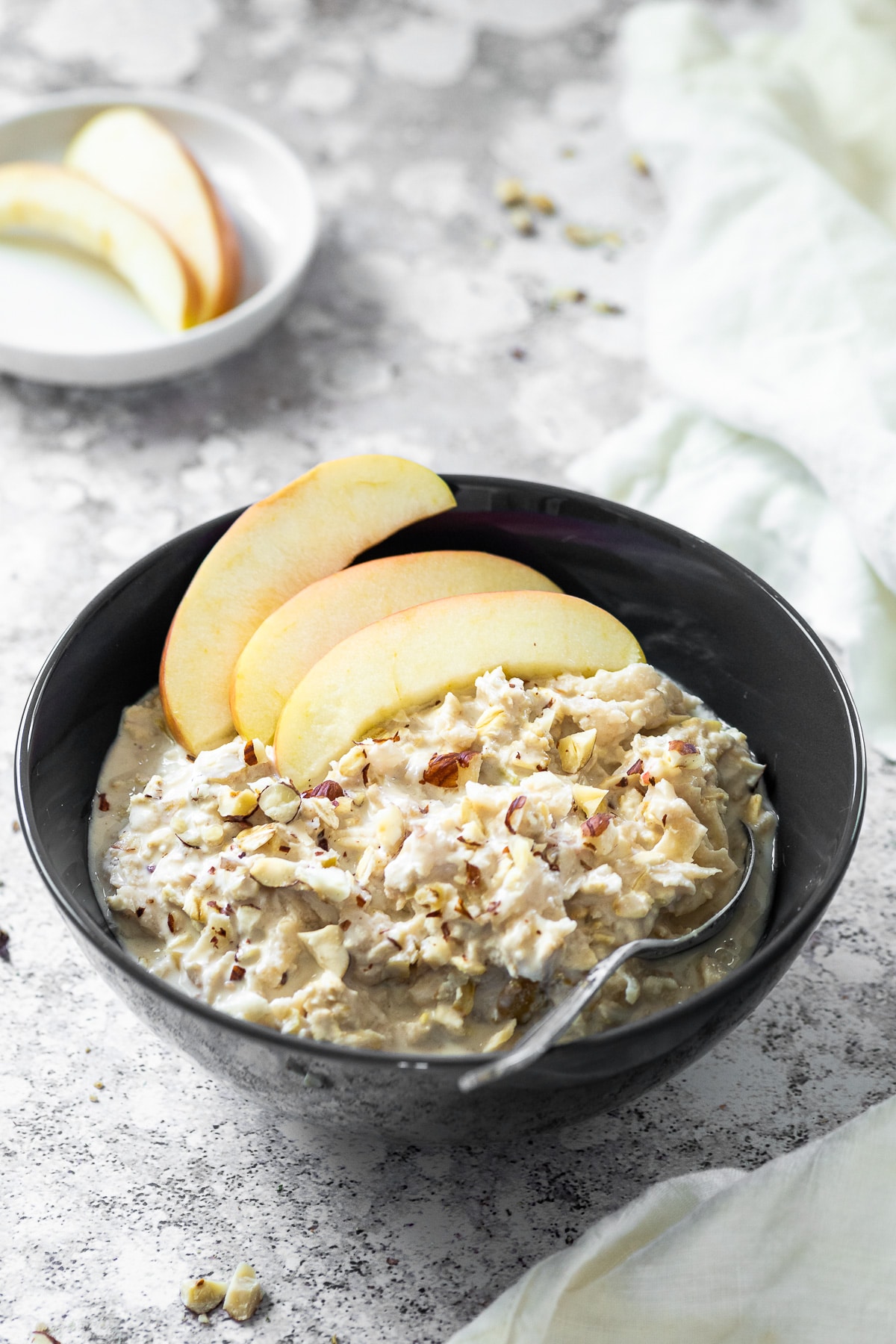 As an Amazon Associate, I earn from qualifying purchases. This post may contain affiliate links. Read More
This breakfast recipe is a quick and easy recipe. If you love oatmeal, then you definitely shouldn't miss this variant of the traditional Bircher muesli from Switzerland.
This muesli is one of our favorite types of overnight oats and my daughter asks so often when we're going to make it again. Thanks to the vegan yoghurt, we use an almond-based one, this muesli is incredibly creamy.
Of course, soy yoghurt, for example that from Silk, or oat milk yoghurt can be used.
Now let's see how to make the Bircher Muesli in vegan and find out alternative options that you can use, as well as tips and tricks.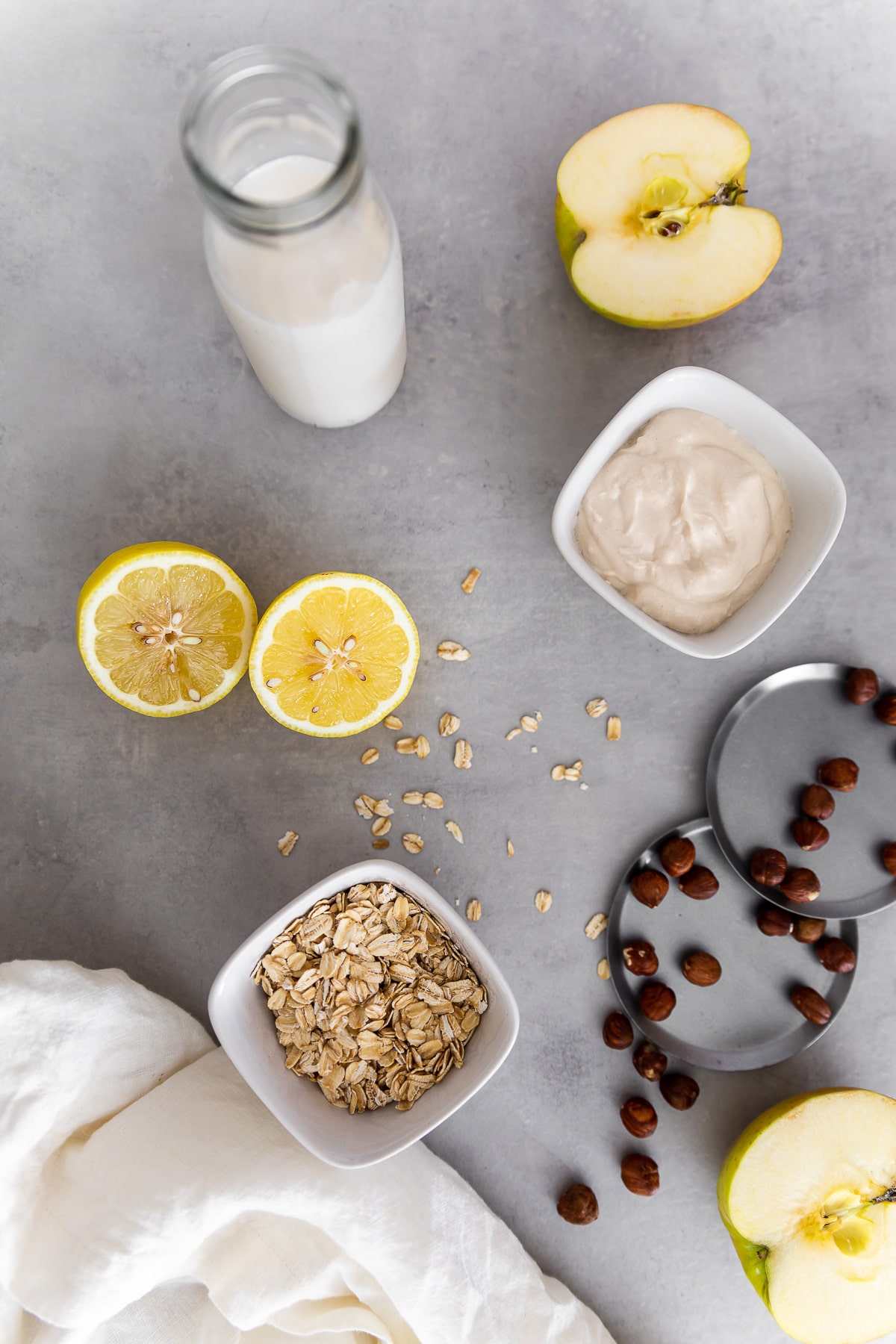 Ingredients
Maybe you are wondering which ingredients are in this muesli, then take a look at this brief overview. The exact quantities can be found below on the recipe card.
Oats, rolled ( old fashioned or quick)
Almond Milk, unsweetened
Lemon Juice
Apple
Yoghurt, almond
Hazelnut
Maple Syrup, optional
Alternatives
Now let's take a look at how we can swap ingredients. You will find this area helpful, especially if you cannot eat certain things.
Oats
If you don't want to eat oats or want to add variety to your breakfast, then use amaranth, quinoa, cooked spelt berries, buckwheat groats or even millet.
Almond Milk
Instead of almond milk, you can also use oat milk, soy milk and the like. Just use the milk alternative that you prefer to use here.
Yoghurt
If you don't want to use yoghurt made from almond milk, then you can also use coconut yoghurt or oat yoghurt. Or use a soy yoghurt. I like to have an unsweetened yoghurt here.
Hazelnuts
Instead of hazelnuts, you can use sunflower seeds, pumpkin seeds, almonds and macadamia. Here you can bring variety.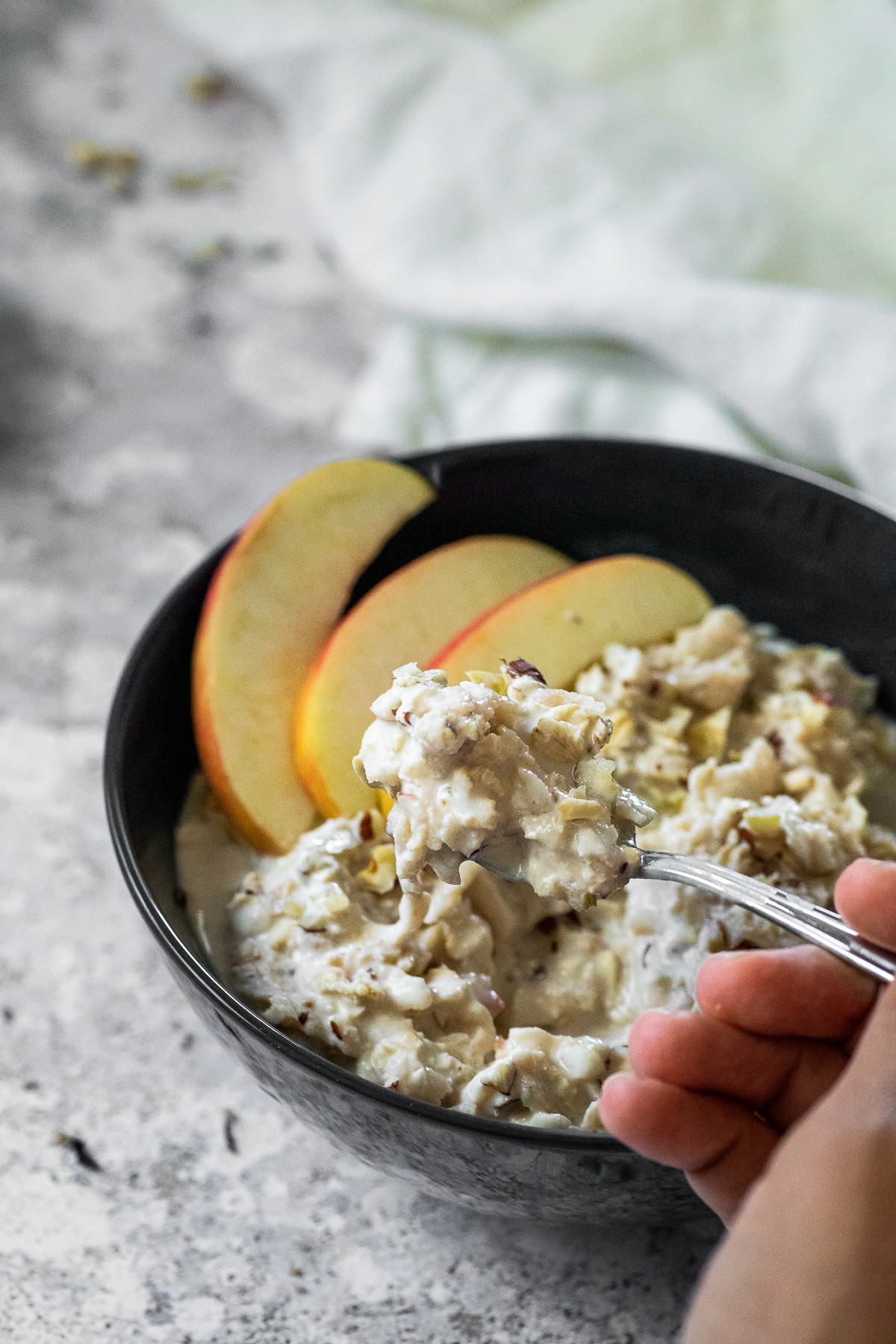 Variation
Now let's look at a few variations.
Nut free
Instead of hazelnuts, you can use seeds and chop them up.
Gluten free
The Bircher Muesli is quickly made without gluten, simply use oats that are certified gluten-free.
Keto
Instead of the oats, use a mixture of chia seeds and hemp seeds. Now the question is, what can you use in place of the apple? I recommend using yellow zucchini or chayote squash.
As a sweetener, you can use what you usually use as a sugar substitute.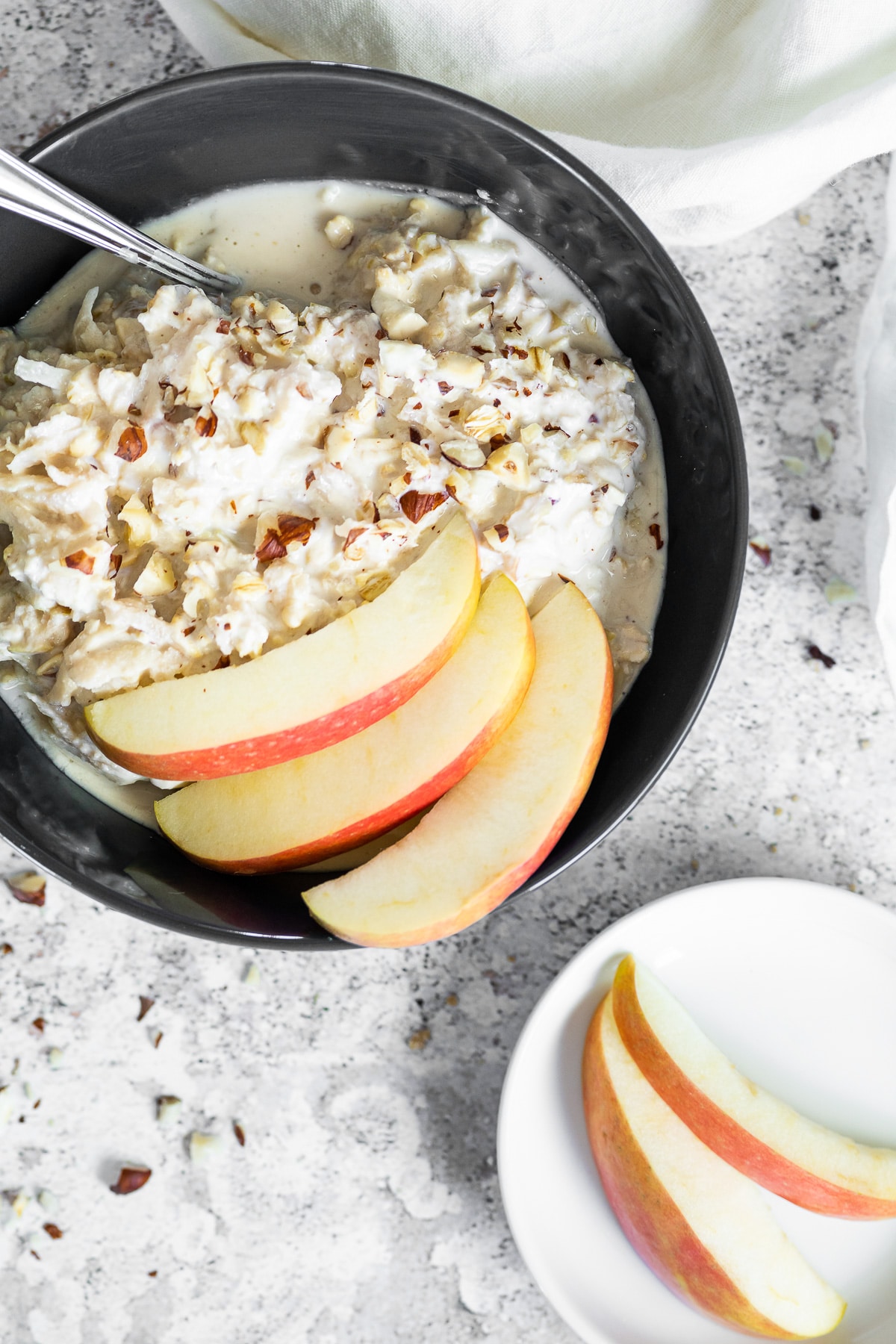 Instruction
Put the oats in a mixing bowl.
Chop the hazelnuts and add about 1 tablespoon or more to the rolled oats as desired. I keep a few as a topping.
Now grate the apple. I don't peel it and use the peel with it; all the nutrients are just under the peel.
Add the lemon juice. Now add the almond milk. Now add the plant-based yoghurt and stir it until a creamy muesli is achieved.
Taste it to see if it's sweet enough for you, if not add a little maple syrup.
Prepare in Advance
Bircher muesli tastes best when you have prepared it the day before. Or at least 2 hours in advance.
Storage
The lactose-free Bircher Muesli can be kept in the refrigerator for approx. 4 days. You can prepare it great as a meal prep and store it in mason jars.
I haven't frozen it myself yet. But I could imagine that it tastes good thawed. To do this, I would put the Bircher muesli in portions in preserving jars and then freeze it.
Tips
If the muesli seems a little too runny, don't worry, the oats will thicken it. You can add a little more liquid the next day if necessary. Believe me, it gets thicker, a lot.
Add some chopped dates to add extra sweetness. Usually the sweetness of the apple is enough for me.
Don't skip the lemon juice, which will help keep the apple from turning brown. If you don't have lemon juice, you can use lime or another citrus fruit, such as oranges.
More vegan breakfast recipes:
Scrambled Eggs (Scrambled Tofu)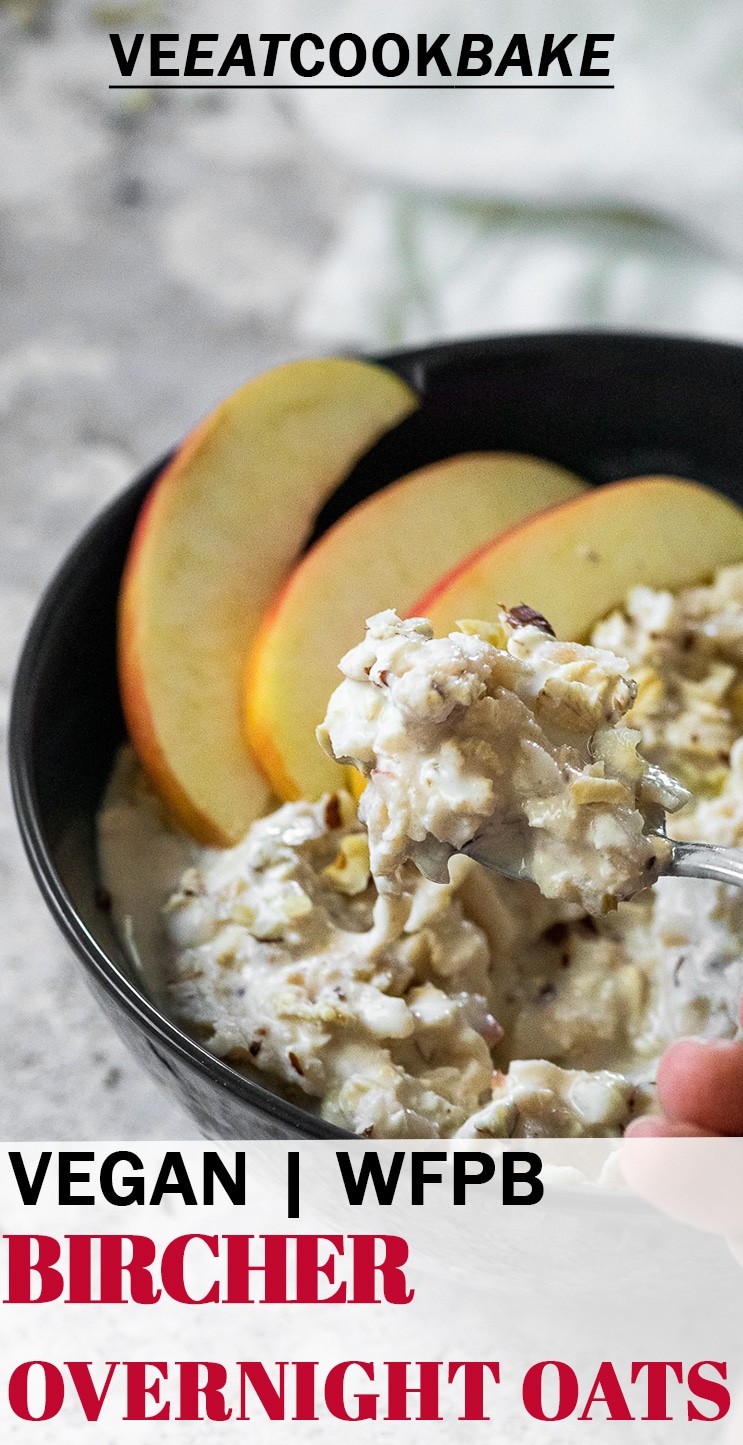 Have you tred the recip
If you tried the vegan Recipebe so nice ♥ and let me knw byrating the recipe and writing what you think about it in the comments.  I would love to see your photo on Instagram orFacebook. To do this tag me with @veeatcookbake andmy hashtag is #veeatcookbake. So that I can see your creation. Did you know you can add photos n Pinterest under the recipe Pin? I can't wait to see a photo of your creation here. You find me with @veeatcookbake