Do you live vegan, but you still want to enjoy some classic breakfasts like fried eggs? Then I have a great alternative to your classic breakfast egg.
Dip bread in a vegan egg yolk or prepare a quick vegan sunny side up egg. The egg yolk consists of cashews, nutritional yeast and spices.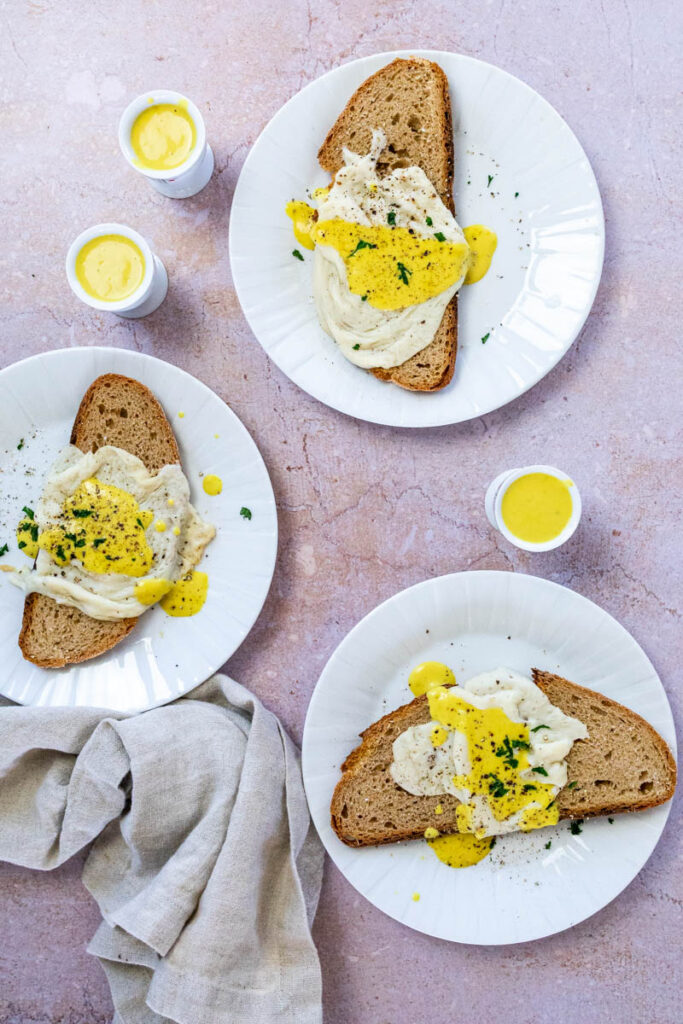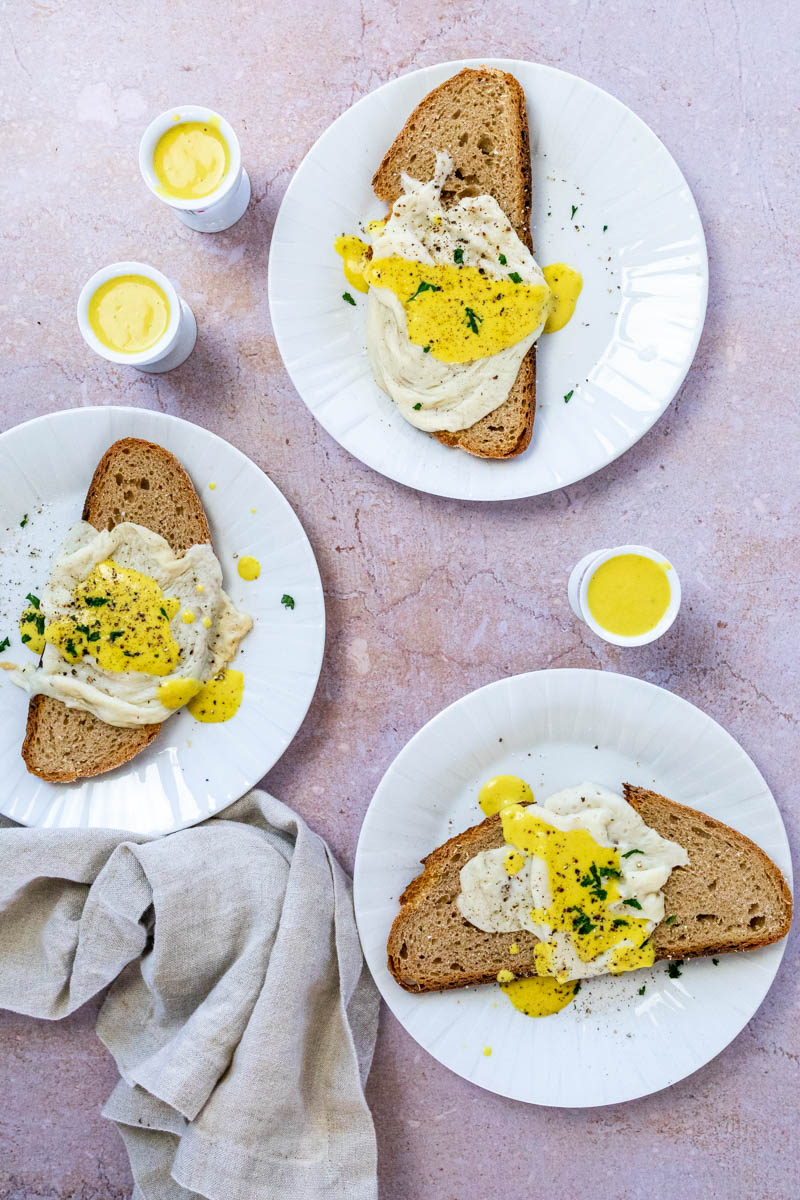 As an Amazon Associate, I earn from qualifying purchases. This post may contain affiliate links. Read More
You prepare the egg-free sunny side up egg with tofu, cornstarch and the classic Kala Namak, or also known as black salt. With this recipe you can spoil your loved ones with a gluten-free breakfast.
I absolutely had to try a vegan fried egg and a liquid egg yolk. Before I went vegan, I loved dipping bread in egg yolk. And sometimes I gain a taste for it.
And since I can no longer imagine consuming animal products, I tried a plant-based version which is also wfpb friendly.
I have to say it has turned out amazingly well. Sprinkled with a little Tellicherry pepper and sea salt, this is really delicious.
I cannot compare how much it resembles a real egg, because I last ate a real egg a long time ago.
But this vegan egg quenches my desire for an egg yolk. And my kids could have eaten a dozen of them.
You just have to try it for yourself. When you prepare the egg whites, it takes some practice to get it out of the pan as it is a little soft. But if I can do it, you can do it too. 🙂
Ingredients
Here I briefly list the ingredients that are included. You can find an exact specification below on the recipe card:
Egg Yolk
Cold Water
Cornstarch
Nutritional Yeast
Raw Cashew Nuts
Kala Namak
Turmeric
Tomato Paste
Almond Milk
Egg Whites
Extra Firm Tofu
Water
Tapioca Starch
Yeast Flakes
Kala Namak Salt
Freshly Ground Tellicherry Pepper
Freshly Ground Sea Salt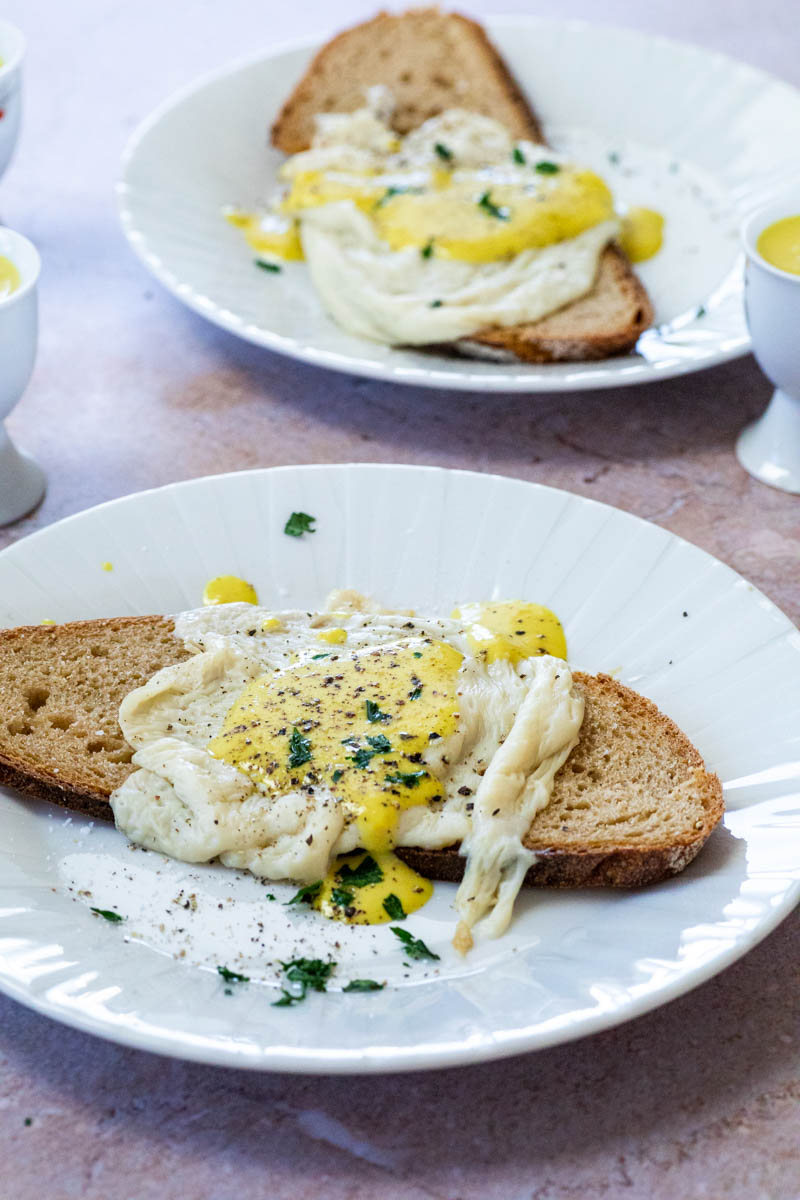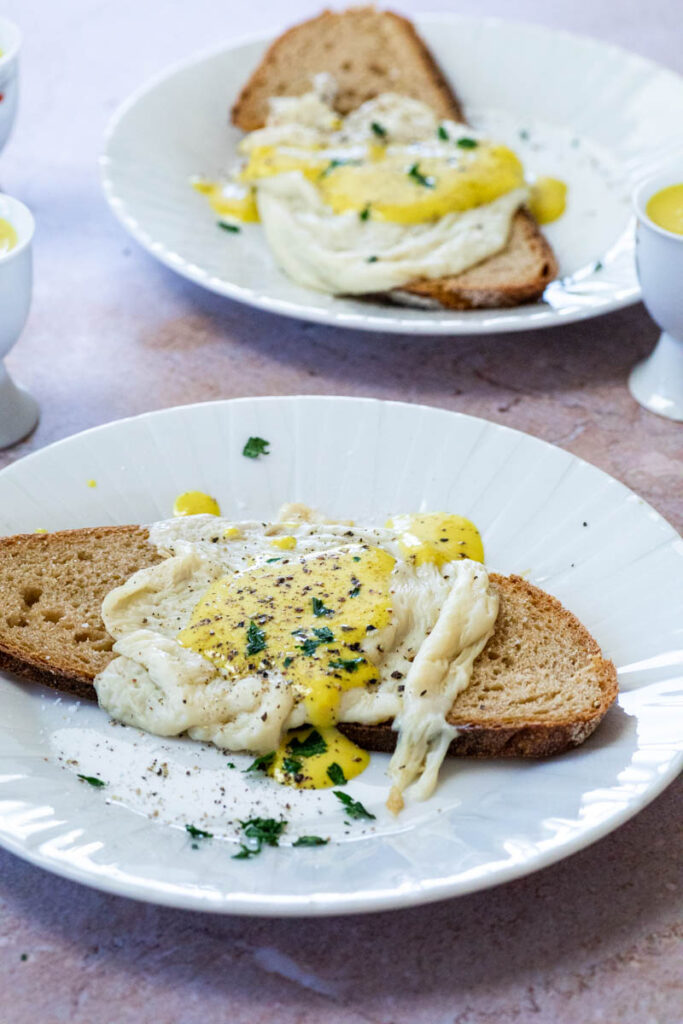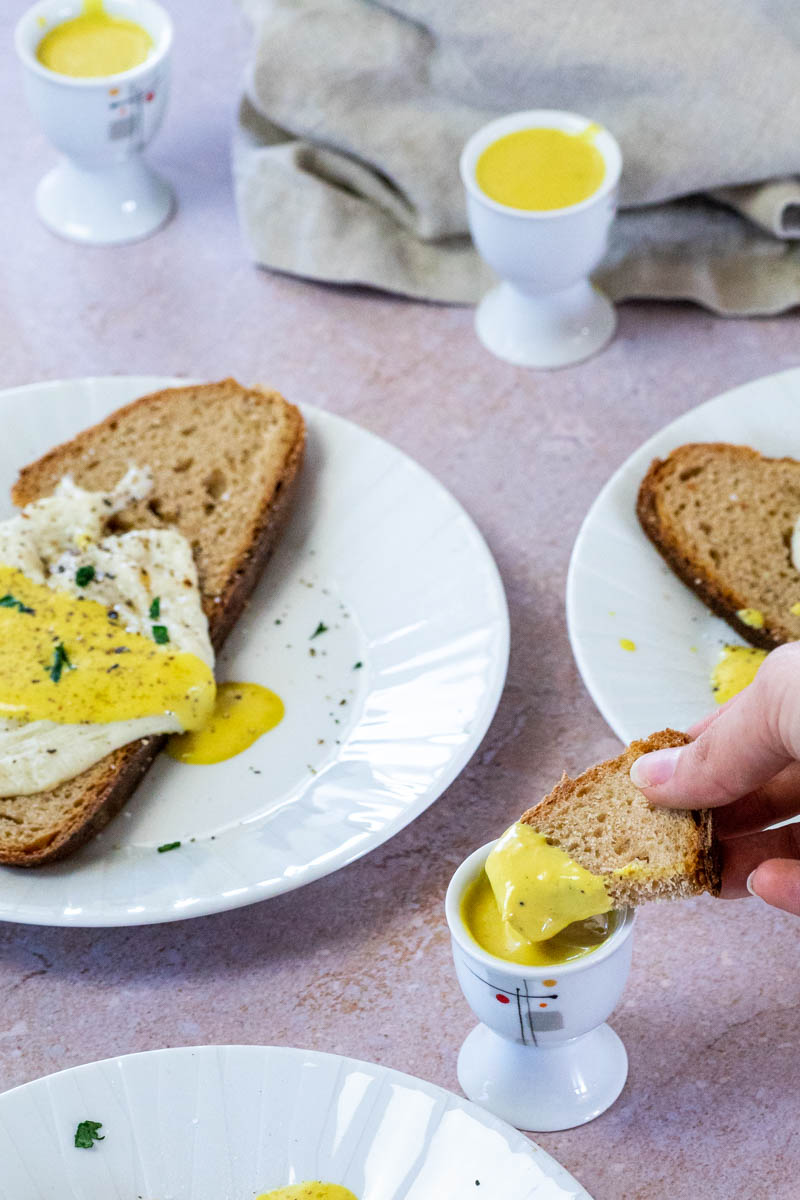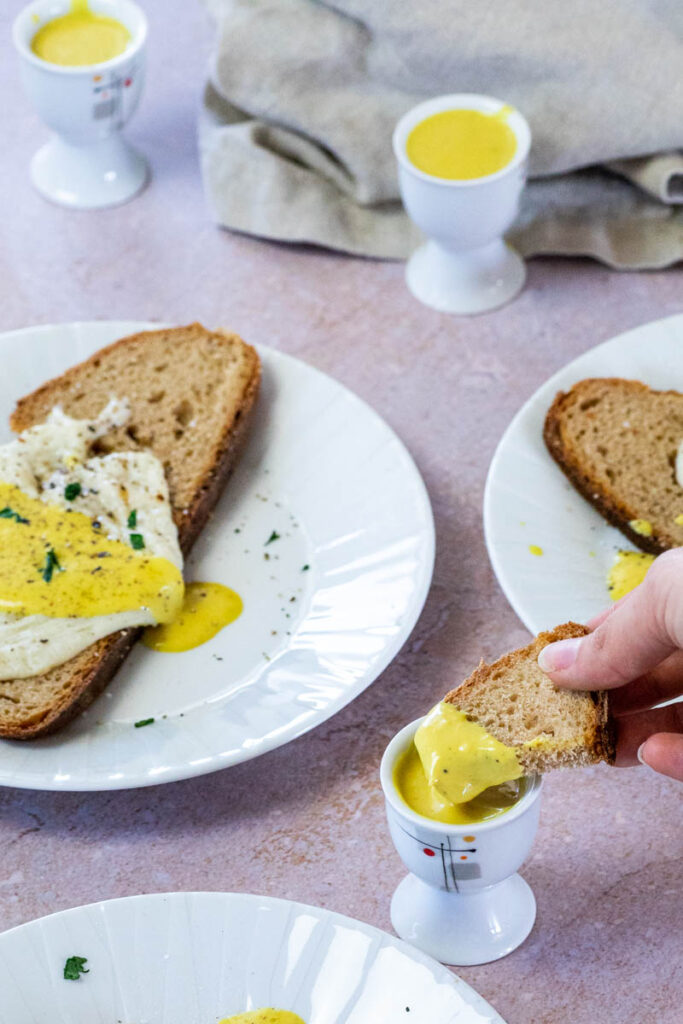 Instruction
Egg Yolk
First of all, start soaking the cashews in water. Mix everything else except the almond milk in a high speed blender.
Blend until you get a creamy consistency without pieces. Now put the liquid in a saucepan and boil it while constantly stirring. It becomes viscous. Take it off the stove and let it stand for about 3 minutes. Now stir in the almond milk.
It should now be creamy and no longer too viscous. You can now season the egg yolk with pepper and salt.
Sunny Side Up Egg
Start by mixing all the ingredients for the egg whites in a high speed blender. Blend until creamy and without pieces.
Now take a ¼ cup measuring cup and add about 60 ml of the liquid. Put this in a hot pan and let it set. When removing from the pan, use a relatively thin spatula and be sensitive. Put the egg white on a slice of bread.
Now add some of the egg yolk so that it looks like a sunny side up egg. Sprinkle it with freshly ground Tellicherry pepper and sea salt.
Can I prepare the vegan egg in advance?
You can mix the egg yolk and the egg white separately the evening before. And the next morning all you have to do is cook both. The egg whites in the pan and the egg yolks in a saucepan.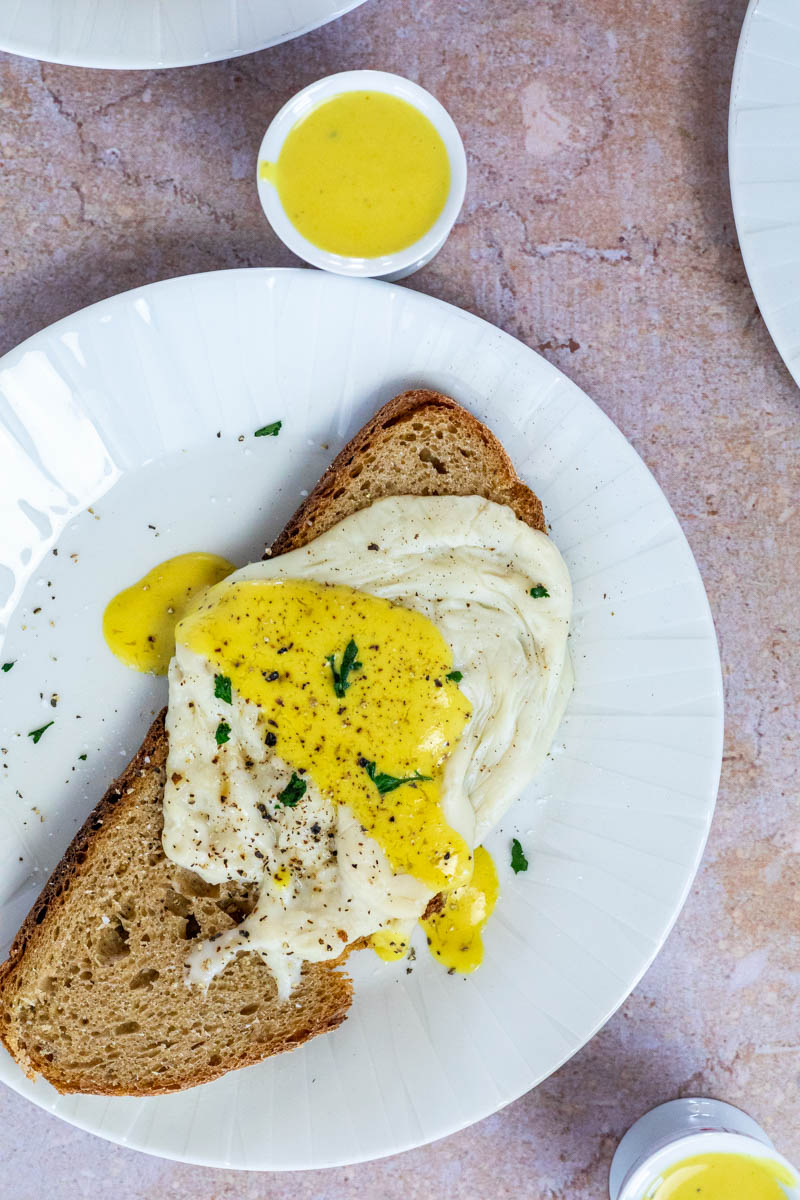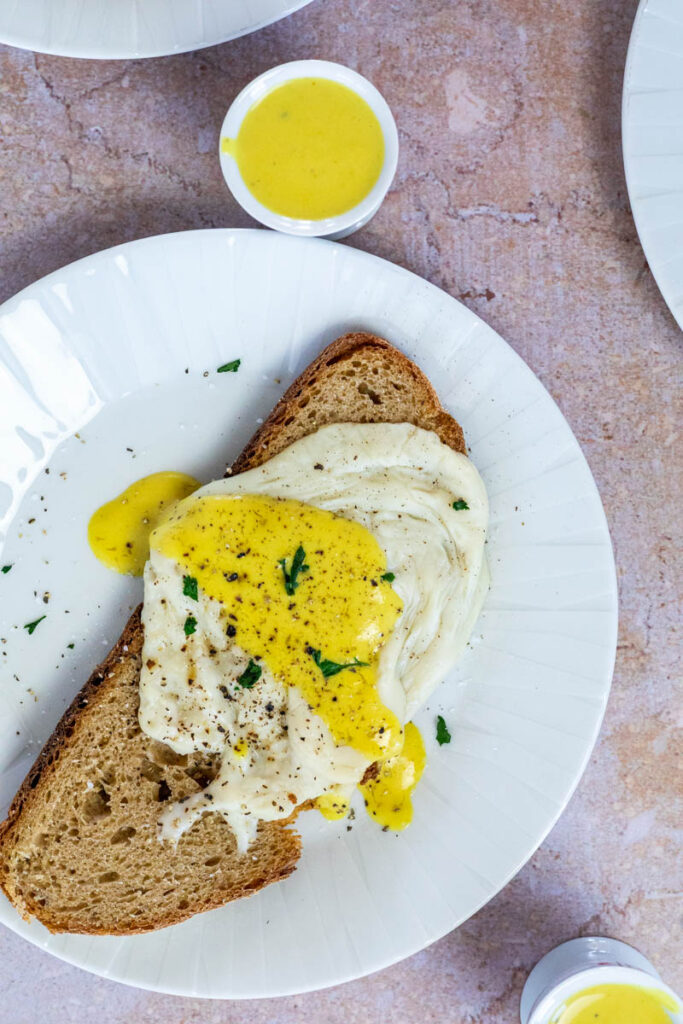 Serving Options
Serve the "egg" on an avocado bread
Eggs Benedict
On a burger
More Vegan Breakfast Recipes: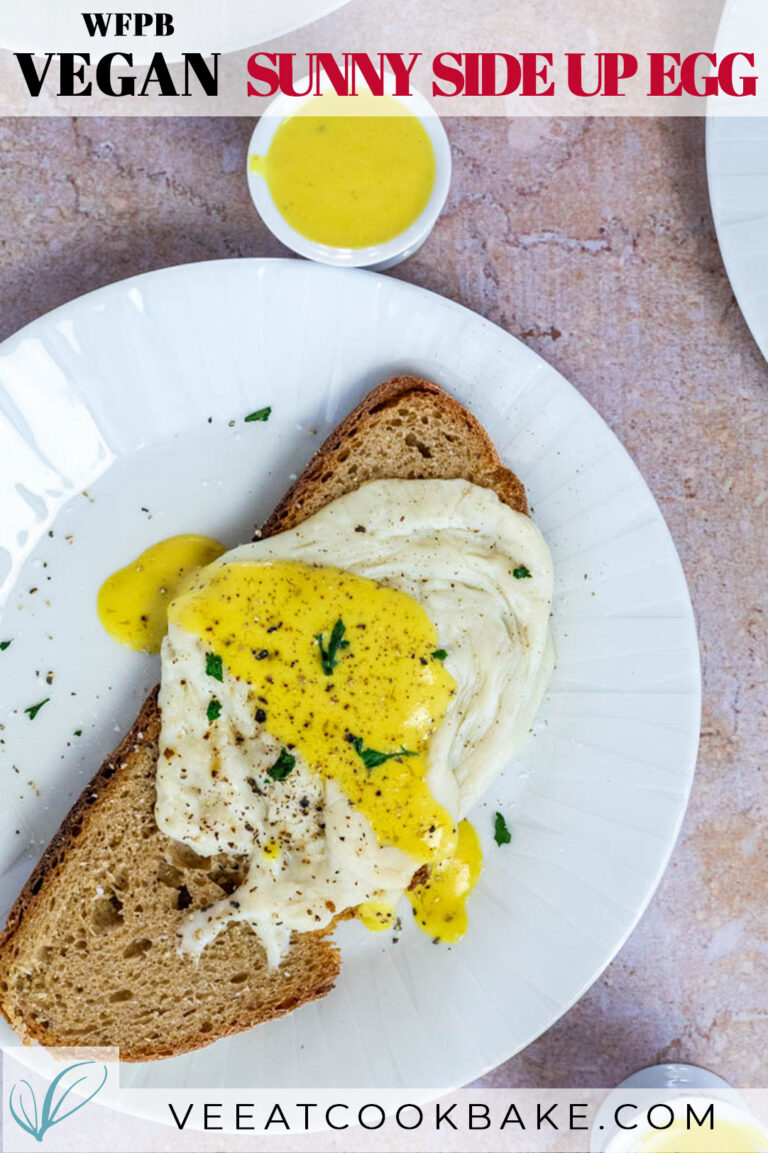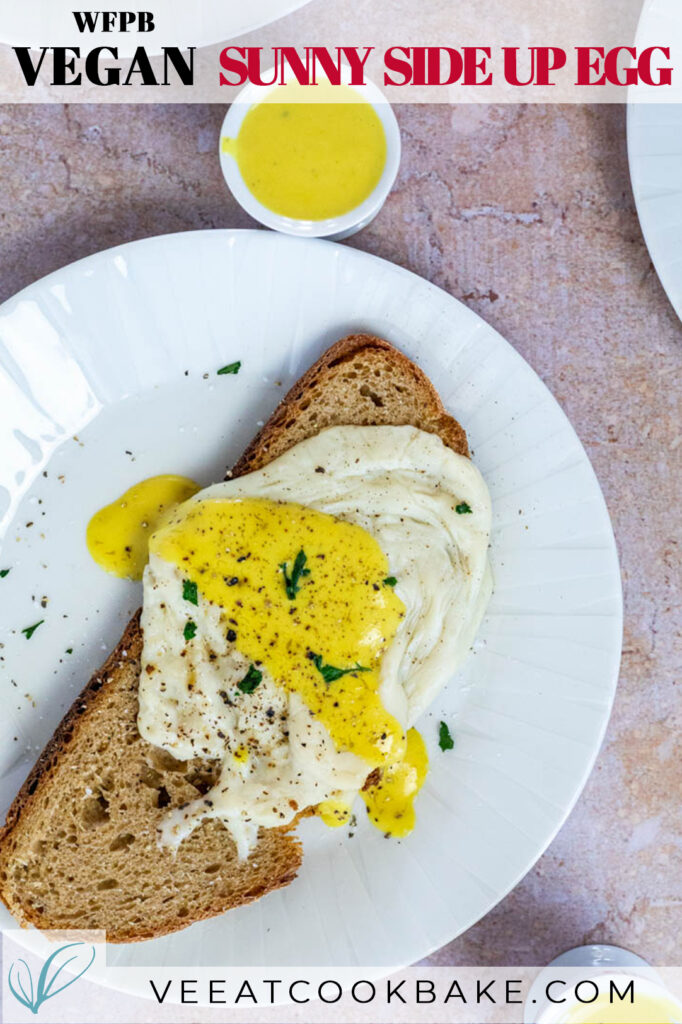 Have you tred the recip
If you tried the vegan Recipebe so nice ♥ and let me knw byrating the recipe and writing what you think about it in the comments.  I would love to see your photo on Instagram orFacebook. To do this tag me with @veeatcookbake andmy hashtag is #veeatcookbake. So that I can see your creation. Did you know you can add photos n Pinterest under the recipe Pin? I can't wait to see a photo of your creation here. You find me with @veeatcookbake