This post is also available in: Deutsch
*As an Amazon Associate, I earn from qualifying purchases. This post may contain affiliate links. That means if you click and buy, I may receive a small commission. Please see my full policy.*
Vegan chili cheese dog with homemade vegan cheese sauce and a healthy chili sauce. This vegan chili cheese dog is perfect for cozy evenings or upcoming celebrations. A quick recipe that will blow everyone away. vegan | vegetarian | plant based | oil-free | milk-free | lactose free | opt. gluten free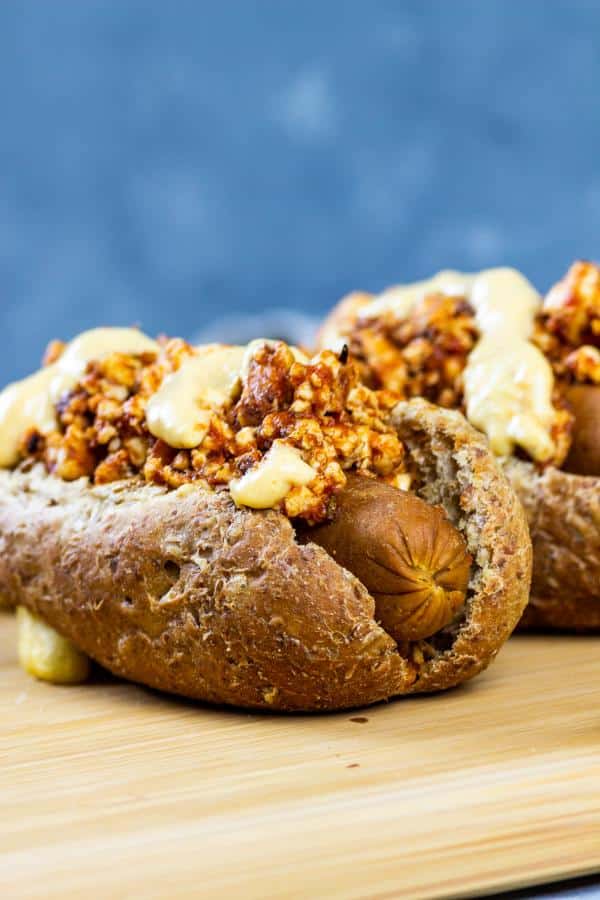 Why veganize the chili cheese dog?
I do not know about you, but I love classic comfort recipes like these American Chili Cheese Dogs. And since I'm married to an American (hi Schatz;) ) we often eat American classics like these chili cheese dogs. And as a vegan you do not have to live without these classics. These vegan chili cheese dogs are an even healthier alternative to the classics. And since my husband also decided to eat plant based, I do not want him to miss such recipes. And let's face it, it just tastes so good that you just cannot get enough of it.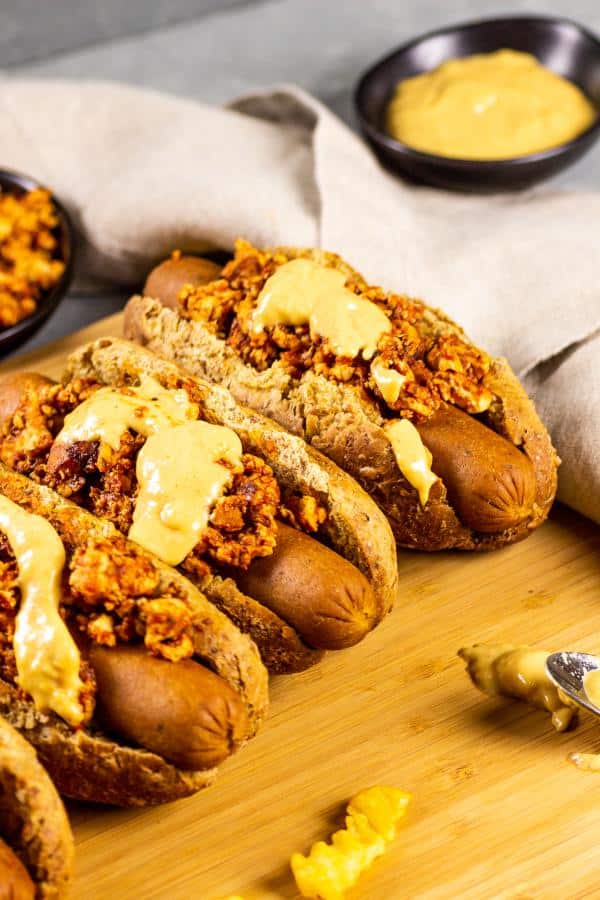 What could I use as a ground meat substitute for the vegan chili cheese dogs?
In our case, we love variety in the kitchen. Therefore, I always try different ingredients here. On the "vegan chili cheese dog" photos you can see the chili made with tofu. I think the right spice combination is the heart of every meal, how do you see that? Other times I take lentils or TVP. Would you like to try lentils? Then try out black lentils, I find these give the whole dish, no matter this or others prepared with ground meat, an amazingly authentic taste. Simply cook the lentils in vegetable broth according to the instructions on the package. Sometimes I put spices from the recipe in the cooking water. Just try how it tastes best for you.
When I use tofu I like to press it with my tofu press (I use this one). And season it neatly with the spices from the recipe. So the tofu absorbs the spices best. Try out here as you like it best. Individual tastes are known to vary.

Which hot dog for the vegan chili cheese dogs?
Again, you can take your favorite for the vegan chili cheese hot dogs. At VeEatCookBake.com you can find a delicious vegan seitan sausage recipe. If you want to prepare the recipe at short notice, then I have two options for you. You can buy a vegan substitute or you can make carrot dogs. Are you wondering what carrot dogs are? You can easily make vegan hot dogs from carrots. Just peel the carrots and cut into length of hot dogs. For this, use thick carrots. So you can adjust the thicker side to the thinner and they get the ideal shape for vegan hot dogs and go perfectly with the vegan chili cheese dogs.
Here I briefly describe how you prepare it: For the cooking water take 400 ml of water and season it as follows:
1 teaspoon smoked salt (1/2 tsp liquid smoke + 1 tsp salt)
¼ tsp garlic powder
Peel of half a lemon
¼ tsp pepper, white
½ tsp mustard
¼ tsp cilantro powder
½ teaspoon sweet pepper
¼ teaspoon nutmeg grated
¼ tsp cumin powder
½ teaspoon onion powder
1 teaspoon miso paste or yeast extract (optional)
½ teaspoon locust bean gum
2 tablespoons tomato paste
1/8 teaspoon beetroot powder (optonal)
Cook the carrots in a pressure cooker for 3 minutes and remove the pot from the heat. Now let the carrots in the pot with lid closed for about 20 minutes. If you do not have a pressure cooker then cook the carrots until they are tender. Simply prick with a knife into the carrot. Would you like to read a detailed blog post about the carrot sausages?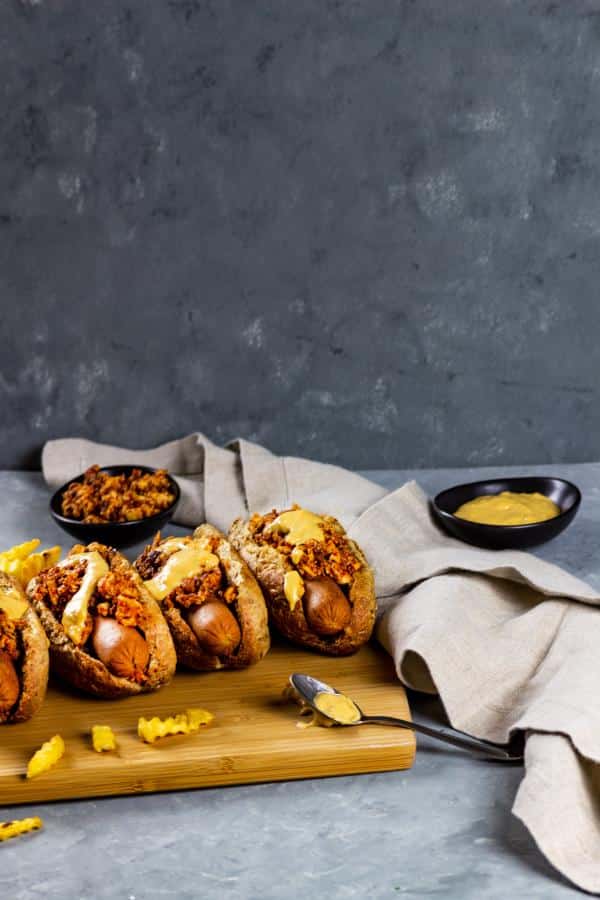 ---
Did you try the recipe?
If you like it, be so nice ♥ and let me know by rating the recipe and writing what you think about it. Tag me on Instagram too. I am @veeatcookbake and my hashtag is #veeatcomforts. So that I can see your creation. Did you know you can add photos on Pinterest under the recipe Pin? I can't wait to see a photo of your creation there. You find me with VeeatCookBake.
---
But now enough torture and here is the complete recipe for the vegan chili cheese dogs
Vegan Chili Cheese Dog
Vegan chili cheese dog with homemade vegan cheese sauce and a healthy chili sauce. This vegan chili cheese hot dog is perfect for cozy evenings or upcoming celebrations. A quick recipe that will blow everyone away.
Recipe type:
Dinner, Lunch, Finger Food, Party Food
Cuisine:
vegan, dairy free, vegetarian, lactose free, gluten free opt. , quick, under 30 mins
Ingredients
4 hot dog buns
4 vegan sausages or homemade ones or carrot dogs (see above)
diced onion (optional)
Chili sauce
250 g tofu (50 g dried lentils or TVP)
3 tbsp tomato sauce / passata
1 tbsp salsa
2 tsp or more chili seasoning blend
1 tbsp tomato paste
Cheesesauce
1 handful of cashew nuts, soaked
250 ml plant drink
½ teaspoon garlic powder, onion powder, salt
2 tablespoons nutritional yeast (I love these one)
2 tsp tapioca starch
Instructions
Press the tofu and crumble. Season with the chili seasoning blend and fry vigorously in a pan. Now add the remaining ingredients for the chili sauce and taste with chili seasoning blend. If you use TVP, soak it with water and chilli blend and sift it. Also fry vigorously. If you use lentils, cook them according to the package instructions.
Now prepare the cheese sauce. Add all the ingredients to a high speed blender and mix until a creamy mass is produced without pieces.
Bring this mixture to a boil briefly in a saucepan.
Who wants to toast the hot dog buns.
Simmer the vegan sausages briefly in a water bath.
Now you can prepare the chili cheese dogs. Put a sausage in the bun. Put the chili over it and spread the sauce over it. Optionally you can sprinkle diced onions over it.
Enojy your meal. We had fries and a green salad with these bad boys.
---
---