All those who love hot dogs should try these delicious vegan chili cheese hot dogs. These vegan hot dogs with the Mexican twist of chili and queso dip will take your hot dog to the next level.
With these vegetarian hot dogs you can use ready-made vegan sausages or you can prepare carrot dogs like in this recipe.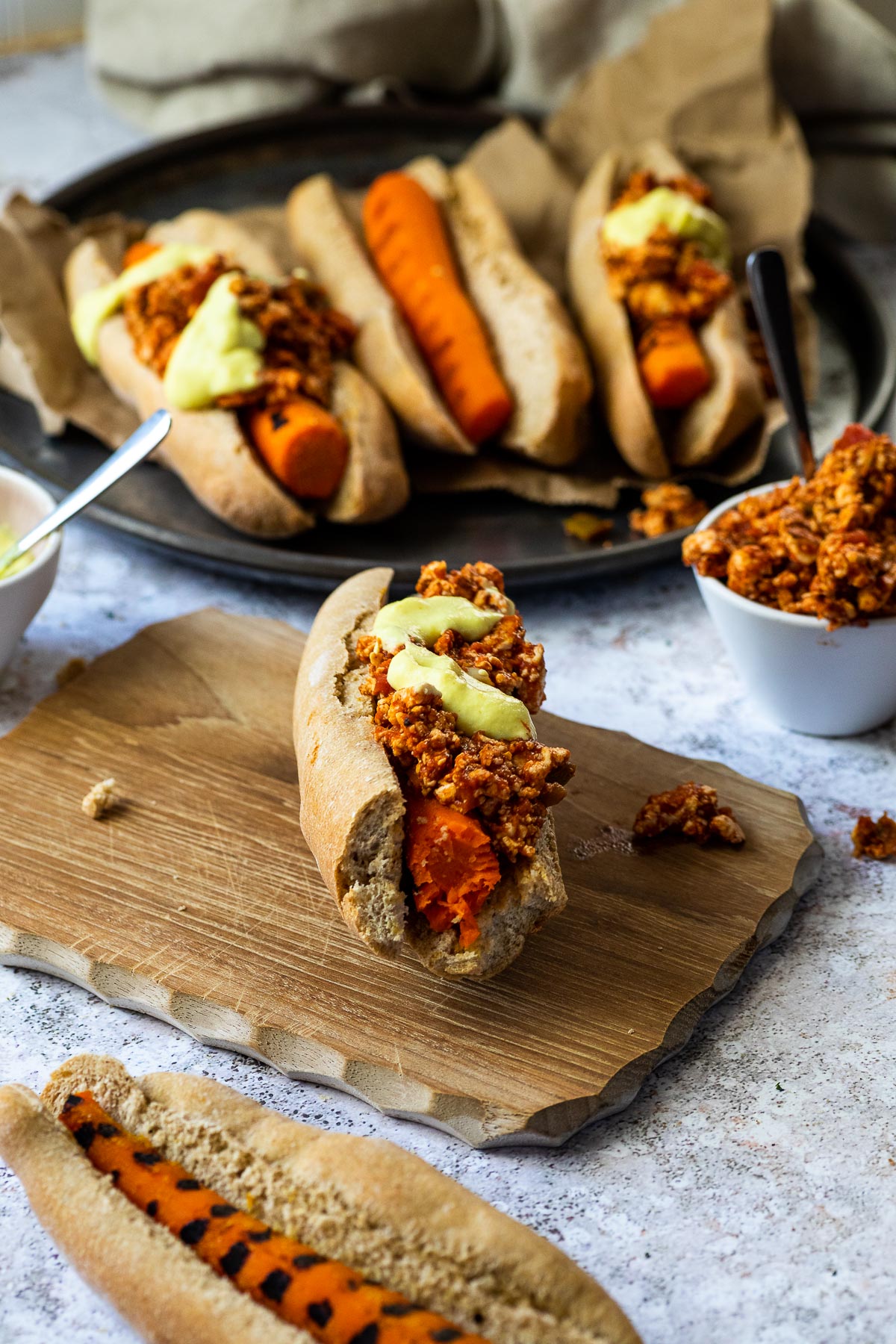 As an Amazon Associate, I earn from qualifying purchases. This post may contain affiliate links. Read More
Jump to:
The spicy chili made of tofu and the delicious cheesy queso dip make these vegan chili dogs a real comfort food. They are quick to prepare and make a great midweek dinner.
I love classic comfort recipes like these American Chili Dogs, and when I can make them in a healthier version, I'm even more excited.
These hot dogs are not only made from purely plant-based ingredients, but also gluten-free with corresponding gluten-free rolls, oil-free, sugar-free.
I would like to show you how you can create a real taste experience from simple ingredients such as carrots and tofu.
Jump to:
Ingredients
Let's take a look at the ingredients that go into these great vegan Chili Cheese Dogs. As always, the exact quantities can be found below in the recipe card.
Let's take a look at the ingredients for the Carrot Dogs first.
Carrots
Vegetable broth
Liquid smoke
Garlic powder
Peel half a lemon
Pepper White
mustard
Coriander powder
paprika
Nutmeg grated
Cumin powder
Onion powder
Miso paste or yeast extract (optional)
Tomato paste
Beetroot powder (optional)
Chili sauce:
tofu
Tomato sauce / passata
Salsa
Chilli spice mix
Tomato paste
Other ingredients:
Hot dog bun
Vegan queso sauce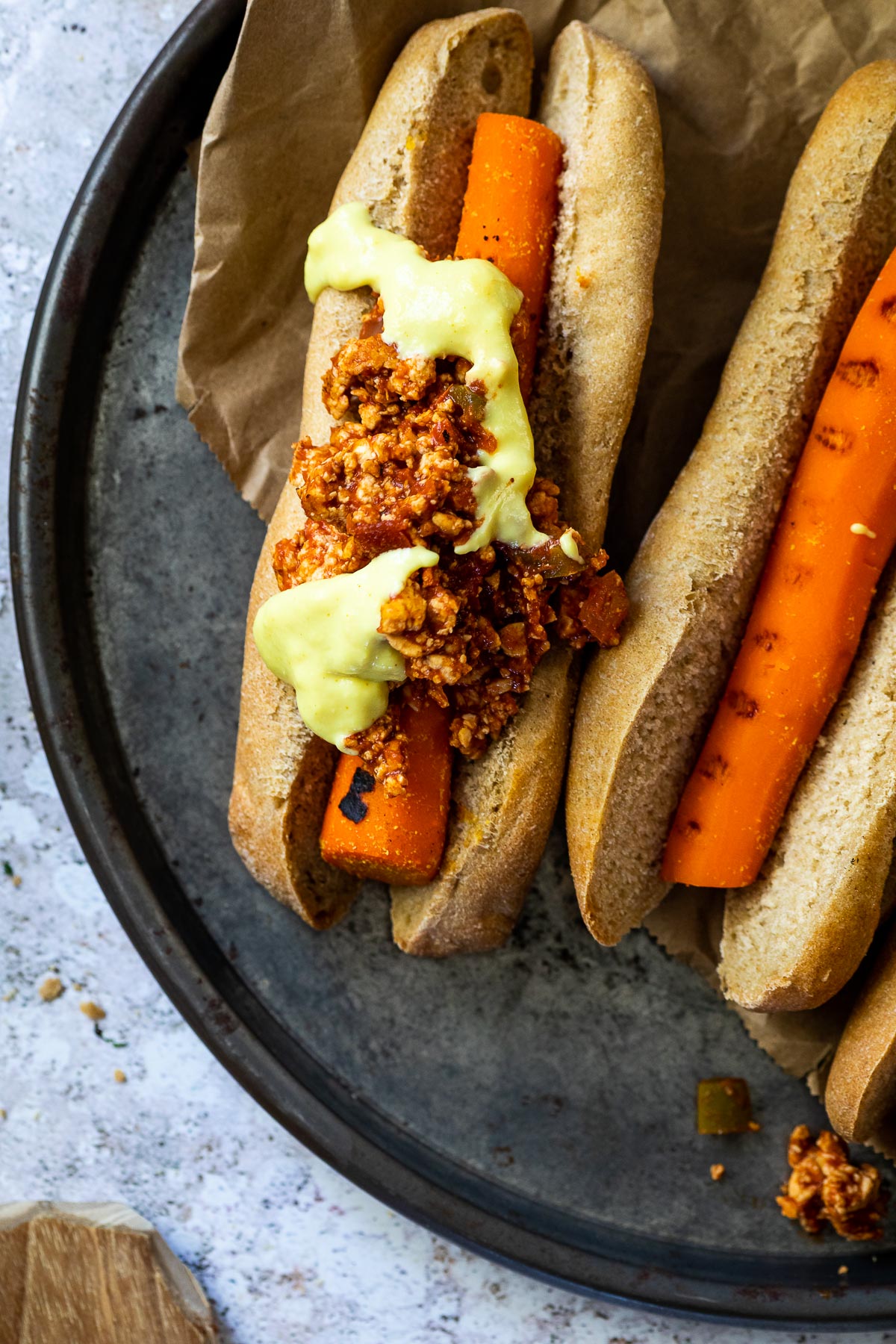 Substitutions
Let's take a look at which ingredients you can replace.
Carrots
Instead of carrots, you can also prepare super vegan hot dogs from seitan, for example. You can also buy and use vegan sausages.
Tofu
If you don't want to use tofu, you can also chop mushrooms, celery and carrots in the food processor and use this as a tofu substitute.
Variants
Let's now take a look at which variants of this recipe are possible in order to adapt it to other forms of nutrition.
Nut free
If you serve the Chili Dogs without the queso sauce, it is a nut-free recipe. In my queso recipe I also give examples of how you can make these nut-free.
Gluten free
Serve the Carrot Dogs in gluten-free rolls or between lettuce leaves to prepare it gluten-free.
Soy free
To make the vegan Chili Cheese Dogs soy-free. Just leave out the miso paste.
You can also use mushrooms, lentils or vegan minced meat instead of the tofu.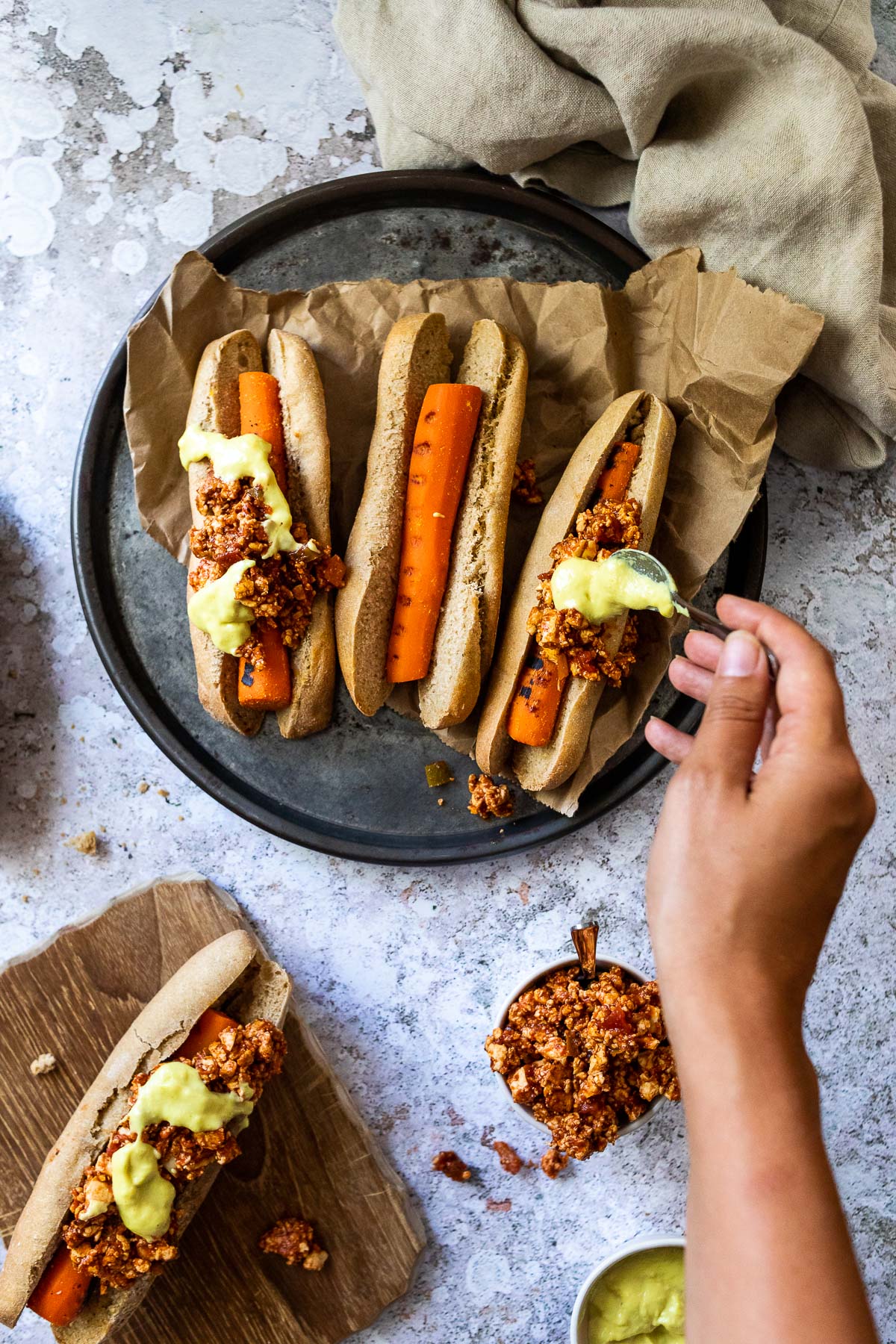 Instruction
Start making the carrot dogs:
Peel the carrots and cut them into hot dogs. To do this, I take the peel and peel the thick side until the carrot is equally thick at the front and back.
I use the thickest carrots I can find and match the thick side with the thin side.
Take the vegetable broth and add all the spices and heat the broth. Now add the carrots and cook the carrots in a pressure cooker for about 3 minutes.
Keep the lid closed and cook in the pot for another 20 minutes.
Cook the carrots in a normal saucepan until they are soft. To do this, prick the carrots with a knife.
You can serve the potatoes like this or you can briefly grill them in a grill pan.
Next, start with the chilli:
Press out the tofu and crumble it. Now fry the tofu vigorously in a coated pan with the chilli spice.
Now add the remaining ingredients and stir it vigorously. Taste again with the chilli spice.
While the chilli is cooking, you can prepare the queso sauce. I have a detailed post on this.
Assemble
Toast the hot dog buns if necessary. Take a hot dog bun and put a carrot in it, now add the chilli and the queso sauce.
Prepare in advance
You can prepare the queso sauce, the chilli and the carrot dogs about 2 days in advance and then just warm them up.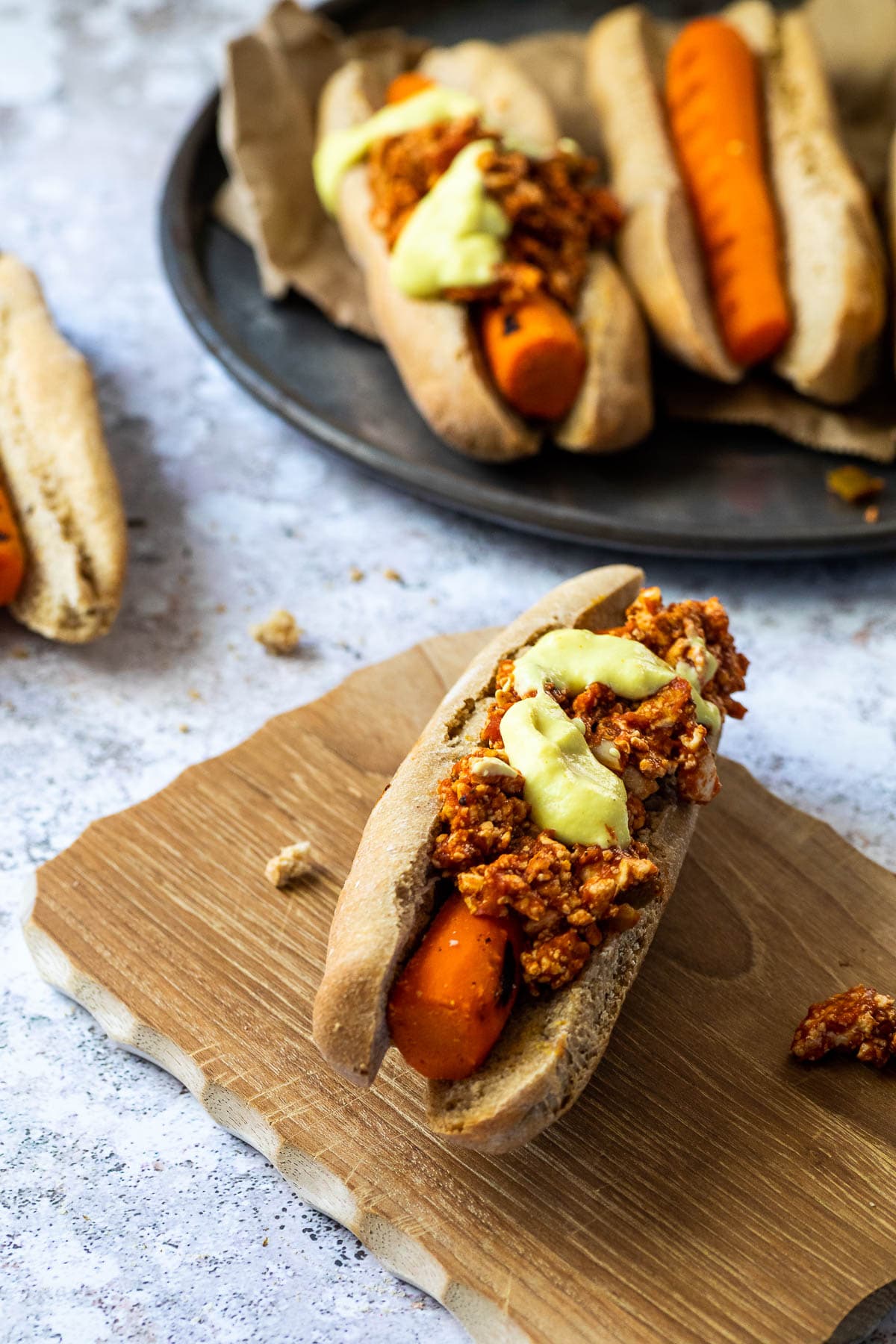 Serving options
Would you like to serve something with the vegan chili cheese hot dogs? Here I will show you a few examples of what goes well with it:
potato salad
potato wedges
Pasta salad
Coleslaw (red cabbage or white cabbage)
French fries
Tortilla chips
Storage
First of all, only put together the hot dogs that you want to eat.
The remaining ingredients such as chilli, queso and carrot sausages can be stored separately in airtight containers.
How to refrigerate it?
The ingredients can be kept in the refrigerator for about 5 days. So you can also prepare it as a meal prep and prepare it during the week.
How to freeze it?
You can also put the containers in the freezer and it will keep there for 2-3 months.
Tips
You can also make the carrot dogs in larger quantities and then freeze them if you have
you can have some on hand when you feel like a hot dog.
Instead of the queso sauce, you can also make the nacho cheese sauce. Both are delicious and incredibly tasty.
More vegan recipes: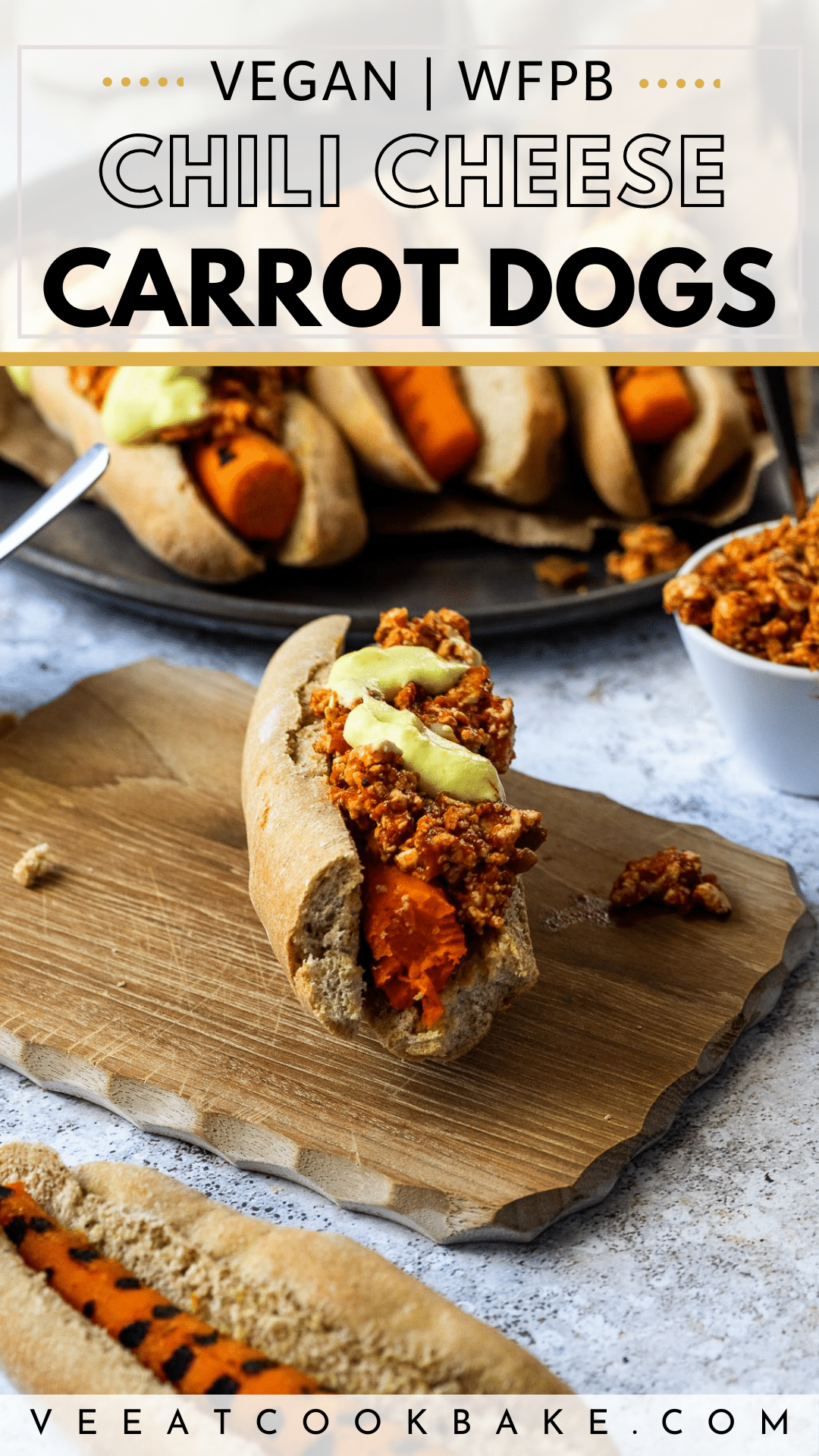 Have you tried the recip
If you tried the vegan Recipebe so nice ♥ and let me knw byrating the recipe and writing what you think about it in the comments.  I would love to see your photo on Instagram or Facebook. To do this tag me with @veeatcookbake andmy hashtag is #veeatcookbake. So that I can see your creation. Did you know you can add photos n Pinterest under the recipe Pin? I can't wait to see a photo of your creation here. You find me with @veeatcookbake

Jump to: