Get ready to take your love of hot dogs up a notch with these vegan chili cheese dogs! Whether you opt for store-bought vegetarian sausages or homemade carrot ones, this Mexican twist featuring spicy tofu chili and cheesy queso dip is sure to hit the spot.
You can whip it up in no time as part of a midweek dinner – plus all the ingredients are whole foods plant-based, gluten-free, oil-free and sugar-free. What could be better than comfort food that's actually good for you? Dig into those delicious American Chili Dogs now!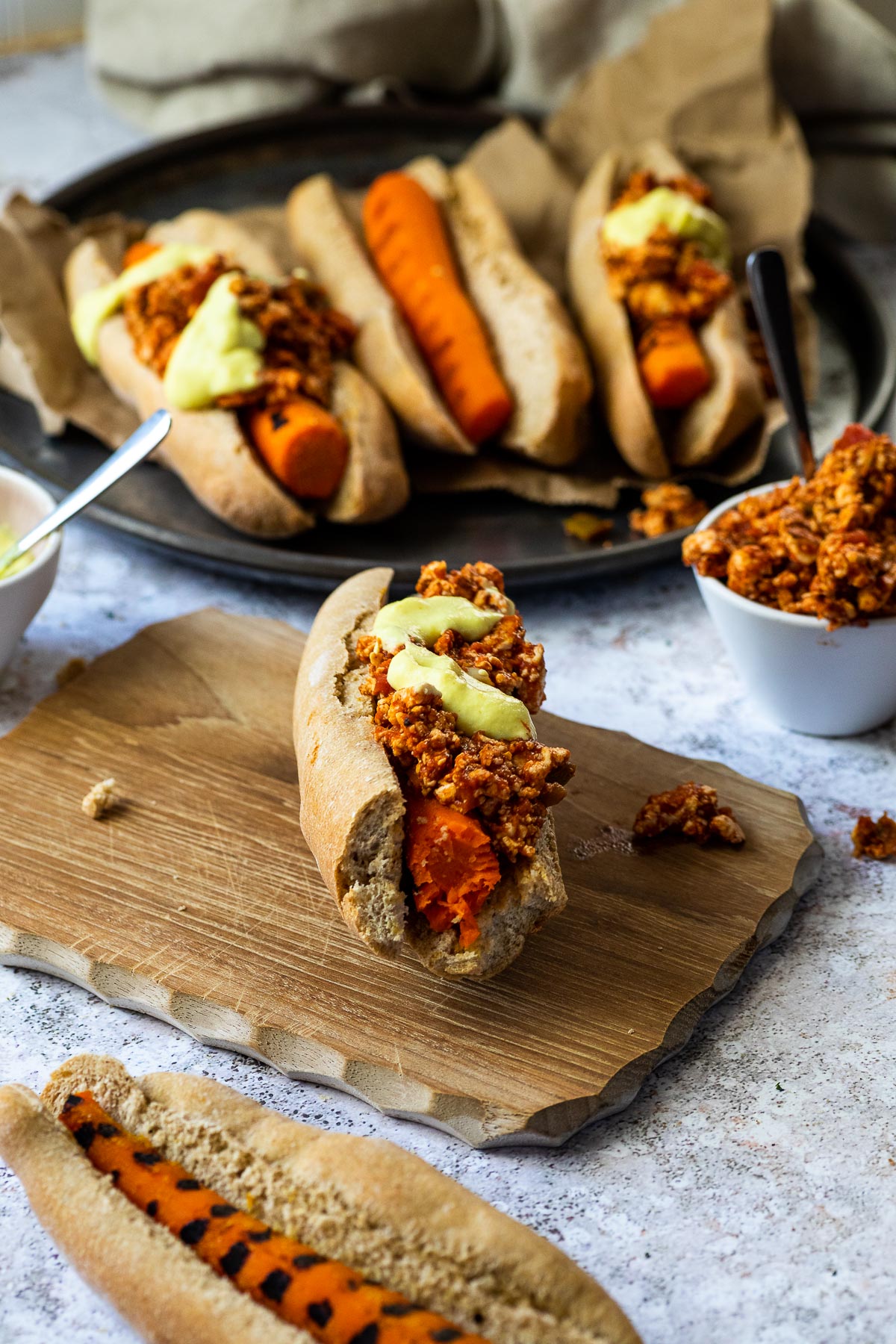 It is inspired by my vegan chili. It pairs well with Tortilla Chips and Guacamole.
As an Amazon Associate, I earn from qualifying purchases. This post may contain affiliate links. Read More
Ingredients
A quick list of ingredients you will need to make a vegan chili dog.
You can find the ingredients with quantities and the recipe to print out on the recipe card below.
Carrot Dog Ingredients
Carrots
Vegetable broth
Liquid smoke
Garlic powder
Peel half a lemon
Pepper White
mustard
Coriander powder
paprika
Nutmeg grated
Cumin powder
Onion powder
Miso paste or yeast extract (optional)
Tomato paste
Beetroot powder (optional)
Chili sauce:
extra firm tofu
Tomato sauce / passata
Salsa
Chili Powder
Tomato paste
Other ingredients:
Hot dog rolls
Yellow Mustard optional
Pickle Relish optional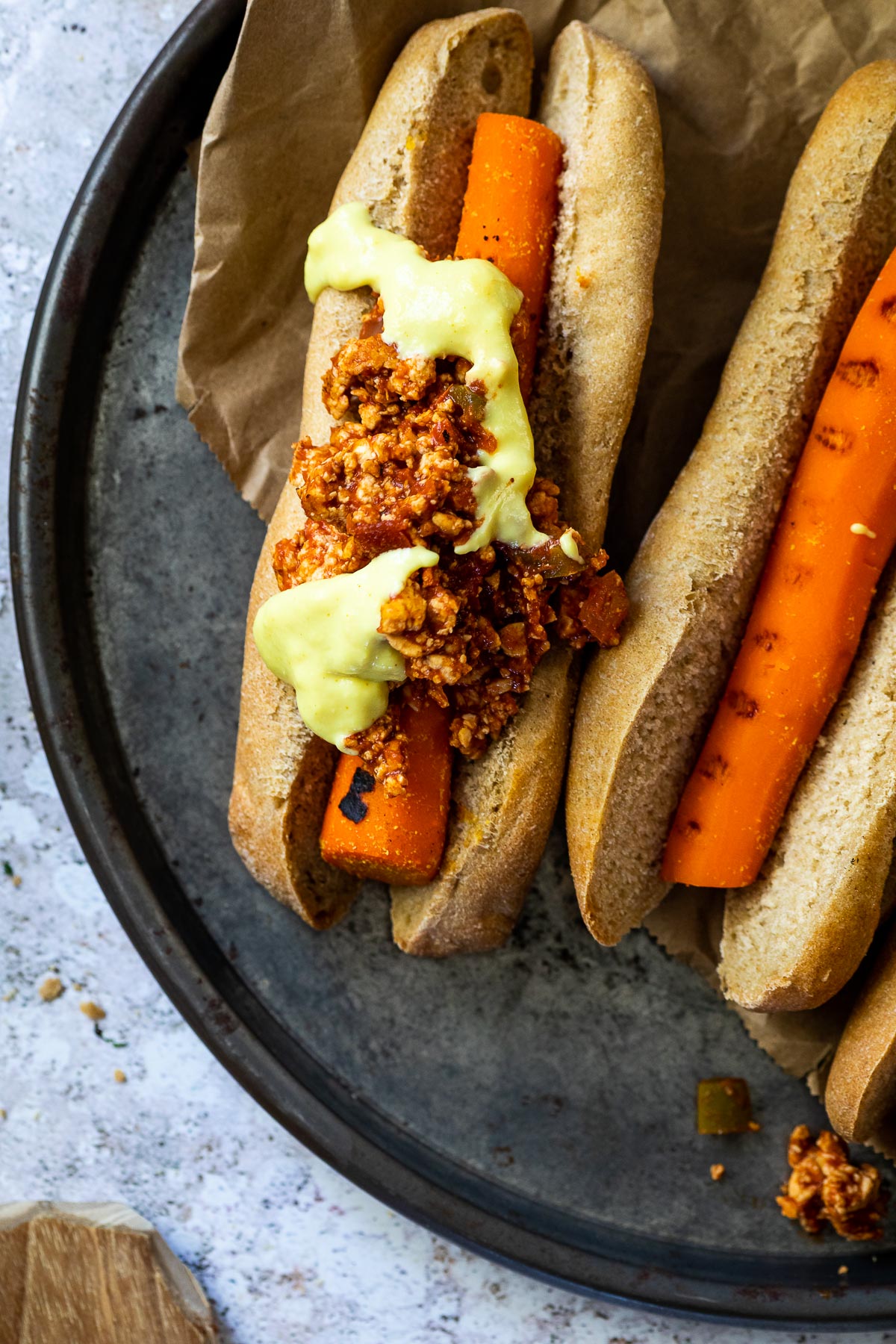 Instruction
Start making the carrot dogs:
Peel the carrots and cut them into hot dogs. To do this, I take the peel and peel the thick side until the carrot is equally thick at the front and back.
I use the thickest carrots I can find and match the thick side with the thin side.
Take the vegetable broth and add all the spices and heat the broth. Now add the carrots and cook the carrots in a pressure cooker for about 3 minutes on high heat. You want them soft, but not too soft that they fall apart.
Keep the lid closed and let the pressure release naturally.
Grill the meatless hot dogs in a hot pan or air fryer.
Next, start with the chili:
Press out the tofu and crumble it. Now fry the tofu vigorously in a non-stick pan with the chili powder.
Now add the remaining ingredients and stir it vigorously. Season to your own taste.
While the chili is cooking on low heat, you can prepare the queso sauce. For this, you will need a high-powered blender.
Assemble
Toast the hot dog buns if necessary. Take a hot dog bun and put a carrot in it, now add the chili and the queso sauce. Top with green onion or red onions optional.
Make these vegan dogs, check out my vegan Italian sausage, vegan seitan hot dog and my other plant-based meat recipes.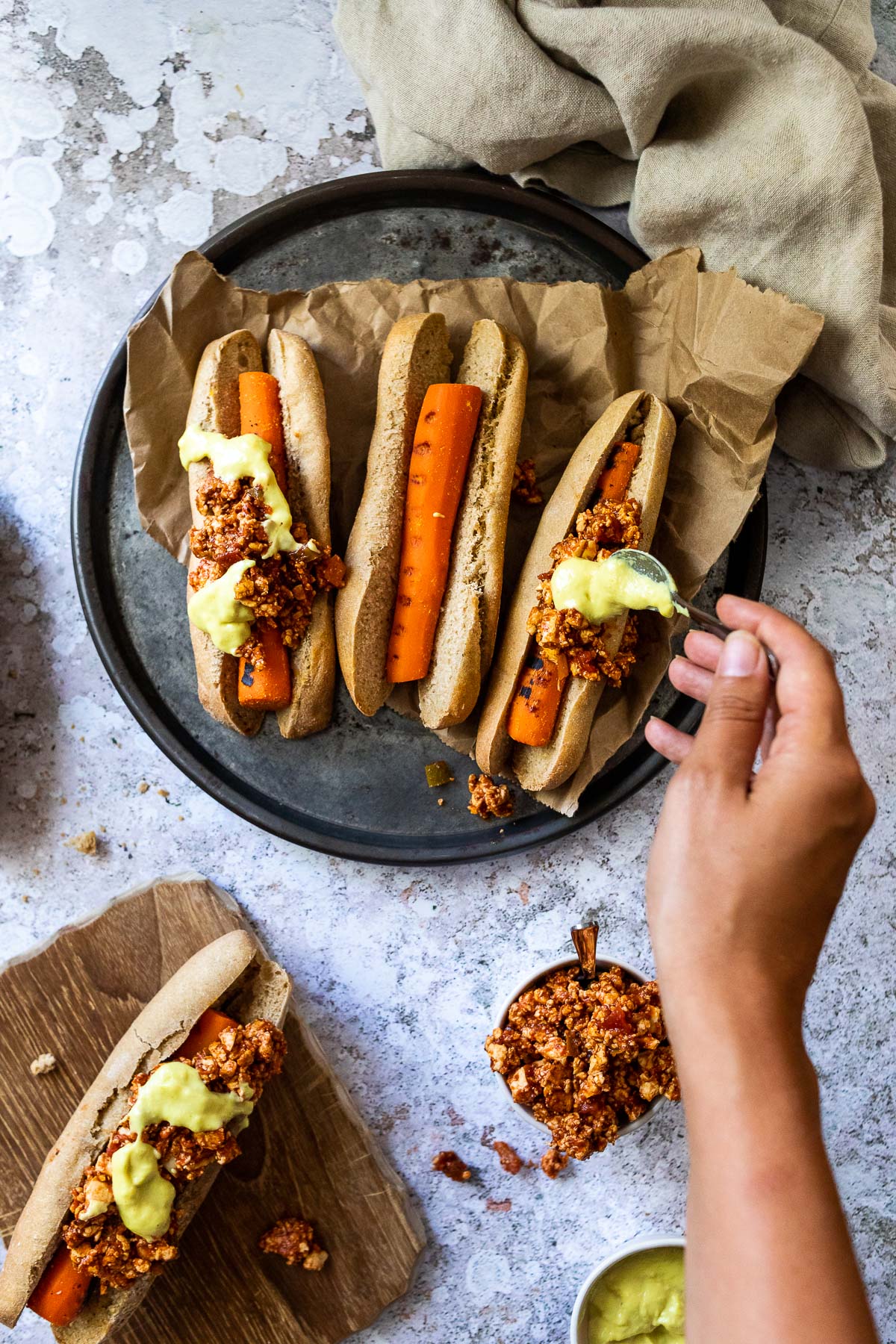 Substitutions
Carrots: Instead of plant-based carrot dogs, you can also make vegan seitan hot dogs. You can also use store-bought veggie dog.
Tofu: If you don't want to use tofu, you can also chop mushrooms, celery and carrots in the food processor and use this as a tofu substitute for your veggie chili.
Queso: I always love to make my own cheese sauces. You can also use another vegan cheese sauce, vegan cheddar cheese.
Equipment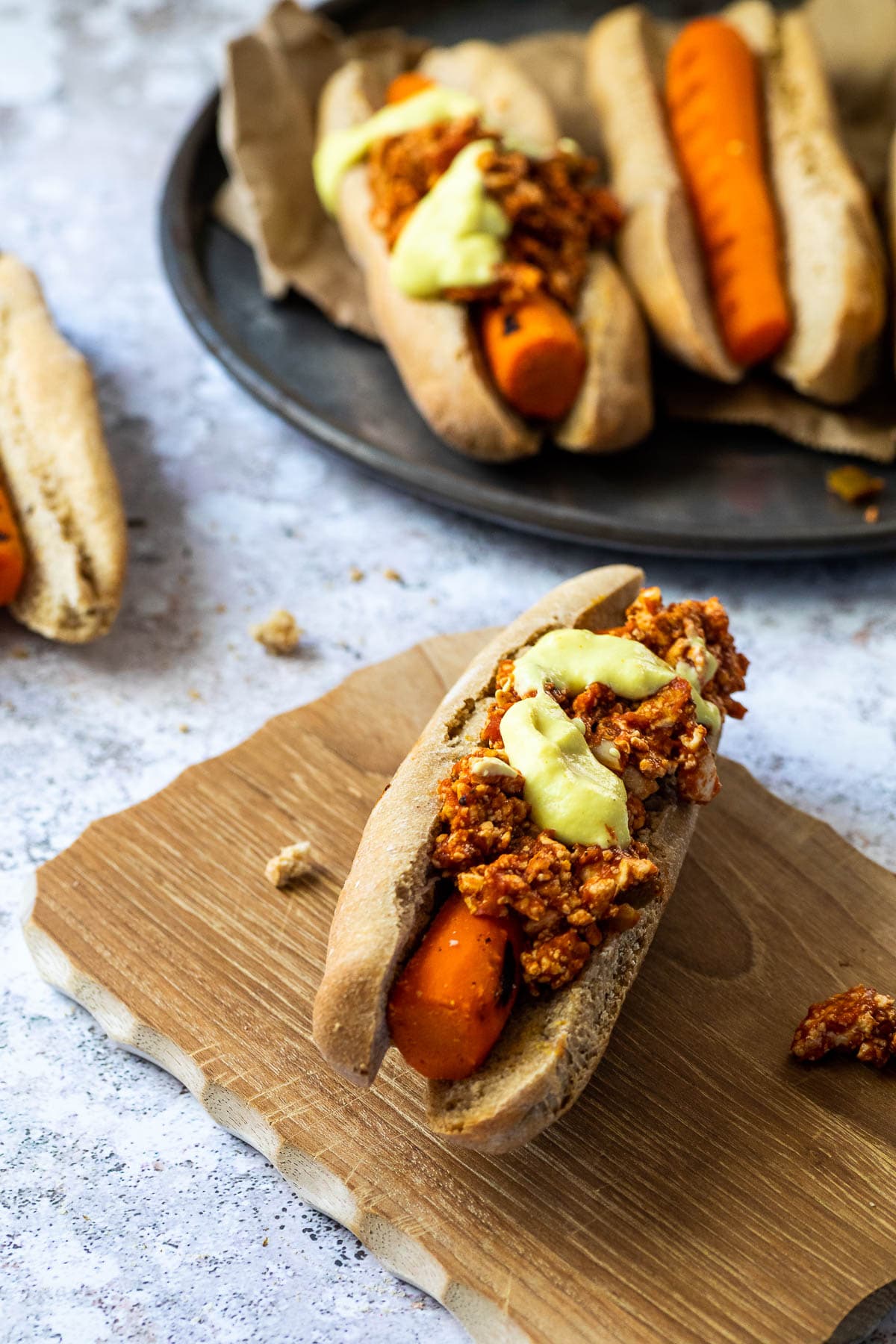 Meal Prep
You can prepare the queso sauce, the chilli and the carrot dogs about 2 days in advance and then just warm them up and assemble the hot dog chili.
Serving options
Would you like to serve something with the vegan chili cheese hot dogs? Here I will show you a few examples of what goes well with it to prep a simple meal yet delicious.
Storage
First, only put together the hot dogs that you want to eat.
The remaining ingredients such as chili, queso and carrot hot dogs can be stored separately in airtight containers.
How to refrigerate it? The ingredients can be kept in the refrigerator for about 5 days. So you can also prepare it as a meal prep and prepare it during the week.
How to freeze it? You can also put the containers in the freezer, and it will keep there for 2–3 months.
Tips
You can also make the carrot dogs in larger quantities and then freeze them if you have, you can have some on hand when you feel like a hot dog.
Instead of the queso sauce, you can also make the nacho cheese sauce. Both are delicious and incredibly tasty.