Vegan Pumpkin Omelet without Egg - This super-tasty egg-free omelet filled with roasted pumpkin (butternut or nutmeg squash) will not only convince vegans.
Thanks to the combination of chickpea flour, psyllium husk powder and Kala Namak (black sulfur salt from India), this omelette is as yummy as an egg omelete.
You can eat this chickpea omelette without tofu for breakfast or as we like it for dinner. Add variety to your omelette with different fillings.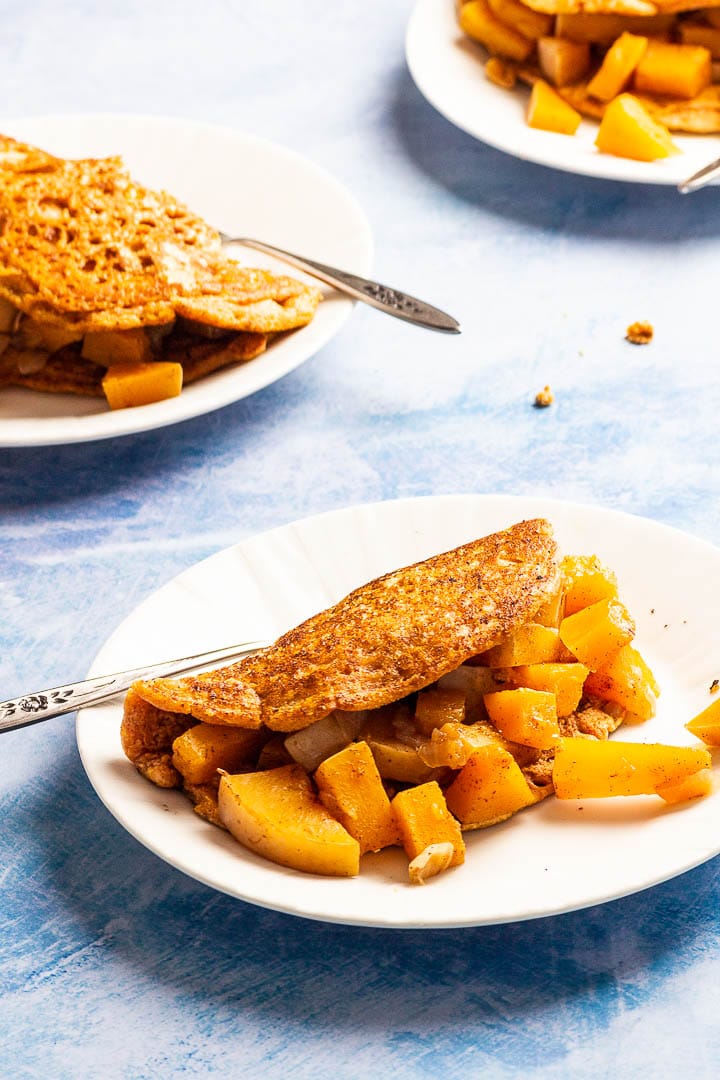 As an Amazon Associate, I earn from qualifying purchases. This post may contain affiliate links. Read More
Omelet or omelette, what is right or wrong? Opinions tend to differ. But no matter how it is written, the most important thing it tastes or not?
Once you've tasted this delicious, egg-free omelette, you'll forget which spelling is right or wrong.
After some attempts to conjure an omelet, which convinces not only me as a former egg hater, but also John and thus other egg lovers, I have managed this incredibly good omelet, which can even be folded without problems.
I must confess I have never eaten an egg omelette in my life. Not because I have always lived vegan, but simply because I could never eat anything with eggs like scrambled eggs, fried eggs or omelette.
For me, I could never bite the hard boiled egg white, which is relatively flabby and chewing on it….
I almost get goosebumps when I think about it. Maybe you even know the feeling, and you also have a food that you could never eat because of the consistency?! Let me know below
So I personally can not say how authentic this egg-free vegan omelet is and therefore I just believe my husband and he liked it a lot.
Even if you may not live vegan or you do not eat plant-based, but you want to rely more on plant-based dishes, then you should try this alternative to a traditional egg omelette.
Ingredients
You do not need many ingredients for a vegan omelette. Here is a small overview of the ingredients.
For the omelet:
Chickpea flour

Psyllium husk powder
Baking soda
Apple Cider Vinegar
Nutritional yeast
Turmeric, Kala namak, Garlic powder, Onion powder
Plant drink (milk) until the desired consistency is achieved.
Filling:
Hakkaido pumpkin / butternut or nutmeg squash (these you can eat with the skin on)

Onion in strips
Ginger, Cinnamon, Allspice
Instruction
First of all, prepare the dough for the vegan omelette. To do this, simply process all ingredients into a homogenous dough similar in consistency to a pancake batter.
Now prepare the filling. For this, cut the pumpkin and the onions into small pieces, and fry them in a pan or in the oven with the specified spices.
Make a knife test here. If you stab in the pumpkin, it should give in and be soft.
Now make the omelettes as if you were making pancakes, the omelette should be as big as the pan.
I like to fry the omelet from both sides and then add pumpkin filling to one half. Then I fold the omelette and your omelet is ready.
Where does the taste in this vegan omelette come from?
Thanks to the sulfurous, black salt Kala Namak from India our Omelet gets this authentic eggy taste.
Maybe you have already tried it and mix it into a recipe and found when the salt is wet, that the egg smell immediately rises in your nose.
At the moment it often smells too much of egg and I often have to turn away for a short time. It can be really strong for a few seconds.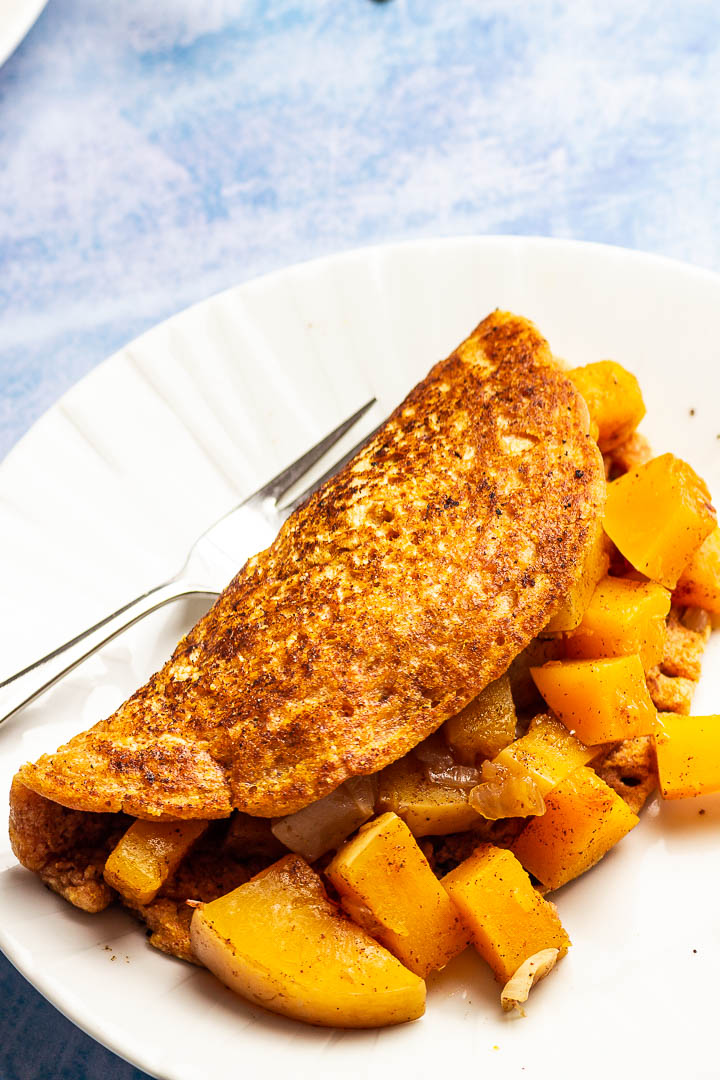 Which plant drink is best for a vegan omelette?
I usually use almond milk as it is neutral in taste. You can of course use soy milk or any other plant drink alternative.
I would not try oat milk personally, as it is very sweet and I prefer an omelette rather less sweet and the oat taste certainly comes through as well.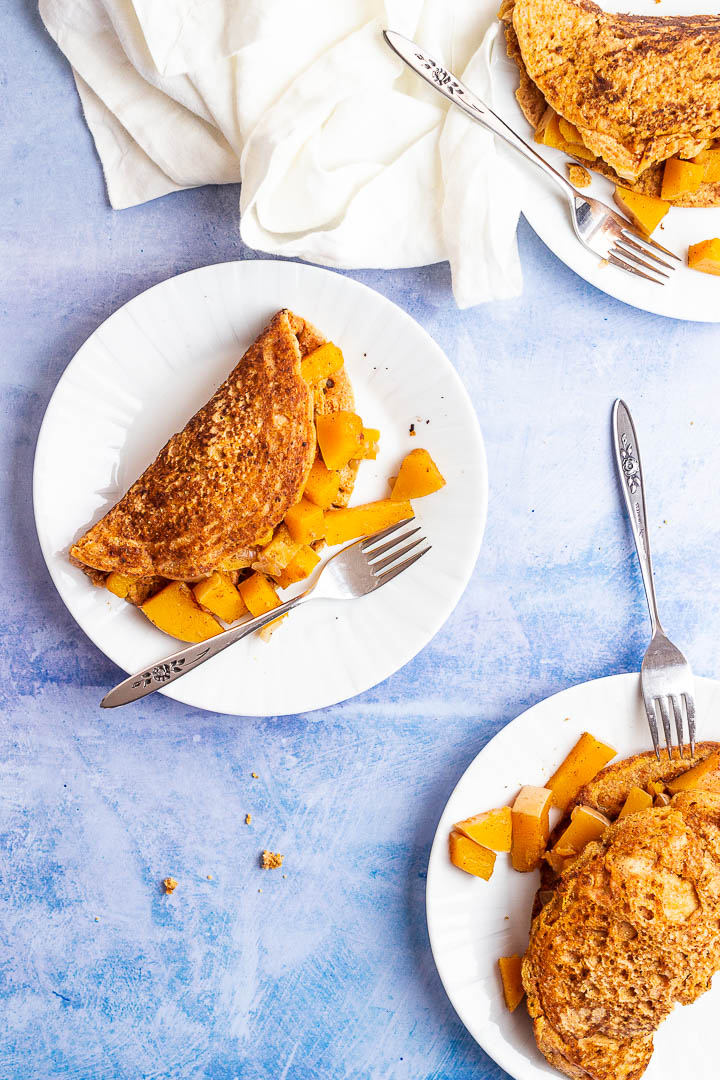 How do we get an authentic consistency for the omelette?
I've often tried making omelettes, using my husband's taste buds as a reference, whether it could also taste good for non-vegans who may want to resort to non-cholesterol omelets and thus want to try a healthier alternative to the egg-based omelet.
After a few trials and errors I found the successful combination of chickpea flour and psyllium husk powder.
Have you ever whisked psyllium seed powder with water and then you have noticed how gelatinous, egg whity it gets? Amazing, isn't it?
And exactly this characteristic benefits us with the whole food plant-based omelette.
Thanks to psyllium, the chickpea omelette is anything but dry and can easily be folded into a classic omelette. And the best you get some extra fiber and nutrition from psyllium seeds.
Filling Options
After several attempts, I recommend to flip the omelette after you baked it from both sides.
You can let it unfold and bake it over low heat with the filling as a topping.
Thus, you can bake a delicious chickpeas frittata without tofu or soybean flour.
What else can I prepare from the base dough of the omelet?
You can make different omelets with different fillings. For example, a delicious spinach filling, or Mediterranean vegetables.
Another example, if you're not a soy friend and therefore you won't eat tofu, then instead of making a scrambled egg made from tofu, or also known as scrambled tofu, you can make scrambled eggs from chickpea flour.
Just take this dough and let it sauté crumbly.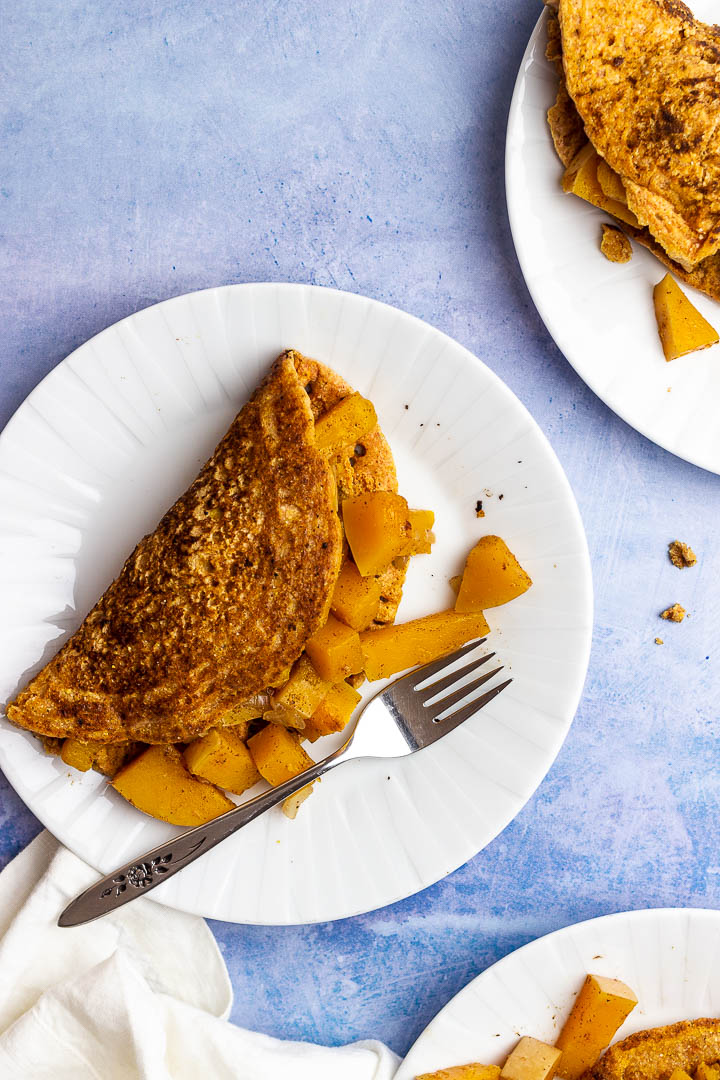 Tips & Tricks
I created this recipe to use as few ingredients as possible for a fast and authentic recipe.
So you can also prepare the omelette during the week. If you can eat tofu then you are welcome to add ¼ of a silken or soft tofu to your dough. However, you would then have to purée this in a high speed blender.
This makes the consistency even softer and more egg-like. Just try it out and see what you prefer more.
Now in the pumpkin season, I have filled my vegan omelette with pumpkin.
It does not get boring to a classic vegetable omelette with spinach, broccoli, paprika, mushrooms, asparagus. Of course you can also take other veggies or adapt it for your guests.
You can also prepare the dough the evening before, but only add the baking soda and apple cider vinegar shortly before baking. Thus, the soda does not lose its power and the dough becomes airy.
You can also prepare the filling a few days before. It lasts in the fridge in an airtight container for a couple days.
If you are a breakfast person, then look at the following vegan recipes:
More Pumpkin Recipes:
Do not forget to Pin on Pinterest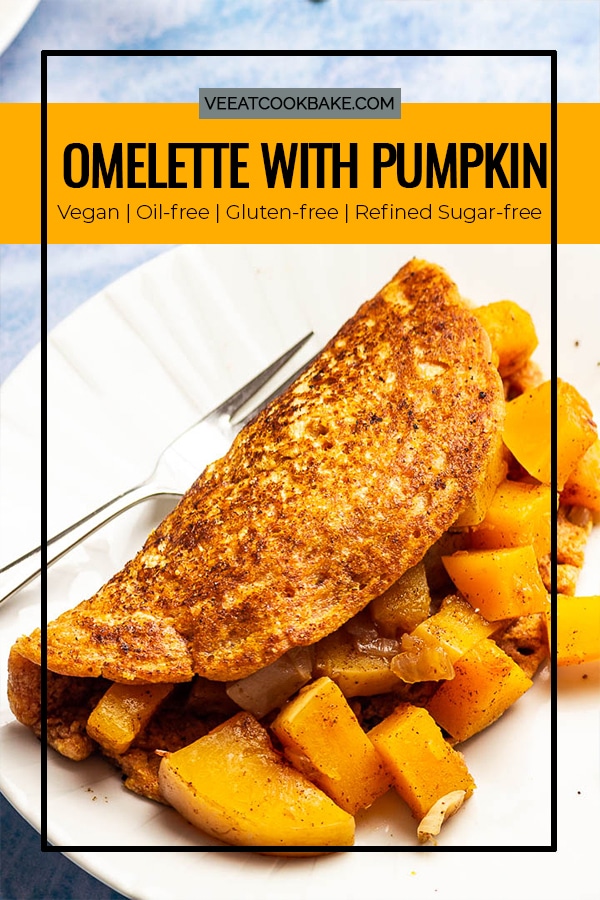 Have you tred the recip
If you tried the vegan Recipebe so nice ♥ and let me knw byrating the recipe and writing what you think about it in the comments.  I would love to see your photo on Instagram orFacebook. To do this tag me with @veeatcookbake andmy hashtag is #veeatcookbake. So that I can see your creation. Did you know you can add photos n Pinterest under the recipe Pin? I can't wait to see a photo of your creation here. You find me with @veeatcookbake