Vegan Baked Apple Cinnamon Oatmeal with marzipan is a warming breakfast perfect for the cold season. With roasted apple pieces and homemade marzipan, this vegan apple cinnamon oatmeal simply tastes delicious and is super filling. vegan | vegatarian | milk-free | lactose free | sugar free | oil-free
How do I get sweetness in my vegan baked apple cinnamon oatmeal?
I try to sweet my foods in a natural way. Same with sweet oatmeal/ porridge. Fruits / fruits naturally have a lot of sugar and this sugar is healthy. There you can take a lot of fruit according to your mood. Do I have a rule how I sweetening my oatmeal? Well, I like to take juice for the half of the liquid I need in the recipe. For example, as with this vegan apple cinnamon oatmeal (Oatmeal) just add half of the amount unfiltered apple juice. Voila your oatmeal (porridge) is sweet now. Do you have tips on how to get natural sweetness in dishes?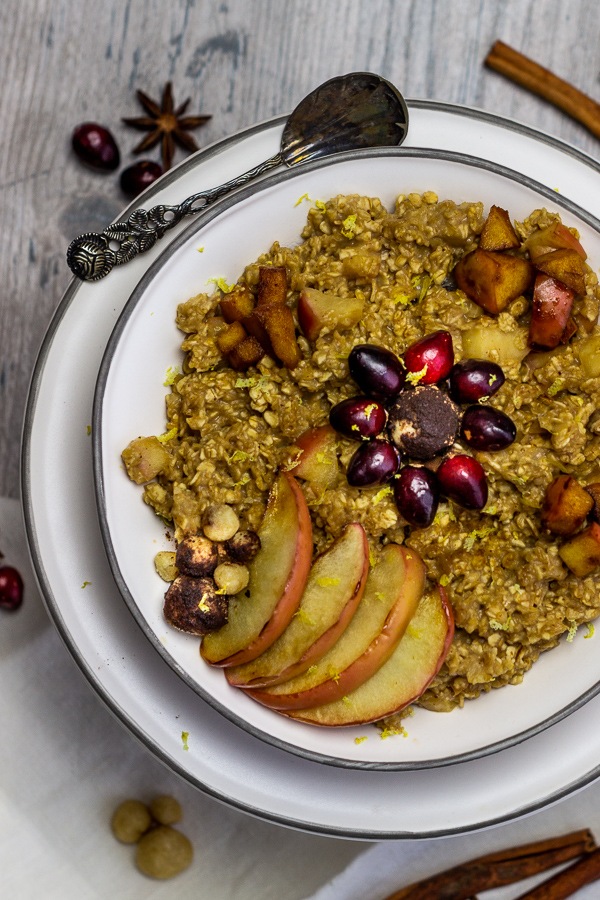 Sugar-free homemade marzipan for the vegan apple Cinnamon oatmeal?
Do you like marzipan as much as I do? Then you will certainly be happy about this sugar-free alternative. I find it incredibly delicious and you do not realize that there is no sugar in it. The purchased marzipan often contains a lot of sugar and is not healthy at all. Have you ever heard of rosewater in marzipan? It tastes incredibly delicious and gives the marzipan something special? In addition I must say, I always have a bottle of rose water at home, since I use this as face water. What I can really recommend, by the way;) In addition to the vegan apple cinnamon oatmeal, would you like to see more recipes with marzipan?
Rather liquid porridge or sticky porridge (Oatmeal)
To be honest, I can not decide how I like it best. Depending on my mood, I like my oatmeal more liquid or sticky like the apple cinnamon oatmeal. If the oatmeal is too sticky for you, simply add more plant drink or juice until it reaches your desired consistency. If it is too liquid for you just add more oats.
I hope you like my baked apple cinnamon oatmeal (porridge). It is:
sweet
refined sugar free
wintry
warming
perfect for a quick breakfast
healthy snack
You like balanced breakfasts like this vegan baked apple cinnamon oatmeal ?!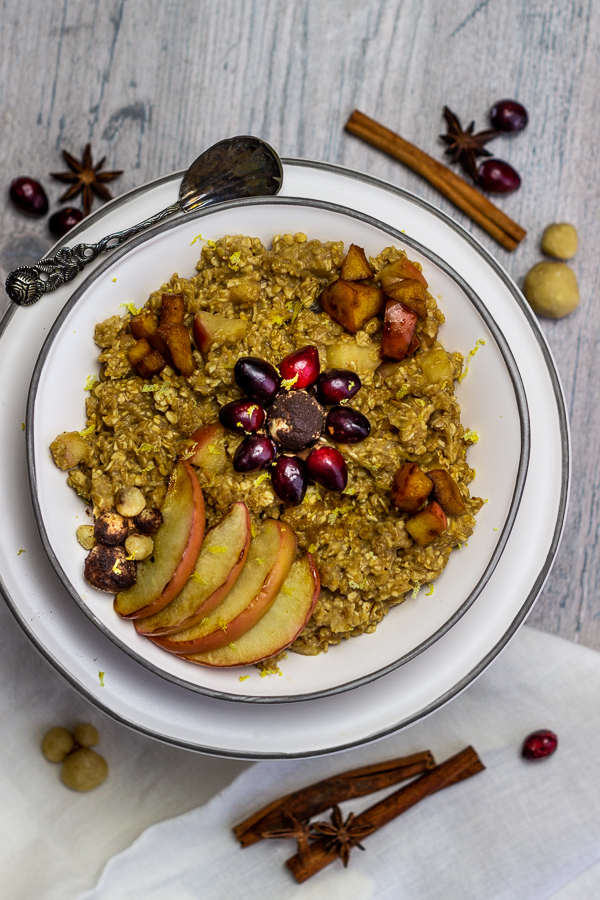 ---
Have you tried the recipe?
If you did it, be so nice ♥ and let me know by rating the recipe and writing what you think about it. Tag me on Instagram too. I am @veeatcookbake and my hashtag is #veeatcomforts. So that I can see your creation. Did you know you can add photos on Pinterest under the recipe Pin? I can't wait to see a photo of your creation there. You find me with VeEatCookBake.
---

Used products:
---
---