Vegan apple cinnamon porridge (oatmeal) with baked apples and marzipan, a warming breakfast perfect for the cold season.
With fried apple pieces and homemade marzipan, this vegan apple cinnamon oatmeal tastes simply delicious.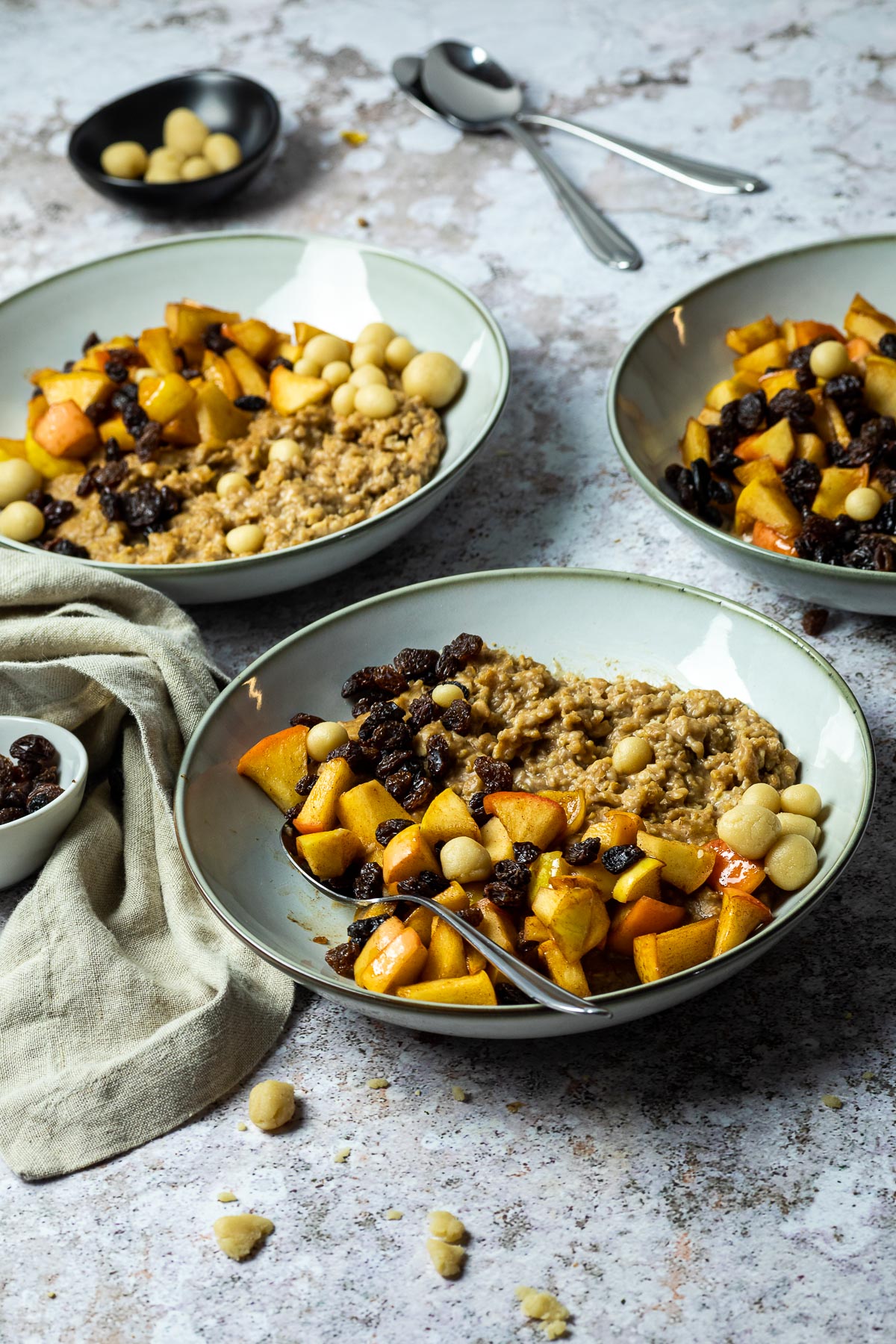 As an Amazon Associate, I earn from qualifying purchases. This post may contain affiliate links. Read More
Jump to:
It is quick to prepare and is suitable as a meal prep if you prepare your porridge the night before. The oatmeal recipe is not only vegetable-free, but also dairy-free, gluten-free and refined sugar-free.
With this oatmeal recipe, you can do without refined sugar. We're going to make this recipe with fruit and maple syrup.
If you would now like to sweeten your porridge with non-industrially processed sugar, I recommend that you either sweeten part of the liquid with juice (preferably direct juice) or with fruit puree.
For the marzipan I use homemade, sugar-free marzipan, which means you won't miss out on what you've bought.
Do you like marzipan as much as I do? Then you will surely be happy about this sugar-free alternative.
I think it's incredibly tasty and you don't notice that it doesn't contain any sugar.
The marzipan you buy often contains a lot of sugar and is not at all healthy. Have you ever heard of rose water in marzipan?
It tastes incredibly delicious and gives the marzipan that certain something. I have to say, I always have a bottle of rose water at home because I use it as a facial tonic.
Consistency
To be honest, I can't decide how I like it best. Depending on my mood, I like my oatmeal, like the apple cinnamon oatmeal (oatmeal), more fluid or more dense. In any case, it depends on the daily form.
If the oatmeal is too sticky / dense for you, just add more plant-based drink or not-from-concentrate juice until it has reached your desired consistency.
If it's too runny for you, just add more oats.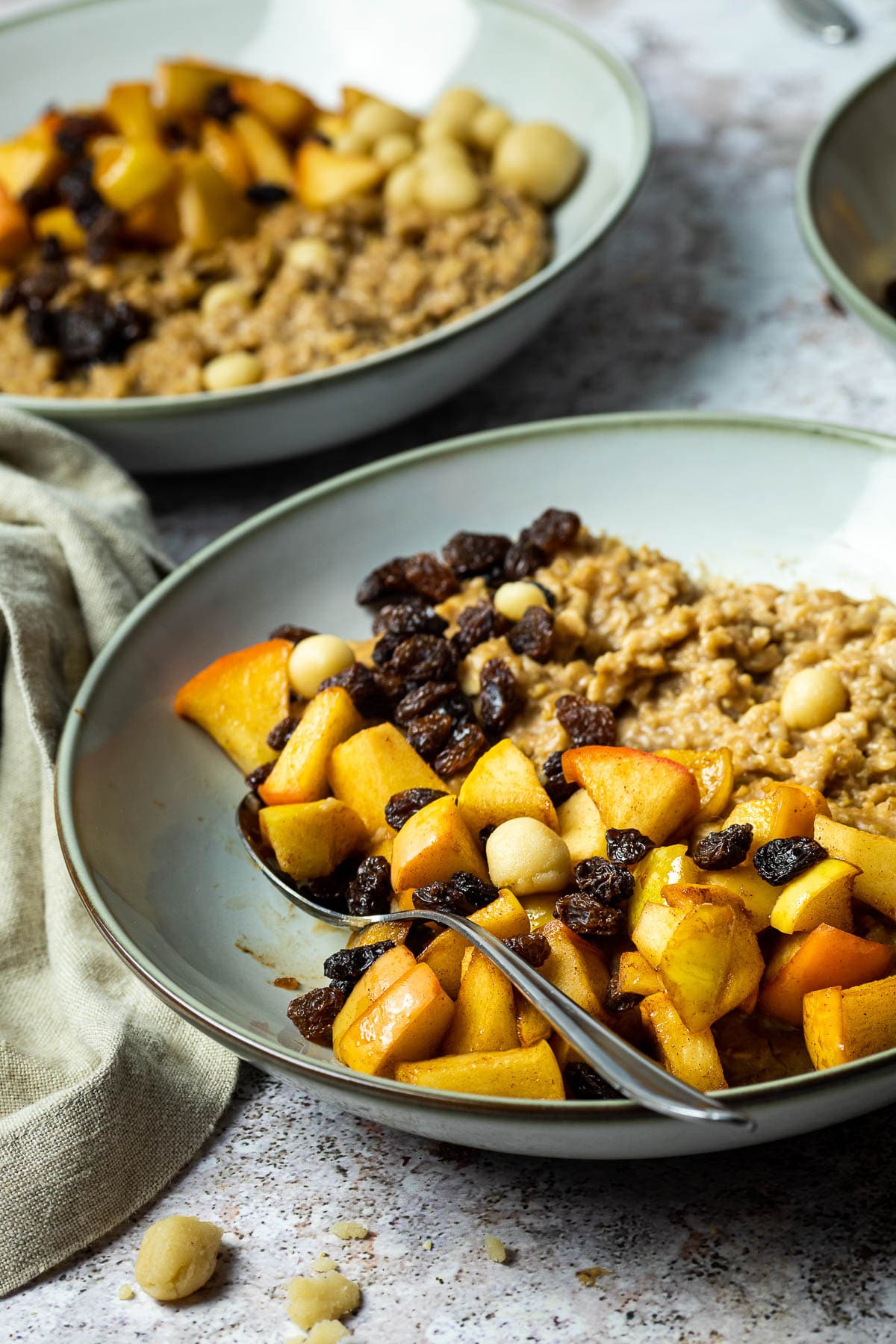 Ingredients
Let's take a look at the ingredients in this very fine oatmeal.
As always, the exact quantities can be found in the recipe card below.
Oats
Almond Milk
Unfiltered Apple Juice or Apple Sauce unsweetened
Apple
Maple Syrup
Raisins
Cinnamon
Marzipan
Almonds
Rose Water
Maple Syrup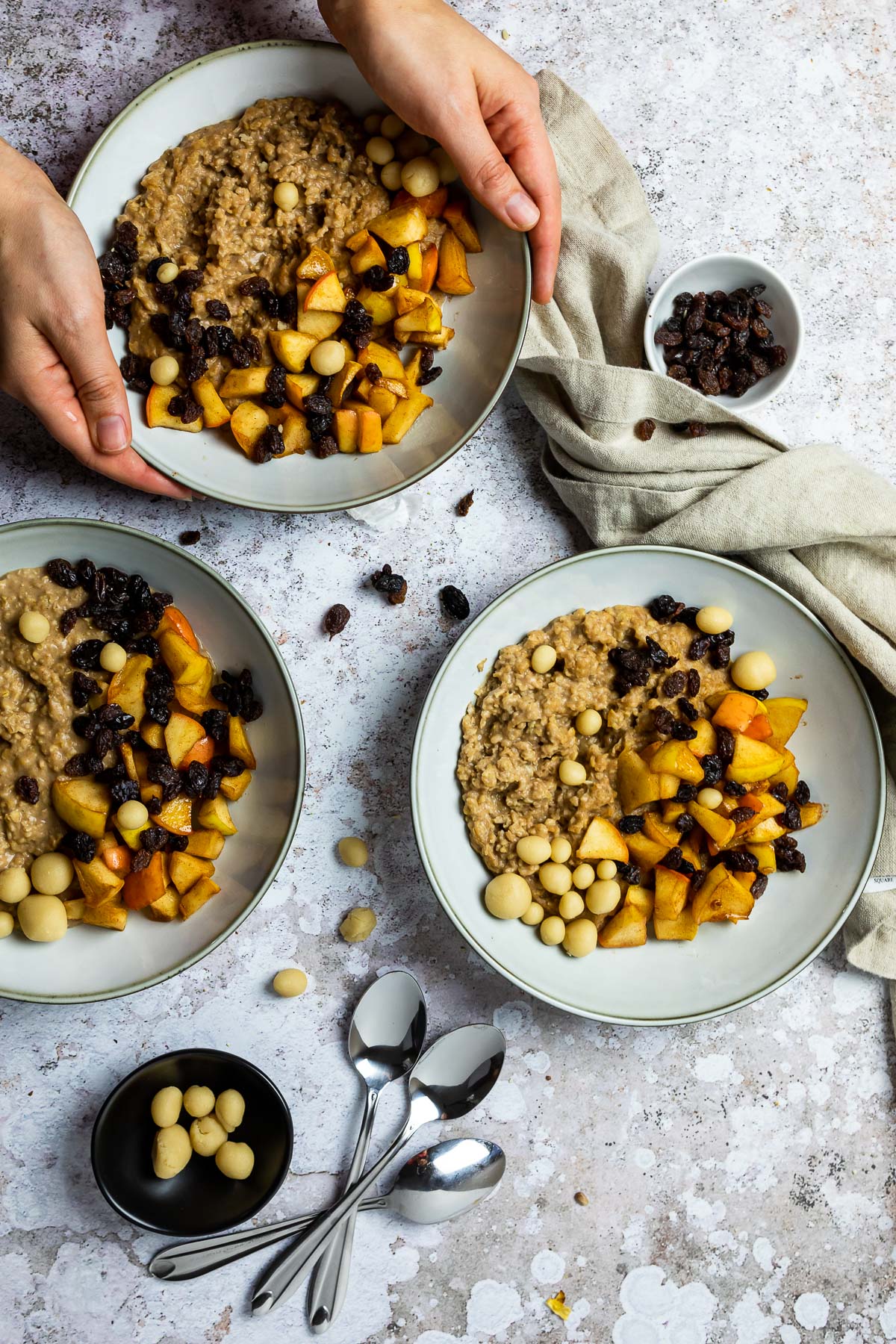 Substitutions
Let's take a look at what you can replace.
Oat
If you don't want to use oatmeal, you can also use spelt flakes or other grains like millet or quinoa.
Almond Milk
You can also use oat milk instead of almond milk. This is naturally a little sweeter than almond milk. Then you can use a little less of the apple juice later.
Maple Syrup
You can also replace the maple syrup with date sweetener or coconut blossom sugar. Chopped up dates work very well here too.
Rose Water
If you don't want to use the rose water, you can also use water here.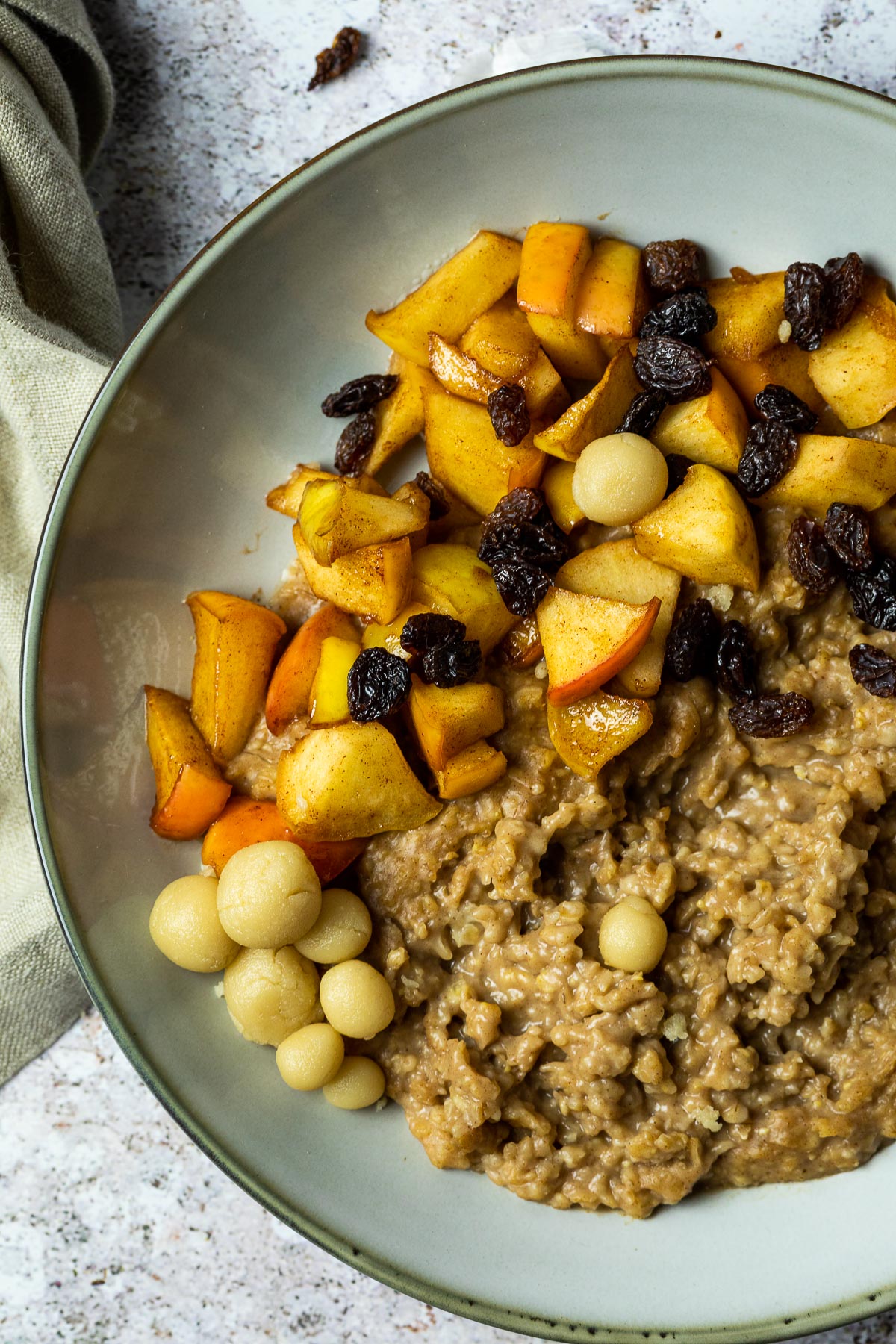 Variations
Let's take a look at how you can adapt this vegan porridge to other diets.
Gluten free
If you made sure that you bought gluten-free certified oatmeal when you've purchased, this delicious vegan baked apple porridge is gluten-free.
Nut free
Use soy milk, rice milk, or oat milk instead of almond milk. Skip the marzipan as this is made from almonds.
Soy free
Breakfast is already soy-free. There is no soy ingredient here.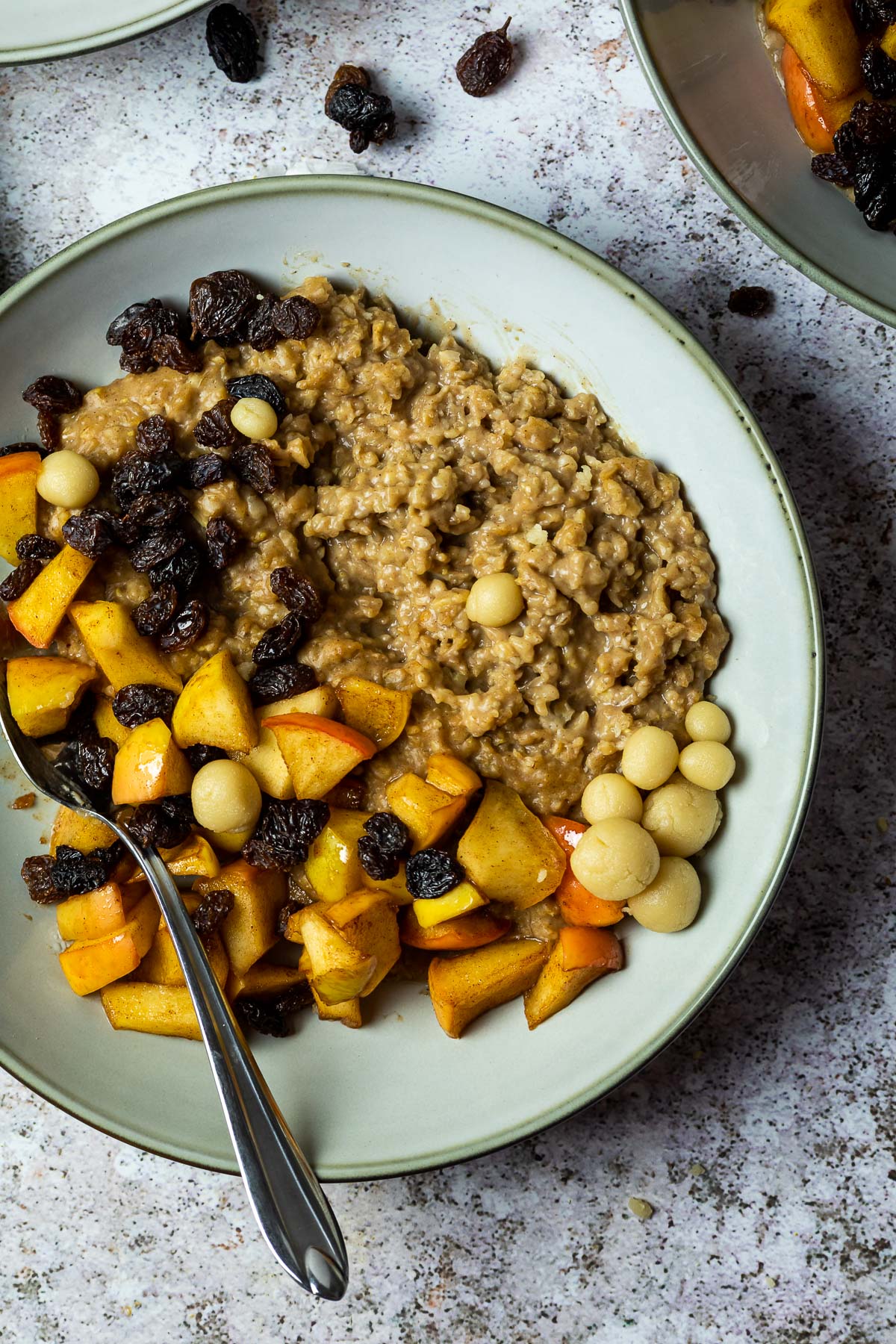 Instructions
Start by briefly boiling the oat flakes with the almond milk and apple juice.
In a pan, add the apple pieces and a tablespoon of maple syrup and fry this briefly on medium heat until it caramelizes.
Now stir the apple pieces, cinnamon and raisins into the porridge.
Shape the marzipan into small balls and distribute on the porridge. You probably won't be using all of this.
Marzipan
Using a food processor, add the almonds and grind them to a very fine flour. Now add the remaining ingredients and process it a little further until oil comes out of the almonds.
Now keep processing it until you get a batter that sticks together.
Prepare in advance
You can also prepare this porridge 3-4 days in advance and enjoy it cold. Or warm it up briefly.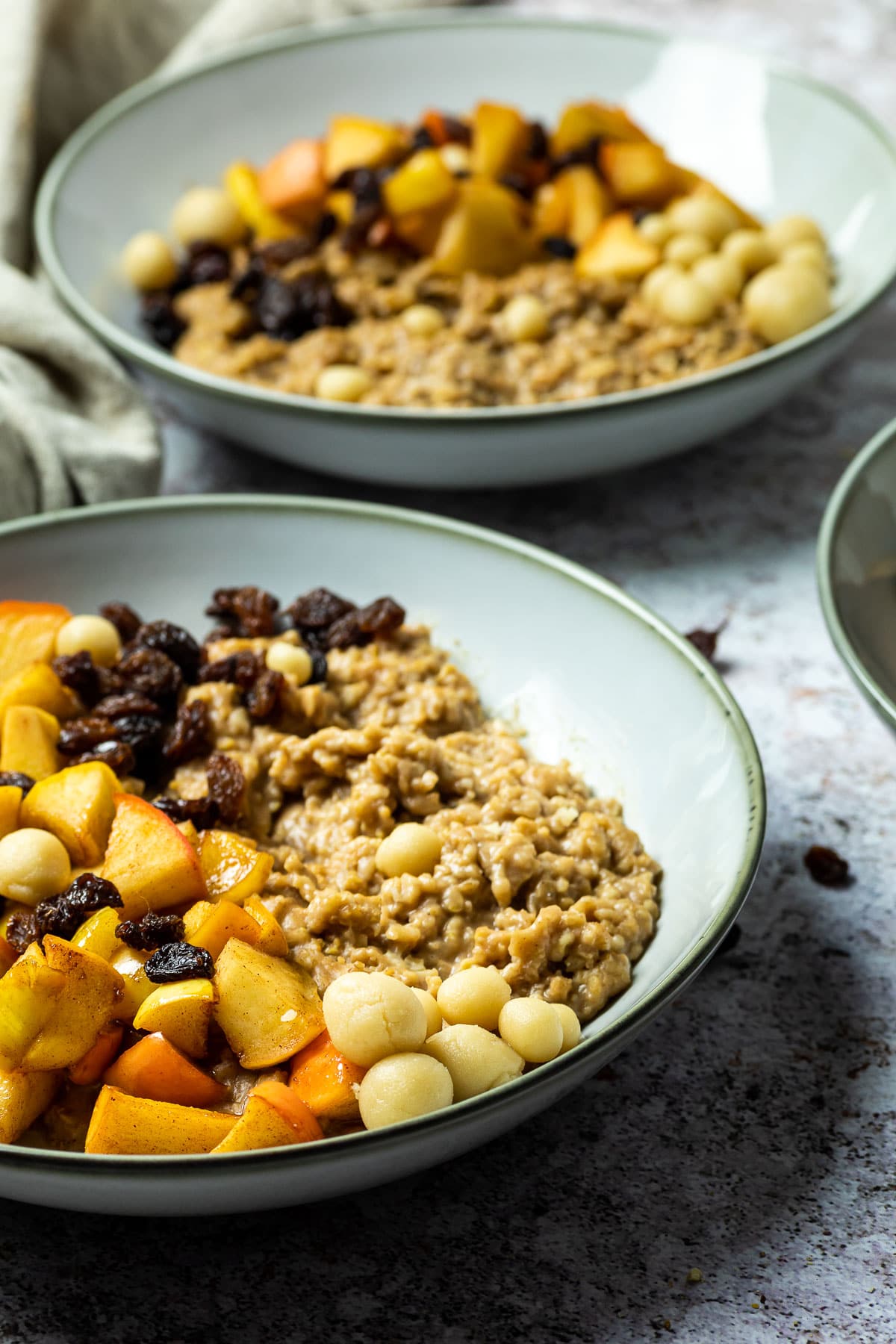 Storage
Got something left of the oatmeal breakfast? No problem!
How to refrigerate?
You can keep the porridge in the fridge. You can enjoy the leftovers cold or warm.
How to freeze?
You can also freeze prepared oatmeal. Here the oatmeal lasts for about 6 months. Then just let it thaw in the fridge the evening before. You can now heat the oatmeal in the microwave for 1-2 minutes.
More Vegan Breakfast Recipes:
Scrambled Eggs with Coconut Bacon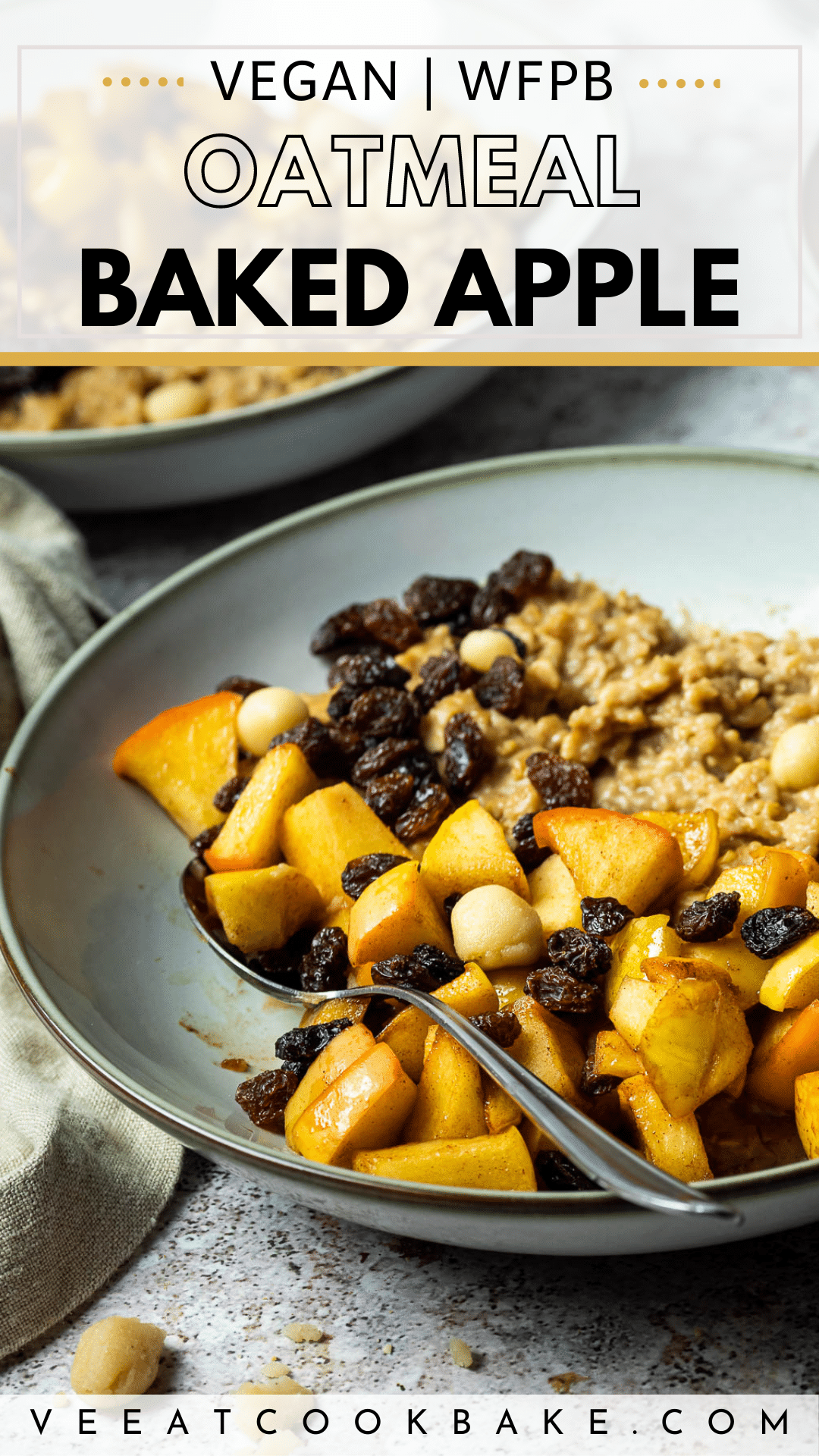 Have you tred the recip
If you tried the vegan Recipebe so nice ♥ and let me knw byrating the recipe and writing what you think about it in the comments.  I would love to see your photo on Instagram orFacebook. To do this tag me with @veeatcookbake andmy hashtag is #veeatcookbake. So that I can see your creation. Did you know you can add photos n Pinterest under the recipe Pin? I can't wait to see a photo of your creation here. You find me with @veeatcookbake