These super delicious vegan crêpes taste like they do from the fair and are made with only 6 ingredients. You can create these wafer-thin pancakes and fill them as you like them.
Crepes are super easy to prepare in vegan. This basic recipe for a vegan crepe batter is a sure bet and you don't need a crepe pan.
In the photos you can see almond milk crepes filled with a brownie dip, strawberries and bananas. You can fill them with your favorite fillings to your heart's content.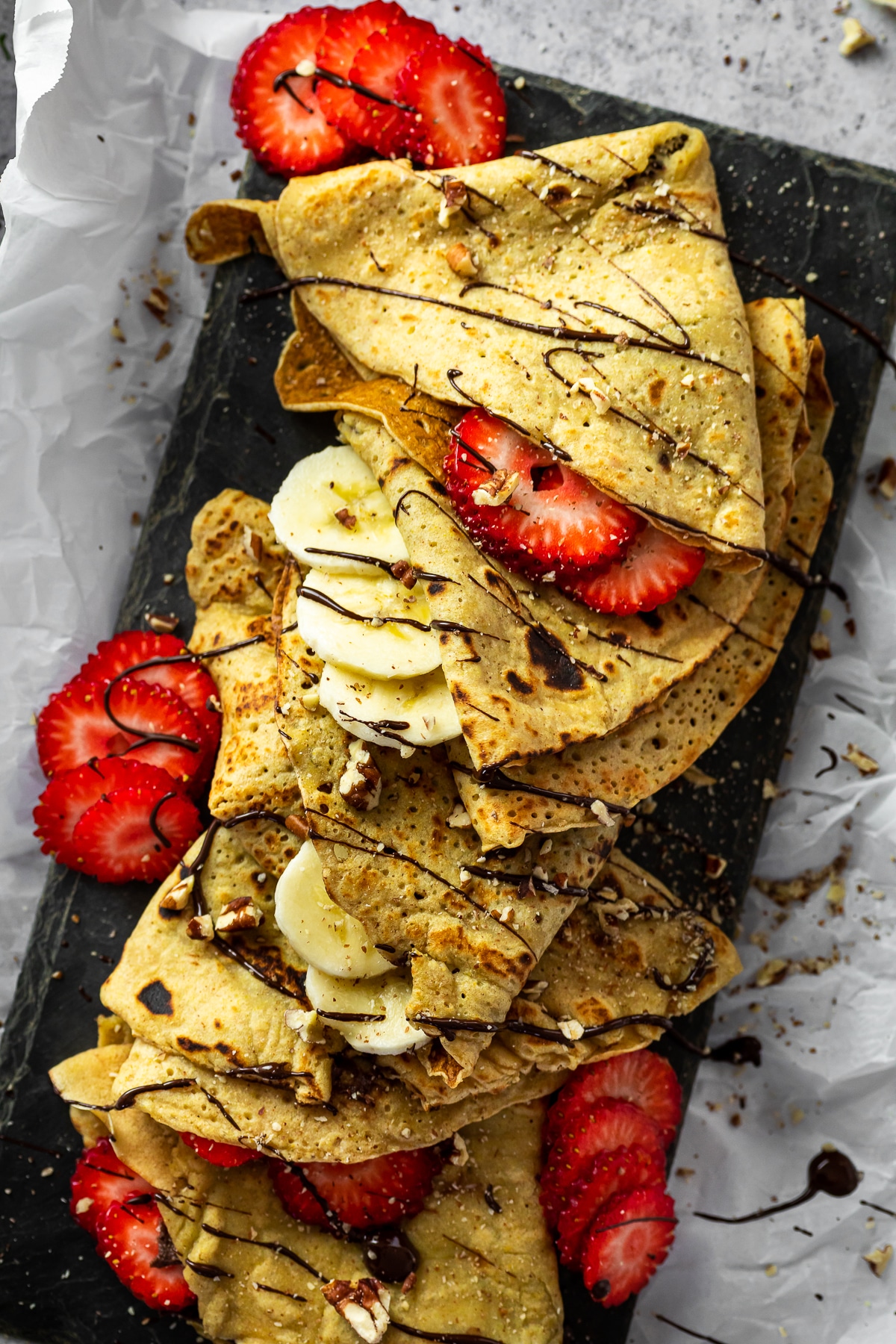 As an Amazon Associate, I earn from qualifying purchases. This post may contain affiliate links. Read More
These crêpes can also be filled sweet or hearty.
In principle, the dairy free crêpe dough is quickly stirred together and can be baked directly in a pan.
You can serve these vegetarian French crêpes without eggs as a delicious breakfast or brunch. Or they are heartily filled for a delicious and light dinner.
What is a crepe?
A crepe is a Breton pancake that has gained popularity far beyond just France.
The crepes are very thin pancakes that are traditionally prepared on a cast iron plate.
The liquid batter is spread quickly so that it becomes thin and even.
Crepes are classically sweet. The hearty variant is called galette. Gallettes are mostly made from buckwheat flour.
How to pronounce Crepe?
A lot of Americans pronounce Crepe like the word "Crape". It rhymes with the word "ape". But if you want to pronounce it the French way, you have to pronounce it slightly differently.
You have to write it like Crêpe. And pronounce it like the word "step". The last e is silent. And if you say the plural form of Crêpe, Crêpes the s is silent and you still say just Crêpe (crep).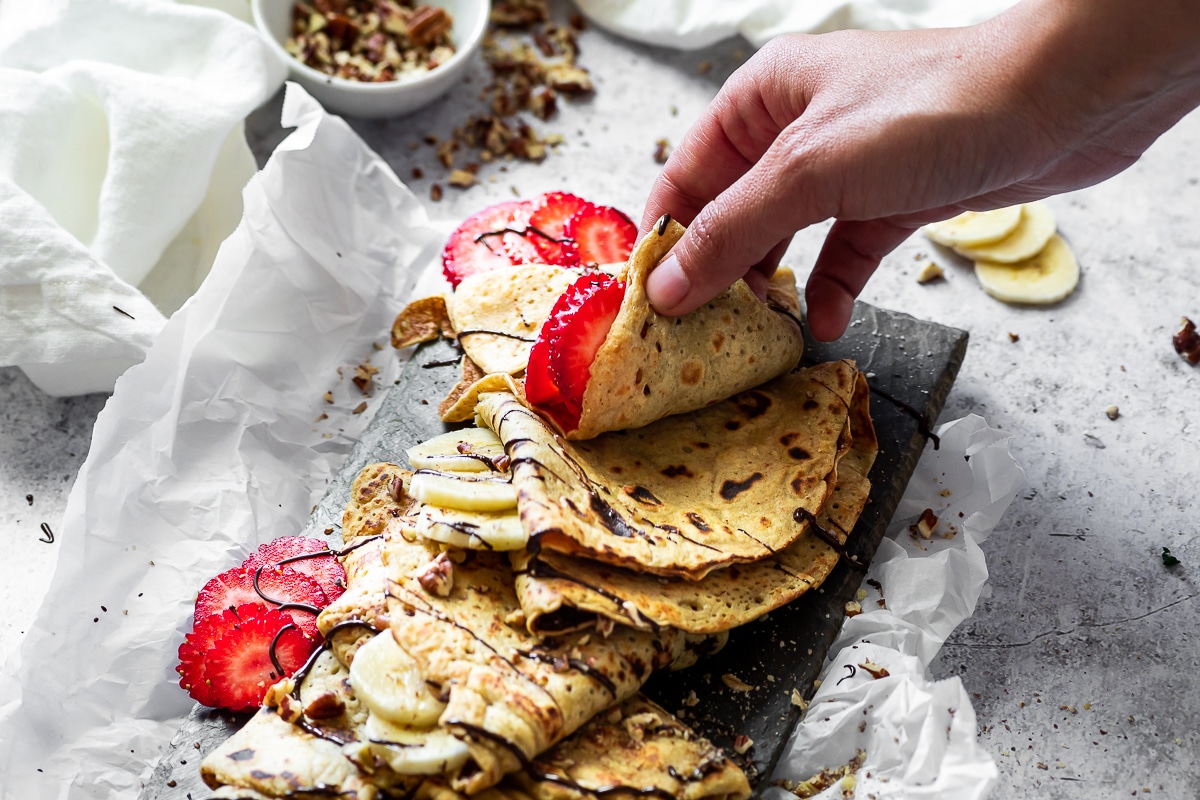 What should crepes look like?
Growing up in Germany you can see crepe booths at fairs. It feels like they are every other booth. Unfortunately, we know that traditional crêpes are made with eggs and milk. And I loved eating these thin pancakes from France.
So I had to try an egg-free and dairy-free version and I have to say that these French crepes have become perfect. They have the same characteristics as the Original Crepes:
Thin: super thin pancakes
Elastic: they are super easy to fold and do not break apart. So they can be filled easily.
Ingredients
I don't want to withhold the ingredients we use to make these perfect vegan crepes.
You can find the exact quantities below in the recipe card.
Whole White Wheat Flour or Spelt Flour
Maple Syrup
Baking Powder
Turmeric
Almond Butter
Almond Milk or other plant-based milk, unsweetened
Gluten-free Crepes
I have to say traditional crepes are not gluten free. Crepes are usually made from wheat flour or spelt flour. However, if you want to make the classic variant for galette, use this recipe and use buckwheat flour instead of the normal flour. Buckwheat is gluten free.
Buckwheat crepes are traditionally eaten heartily, but they also taste great with a sweet filling.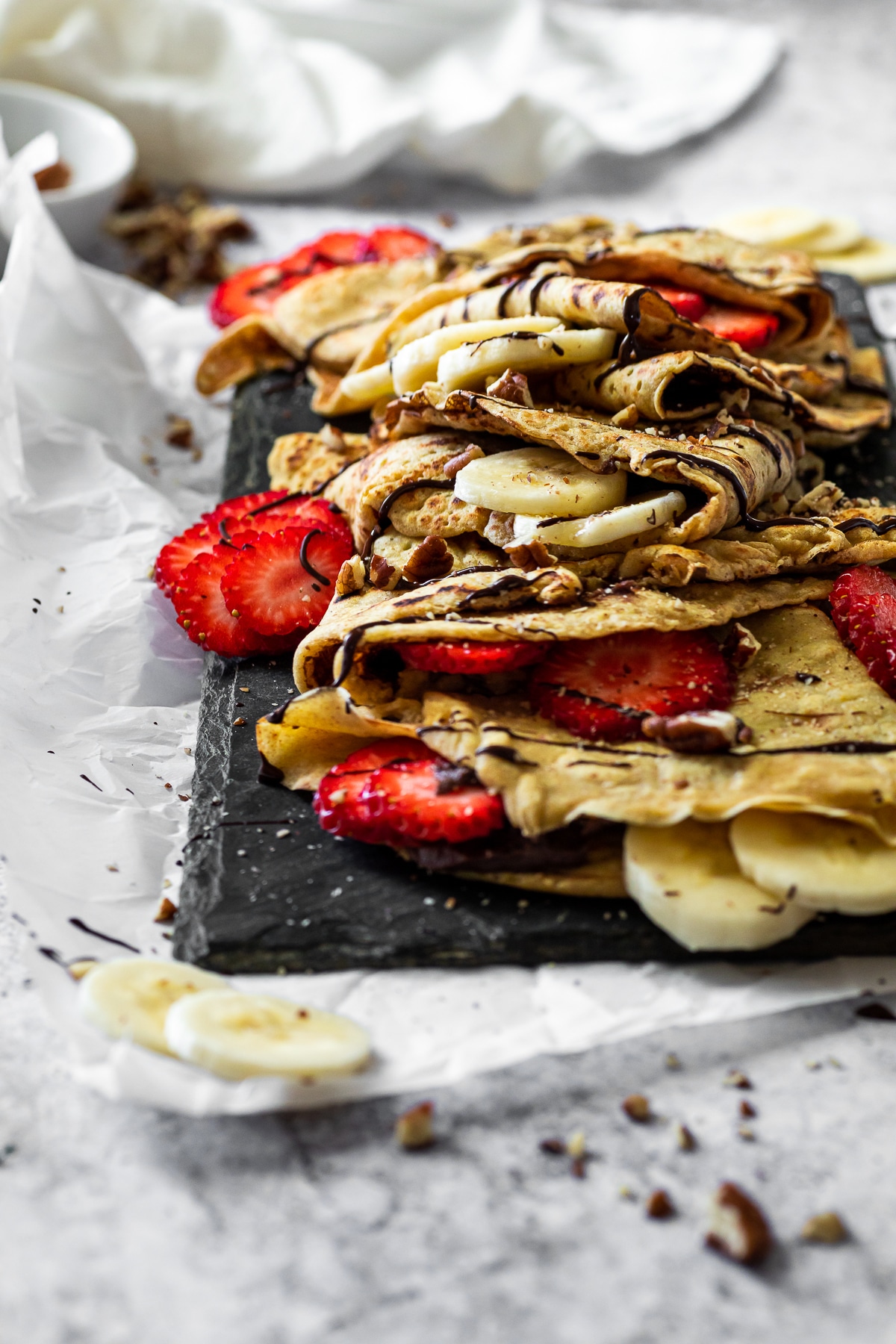 Nut-free Crepes
You can also prepare the crepes without nuts.
To do this, instead of using a nut butter, use a seed butter like sunflower seed butter. You can also use soy milk or oat milk instead of unsweetened almond milk.
Maple Syrup Alternative
Instead of maple syrup, you can also use date paste. Use a sweetener of your choice.
Instruction
Start to stir the nut butter with the milk until it is creamy.
Now add the remaining ingredients and stir it until you get a smooth dough. Make sure that the dough is very fluid. It should be thin.
Depending on the flour used, you may need to stir in a little more vegan milk.
Let the dough rest for 30 minutes.
In the meantime, preheat a large pan and add a ladle from the batter. With the bottom of the trowel I smooth the dough so that the dough spreads over the whole pan bottom. Flip the crepes like you would flip normal pancakes.
Now put your filling on half of the crepe and fold to the middle and then again to the middle so that you get a triangle.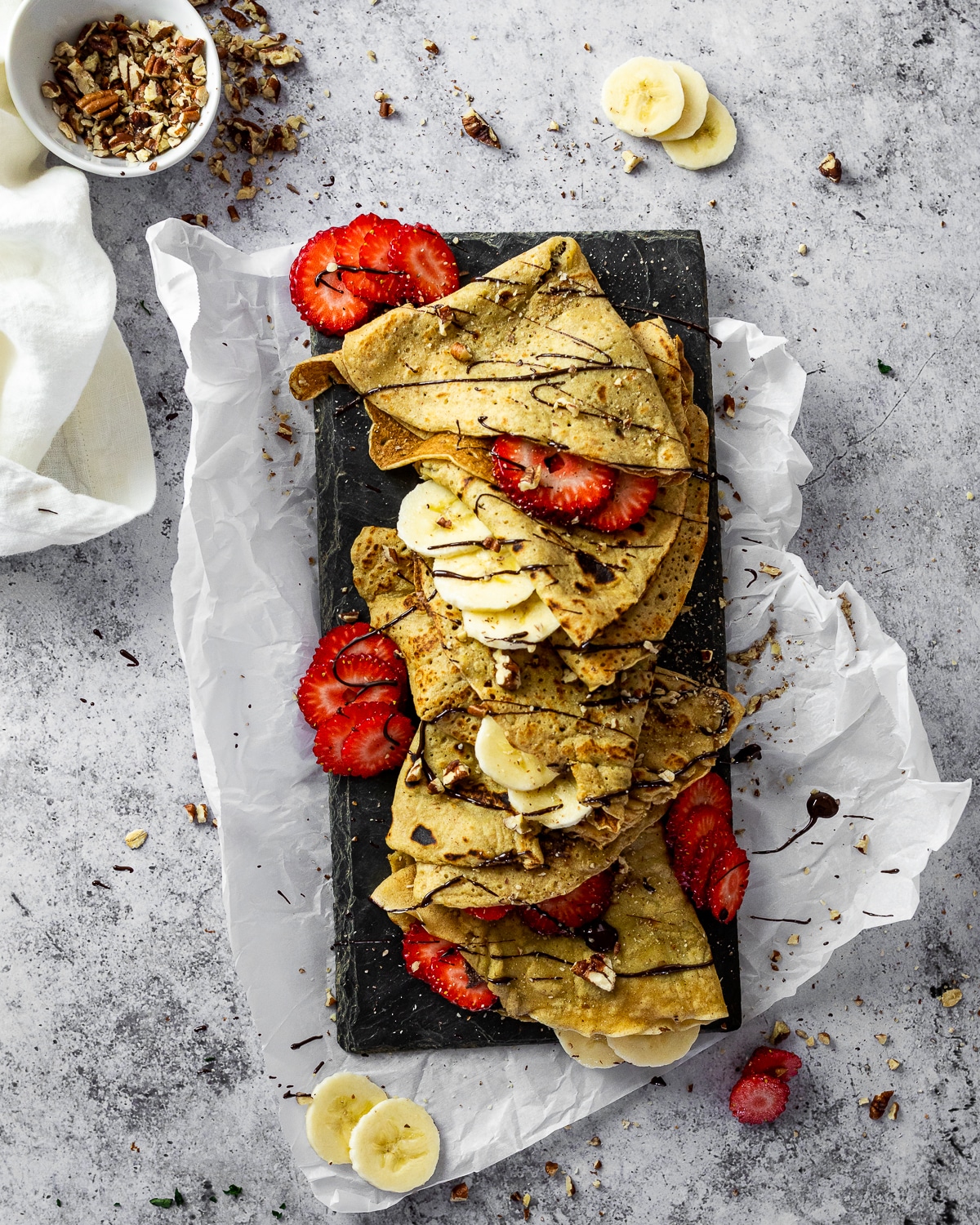 Keep warm for a crowd
Do you have guests and want to serve crepes? Then simply prepare the crepes and place them on a plate with baking paper between each crepe and keep warm in the oven at 300°F (150°C).
Prepare in advance
You can also prepare the dough the night before and keep it in a closed bowl in the fridge.
Bake the crêpes in the pan just before serving.
Fill the Crepes in advance
At the very beginning, it can be time-consuming to bake the crepes. Because you can only make one crepe in each pan. You will notice that with a little practice it gets faster.
Of course, you can also prepare the crêpes completely in advance and then reheat and fill them. However, I would not fill it until the day you want to eat them.
Crepe Fillings
Actually you can really use whatever you like. You can fill them as you like. Known fillings for crepes are:
Cinnamon Sugar
Apple Sauce
Nutella (egan version)
Kinder Chocolate (not vegan)
Brownie Dip
Fruit
Nut Butter
Storage
You can store crêpes very well. If you have leftovers, put a piece of parchment paper between each crepe so that they don't stick together. Make sure you let them cool first. You can now store them in the fridge in a Ziploc bag. They keep in the fridge for about 5 days. Or you freeze them. The crepes last in the freezer for about 2 months.
You can either heat the pancakes in the microwave for 15 seconds or in the preheated oven.
Tips
Make sure your crepe batter is thin. You need to be able to swirl the batter in the pan and spread it out with the trowel so that the crepes become very thin.
I always recommend weighing the flour instead of a measuring cup. This is how the dough should get the exact consistency.
If you only have measuring cups and no scales, use the spoon and level method to get the most accurate amount.
If you've used more flour, or if the dough seems too thick, just add a little more almond milk until you have a thin batter.
Make sure that you only turn the crepes over when the crepes are already dry on the top, otherwise the crepes will break apart.
If you use coconut milk or cashew milk, the dough may be thicker, than with almond milk or soy milk.
More Breakfast Recipes:
Overnight Oats (3 variants)
Baked Apple Oatmeal / Porridge
French Toast
Stir-fried Tofu with Coconut Bacon
Waffles
Baguette
Bread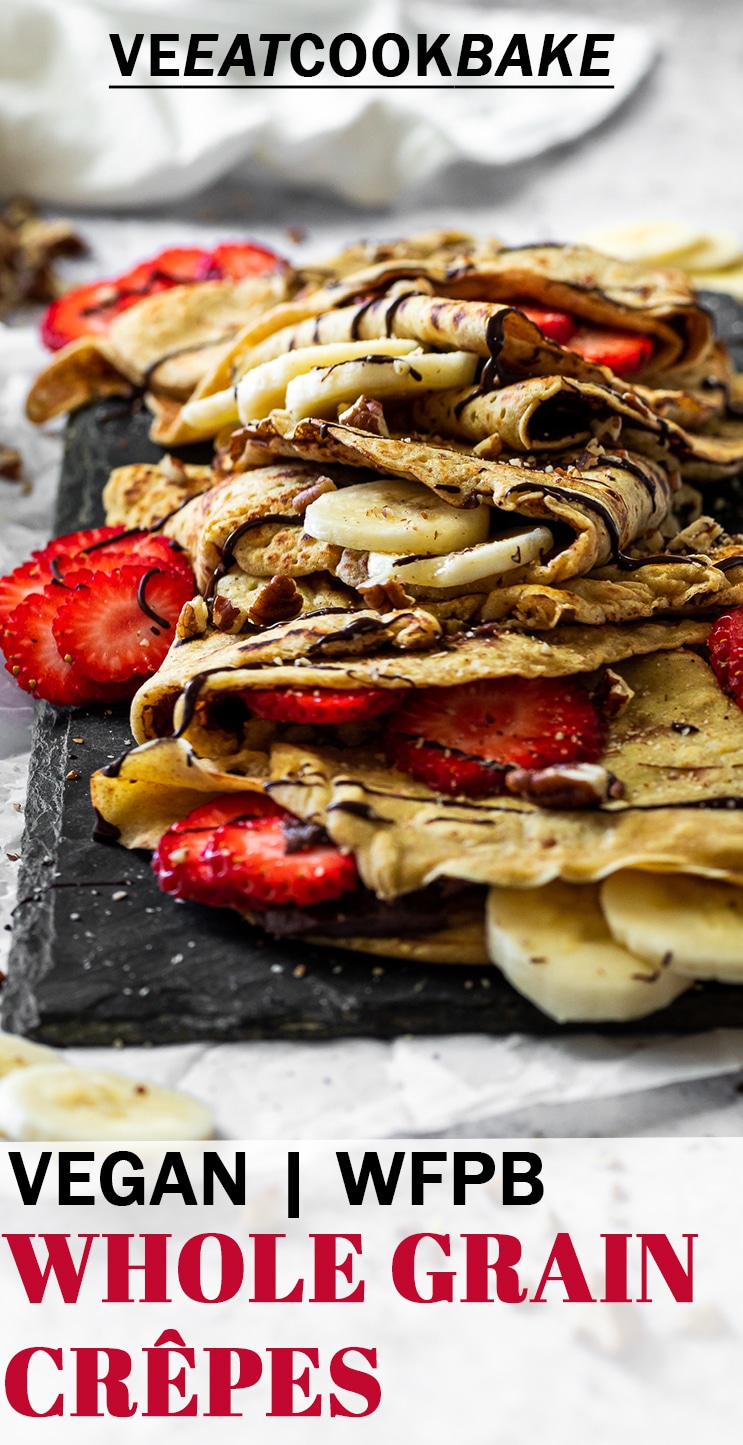 Have you tred the recip
If you tried the vegan Recipebe so nice ♥ and let me knw byrating the recipe and writing what you think about it in the comments.  I would love to see your photo on Instagram orFacebook. To do this tag me with @veeatcookbake andmy hashtag is #veeatcookbake. So that I can see your creation. Did you know you can add photos n Pinterest under the recipe Pin? I can't wait to see a photo of your creation here. You find me with @veeatcookbake