You will find an easy vegan pancake recipe here, which is prepared super quickly.
These pancakes are airy, fluffy, tender, soft, just as they should be for a delicious and quick breakfast, brunch.
As an Amazon Associate, I earn from qualifying purchases. This post may contain affiliate links. Read More
Jump to:
The best thing is they are refined sugar-free, oil-free, and a healthier variant of the classic.
You can also easily make these American pancakes with whole grain flour, as shown in the photos.
What makes these pancakes special?
I don't know how you like your pancakes most, for me personally they can't be airy enough.
And if you feel the same way as I do, you will definitely love these pancakes.
These homemade dairy-free pancakes are just the thing for you.
Have you ever eaten classic American pancakes?
They are soft, tender, airy and rather thick and small, which is not the case with crêpes, for example.
The pancakes are traditionally eaten with maple syrup. And with this recipe you get an authentic American breakfast recipe.
We also like to eat fruit and chopped nuts with them. To do this, we simply use what we have at hand as a topping.
These vegan pancakes are prepared without milk, eggs or butter and are ideal for creating from ingredients that you have in your pantry at home.
Even if you are not vegan or do not eat a plant-based diet, you have found a super simple and authentic recipe, and nobody would suspect that they were prepared without eggs.
Leave Aunt Jemima's classic pancake mixture in the store and start creating this super simple and healthy dough.
You will see these pancakes are super easy to prepare yourself and you will not miss the pancake box.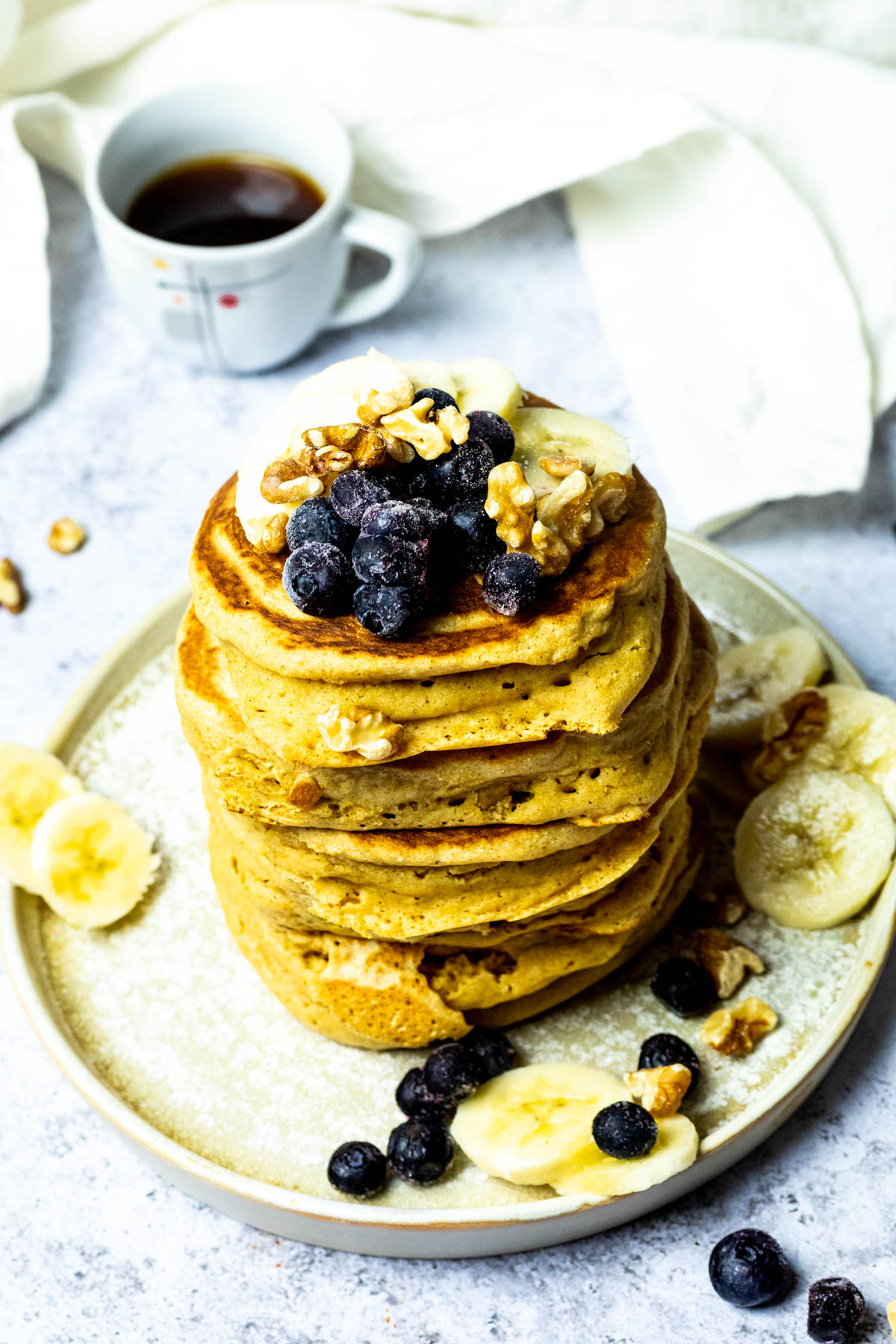 Ingredients
A brief overview of what is included in these incredibly airy pancakes.
You can find the exact amount below in the recipe card:
Whole White Wheat Flour
Baking Powder
Baking Soda
Maple Syrup
Almond Milk
Cashew Butter or Almond Butter
Vanilla Extract
Apple Cider Vinegar
Instruction
Start mixing the dry ingredients in a mixing bowl.
Now add the moist ingredients in a second bowl or in a high speed blender and stir / blend until a creamy consistency is obtained. Stir the liquid into the dry ingredients.
The dough should not be too runny, so the pancakes will rise nicely and become thick and do not spread too much.
Now heat a pan over medium heat and pour the batter into the pan in portions. I like to use a ¼ cup (American measuring cup) which corresponds to 60 ml volume.
Now bake the pancakes from one side until you see that they are almost baked. They have blisters and are slowly becoming dry. Then you can flip the pancakes.
Now you only need to bake the pancakes on the other side for a short time.
It is important that you do not set the temperature too high so that the pancakes stay slightly brown as they will remain in the pan for some time.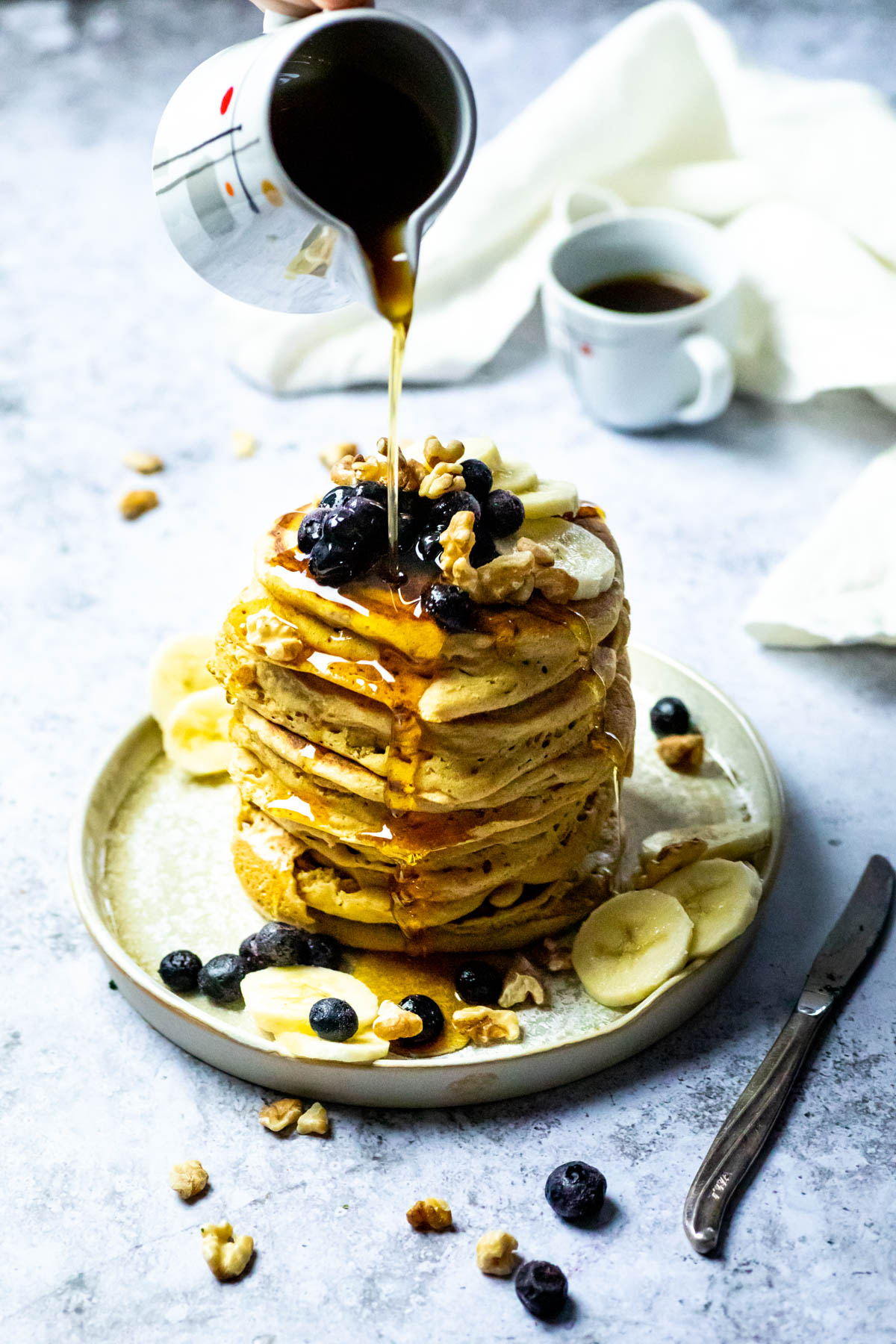 Can I make the pancakes gluten-free?
I recommend a gluten-free flour mix that is meant to replace normal flour. If necessary, adjust the amount of liquid or the amount of flour.
Depending on the flour, the flour can absorb more or less liquid.
How can I make more pancakes?
You can easily double or triple the recipe. Simply multiply the quantities 2 or 3 times.
Especially if you want to make the pancakes for a brunch with friends or family, it is advisable to prepare more pancakes.
Why aren't my pancakes airy?
Mix only until the dough comes together. Pancake batter should not be stirred too long, otherwise gluten will develop, and this will make the batter more firm.
Does baking powder make pancakes airier?
Baking soda and baking powder are leavening agents that, like sourdoughs, help to make the dough rise. These make the dough loose and airy.
You also don't want to use too much baking powder, otherwise you can taste it. And too little would make a firmer pancake.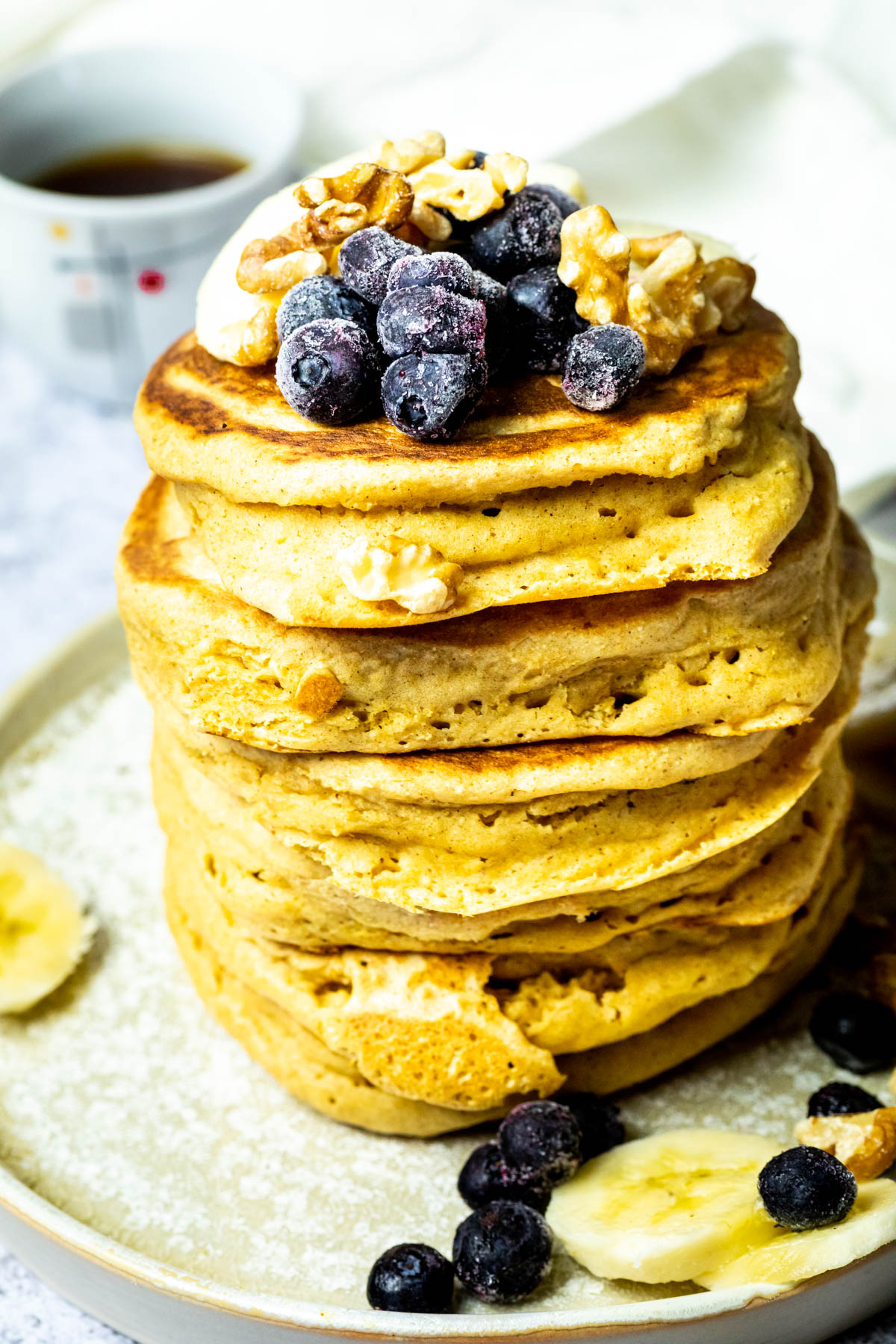 Storage
Store the remaining pancakes in the refrigerator for about 5 days.
To do this, put them in a closed container in the refrigerator. You can also freeze pancakes.
How do I freeze pancakes?
Take the pancakes and put them on e.g. a baking sheet and freeze it first on the baking sheet.
When the pancakes are frozen, you can put them in sealed containers. This is how we prevent the pancakes from sticking together.
What is the best way to reheat pancakes?
Put the frozen pancakes in the oven, or in the toaster and warm them up briefly. So they taste fresh again.
You can also briefly heat the pancakes in the microwave.
Serving Suggestions
Stacked with maple syrup and fresh fruit and chopped nuts
Fruit Compote or Jam and Nut Butter
Vegan version of Nutella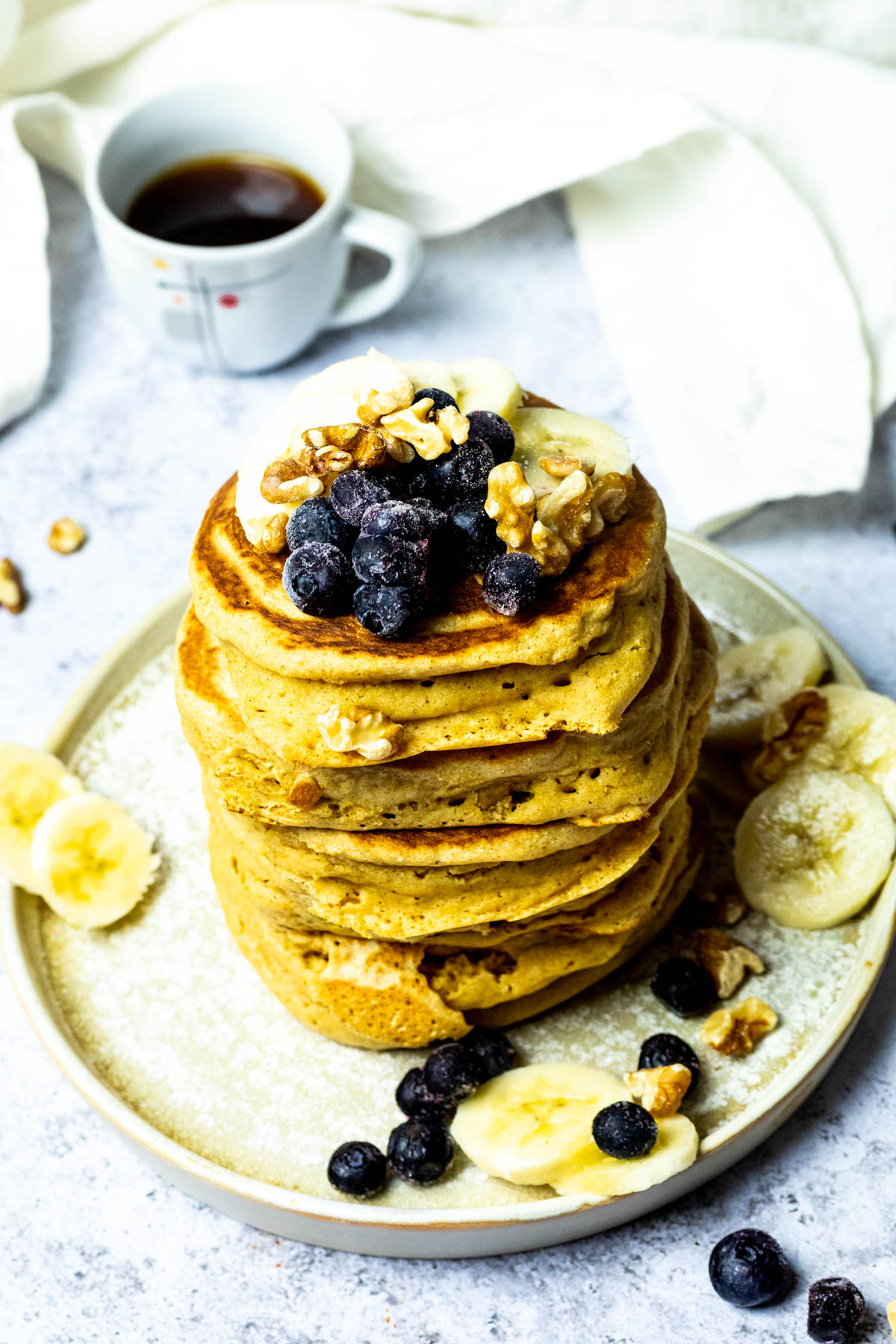 Tips
Bake the pancakes in a pan on low heat. Slowly the pancakes become fluffy and the pancakes don't burn on a lower / medium heat.
Baking powder makes the pancakes airy. Don't forget it;)
Do not stir the dough of the pancakes too long, otherwise the pancakes will become lumpy.
Add blueberries, chocolate pieces to add variety
More vegan Breakfast Recipes:
Oatmeal with Baked Apples and sugar free Marzipan
Overnight Oats: Brownies, Cinnamon Buns, Strawberry
Have you tred the recip
If you tried the vegan Recipebe so nice ♥ and let me knw byrating the recipe and writing what you think about it in the comments.  I would love to see your photo on Instagram orFacebook. To do this tag me with @veeatcookbake andmy hashtag is #veeatcookbake. So that I can see your creation. Did you know you can add photos n Pinterest under the recipe Pin? I can't wait to see a photo of your creation here. You find me with @veeatcookbake