Vegan leek quiche is anything but complicated to prepare. This dairy-free and egg-free quiche is baked on a kind of shortcrust pastry with steamed leeks, sun-dried tomatoes and poured over with a flavorful tofu cashew cream.
This dish is a great pizza alternative for parties, picnics and for a quick dinner or lunch box.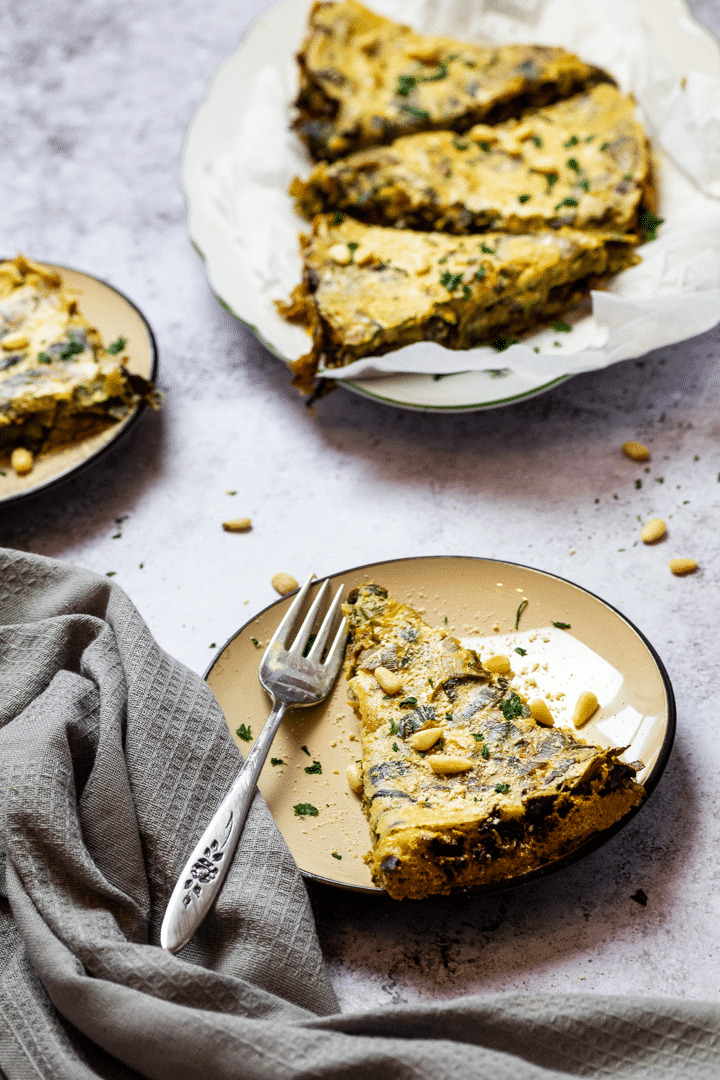 I love onion tarts / cakes and quiches like vegetable quiche. And this quiche is not only super quick to prepare, it also tastes heavenly.
You can also prepare this as a side dish with a delicious salad bowl.
If the shortcrust pastry seems a bit too crumbly or dry to you, it doesn't matter. I press it into the mold and after baking the dough is crumbly and anything but dry.
My kids found this vegan quiche super delicious and just couldn't get enough. The sun-dried tomatoes serve as a natural flavor enhancer and give the leek quiche that certain something.
What do I need to make a vegan leek quiche?
Here is a small overview of what you need for a vegan leek quiche. You can find the exact details below in the recipe card:
Dough
Flour (whole wheat)
Almond Flour
Almond Butter
Cold Water
Baking powder
Sea Salt
Filling:
Leek
Tomatoes, dried and soaked
braise in some water
Sauce:
Pepper
Nutmeg, freshly grated
Thyme
Soft Tofu
Cashews
Water
Tapioca Starch
Nutritional Yeast
Garlic Powder
Topping
Fresh Herbs
Parmesan
Pine Nuts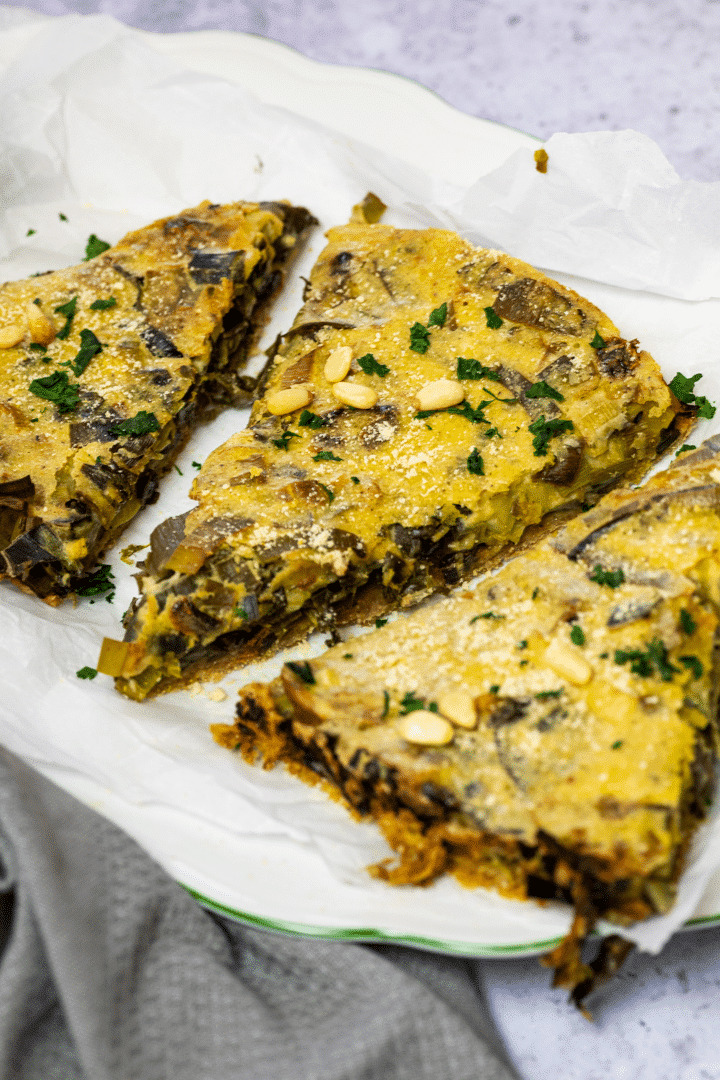 How do I make a vegan leek quiche?
First knead all the ingredients for the shortcrust pastry in a mixing bowl. The dough should be like that of crumble and should not be a smooth dough.
Now prepare a springform pan and spread out the dough. I press the dough into the mold. Bake the dough for about 10 minutes at 350°F (180°C).
Soak the cashews and sun-dried tomatoes separately.
Cut the leek into thin strips and braise them with the finely chopped dried tomatoes in a little water.
Place the drained cashews and the remaining ingredients for the sauce in a high-performance mixer and mix until a creamy sauce without pieces is created.
Now spread the leek in the pan on top of the bowl and pour the sauce over it. Bake the quiche at 350°F (180°C) for about 20-30 minutes.
You can optionally garnish the quiche with roasted pine nuts, fresh herbs and vegan parmesan.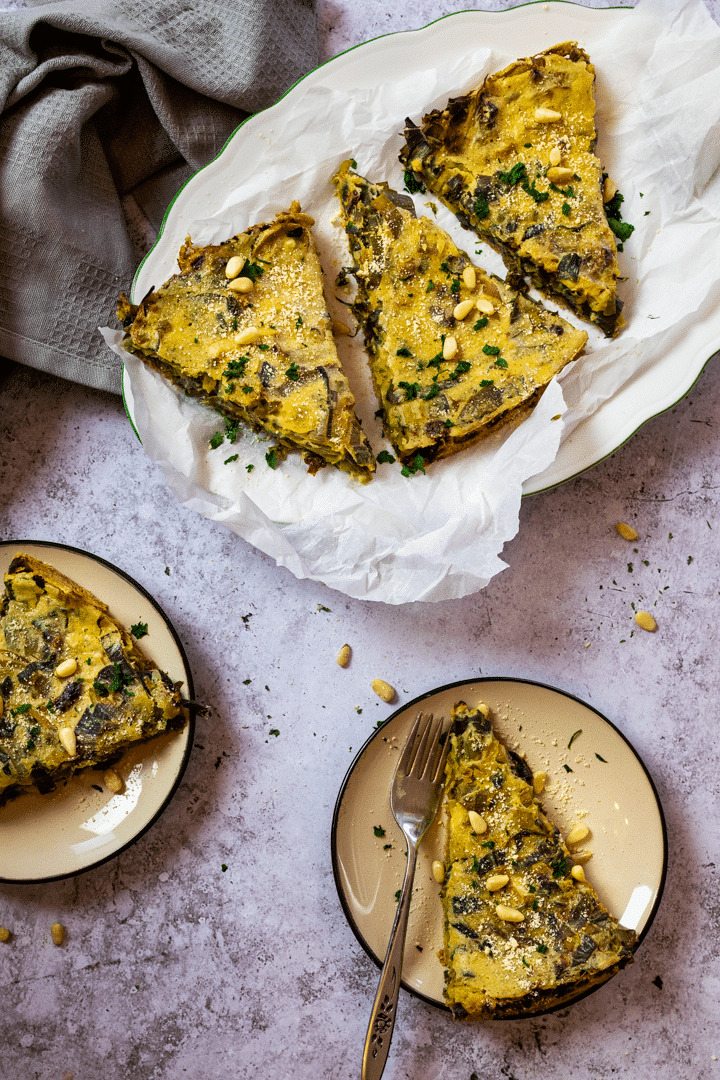 What can I use instead of tofu?
Instead of tofu, you can also use chickpea flour. Simply use a little more liquid. So you have a soy-free alternative.
How long does the vegan leek quiche last?
The vegan leek quiche lasts in the fridge for up to 5 days. To do this, place the quiche in an airtight container.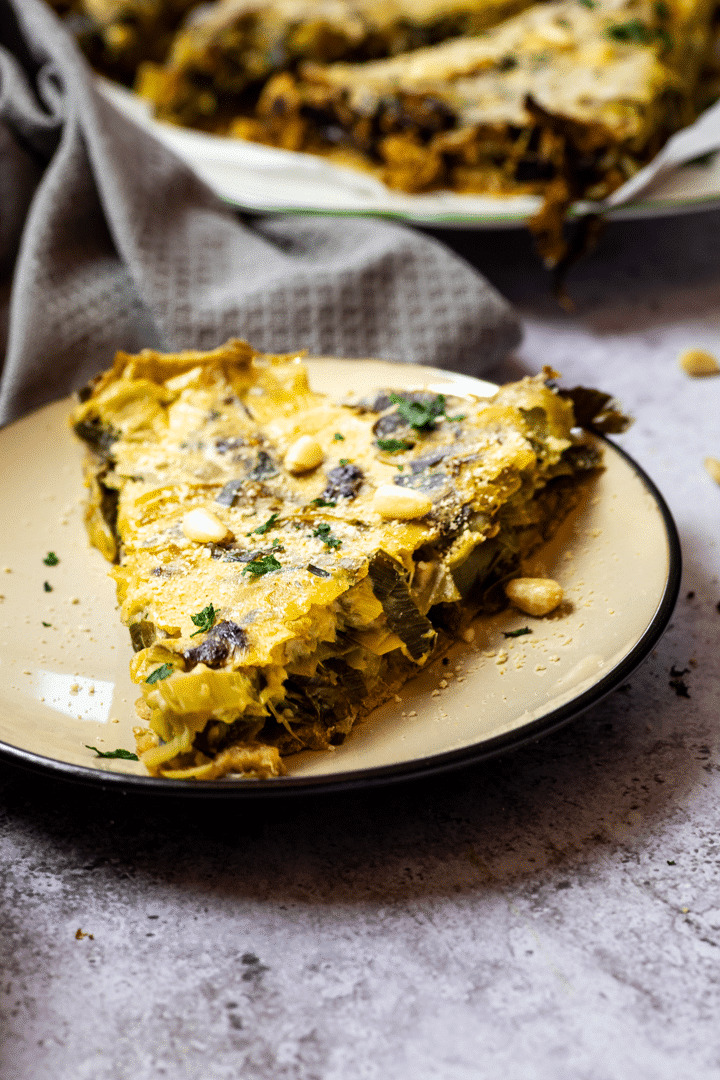 Can I freeze the quiche too?
The quiche is also perfect for freezing. To do this, simply freeze portions and bake again shortly before serving.
More vegan Recipes:
Whole Wheat Pizza Crust and Pizza Sauce
Garden Veggie Quiche with Crumbles
Gluten-free Tomato Quiche from Crowded Kitchen
Do not forget to Pin on Pinterest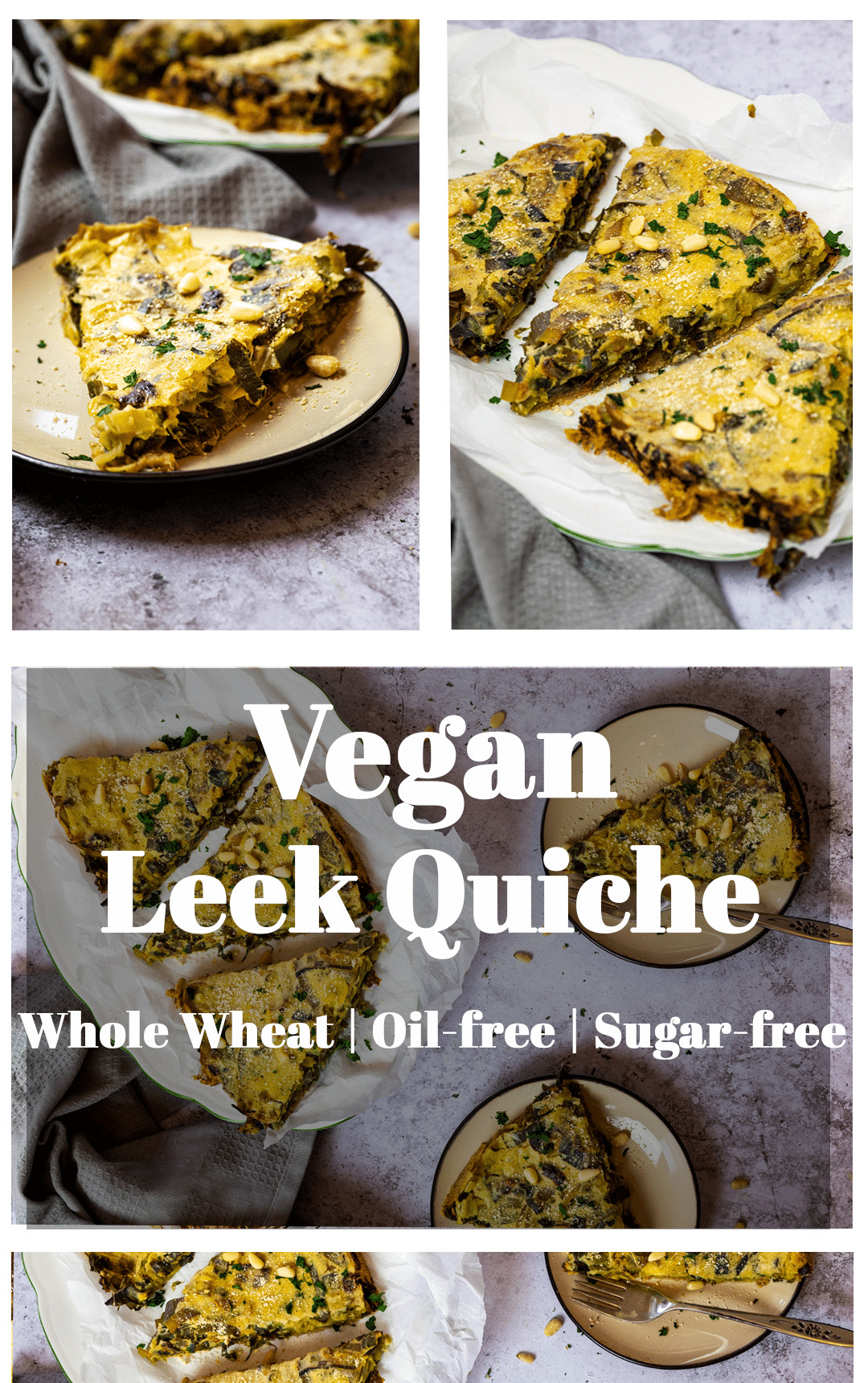 Have you tried the recipe?
If you tried the vegan Leek Quiche be so nice ♥ and let me know by rating the recipe and writing what you think about it in the comments. Tag me on Instagram too.
I am @veeatcookbake and my hashtag is #veeatcookbake. So that I can see your creation. Did you know you can add photos on Pinterest under the recipe Pin? I can't wait to see a photo of your creation there.
You find me with @veeatcookbake. I also would love to hear your feedback so I can share it on my social media channels.

This post may contains affiliate links and I may receive a very small commission if you buy through these links at no extra cost. Thank you very much for supporting Ve Eat Cook Bake! More information can be found here.
---