Vegan asparagus tart - whether with puff pastry or homemade short pastry, this tart is the perfect side dish or starter for festivities. This asparagus tart is super quick to prepare and a great alternative to pizza.
Prepare this asparagus dish for dinner in no time. A creamy sauce made from cashews, tofu and white wine make the tart a real taste experience.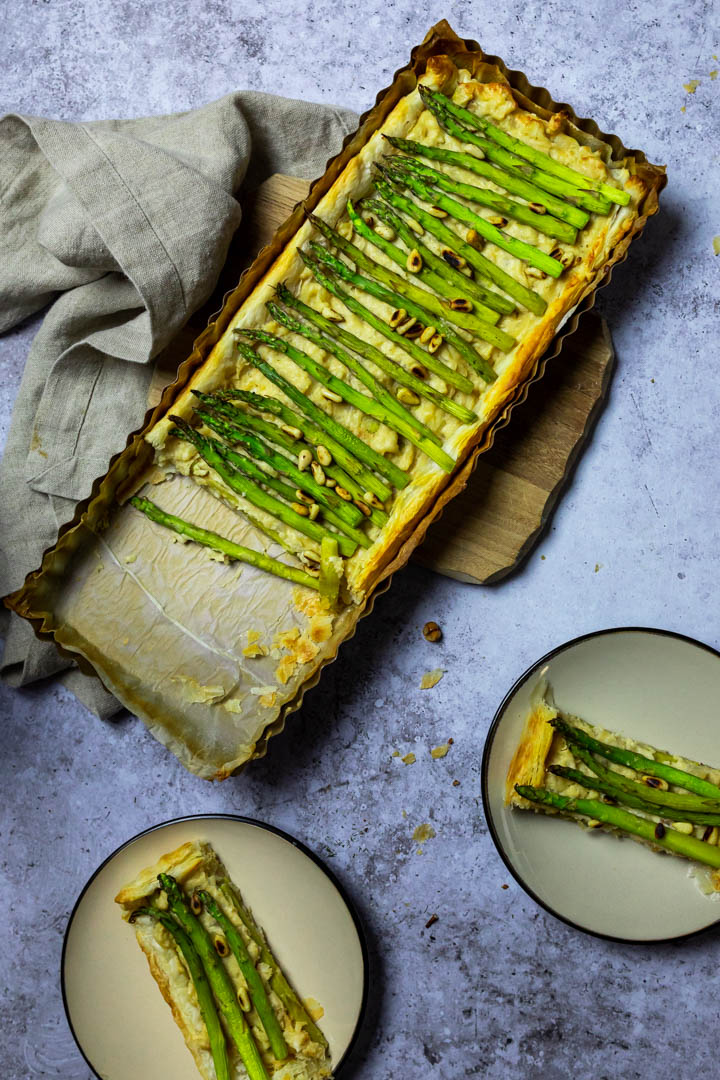 This simple asparagus tart tastes delicious and is super easy to prepare. And best of all, you don't need a lot of ingredients. A great dish for brunch, a simple lunch or an impressive appetizer.
Do you also like pizzas, tarts, quiches? This tart with asparagus is not just delicious with a glass of wine, my kids are totally crazy about asparagus, especially green asparagus.
I think I could serve them asparagus every day, and they would eat it every day. In spring, from April to June, asparagus is one of the foods you can't get enough of. Do you feel the same way?
Here in the US, you can buy green asparagus all year round. But you can see differences in the quality of it. Like in fall / winter the asparagus is really thin.
What ingredients do I need to prepare a vegan asparagus tart?
Puff pastry
Shortbread pastry
Whole wheat flour
Almond flour or ground almonds
Flax seeds
Seasalt
Almond butter
Water
Topping
Green asparagus
Pine nuts
Ingredients for the cream
Onion
Garlic
White wine
Almond milk
Cashews
Silken tofu or soft tofu
Corn starch
Lemon juice
Salt
Pepper
Nutmeg
Cayenne pepper
Chives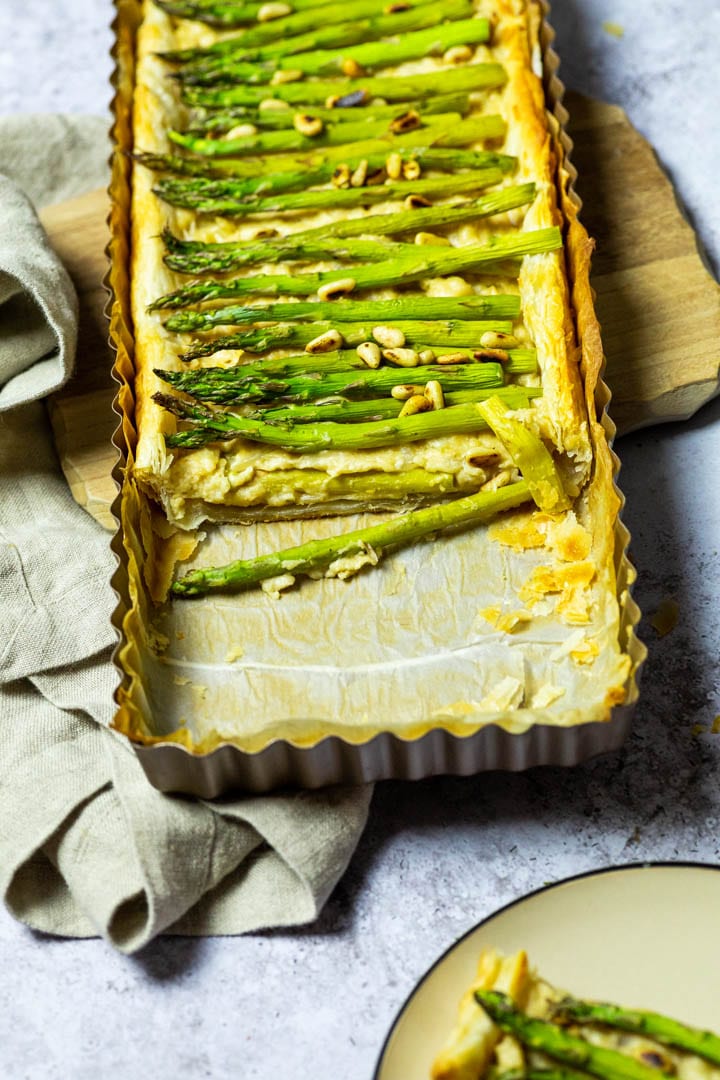 How do I prepare a vegan asparagus tart?
Preheat the oven to 350°F (180°C) or 400°F (200°C) for puff pastry. If you are making a shortcrust pastry, briefly knead all the ingredients into a crumbly shortcrust pastry. Keep the dough cold as long as you prepare the remaining ingredients. And soak the cashews in hot water for about 10 minutes.
Cut the peeled onion and garlic into fine cubes. Now heat the onion in a pan over medium heat and add a little water every now and then. Braise the onion until it is glassy. Now add the garlic and briefly steam it. For about 1 minute. Now deglaze the onions with white wine.
Add the drained cashews and the remaining ingredients, except for the onion and the garlic, in a high-performance mixer and mix until they are creamy. Season with chives, salt, pepper, nutmeg and cayenne pepper.
Add the sauce to the onions and bring to a boil briefly while stirring.
Wash the asparagus and cut off woody ends. Shorten them to fit your pan later.
Braise the asparagus in a pan for about 5 minutes. This is how the asparagus unfolds its full taste.
Now put the shortcrust pastry or puff pastry into the tart pan and bake for 10 min.
Briefly roast the pine nuts in a pan without oil.
Now put a layer of asparagus on the tart. You can use cut ends that you cut to fit the asparagus spears.
Now pour the cream over it and put the asparagus pieces on it. Depending on the shape, in a circle or in a row. Spread the pine nuts on it.
Bake the tart in the oven for about 20 minutes. Puff Pastry will take a bit longer. It is best to let the tart cool for about 10 minutes before cutting.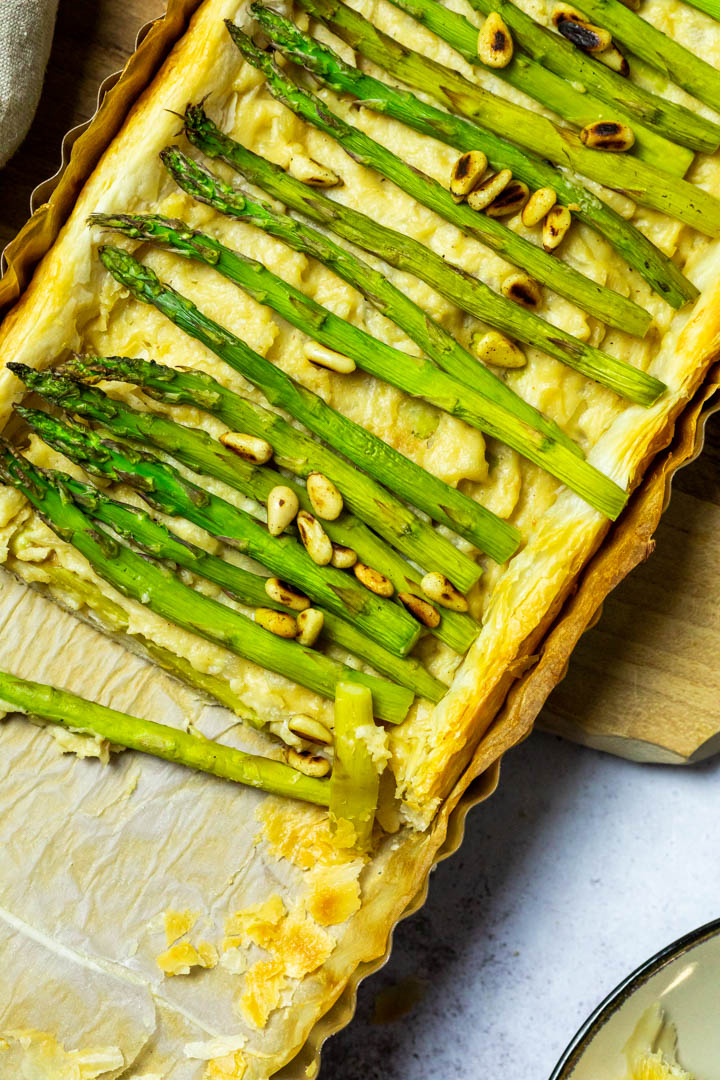 Tips for a perfect vegan asparagus tart:
I recommend a high speed blender for the cashew cream. Otherwise, the cream may become grainy.
If you are using frozen puff pastry, defrost it first.
The asparagus should still be firm, dense and not too soft.
Puff pastry must be baked at higher temperatures than normal dough.
When the puff pastry or shortcrust pastry turns brown, the tart is ready.
Instead of white wine, you can also add a little white balsamic vinegar to the cream.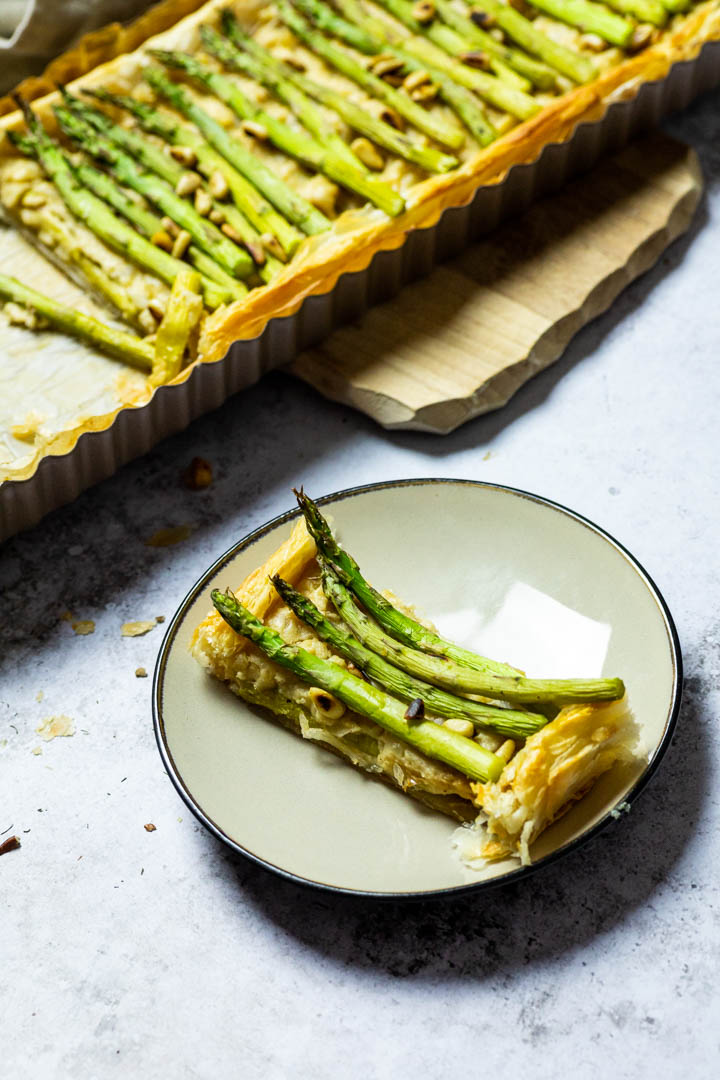 Can I prepare the vegan asparagus tart in advance?
You can prepare the dough and cashew cream a day or two in advance. And then steam the asparagus freshly and bake fresh.
What can I serve with the asparagus tart?
Asparagus tart tastes very good with a green mixed salad.
How can I store the vegan asparagus tart?
The asparagus tart tastes best freshly baked. However, you can keep them in an airtight container in the refrigerator and then bake them again just before serving.
More vegan Recipes:
Do not forget to Pin on Pinterest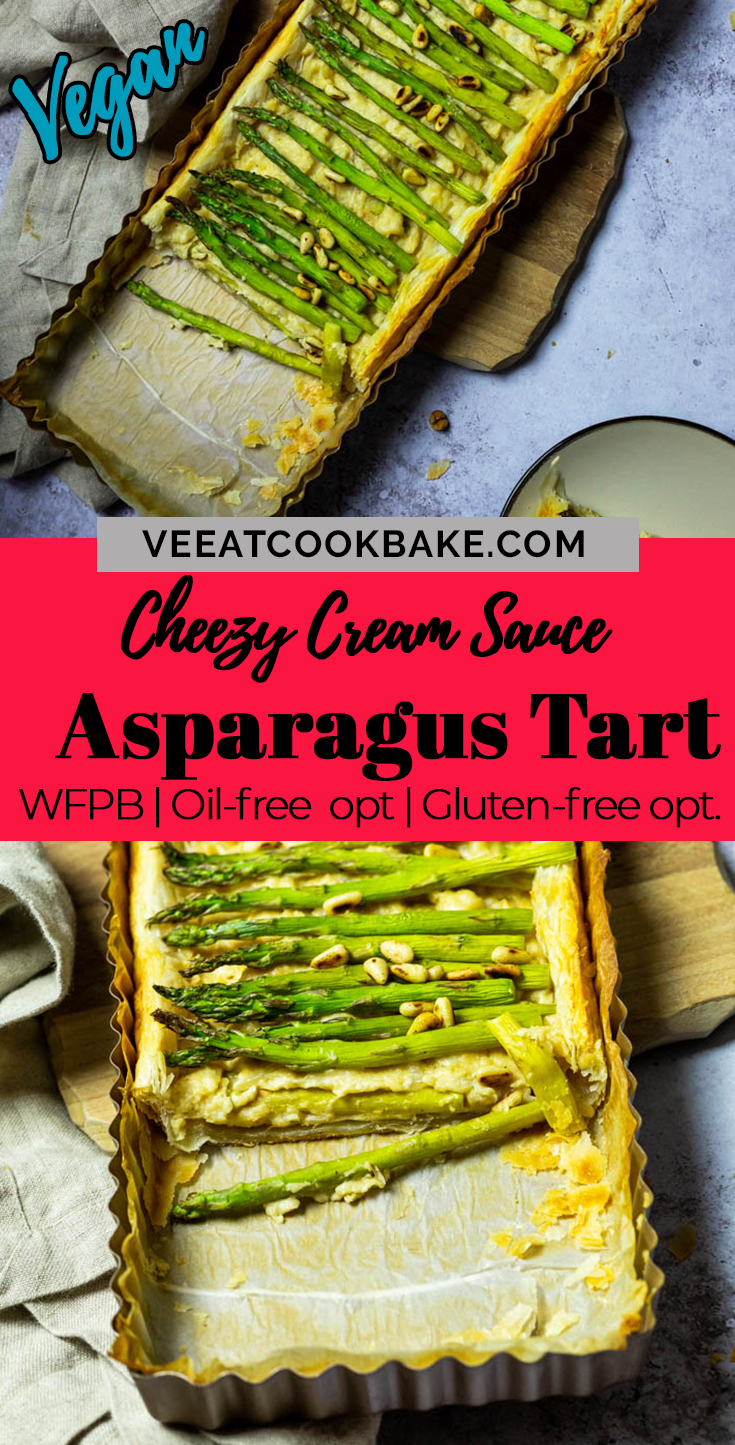 Have you tried the recipe?
If you tried the vegan Asparagus Tart, be so nice ♥ and let me know by rating the recipe and writing what you think about it in the comments. Tag me on Instagram too. I am @veeatcookbake and my hashtag is #veeatcookbake.
So that I can see your creation. Did you know you can add photos on Pinterest under the recipe Pin? I can't wait to see a photo of your creation there. You find me with @veeatcookbake. I also would love to hear your feedback so I can share it on my social media channels.

This post may contains affiliate links and I may receive a very small commission if you buy through these links at no extra cost. Thank you very much for supporting Ve Eat Cook Bake! More information can be found here.
---