Have you always wanted to make an authentic vegan risotto with asparagus and peas like from the Italian cuisine?
Vegan Risotto is absolutely not difficult to prepare. With just a few small steps, you can conjure up this delicious dairy-free spring dish with asparagus and peas for a delicious, hearty meal.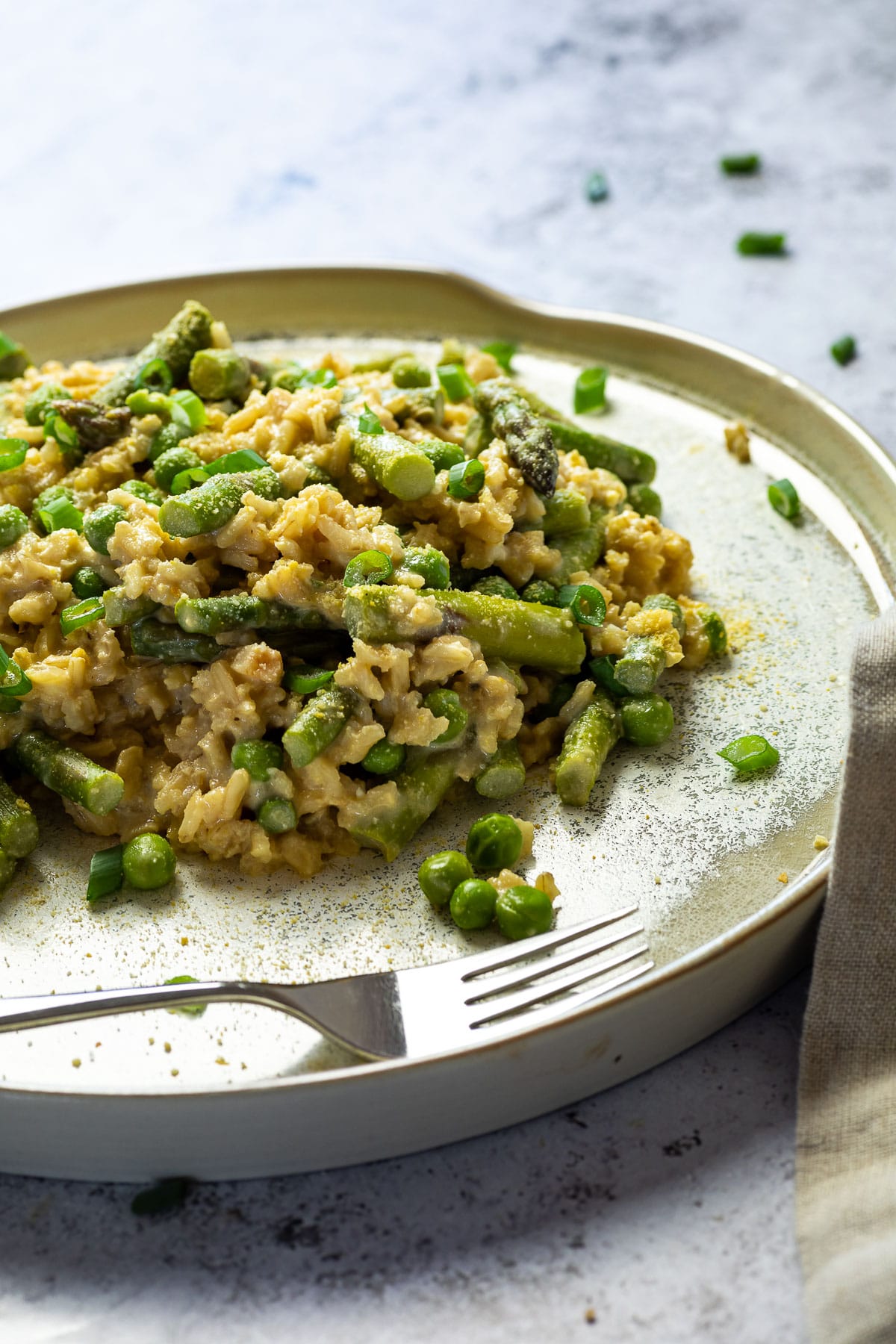 As an Amazon Associate, I earn from qualifying purchases. This post may contain affiliate links. Read More
Jump to:
The asparagus and pea risotto is ideal in smaller portions as a light starter or as a side dish. Rice dishes are super filling and therefore this dish can be made great as a main course for your next dinner or lunch, which tastes delicious with local asparagus during the asparagus season in spring.
But wait, that's not all. I want to give you more than just a quick recipe here. I am giving you options here on how to exchange certain ingredients and more tips and tricks that will make your risotto perfect.
Jump to:
Is risotto vegan?
Have you ever been to a restaurant and discovered a delicious risotto on the menu, but you are not sure if the risotto is vegan? If we take a closer look at the Italian dish, we can see that:
Beef or Bone broth is used in risotto, you would have to ask in the restaurant if they could use vegetable broth.
Then Parmesan is added to the rice dish. Depending on the restaurant, this will probably not be an alternative, unless you are in a restaurant with a quite a few vegan options.
Butter is also added to the risotto. And we know butter is made from cow's milk. Butter can be easily replaced with vegan margarine or you can simply leave it out.
Conclusion if risotto is vegan, it is no. Most risotto dishes have parmesan cheese in them. But I have a solution for you. For this you will find a great risotto recipe here, and I swear you won't miss the Risotto from the Restaurant.
You are now curious about how to make the best risotto, then you should read everything here carefully. You will not only find an overview of the ingredients and the instructions here, but also further information on which rice is best and much more.
Ingredients
An overview of what is needed in a spring recipe.
You can find the exact quantities below
Vegetable Broth
Asparagus
Peas
Water
Onion
Celery Root*
Garlic Cloves
Rice
Vegan Parmesan
Tahini
Lemon Juice
White Wine Vinegar
Lemon Zest
Salt and Pepper to taste
Substitutions
Celeriac
If you can't find any celeriac or known as celery root, you can replace it with 1-2 sticks of finely diced celery.
I have to say I always try to freeze some of the celeriac to get extra flavor in a dish.
Rice
The selection of different types of rice is huge. But not every rice is equally suitable for the production of risotto. A risotto should be creamy, but the rice grains should still be al dente.
When choosing rice, it is important that you use rice that has two properties:
Which types of rice are now available?
Arborio: You can use the most famous rice, thanks to its properties it is creamy and yet al dente.
Carnaroli: This rice gives a scent of fresh bread when cooked. And who doesn't love the smell of fresh bread.
Baldo: It remains firm to the bite, but has excellent absorbency
Parmesan
If you don't want to prepare vegan parmesan, you can also use nutritional yeast. This is how you get the cheesy taste in your risotto.
But I have to say that your risotto will not be as creamy as with the Parmesan. The cashews help make the risotto ultra creamy.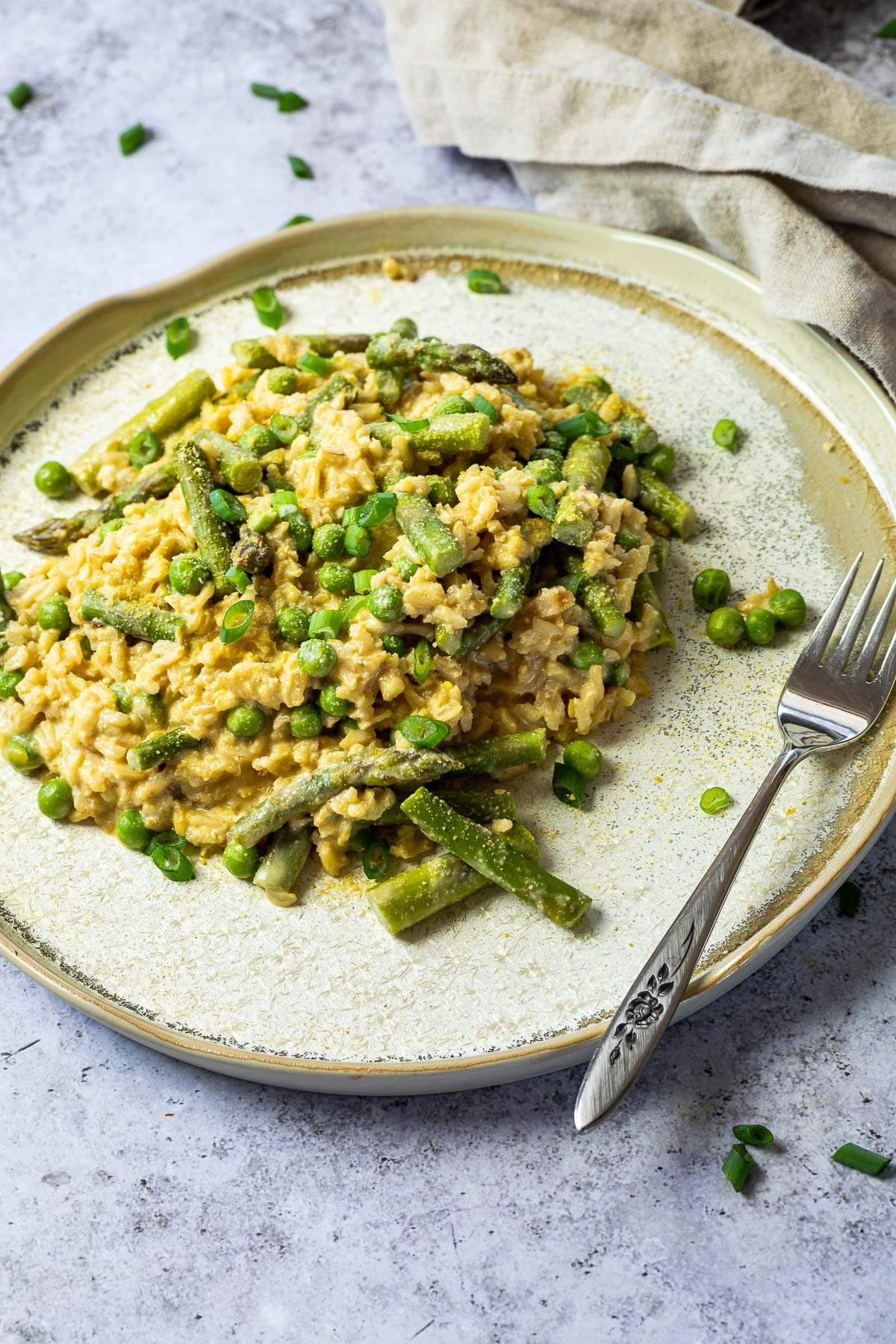 Variations
Low Carb
We all know that risotto is not exactly low carb. But if you still want to eat low carb and don't want to miss risotto, you could try cauliflower rice.
The cooking time will be reduced significantly. I have not tried it myself, so I would appreciate feedback.
You should also note that cauliflower does not absorb liquid, so you will need much less.
To make cauliflower rice, finely chop the cauliflower so that it becomes like rice.
Instruction
Put the broth in a saucepan and bring it to a boil.
Now prepare the asparagus. To do this, cut off the woody ends. And cut the asparagus into 1 " inch (2-2.5 cm) pieces.
Put the asparagus with the peas in the broth and let them simmer for about 3 minutes. You can lower the heat a bit.
Take a slotted spoon and skim the asparagus and peas. Now set the heat of the broth to the lowest level, so it stays warm. We still need the broth.
Dice the onion and the celery and let them fry in a large saucepan for the risotto.
Add a sip of water every now and then. You do this until the onions turn slightly brown. Add the chopped garlic and also briefly fry it.
Now add the rice and let the rice stir-fry for about 5 minutes.
The rice should start to become translucent around the edges and easily get color.
Now add approx. 1 cup (250 ml) of the warm broth to the rice mixture. Let it cook on medium heat until the broth is absorbed. Now add another 2 cups and let it simmer. Try your rice after about 40 minutes.
Is it soft or does it have to cook a little longer? The rice should be al dente but creamy at the same time. Whole grain rice varieties take longer.
I have prepared the recipe with a whole grain variety, so it can vary by rice type.
When the rice is al dente and creamy, add a ladle of broth. Now add the asparagus, peas. And let the broth absorb.
Remove the risotto from the heat and stir in the white wine vinegar, parmesan, tahini cream. Also add the lemon juice and the zest. Season it with salt and pepper.
Serve the risotto in small bowls and sprinkle some Parmesan over it.
What makes my vegan risotto so incredibly creamy?
On the one hand, the choice of rice plays a crucial role in how creamy your risotto becomes. For example, long-grain rice with little starch will not make your risotto as creamy as the Arborio or Baldo rice varieties mentioned above.
We also add some tahini as we don't use oil or butter. So we still get a creamy note.
The vegan parmesan, if you make it according to my recipe from nutritional yeast and cashew nuts or hemp seeds, almonds, help the asparagus pea risotto to become creamy.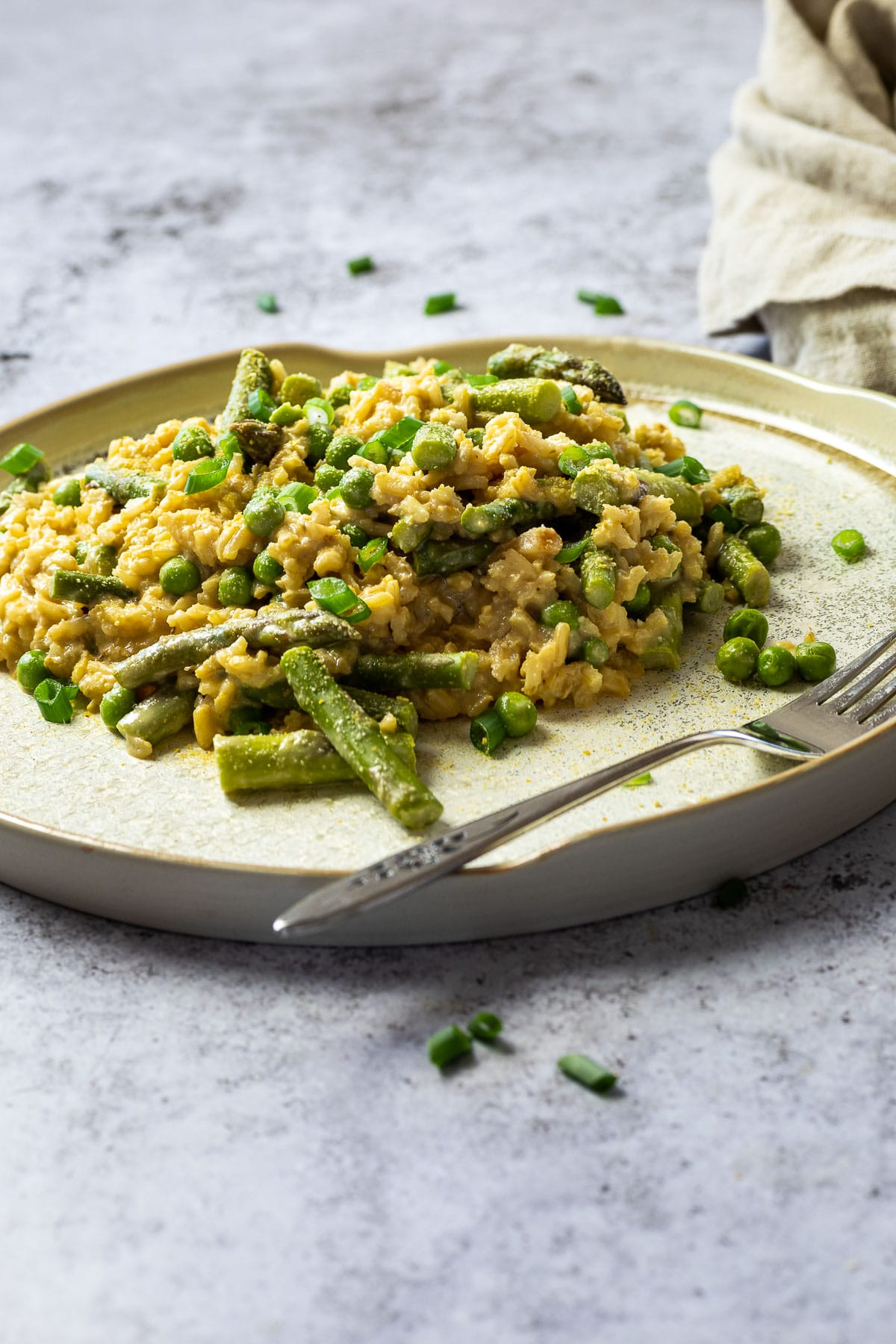 Storage
Did you cook too much risotto or a large amount to eat again? No problem Risotto can be stored very well.
Can I put risotto in the fridge?
You can put your risotto in the fridge. Simply put your rice in a sealed container and put it in the fridge. Your risotto will last there for about 3-4 days.
How do I reheat the risotto?
Warm your risotto over medium heat with a little water or broth. Always stir.
Or put the risotto in the microwave and let it warm for about 2-3 minutes.
Can I freeze risotto leftovers?
If you have too much left and don't want to eat risotto for a week, you can freeze it easily. It is important that the risotto is frozen quickly.
I put the risotto in portions in freeze-proof containers and let them cool completely. As soon as they have cooled down, I put them in the freezer. Your risotto will stay there for about 3 months.
How do I thaw frozen risotto?
There are two ways to defrost your frozen asparagus and pea risotto.
The first option is to defrost the risotto slowly and gently. To do this, put the risotto in the fridge overnight.
Before serving, simply reheat the risotto in a saucepan or in the microwave as mentioned above.
You can also omit the thawing step and put the frozen risotto directly in the microwave or saucepan and then reheat.
First use the defrost function of the microwave before you warm up the risotto. In the pot, you can reheat the risotto at a low setting so that it doesn't burn.
Serving Suggestion
A risotto is basically a complete dish. You don't actually have to serve anything with it. And thanks to the rice, it is filling for a long time.
You can serve a side salad with it which is what we like to do.
Another thing you could serve is cauliflower steaks.
Tips
As mentioned above, choosing the right rice is the key to a perfect risotto. If you select one of the varieties mentioned above, nothing should stand in the way of a good risotto. I always look to see if I can find a whole grain version of the varieties given above.
Give the rice time to take up the broth, so I always add a ladle or cup at a time. It takes a while until the risotto is ready.
Let the rice simmer on low or medium heat.
If you like to cook with wine, you can leave out the white wine vinegar. And with about ¼ cup (60 ml) of white wine, deglaze the rice after searing. Wait until the wine is overcooked before adding the vegetable stock.
If the rice is still not creamy and al dente and the broth in the pot is used up. Then add a little more hot vegetable stock or water. It may be that you cooked the rice too quickly, or depending on the type, e.g. whole grain rice may take longer.
Vary with the vegetables and take what is currently in season.
More vegan Rice Recipes
Yellow cauliflower and pea curry
Have you tried the recipe?
If you tried the vegan Recipe, be so nice ♥ and let me know by rating the recipe and writing what you think about it in the comments.  I would love to see your photo on Instagram or Facebook. To do this tag me with @veeatcookbake and my hashtag is #veeatcookbake. So that I can see your creation. Did you know you can add photos n Pinterest under the recipe Pin? I can't wait to see a photo of your creation here. You find me with @veeatcookbake.
Jump to: