Pizza is one of the classic comfort foods, don't you think? And so that you do not have to miss the Italian classic, I share with you this vegan Hawaiian Pizza.
We prepare a delicious pizza dough, pizza sauce, cheese sauce and top it with fruity sweet pineapple pieces, and smoky coconut bacon or smoked tofu instead of ham.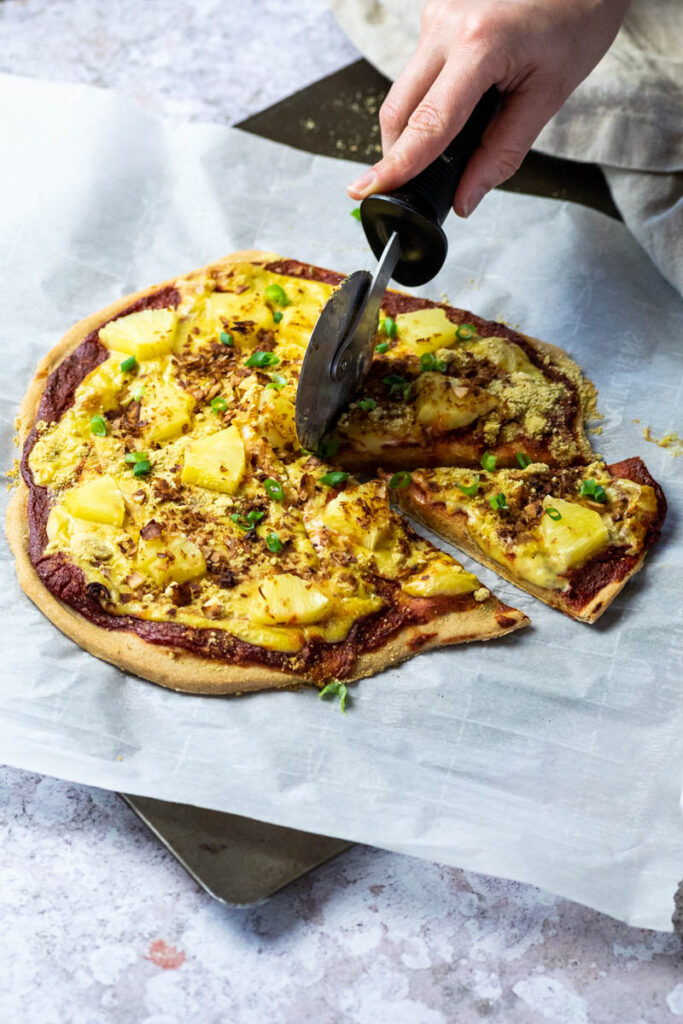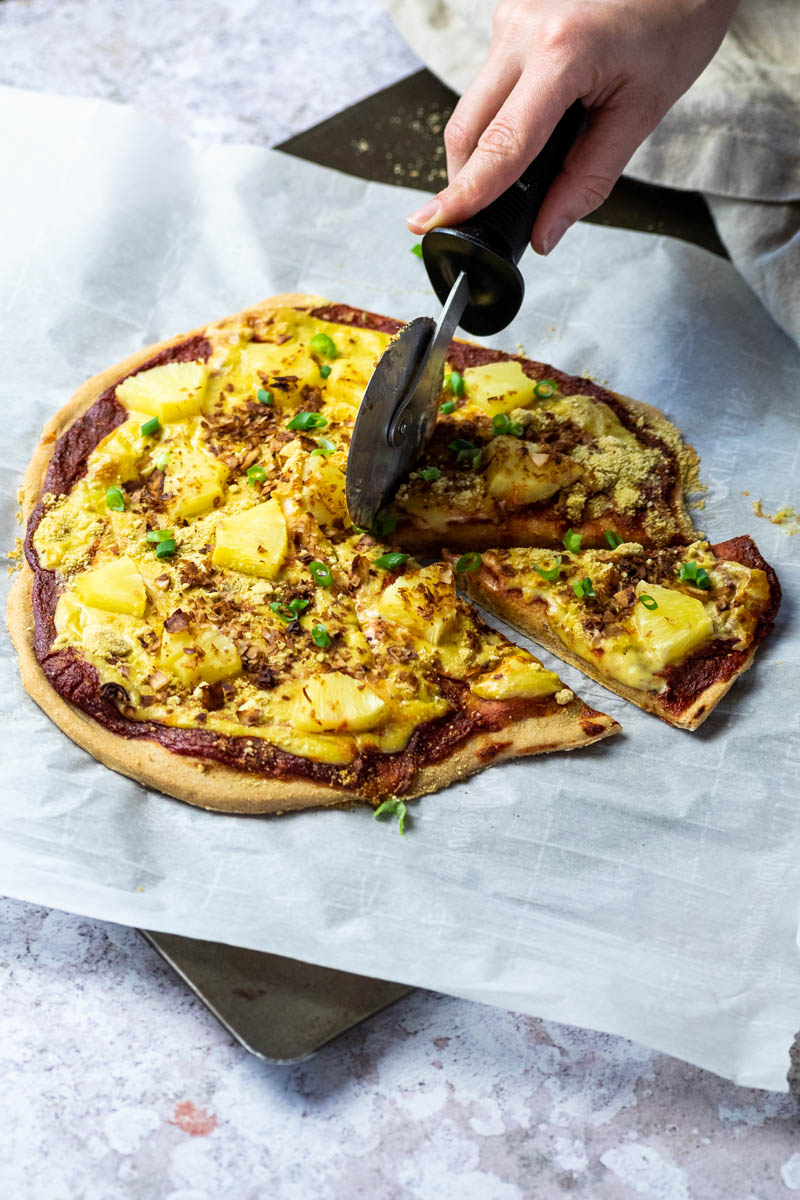 As an Amazon Associate, I earn from qualifying purchases. This post may contain affiliate links. Read More
This vegetarian pizza is perfect for Pizza Friday and other days as dinner.
For this pizza I have prepared my favorite whole wheat dough and my favorite pizza sauce, which is full of flavor. You can already find both recipes here.
My children often want pizza and I always try to vary it so that it doesn't get boring. Have you ever heard of a pizza Friday? There is pizza to eat every Friday. And what could be better than ushering in the weekend with pizza?
We like to serve a green salad with simple vinaigrette with the pizza.
Where does the first pizza come from?
I always find it interesting to find out where certain dishes come from. And maybe you too?! It says the first pizza was made in Naples in 1889. For the then-King Umberto I.
What do I need for a vegan Hawaiian Pizza?
Here is a small overview of what you need for a vegan pizza. You can find the exact details below in the recipe card.
Pizza Dough, bought or homemade
Pizza Sauce, bought or homemade
Cheese Sauce or purchased Vegan Cheese
Pineapple Pieces
Coconut Bacon or Smoked Tofu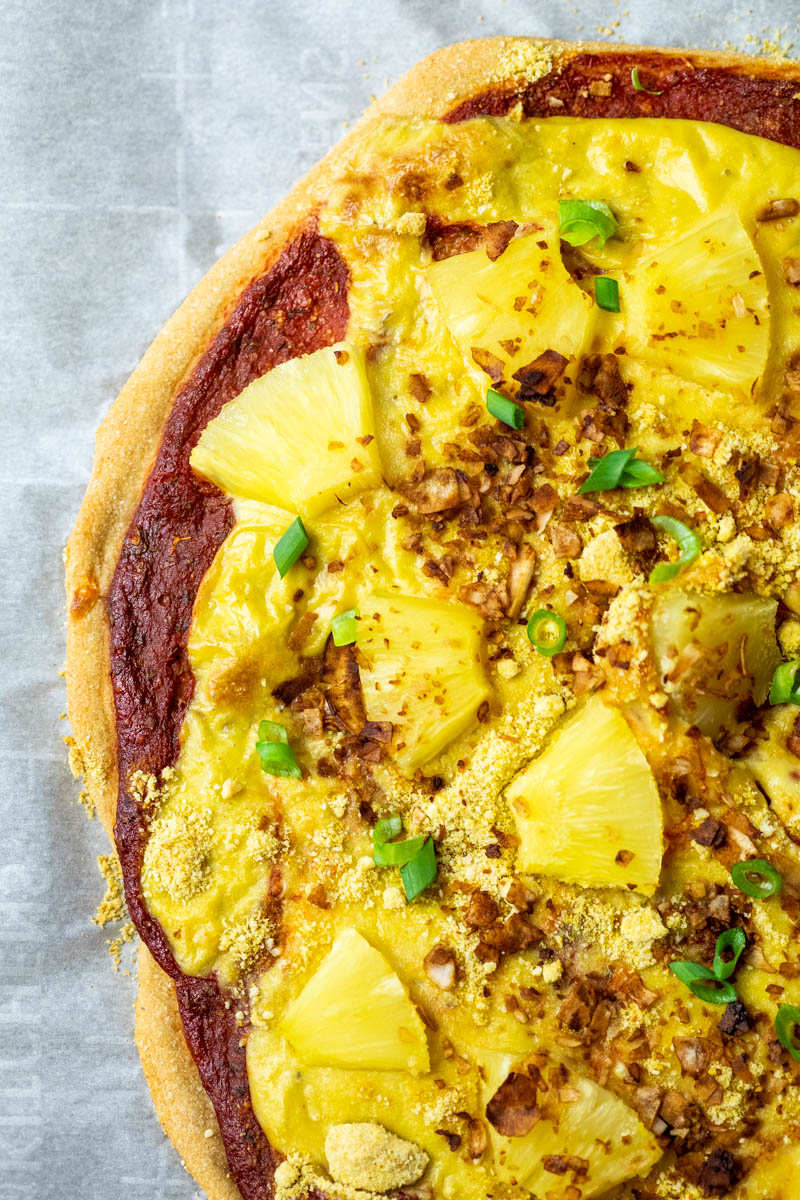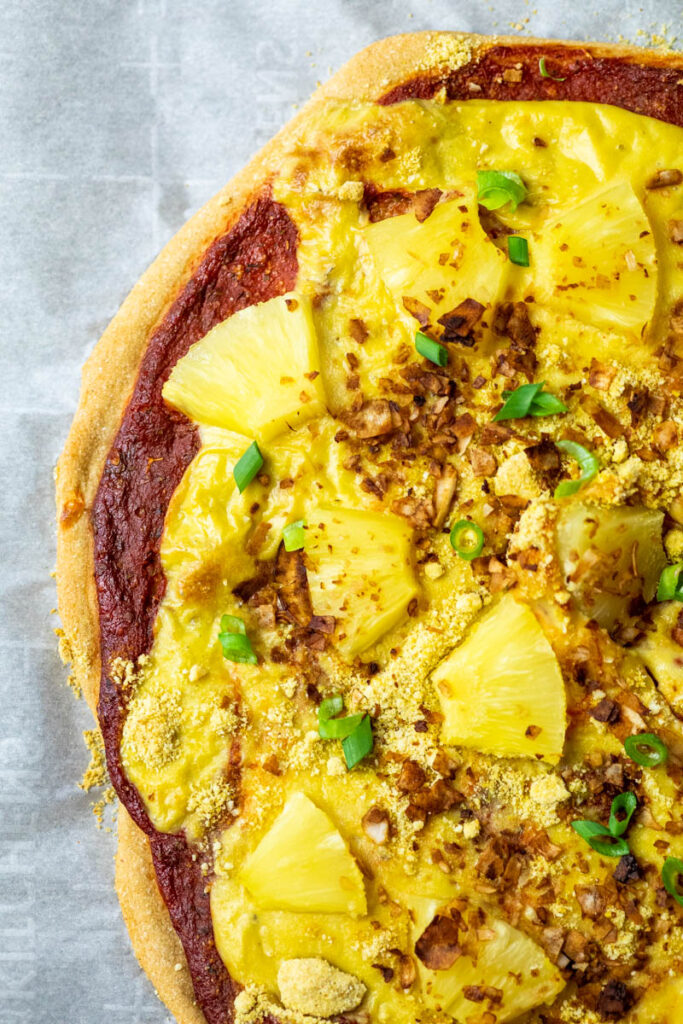 How is a vegan Hawaiian Pizza prepared?
First you prepare your pizza dough and your pizza sauce as well as the cheese sauce.
You will also need to prepare the coconut bacon. Mix the ingredients and bake it for around 7-10 min at 350°F (180°C). Make sure it doesn't burn.
Next, roll out the pizza dough and spread the pizza sauce on it and then spread the cheese sauce.
Now take the pineapple and cut it into pieces. Spread them on the pizza and sprinkle them with coconut bacon or diced smoked tofu.
Bake the pizza at 400°F (200°C) for about 20 minutes or until the desired degree of browning is reached.
Can I also use store-bought pizza sauce?
You can also purchase your pizza sauce to use. I like to prepare my pizza sauce in large quantities and freeze it. So I just have to take them out of the freezer one night before and let them thaw.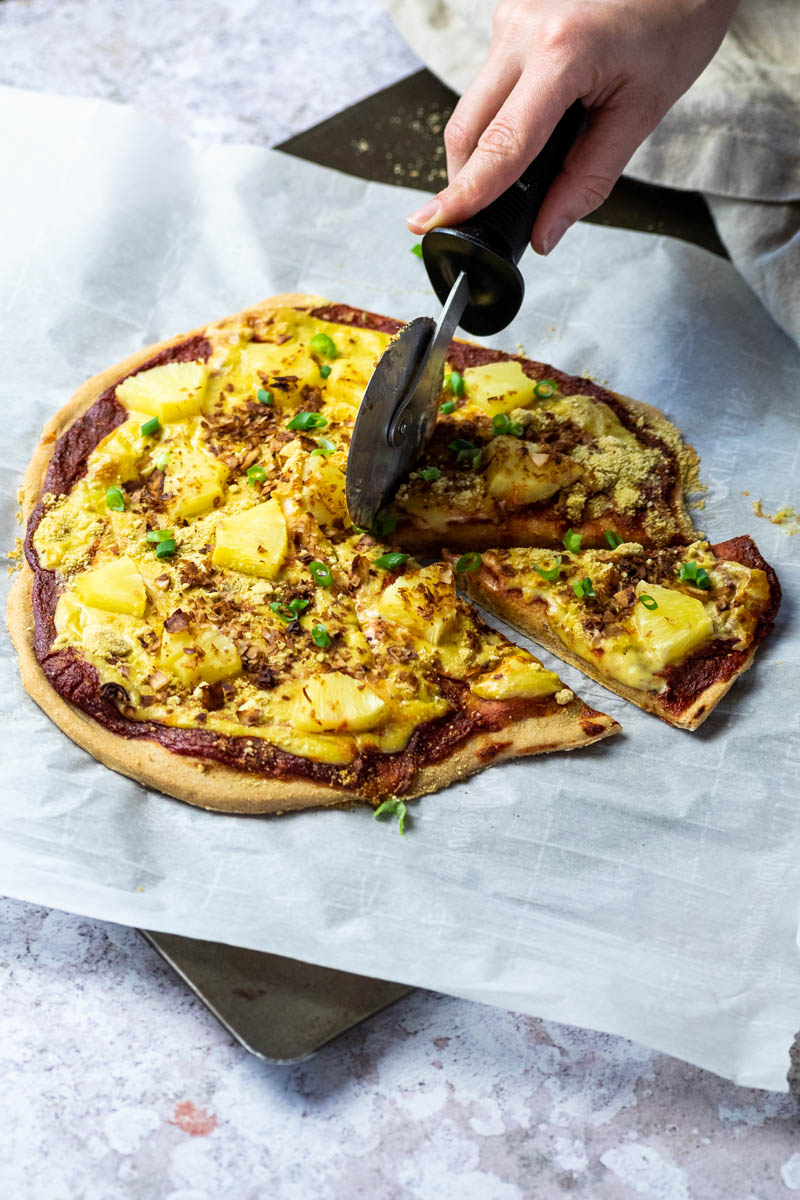 Can I use purchased vegan cheese?
I like to use a cheese sauce because we try to avoid oil as much as possible. But we also sometimes buy vegan grated cheese. Especially when we have non-vegans as guests;)
What can I use as a tofu substitute or coconut substitute?
In the end, you can smoke everything that your heart desires. Simply take the recipe from the coconut bacon. You can use tempeh, chickpeas, cauliflower florets, or chopped cauliflower, and then roast them before baking the pizza.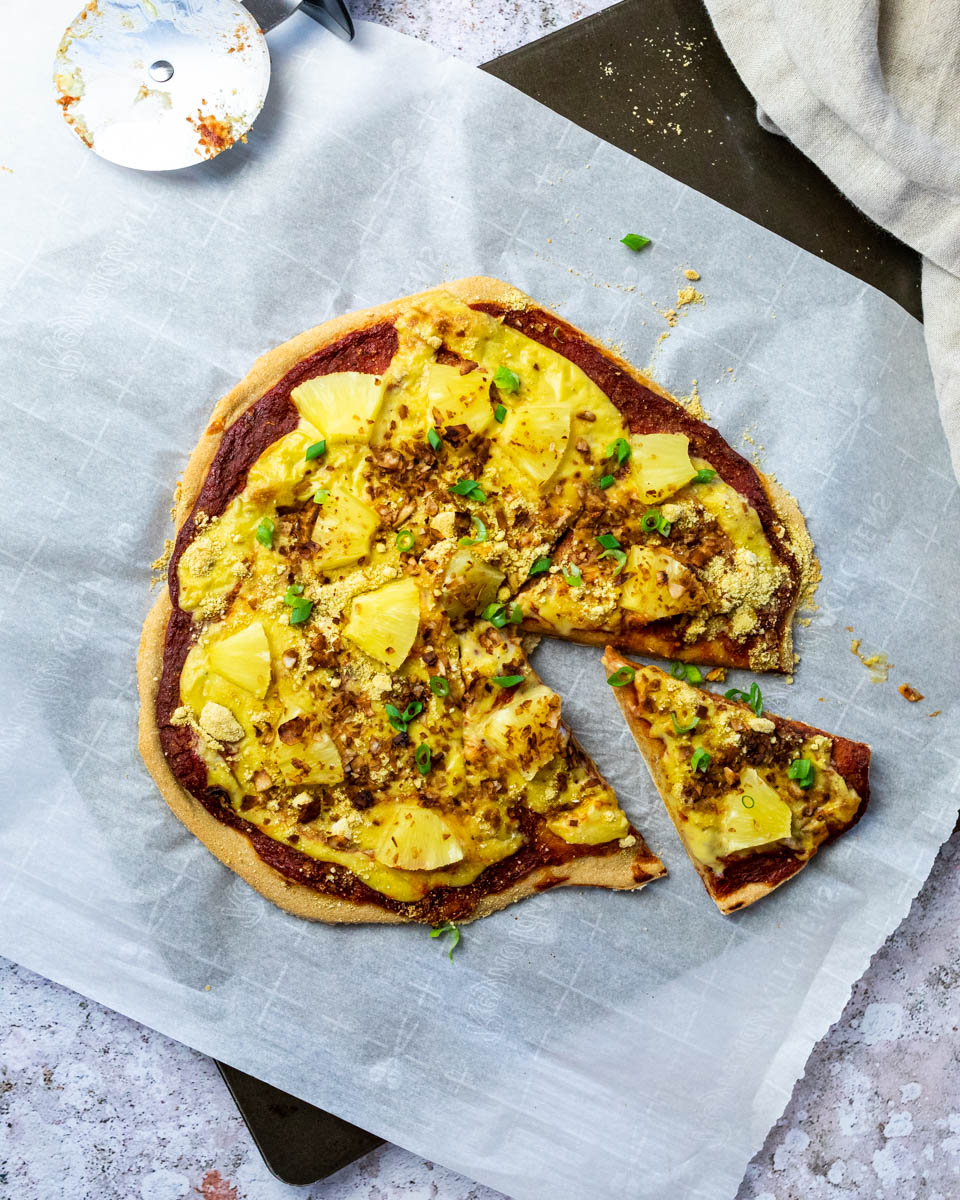 How do I store leftovers of vegan pizza?
Store leftovers in the refrigerator in a closed box for 1-2 days. Or freeze them. Bake them briefly just before serving. It tastes like freshly baked.
More Vegan Recipes:
Deep Dish Pizza (Chicago Style)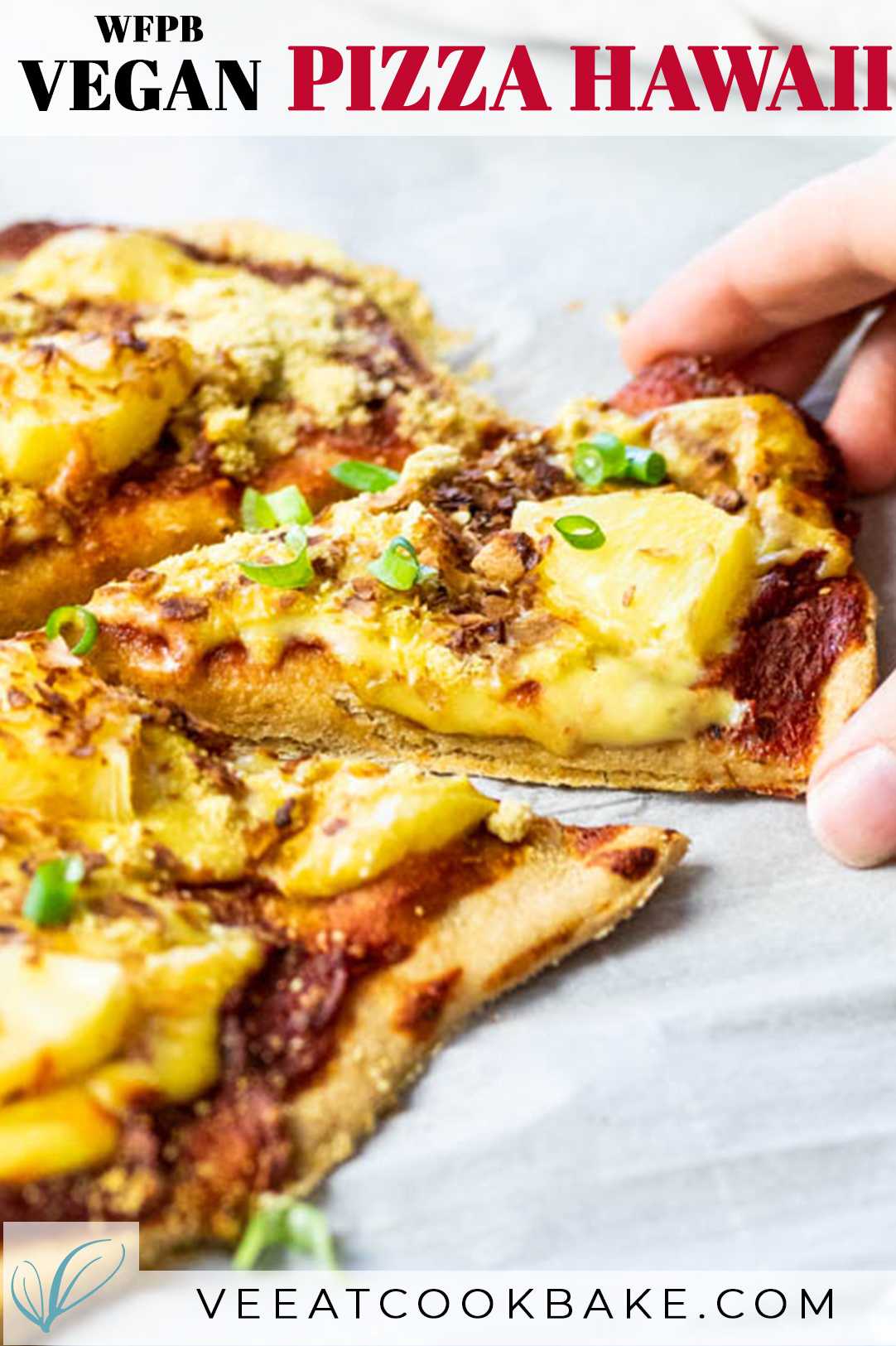 Have you tred the recip
If you tried the vegan Recipebe so nice ♥ and let me knw byrating the recipe and writing what you think about it in the comments.  I would love to see your photo on Instagram orFacebook. To do this tag me with @veeatcookbake andmy hashtag is #veeatcookbake. So that I can see your creation. Did you know you can add photos n Pinterest under the recipe Pin? I can't wait to see a photo of your creation here. You find me with @veeatcookbake