Get ready to be amazed and indulge in this vegan spin on a classic holiday favorite! Not only is our homemade beef-style Wellington better for your health, it's also full of amazing flavors thanks to the vegetables, spices, mushrooms and tofu we use.
Ready in no time, you can enjoy a tasty entrée that will impress all your guests - whether it's Thanksgiving or Sunday dinner! Don't miss out on an incredible experience with this vegetarian version of Beef Wellington.
It pairs well with vegan Gravy, Potato Dumplings.
As an Amazon Associate, I earn from qualifying purchases. This post may contain affiliate links. Read More
Jump to:
Ingredients
A quick list of the ingredients you will need to make this vegan beef wellington.
You can find the ingredients with quantities and the recipe to print out on the recipe card below.
Yellow Onion
Garlic cloves
Carrot
Celery
Dried rosemary
Dried thyme
Red wine or balsamic
Pecan nuts
Dijon Mustard
Pre-cooked beetroot
Tofu firm
Miso paste
Tapioca starch
Black Pepper to taste
Mushrooms
Smoked paprika powder
Nutritional yeast
Nutmeg
Marjoram, dried
Onion powder
Garlic powder
Vegan Puff pastry Dough
Almond Milk or Aquafaba for brushing the puff pastry
Coarse sea salt, sesame seeds, poppy seeds for garnish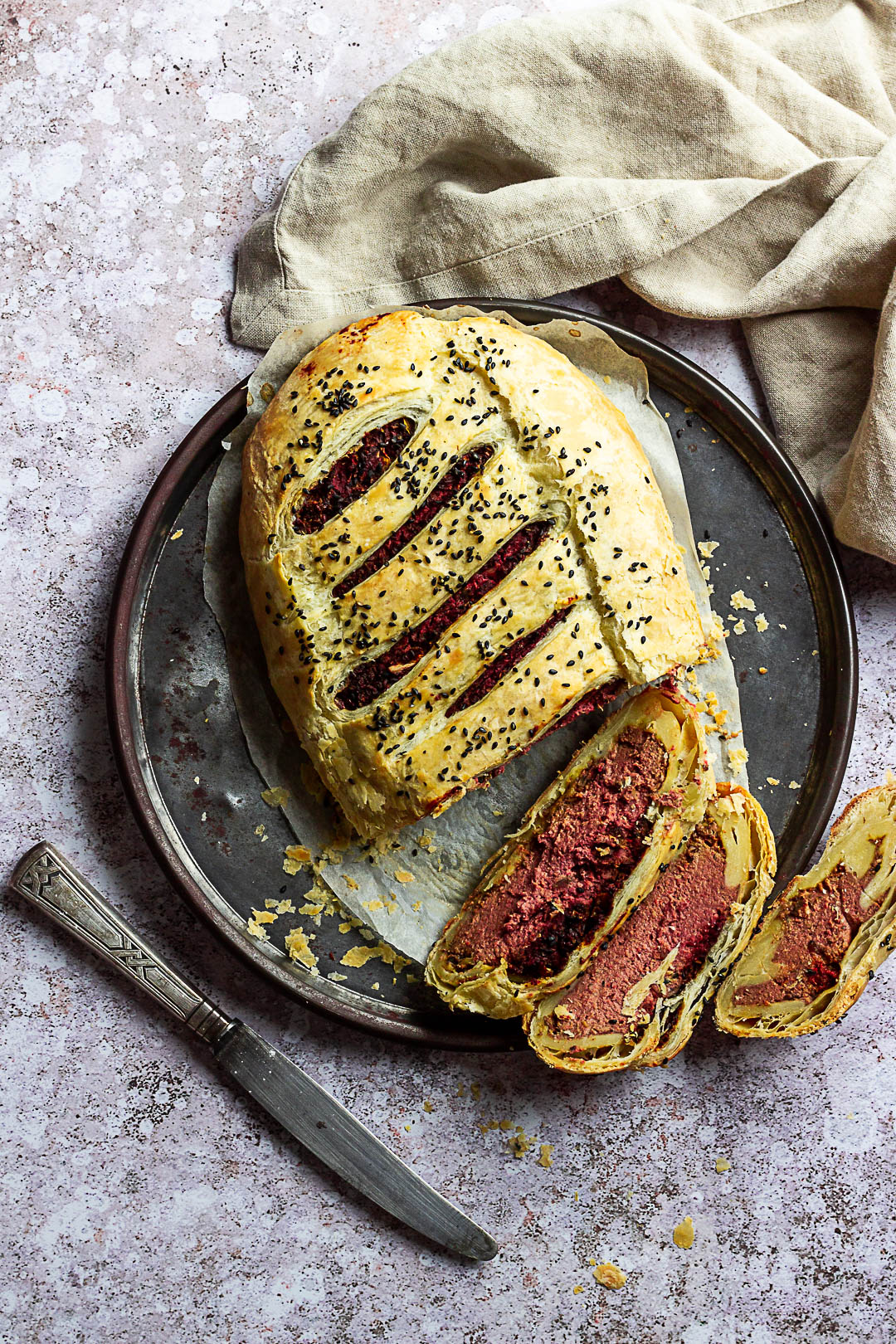 Instructions
First sauté the onions, garlic, carrots and celery on medium heat for about 2-3 minutes in a pan. Always use some water. When the onions are golden brown, deglaze the onions with red wine. If you do not use red wine. Add the balsamic, later.
Now put all ingredients for the "filet" in a food processor and mix until you have a homogeneous dough. Taste the mixture again.
In the meantime, you can sauté the chopped cremini mushrooms for the mushroom filling in another pan and add the remaining ingredients and season to taste.Sautee for about 3-4 minutes.
Now take out the puff pastry sheet and spread some of the mushroom mixture on the middle of the pastry sheet, on the mushrooms you put the oval-shaped tofu mixture and coat the roast with the remaining mushrooms. Now put the puff pastry around the filling so that the filling is completely closed. Cut off excess pastry. Then turn the wellington upside down, that the closing side is down. Now cut the puff pastry diagonally or a pattern that you like.
Bake the Wellington on a with parchment paper lined baking sheet in a preheated oven at 350 °F (180 °C) for about 40 minutes, or until it is brown. Let it cool for about 10 minutes before you cut it.
Hint: Your puff pastry should be cold and not frozen. If you have a frozen puff pastry, just let it thaw in the fridge overnight.
Make this vegetarian wellington, check out my vegan turkey roast, lentil nut roast, whole roasted cauliflower and check out my other vegan meat alternatives.
Substitution
Onion: You can also use red onions if you like to.
Dried Herbs: You can also use fresh herbs like fresh thyme instead.
Pecan Nuts: Instead, you can also use sunflower seeds.
Mushrooms: You can use cremini or portobello mushrooms.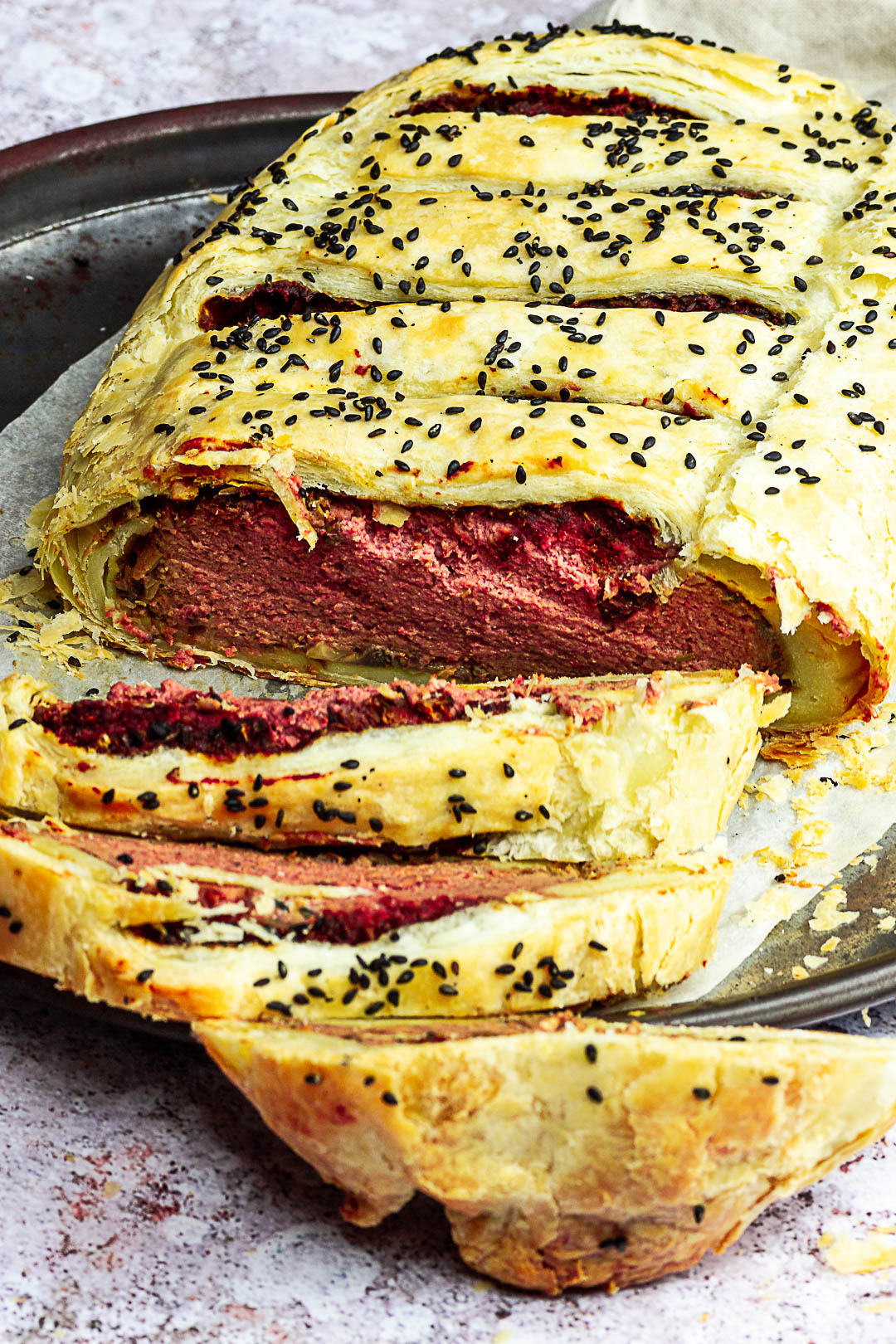 Equipment
A few kitchen tools that will help to make this vegetable wellington recipe.
Serving Suggestion
Some serving ideas for your next holiday table.
Storage
Fridge: You can store leftover vegan vegetable wellington in the fridge in an airtight container for like a week. Just let it cool to room temperature before you put it in the fridge.
Freezer: I have to say, I have not frozen it myself yet. If you freeze it in slices I am pretty sure it will work well.
Meal Prep
Yes, you can prepare this vegan mushroom wellington recipe ahead. Simply prepare everything as described in the instructions and bake just before serving. Simply prepare everything the day before, and you will have less work on the actual day.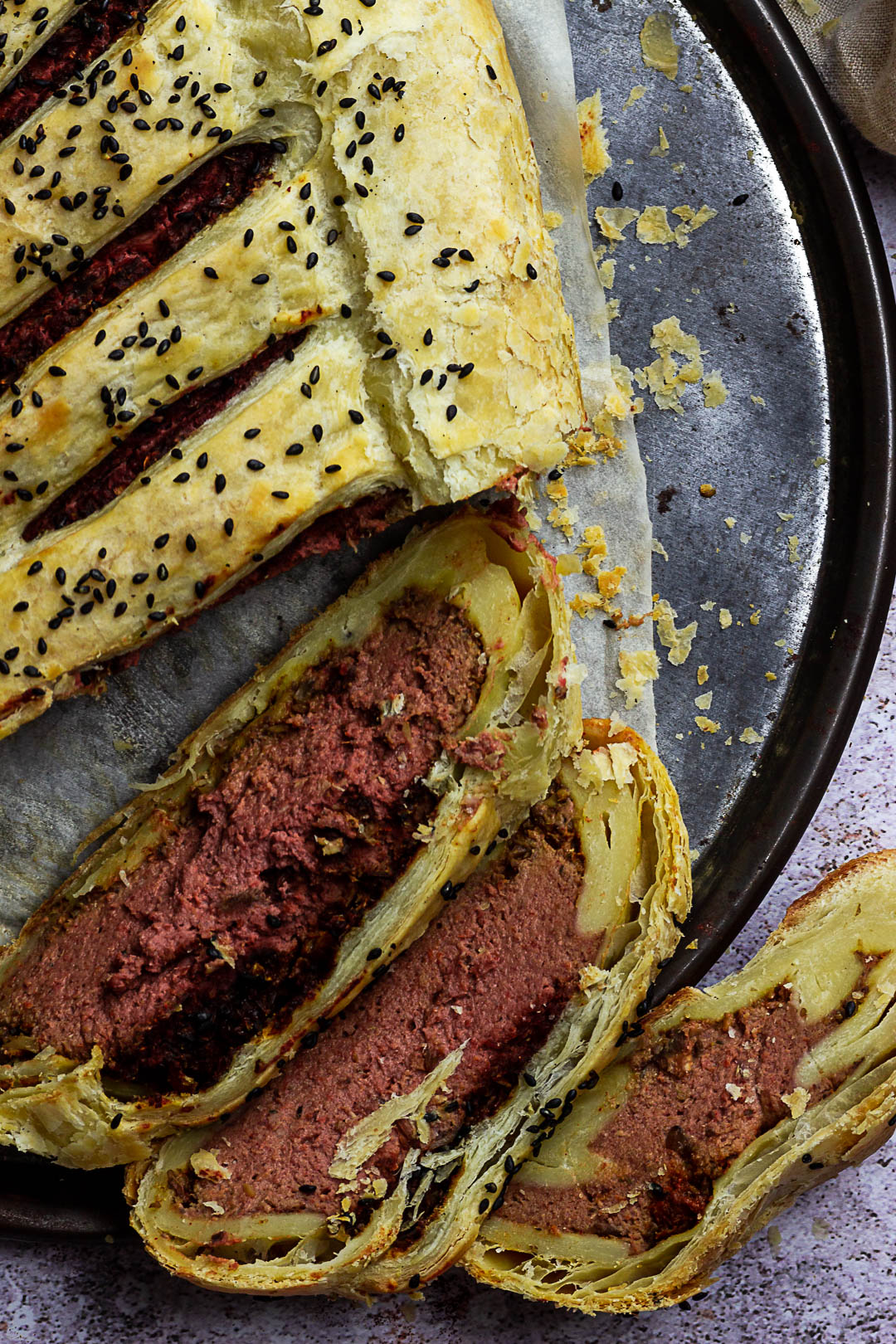 Tips
Make sure you do not make the filling too long. The filling should be completely wrapped in puff pastry.
Do not panic if some liquid comes out. Simply skim off and continue wrapping.
Brushing the puff pastry with aquafaba makes it nice and crispy. No need for a vegan egg wash. Use a pastry brush.
Cut the puff pastry diagonally on the top, so steam can escape during baking and it looks pretty.
FAQ
What is a Wellington?
The classic beef Wellington is a meat dish, which allegedly was created for the first time by the Zurich chef Charles Senn in 1930. However, the opinions differ. In 1900, versions of Wellington were found in a German cookbook. Both versions are a variation of the French dish "Filet de boeuf en croute". Filet Wellington is a fillet of beef wrapped with chopped mushrooms and puff pastry.
Is puff pastry vegan?
Most store-bought puff pastry sheets are vegan. However, puff pastry is not wholesome or whole food plant-based. For those who want to prepare the dish without oil and all-purpose flour, you can easily prepare the shortcrust pastry of my pot pies.