This homemade vegan Beef Wellington does not let you miss the traditional meat dish. A perfect entree made from beetroot, tofu, mushrooms and vegetables wrapped in puff pastry or whole grain shortbread will astonish your guests on Thanksgiving or Christmas. This Wellington is ready in no time so you do not have to stand for hours in the kitchen.
vegan | vegetarian | plant-based | wholesome | healthy | oil-free | lactose free | egg-free | milk-free
Why shouldn't we enjoy something as tasty as a delicious Wellington in vegan ?! Not only is it healthier, it also tastes heavenly good thanks to the spices we use in this dish.
We prepare a delicious beetroot and tofu roast with a spicy mushroom tapenade and wrapped in puff pastry. This vegetarian version of the classic Wellington does not just suit your holiday menu, but make it a hearty Sunday meal.
What is a Wellington?
The classic beef Wellington is a meat dish, which allegedly was created for the first time by the Zurich chef Charles Senn in 1930. However, the opinions differ. In 1900, versions of Wellington were found in a German cookbook. Both versions are a variation of the French dish "Filet de boeuf en croute". Filet Wellington is a fillet of beef wrapped with chopped mushrooms and puff pastry.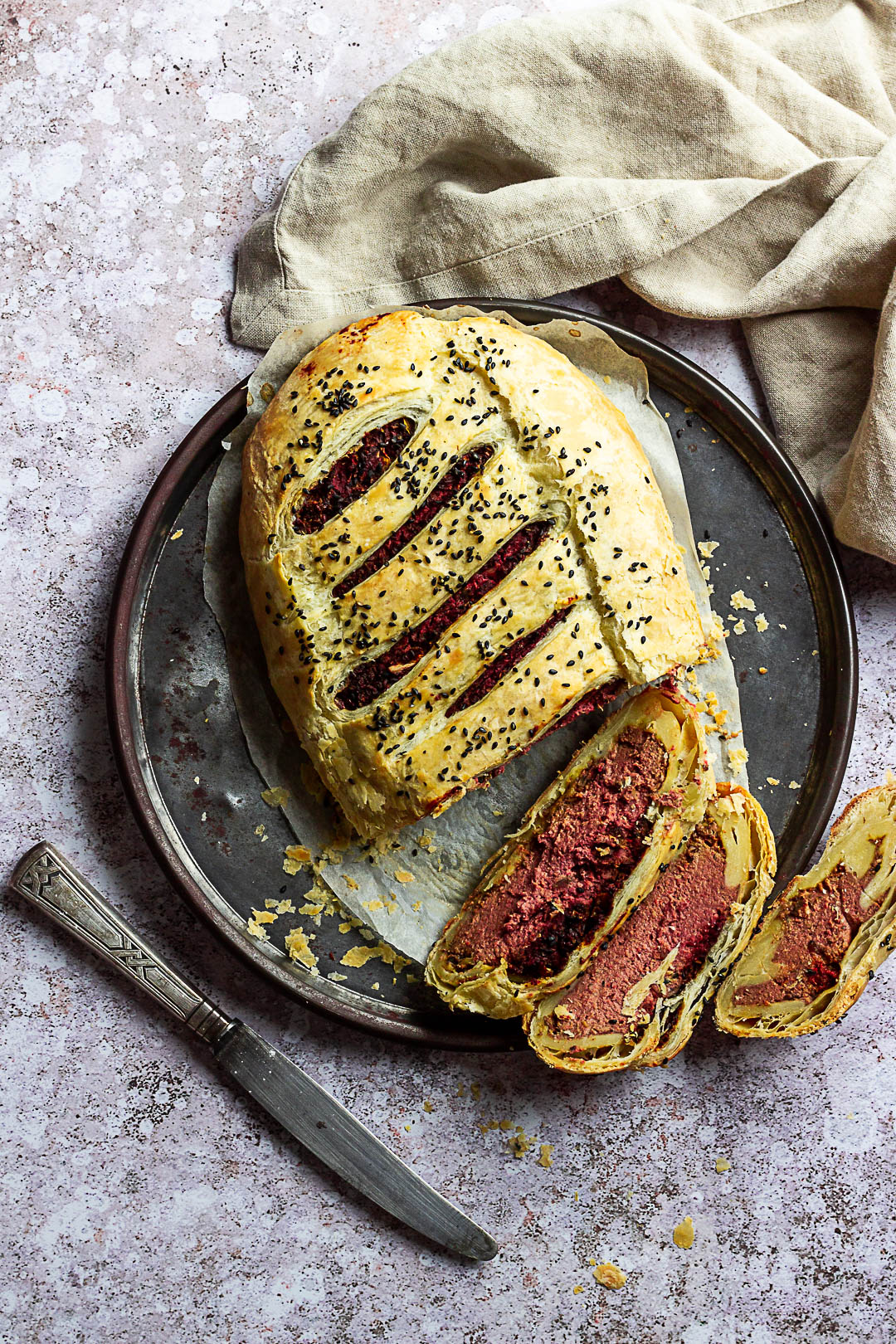 What do you need to prepare a vegan filet Wellington?
Onion

G

arlic cloves
Carrot
Celery
Dried rosemary
Dried thyme
Red wine or balsamic
Pecan nuts
Dijon Mustard
Pre-cooked beetroot
Tofu firm
Dark miso paste
Tapioca starch
Mushrooms
Smoked paprika powder
Nutritional yeast
Nutmeg
Marjoram, dried
Onion powder
Garlic powder
Puff pastry
Almond Milk or Aquafaba for brushing the puff pastry
Coarse sea salt, sesame seeds, poppy seeds for garnish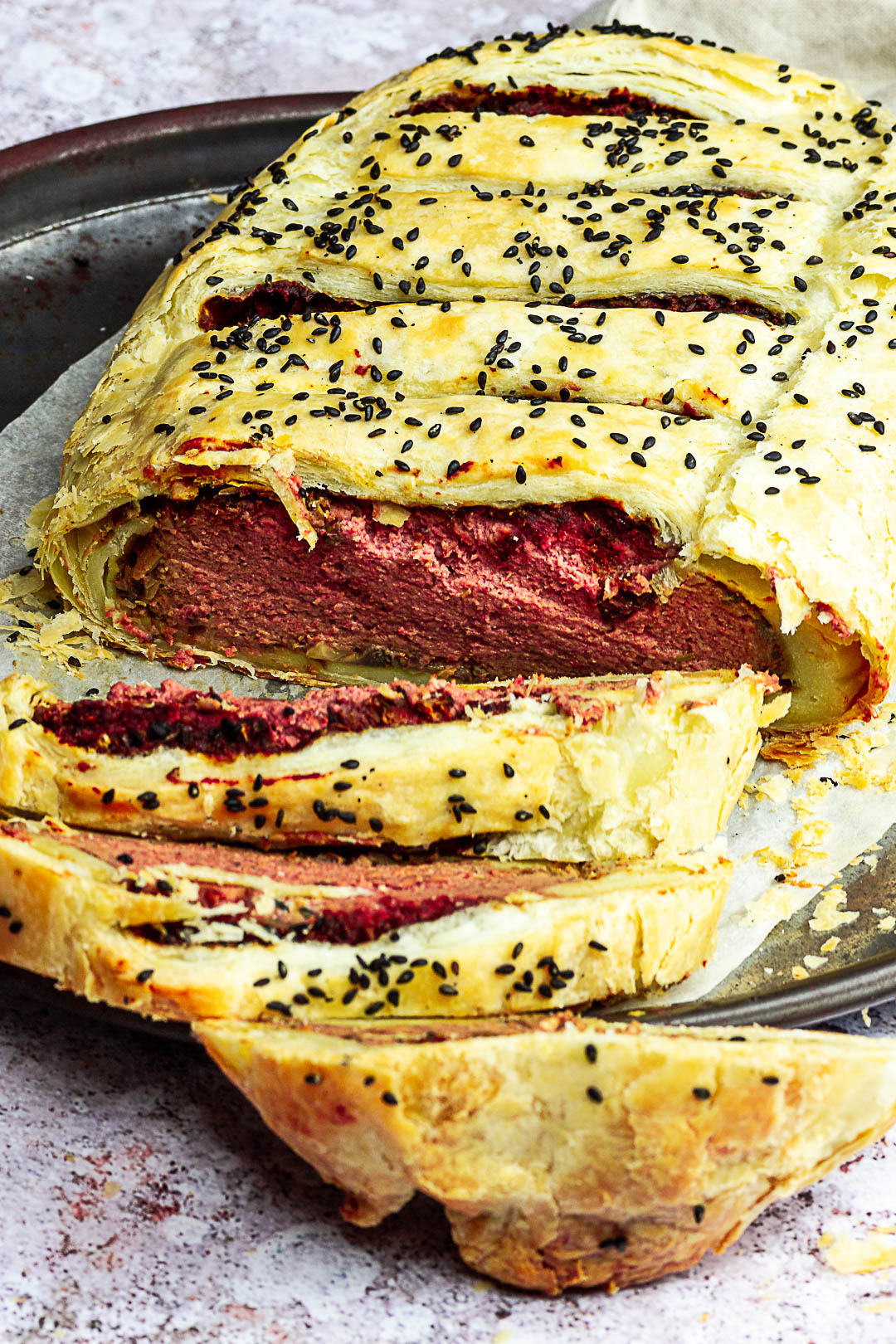 How is Vegan Filet Wellington made?
First steam the onions, garlic, carrots and celery in a pan. Always use some water. When the onions are golden brown, deglaze the onions with red wine. If you do not use red wine. Add the balsamic, later.
Now put all ingredients for the "filet" in a food processor and mix until you have a homogeneous dough. Taste the whole thing again.
In the meantime, you can fry the chopped mushrooms in another pan and add the remaining ingredients and season to taste.
Now take out the puff pastry and spread some of the mushrooms on the puff pastry, on the mushrooms you put the oval-shaped tofu roast and surround the roast with the remaining mushrooms. Now put the puff pastry around the filling so that the filling is completely closed. Than turn the wellington upside down, that the closing side is down. Now cut the puff pastry diagonally or a pattern that you like.
Bake the Wellington in a preheated oven at 350°F (180°C) for about 40 minutes or until it is brown. Let it cool for about 10 minutes before you cut it.
Is puff pastry vegan?
Most puff pastries you can buy in the store are vegan. However, puff pastry is not wholesome or whole food plant-based. For those who want to prepare the dish without oil and all-purpose flour, you can easily prepare the shortcrust pastry of my pot pies.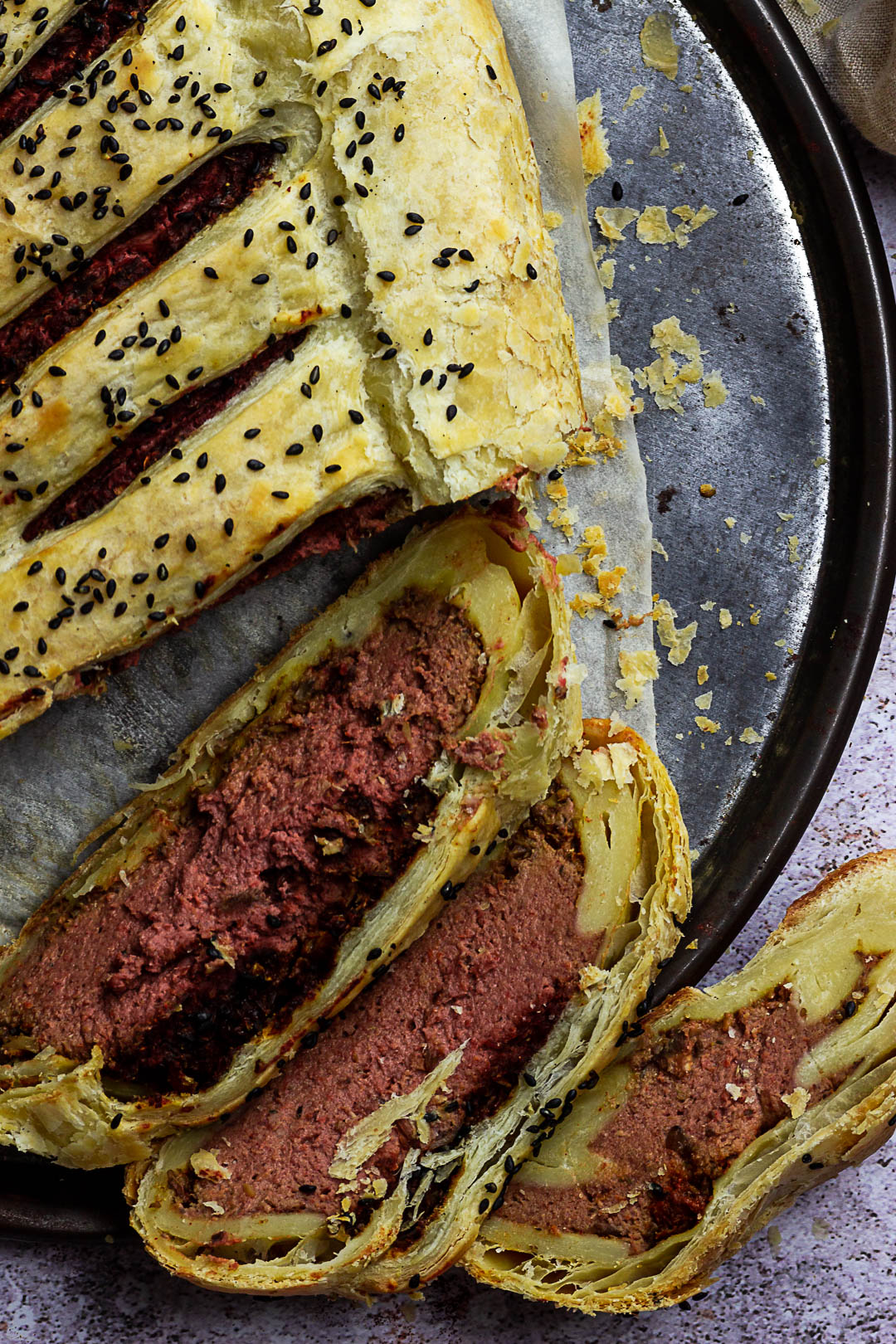 Can you prepare the vegan Wellington ahead of time?
Yes, you can prepare vegetarian Wellington ahead. Simply prepare everything as described in the instructions and bake just before serving. Simply prepare everything the day before and you will have less work on the actual day.
Can you freeze the vegan filet Wellington?
I have to say I have not frozen it myself yet. It should not speak against it. The leftovers keep in the fridge for a few days, about 3-4 days.
Tips for the vegan Wellington:
Your puff pastry should be cold and not frozen. If you have a frozen puff pastry, just let it thaw in the fridge overnight.

Make sure you do not make the filling too long. The filling should be completely wrapped in puff pastry.

Do not panic if some liquid comes out. Simply skim off and continue wrapping

Brushing the puff pastry with aquafaba makes it nice and crispy.

Cut the puff pastry diagonally on the top, so steam can escape during baking and it looks pretty.
What can I serve to the Wellington?
Do not forget to Pin on Pinterest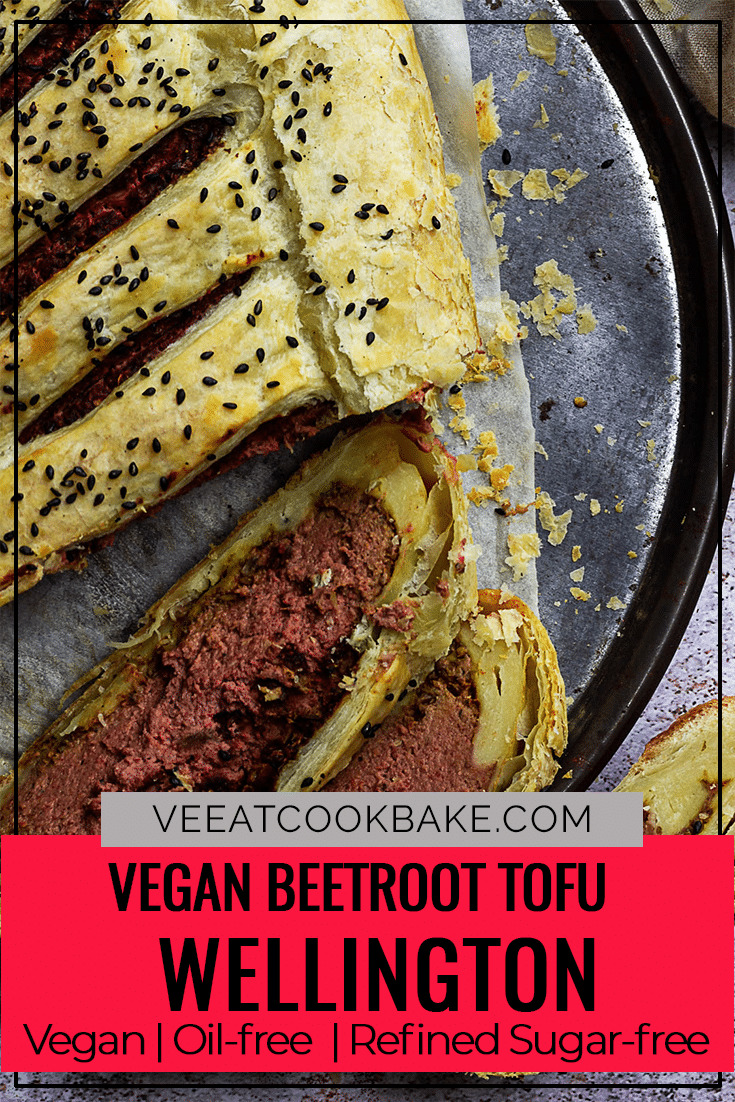 Have you tried the recipe?
If you tried the vegan Beef Wellington, be so nice ♥ and let me know by rating the recipe and writing what you think about it in the comments. Tag me on Instagram too. I am @veeatcookbake and my hashtag is #veeatcookbake. So that I can see your creation. Did you know you can add photos on Pinterest under the recipe Pin? I can't wait to see a photo of your creation there. You find me with @veeatcookbake. I also would love to hear your feedback so I can share it on my social media channels.

This post may contains affiliate links and I may receive a very small commission if you buy through these links at no extra cost. Thank you very much for supporting Ve Eat Cook Bake! More information can be found here.
---