Recipe for a delicious and light and super easy vegan veggie stuffing that isn't just good for Thanksgiving.
A vegetarian stuffing combined with the sweetness of cranberries and sweet potato, the hearty Brussels sprouts, the hearty flavor of leeks and the right selection of matching spices make this vegan and low-carb vegetable filling a must for your next Thanksgiving or Christmas party.
Which your gluten-free guests can also enjoy.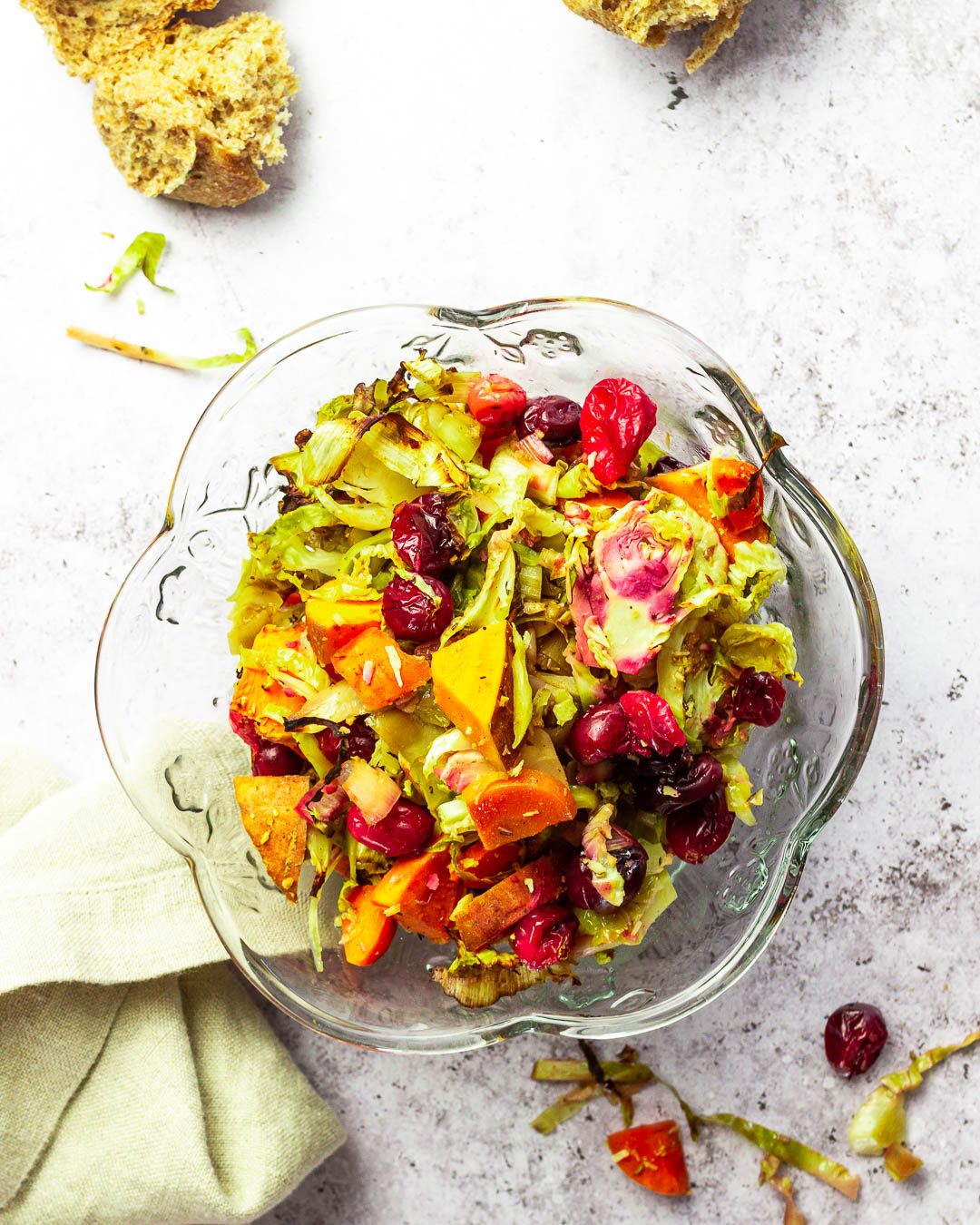 As an Amazon Associate, I earn from qualifying purchases. This post may contain affiliate links. Read More
After I really wanted to prepare a whole roasted cauliflower, I wondered what I could serve to it.
Or what I can roast in the oven with this delicious marinated cauliflower in the pan. And, so I came up with the idea to make a vegan vegetable filling.
Brussels sprouts are sweet when roasting and I thought the sweetness of sweet potatoes, as well as sweet and sour cranberries would harmonize perfectly with the Brussels sprouts.
And after using the right spices and herbs and after tasting it already raw, I knew that this low-carb stuffing would taste heavenly.
You could even make a salad out of it. Just knead the brussel sprouts a bit, that it can absorb all the dressing flavors.
And I'm sure we will not just make this on holidays like Thanksgiving or Christmas.
Along with how to make a vegan veggie stuffing you will also find some substitute ideas, what veggies go with the stuffing, how long you bake the stuffing and more Tips and tricks.
Ingredients
Please do not be intimidated by the relatively long list of ingredients for the vegetable stuffing. Mainly it's spices and herbs that I will list here.
You can find the exact quantities in the recipe card below.
Brussel Sprouts
Carrots
Leeks
Sweet potato
Unsweetened grated coconut (shredded)
Fresh or frozen cranberries (lingonberries work too)
Vegetable stock
Soy sauce or coco-aminos
Thyme
Rosemary
Allspices
Mace
Nutmeg
Ginger
Chili powder
Instruction
Start by preparing the marinade for the veggie stuffing. Add all the ingredients for the marinade in a large enough bowl, so that the cut veggies fit well.
I prefer to use a bowl with a lid, which I can then shake properly afterwards.
Now cut the vegetables accordingly. Put it in the bowl and mix the vegetables with the marinade except for the cranberries.
Now you can put the stuffing on a baking tray with baking paper and roast for about 20-25 minutes at 400°F( 200°C) .
Check every now and then if the sweet potatoes are soft and the sprouts have color. Add the cranberries 5 minutes before the end of the baking time.
If the brussel sprouts are getting too dark, just give it a stir.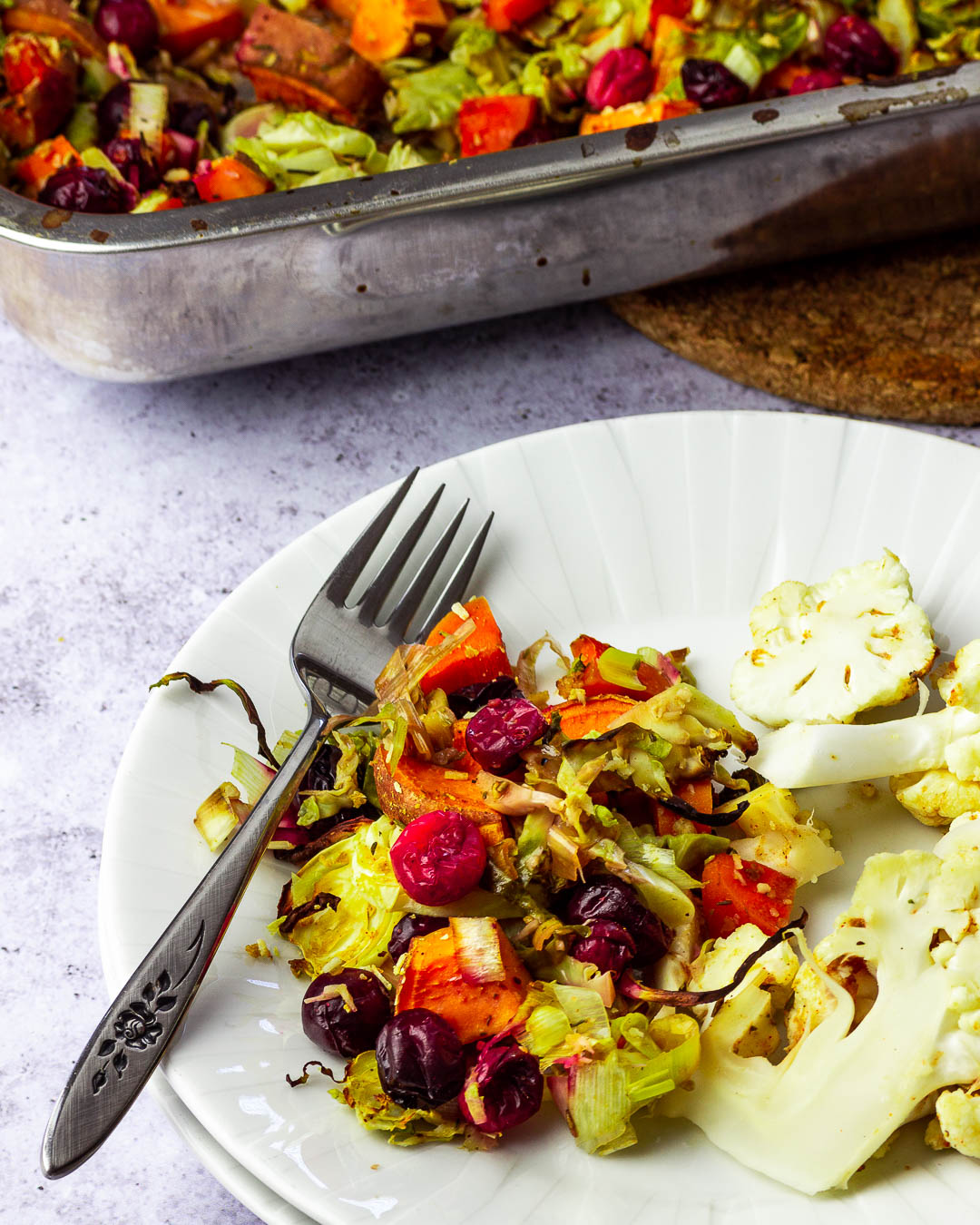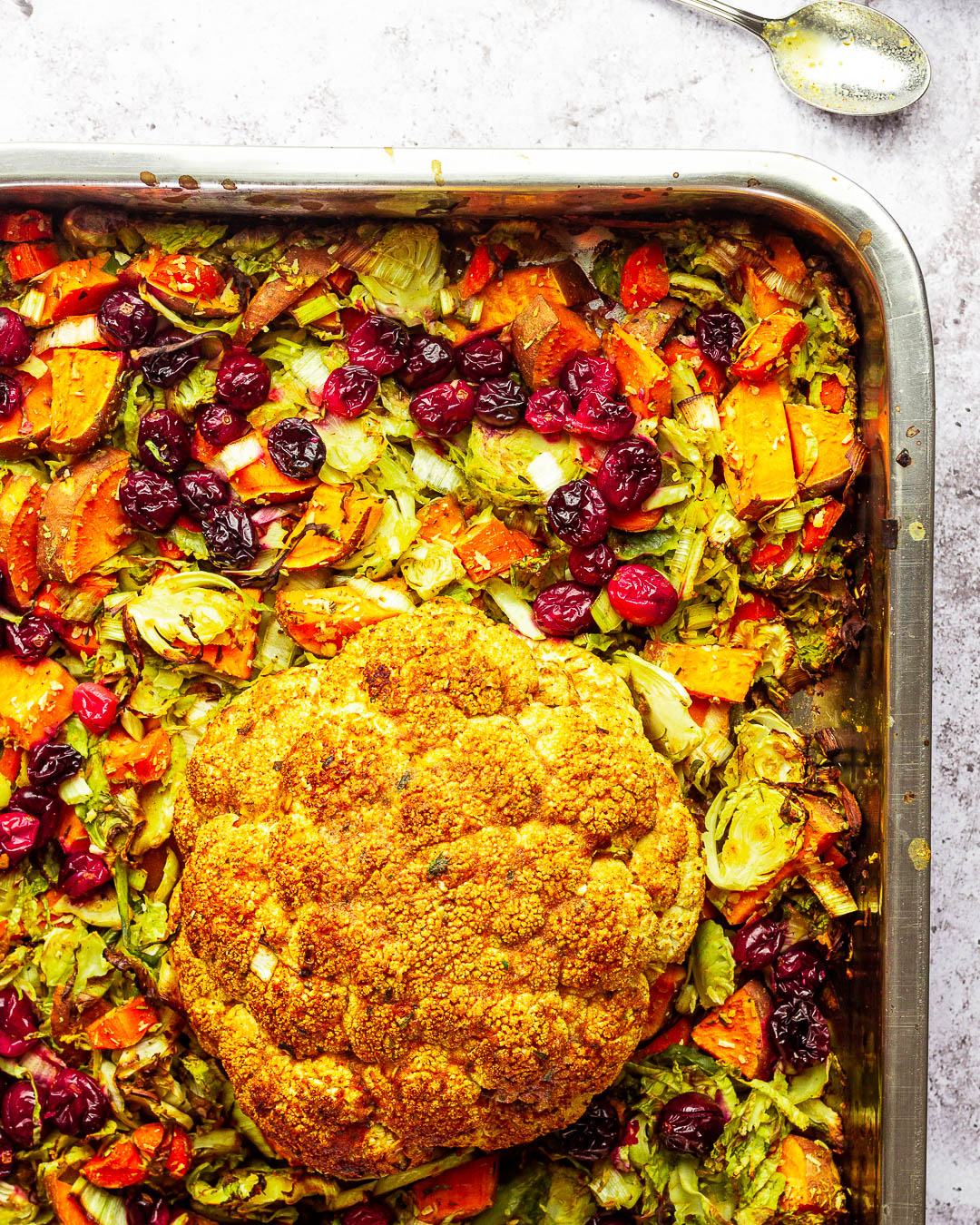 Which cranberries are suitable?
I like the slightly sour taste of cranberries and like to use fresh or frozen cranberries.
If you can not find fresh or frozen cranberries, you can of course use dried cranberries.
I would give this only 2-3 minutes before baking to the vegetable filling.
What can I use instead of sweet potatoes?
If you can not find sweet potatoes in the store or you just do not like sweet potatoes, you can also use regular potatoes.
But I think the sweet potatoes harmonize perfectly with the remaining ingredients.
How is this veggie stuffing so full of flavor?
Thanks to the herbs and spices used, this vegetable stuffing gets a festive taste, which is perfect for autumn and winter.
The taste is reminiscent of Thanksgiving and Christmas and goes perfectly with your Thanksgiving menu or Christmas.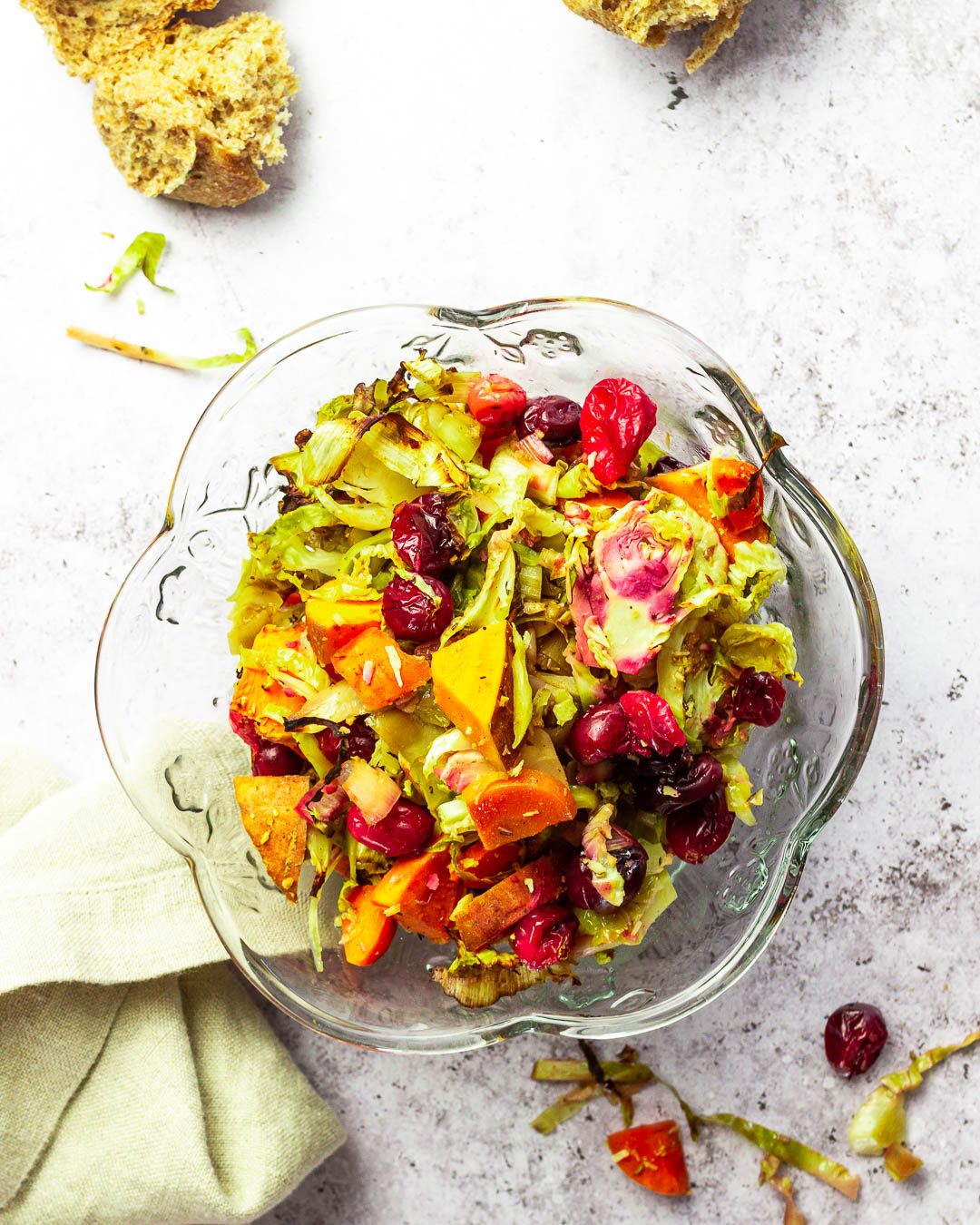 Preparation in Advance
As you've probably already learned from the instructions, you do not have to prepare much and you have an amazingly delicious and healthy alternative to your classic stuffing.
You can also prepare the vegetables well one evening in advance, as well as mix the marinade.
Serving Suggestions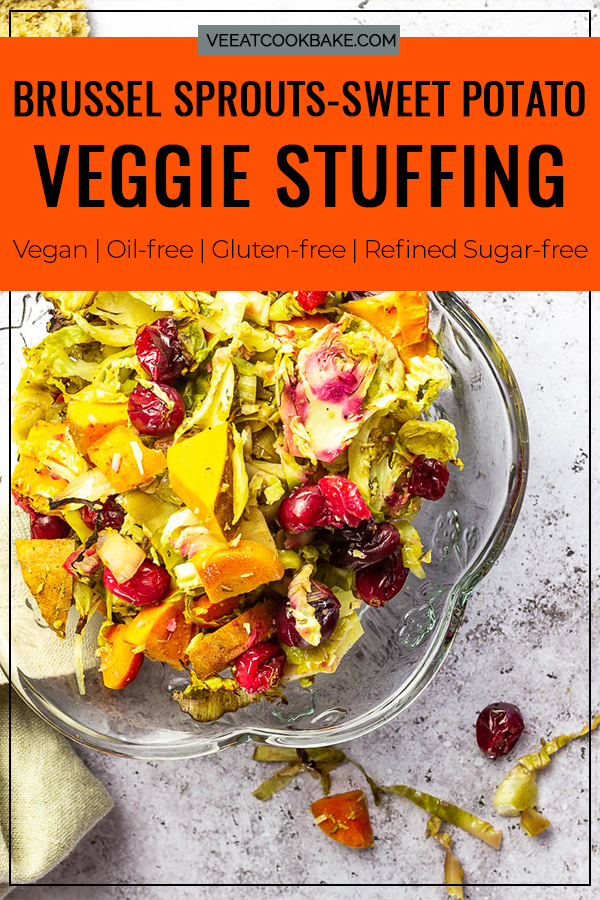 Have you tred the recip
If you tried the vegan Recipebe so nice ♥ and let me knw byrating the recipe and writing what you think about it in the comments.  I would love to see your photo on Instagram orFacebook. To do this tag me with @veeatcookbake andmy hashtag is #veeatcookbake. So that I can see your creation. Did you know you can add photos n Pinterest under the recipe Pin? I can't wait to see a photo of your creation here. You find me with @veeatcookbake