Vegan Green Bean Casserole - This recipe for a whole food Bean Casserole is a classic in American cuisine for Thanksgiving or Christmas.
Prepare the casserole with cream of mushroom and fried onions. You do not need many ingredients for this high quality vegetarian casserole and you can prepare it in advance.
It is gluten free, oil free, dairy free and whole food plant based friendly.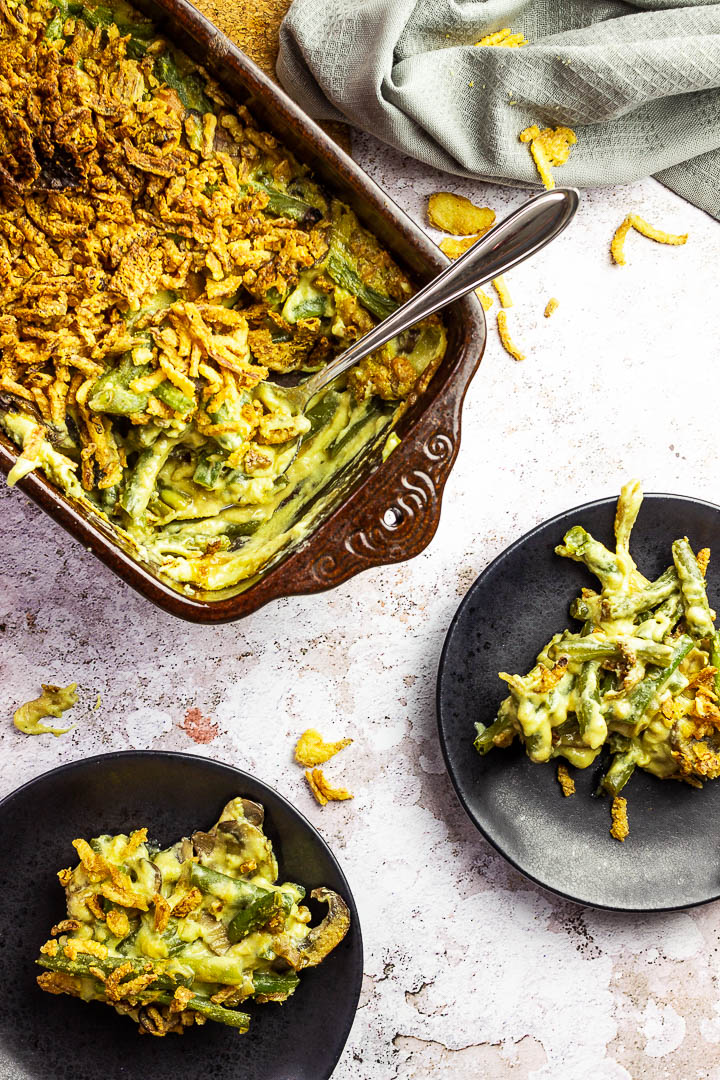 As an Amazon Associate, I earn from qualifying purchases. This post may contain affiliate links. Read More
Do you like to eat green beans like me? Then you will surely love this tasty casserole with green beans and a tasty cream of mushroom sauce.
This dish is not just suitable for Christmas but is also prepared very fast during the week.
The best is that you can combine this side dish casserole with different dishes. So you can prepare a larger amount.
Difference traditional green bean casserole and the vegan green bean casserole
The classic green bean casserole is prepared from a ready-made canned cream of mushroom from Campbells and store bought French fried onions.
For one thing, finished products are full of salt and home-made food just tastes better or not?
We prepare the mushroom cream ourselves and we handle making the fried onions.
And the best thing about the homemade casserole, we know exactly what's inside.
Ingredients
On the one hand, you can prepare the fried onions yourself at home. Here I have an oil-free version for you.
Or you can use store bought French fried onions.
You can find the exact quantities in the recipe card below.
For the fried onions you need the following:
Plant drink

Tahini

Apple Cider Vinegar

Onions

Whole spelt flour or gluten-free flour mixture

Salt

Ground black pepper

Cayenne pepper
Now we need the ingredients to prepare the casserole.
Onion

Clove of garlic

Mushrooms

Dry white wine or some white balsamic vinegar

Tapioca starch

Cashews

Water

Nutritional yeast

Soy sauce or coconut Aminos for gluten free

Pepper

500 g fresh green beans or frozen
Preperation
First, we prepare the roasted onions.
First, cut the onion into fine strips or rings. Mix the remaining ingredients into a dough and add the onion.
Heat the oven to 175 C (350 F) and place the onions on a baking tray lined with baking paper. Now bake the onions for about 7 minutes. Repeatedly check to see if they gain the right color.
If they have a nice brown color but not too dark, they are finished.
In the meantime you can cut mushrooms, onions and beans. You can now steam the beans for 3 minutes.
This helps you have a beautiful green bean casserole. Thanks to the steaming the color will be preserved.
Now fry the onions and mushrooms in a pan vigorously. I always add a sip of water. Take the soaked cashews and blend them with water, tapioca starch and yeast flakes.
If the onions have a nice brown color, you can deglaze them with some white wine.
Add the cashew cream and add soy sauce (coconut Aminos), salt and pepper for taste. Now you can put the green beans in a casserole dish and pour the sauce over them.
You can distribute the finished fried onion over it. And bake in the oven at 175 C for about 15 - 20min
Bring extra flavor into your vegan green bean casserole.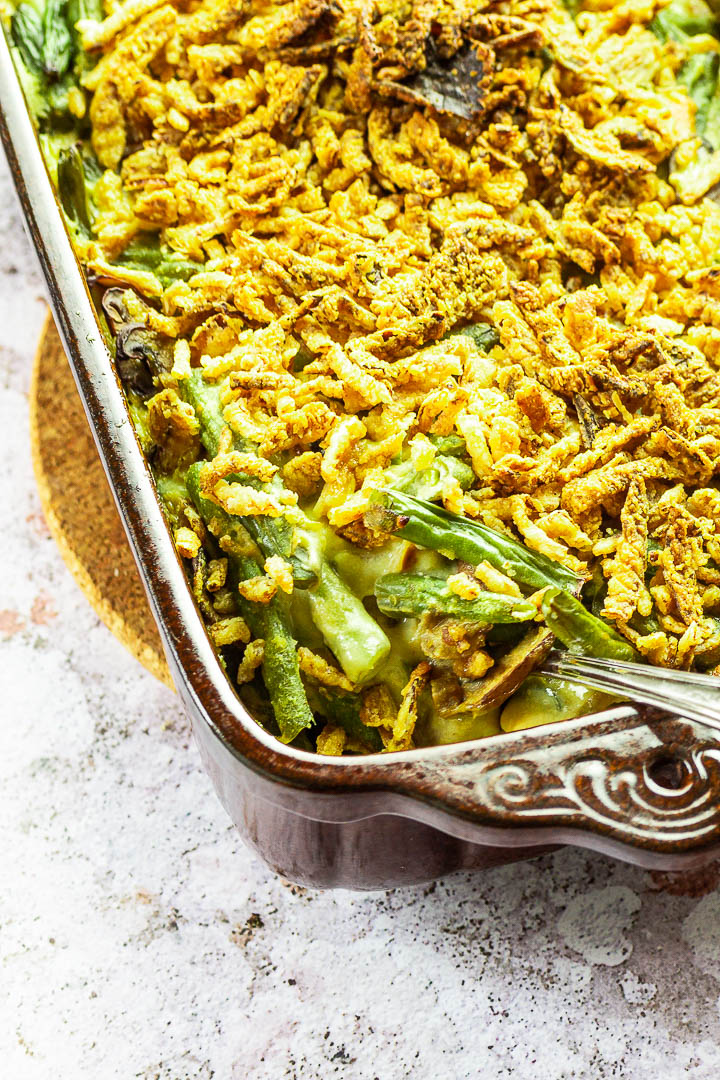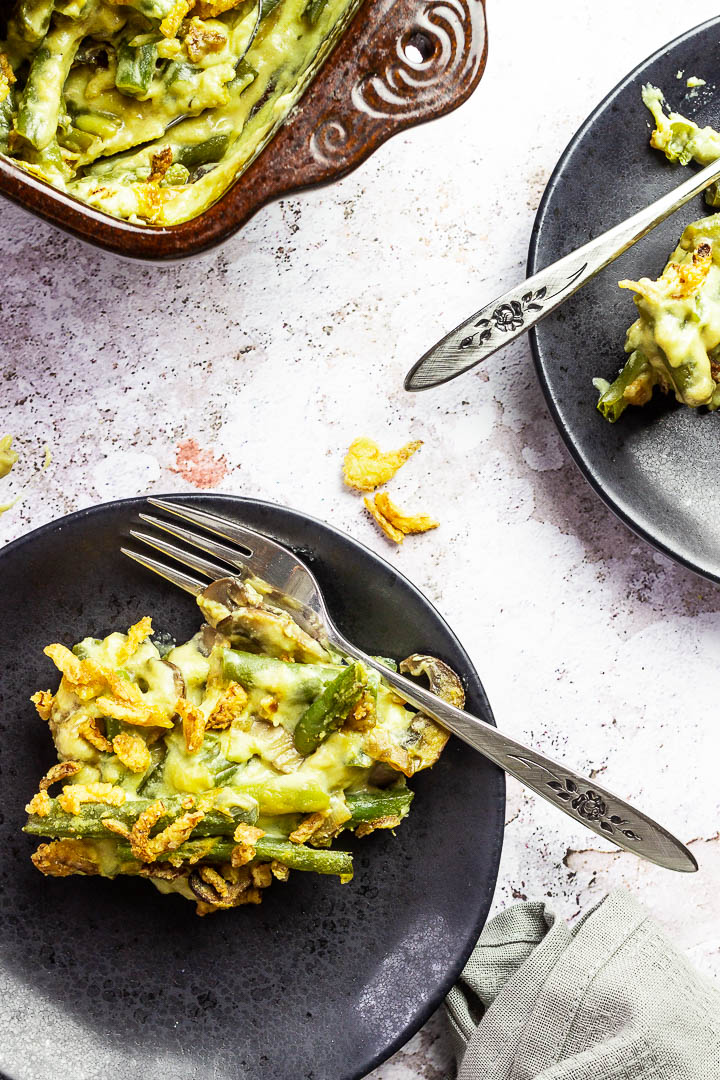 Which mushrooms can I use?
Basically, I think you can combine different types of mushrooms, so the tastes of all come through.
You can use mushrooms, chanterelles, oyster mushrooms and others.
My grandma has taught me that dishes taste best when you use different mushrooms, and she always knows best. And I would like to pass that on to you.
Which onions can I use here?
I take the conventional yellowish (white) onion for frying. These taste best for hearty, cooked dishes.
For raw dishes like salads, I prefer to eat the mild red onions.
Gluten-free?
I can give a big yes here.
The sauce is quickly made gluten free with coconut amino and with the fried onions you can just use a gluten-free flour baking mix.
What else can you use for white wine?
If you do not like the taste of white wine or if you can not drink it for other reasons, then just take some white balsamic.
You can find detailed instructions in the recipe card.
But if you can drink wine, then I recommend you try it out. It just tastes heavenly good. And gives the casserole something for sure.
Mushroom Substitute
This is not a problem, you can of course leave out the mushrooms and just caramelize the onions. And with the white wine you get an amazing flavor.
What helped me in the beginning, was to cut the mushrooms super fine. I never liked to eat mushrooms myself before, but I always loved the taste in sauces.
That's why it helped me cut the mushrooms so finely that I did not have to chew on them. Maybe that helps you too.
Tips
Prepare everything first and then start cooking. Thus, you can fully concentrate on the cooking.

You can also prepare the vegan green bean casserole a few days before. Here I would prepare everything except cutting and sprinkling the fried onions over it. Do this only when you want to eat the casserole.
This casserole makes 6 portions. Calculate how much you need and maybe make a bigger casserole.
You do not have to steam the green beans. But that helps keep the beans so green.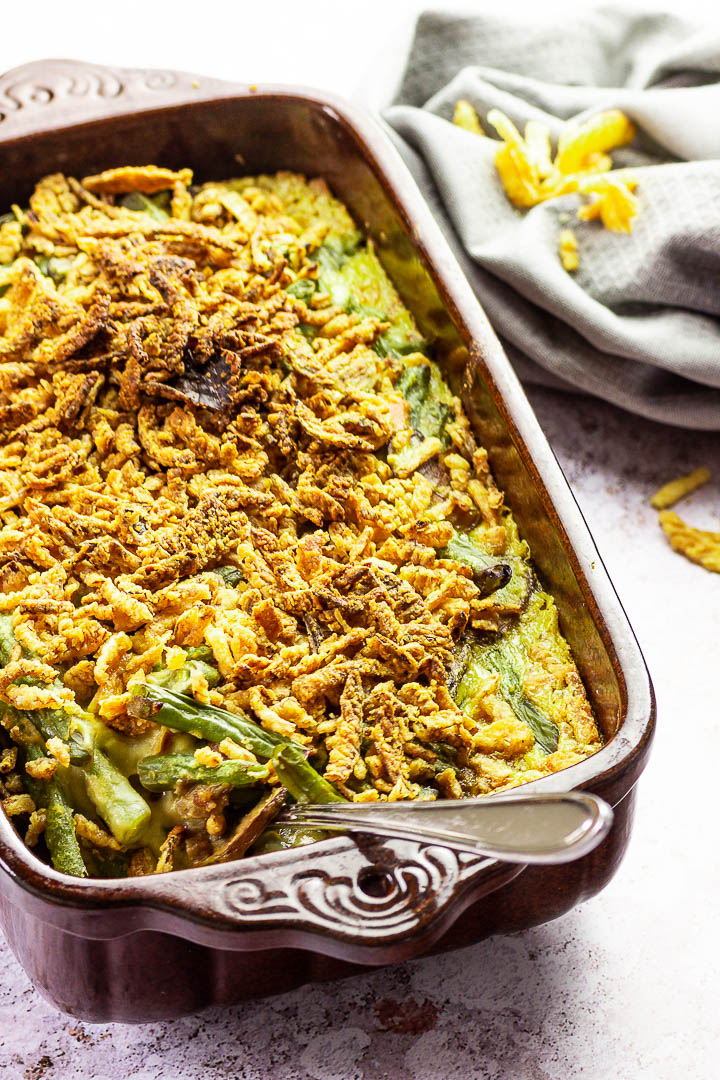 Why do we prepare the mushroom sauce ourselves?
For one, the purchased are mostly not vegan. They contain milk, cream or other animal products.
We can caramelize the onion with homemade sauce, which gives it a special touch.
How can we caramelize onions without oil, Magarine or butter?
Maybe, like me, you think too much about it.
But it's totally easy, you just need some water and a non-stick pan and that'll let you caramelize onions.
I add some water every now and then when the onions begin to stick on the pan. And stir the onions.
Other vegan holiday recipes for Thanksgiving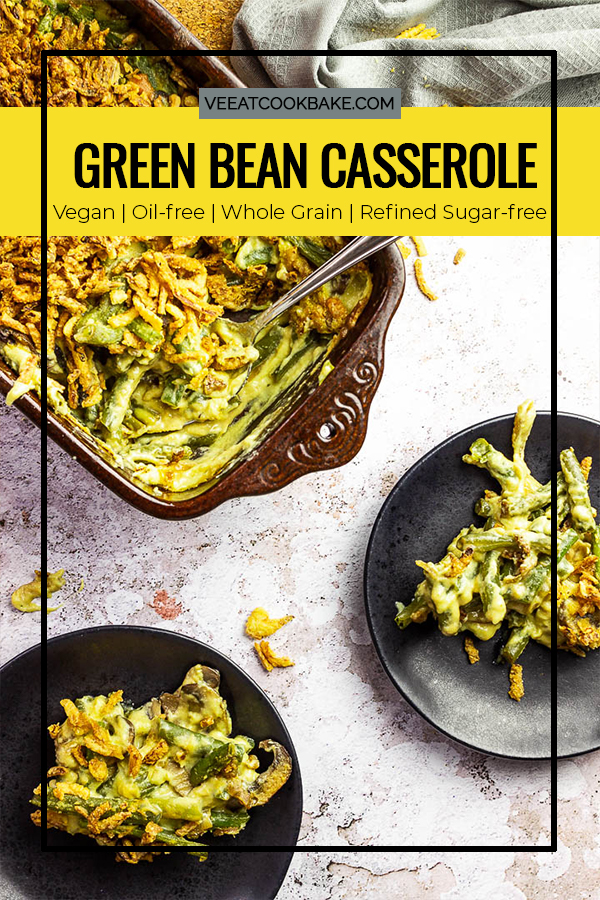 Have you tred the recip
If you tried the vegan Recipebe so nice ♥ and let me knw byrating the recipe and writing what you think about it in the comments.  I would love to see your photo on Instagram orFacebook. To do this tag me with @veeatcookbake andmy hashtag is #veeatcookbake. So that I can see your creation. Did you know you can add photos n Pinterest under the recipe Pin? I can't wait to see a photo of your creation here. You find me with @veeatcookbake