Are you looking for a delicious vegan and budget-friendly meal to keep your wallet (and body) happy? This easy oil-free vegan green bean soup recipe is the answer! It takes just 15 minutes to make and is also gluten free.
Make this as a quick snack, light lunch or dinner complete with protein and still feel good about what you're eating. Plus, all ingredients can be found at your local grocery store! Read on for the ingredients list plus instructions so that you can enjoy this yummy vegetable dish in no time.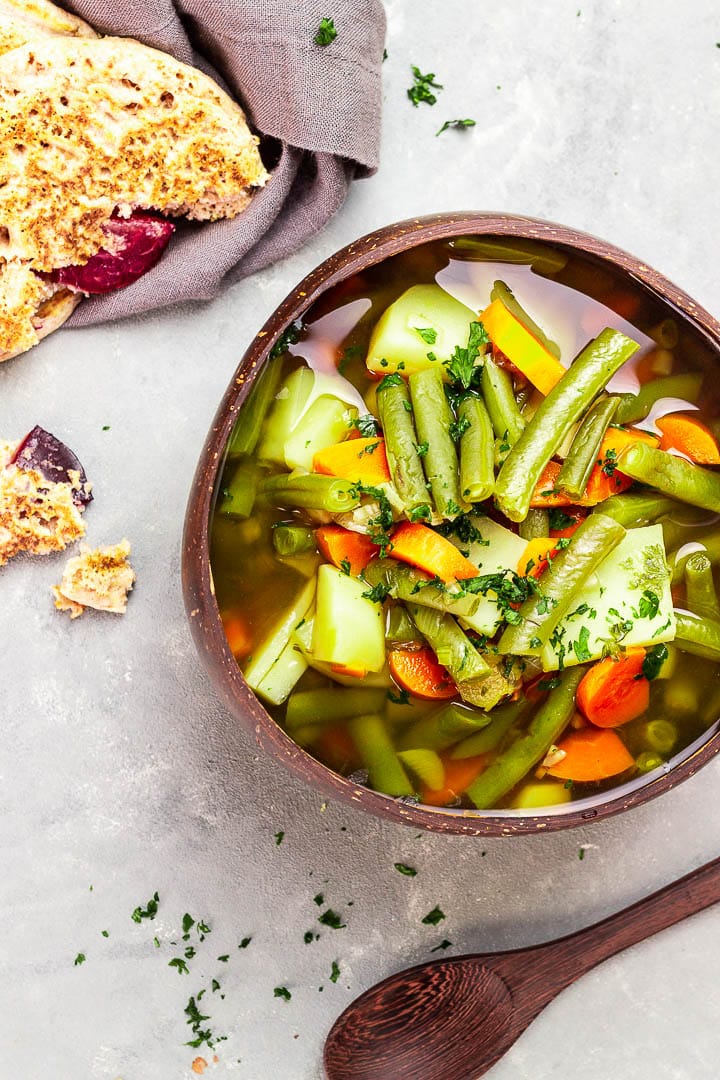 Fun Fact : did you know that 1 cup green beans have 8 g protein. So this soup is a protein rich soup without harming any animals.
You like this recipe, try my green bean side dish, green bean salad or even my green bean casserole. Of course, all of them are plant based.
As an Amazon Associate, I earn from qualifying purchases. This post may contain affiliate links. Read More
Jump to:
Ingredients
Here is a short overview of what you need to prepare a delicious string bean soup. It is a really easy recipe. Most of the ingredients, you may have in your pantry.
This homemade bean soup is made without pork, soup meat, beef or bacon. This makes the soup more budget - friendly.
You can find the ingredients with quantities and the recipe to print out on the recipe card below.
Green Beans
Potatoes
Celery Root
Leeks
Carrots
Bunch Parsley
Onion
Garlic Clove
Savory
Water
Apple Cider Vinegar
Liquid Smoke - optional-
Sea Salt and Black Pepper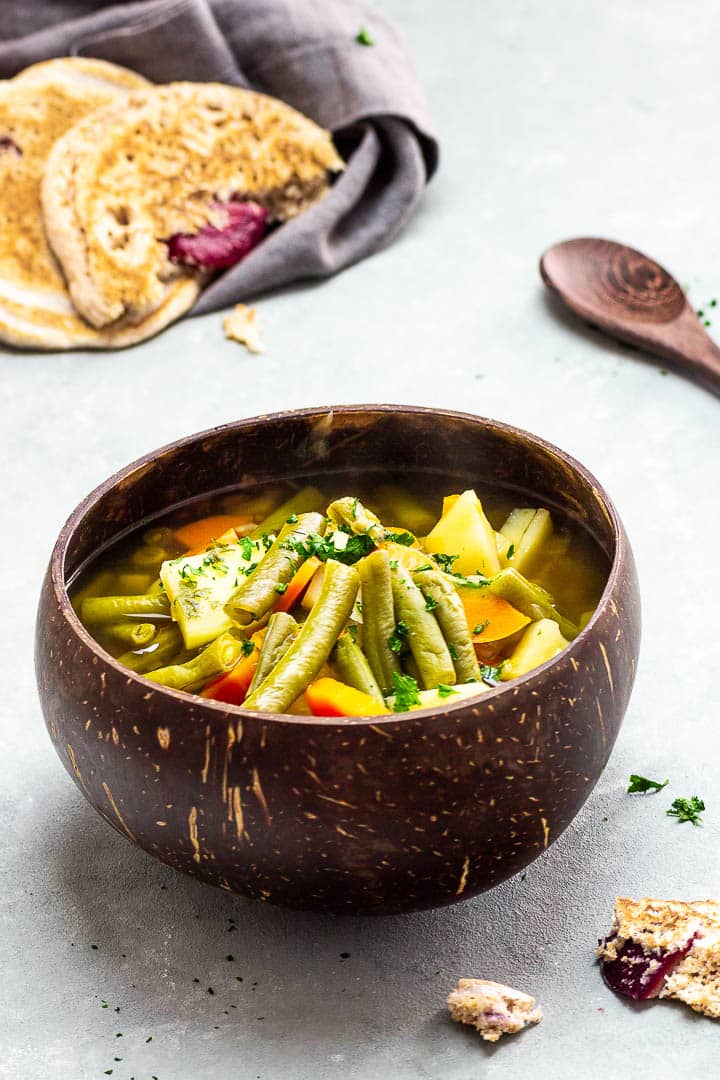 Instructions
We start with a strong vegetable broth for great flavor. We take the vegetables except the beans and potatoes and saute onion and the others in water on medium heat.
We add more water until the vegetables are slightly brown. That's how we get the taste right.
Then we pour the vegetables into water. Here you can already recognize the typical vegetable broth color, slightly yellowish brownish. Now we add the beans and potatoes and let it boil until they are soft and cooked through.
Make this vegan green bean soup, check out some of my other favorite soup recipes like lentil soup, cauliflower soup, cabbage soup and more of my vegan soup recipes.
Substitutions
Vegtable Broth - What if I do not have time to cook a strong vegetable stock for the vegan green bean soup? You can also use store bought vegetable broth. However, it depends on the brand as to how it will taste. You can also, if the veggie broth for the vegan green bean soup is not strong enough, just reduce the broth under heat or season it more.
Celery Root - If you do not have Celeriac on hand than use celery stalks. I would use 1-2 stalks finely diced celery.
Savory - Is a herb that adds an amazing flavor to this string beans soup. You can use either dried savory or use fresh. I love to have some in my garden.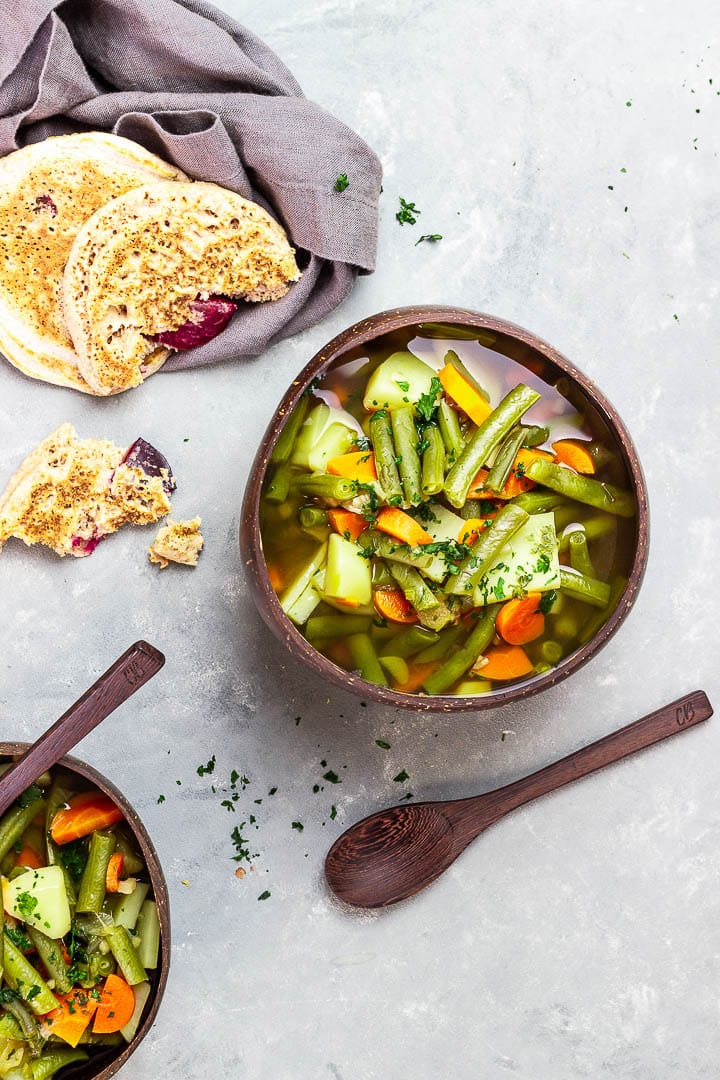 Variation
This hearty soup can be made in different variations.
Spicey - If you like it spicey add some tabasco or other hot sauce. You can even use a some red pepper flakes.
Vegetable Soup - Add other veggies to this soup brussels sprouts to make a soup that has a beautiful green color.
Creamy - You love creamy soup? Add some coconut milk or cashew cream to make a creamy green bean soup.
Fried Onion - Top the soup with some fried onions to add some more flavor.
Serving Suggestion
In my hometown, you eat plum cake and green bean soup together. Are you familiar with this combination? If not, you should definitely try it. If you do not know this combination, what do you usually serve with such a soup?
I would love to read from you below. However, if we do not have time to make a plum cake, I will whip up a quick pancake dough and add some diced plums. Or serve this green bean stew with a crusty bread.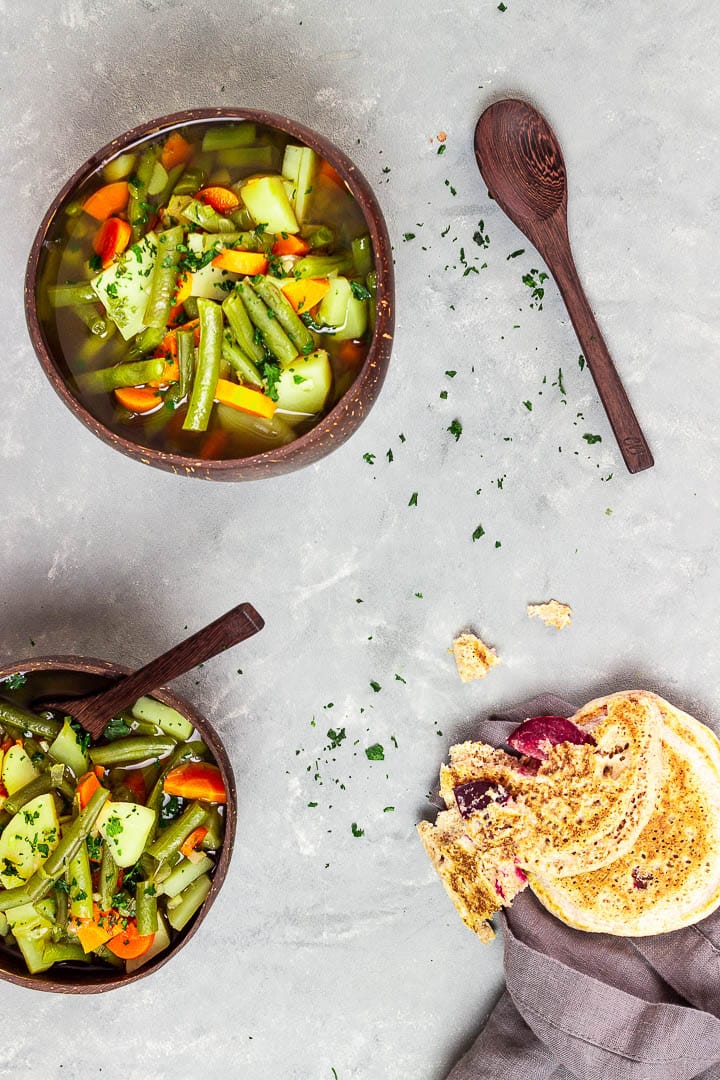 Storage
If you want to eat the soup within a few days, I recommend keeping the soup in the fridge.
The green bean soup is even great for freezing. We often have something left and then freeze it. Please make sure that the soup is cooled down before putting it in the freezer.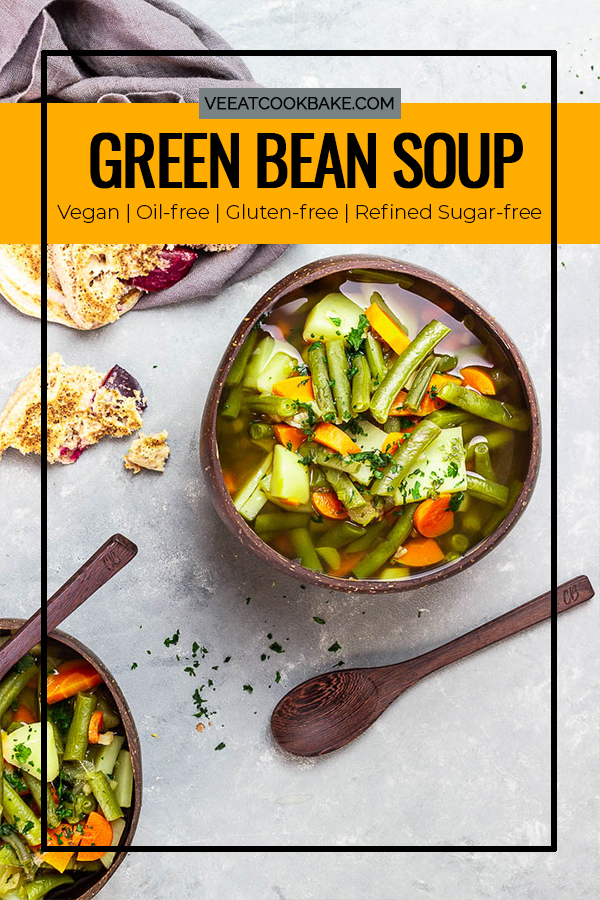 Top Tip
To get a strong, flavorful veggie broth, sauté the veggies in a bit of water and let it sauté until the water evaporated. Once the veggies start to stuck on the bottom, add some more water, and repeat this for like 4 times or even more.
FAQ
Where does the green bean soup come from?
The first bean soup recipe was probably from around 1430 by a German cook named Johannes Bockenheim and was found in a latin text.
Can I use frozen, fresh or canned green beans?
 I like to use fresh or frozen green beans. These give the best taste in my opinion and you can cook them the way you like them best. 
Fresh and frozen beans take about 10-15 minutes, depending on how soft or firm you want them to be.
 
If you want to use fresh green beans, you can also blanch them briefly. So the great green color remains. And with fresh beans you have to do one more step, wash and cut them.

You are now under time pressure. If you do not have a lot of time and still want to cook this delicious soup, then of course you can go back to canned green beans. 
Please note that the beans are heated only for 2-3 minutes, as they are already cooked