Vegan Pulled Pineapple BBQ Jackfruit Burger - A Vegan Recipe for BBQ Pulled Pork with Pineapple. This burger with the refreshing pineapple is a quick comfort meal.
Served with a side salad and home-made fries, round off the vegan Pulled Pineapple BBQ Jackfruit Burger. This vegetarian pulled pork recipe is a great appetizer for your next gameday party.

Vegan pulled Pineapple BBQ Jackfruit Burger with Homemade BBQ Sauce
A vegan BBQ sauce is prepared super fast. Most purchased BBQ sauces are full of sugar and salt, we can make this homemade vegan BBQ sauce without it.
This sauce goes perfectly with the vegan Pulled Pineapple BBQ Jackfruit Burger or use for anything else you eat with BBQ sauce.
Why pineapple in pulled BBQ Jackfruit Burger
I love to experiment with recipes and that's how this recipe came about. At home, we still had fresh pineapple that had to be used.
And since there are many hearty dishes with pineapples such as Hawaii toast or Hawaii pizza, I tried this vegan Pulled Pineapple BBQ Jackfruit Burger. Have you ever experimented in the kitchen and created an amazing meal?
Looking forward to reading what you have conjured up delicious and maybe unusual?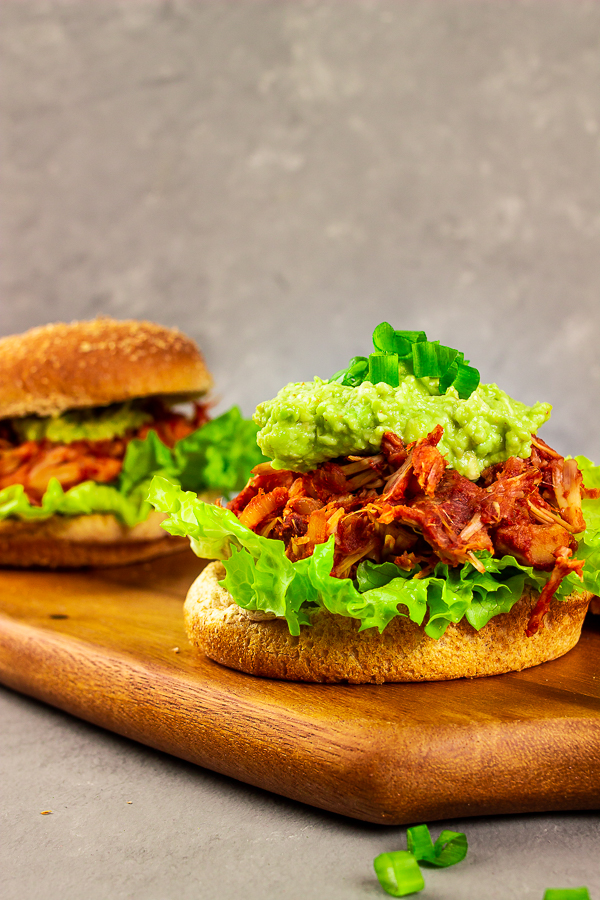 This pulled Pineapple BBQ Jackfruit Burger is:
easy to make
super flavorful
healthy version of the traditional recipe
pure comfort food

When you like this vegan pulled pineapple BBQ Jackfruit Burger, you may like these:
You like the recipe? Do not forget to Pin on Pinterest!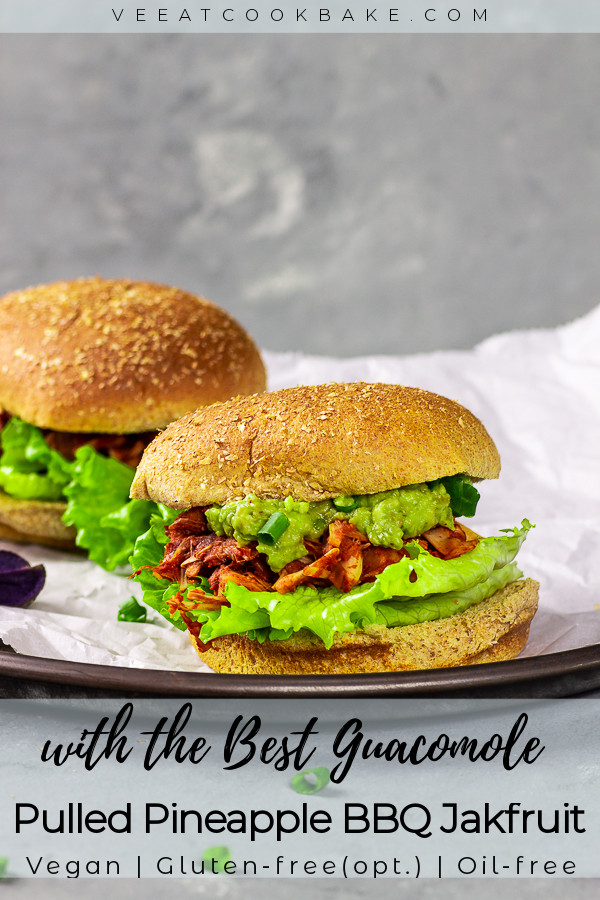 ---
Have you tried the recipe?
If you have, be so nice ♥ and let me know by rating the recipe and writing what you think about it. Tag me on Instagram or Facebook too. I am @veeatcookbake and my hashtag is #veeatcookbake.
So that I can see your creation. Did you know you can add photos on Pinterest under the recipe Pin? I can't wait to see a photo of your creation there. You find me with VeeatCookBake.
---
But finally the recipe for the vegan Pulled Pineapple BBQ Jackfruit (Pork) with the best Guacamole

This post may contains affiliate links and I may receive a very small commission if you buy through these links at no extra cost. Thank you very much for supporting Ve Eat Cook Bake! More information can be found here.
---
---
---