These vegan pulled pork sandwiches with pineapple are great party food. Pulled jackfruit is simple and easy to prepare, and has a great meaty texture. The pineapple gives the whole thing a special touch.
You don't need pork to make American Pulled Pork. Just resort to jackfruit and you will see the texture is incredibly authentic. And so much healthier.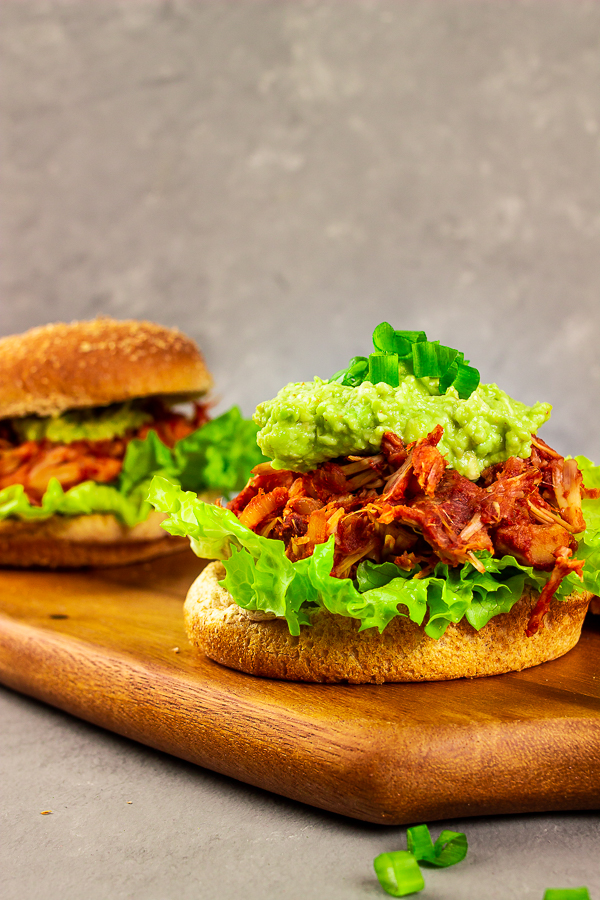 As an Amazon Associate, I earn from qualifying purchases. This post may contain affiliate links. Read More
Jump to:
It is important with this recipe that you use jackfruit in brine.
Topped with an incredibly delicious guacamole, this recipe makes a real party dish.
You can usually find jackfruit in a well-stocked supermarket. If you take the jackfruit now, cut off the firm part and shred it up with a fork, you will see that it has a great fibrous, meaty texture that is similar to pulled pork.
That makes it the perfect meat substitute for a vegan BBQ sandwich.
Why Pineapple in BBQ Jackfruit Burger?
I love experimenting with recipes and that's how this recipe came about. At home we still had fresh pineapples that had to be used.
And since there are many hearty dishes with pineapples such as Hawaiian toast or Hawaiian pizza, I tried this vegan Pulled Pineapple BBQ Jackfruit Burger.
Ingredients
Now let's take a look at the ingredients in this great dish.
The exact quantities can be found below in the recipe card.
Jackfruit In Brine
Onion
Pineapple
Whole-grain Burger Buns
Sauce
Tomato Passata
Tomato Paste
Unsweetened Pineapple Juice
Maple Syrup
Rice Vinegar
Soy Sauce
Garlic Powder, Onion, Salt, Dry Mustard Powder
Smoked Paprika
Molasses
Cayenne Pepper
Guacamole
Avocados
Lime Juice
Chili Powder
Sea-salt
Spring Onion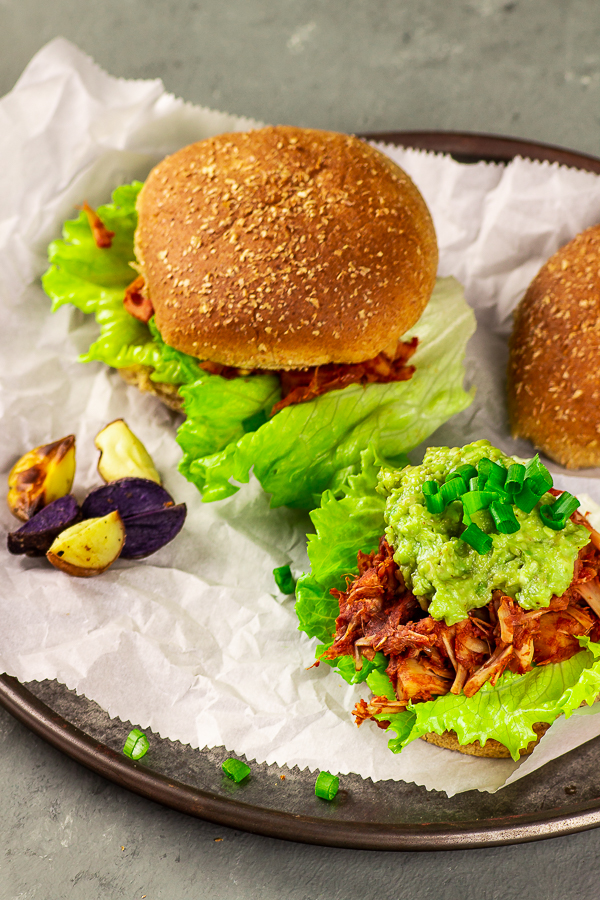 Substitutions
Let's take a look at what ingredients you can substitute.
Jackfruit
If you can't find jackfruit, but still want to try a vegan pulled pork sandwich, I recommend picking king oyster mushrooms with a fork and then proceeding as described in the recipe.
Tomato Passata
Here you can either use pureed tomatoes or crushed tomatoes. It's entirely up to you. Both work great.
Pineapple Juice
Instead of pineapple juice, you can also use water for these BBQ jackfruit sandwiches.
Maple Syrup
If you don't want to use maple syrup, you can either omit it or replace it with date paste.
Soy Sauce
You can replace the soy sauce with a gluten-free soy sauce (tamari) or with a soy-free seasoning sauce such as coconut aminos.
Molasses
You can use sugar beet syrup instead of molasses. Just look at what you have at home. You don't have to buy extra molasses.
Bun
You can either buy rolls or make them yourself. You can also make burger buns from my hot dog buns.
Variations
Now let's take a look at how you can customize the vegan BBQ sandwiches.
Gluten free
Use gluten-free rolls and tamari or coconut aminos to make the recipe gluten-free.
Soy free
Likewise, use coconut aminos instead of soy sauce to make your recipe soy-free.
Nut free
The vegan BBQ jackfruit sandwich is already a nut-free recipe. No adjustments required.
Instructions
Wash the jackfruit well and cut off the hard part. We only need the soft part. If necessary, remove the seeds and pick the jackfruit apart with a fork.
Preheat the oven to 400°F (200°C). Mix all ingredients for the sauce in a bowl. Now add the jackfruit to the sauce. And place on a baking sheet lined with parchment paper.
Bake in the oven for about 15 minutes. Fold in the pineapple pieces and bake again in the oven for at least 5 minutes. Or until the desired consistency is achieved.
For the guacamole, put all the ingredients except for the scallion in a blender and mix finely. Finally fold in the green onions.
You can serve the burger like in the photo.
Prepare in advance
You can prepare the jackfruit in advance and then simply reheat it. I recommend replacing the guacamole just before serving, otherwise it can turn brown.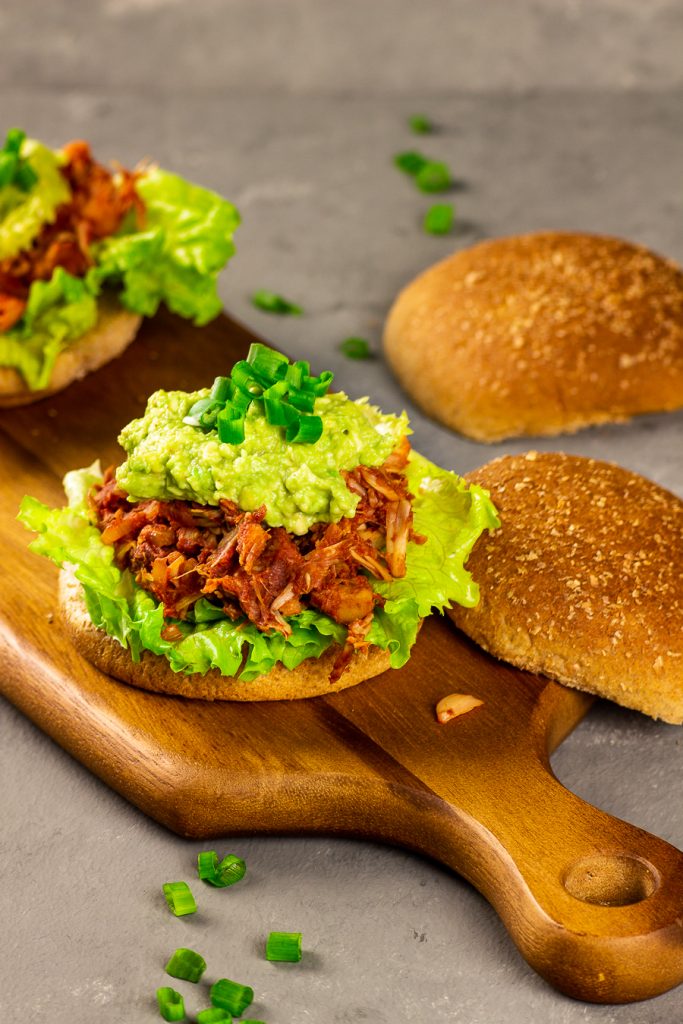 Recommended Equipment
For this BBQ jackfruit burger you'll need:
Serving Options
You can serve the BBQ jackfruit as shown in the photos. Or make a salad plate out of it with coleslaw.
Vegan Side Dishes:
Cucumber Salad
Green Salad
In addition to guacamole, you can also serve the following on your BBQ pineapple jackfruit sandwich:
Horseradish sauce from my smoked vegan salmon
Storage
How to refrigerate it?
The BBQ jackfruit will keep in the fridge for about 4 days. The guacamole won't last that long. Prepare the guacamole fresh.
How to freeze it?
You can also freeze the jackfruit well. Simply freeze it in portions and then take it out.
How to warm it up?
It is best to warm it up in the oven. It tastes like it has been freshly prepared.
Tips
If you want a BBQ sandwich without pineapple I recommend you to try my other recipe, which I serve with coleslaw (coleslaw).
When buying, make sure that you are not buying sweet jackfruit but young jackfruit in brine. Otherwise the taste of the dish will change.
Does jackfruit taste like pork?
I think jackfruit, especially young, has a relatively neutral taste and takes on the taste of spices and sauces, which helps with this dish as it is served in a homemade sugar-free BBQ sauce.
More vegan recipes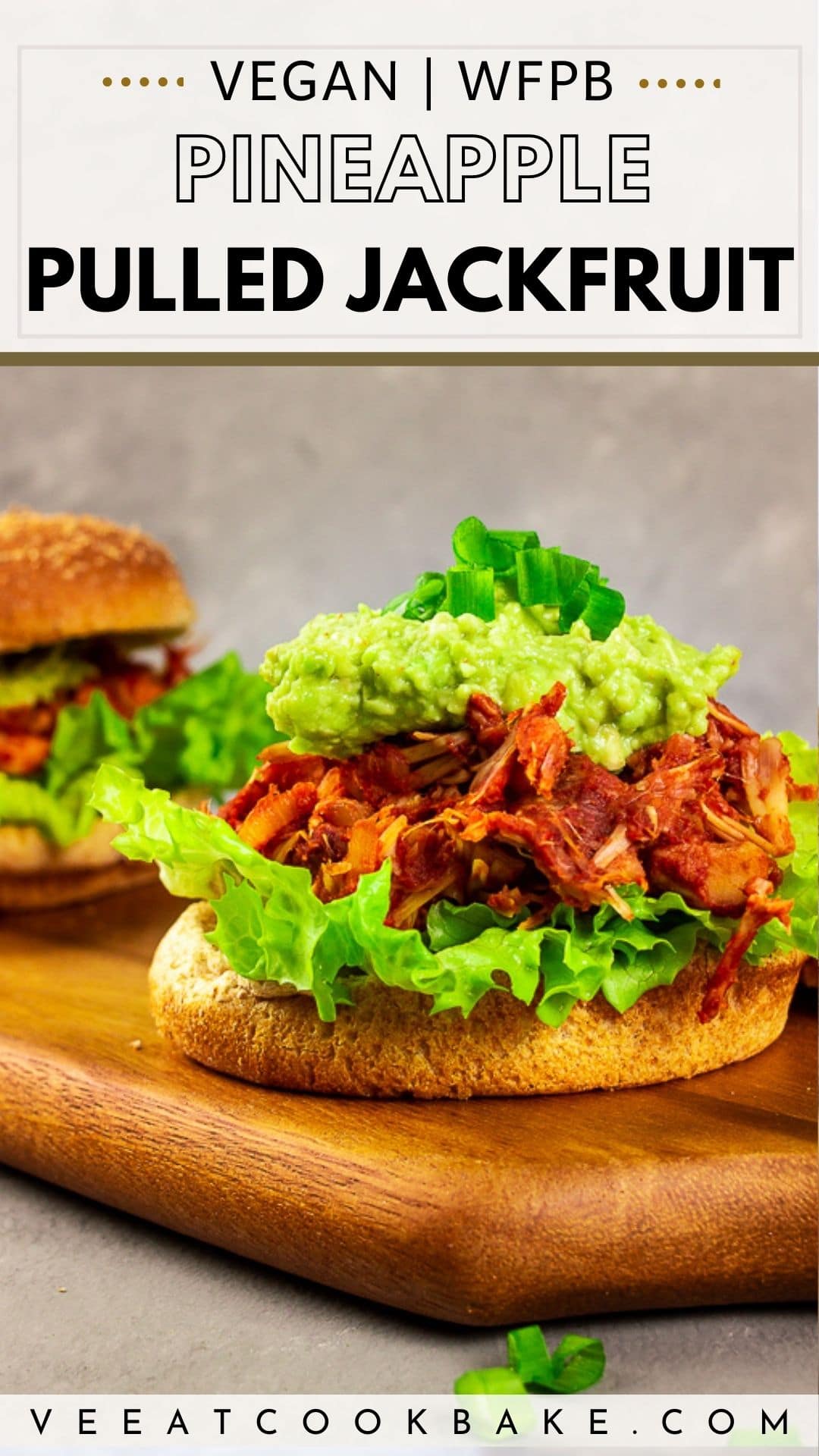 Have you tred the recip
If you tried the vegan Recipebe so nice ♥ and let me knw byrating the recipe and writing what you think about it in the comments.  I would love to see your photo on Instagram orFacebook. To do this tag me with @veeatcookbake andmy hashtag is #veeatcookbake. So that I can see your creation. Did you know you can add photos n Pinterest under the recipe Pin? I can't wait to see a photo of your creation here. You find me with @veeatcookbake