This vegan potato taco recipe filled with crispy pan fried potatoes, creamy garlic sauce, avocado and tomatoes is incredibly delicious and quick to prepare for your next dinner.
The fried potatoes are made with typical Mexican spices, which add variety to your Taco Tuesday.
You can either leave the taco tortillas soft or bake them crispy in the oven so that you have an oil-free version of the Mexican "Taquitos Dorados de Papa", which are newly inspired and made with wholesome ingredients.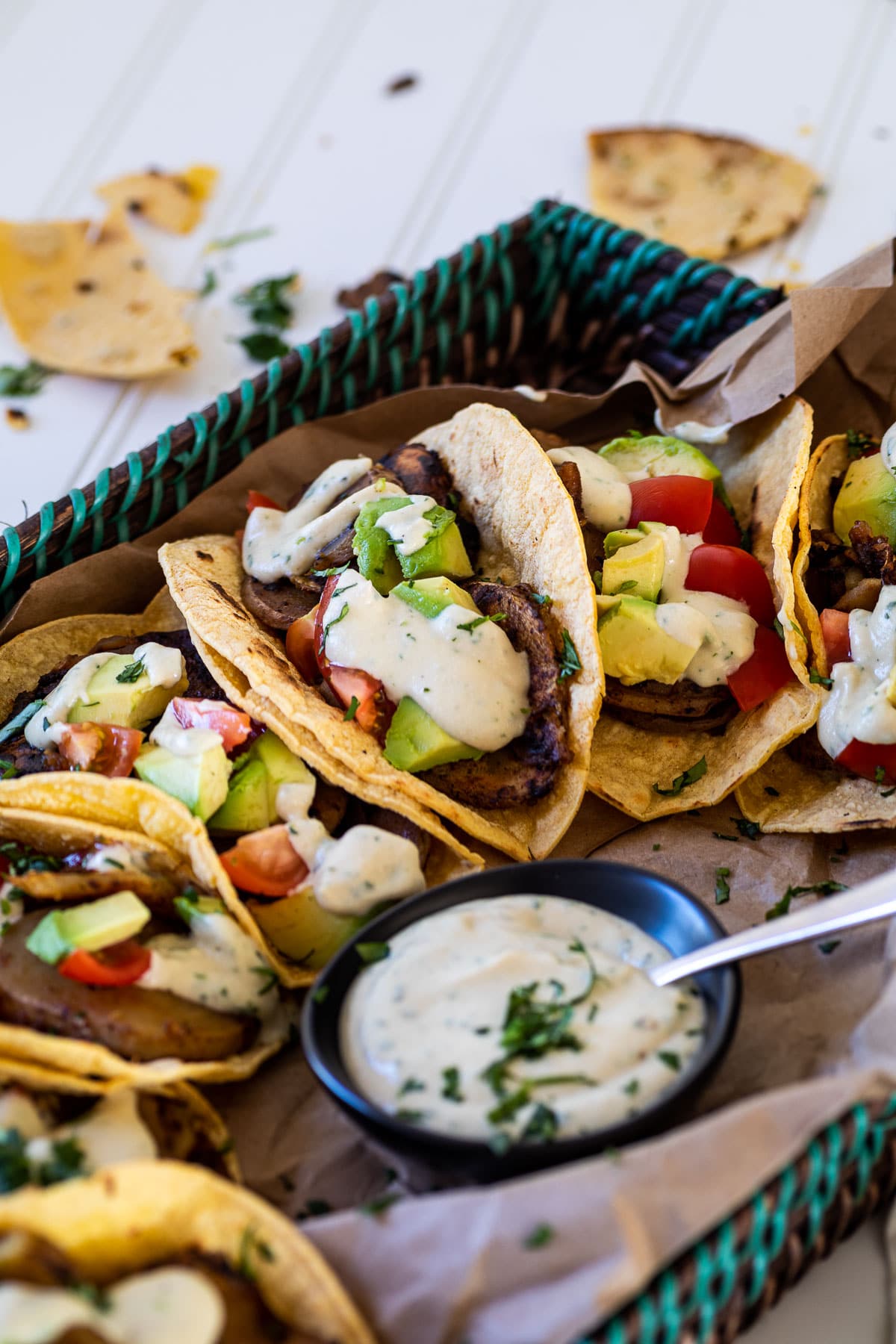 As an Amazon Associate, I earn from qualifying purchases. This post may contain affiliate links. Read More
Jump to:
If you like to try new recipes and are looking for vegan taco ideas, then you should definitely try these vegan roasted potato tacos or my lentil tacos and vegan fish tacos.
Many recipes are filled with mashed potatoes and then deep-fried in oil, I dared to try a slightly healthier version here.
Instead, we use pan-fried potatoes, which are full of flavor and full of Mexican spices, and forego deep-frying the tacos.
This recipe is great if you're looking for budget-friendly recipes that are delicious too.
With these "spicy" potato tacos you not only get plant based potato tacos but also gluten-free if you use corn tortillas.
These vegan potato tacos are:
Sooo Yum, that you will surely reach for a fourth taco
wholesome
quick and easy to prepare
dairy free
wfpb
gluten free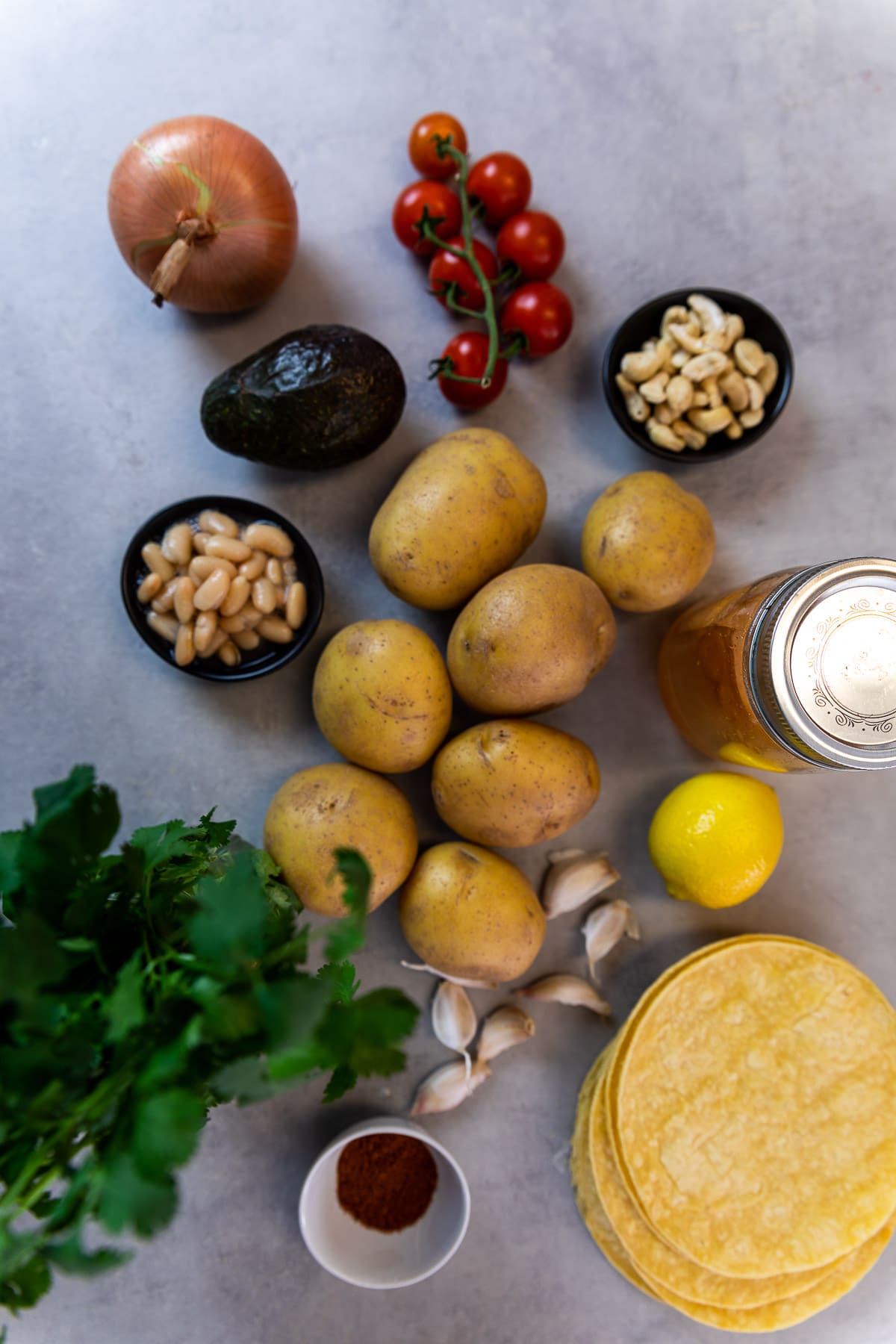 Ingredients
Now let's take a look at the ingredients of the vegan potato tacos. As always, the exact quantities can be found in the recipe card below.
Tortillas
Potatoes
Onion
Garlic Clove
Vegetable Broth
Taco Seasoning
Avocado
Tomatoes
Coriander
Cashews
White Beans
Lemon Juice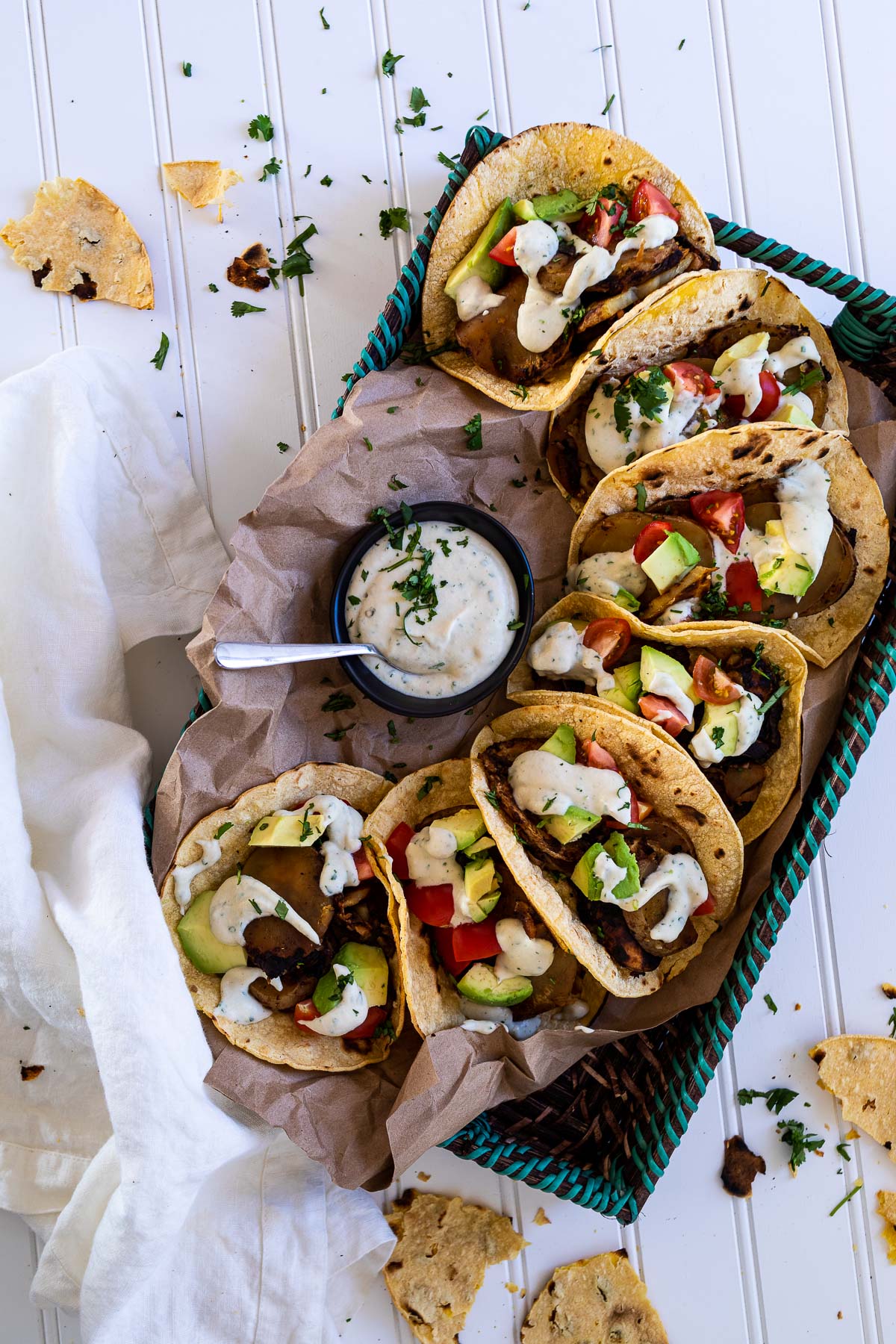 Substitutions
Tortillas
Here you can either use flour or corn tortillas. Corn tortillas are gluten-free and are great for preparing large quantities.
Potato
I mainly use medium waxy potatoes. I like it when the fried potatoes fall apart a little. If you'd prefer to use waxy ones now, feel free to do so.
Taco Seasoning
To get the Mexican taste into the tacos, I use a taco seasoning here. You can also use a fajita or burrito seasoning.
If you want, you can also season the pan fried potatoes with paprika, salt and pepper in the classic way.
Coriander
I know opinions differ on coriander and you may not want to use coriander. If you have parsley at home, you can use this too.
Cashews
Not everyone can eat cashews. You can also use sunflower seeds here. These get creamy like the cashews, it may be that the consistency is a little different and the color tends to turn greyish.
White Beans
You can also leave out the beans and use only cashews to prepare the garlic sauce for the vegan potato tacos.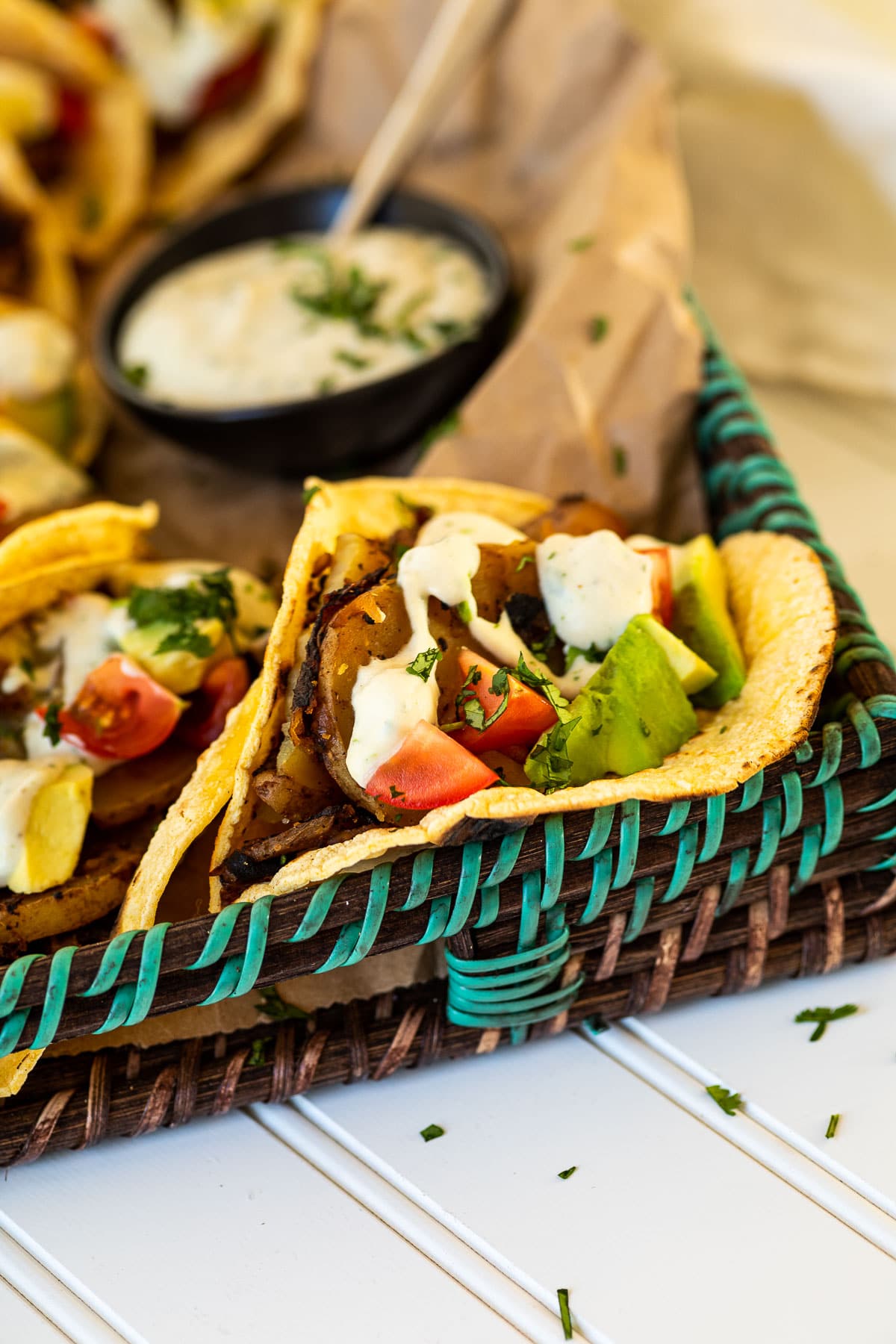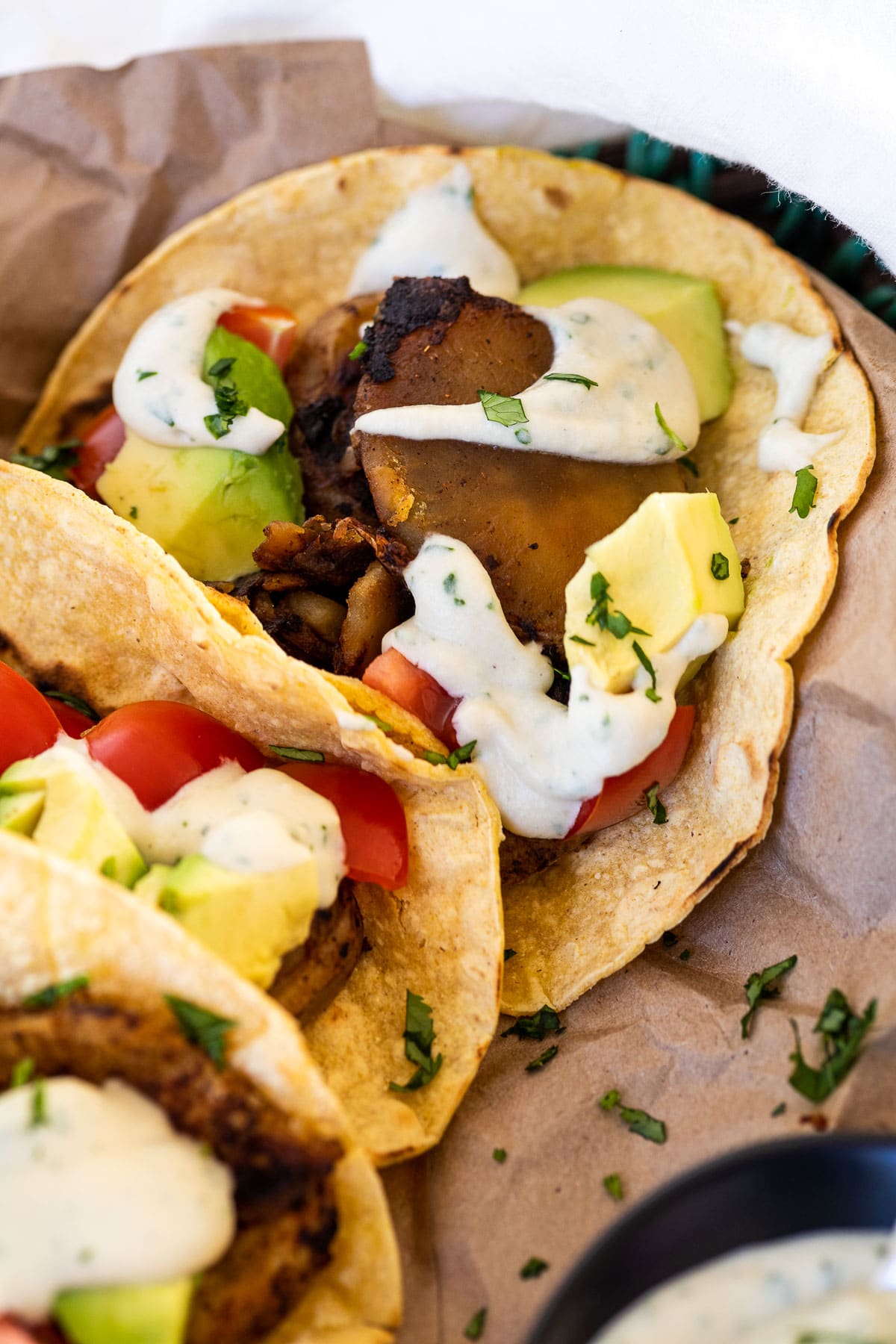 Variations
Let's take a look at variations of these vegan potato tacos.
Nut free
These tacos are great to prepare nut-free. The tacos themselves are nut-free but with just the sauce we have to be careful not to use cashews.
Instead, you can use sunflower seeds or pumpkin seeds. The color will be a little different. But you will find both are excellent as cream substitutes.
Soy free
The recipe is already soy-free. You don't have to make any adjustments here.
Gluten free
When using corn tortillas, your potato tacos are also gluten-free.
Paleo
Potatoes are not paleo friendly. To still enjoy them, I recommend using sweet potatoes. Instead of the tortillas, just use a large leaf of lettuce.
I recommend making the garlic and coriander sauce only with cashews.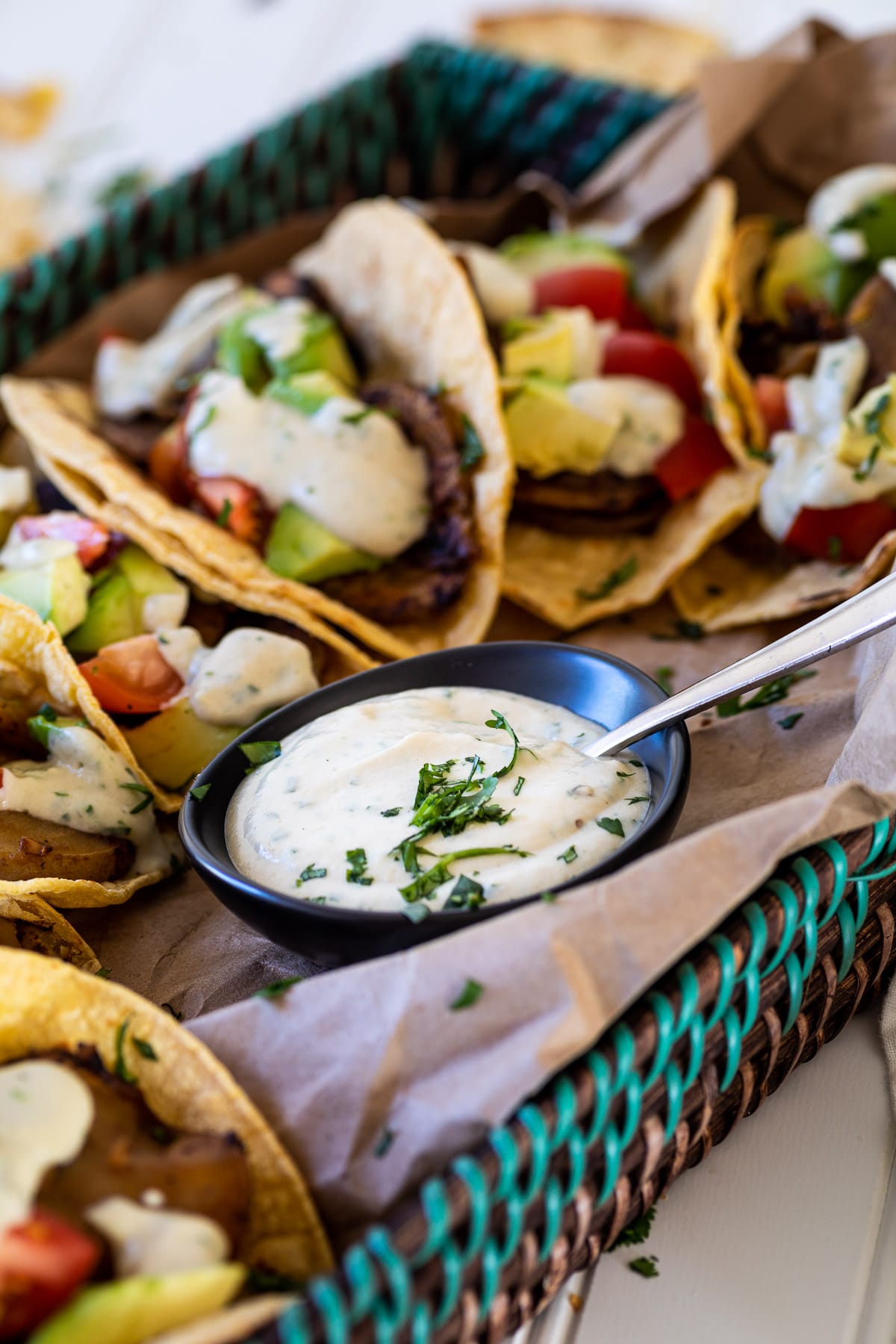 Instructions
To get started, peel and dice an onion. As well as 3 garlic cloves. Start with sauteeing them in a non stick pan with a sip of water.
Slice the potatoes in thin slices.
In a bowl mix 2 tablespoon veggie broth and 2 teaspoon taco seasoning. Add the potatoes and stir until every potato has some seasoning on it.
Add the potatoes to the onion and fry them on medium heat until they are cooked through and are getting brown. Check them every couple minutes.
In the meantime prepare the garlic sauce. Add cashews, white beans, crushed garlic cloves, lemon juice and veggie broth to a high speed blender and blend until creamy without pieces.
Add the cilantro and use the pulse function until well combined.
Season the garlic sauce with some sea salt and white pepper if necessary.
To serve the tacos, warm up the tortillas and then fill them with potatoes, diced tomatoes, diced avocado, garlic sauce and some chopped cilantro.
Prepare in advance
The garlic and coriander sauce can be prepared in advance. Here you can prepare them 3 days in advance.
You can prepare the potatoes a day in advance and then fry them briefly in the pan. I recommend putting together the vegan potato tacos just before serving.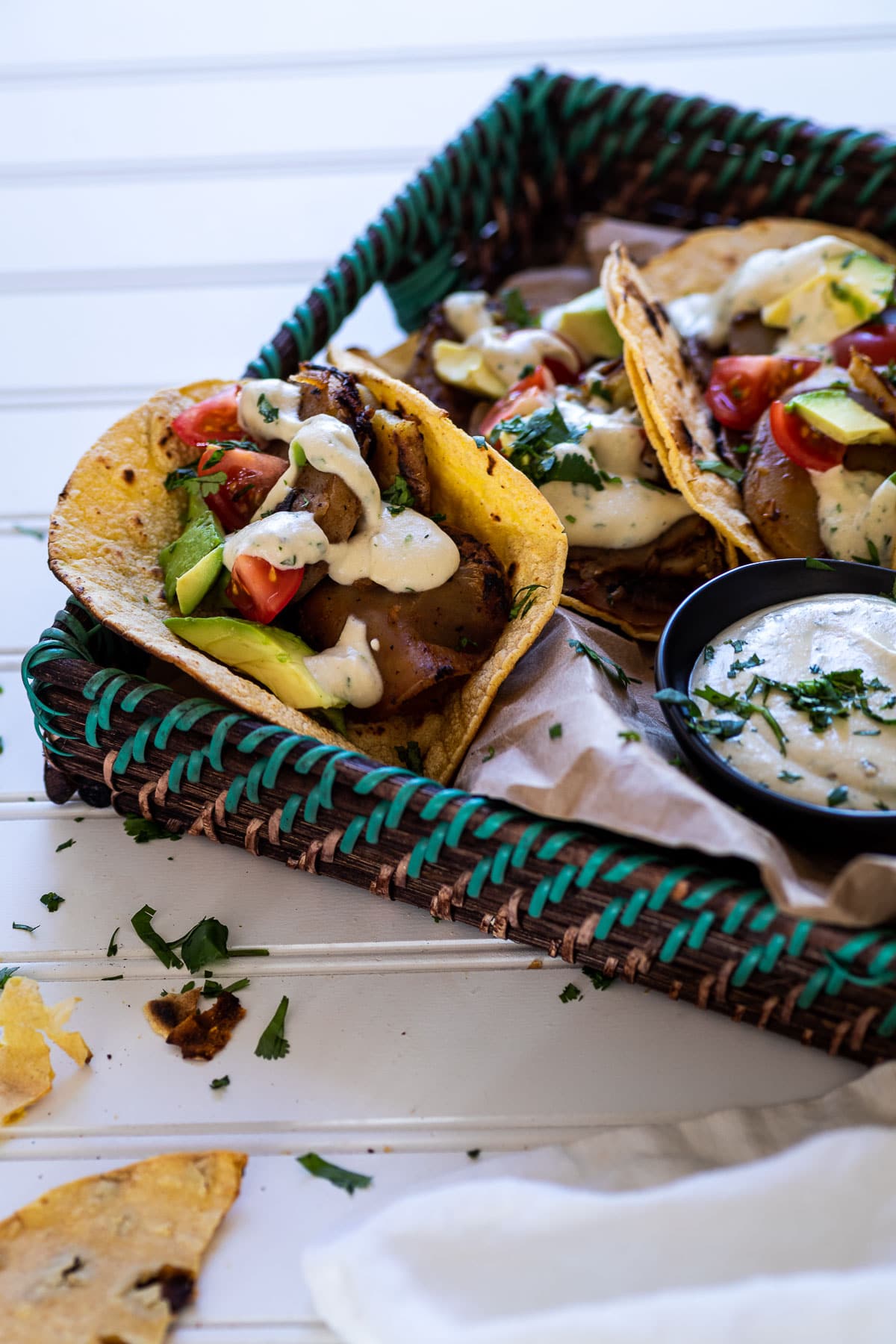 Serving options
You don't have to serve anything with the tacos, I think they are a complete meal. If you do want to serve something with it though, here are some recommendations:
Salsa, Guacamole and Homemade Tortilla Chips
Coriander Lime Rice
Refried Beans
Corn on the Cob
Spanish Rice
Tomato Avocado Salad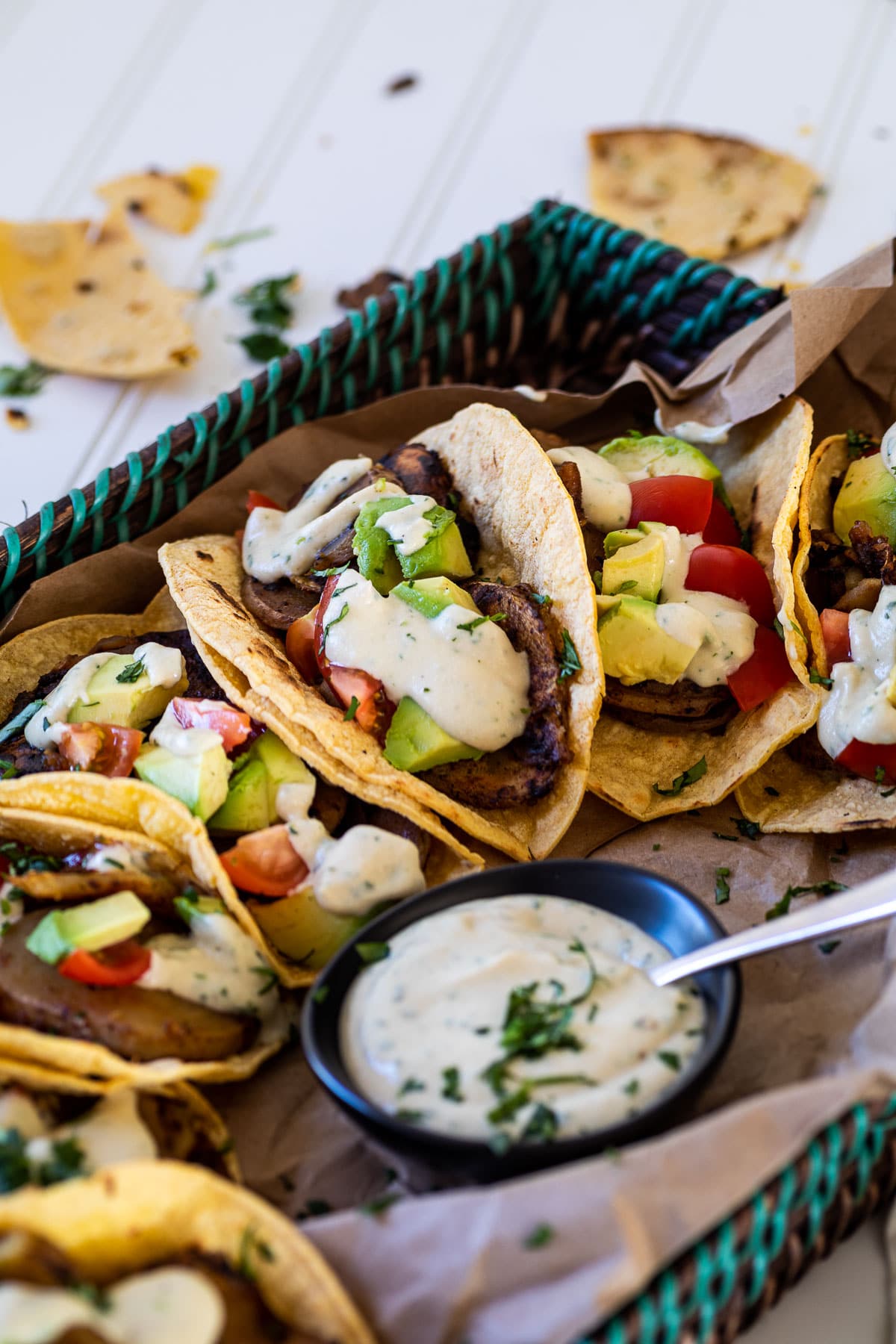 Storage
You can store the remaining potatoes and sauce in separate airtight containers in the refrigerator. There they keep for about 4 days.
You can also freeze the sauce, which I don't recommend for potatoes. Because these change in consistency when thawing.
Tips
Prepare taco shells. You can either bake them or heat them in the pan. Before they cool down and become firm, press together. So have oil-free taco shells
Prepare a breakfast taco with it. Just serve stir-fry tofu for an extra portion of protein.
Use whatever vegetables you have on hand. Cabbage or lettuce, for example.
More vegan Mexican recipes: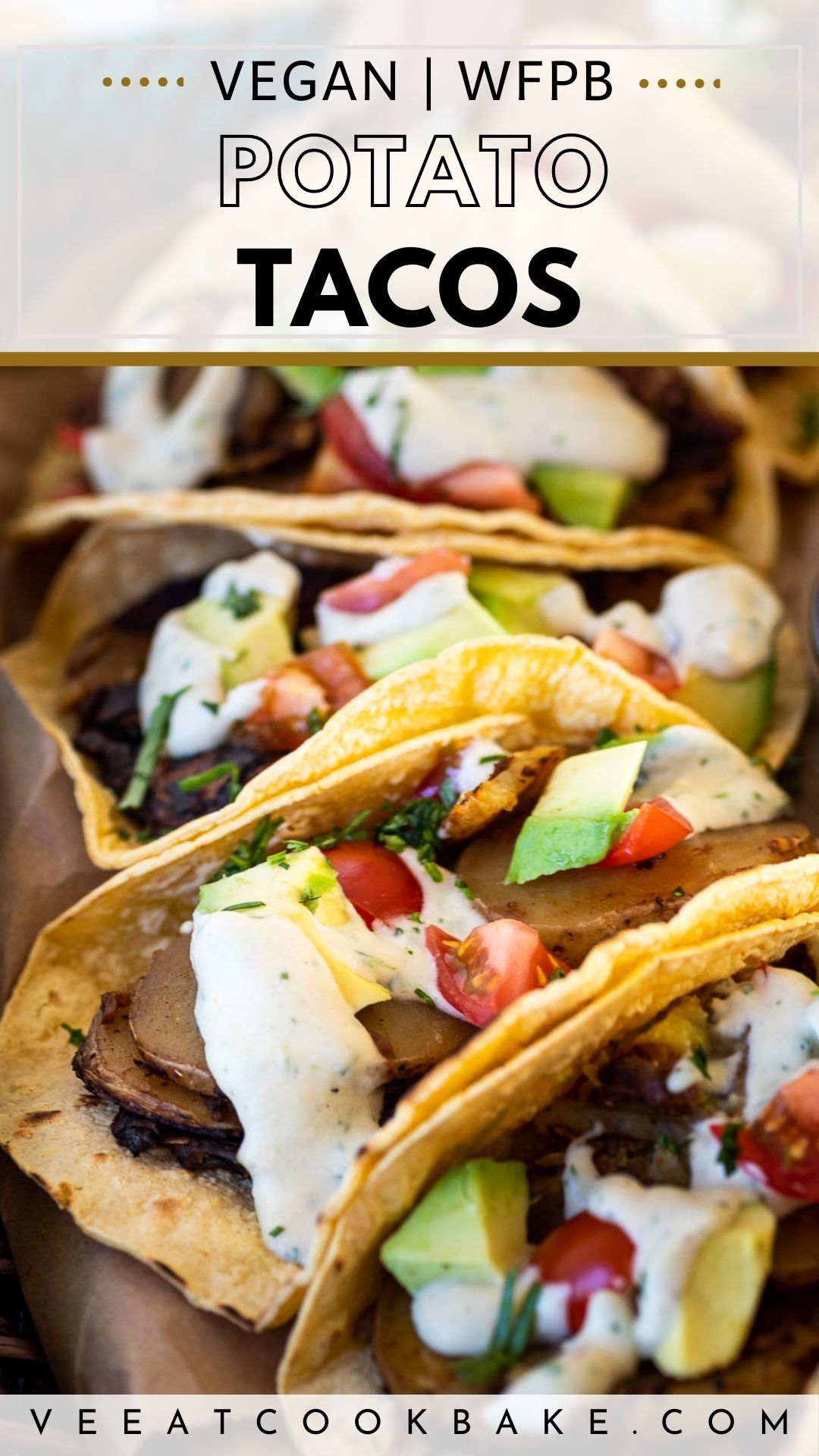 Have you tred the recip
If you tried the vegan Recipebe so nice ♥ and let me knw byrating the recipe and writing what you think about it in the comments.  I would love to see your photo on Instagram orFacebook. To do this tag me with @veeatcookbake andmy hashtag is #veeatcookbake. So that I can see your creation. Did you know you can add photos n Pinterest under the recipe Pin? I can't wait to see a photo of your creation here. You find me with @veeatcookbake