Vegan scalloped potatoes - a casserole that's not just a side dish. These scalloped potatoes with finely sliced ​​potatoes and a tasty roux sauce made from whole wheat flour and plant milk make this casserole irresistible to potato lovers. A potato casserole, prepared quickly and with only a few ingredients, is an eye-catcher at any feast.
vegan | vegetarian | lactose free | milk-free | egg-free | oil-free | sugar-free | healthy | wholesome | whole food plant-based (wfpb)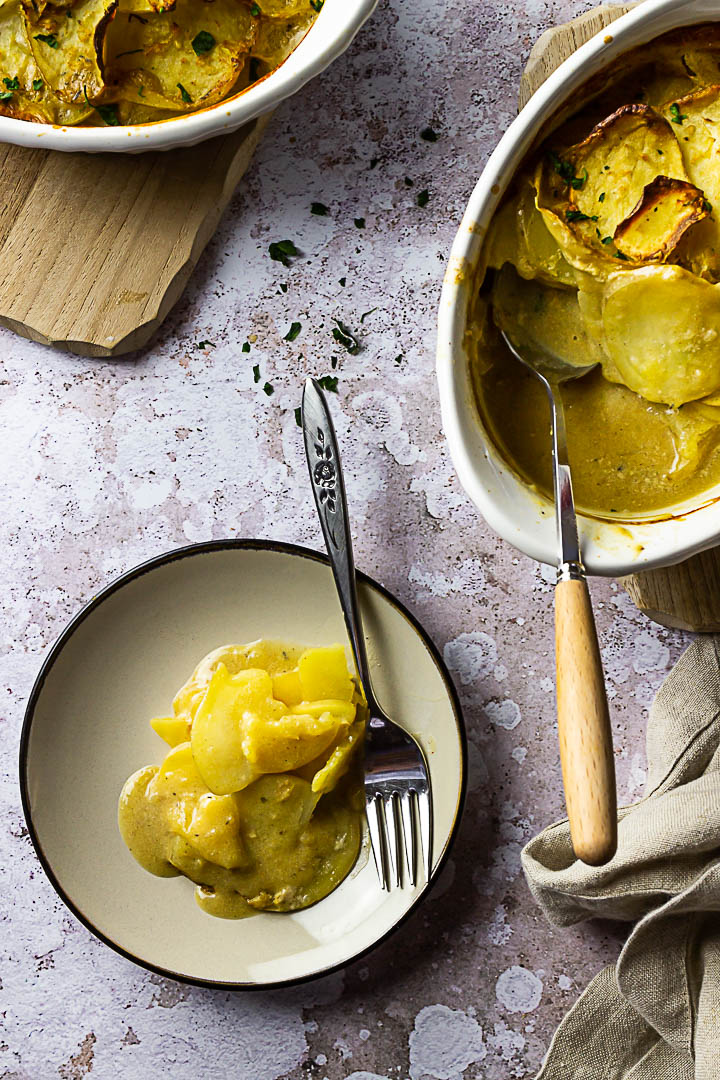 As a child, I always preferred potatoes over noodles. Dishes like potato soup, steamed potatoes with herb quark sauce, and potato salad were among my favorites. You could put everything in front of me with potatoes, as well as this very delicious potato bake, ready to serve in no time.
I would even count potatoes as a vegetable rather than as another food group, even though many people dispute this due to its high carbohydrate content. What do you think about potatoes or carbohydrates? Do you tend to eat low carb or do you like eating healthy carbohydrates like me?
What do you need for vegan scalloped potatoes?
Here is a brief overview of the ingredients you need for a potato casserole:
Yukon Gold potatoes with skin

Yellow onion, medium sized

Garlic

Whole wheat flour

Vegetable stock

Almond milk or other unsweetened plant milk

Raw cashews

Onion powder

Garlic powder

Nutritional yeast

White miso paste

Dried thyme

Sage dried

White pepper

Sea salt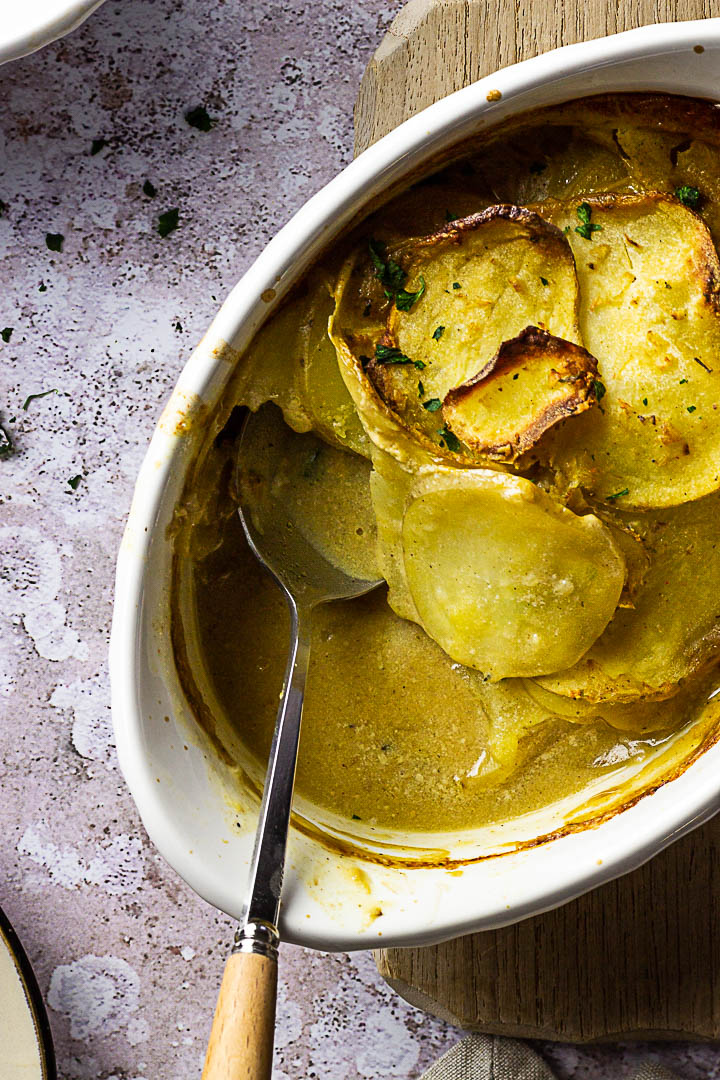 What are the best potatoes for scalloped potatoes?
We want the potatoes to hold their shape in scalloped potatoes. That is why need some potatoes that hold their shape pretty well when cooked, like Yukon Gold potatoes or Russets. I prefer Yukon Gold Potatoes over Russets because they have a nice buttery flavor. And that tastes amazing in this recipe.
How are scalloped potatoes prepared?
Cut the potatoes into equal slices. I like to use my food processor and the disk attachment. It is not only super fast, but the potatoes are also the same thickness which helps with baking later. So they are baked through well.
Next, fry the onions and garlic in a non-stick pan until golden brown. In the meantime, you can put all the ingredients for the sauce in a high speed blender until a creamy sauce is made without any pieces. That is a version of a "Bechamel / Roux Sauce" without using margarine or oil.
Now add the sauce to the onions and let it heat briefly until it thickens and taste the sauce again. Please do not let the sauce boil, otherwise it may be that the sauce subsequently liquefies during the long baking time. Just be careful!
Preheat the oven to 350°F (175°C). Now layer the potatoes with the sauce in a sufficiently large casserole dish.
Now put the pan in the oven and bake the scalloped potatoes for about 1- 1 ½ hours. Please use the knife test here. Poke the potatoes and see if they are soft. If they give some resistance, they are not cooked yet and the casserole needs a little longer.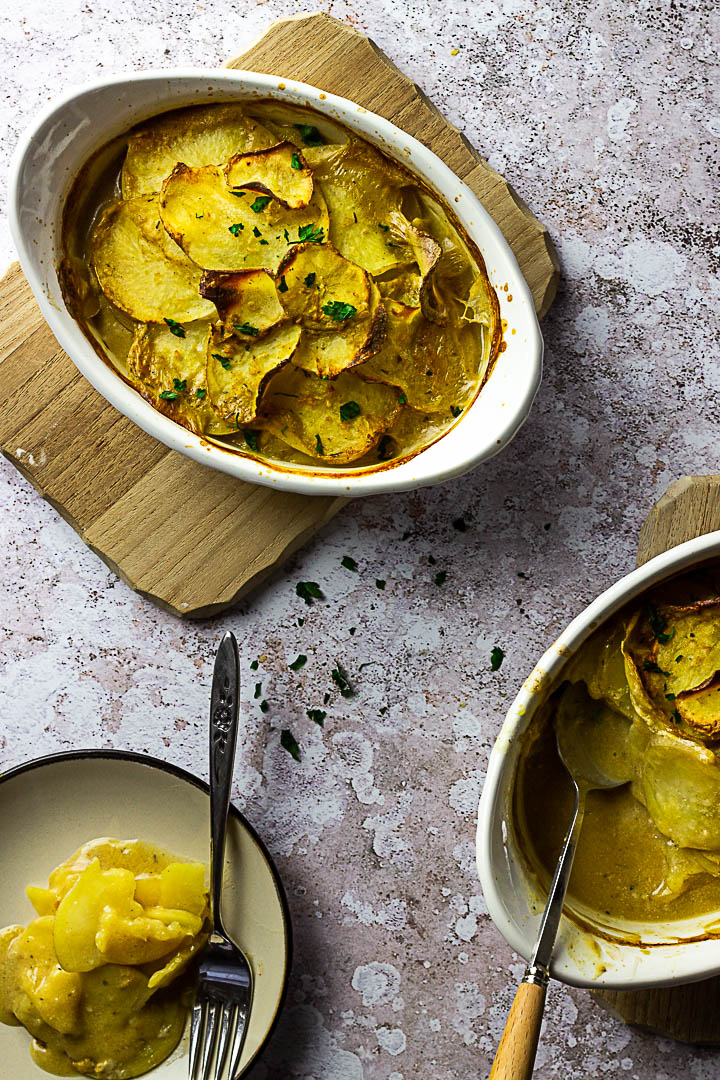 What is the difference between scalloped potatoes and potatoes au gratin?
Potato casserole, or scalloped potatoes like the recipe here, is made with a creamy bechamel sauce. While a potatoes au gratin is baked with cheese and bread crumbs and the potatoes are baked in a cheese sauce.
What can I do with scalloped potatoes?
Vegan scalloped potatoes are the perfect accompaniment to a seitan roast, whole roasted cauliflower, side dishes like brussels sprouts, maple glazed carrots, and more.
Can I prepare the vegan scalloped potatoes ahead?
When it comes to potatoes, I always find it very tricky, because they quickly turn brown when they are lying raw and cut for a long time. I would not necessarily prepare the casserole without baking it. You could bake the casserole and bake again on the day of serving. In the fridge, the casserole holds about 3 days. Bake the casserole for 30 min at 350°F (175°C).
What are scalloped potatoes?
Scalloped potatoes are originated in England. The word scallop is the definition for how the potatoes are sliced: Thin and Uniformly. Potatoes are layered in a casserole pan and covered with the creamy sauce.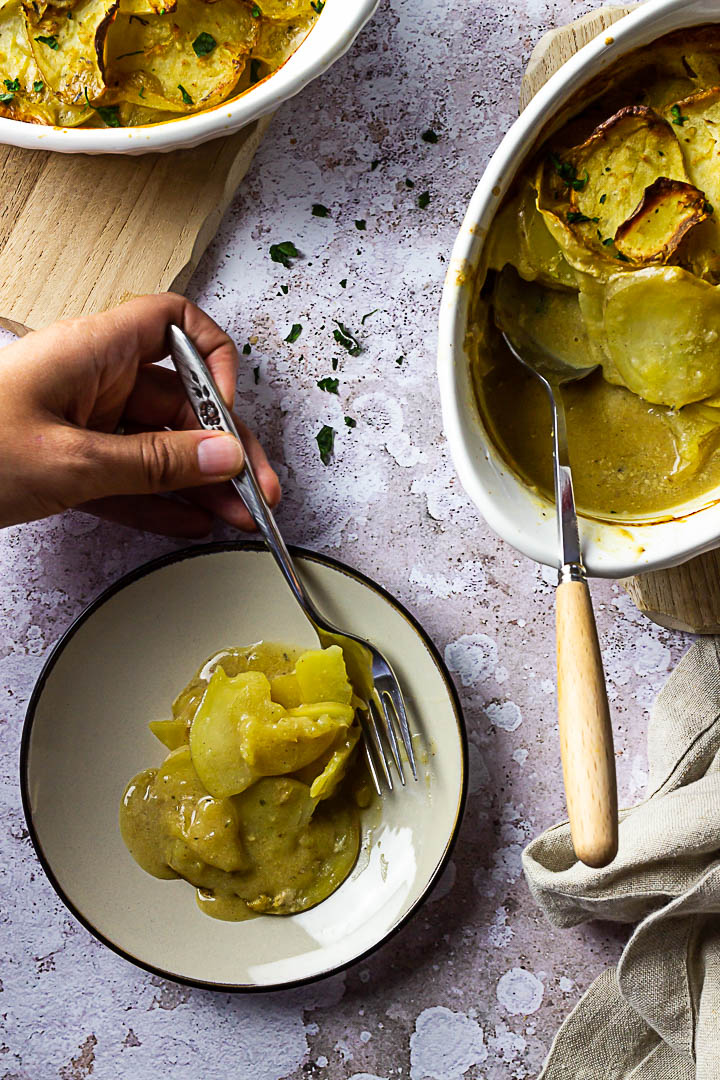 Tips to prepare the best vegan potato casserole
Evenly cut the potatoes into thin slices. This helps the potatoes to cook evenly and faster.

A quickly prepared recipe which has to bake for a long time. In the meantime, read a good book or do other things.

Use a food processor, a hand grater or a mandoline cutter to uniformly slice the potatoes. If you are very good at cutting with your hand, you can also cut them by hand. For example, I can not cut it as uniformly as I would like and it takes a lot longer.

Blend the sauce until there are no cashew pieces left. We want a smooth and creamy sauce without pieces.

I like it when the potatoes on top of it turn brown and crispy. If you do not like it, simply cover the potato casserole with a lid or aluminum foil.
Can the scalloped potato recipe be frozen?
Often freezing changes the consistency of potatoes and since this is a 100% potato dish, I would not freeze this casserole.
Can I prepare the recipe gluten-free?
You can prepare the recipe gluten-free just by simply replacing the flour with a gluten-free flour mixture. You can also use cornstarch instead of the flour. The quantities would then possibly have to be adjusted.
Can you also use other spices for the sauce?
Of course, you can use my recipes as guidelines and then simply season to your own liking what you like best.
Can I also use other types of potatoes?
Of course, you can try sweet potatoes or red potatoes. Whereby I recommend for the classical attempts to use buttery Yukon Gold potatoes.
More Potato Recipes
Do not forget to Pin on Pinterest
Have you tried the recipe?
If you tried the vegan Scalloped Potatoes, be so nice ♥ and let me know by rating the recipe and writing what you think about it in the comments. Tag me on Instagram too. I am @veeatcookbake and my hashtag is #veeatcookbake. So that I can see your creation. Did you know you can add photos on Pinterest under the recipe Pin? I can't wait to see a photo of your creation there. You find me with @veeatcookbake. I also would love to hear your feedback so I can share it on my social media channels.

This post may contains affiliate links and I may receive a very small commission if you buy through these links at no extra cost. Thank you very much for supporting Ve Eat Cook Bake! More information can be found here.
---