Vegan crumb cake with blackberries and poppy seeds! Everyone who loves crumbles should try this healthy version of a classic crumb cake with a wholegrain shortbread made from spelt, nut butter, an addictive poppy-seed filling, refreshingly sweet blackberries and covered with cinnamon. The crumbles are made without oil, butter or the like and taste just as good if not better than the original. A simple but special recipe that fits perfectly as brunch, dessert and coffee and cake.
vegan | dairy-free | egg-free | oil-free | refined sugar free | soy free | vegetarian

How do I prepare a vegan crumb cake with blackberries and poppy seeds?
Preparing the vegan version of a crumb cake is not much different from the traditional one. Instead of butter, we use nut butter or seed butter for the shortcrust pastry. Furthermore, we take a whole grain flour (i.e. spelt or wheat). And it is processed into a delicious shortcrust pastry. For the poppy seed filling, we prepare a semolina pudding and add poppy seeds. The blackberries will easily spread on the cake, which makes the vegan crumb cake so juicy. We prepare the crumbles from spelt flour and ground nuts, which you would probably like to snack on during the preparation. It's what I do, that's just part of baking, right?

How does the crumble cake stay fresh?
For storage, you should cover the vegan crumb cake with blackberries. I prefer to use a cake container and put it in the fridge.
What's in the crumbs of crumble cake?
Classic crumbles are made with flour, butter and sugar. This healthy vegan and wfpb version is made with nut butter, whole wheat or spelt flour and a sugar alternative like maple syrup.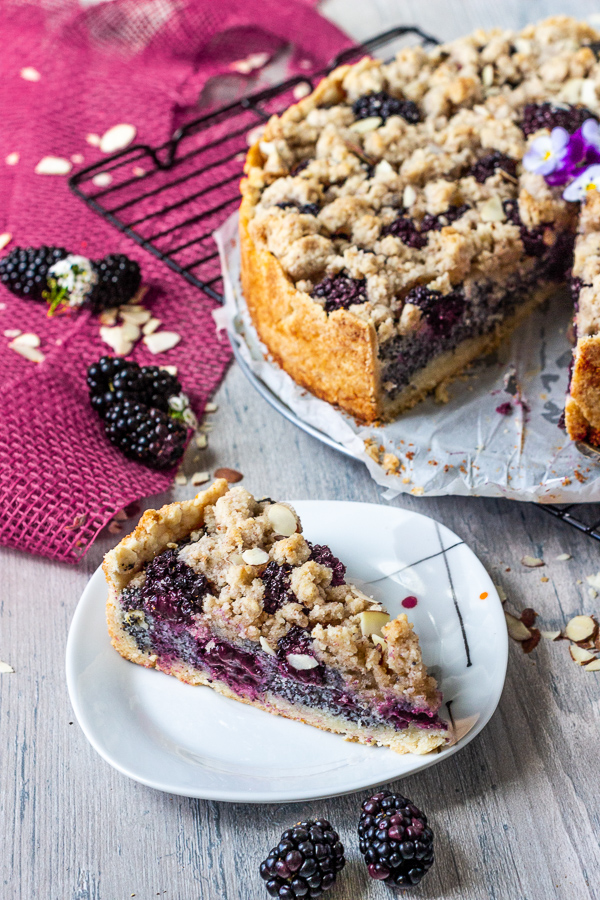 Can the vegan crumb cake be frozen?
Basically, you should not freeze a crumb cake. Unfortunately, I have not tried it myself. However, the semolina pudding could become a bit watery when thawed. I would freeze the crust and crumbles separately. So you can have quickly prepared a crumb cake with blackberries. All you have to do then is to prepare the poppy and semolina filling.
Can the vegan crumb cake with blackberries and poppy be kept in the fridge?
Here I give a clear yes. So the cake lasts a few days. Just make sure that it is kept secret so no ones takes it. E.g. In a cake container or the like.
Is Crumb Cake and Coffee Cake the same?
Both cakes look similar. The two cakes have a cake bottom and crumbs on top. The main difference between a crumb cake and a coffee cake is that a crumb cake has much more crumbs than a coffee cake. And the coffee cake has more of a cake bottom than the crumb cake and less streusel.

What is the difference between streusel and crumb?
Actually there is no difference between both. Streusel is the German word for crumbs and the Americans adopt the word Streusel in their vocabulary.
Is crumb cake german?
Crumb Cake, or known as Streuselkuchen in Germany, is a German specialty. The first crumb cake is known from Slesia (Schlesien) which is a historical region located in Poland, Czech and Germany.
What else cakes could I like?
Do not forget to Pin on Pinterest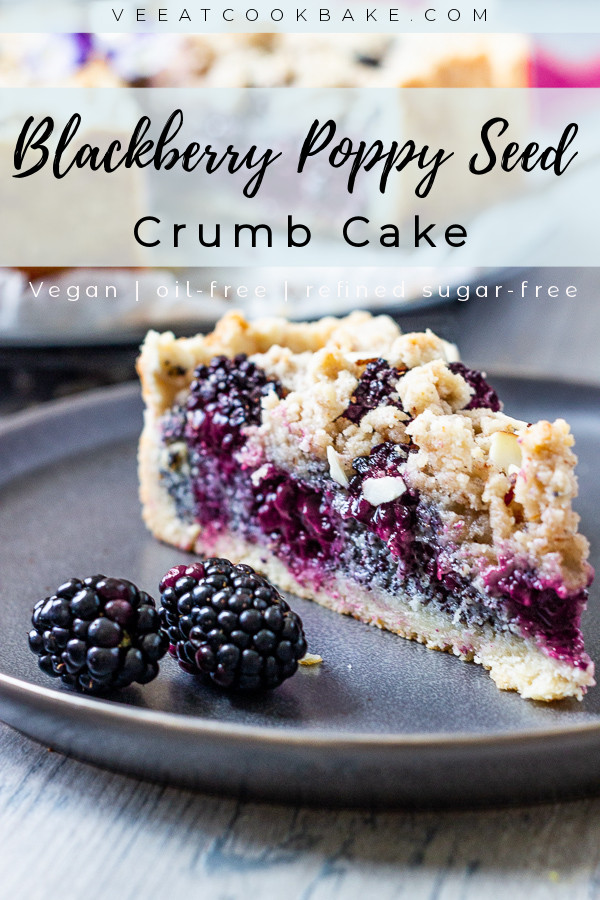 ---
Have you tried the recipe?
If you tried the vegan Black Berry Crumb Cake, be so nice ♥ and let me know by rating the recipe and writing what you think about it in the comments. Tag me on Instagram too. I am @veeatcookbake and my hashtag is #veeatcookbake. So that I can see your creation. Did you know you can add photos on Pinterest under the recipe Pin? I can't wait to see a photo of your creation there. You find me with @veeatcookbake. I also would love to hear your feedback so I can share it on my social media channels.

This post may contains affiliate links and I may receive a very small commission if you buy through these links at no extra cost. Thank you very much for supporting Ve Eat Cook Bake! More information can be found here.
---
---