Everyone who loves crumbles should try this healthy version of a classic crumble cake with a wholemeal shortcrust pastry.
It is made from whole grain and nut butter, an addictive poppy seed semolina filling, refreshingly sweet blackberries and covered with cinnamon nut crumble.

As an Amazon Associate, I earn from qualifying purchases. This post may contain affiliate links. Read More
Classic crumbles are made with flour, butter and sugar. The crumbles are made without oil, butter or the like and taste just as good if not better than the original.
This healthy vegan and wfpb version is prepared with nutmeg, whole wheat flour, and sugar alternatives such as maple syrup.
A simple but special recipe that goes perfectly with brunch, dessert, and with coffee and cake.
Prepare this vegan blackberry crumble with a poppy seed filling in no time at all.
Here I want to show you not only how to bake the recipe, but also alternative options that you may be able to replace due to intolerances.
Are Crumb Cake and Coffee Cake the same?
Both cakes look similar. The two cakes have a cake bottom and crumbs on top.
The main difference between a crumb cake and a coffee cake is that a crumb cake has much more crumbs than a coffee cake.
And the coffee cake has more of a cake bottom than the crumb cake and less streusel.
What is the difference between streusel and crumb?
Actually there is no difference between both. Streusel is the German word for crumbs and the Americans adopt the word Streusel in their vocabulary.
Is crumb cake german?
Crumb Cake, or known as Streuselkuchen in Germany, is a German specialty.
The first crumb cake is known from Silesia (Schlesien) which is a historical region located in Poland, Czechia and Germany.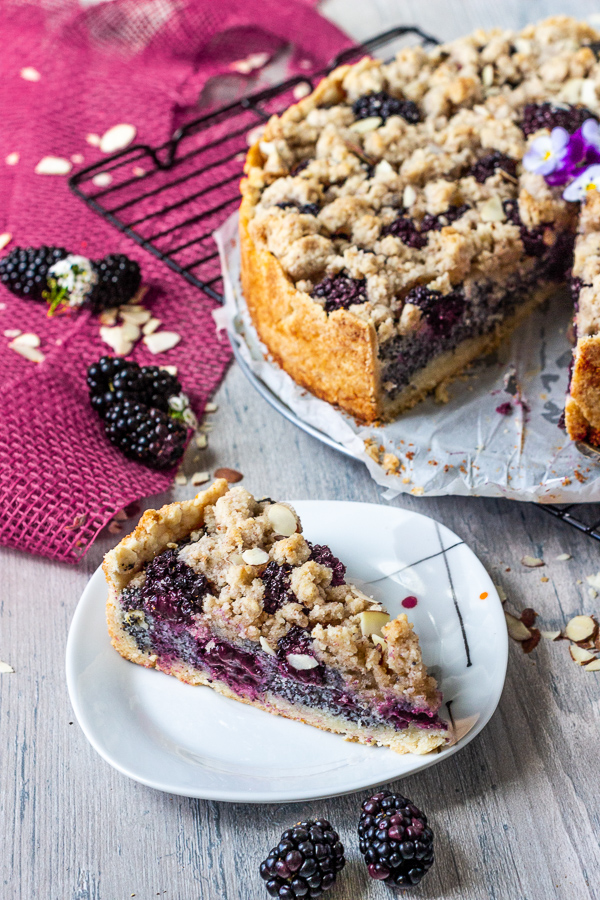 Now let's take a look at how to make vegan crumble cake with blackberries and poppy seeds. As well as possible replacement products.
Ingredients
Before we go into more detail, I would like to give you a brief overview of the ingredients that are included in this delicious crumb cake.
The exact amount can be found below in the recipe card.
Dough:
Almond Butter
Water
Coconut Blossom Sugar (or other sweetener)
White Whole Wheat Flour or gluten-free flour mixture
Almond Flour (ground almonds)
Almond Milk
Poppy Seed Filling:
Almond Milk
Coconut Sugar
Zest of a Lemon
Poppy
Durum Wheat Semolina
Lemon Juice
Food Starch
Topping:
Blackberries
Crumbs:
Hazelnut or Almond Flour
White Whole Wheat Flour
Almond Butter
Water
Coconut Sugar
Cinnamon
Almond Milk Substitute
Do you have another vegan milk at home, e.g. oat milk, soy milk? Then of course you can also use this milk alternative.
I mostly use almond milk because it is tasteless.
Sugar Alternative
If you don't want to resort to a sugar alternative and you'd prefer to naturally sweeten, you can quickly make date puree as a sugar substitute. Here you can replace it 1:1.
Gluten-free Alternative
You can also prepare this cake in gluten-free, simply use a gluten-free flour mixture instead of white whole wheat flour.
You could also try replacing it with oat flour. Here, of course, only if you don't mind the taste of oats in cakes.
To make the poppy seed filling gluten-free, you can use polenta instead of semolina. Polenta is made from corn and is therefore gluten-free.
Almond Butter Substitute
Do you have another nut butter at home and want to use it? Then you can use cashew butter or any other butter.
If you want to make it nut-free, then you can confidently fall back on tahini or sunflower butter.
Almond Flour Substitute
If you don't want to use almonds, you can also use ground seeds that are high in fat.
E.g. sunflower seeds or pumpkin seeds are very suitable for this. To do this, simply grind the seeds into a fine flour in a high-performance mixer.
If you have any further questions regarding the ingredients or the preparation or maybe you have some tips, then I look forward to reading from you in the comments below. I always look forward to learning new things.
Instruction
Preparing the vegan version of a crumble cake is not much different from the traditional one.
Instead of butter, we use nut or seed butter for the shortcrust pastry.
We also use whole grain flour e.g. spelt or wheat. And it is processed into a delicious short pastry. For the poppy seed filling, we prepare a semolina porridge and add this poppy seed.
The blackberries are easily distributed on the cake, which makes the vegan sprinkles so beautifully juicy.
We prepare the crumbles from whole white wheat flour and ground nuts, which you would like to snack on raw while preparing.
That is what I do. And when you make crumbs it's like a must, isn't it?
Storage
For best results during storage, you should cover the vegan crumble cake. I prefer to use a cake container and put it in the fridge.
Freeze
Basically, there is no reason not to freeze the crumble cake. Unfortunately, I haven't tried it myself yet.
However, the semolina pudding could get a little watery. I would freeze the bottom and crumble separately. So you can quickly prepare a crumble cake with blackberries.
All you have to do is prepare the poppy seed semolina filling.
Fridge
Here I give a clear yes. So the cake lasts for a few days. Just make sure it is kept sealed.
E.g. In a cake container or the like.
More vegan Cake Recipes
Do not forget to Pin on Pinterest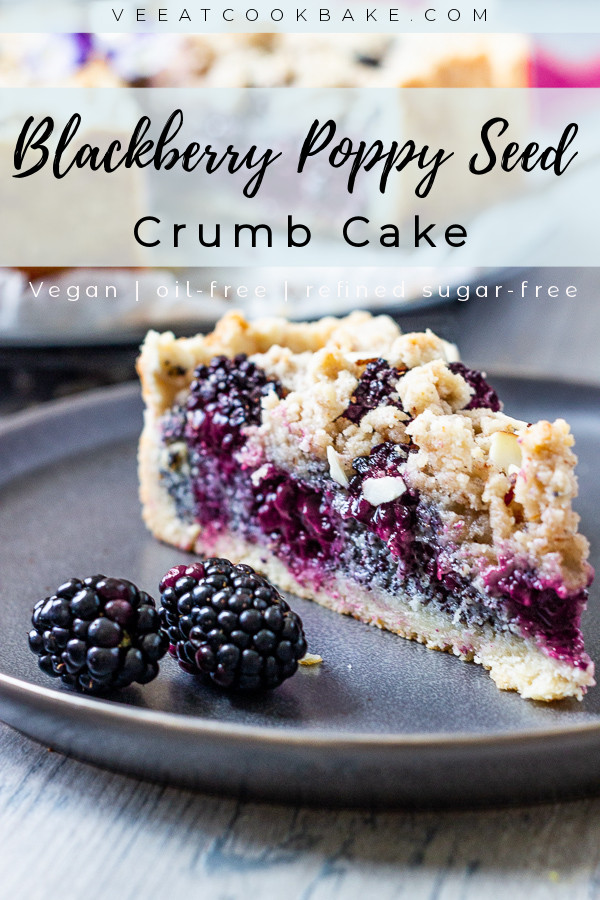 Have you tred the recip
If you tried the vegan Recipebe so nice ♥ and let me knw byrating the recipe and writing what you think about it in the comments.  I would love to see your photo on Instagram orFacebook. To do this tag me with @veeatcookbake andmy hashtag is #veeatcookbake. So that I can see your creation. Did you know you can add photos n Pinterest under the recipe Pin? I can't wait to see a photo of your creation here. You find me with @veeatcookbake