Making homemade crispy baked falafel is not as complicated as you might think. You'll need a few ingredients, some of which you have in your pantry at home, to prepare these crispy oven-baked falafel from Israel, which are far from dry. You can safely refrain from deep-frying the falafel. This Middle Eastern dish tastes great as part of a sandwich, salad or bowl for lunch or a quick dinner and the best thing about this meatball alternative is inherently vegan and gluten free.
vegan | vegetarian | oil free | sugar free | gluten free | nut free | wholesome | wfpb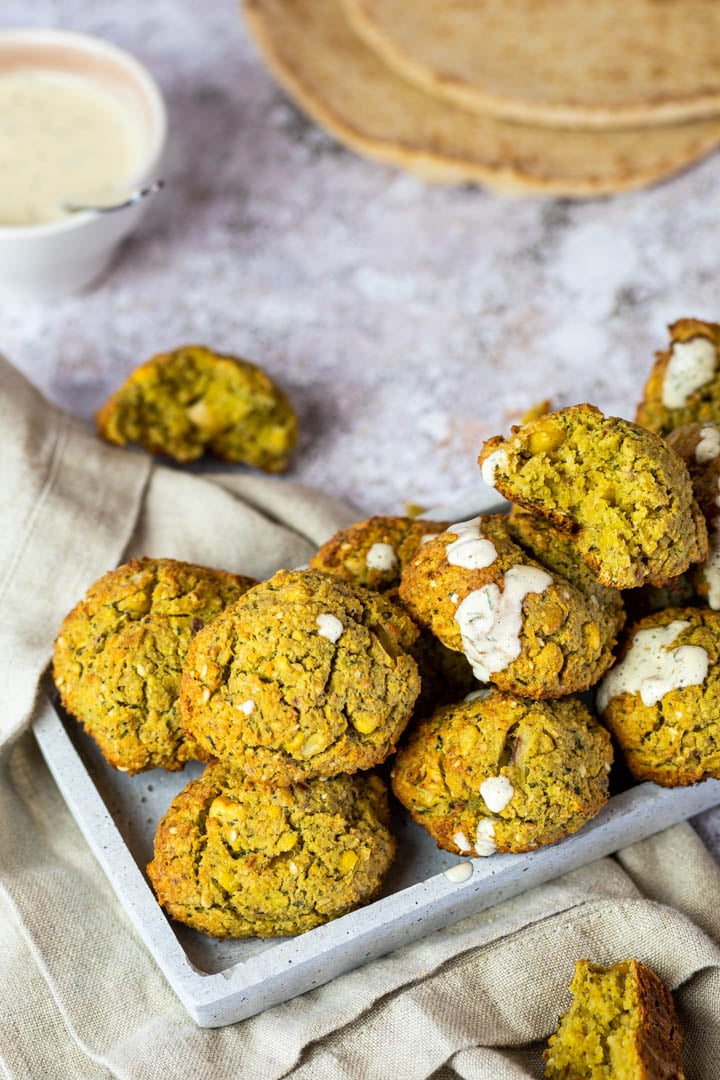 I have to confess that the first time I ate falafel was here in the US when we had been vegan for a long time. And I still wonder why I waited so long?
When we are out, and we see a "Middle Eastern Restaurant", I usually vote to eat there. Not only do my husband and I love falafel and the Middle Eastern cuisine, my children also can't get enough of falafel.
When we eat and cook at home, we try to avoid oil and the like as much as possible and to resort to natural alternatives. And it is exactly the same with this falafel. Falafel are fried in the classic way. The vegan balls are so crispy and fluffy and moist through all the fat they absorb.
And it is easy with less fat. You just have to make sure that you add ingredients to the dough that keep the falafel moist inside and do not dry out. Among other things, tahini, fresh herbs and baking powder help to loosen them up.
Have you wanted to bake falafel yourself for a long time? Then you should definitely give this recipe a try. These vegan falafel are great to freeze and to taste on a delicious vegetable sandwich, as a salad topping, or in a Buddha bowl with hummus. Try to make patties from the falafel dough and prepare a delicious burger.
What are falafel?
Falafel, a traditionally Arabic dish, is derived from the Arabic word falāfil and means pepper. These vegetarian chickpea balls are often served with hummus and tahini sauce pr toum (oriental garlic sauce).
Where do the falafel come from?
The first versions of falafel from legumes were made in the Middle East, or rather in Egypt. There they used white fava beans and called the balls Tamiya. The Arabic word ta-amia means food.
The balls have a light green color. These Tamiya are attributed to the original Egyptian church, the Coptics, which is an early form of Christianity. They believed that people were originally vegetarian and therefore asked for vegan days on which these balls were also eaten.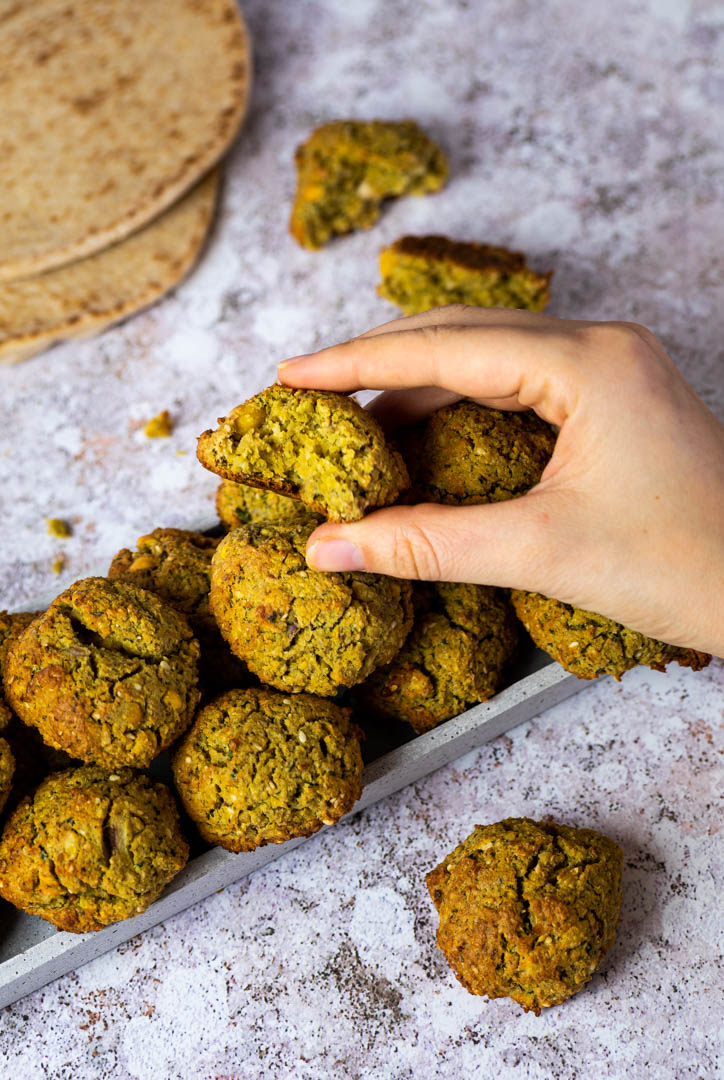 What makes this falafel so special?
Crunchy, golden brown falafel with a delicate, tasty core of fresh herbs.

These falafels are low in fat because they are baked instead of fried.

With a food processor, the falafel dough is prepared in no time.

Are great as a starter for parties or as a buffet.

Perfect for meal prep as they are easy to freeze.
What do you need for homemade crispy baked falafel?
Here I have a small overview for you of the ingredients you need for falafel.
Tahini

Dried (uncooked / raw) chickpeas

Red onion

Fresh parsley

Fresh coriander

Garlic cloves

Sea-salt

Ground black pepper

Ground cumin

Ground cinnamon

Baking powder

Toasted sesame seeds

Lemon or lime juice

Chickpea flour
How to make the best homemade falafel?
Start the evening before and soak the chickpeas in water. The chickpeas should soak between 5 and 24 hours. This step is super important.
The next day:
Preheat the oven to 400°F (200°C).
Put all ingredients in a food processor and mix until everything is small but with a few pieces. Now form small balls with the dough, you may want to use an ice cream spoon. Now place the falafel on a baking sheet lined with baking paper.
Optionally coat the falafel with Aquafaba. (what you may have left over from homemade hummus).
Now bake the falafel for 20 min. The falafel should be turned after 10 minutes.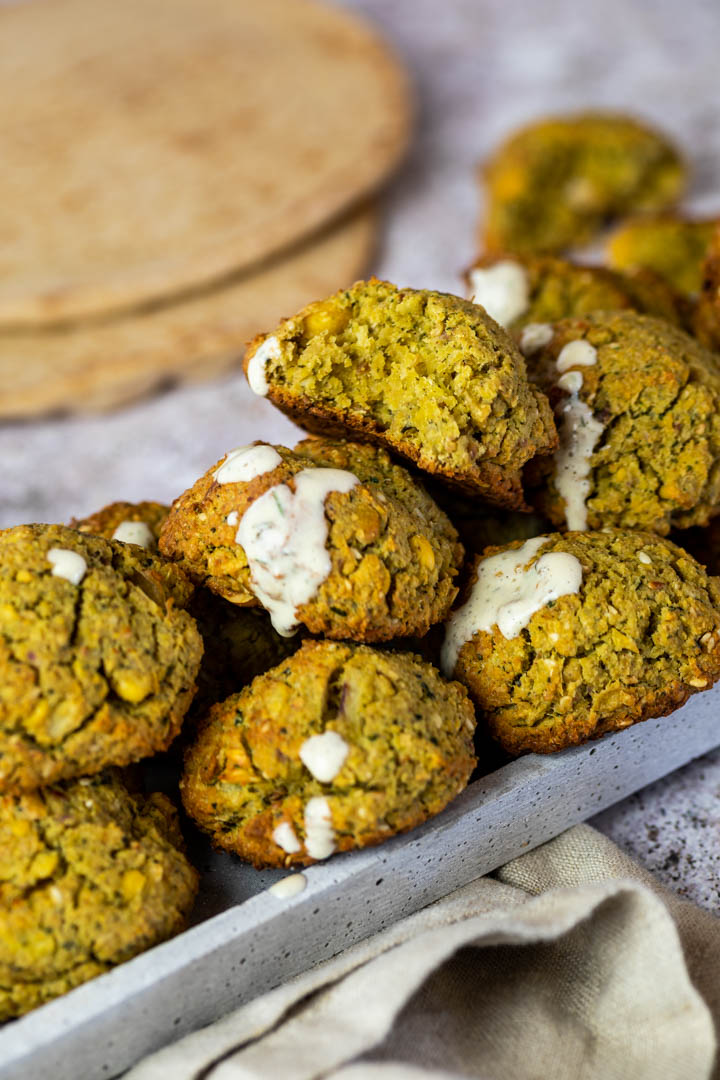 Can I use canned chickpeas to make falafel?
Sometimes you spontaneously fancy falafel and don't have the time to soak the chickpeas. You can also use canned chickpeas. However, the consistency of the falafel changes somewhat.
However, if you, like us, compose a weekly meal plan (you can find a form in my free newsletter library), you can take this into account in your meal plan.
I prefer using dried chickpeas.
How do I prepare crispy falafel in the oven?
When we think of falafel, we think of soft, juicy falafel that is crispy on the outside. In order to achieve this, I like to coat my falafel with a little Aquafaba. If you don't necessarily do without oil, you can also coat it with a little oil.
To prevent the falafel from becoming dry and crumbly on the inside, we use tahini in the batter, which makes the falafel smooth and fresh herbs help to prevent the batter from drying out.
Deep-fried falafel become airy due to the fat that is absorbed. So that our baked falafel also become a little fluffier, we simply add a little baking powder, and they become perfect.
Why can I optionally add baking powder to falafel?
You don't necessarily need baking powder to make falafel. When you bake the falafel, they become firmer than fried falafel. So I like to add a little baking powder to make the oven-baked falafel airy.
The falafel will taste delicious even without baking powder.
What do I serve with falafel?
Falafel go well with the following ingredients:
Pita bread or flatbread

Salad

Tomatoes

Cucumber

Kalamata olives

Red onion

Feta cheese, vegan

Sauce: Tzatziki, hummus or Tahini sauce and maybe a spicy sauce like Zhoug or Shatta
Recipe for a tasty and quick tahini sauce
4 tablespoon tahini
1 tablespoon miso light
2 cloves of garlic, pressed
2 tablespoon fresh dill, chopped
1 tablespoon fresh parsley, chopped
1 cup (250 ml) water
Juice of a lemon
Shot of apple cider vinegar
Put everything except the herbs in a high-performance mixer and mix until you get a creamy sauce. Place the sauce in a bowl and stir in the parsley and dill.
What can I serve with falafel besides flatbread?
You can make falafel with a salad of freshly chopped vegetables and tahini sauce and falafel a perfect lunch for work.

Prepare Buddha bowls from various vegetables, rice.

Prepare a falafel burger and create a middle eastern burger.
Can I prepare the falafel in advance?
You can even prepare the falafel very well in advance. Simply leave the mixture to rest in the fridge overnight. The falafel dough lasts in the fridge for about 3 days. Simply use an airtight container.
How long do baked falafel last?
Baked falafel are kept in the fridge for about 3 days. Bake the falafel briefly to warm it up or heat it in a pan.
Can I freeze falafel?
Falafel are great to freeze. Allow the falafel to cool to room temperature and then freeze on a baking sheet. When the falafel is frozen, you can freeze them in portions.
More vegan Recipes:
Do not forget to Pin on Pinterest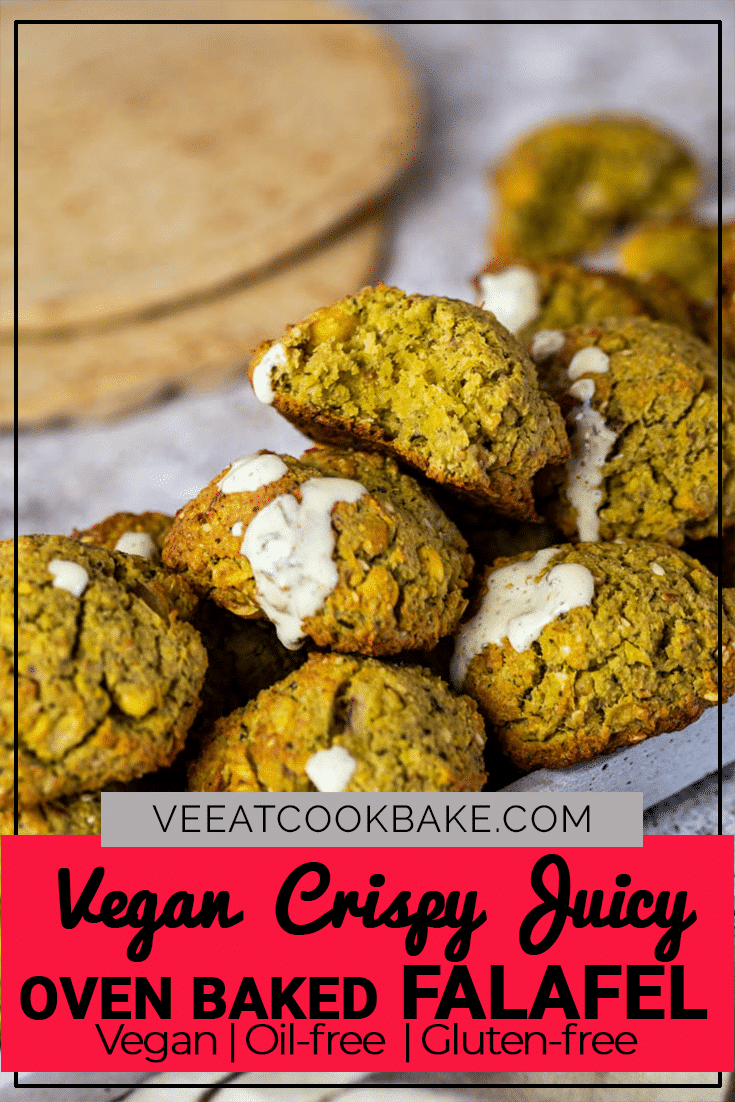 Have you tried the recipe?
If you tried the vegan Falafel, be so nice ♥ and let me know by rating the recipe and writing what you think about it in the comments. Tag me on Instagram too. I am @veeatcookbake and my hashtag is #veeatcookbake. So that I can see your creation. Did you know you can add photos on Pinterest under the recipe Pin? I can't wait to see a photo of your creation there. You find me with @veeatcookbake. I also would love to hear your feedback so I can share it on my social media channels.

This post may contains affiliate links and I may receive a very small commission if you buy through these links at no extra cost. Thank you very much for supporting Ve Eat Cook Bake! More information can be found here.
---