Vegan carrot cake - juicy, rich carrot cake quickly prepared with healthy ingredients. Prepare this delicious vegan carrot cake without sugar and highly processed oils. With this Easter cake, you have the feeling that you are eating something healthy, thanks to the carrots and apricots it contains. This cake is served with a delicious layer of healthy frosting and chopped pistachios and orange peel.
vegan | oil-free | dairy-free | egg-free | sugar-free | lactose-free | soy-free | healthy | whole food plant-based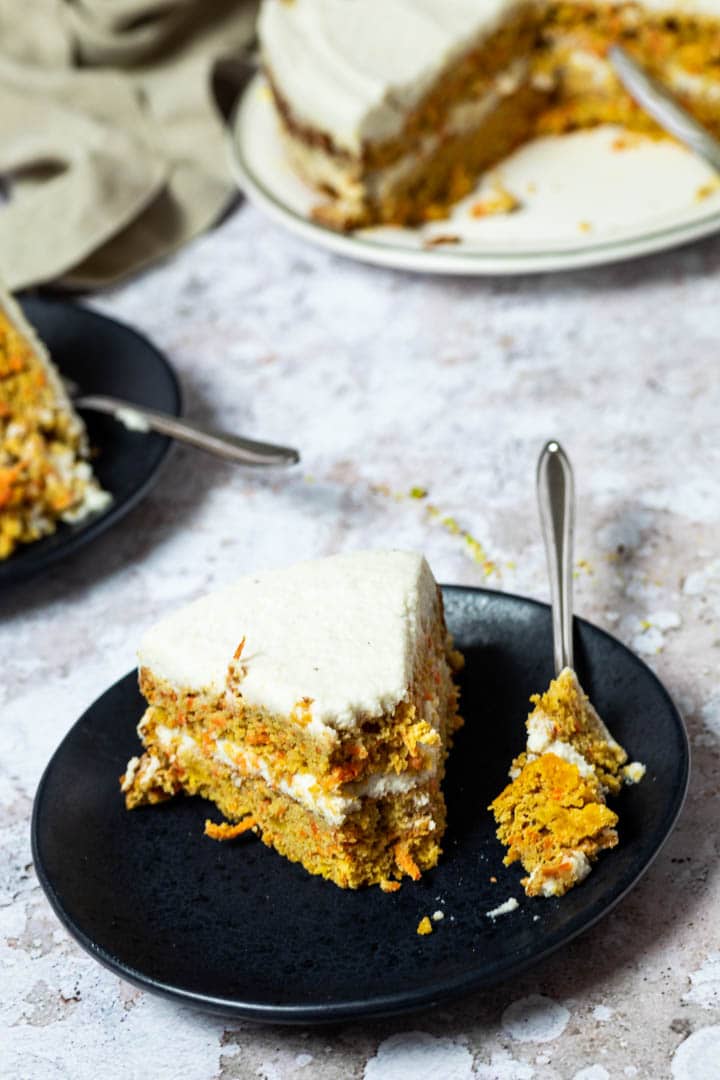 Isn't it awesome that this vegan carrot cake not only doesn't need any processed sugar, but has a good serving of carrots and apricots? And what is better than snacking and feeling good about it?
This vegan carrot cake tastes incredibly good thanks to the ingredients it contains and then becomes moist due to the carrots and apricots.
The cake batter can be prepared in a bowl and then coated with a kind of vegan "cream cheese frosting". Once you see how quickly and easily you make this cake, you will certainly make it more often.
This carrot cake is the best carrot cake I have ever eaten and you absolutely do not notice that it is prepared without sugar and with whole wheat (spelt) flour.
This carrot cake is not only suitable for Easter for coffee or dessert, but you can also eat this coffee cake on any other day whenever you feel like it, whether for breakfast, lunch or as a snack.
Fun fact about the carrot
Did you know that the sugar content of the carrot is in the rind, i.e. the skin. Because we only wash the carrots well and do not peel them, we take this healthy sugar, the healthy sweetness of carrot with us and do not really need much else to sweeten other than the dried apricots.
What ingredients do you need for the vegan carrot cake?
You don't need many ingredients for this incredibly delicious vegan carrot cake and you get a super delicious cake that everyone stows away. Here is a brief overview of what you need:
Apricots, dried
Almond butter
Almond milk
Orange
Potato starch
Carrots
Cinnamon
Baking powder
Apple Cider Vinegar
Vanilla extract
Spelt flour or whole wheat flour
Ground almond
Pistachios
Cashews
Coconut cream
Maple syrup or other sweetness
How do I prepare this vegan carrot cake?
Start with soaking the apricots and cashews separately.
When the apricots are soft, add them to a high speed blender with the almond butter, almond milk, orange juice and vanilla extract and mix until there are no more pieces.
Mix the flour with the almond flour, potato starch, cinnamon and baking powder. Now grate the carrots and add the remaining ingredients and stir the dough into a homogeneous dough.
Take two 8 inch (20-22cm) springforms and line them with parchment paper. Pour half of the dough into each springform pan and bake at 350°F ( 175°C) for approx. 30 min.
When the dough is baked, take the cakes out of the oven and let them cool completely.
In the meantime, prepare the frosting.
To do this, rinse the soaked cashews and place all the ingredients for the frosting in a high speed blender and blend until you have a cream. Take the finished frosting and put it in the fridge until the cake has cooled.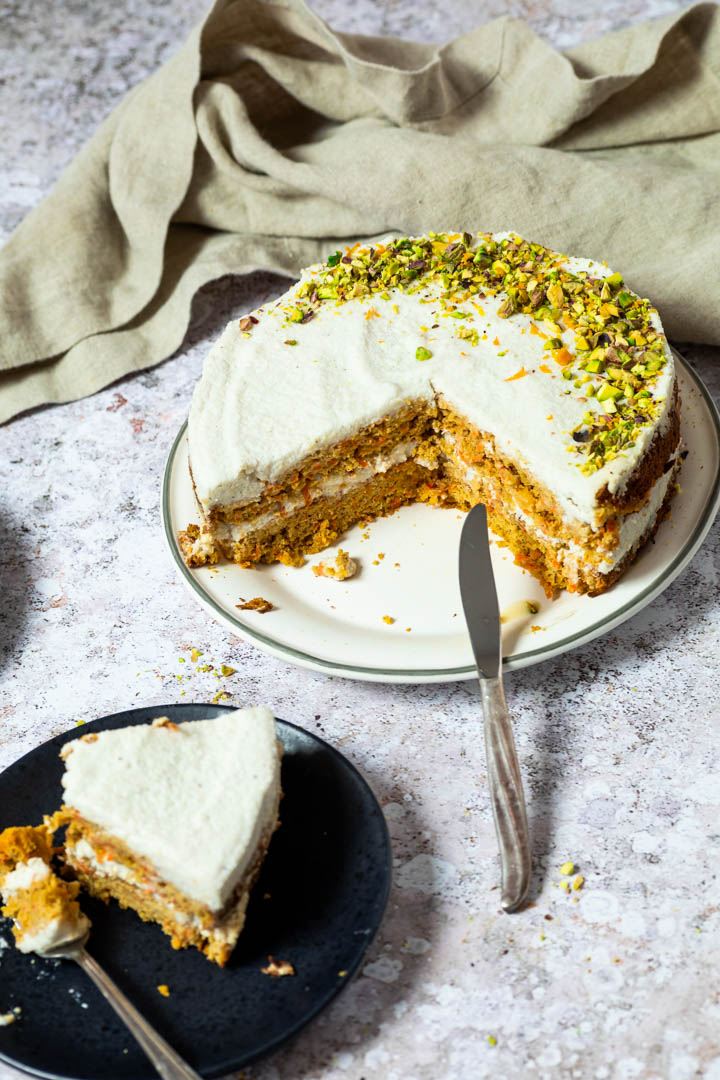 How do you know if the cake is baked through?
My favorite test is to do the toothpick test, just poke a toothpick into the middle of the cake with the toothpick. If nothing sticks to the toothpick or even just light crumbs, then the cake is ready. If a lot dough remains on the toothpick, the cake is not ready.
Can you make the cake gluten-free?
I haven't tried it yet, but a gluten-free baking mix that can be used for cake recipes should work with this recipe too. Just let me know briefly how it worked for you when you tried it.
How can I customize this cake for different cake pan sizes?
The recipe is designed for an 8" (20-22 cm) baking pan, if you want to take a smaller shape, you could do three layers. If you want to take a 10" (26 cm) shape, I would increase the quantities by about half. So that you have 1.5 times the amount.
Can I make cupcakes or muffins from the vegan carrot cake?
The recipe is also great for muffins or covered with frosting for cupcakes. You will get about 15 muffins from the recipe, depending on how big you make the muffins.
For cupcakes, just cover the muffins with frosting and sprinkle with a few chopped pistachios.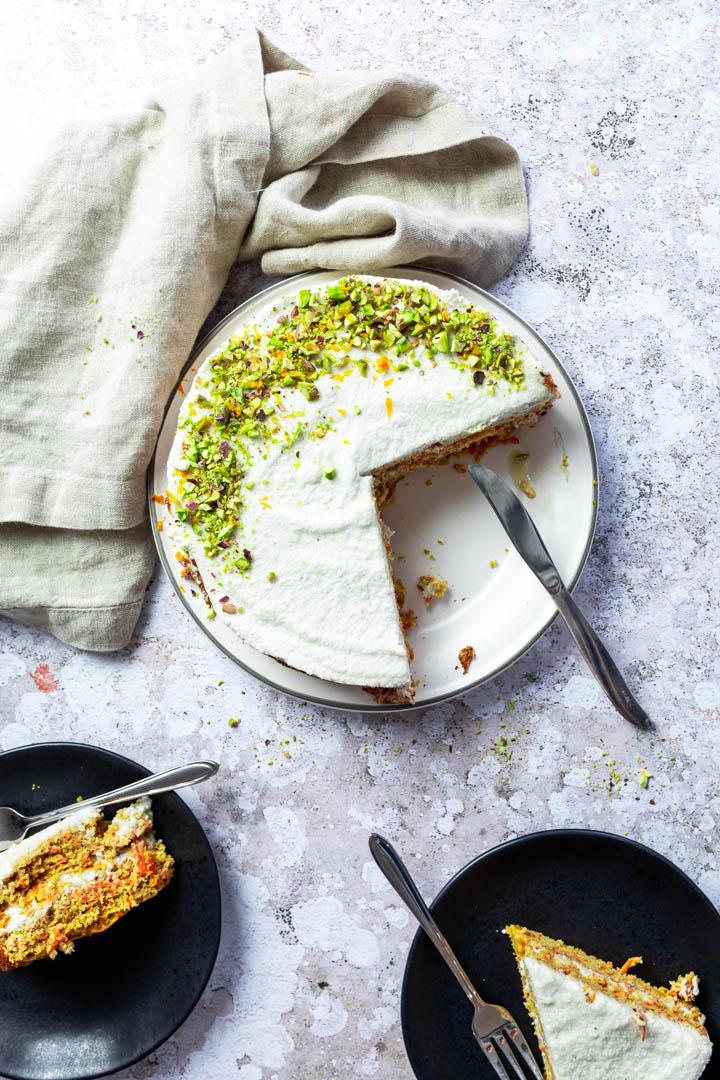 Which frosting is suitable for this vegan carrot cake?
For this vegan carrot cake, I have a frosting in the recipe card. If you want to use a different frosting, you are welcome to do so. For example, you can use a vegan buttercream or vegan cream cheese frosting.
How do you store this vegan carrot cake?
I recommend storing the cake in a cake container and in the fridge. So that the frosting does not dry out, the cake should be covered.
You can freeze the cake without frosting and then simply warm it up again briefly before serving and top it with fresh frosting.
More vegan cakes
Do not forget to Pin on Pinterest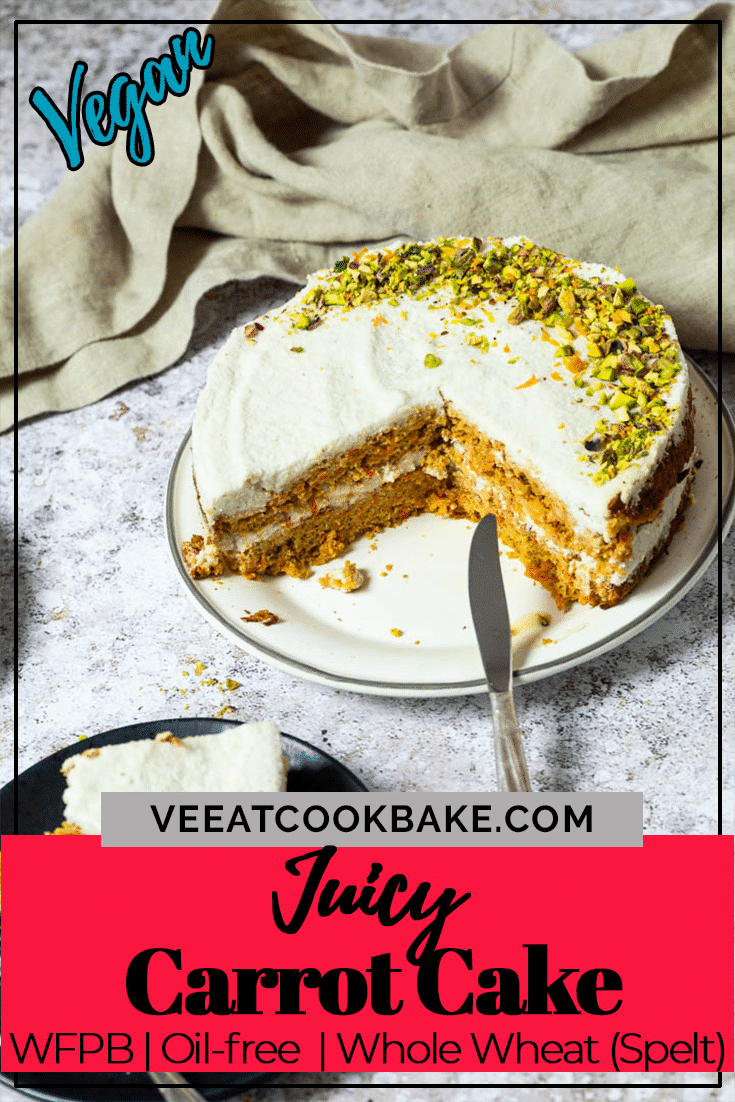 Have you tried the recipe?
If you tried the vegan Carrot Cake, be so nice ♥ and let me know by rating the recipe and writing what you think about it in the comments. Tag me on Instagram too. I am @veeatcookbake and my hashtag is #veeatcookbake. So that I can see your creation. Did you know you can add photos on Pinterest under the recipe Pin? I can't wait to see a photo of your creation there. You find me with @veeatcookbake. I also would love to hear your feedback, so I can share it on my social media channels.

This post may contains affiliate links and I may receive a very small commission if you buy through these links at no extra cost. Thank you very much for supporting Ve Eat Cook Bake! More information can be found here.
---