If you're planning an outdoor barbecue, make sure to add these Vegan Grilled Tofu Skewers with marinated cubes of tofu and vegetables! The flavors mix together magically for a mouthwatering morsel. And it's not just good on the grill -you can also bake them in your oven when temperatures aren't ideal for grilling outside.
These vegan veggie skewers are perfect as a finger food – don't forget about this delicious option at your next BBQ party! And enjoy your grilling season!

This recipe pairs well with my potato salad, cucumber salad and pasta salad.
As an Amazon Associate, I earn from qualifying purchases. This post may contain affiliate links. Read More
Jump to:
Ingredients
A quick list of the ingredients you will need to make this vegan kebab recipe.
You can find the ingredients with quantities and the recipe to print out on the recipe card below.
Marinade Ingredients:
Tahini
water
Tomato paste
Apple Cider Vinegar
soy sauce
Garlic cloves
Chili flakes,
Sweet paprika
ginger
Sea salt
pepper
Liquid smoke
Other:
Firm or Extra-firm Tofu
Bell Pepper
yellow onion
Wooden Skewers
Instruction
First, we press tofu. Extra firm tofu will hold best. Then, if you wish, you can freeze the tofu. Here the texture will change a bit. As thawing releases more water, the tofu becomes a little firmer.
After you have thawed the tofu, you can press the tofu again and then cut the pressed tofu into cubes. Remember that the cubes should be big enough for the skewers. In a small to medium bowl, whisk the ingredients for the flavorful marinade.
Now we place tofu in the marinade for at least 2 hours. I like to prepare these the evening before for maximum flavor, and I just have to put the skewers together the next day. Cut the onion and paprika in the same size as the tofu.
Assemble: I always start with a slice of onion. Alternate onion, tofu, bell pepper until your skewer is full.
Grill Pan
Grill the vegan tofu skewers in a grill pan. I grill them on every site until every side is golden brown and the tofu turns crispy.
Outdoor Grill Instruction
You can grill these vegan grilled tofu skewers as normal. First you have to heat the grill. Just make sure you have a hot grill before you put them on the grill.
We usually leave them on the grill until the tofu is quite firm on the outside and the onions have a nice color.
No matter if you have a charcoal grill or an outdoor gas grill. Both will work great with this recipe.
Air Fryer and Oven:
You can easily roast them in the air fryer or oven (convection oven). I roast/ grill them at 420 F (200 C). Roast them for 10–15 minutes.
If it onions and tofu are not to your liking, bake them a little longer.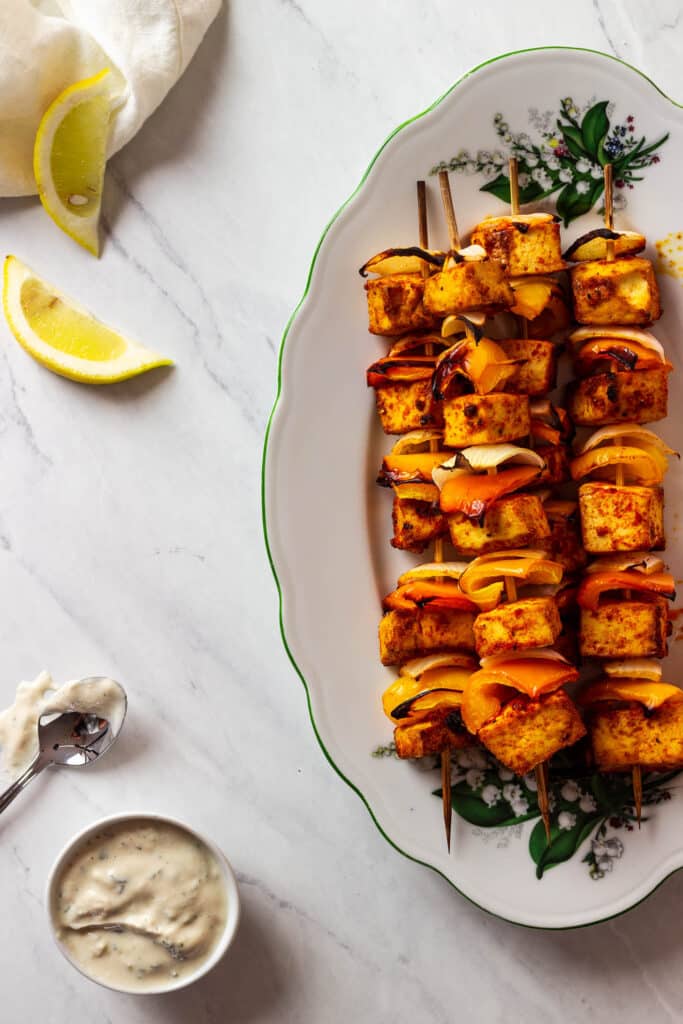 Substitutions
Tofu Substitute:You can easily replace the tofu. If you're not a fan of tofu. You can also fall back on tempeh or seitan. If you prefer to stay with vegetables, you can use e.g. zucchini, cauliflower florets.
Yellow Onion: Bring some more color to your grilled skewers. Use some Red onion instead of yellow or white onion.
Garlic: You do not need fresh garlic cloves, you can also use Garlic Powder to your own taste.
Tahini and water: Instead of tahini, what makes the marinade hold on to the tofu better, you can use coconut milk. If you are not oil free and do not mind oil, you also use a little bit of olive oil.
Soy Sauce: As always, you can easily replace the soy sauce with tamari sauce or coconut aminos.
Apple Cider Vinegar: Use rice vinegar instead.
Variations
Vegetables: You can always substitute the veggies with different veggies or even fruit. I love zucchini, mushrooms, pineapple chunks on my delicious skewers.
Teriyaki Style: Try some teriyaki tofu skewers. Just marinade the tofu in homemade teriyaki sauce instead of my marinade recipe.
BBQ: You love barbecue sauce? Just marinade the tofu cubes in some bbq sauce for some flavorful vegan kebabs. Just use the marinated tofu as described above.
Equipment
Some kitchen tools that will help you make this tasty recipe.
Storage
You easily store these veggie kabobs in an airtight container and eat the leftovers during the week. Just warm them up in the oven.
Do not throw out the leftover marinade, use it for seasoning for your next roasted vegetables. I always love to not throw away food, even seasonings.
Serving Suggestions
These delicious tofu kebabs make a great party appetizer. You can serve them for a complete meal with the following:
Dipping Sauce:
I am a sauce person and love to serve different vegan sauces to my BBQs: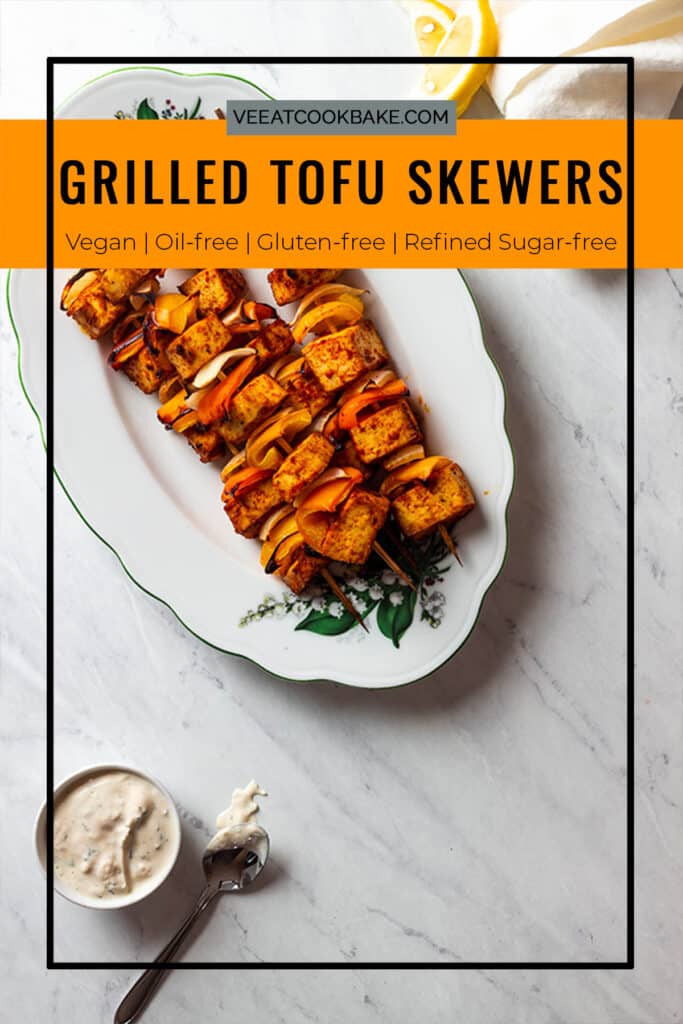 FAQ
What are vegan grilled tofu skewers?
Vegan Grilled Tofu skewers are the vegan version of the grill skewers that you can buy from a butcher.
As a meat substitute, we take tofu. Thanks to the delicious preparation, this tofu goes well on these grill skewers.
Basically we stick onions, tofu and bell pepper on a skewer. Use wood skewers or metal skewers.