You can now make a delicious and flavorful vegan ranch dressing in under 30 minutes with simple ingredients!
It's perfect for salads, as an app to dip your favorite veggies into, or alongside some homemade pizza. One of the best vegan ranch you will ever taste, with all the flavor you know from the traditional ranch dressing.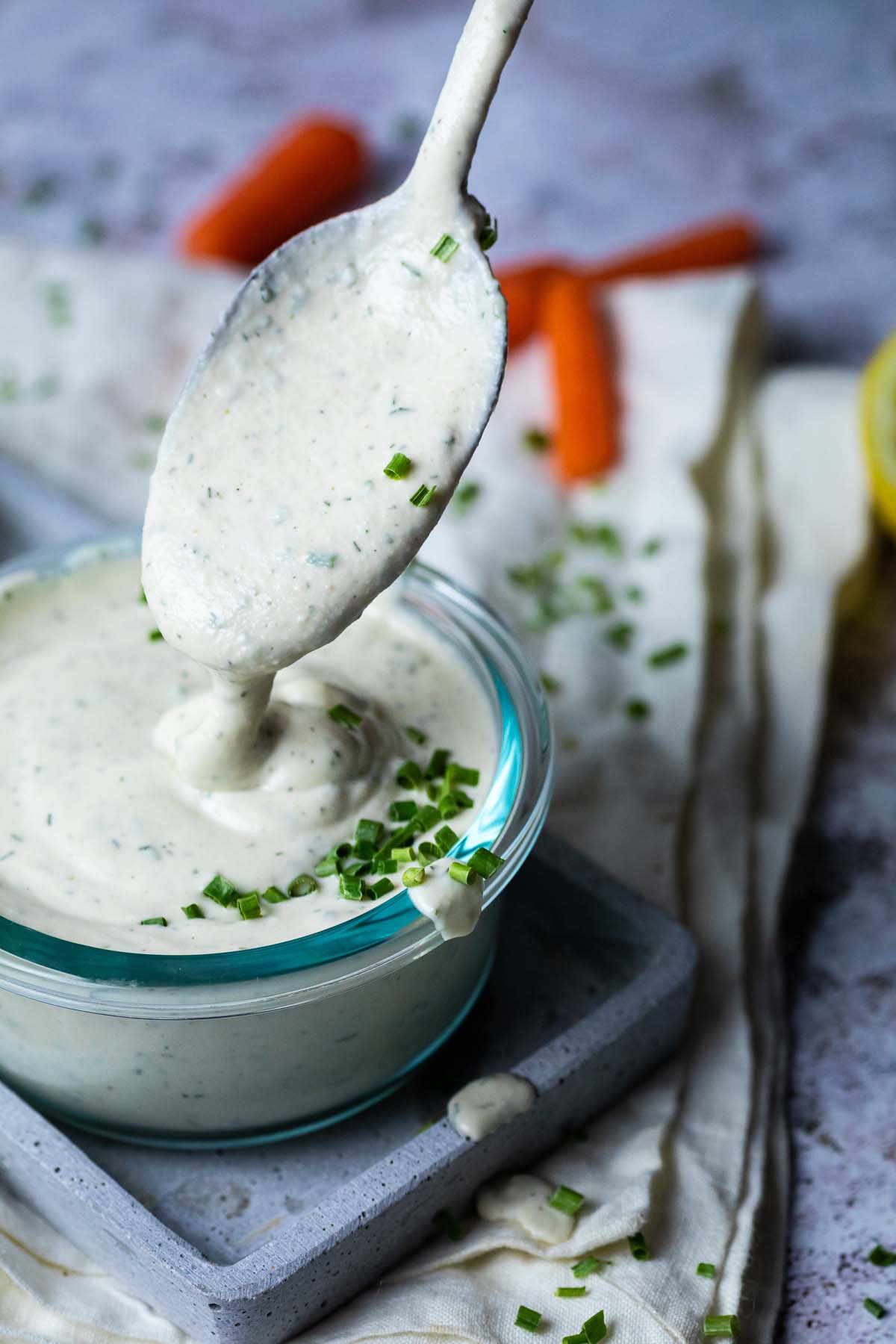 As an Amazon Associate, I earn from qualifying purchases. This post may contain affiliate links. Read More
Jump to:
This easy, healthy whole food plant based ranch dressing recipe is so creamy and has a nut-free option made with sunflower seeds (or cashews) that's dairy free as well! It also doesn't contain any oil or soy.
Just 11 ingredients (no soy milk or almond milk) are needed for this perfect texture - plus you'll love how it tastes on anything from salad greens to vegetables dipped in.
I'm super excited about trying out these recipes because not only do they sound fantastic, but I can't wait until my family sees me eating something "impressive."
Here's a little-known secret about vegan ranch dressing. You can actually enjoy it on the side, or even mixed into your favorite vegetables!
I love drizzling this amazing sauce over buffalo cauliflower wings and calling it dinner—we're talking seriously satisfying stuff here, people...ahh MAZING!!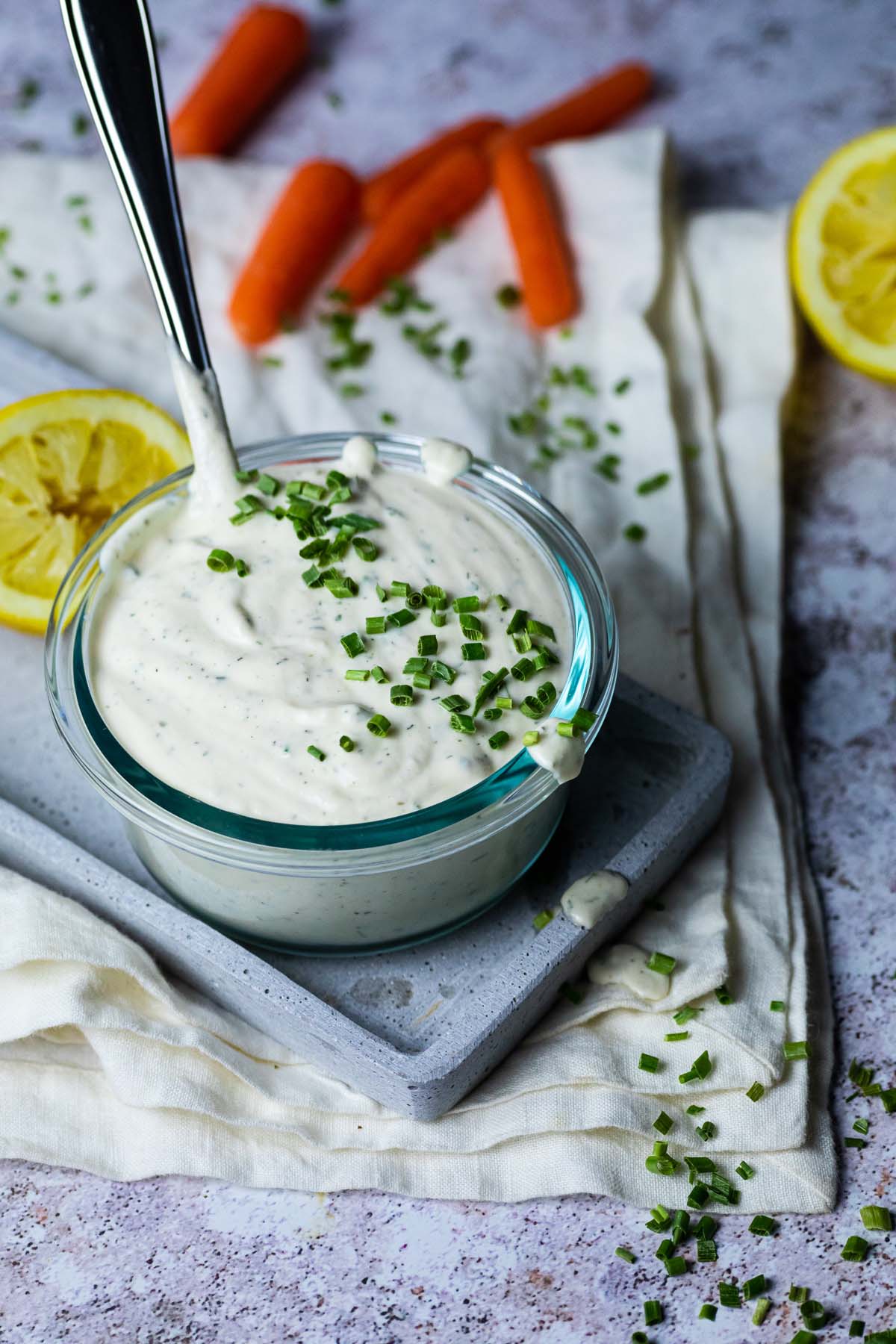 Is Ranch Vegan Friendly?
The well known Ranch Dressing you can buy or get in Restaurants is usually not vegan. It is made with dairy and mayo.
But who says you have to give up one of your favorite dips just because you gave up dairy and oil? Correct, no one. This oil-free vegan ranch recipe is full of flavor and tastes just as a good Ranch Dressing.
And do you know what? A lot of vegan ranch recipes are made with vegan Mayonnaise. The best part of this Ranch Dressing, your kids can dip all the veggies in it without having a guilty conscience. This ranch is oil free and makes it even a healthy dip to enjoy with some snacks.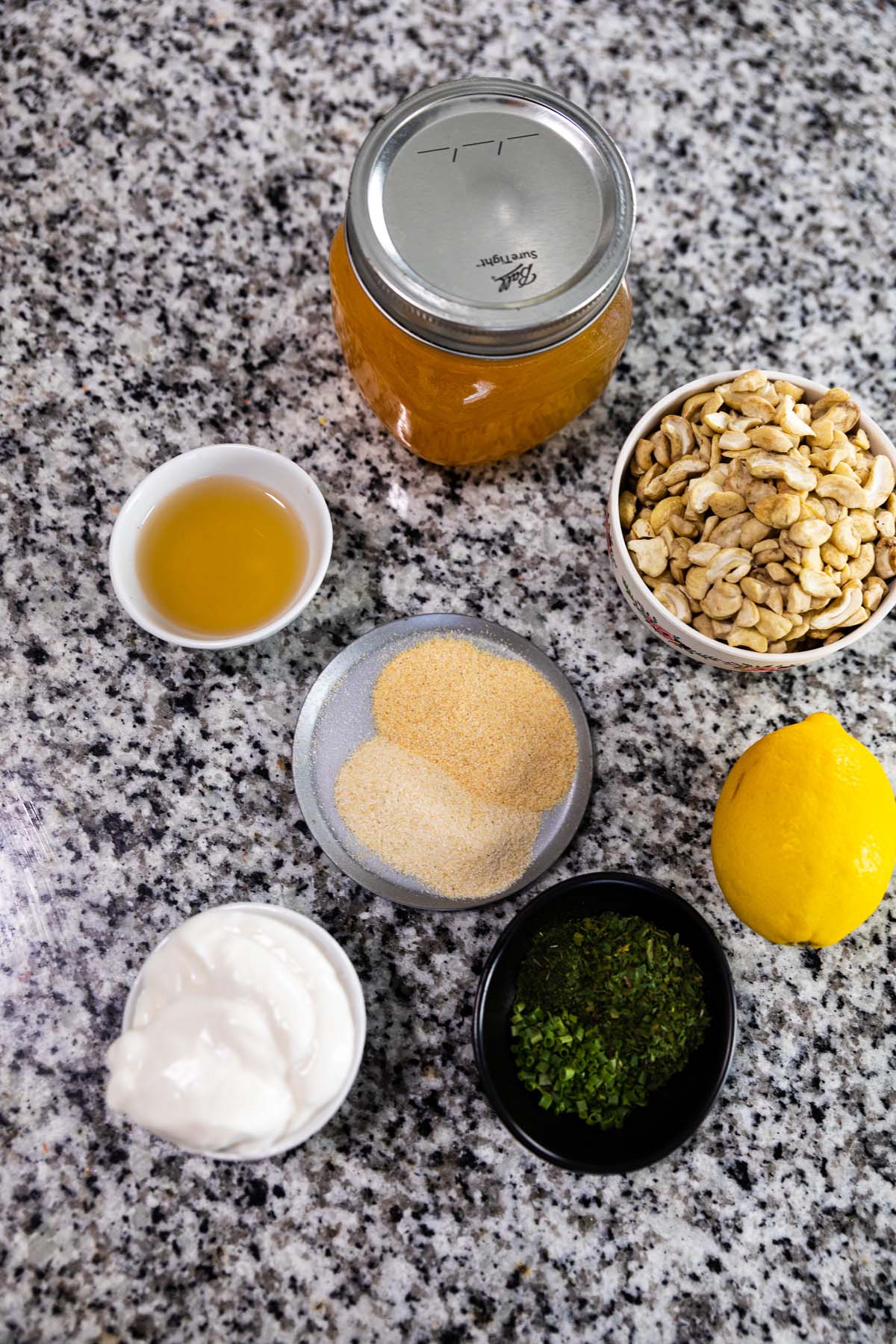 Ingredients List
This recipe for vegan ranch dressing uses healthy ingredients and is so easy and only takes about 10 minutes.
You need 11 simple ingredients, I bet you have most of them already! It's a dairy-free healthy oil free gluten containing dish that'll make your heart happy - what more could anyone want?
Get the full ingredient list with quantities in the recipe card below!
raw cashews
plant based unsweetened yogurt
VEGGIE BROTH
apple cider vinegar
lemon juice
onion powder
garlic powder
celery seed
dried parsley
dried dill
dried chives
Substitutions
Let us check out what you can substitute if you have certain ingredients not at home.
Cashews
If you do not want to use cashews. Is it because you need it nut free, or you are on a budget. Use sunflower seeds instead.
For sunflower seeds, I recommend soaking them and give them a quick rinse. Those are a little firmer than cashews.
Plant based Yogurt
My favorite unsweetened yogurt here in the states is Kite Hill it is creamy, and it adds a nice tang.
If you do not like to use a dairy free yogurt, you could also use silken tofu. Just add it with the cashews to the high speed blender.
Vegetable Broth
Instead of veggie broth, use water. Both are working just fine. Even though, veggie broth adds a little more savory flavor.
Apple Cider Vinegar
Here you could also use white vinegar or white wine vinegar to add to sour tangy flavor to the Ranch Dressing.
Dried Herbs
You can also add fresh herbs like fresh dill instead of dried herbs. I add the quantity in the recipe card below.
Fresh herbs add a lot more flavor than dried herbs. Depends on the season, I add fresh or dried herbs.
Variations
Now it is time to find out how you can adjust the ranch dressing to accommodate different diets.
Gluten-free
This dairy free Ranch Dressing is not just oil free, it is also gluten-free.
Nut free
Like I mentioned above, you can substitute the cashews with sunflower seeds to make a nut-free vegan ranch dressing.
Sunflower Seeds are amazing. The seeds turn out really creamy when blended. And they are much cheaper than cashews.
Instructions
Steps 1-4: In a Vitamix or any high-powered blender, blend all the ingredients except the yogurt, herbs until smooth and creamy.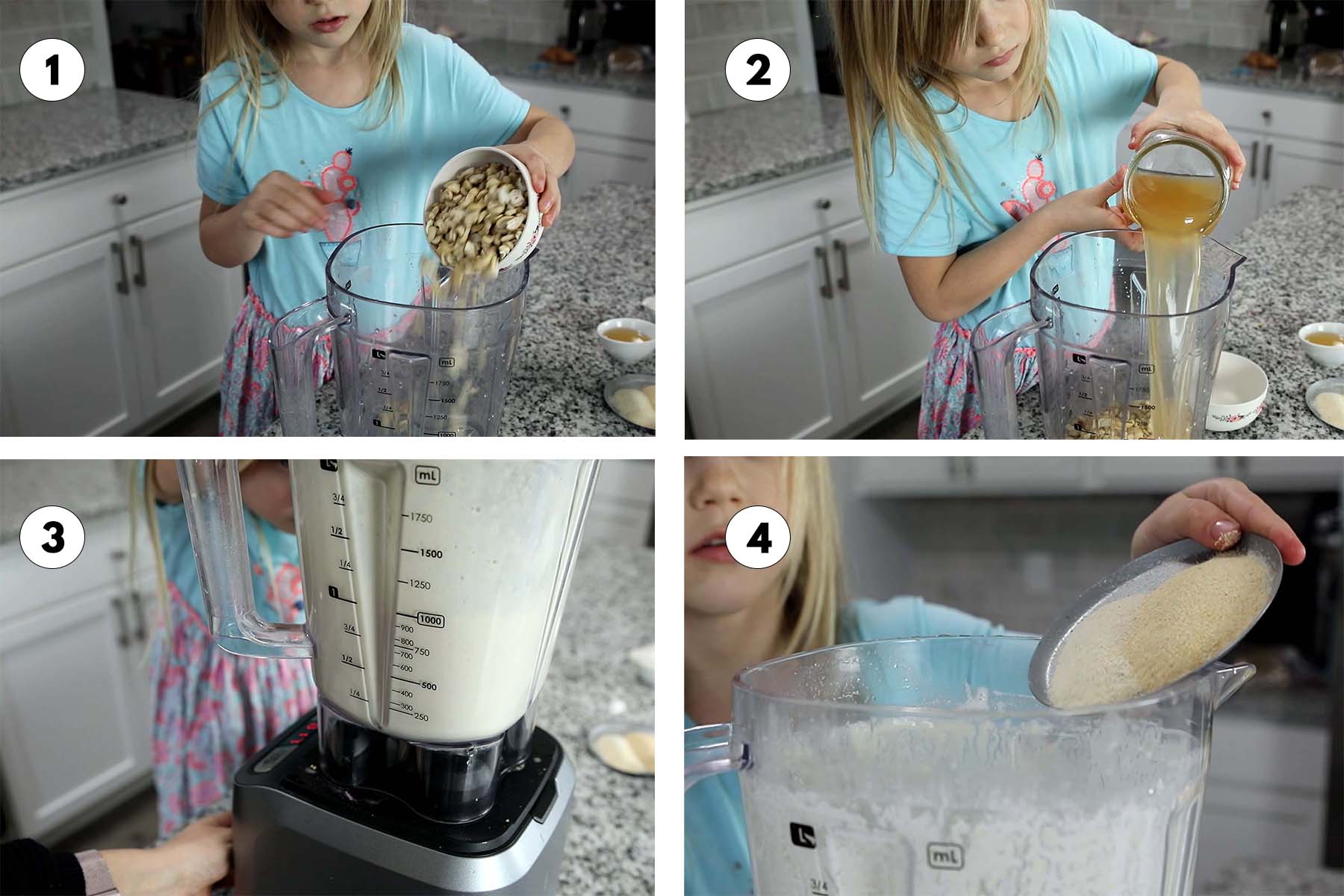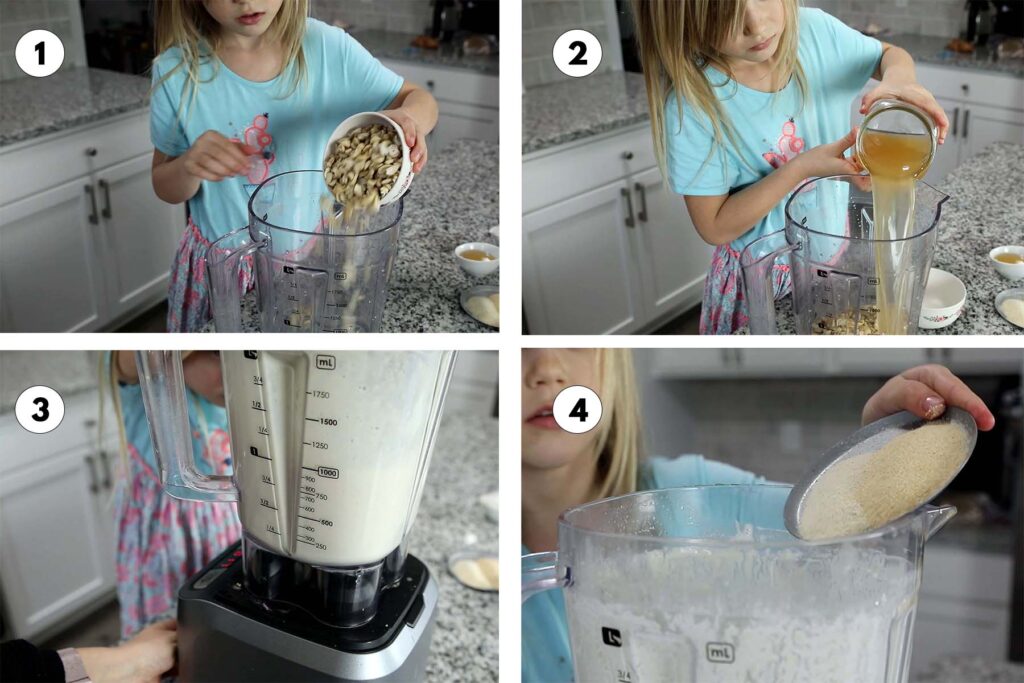 Steps 5 & 6: Add the herbs and pulse the blender a few times until well combined.
Step 7 & 8: Stir in the yogurt to make it even creamier.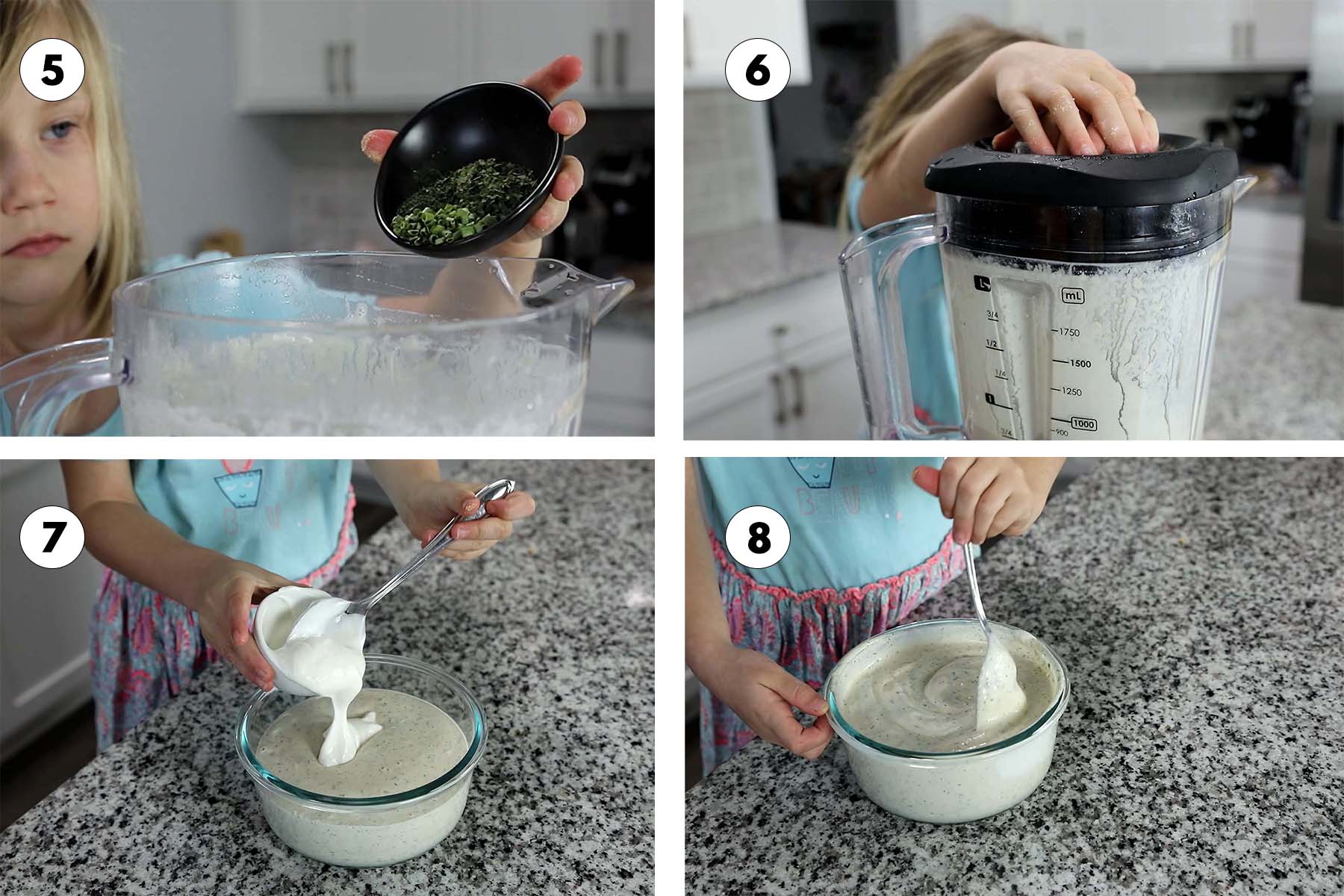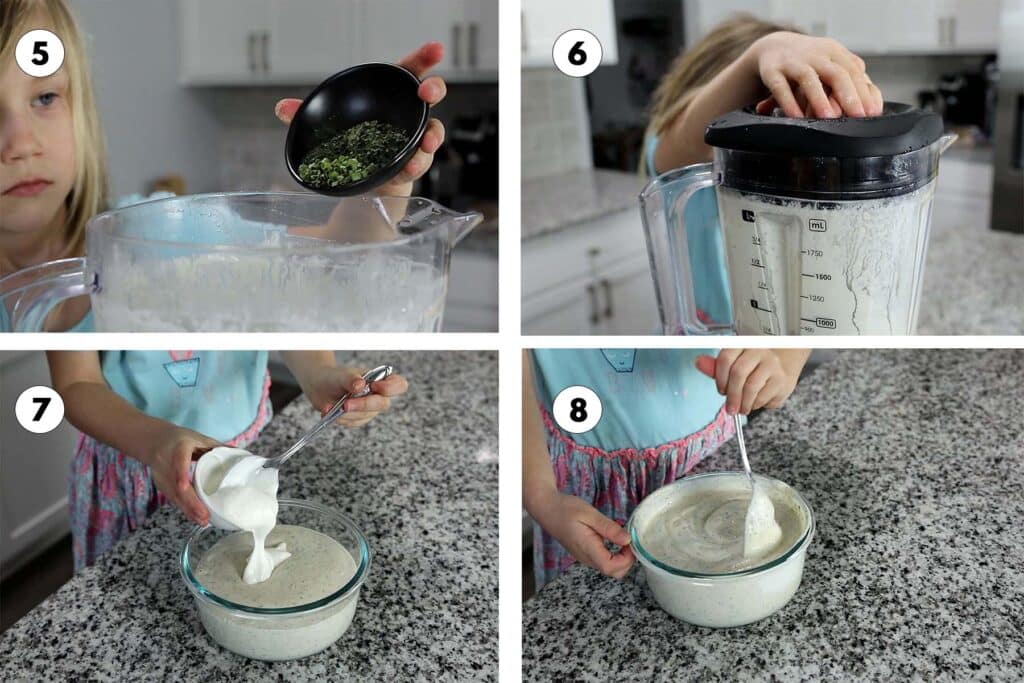 Chill in fridge for a couple of hours before serving to let the flavor infuse!
Prepare in advance
I love to prepare the Ranch at least the day before we need it. I love the texture and the flavor it gets from sitting overnight in the fridge.
You can always prepare this oil free dressing in advance. Thanks to no dairy and no eggs, this condiment lasts even longer than the one with eggs in it.
Perfect meal prep dressing for a healthy meal.
Recommended equipment
I recommend using a high speed blender to get the most creamy texture possible.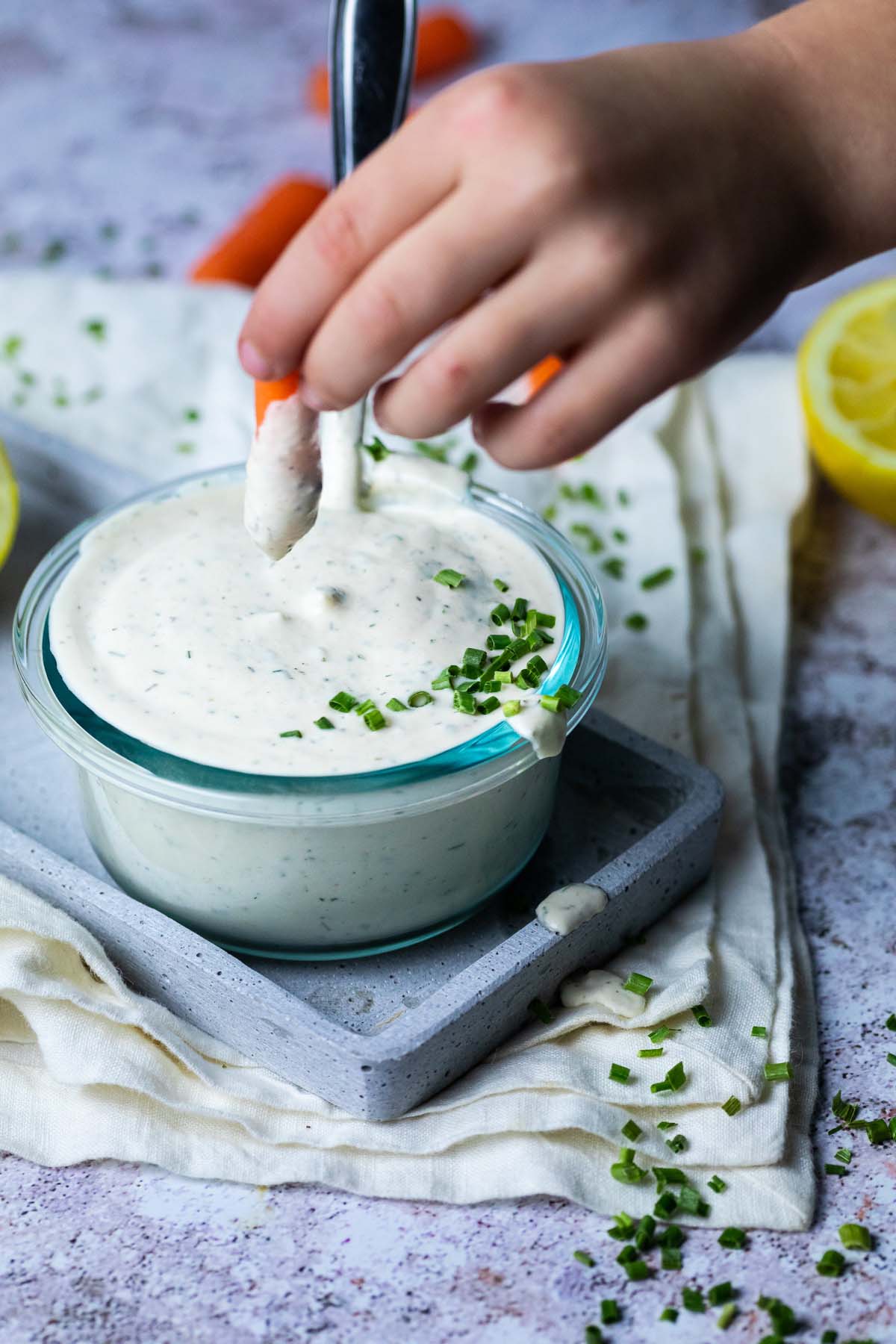 Serving options
Ranch Dressing is a great Salad Dressing, but you can also enjoy it as a dipping sauce. Some of my favorite ways to enjoy this amazing ranch dressing:
Dip your Homemade Pizza, Tortilla Chips
Dip Roasted Vegetables like Brussels Sprouts, Tahini Glazed Carrots or raw veggies
Party Platter or charcuterie Platter
Enjoy it with some roasted potatoes like those potato wedges or french fries, sweet potato fries.
On a Sandwich or Veggie Burger
Storage
Let us find out how to store your plant based Ranch if you have some left.
How to refrigerate it?
Store in an airtight container in the refrigerator for up to 1 week.
How to freeze it?
Because it is no mayo in this recipe, you can freeze this dressing very well. Just freeze it portion-sized and thaw it as you need it.
It will last there around 3 months.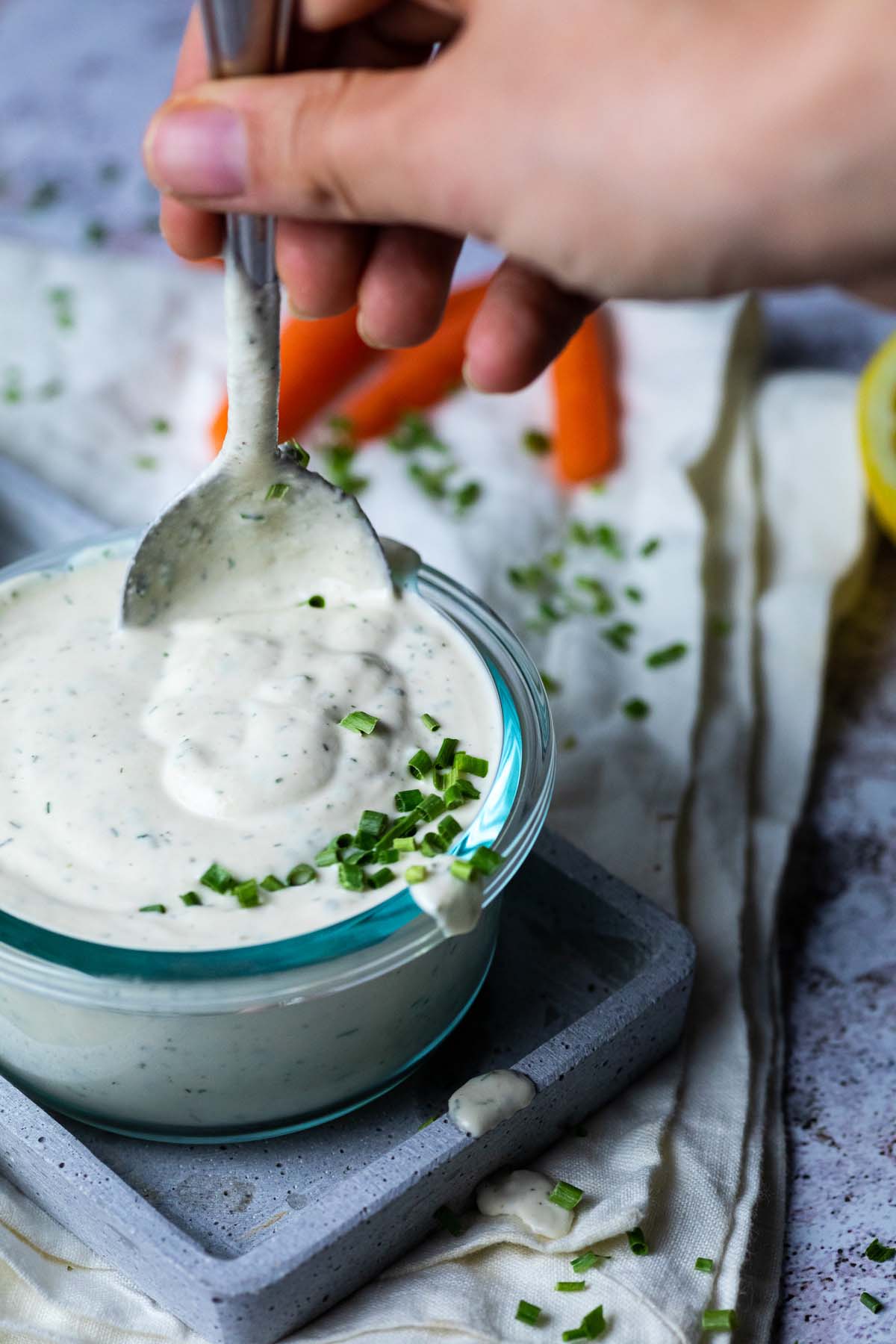 Tips
Adjust the Consistency
Change the consistency of your dressing with adding more or less water.
Make it thicker, creamier to use it as a dip or spread. Make it thinner to use it as a sauce or dressing.
More vegan salad dressing recipes
Red Wine Vinegar Tahini Dressing
Balsamico Dressing
French Dressing