Have you ever wanted to make delicious vegan Thai peanut noodles that are ready in a flash? With this 15 minute recipe, your lunch or dinner dreams can come true! Perfect as an easy weeknight meal – even better when made ahead of time for leftovers the next day.
And it'll be way tastier than takeout, too! Packed full of flavor and enriched by creamy-fatty peanut butter goodness - add some fresh veggies (like carrots, cucumber peppers, cabbage & celery) into the mix for extra texture & crunch. Digging into these Vegan Thai Peanut Noodles served with linguine, vegetables and tofu is sure to satisfy any appetite!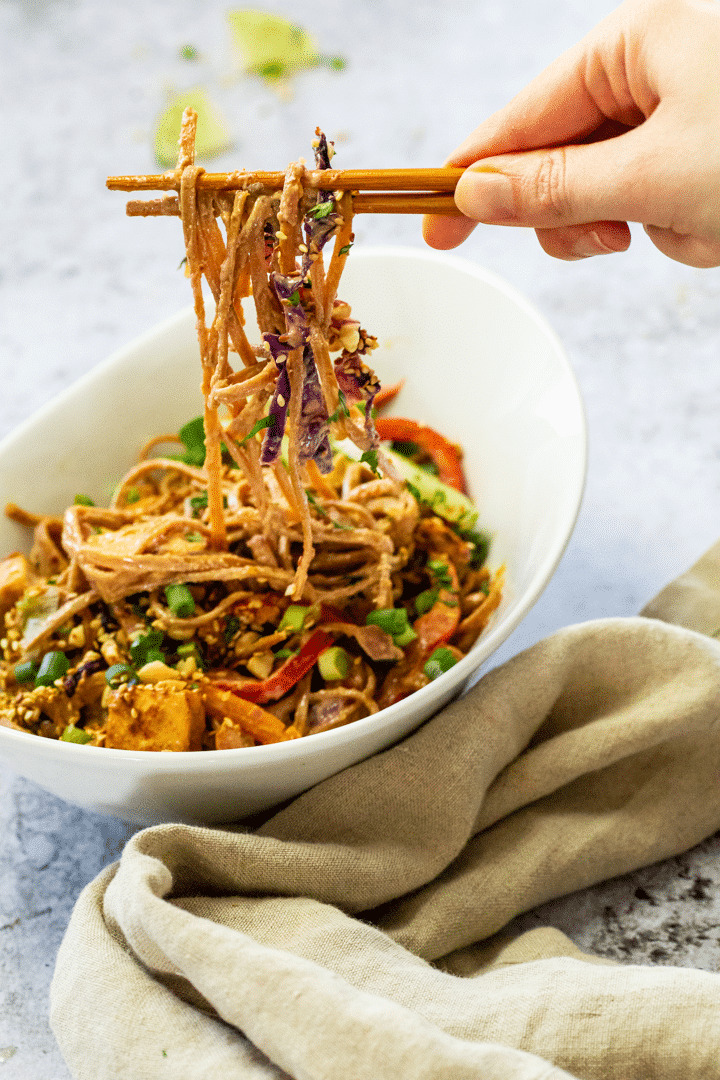 As an Amazon Associate, I earn from qualifying purchases. This post may contain affiliate links. Read More
Jump to:
Ingredients
Here is a quick list of the ingredients you will need to make these rainbow peanut noodles.
You can find the ingredients with quantities and the recipe to print out on the recipe card below.
Tofu, extra firm
Yellow onion
Red Bell Pepper
Orange Bell Pepper
red cabbage
Sesame Seeds, toasted
Fresh Cilantro
Dry Roasted, Salted Peanuts, roughly chopped
Green Onions, sliced
Noodles
Thai Peanut Sauce:
Natural Peanut Butter
Sriracha Sauce
Lime Juice
Maple Syrup
Toasted Sesame Seeds
Cup of Warm Water
Freshly Grated Ginger
Cloves of Garlic, chopped
Soy Sauce, Tamari or Coconut Aminos
Rice Vinegar
Topping:
Fresh Cilantro
Spring onion
Roasted Peanuts
Instruction
Cut the veggies and press the tofu. Place the cubed tofu in the oven and bake for about 15 minutes at 400°F (200°C) until it becomes firm on the outside. Cook the noodles al dente according to the package instructions.
First sauté the onions and garlic in a wok pan on medium-high heat and add the finely chopped vegetables. Braise the vegetables until they are soft.
In the meantime, blend all the ingredients for the easy peanut sauce in a high speed blender. Now stir the drained, cooked pasta and tofu into the vegetables and fold in the peanut sauce. You can serve a green side salad.
Hint: You can fry the tofu in a pan or air fryer as well!
Make these easy vegan peanut noodles, check out my Broccoli Alfredo Pasta, Lemon Spaghetti and more vegan pasta recipes.
Substitutions
Tofu: I love that the tofu is loaded with plant-based protein. You can omit the tofu or substitute with cauliflower.
Sesame Seeds: I love to use toasted sesame seeds, these add the typical sesame oil flavor. If you like to use that instead, go ahead and add a little bit of toasted sesame oil. I prefer mine oil free.
Bell Peppers: You can use different kinds of fresh vegetables like snap peas, spiralized zucchinis, carrots, green beans.
Noodles: You can use your favorite kind of noodles for this noodle bowl. Some examples: brown rice noodles, pad thai noodles, regular spaghetti, ramen noodles.
Lime Juice: You got some lemons, add home? Use lemon juice instead of lime juice.
Rice Vinegar: Use apple cider vinegar instead of rice vinegar.
Variations
Spicy: You want it a little spicier? Add some red pepper flakes to the peanut dressing.
Edamame: Add some frozen edamame to add some extra protein.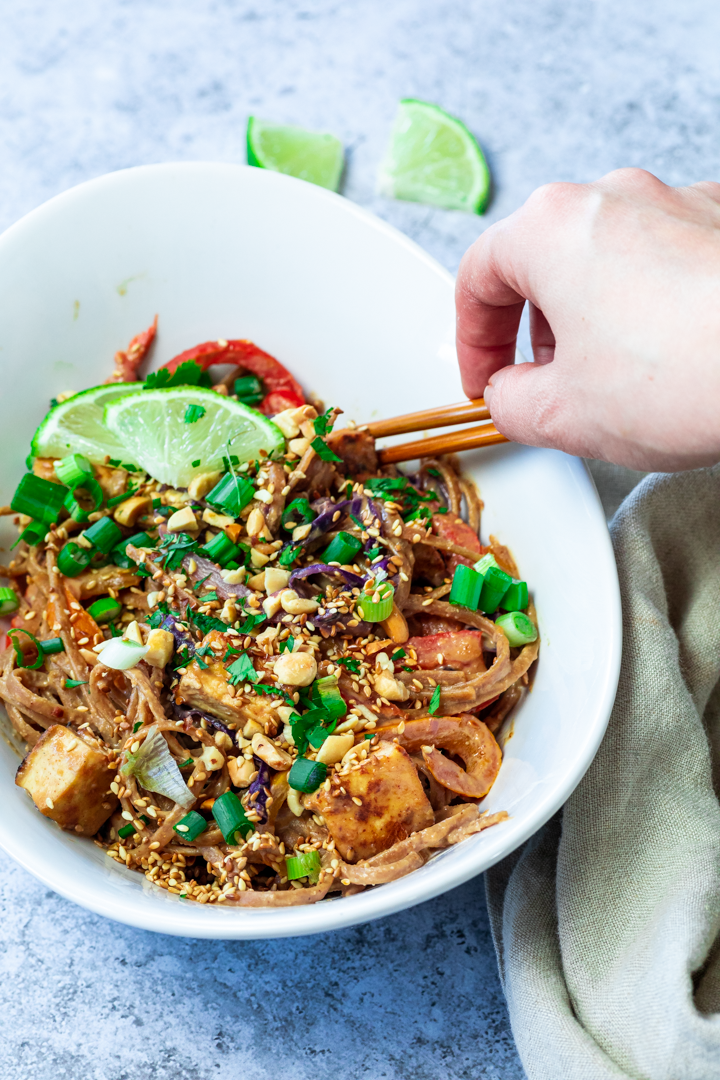 Equipment
Some kitchen tools that will help to make this recipe:
Serving Suggestions
Salad: Make a vegan Thai Noodle Salad, use cold noodles and toss them with the peanut butter sauce.
Dipping Sauce: Get some spring rolls and dip them in this awesome sauce. So good.
Storage
You can store leftovers of this peanut noodle recipe in an airtight container in the fridge. I recommend storing the creamy peanut sauce and the noodles in separate containers. Let everything cool to room temperature first.
You can also freeze this healthy meal. I also recommend doing that in separate containers.
Meal Prep
As you see, you can make this awesome recipe for busy weeknights. Just prep it a few days in advance.