Recipe for a vegan onion dip with caramelized onions is nut-free and is made from white beans and tahini.
This French onion dip not only tastes great as a party starter but also as a spread on sandwiches or dipped vegetables for your next snack.
Incidentally, the garlic and onion dip is naturally gluten-free and wfpb friendly, since it is produced without oil and only with whole foods.
This vegan onion garlic dip is easy to prepare and won't let you miss the onion dip you bought from Lay's. With this dairy-free dip, no one will suspect that it is vegan. It is full of taste and is really super creamy.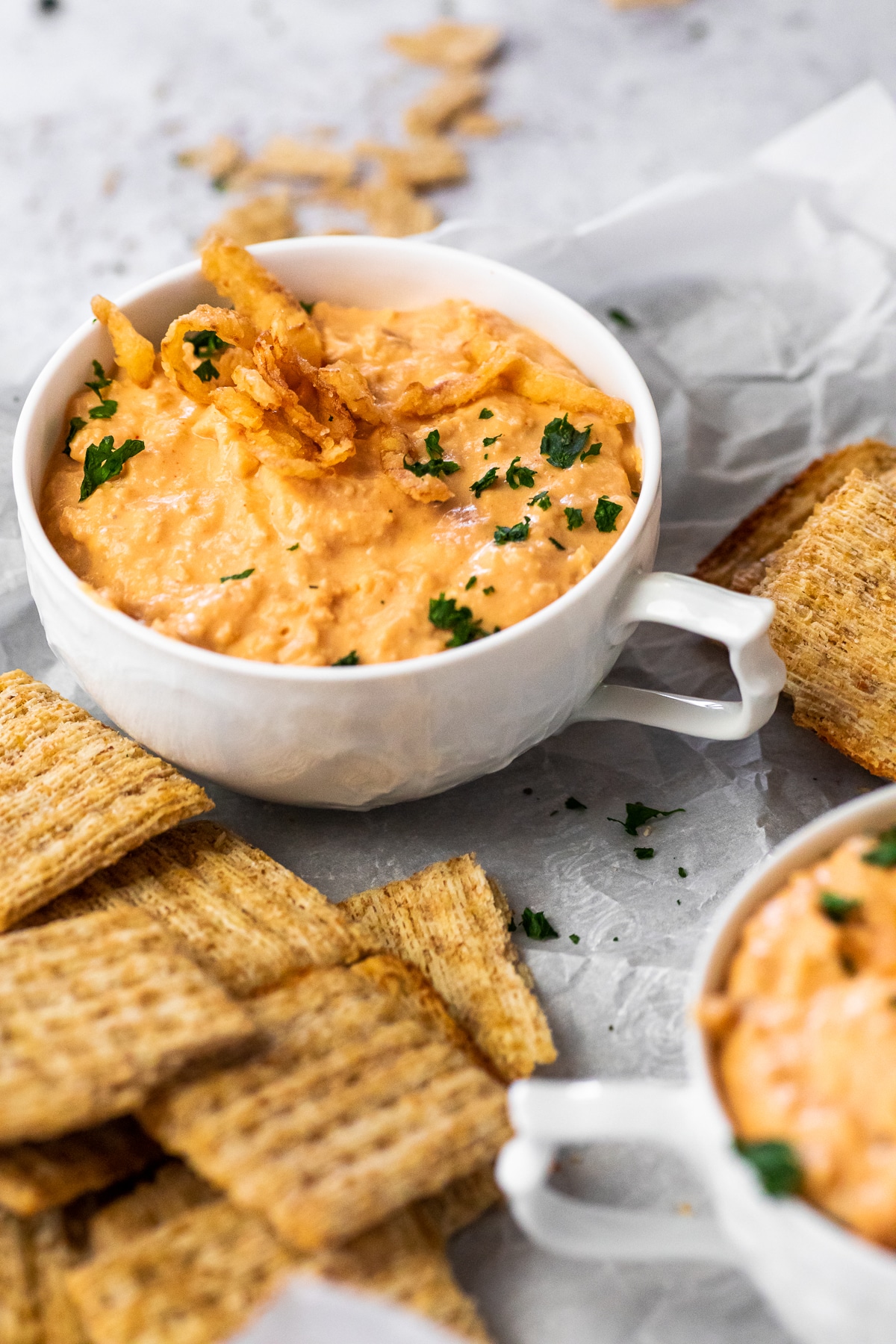 As an Amazon Associate, I earn from qualifying purchases. This post may contain affiliate links. Read More
I am a person who could actually live on dips. What about you?
And if you like vegetables or crispbread as a snack, this dip is just right for you. My version is not only a lactose-free dip, but also a low-fat dip, since we mainly use white beans, which also provide us with additional nutrients.
This dip is one of the classic comfort dips, especially for game evenings, barbecues, holidays or if you have planned a cozy evening with friends.
What's waiting for you? You will not only get a great recipe that you have prepared in no time, I would also like to show you alternative ways of adapting the recipe to different needs.
And answer a few more questions, how can the dip be prepared in advance, what can I serve with it. And a few tricks and tips on how to get the French onion dip really creamy. So be excited. 🙂
Is French onion dip vegan?
Have you ever seen the French onion dip in the shop and wondered if it is vegan? The purchased onion dip is often made with sour cream and thus contains dairy products that are anything but plant-based.
Therefore, I am all the more pleased that I can share a dip with onions with you that is super creamy and tastes like the original, if not better.
Is onion dip healthy?
The basis of the vegan onion dip is white beans and tahini. White beans are full of fiber and therefore keep you full for a long time. They are also high in protein, as well as a great iron supplier and are full of magnesium.
Tahini is made from sesame and also contains some nutrients. Sesame is known for iron, magnesium, phosphorus, and calcium.
So what do you think, is this vegan onion dip healthy?
But enough talk and let's take a closer look at the vegan onion dip.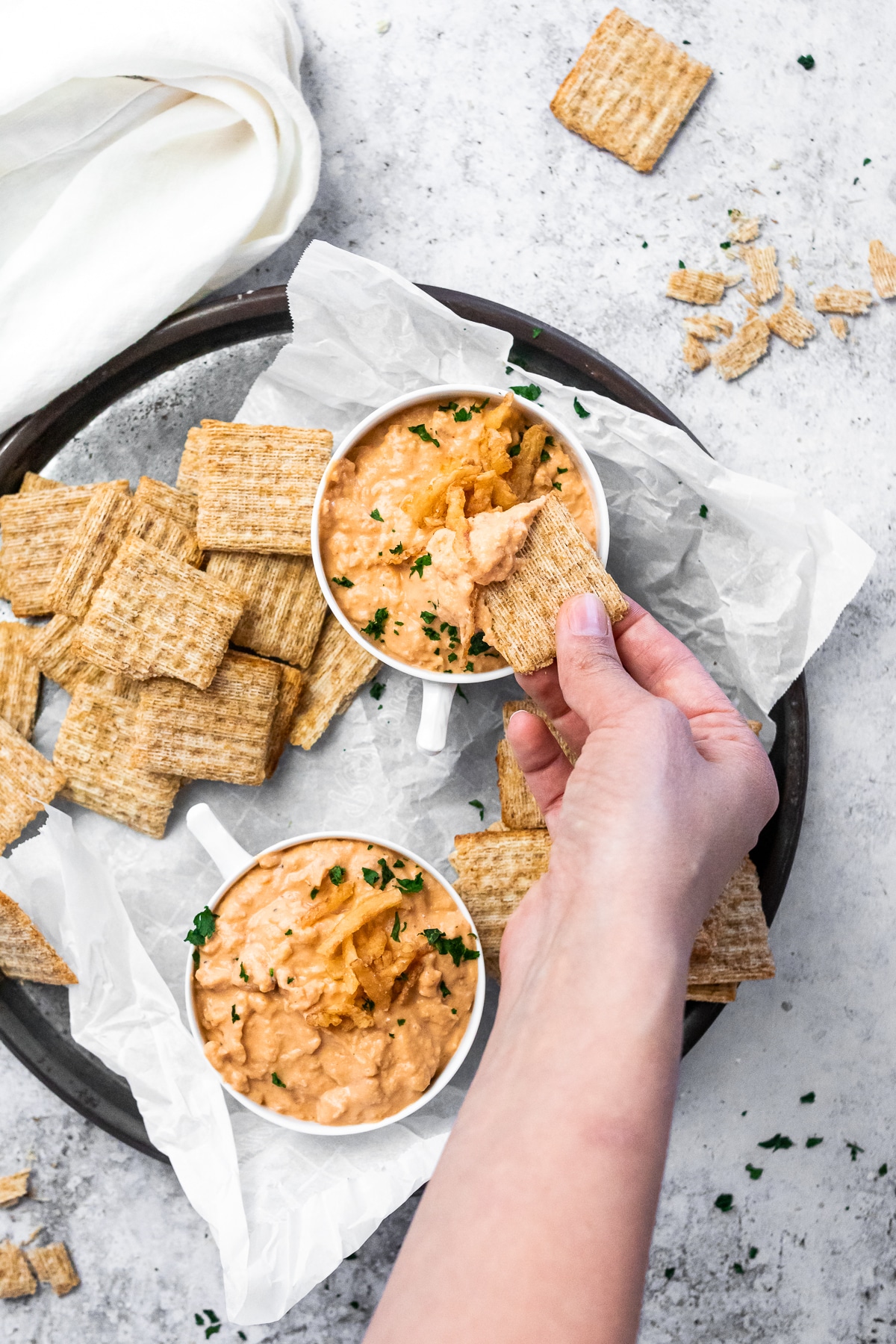 Preparation
Here I not only want to show you what is included in the dip, but also show you what you can replace for the dip.
Ingredients
Here I briefly list the ingredients that are included in the onion dip. You can find an exact amount below in the recipe card.
White Beans
Tahini
Water
Onion
Garlic Cloves
Lemon
Paprika Powder
Apple Cider Vinegar
Onion Powder
Garlic Powder
Tomato Paste
Sea Salt to taste (opt)
White Bean Replacement
Don't want to use white beans? No problem, I can very well imagine silken or soft tofu as a substitute.
You can mix this creamy with the Tahini. Which I can also well imagine using chickpeas for the vegan onion dip. So this dip is more like hummus, but we all know that hummus tastes heavenly. 😉
Tahini Replacement
You don't like tahini? Here, too, you can fall back on other options if you don't like Tahini or don't want to buy extra Tahini.
We use tahini to make the dip creamy. Since tahini is full of good oils, you can use this with something else rich in fat.
Here I can imagine that with cashew butter or blanched almond butter, the onion-garlic dip becomes super creamy.
Gluten-free?
Yes, this vegan onion dip does not contain any foods that contain gluten. So the dip is particularly suitable for celebrations where you don't know whether there will be people with a gluten-intolerance.
Keto Friendly?
A ketogenic diet is about low carbohydrates and consuming lots of fats. What the white beans are not. White beans are full of healthy carbohydrates and are low in fat.
Therefore, this dip is not keto-friendly. If you eat vegan keto, I could imagine replacing the white beans with cashew nuts.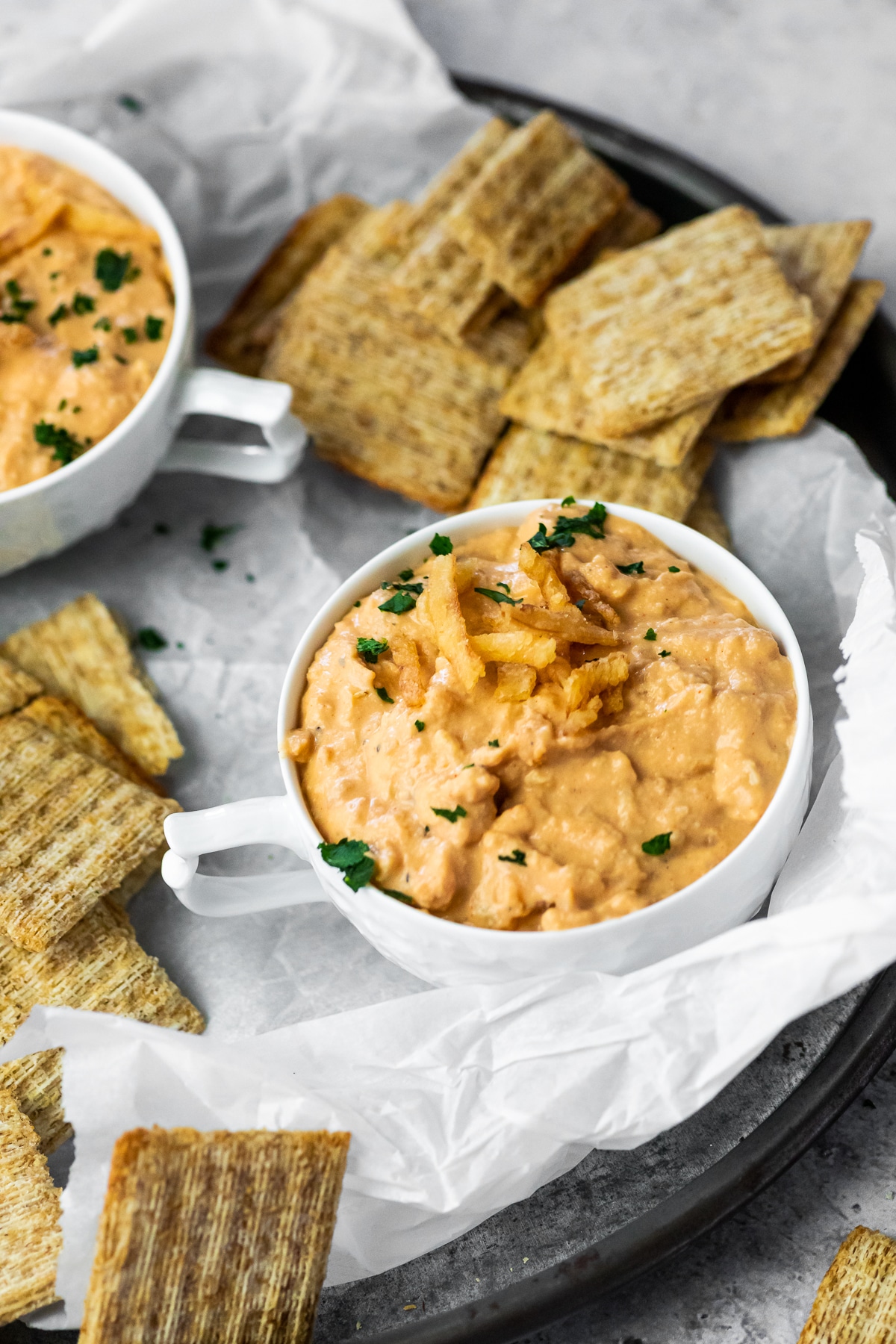 Nut Free?
Compared to other vegan dips, we don't use cashews in the onion-garlic dip, instead we use white beans and tahini for the creamy sauce. Which makes the dip nut-free.
Instructions
Chop the onion and chop the garlic. Fry the onion and garlic in a little water in a pan until they caramelize.
Add a little sip of water again. If you notice that the pan is browning, add a sip of water. So the onions turn nice and brown.
In the meantime, mix the tahini with the water until creamy. I use a high speed blender for this.
Now add the drained white beans and blend until you get a super creamy consistency.
Add the remaining ingredients except for the onions and blend again until everything is mixed together.
If the dip is creamy enough for you, add the onions to the cream and blend on a light setting only briefly so that the onions are mixed in the cream, but you still have pieces.
Taste the dip and season to taste. Place the dip in a sealable container and put it in the fridge until ready to serve.
Prepare in advance
You have invited guests or want to prepare the dip as a meal prep in advance, then simply prepare the dip 1-2 days in advance and keep it in the fridge.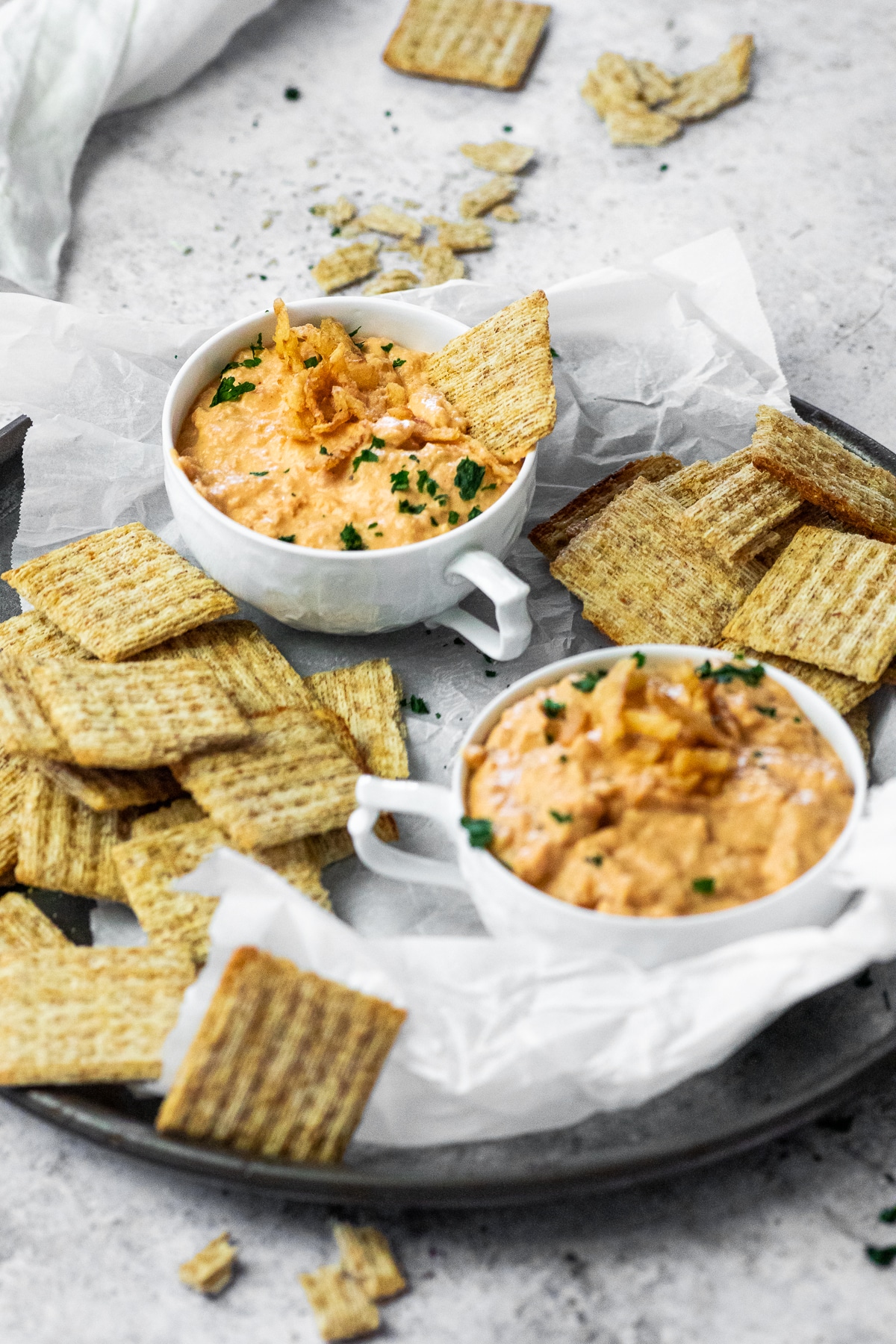 Leftover Storage
Fridge
Do you have leftovers from the onion dip? No problem, you can keep them in the refrigerator in a closed box for about 6 days. As mentioned above, you can also easily prepare it in advance.
Freeze
You can also freeze the dip well. Simply put in portions in containers and then freeze. The vegan dip lasts there for about 4 months.
Thawing
To defrost, simply remove the dip out of the freezer one evening beforehand and let it thaw in the refrigerator. Stir again shortly before serving so that it becomes loose and creamy.
If the dip is too viscous, simply add a little unsweetened plant milk.
Serving Options
Here I show you briefly what you can serve the dip:
Potato Chips
Tortilla Chips
Cracker
Pita Bread
Vegetable Sticks
Pretzel Sticks
More vegan dips
Spinach Artichoke Dip from the snails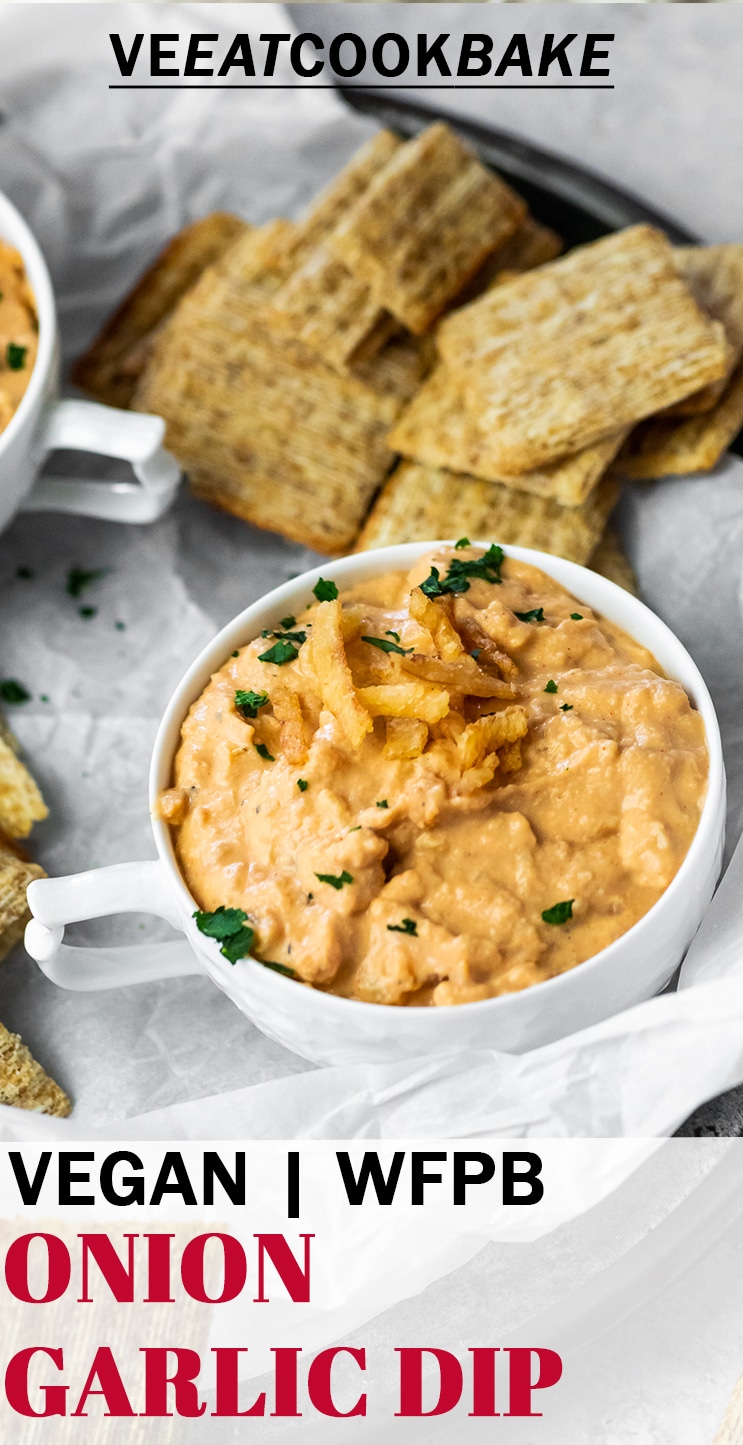 Have you tred the recip
If you tried the vegan Recipebe so nice ♥ and let me knw byrating the recipe and writing what you think about it in the comments.  I would love to see your photo on Instagram orFacebook. To do this tag me with @veeatcookbake andmy hashtag is #veeatcookbake. So that I can see your creation. Did you know you can add photos n Pinterest under the recipe Pin? I can't wait to see a photo of your creation here. You find me with @veeatcookbake