A refreshing red lemonade that goes perfectly in summer as a refreshment on hot days. This party drink is ideal if you are spending a day in your garden.
This sugar-free lemonade is made from strawberries, basil, lemons and grape juice and does not contain any added sugar. And is therefore suitable for a vegan and wfpb diet.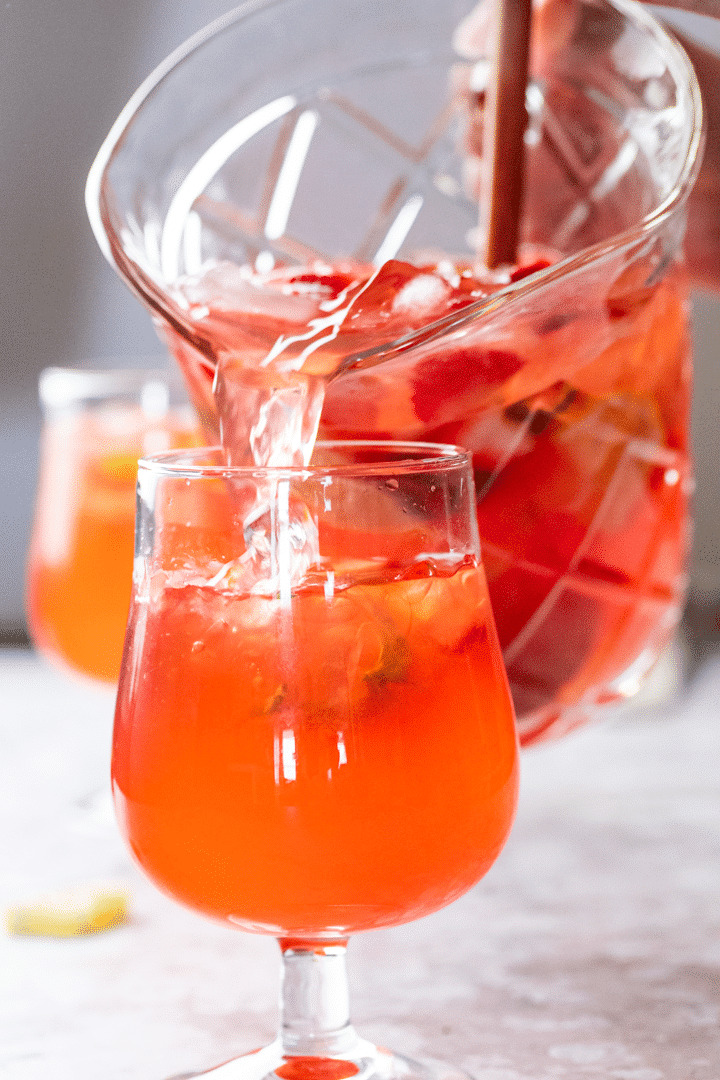 In case you wonder about the taste of the lemonade. Mixed basil and strawberries? Then you should definitely try drinks with herbs and fruit. For example blueberries with a little rosemary.
In addition to the refreshing fruity taste and the sparkling water, basil makes the lemonade even more refreshing.
And what is better than a refreshing drink on a hot summer day? The classic lemonade becomes a strawberry lemonade with the hint of basil.
You can also make this lemonade in small quantities and enjoy it alone on a lounger in your garden.
What do I need for a sugar-free strawberry and basil lemonade?
Here I show you a brief overview of which ingredients are included. You can find the exact amount below in the recipe card:
Light Grape Juice

Fresh or Frozen Strawberries

Fresh Basil Leaves

Lemons

Sparkling Water

Gin or Vodka, optional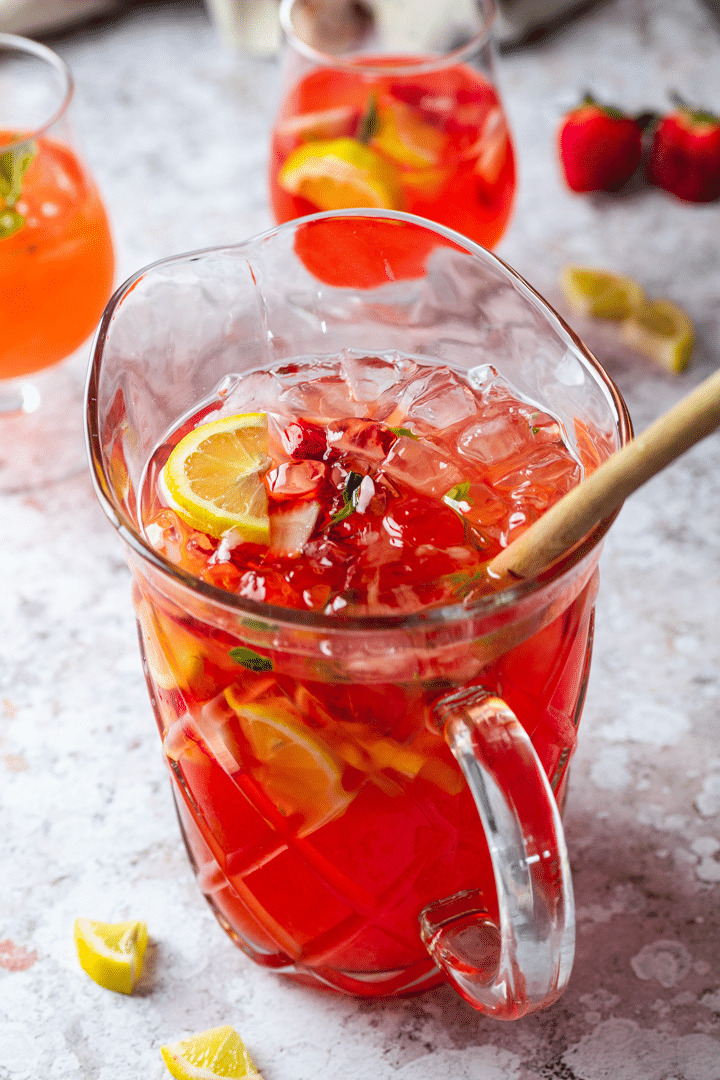 Can I use frozen strawberries?
You can also use frozen strawberries. For example, if you want to enjoy strawberry lemonade in winter. You can also use different berries, e.g. raspberries or blackberries. I can also very well imagine a cherry lemonade.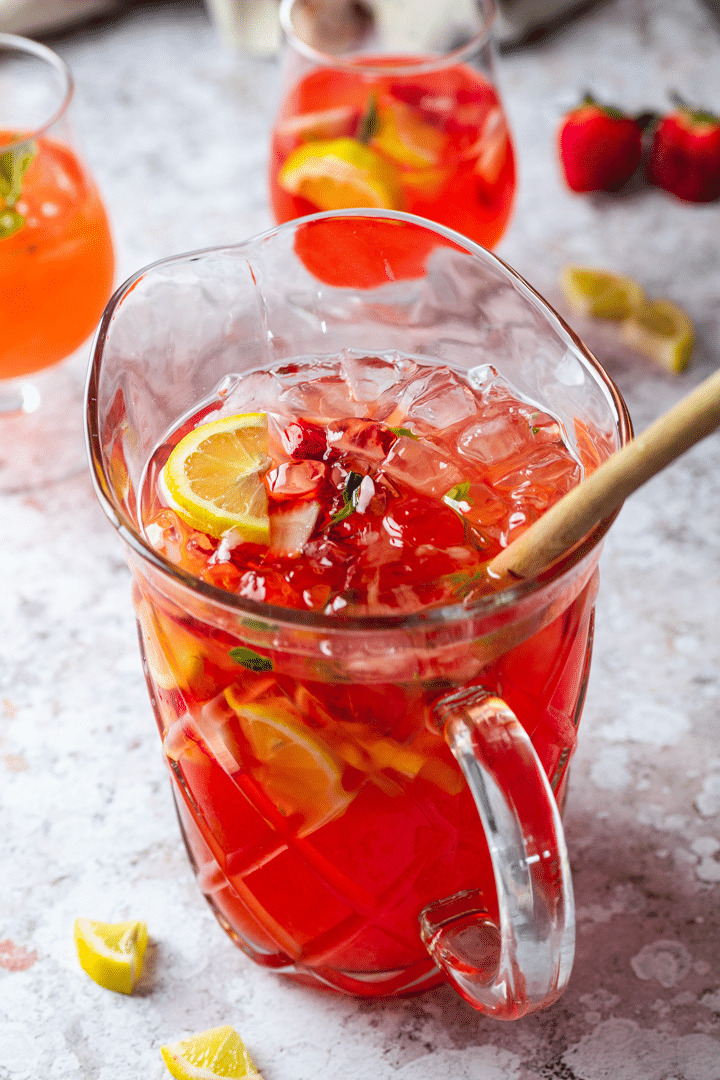 What to make with the leftover lemonade?
Do you have some lemonade left but you do not know what to make with it? We love to fill it in popsicle molds and freeze them. My kids and I can enjoy some refreshing popsicles through the summer.
How do I prepare a strawberry and basil lemonade?
Put the grape juice, strawberries (leaves removed) and basil in a saucepan and let it cook until the strawberries are soft.
In the meantime, squeeze the lemons and pass the juice through a mesh strainer.
Mix the juice with sparkling water, you can also use water if you don't like sparkling water. Now fish the basil leaves out of the strawberry juice and puree them with an immersion blender.
Now pour the puree through a mesh strainer or nut milk bag to get a juice without pieces. Add the strawberry and basil juice to the lemon juice and taste it. If the lemonade is not sweet enough for you, you can add more grape juice to your own taste.
Tips:
If you want to enjoy the strawberry lemonade with a straw, then you should definitely sieve the lemon juice and the strawberry juice. We use such silicone straws.

The recipe is designed without refined sugar. If the lemonade is not sweet enough for you, you can also sweeten it. For this you can use monk fruit powder.

If you don't like basil, use mint.
Do not forget to Pin on Pinterest
Have you tried the recipe?
If you tried the Lemonade, be so nice ♥ and let me know by rating the recipe and writing what you think about it in the comments. Tag me on Instagram too. I am @veeatcookbake and my hashtag is #veeatcookbake.
So that I can see your creation. Did you know you can add photos on Pinterest under the recipe Pin? I can't wait to see a photo of your creation there. You find me with @veeatcookbake. I also would love to hear your feedback, so I can share it on my social media channels.

This post may contains affiliate links and I may receive a very small commission if you buy through these links at no extra cost. Thank you very much for supporting Ve Eat Cook Bake! More information can be found here.
---