Who doesn't love a rich and creamy mac & cheese? That cheesy, comforting deliciousness that fills your belly with warmth and always brings you back for one more bite. What if we told you that there is a healthier way to experience the same flavor without all the dairy products that can be hard on your stomach?
Well, here it is! Our plant-based Healthy Dairy Free Mac and Cheese recipe will tantalize your taste buds while nourishing your body at the same time with whole food ingredients. Let's get ready to get cozy!

This recipe pairs well with a vegan meatloaf, roasted brussels sprouts, sloppy joes.
As an Amazon Associate, I earn from qualifying purchases. This post may contain affiliate links. Read More
Jump to:
Ingredients
This easy vegan mac used simple ingredients and is made pretty quickly. A quick list of the ingredients, no need for real cheese.
You can find the ingredients with quantities and the recipe to print out on the recipe card below.
Pasta of your choice
raw cashews
nutritional yeast
garlic powder
onion powder
Dijon Mustard
sea salt or pink salt
tapioca starch
psyllium husk powder
coconut bacon
Apple Cider Vinegar or Lemon Juice
Black Pepper Seasoning
Crunchy Topping: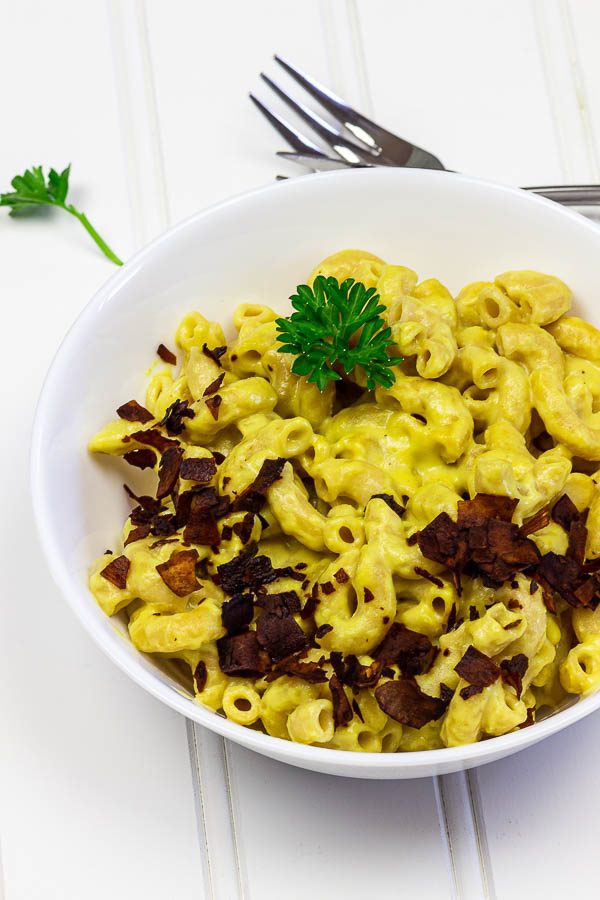 Instructions
First thing, put all the ingredients for the sauce in a high-speed blender and blend until a creamy consistency is obtained. And season with the above spices again.
In the meantime, prepare the coconut bacon and cook the pasta al dente according to package directions.
Heat the sauce in a saucepan on medium heat. Until you get this cheese-like consistency.
Mix the cooked pasta with the sauce and arrange on plates. Sprinkle coconut bacon over it.
Make this creamy vegan mac, you can check out my pumpkin mac and cheese, mac and cheese instant mix and my other vegan pasta recipe for easy dinners.
Substitutions
Pasta: You can use elbow pasta like in the classic mac or use gluten-free pasta like brown rice pasta, lentil pasta. You can also make zoodles.
Cashews: To make a creamy sauce you can either use cashews, sunflower seeds, pumpkin seeds. Try a combo of seeds/ nuts with white beans, those will make a creamy texture as well.
Nutritional Yeast: We will not use vegan cheese, so we need something to add that cheese taste. This is why I cannot recommend substituting nooch.
Water: We will blend cashews with water, but you can also use veggie broth, almond milk or coconut milk.
Psyllium Husk Powder: You can omit this, this ingredient will add a nice stringy cheesy texture to your vegan cheese sauce.
Variations
Nacho Mac and Cheese: Add some smoked paprika, chipotle powder, green chilies. Top it with some crushed tortilla chips.
Cheeseburger Style: Add some dill pickles, dried dill and tomato paste to your vegan macaroni.
Greek Style: Add oregano, dill or some Greek seasoning.
Cajun: You love it a little spicy? Add some Cajun Seasoning or chili powder, paprika powder.
Spinach: Add some spinach to the blender, and you will get a nice green sauce for your healthy vegan mac.
Equipment
Some kitchen tools that will help you to make this ultimate vegan mac.
Storage
Leftover of dairy-free mac? Luckily, those store pretty well in an airtight container in the fridge for about 4-5 days. Warm it up on the stove top with some almond milk or other non-dairy milk to make them creamy again. You can also freeze this creamy cheese sauce. I recommend only the sauce and cook some fresh pasta to make a quick, simple vegan mac.
Pro Tip
Let the sauce simmer on low heat until it is creamy to your likening. Add a little more water if the sauce becomes too thick.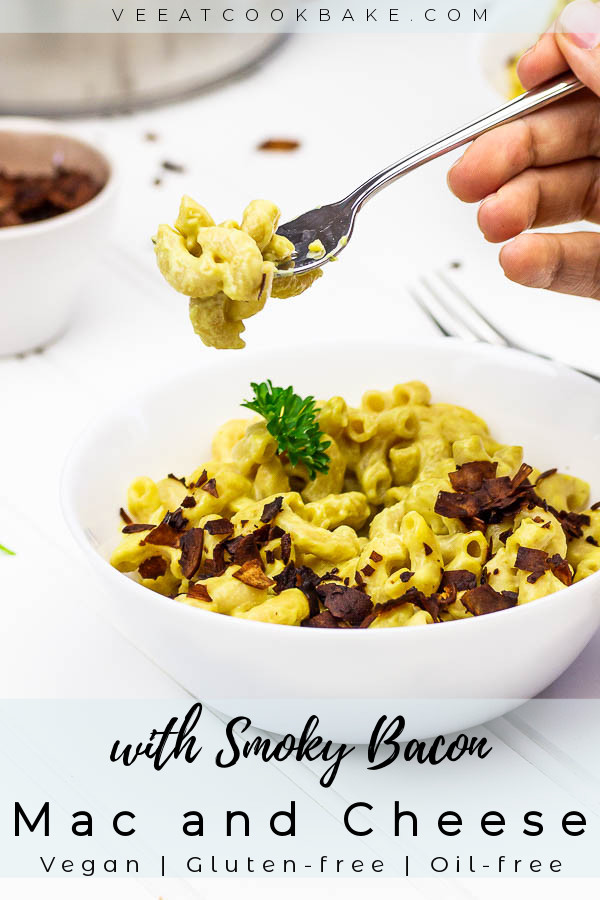 FAQ
How to make vegan mac and cheese so cheesy?
With the right spice combination, you get an amazing cashew cheese sauce for the vegan Mac and Cheese, which comes quite close to the taste of Cheddar. With nutritional yeast, garlic and onions get the typical umami taste.
Are vegan mac and cheese gluten-free and nut free?
The sauce for my Mac and Cheese is gluten-free. Take gluten-free noodles to eat a completely gluten-free dish. If you can not eat nuts, then you can just change the cashews here. I also like to take sesame seed or pumpkin seeds. The pumpkin seeds make the sauce of the vegan Mac and Cheese greenish. Please do not substitute by weight, but by volume. Like a handful of cashews and a handful of sesame seeds. Not 20g cashews and 20g sesame.