Vegan kebab with a homemade whole grain flatbread, a vegan version of the classic Ayran yogurt sauce and the classic filling of tomatoes, onions, white coleslaw and red cabbage salad. If you, like me, eat or have eaten doner kebab, but would like to try a healthier twist on classic kebabs, you'll find a great recipe here.
vegan | vegetarian | oil-free | wholesome| free | milk-free | sugar free | lactose free | gluten-free opt. | whole food plant-based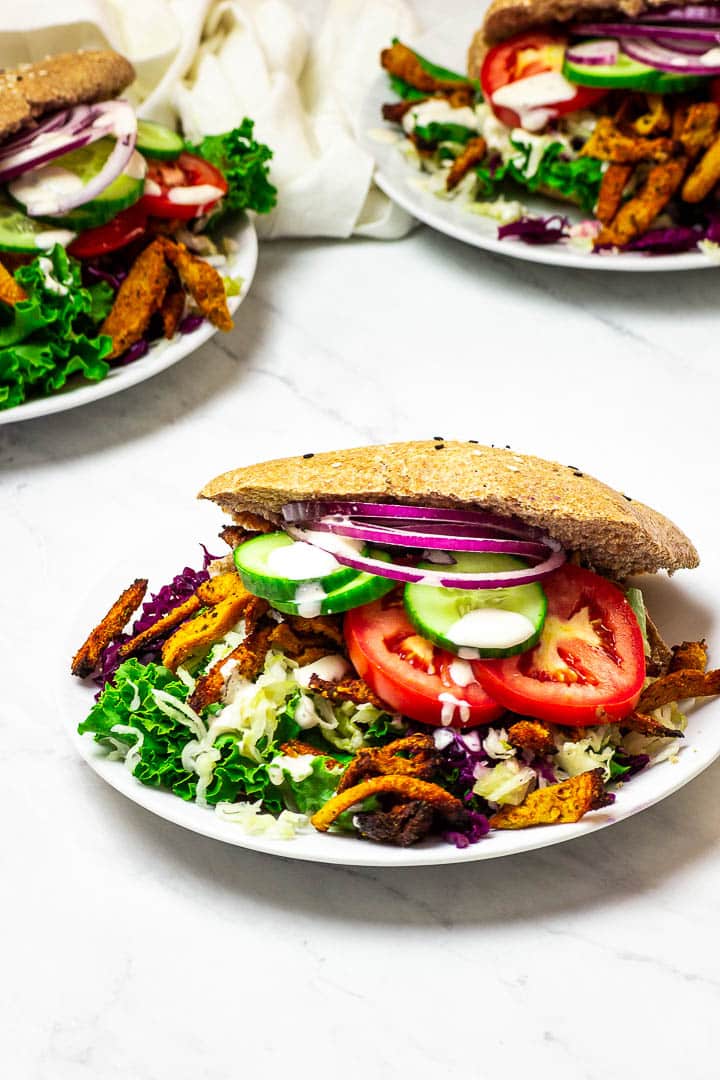 Does it feel like decades since you ate a doner kebab last and you're not lucky enough to live in a big city with a vegan doner kebab option? Then you found the right spot here. Here you will find a recipe for delicious marinated kebab "meat" of soy or seitan basis, classic cabbage salad, healthy whole grain flatbread, and to top it off, the sauce that completes the sandwich.
How is a vegan kebab prepared?
In principle, a kebab is easy to prepare. What you need for a kebab is "meat", vegetables, flatbread and a tasty garlic sauce. Basically, all you need is a vegan meat alternative and a sauce alternative. And of course I provide you with great great recipes that will be well received by the family.
What is the classic filling of a kebab sandwich?
A classic kebab is served in a bread. Here, a sandwich is prepared with the famous doner meat, lettuce, coleslaw, onions, tomatoes, pfefferoni and the delicious garlic sauce that makes your meal perfect. Additionally, you can still order feta cheese. Surely you are asking yourself, how can I make the kebab healthier and vegetarian / vegan?
What can I use as a meat substitute for a vegan kebab?
In this picture, we used soy curls. We soaked the curls in vegetable broth and cut into fine strips. Afterwards, the soy curls were marinated for about 30 minutes. And marinating is the most important step; only with the marinade do you get the authentic doner flavor in your meat alternative.
If you do not tolerate soy, you can also season seitan (made from gluten flour) here. Cut this thinly and then marinate.
So that your kebab meat alternative become crispy as the original. I put the marinated strips on a baking sheet laid out with baking paper and let it roast in the oven until the desired color and crispness has been achieved.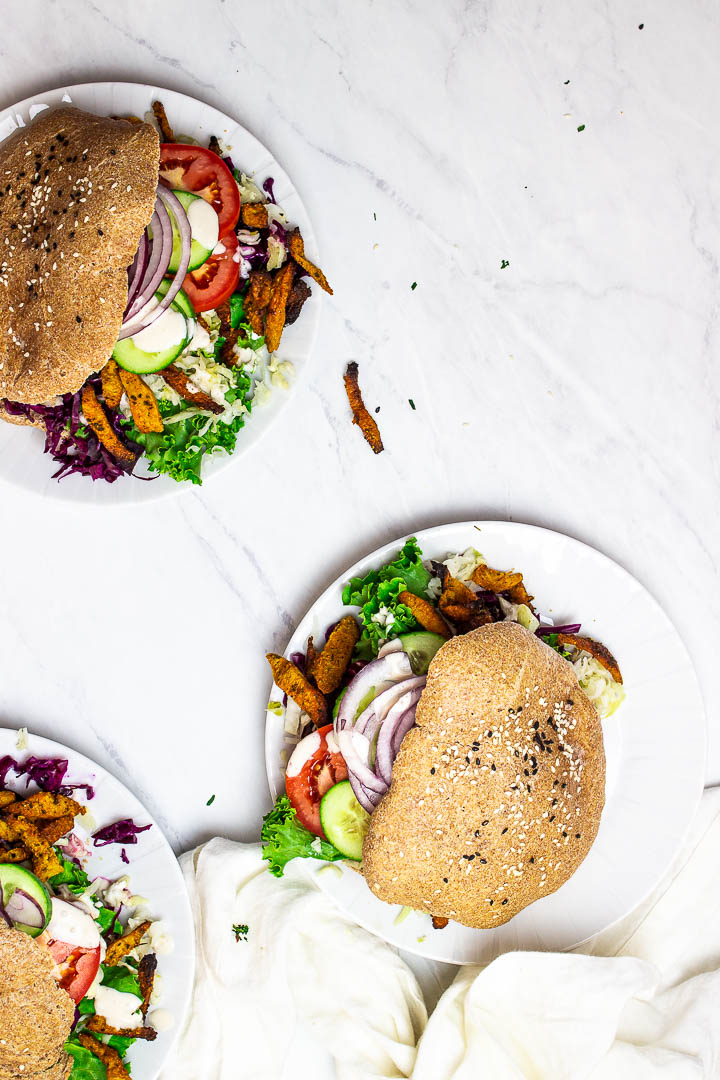 Which sauce is suitable for a vegan kebab?
If you remember, you have a decent garlic taste in your mouth after a doner kebab, and the next morning your whole bedroom smells like garlic. Who can remember that?
I can remember that pretty well. We will also prepare a vegan garlic sauce based on yogurt and the original will be made based on the Turkish yogurt drink Ayran. By the way, you can find my recipe for this garlic sauce here.

Tips for making a vegan Doner Kebab Sandwich:
I prefer to prepare the soy curls the evening before. For this I leave the marinated strips for the kebab sandwich in the fridge overnight.

It is totally easy to use no oil when roasting. You can either fry the vegetarian kebab meat in a coated pan or if you are lazy as me, use the oven. I put the soy strips on a baking sheet and bake them there.
If you do not tolerate soy and / or gluten or you do not have soy curls at home. Just take mushrooms or thinly cut tofu slices and season them with the marinade, or take Mediterranean vegetables as veggie kebab meat such as zucchini, eggplant, etc. and season it with the marinade and fry it in the oven just as I do with the soy curls / Seitan. Or try something new and you will not be bored of the kebab sandwich.
Instead of a classic doner kebab you can also make a vegan dürüm (wrap). Just take a wrap-bread and keep it like a normal doner kebab. Or prepare a vegan doner bowl and serve with some fries.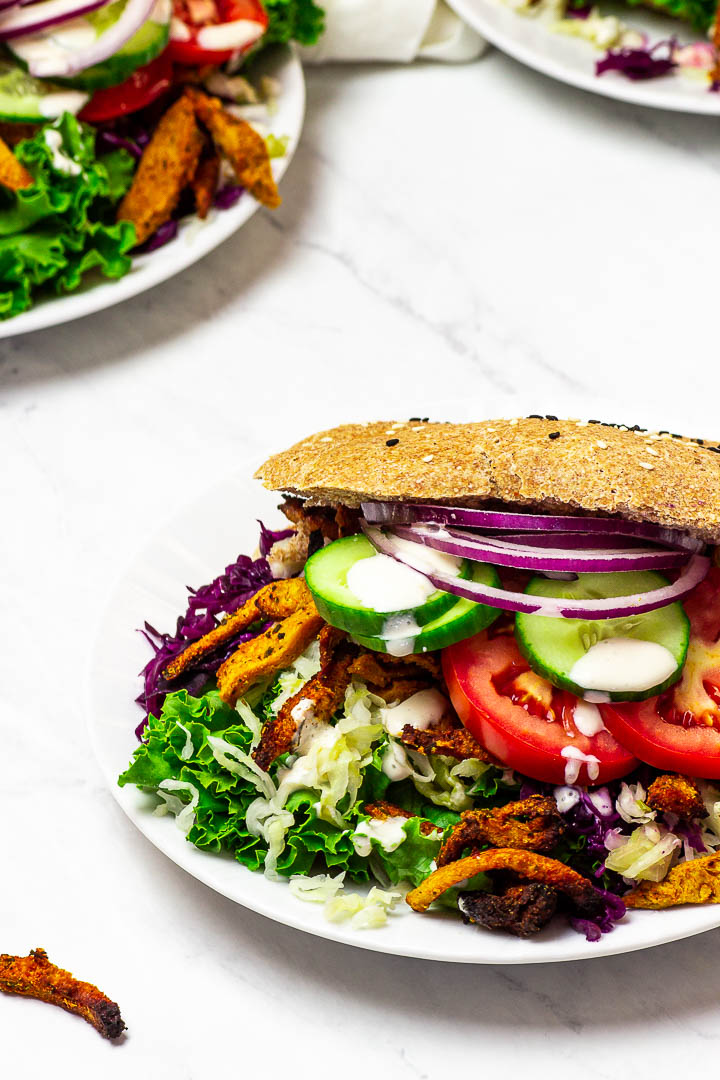 What do I have to prepare for the kebab?
For one, if you need kebab bread, here you can use my flatbread recipe. The flatbread is also suitable for freezing, so you can always have something on hand.
Marinating doner meat (look at the bottom of the recipe card). Prepare the evening before
Vegan yoghurt sauce with lots of garlic, you can prepare a few days before.
White coleslaw and red cabbage salad if desired, you can also prepare this salad a few days in advance.
Other cut vegetables
vegan feta cheese if you like doner kebab with cheese. My feta will stay in the fridge for a few days and you can use it for other recipes like the feta chickpea spinach pan. You can easily prepare it a week before.
Where does the kebab come from?
The popular doner kebab in Germany was sold for the first time in 1969 in Baden Württemberg (Reutlingen) by Nevzat Salim, not in 1972 in Berlin which is often believed. However, it is disputed when it was sold first. It is certain that the doner kebab has been in Germany for a long time and that it was brought to Germany by Turkish guest workers. Doner kebab is today like Currywurst and Hamburger, one of the most popular German fast foods. You find more and more kebab restaurants here in the states as well.
You like it? Do not forget to Pin on Pinterest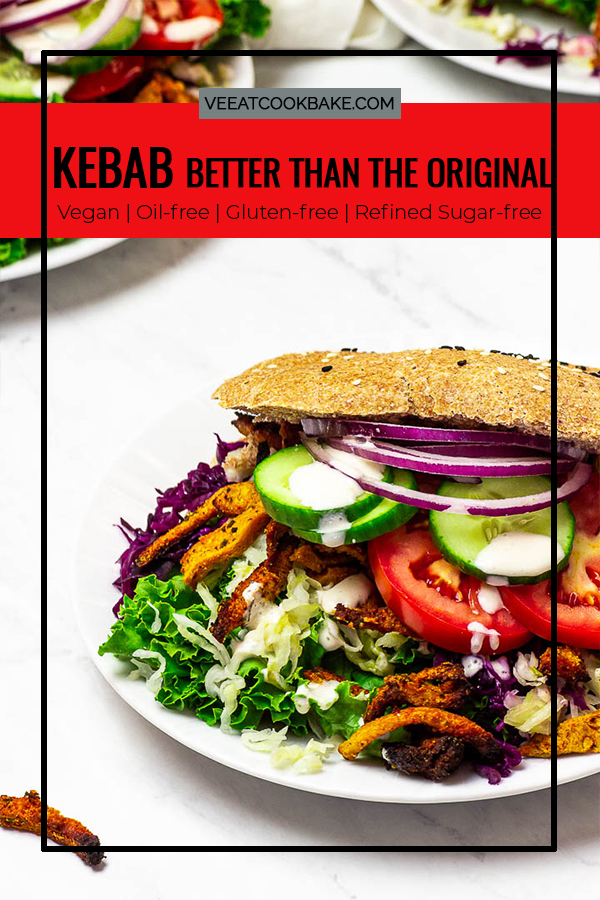 Have you tried the recipe?
If you tried the vegan Doner Kebab Sandwich, be so nice ♥ and let me know by rating the recipe and writing what you think about it in the comments. Tag me on Instagram too. I am @veeatcookbake and my hashtag is #veeatcookbake. So that I can see your creation. Did you know you can add photos on Pinterest under the recipe Pin? I can't wait to see a photo of your creation there. You find me with @veeatcookbake. I also would love to hear your feedback so I can share it on my social media channels.

This post may contains affiliate links and I may receive a very small commission if you buy through these links at no extra cost. Thank you very much for supporting Ve Eat Cook Bake! More information can be found here.
---