Have you always wanted to make a sugar-free iced tea with blackberries?
A refreshing blackberry iced tea made with fresh blackberries and a green tea, is the perfect refreshing drink on hot days.
This homemade ice tea is not too sweet, so that you can taste the full blackberry aroma.
Decorated with a few lemon slices and mint, you bring an additional refreshing taste to the summer drink.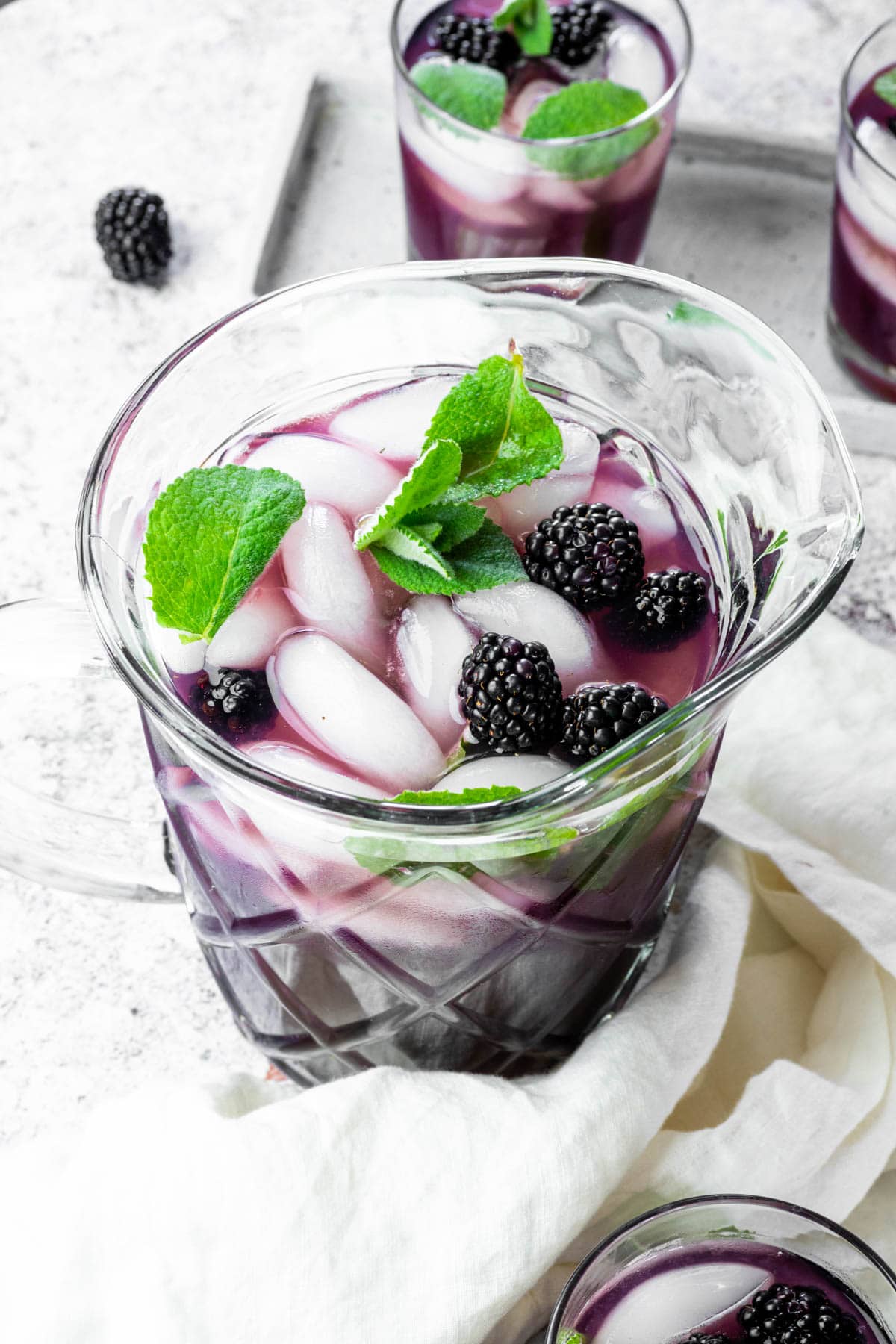 As an Amazon Associate, I earn from qualifying purchases. This post may contain affiliate links. Read More
This refreshing cold green tea with blackberries is not only suitable for barbecues or picnics, but the family will also enjoy it on a relaxing Sunday in your backyard.
I love a sunny summer day on the balcony with a refreshing ice cold drink. And this sugar-free blackberry iced tea is just right for such sunny days.
Would you like to learn how to make iced tea at home without using refined sugar (table sugar)?
Then you should definitely read on here. Here I will show you how to prepare iced tea in the usual way or how to make cold brew iced tea.
But that's not all, I'll also show you which teas are best suited for an iced tea. And what type I used for this tea.
Which teas taste cold great?
You would like to brew tea, but you are too warm for a hot tea. I'll show you briefly which teas we like to drink cold, from which you can quickly make an iced tea.
I like to prepare a large pot of tea and then drink it throughout the day. Most of the time the tea is relatively cold and these varieties taste cold and refreshing.
Peppermint has a refreshing taste, and I think with fresh mint you get the best taste. Make sure that you only use single leaves and no stems. Stems can make the tea a bit bitter.
Chamomile is even very good cold, used for example for gargling. The chamomile is said to have anti-inflammatory substances. But it is also very suitable as a tea.
Echinacea is another healing tea that is ideal for cold consumption.
Ginger tea fits all seasons. You can enjoy it both cold and warm. Ginger is a popular home remedy for colds.
Is Iced Tea Healthy?
Different teas have different health effects. The classic iced tea is made from green tea or black tea.
Now let's take a look at the green tea and what is said about it. Green tea is milder than coffee and is often better tolerated.
Green tea is an excellent source of antioxidants. These are intended to protect against cancer and diabetes.
Green tea is also said to strengthen the immune system against infection. It is also said that it protects from catching the flu.
With black tea, make sure that you only let it steep for as long as is recommended on the packaging. So you get the best taste and the tannins are controlled.
Black tea has many prejudices that it is more of an unhealthy type of tea. But it is also said to lower the risk of heart attack. It is also said to benefit the teeth, since this tea contains fluorides.
Did you know that black tea contains less caffeine than coffee? And that the adsorption happens rather slowly over the day?
That is why you shouldn't take a cup of tea in the afternoon, as this can lead to sleep disorders at night due to the caffeine.
Now I'm going to show you how to make iced tea without having to resort to white table sugar.
The tea is made in no time and can then be enjoyed over several days.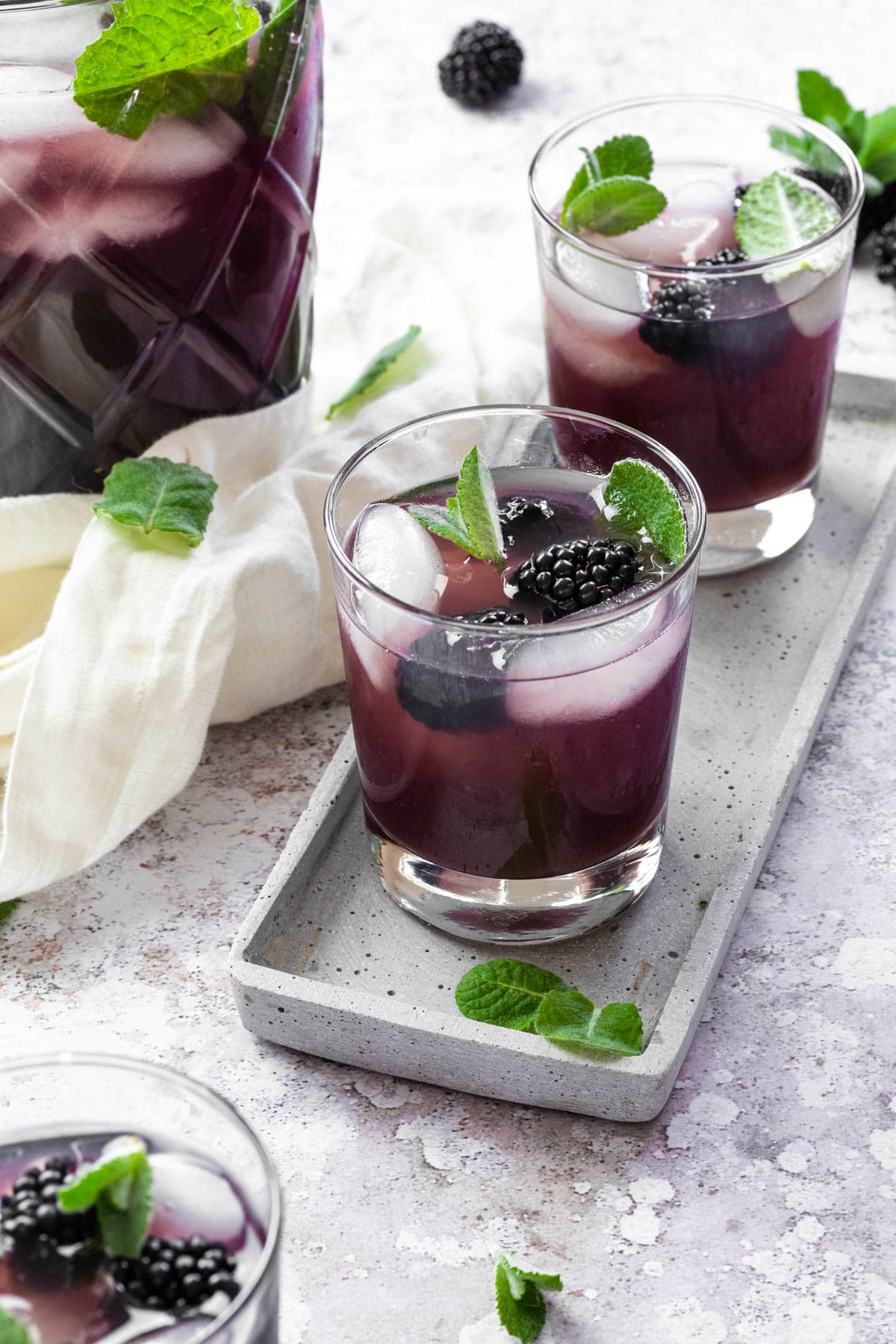 Ingredients
We only need a few ingredients to make this iced tea.
The exact amount can be found on the recipe card below.
Water
Green Tea
Blackberries
Sweetener (optional)
What types of tea can I use for iced tea?
I used this green tea for the refreshing beverage. This is caffeine free and my kids can enjoy the tea as well.
Of course, you can also use any other green tea. I use the one above because it is nice and mild and tastes slightly sweet.
Black tea is also great for making this tea. However, the iced tea then gets a little darker and does not get a nice purple color from the blackberries.
The black tea makes tea a little bitter and not as mild as green tea.
You can choose between green and black tea according to your own preferences.
What sweeteners can you use?
I have to say that since we use a mild green tea, and we used really sweet blackberries that weren't a bit sour, we didn't sweeten this tea at all.
If you want to sweeten the tea, you can also use unrefined sweeteners. For example, you can sweeten with date puree, simply add the dates to the blackberries and sieve them.
Have you ever heard of monk fruit powder? This fruit is really sweet and is often used as a sweetener. You can of course also use maple syrup or coconut sugar.
I recommend that you prepare the tea and let it steep and then taste it before adding sweeteners.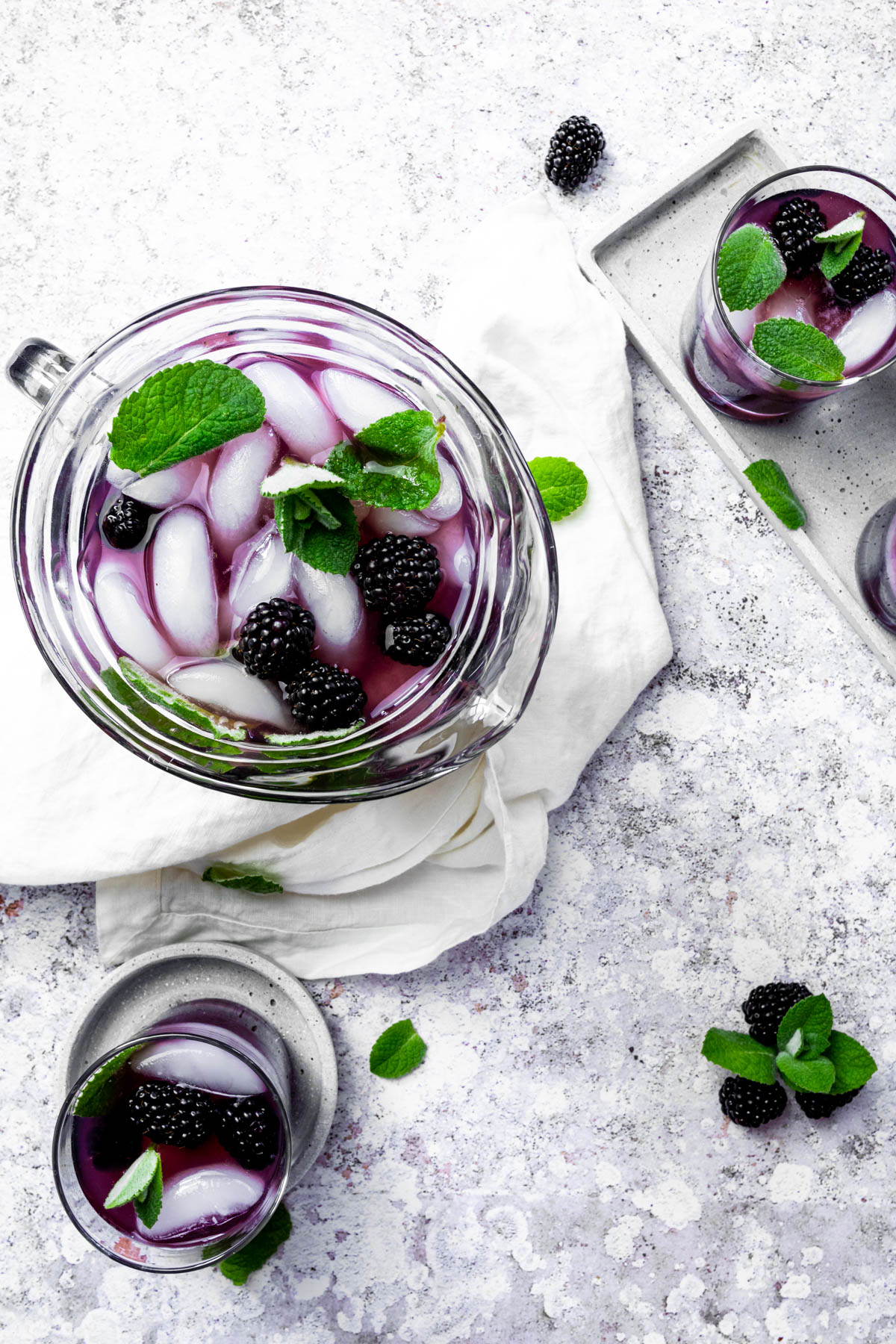 Instruction
Start to crush the fresh blackberries. If you want, you can push them through a sieve so that you don't have pieces in your tea.
Pour the blackberry juice in a sufficiently large jar.
Now boil the water for the tea and add the correct amount of tea according to the instructions of your tea. If you use loose tea, use a reusable tea bag.
When the tea is brewed, remove the tea bag and add it to the blackberry juice. The hot water helps to concentrate the taste of the blackberries.
Let the tea cool to room temperature.
Now put the iced tea in the fridge and let it steep for about 2-3 hours.
For serving, add ice cubes, lemon slices and fresh mint, as well as whole blackberries.
Can I prepare the tea in advance?
This tea can even be prepared very well in advance. Simply prepare the tea 1-2 days beforehand and store in the refrigerator. This is how it develops its taste.
I want to make the tea spontaneously, how do I get it cold quickly?
You expect guests spontaneously and want to serve this tea.
No problem, continue as in the instructions and when it comes to cooling the tea, add ice cubes to the tea. Add so many that the tea cools down quickly.
How do I prepare a cold brew blackberry iced tea?
With cold brew iced tea, which is infused cold, many aroma substances remain, which allows it to develop properly.
With cold infused blackberry tea, it is important that you use more green tea. Otherwise the tea can be pale and without much taste.
Do the same with the blackberries as with the conventional method. Now add the ice-cold water to the blackberries and about 0.8 oz (24 g) of the green tea. You can also use white tea. Both varieties are mild and slightly sweet.
Black tea is not very suitable for the cold brew, since it is rather tart and loses its fruitiness. But it is of course to your own preferences.
Now you can leave the tea in the fridge for between 8 and 24 hours before removing the tea leaves.
Storage
The iced tea is very suitable to store in a refrigerator in a closed container. It lasts there for 3-4 days.
Can I also freeze the iced tea?
Yes, you can do that very well. You can either freeze the iced tea in ice cube molds. You can also freeze it in portions.
We like to make popsicles out of it. I take Popsicle molds and fill the iced tea in it and put it in the freezer, so we have an ice-cold refreshment on hand.
My kids are crazy about popsicles, so I can offer them a healthier alternative.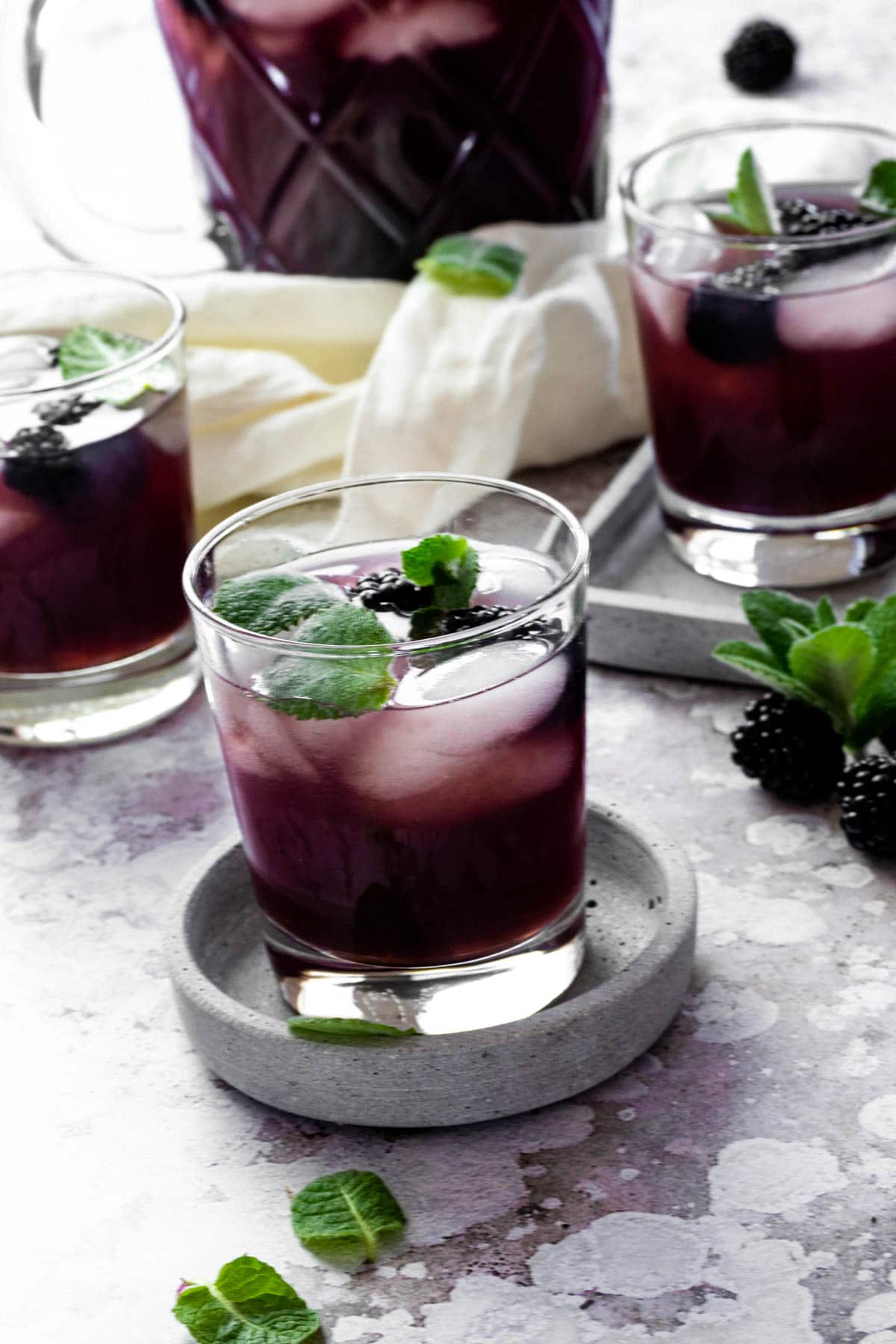 More vegan Beverages:
Vanilla Lavender Iced Matcha Latte from Real Simple Good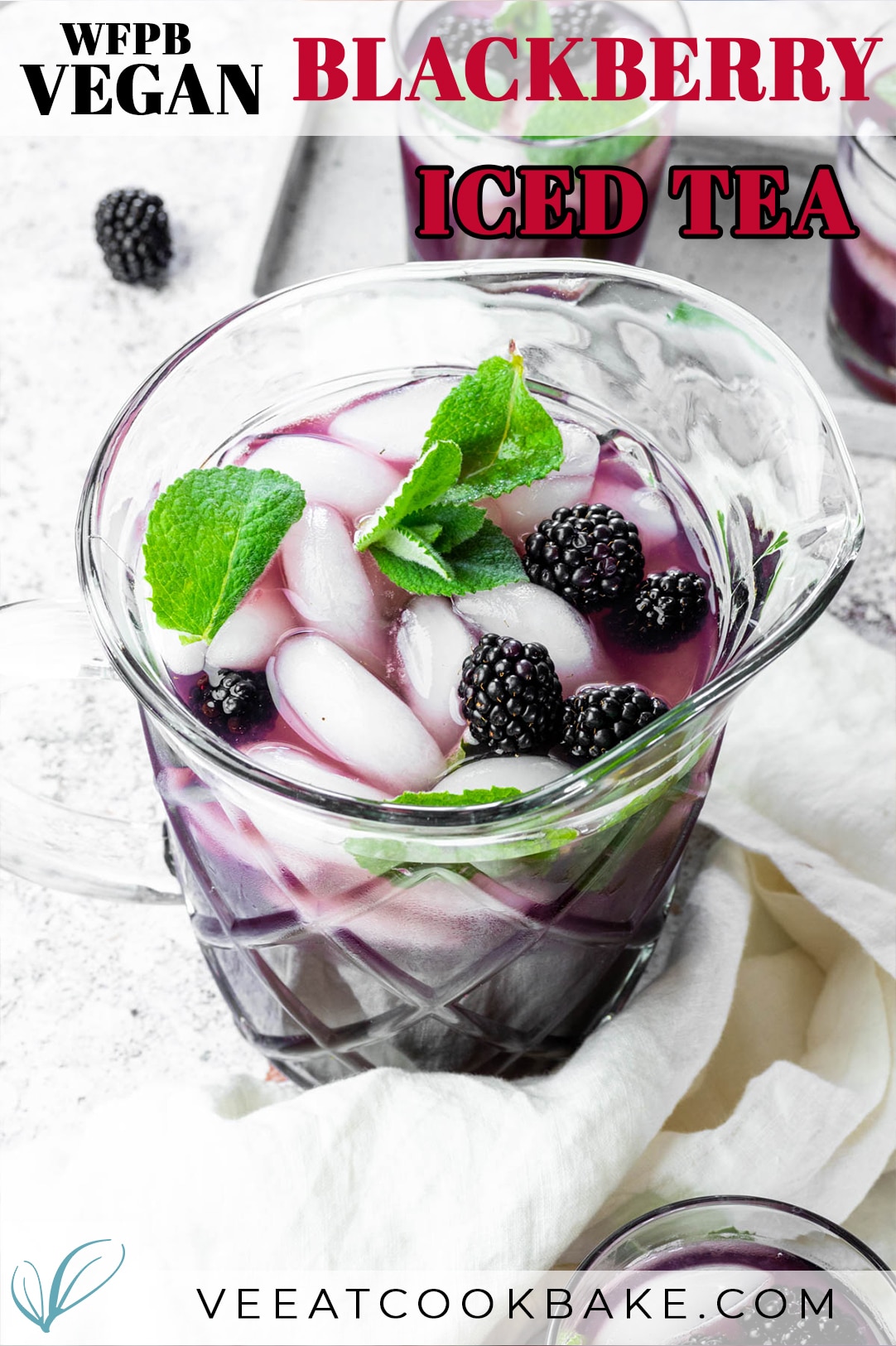 Have you tred the recip
If you tried the vegan Recipebe so nice ♥ and let me knw byrating the recipe and writing what you think about it in the comments.  I would love to see your photo on Instagram orFacebook. To do this tag me with @veeatcookbake andmy hashtag is #veeatcookbake. So that I can see your creation. Did you know you can add photos n Pinterest under the recipe Pin? I can't wait to see a photo of your creation here. You find me with @veeatcookbake