If you're looking for an easy-to-make vegan dinner dish, then this sticky, sweet and sour tofu is a must-try. Not only is it quickly prepared, but it also comes with various sauces like soy sauce or other flavorings to suit your taste!
Plus, being refined sugar free-, oil free-, and WFPB-(Whole Food Plant Based) friendly makes this the healthy Asian take out alternative you've been searching for. Give this tasty recipe a go - trust us: You won't regret trying something new in the realm of delicious asian cuisine!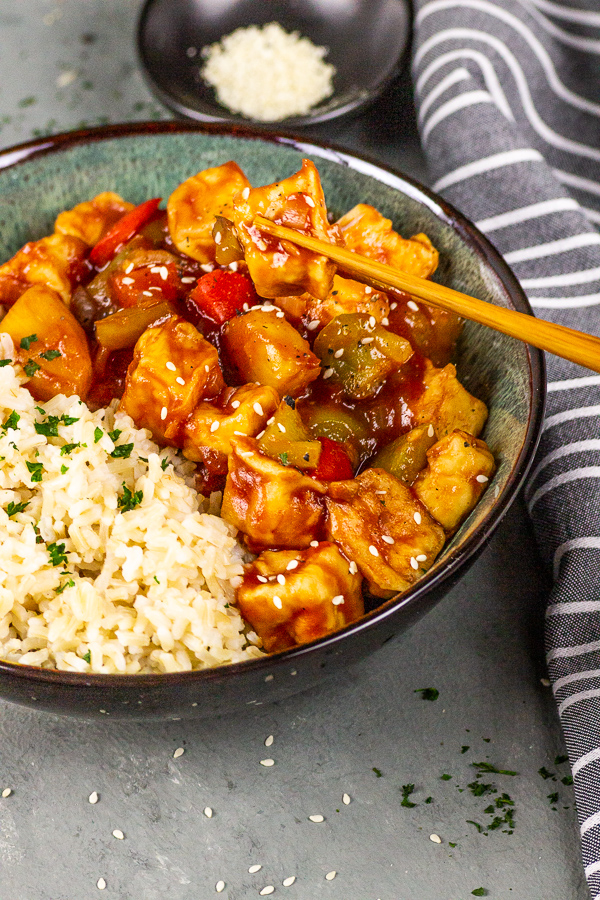 This recipe is inspired by my vegan chop suey recipe.
As an Amazon Associate, I earn from qualifying purchases. This post may contain affiliate links. Read More
Ingredients
A list of the simple ingredients you will need to make this sour tofu stir fry.
You can find the ingredients with quantities and the recipe to print out on the recipe card below.
extra firm tofu
cornstarch
Aquafaba
flour
bell peppers
pineapple chunks, I like to take fresh pineapple
Sauce Ingredients
vinegar
pineapple juice
salt
tomato paste
soy sauce
water
roasted sesame seeds
cornstarch
Instruction
Press tofu in a tofu press. Then dice it in about 1 cm (0.5 inch) thick bite-sized pieces. Put the cornstarch in a bowl with a lid. Add the tofu and shake with the lid closed.
So that all parts of the Tofu are covered with corn starch, but should not be thick just thin covered
Now mix the flour (I take whole wheat flour) with the baking powder neatly.
First dip the tofu into the aquafaba and then into the flour mixture. And spread on a baking sheet lined with baking paper.
Now bake for approx. 15-20 minutes at 350 F (175 F), until the flour is nice and firm on the outside, could take a little longer.
Mix the ingredients for the sauce.
Dice the bell peppers and sauté with the pineapple cubes in a large pan or large wok on medium high heat and deglaze with the sauce.
Now add the crispy tofu pieces and give a quick stir. This will absorb the sauce nicely and become nicely sticky as in the photo.
We serve a fresh bed of rice.
Hint: You want little extra sauce, make double the sauce recipe.
Make this tangy sauce recipe, check out my chicken style crispy baked tofu, thai red curry, pad thai, tofu scrambles.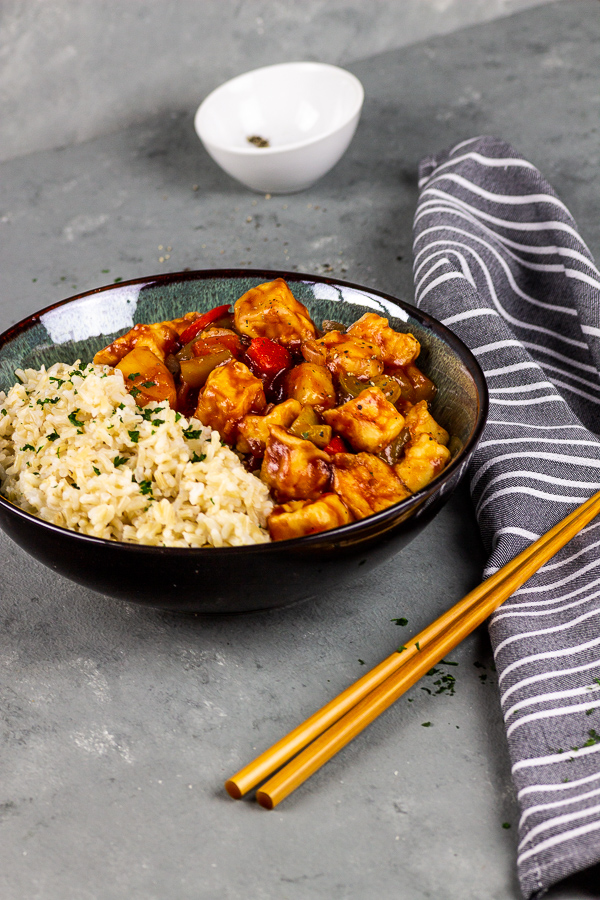 Substitutions
Tofu: If you try not to consume soy, whether for health or other reasons, then I have an alternative for you here without giving up the stickiness. Here comes the cauliflower into play. Cauliflower is simply a perfect substitute for tofu. We also prepare this glazed tofu with cauliflower. Sweet and Sour cauliflower tastes heavenly. You prepare it just like the tofu. However, instead of pressing the tofu, put it in water for a short time so that the cornstarch sticks to it. And again, make sure that the cornstarch is just hanging on the cauliflower. And then you continue with aquafaba and flour. Which sauces do you love with sticky tofu?
Flour: I prefer whole wheat flour, but you can also use different flour like gluten-free flour, chickpea flour.
Soy Sauce: Instead of soy sauce, use tarami sauce or coconut aminos.
Sesame Seeds: Instead of sesame seeds, you can use tahini. I love to use the seeds instead of the sesame oil. The roasted sesame will add a nice flavor like the oil.
Cornstarch: Instead of cornstarch, you can also use potato starch.
Pineapple Juice: I love to use pineapple juice for this sweet sour sauce. You can use maple syrup or date paste instead.
Variations
Spicy: You want your sweet and sour tofu a little spicy, add some red pepper flakes.
Vegetables: Add stir-fry veggies, like green beans. Or simply top off some cooked veggies.
Equipment
Some kitchen tools that will help you to make this chinese takeout recipe.
Storage
Fridge: Store the leftovers of this vegan sweet sour tofu in an airtight container in the fridge. It lasts for 5 days.
Freezer: You can easily make the sauce in bigger batches and freeze it. In this way you have always some sauce prepared. Just thaw it the evening before. For this, I put the frozen sweet sour sauce in the fridge and let it thaw there.
Meal Prep
Prep it in bigger batches. A recipe the whole family will love.
Tips & Tricks
What is important is that you first wrap it with a flour and then fry it or bake it in the oven before adding it to the sauce.
With the help of the firm outer layer of the tofu, it does not get soggy, and you have the perfect basis for a sticky glazed tofu.
My children love it, and we make it pretty often.
FAQ
What is Tofu?
Tofu is way more interesting than you think! It all starts with humble soybeans, which are transformed into a creamy plant-based milk. This liquid undergoes some magical chemistry when it's coagulated and pressed to form the delicious white block we know as tofu—just like cheese from cow's milk.
Is sweet and sour tofu gluten-free?
Give your sweet and sour sauce a gluten-free twist! Substitute soy sauce with tamari or coconut aminos for a delicious depth of flavor. For an extra crunchy texture, add some cornstarch or tapioca starch to the mix, plus rice flour or chickpea flour as a thickener - your crispy tofu will thank you too!
Why is my tofu soggy?
Have you ever had tofu that turned out disappointingly soggy? It usually happens when you don't let it crisp up enough in the oven or air fryer before adding to your sauce. But here's a pro-tip: ditching cornstarch for arrowroot can also lead to extra squishiness. Extra-firm tofu will help that the tofu holds together.