sticky sweet sour tofu - a simple recipe to make the tofu tasty. You do not like tofu, then give this glazed (sticky) tofu a try.
The vegan tofu is quickly prepared and versatile with various sauces, whether sweet sour or a tangy soy sauce.
Make this vegan sticky tofu for your next Asian take out meal. This recipe is refined sugar-free, wfpb and oil-free.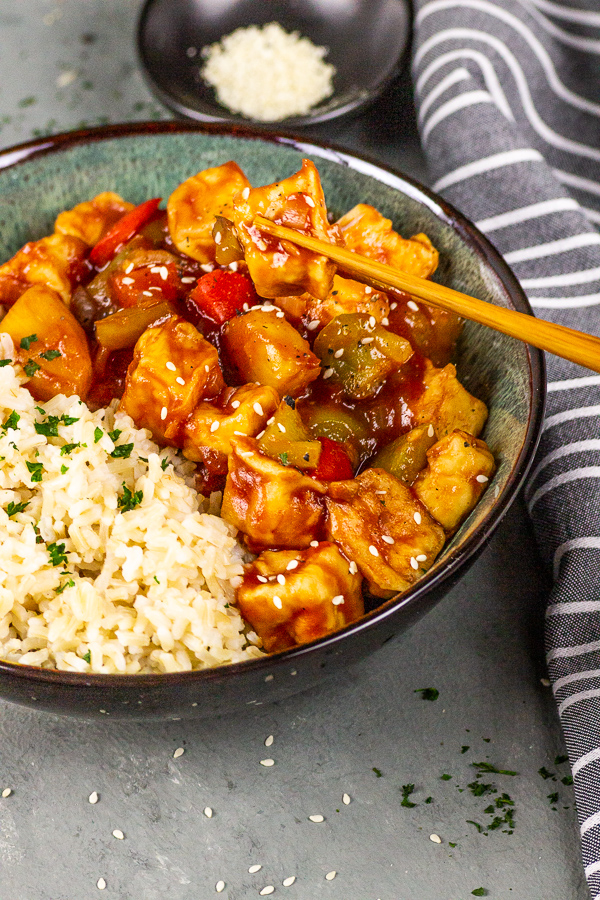 As an Amazon Associate, I earn from qualifying purchases. This post may contain affiliate links. Read More
This is an easy to make vegan dinner recipe. The asian sweet sour sauce is in no time prepared and easy to make in bigger batches.
When you love the Asian cuisine you should definitely try this amazing wfpb recipe.
Jump to:
Ingredients
These Ingredients are in the sweet sour Tofu. The exact amount is in the recipe card below.
tofu firm
cornstarch
Aquafaba
flour
baking powder
bell peppers
pineapple in pieces, I like to take fresh pineapple
Sweet sour sauce
vinegar
sugar
salt
tomato paste
soy sauce
water
roasted sesame seeds
cornstarch
Tofu Substitute
If you try not to consume soy, whether for health or other reasons, then I have an alternative for you here without giving up the stickiness.
Here comes the cauliflower into play.
Cauliflower is simply a perfect substitute for tofu. We also prepare this glazed tofu with cauliflower.
Glazed cauliflower tastes heavenly.
You prepare it just like the tofu. However, instead of squeezing the tofu, put it in water for a short time so that the cornstarch sticks to it.
And again, make sure that the cornstarch is just hanging on the cauliflower.
And then you continue with aquafaba and flour. Which sauces do you love with sticky tofu?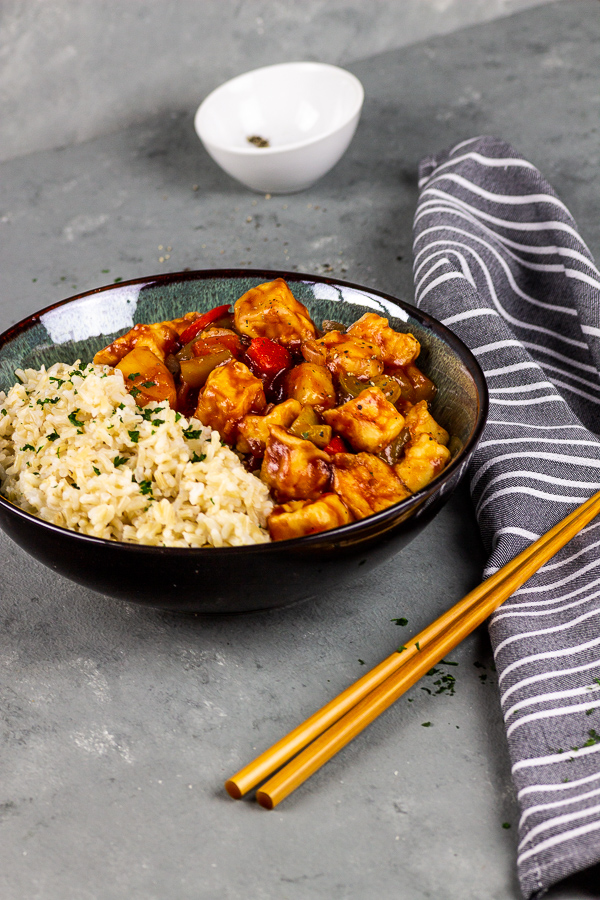 Instruction
Press the tofu. Then dice it in about 1 cm thick
Put the cornstarch in a bowl with a lid. Add the tofu and shake with the lid closed.
So that all parts of the Tofu are covered with cornflour, but should not be thick just thin covered
Now mix the flour (I take whole wheat flour) with the baking powder neatly
First dip the tofu into the aquafaba and then into the flour mixture. And spread on a baking sheet lined with baking paper.
Now bake for approx. 10 min at 180 ° C (350°F), until the flour is nice and firm on the outside, could take a little longer
For the sauce mix all ingredients
Dice the peppers and sauté with the pineapple pieces in a pan and deglaze with the sauce.
Now add the baked tofu, this will absorb the sauce nicely and become nicely sticky as in the photo.
We eat rice with it.
What makes this sticky tofu so special?
delicious and tastes like from a asian restaurant
quickly cooked
a comfort food
versatile
Tips & Tricks
You do not really need much and it's super easy.
What is important is that you first wrap it with a "dough" and then fry it or bake it in the oven before adding it to the sauce.
With the help of the firm outer layer of the tofu it does not decay and you have the perfect basis for a sticky glazed tofu.
My children love it and we make it pretty often.
Storage
Fridge
Store the leftovers of this vegan sweet sour tofu in an airtight container in the fridge. There it lasts for 5 days.
Freezing
You can easily make the sauce in bigger batches and freeze it. In this way you have always some sauce prepared.
Just thaw it the evening before. For this I put the frozen sweet sour sauce in the fridge and let it thaw there.
More vegan Asian Recipes: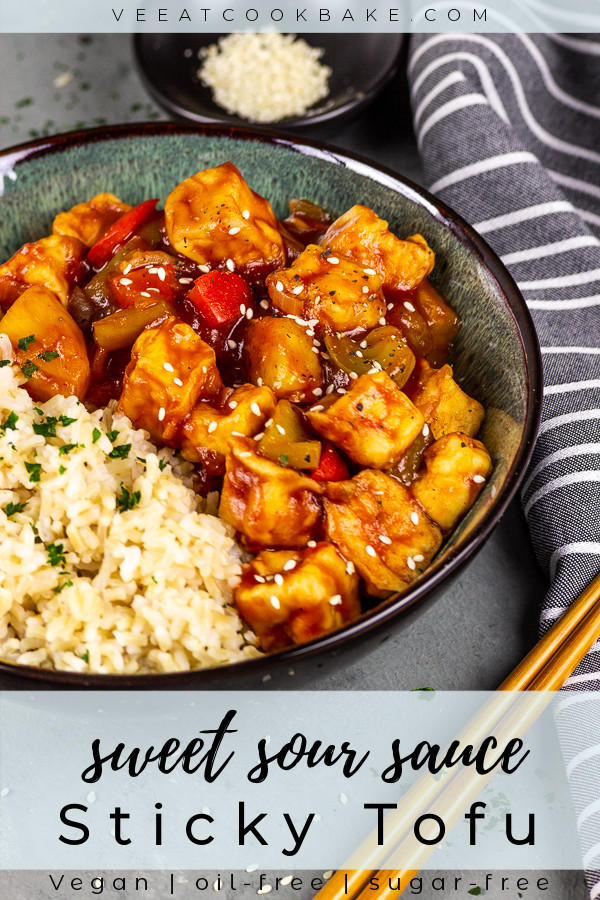 ---
Have you tried the recipe?
If you tried the vegan Recipe, be so nice ♥ and let me know by rating the recipe and writing what you think about it in the comments.  I would love to see your photo on Instagram or Facebook. To do this tag me with @veeatcookbake and my hashtag is #veeatcookbake. So that I can see your creation. Did you know you can add photos n Pinterest under the recipe Pin? I can't wait to see a photo of your creation here. You find me with @veeatcookbake.

Jump to: