Vegan Queso Dip is a quick and tasty Tex-Mex dip that just goes lightly spicy. We prepare the dip from cashews or sunflower seeds and the dip gets its authentic taste from the spices it contains.
This dairy-free and gluten-free Queso is prepared with whole foods and is made entirely without oil or sugar.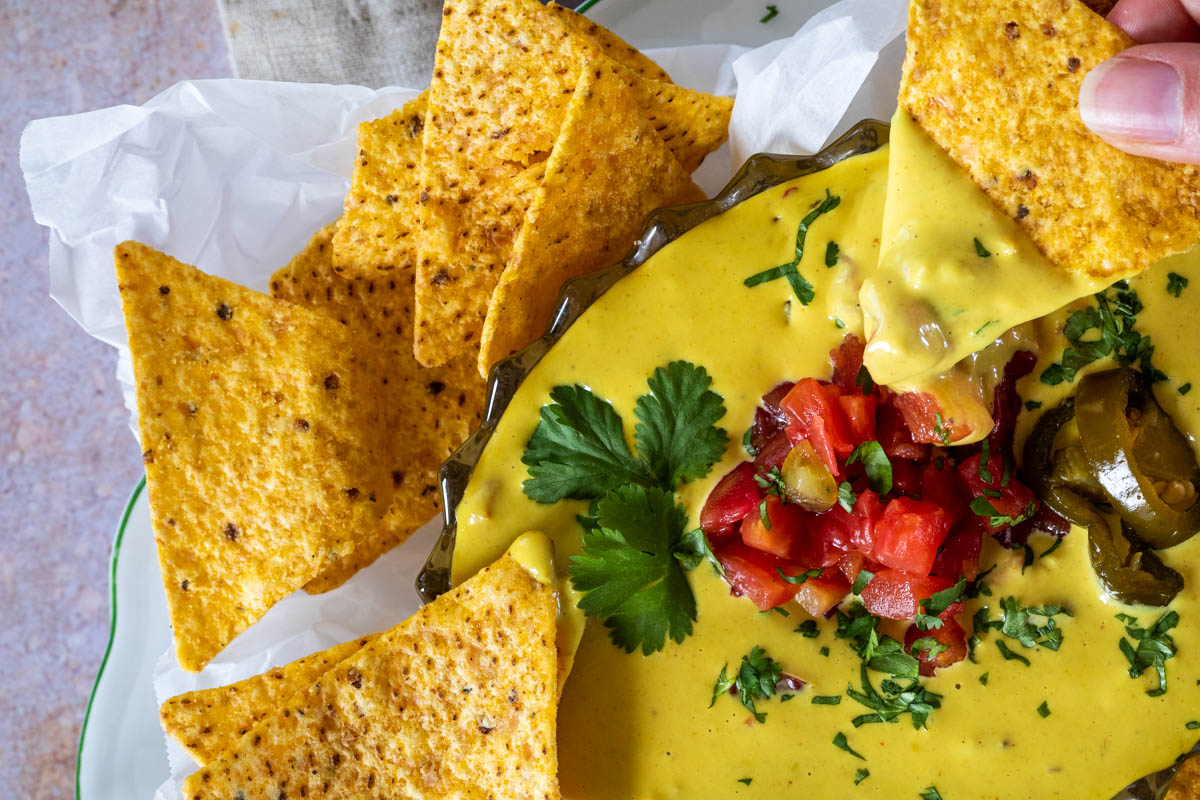 As an Amazon Associate, I earn from qualifying purchases. This post may contain affiliate links. Read More
Are you planning a party for the next football game, soccer game, World Cup or just a cozy evening with family and friends?
Then this vegan Queso Dip is just the right thing for dipping tortilla chips or vegetable sticks.
This dip is ideal as a snack, starter or simply if you are looking for something cheesy for e.g. a movie night.
I love all kinds of cheesy taste. Do you feel the same way? And how good it is that we can prepare so many things with a great cheesy taste in vegan without having to resort to dairy products.
And with this great vegan Queso Dip recipe, I want to show you that it is not difficult at all, but super easy. However, this requires a high speed blender.
If you've ever tried my vegan nacho cheese, then you know how great and authentic we can prepare something in vegan. And it is no different with this cheese dip.
What is the difference between nacho cheese and queso?
Both dips are very similar and I actually had to ask my husband (who is an American) what the difference is between them.
So far, I thought both dips were the same. Queso would only be the Mexican one. I have to say I was wrong. But both dips are relatively similar.
The biggest difference between the classic cheese dips is that the Queso Dip also adds tomato pieces and jalapenos and green chilli.
I prepare my vegan nacho dip from potatoes, carrots and spices and we provide this queso on a cashew base, which is prepared with tomatoes and chilies.
What is the Queso Dip?
Queso is Spanish and means cheese. However, this is not a direct translation for the Queso Dip.
If you order tortilla chips with queso in the restaurant, you are more likely to order a chili con queso.
This is a cheese dish made from liquid, melted cheese from the time when Tex-Mex cuisine was born in Texas.
Nowadays, Queso can be equated with the popular dip from restaurants and fast food chains that can now be found nationwide in the USA.
This dip is very different from the traditional Mexican Queso.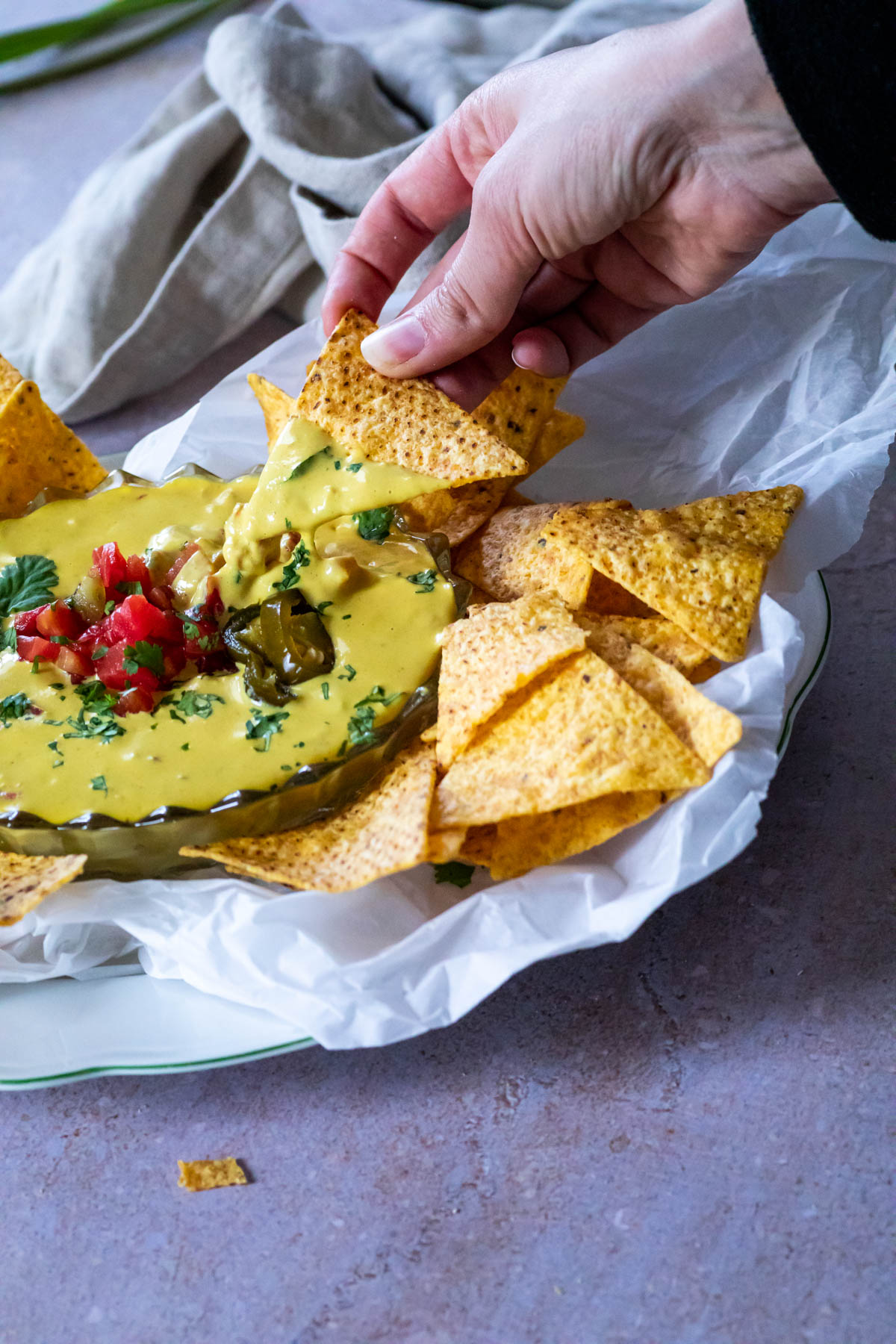 What does vegan Queso taste like?
The vegan Queso Dip is not necessarily spicy. It has a short heat in the mouth and then it's gone again.
The dip is a bit lumpy thanks to the tomato pieces and green chili pieces. The cheesy taste fits perfectly with the hotness of the green chillies.
How hot is the Queso Dip?
My personal opinion, the dip has a pleasant sharpness or heat. It is only briefly hot. And the heat doesn't really stay in your mouth.
If you don't like the dip as spicy, you can add less of the green chillies or jalapenos.
I do that for my children. I divide the dip and add less of the green chilies and jalapenos for the children.
Just watch how you can take the sharpness.
Is Cashew Queso Good For Me?
This Queso is made with plant-based and wholesome ingredients. As a result, the dip is lower in fat than the original and contains no cholesterol.
This Queso variant can be a healthier variant of the traditional Queso Dip.
Can I eat the vegan Queso Dip during pregnancy?
Unpasteurized cheese is not recommended during pregnancy. This vegan dip is completely prepared without dairy products and is therefore no problem when it comes to pasteurization.
To what extent you can tolerate spicy foods during your pregnancy, you have to see for yourself.
This dip is ideal, even if you are not vegan but do not want to miss the taste of the Queso dip during pregnancy.
Ingredients
The following ingredients are included in the delicious cheese dip.
You can find the exact quantities below.
Raw unsalted Cashew Nuts
Unsweetened Almond Milk
Nutritional Yeast
Sea Salt or Himalayan Salt
Garlic Powder
Onion Powder
Chili Powder
Sweet Paprika
Turmeric
Pickled Jalapeno Juice
Cumin
Tapioca Starch
Psyllium Husk, powder
Can of Diced Tomatoes with Green Chili Peppers
Fresh Coriander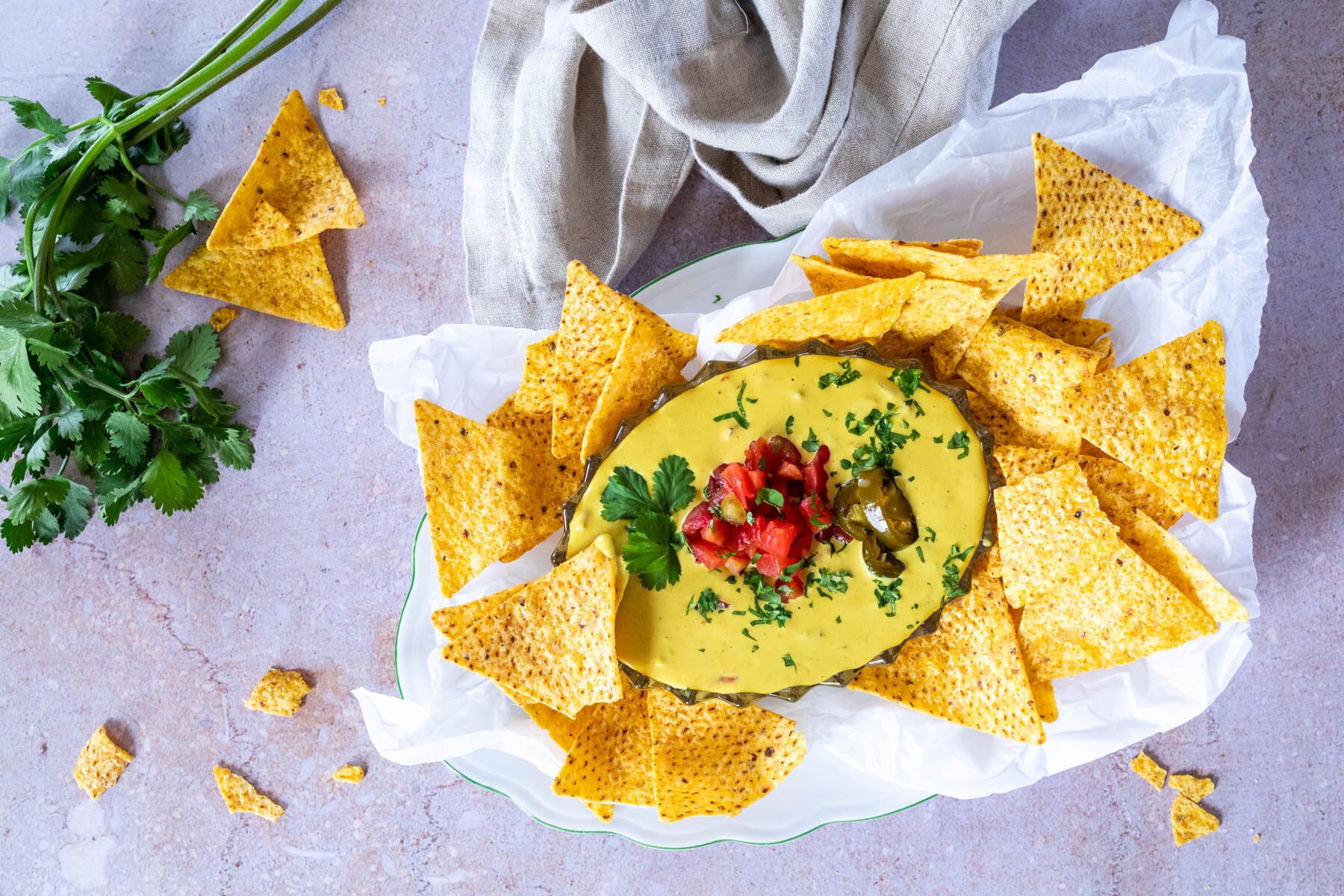 Can I make this Queso dip nut free?
If you can't tolerate cashews or don't want to use them for other reasons, you can also use sunflower seeds.
Soak the sunflower seeds a little longer, as these are harder than cashews.
And when mixing in a high speed blender, please mix longer until you get a completely creamy consistency.
Is this Queso gluten-free?
If we look at the list of ingredients, we can discover that we are not using any ingredients that contain gluten. So this is a gluten-free dip.
That stays gluten-free with corn tortilla chips or other vegetables.
Instruction
First of all, you start soaking the cashews. To do this, soak them in hot water and leave them in the water for about 10 minutes.
For sunflower seeds I would extend the soaking time to 20-30 minutes or just overnight.
Now add all the ingredients for the cashew dip, except the tomatoes, green chillies and coriander, in the high speed blender and blend until you get a creamy consistency without pieces.
Now put the cream in a saucepan and heat it over medium heat, stirring constantly. You will see the cream thickens and becomes like melted cheese.
Take the pan off the stove when it is no longer lumpy, but looks like melted cheese, that can take a few minutes.
Slowly stir in the chunky tomatoes and green chillies. But keep some for garnish.
Place the dip in a serving bowl and garnish with the remaining tomatoes and green chilli and chopped coriander.
Serving Suggestions
As a dip with tortilla chips and vegetable sticks
Nacho plate
Burritos as a cheese sauce
Storage
Fridge
Store leftovers in an airtight container in the refrigerator. The dip stays there for about 5 days. To serve, simply heat the dip again briefly in the pot.
You can add some almond milk or other plant-based milk if necessary.
Freezer
You can also freeze the dip. Simply freeze the dip in portions. It lasts there for about 3 months. Simply heat the dip as described above.
I like to take it out of the freezer one evening before and let it thaw.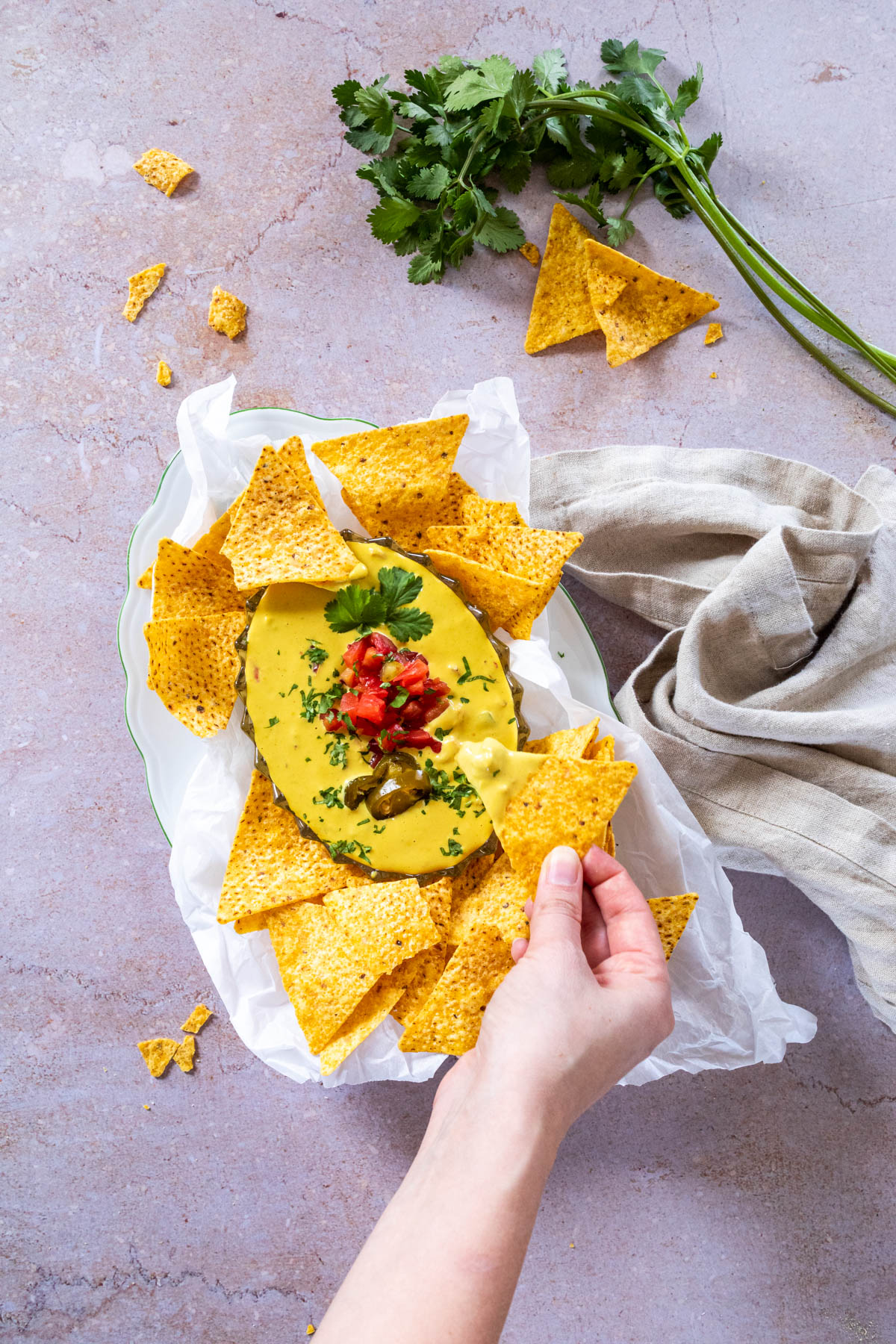 More Vegan Dip Recipes
Tzatziki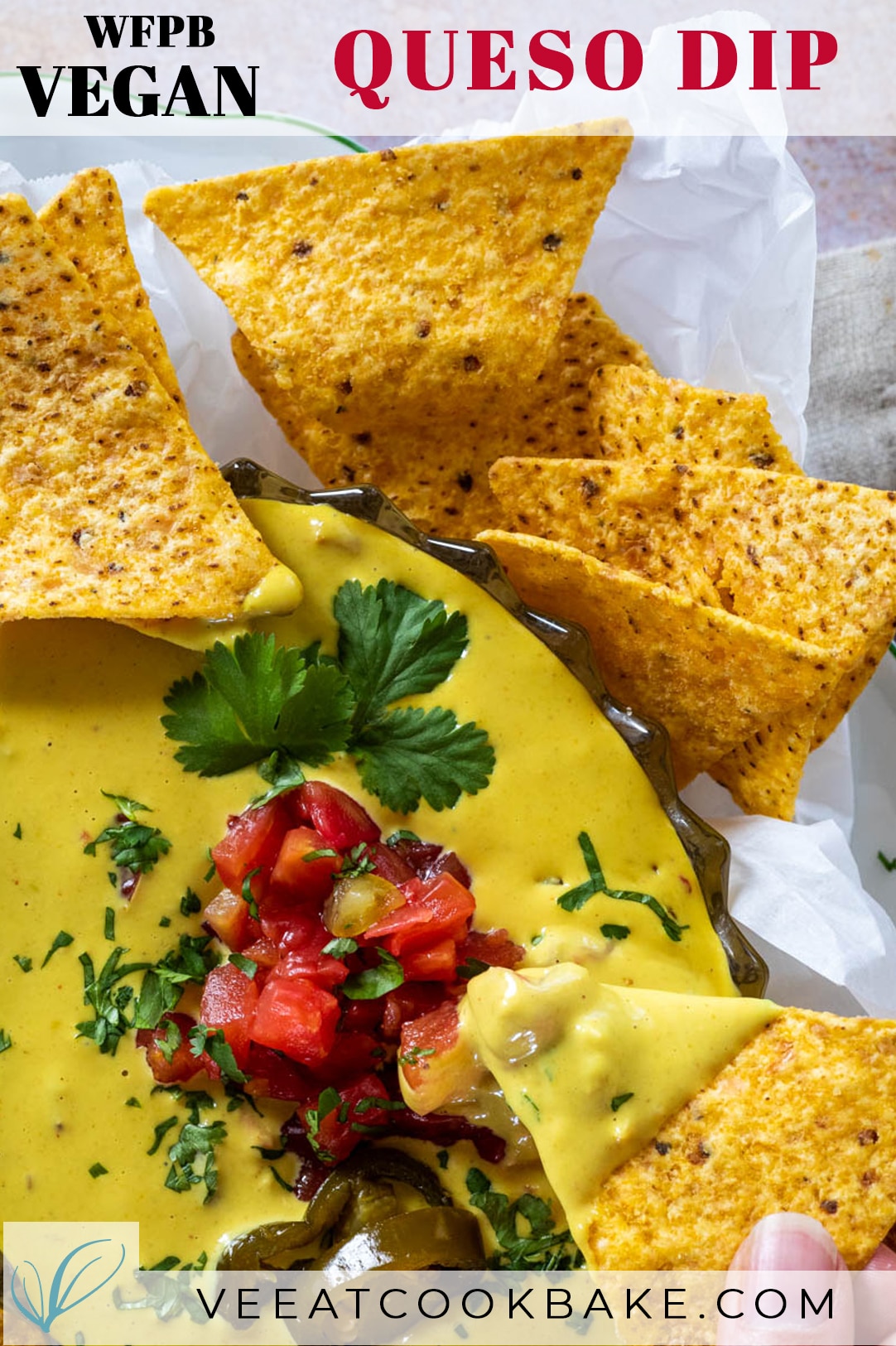 Have you tred the recip
If you tried the vegan Recipebe so nice ♥ and let me knw byrating the recipe and writing what you think about it in the comments.  I would love to see your photo on Instagram orFacebook. To do this tag me with @veeatcookbake andmy hashtag is #veeatcookbake. So that I can see your creation. Did you know you can add photos n Pinterest under the recipe Pin? I can't wait to see a photo of your creation here. You find me with @veeatcookbake