Get ready for a delicious vegan vodka sauce in no time! This delicious pasta sauce is easily crafted with ordinary pantry ingredients and can also serve as an amazing pizza topping. It is vegetarian, dairy-free, and rich with umami flavor from entirely plant-based products. Plus, it takes only 30 minutes to get the dish on your table.
Vodka (alcohol) enhances the flavor of the tomatoes in this vegan penne alla vodka recipe and makes it slightly sweet. Although the alcohol taste goes away after it's reduced in the sauce combination, this dish is not suitable for those who don't consume alcohol. I also give substitution options for that.
Let's take a look at how to make this creamy yet healthy vegan vodka sauce following a whole food plant based diet that works without oil or other highly processed ingredients!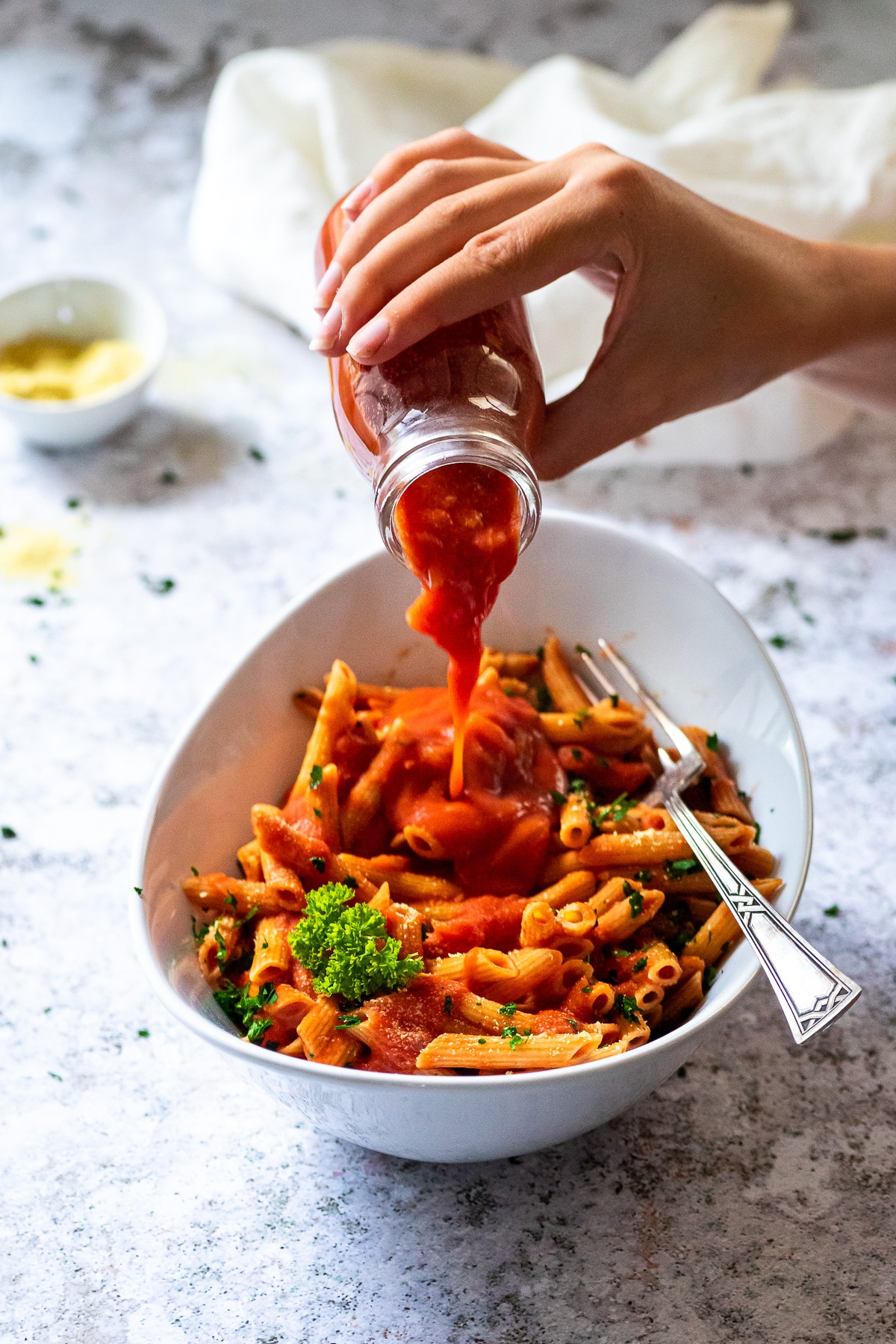 This recipe is inspired my marinara sauce, all`arrabbiata sauce. It pairs well with a crusty bread, bruschetta, side salad like a Caesar salad.
As an Amazon Associate, I earn from qualifying purchases. This post may contain affiliate links. Read More
Ingredients
A quick list of the simple ingredients you will need to make this pasta alla vodka.
You can find the ingredients with quantities and the recipe to print out on the recipe card below.
Penne
Garlic Cloves
Onion
Vodka
Tomato Puree (passata)
Raw Cashews
Water
Chilli Flakes
vegan Parmesan Cheese
Onion Powder
Garlic Powder
Black Pepper
Parsley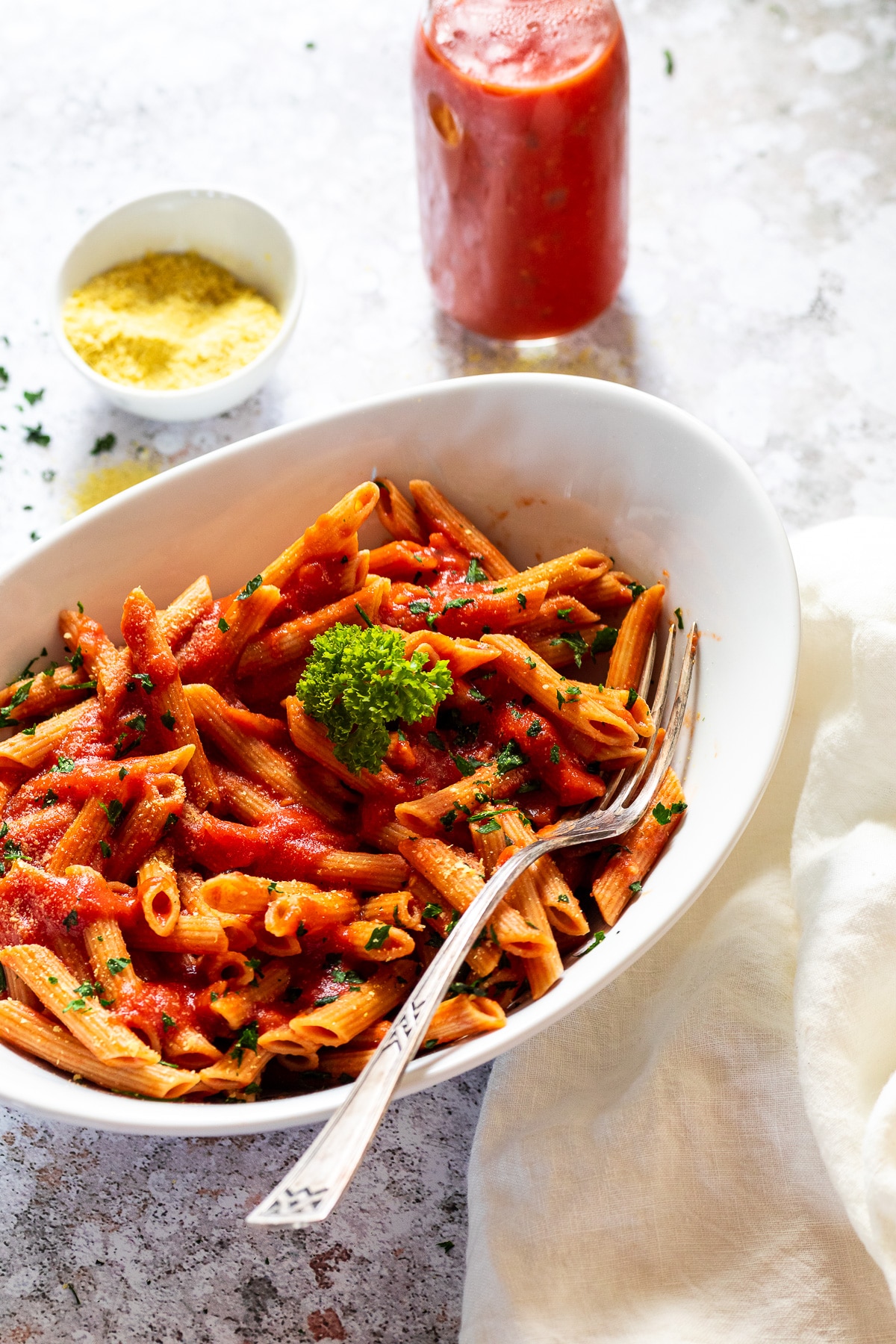 Instruction
Start with the pasta, cook them according to the package directions al dente in a large pot of salted water and drain pasta. Now chop the onion and the garlic cloves and saute them in a little water. Just add a small sip of water each time you notice the pan turning brown.
When the onions are lightly brown, add a splash of vodka and let it simmer/ reduce on medium heat for about 10 minutes. In the meantime, you can mix the cashews with the water in a high speed blender. If you want to, you can also mix the tomatoes with the cashews.
Now add the cashew cream, tomatoes to the onions and season with chili flakes, Parmesan, chopped parsley, onion powder and garlic powder, and fresh ground black pepper.
Let the sauce simmer again for about 5 minutes and taste it. If the sauce is too thick for you, add a little more water. If it's too runny for you, let it boil down a little more.
Now fold the penne into the sauce and serve with Parmesan and fresh parsley.
Hint: Depends on your high speed blender, use soaked cashews for easier blending. You can do this overnight or you can put them in hot water for about 10 minutes.
Make this creamy vegan vodka sauce pasta, check out my vegan Bolognese Sauce, Lemon Spaghetti, Creamy pesto sauce and my other easy vegan pasta recipes.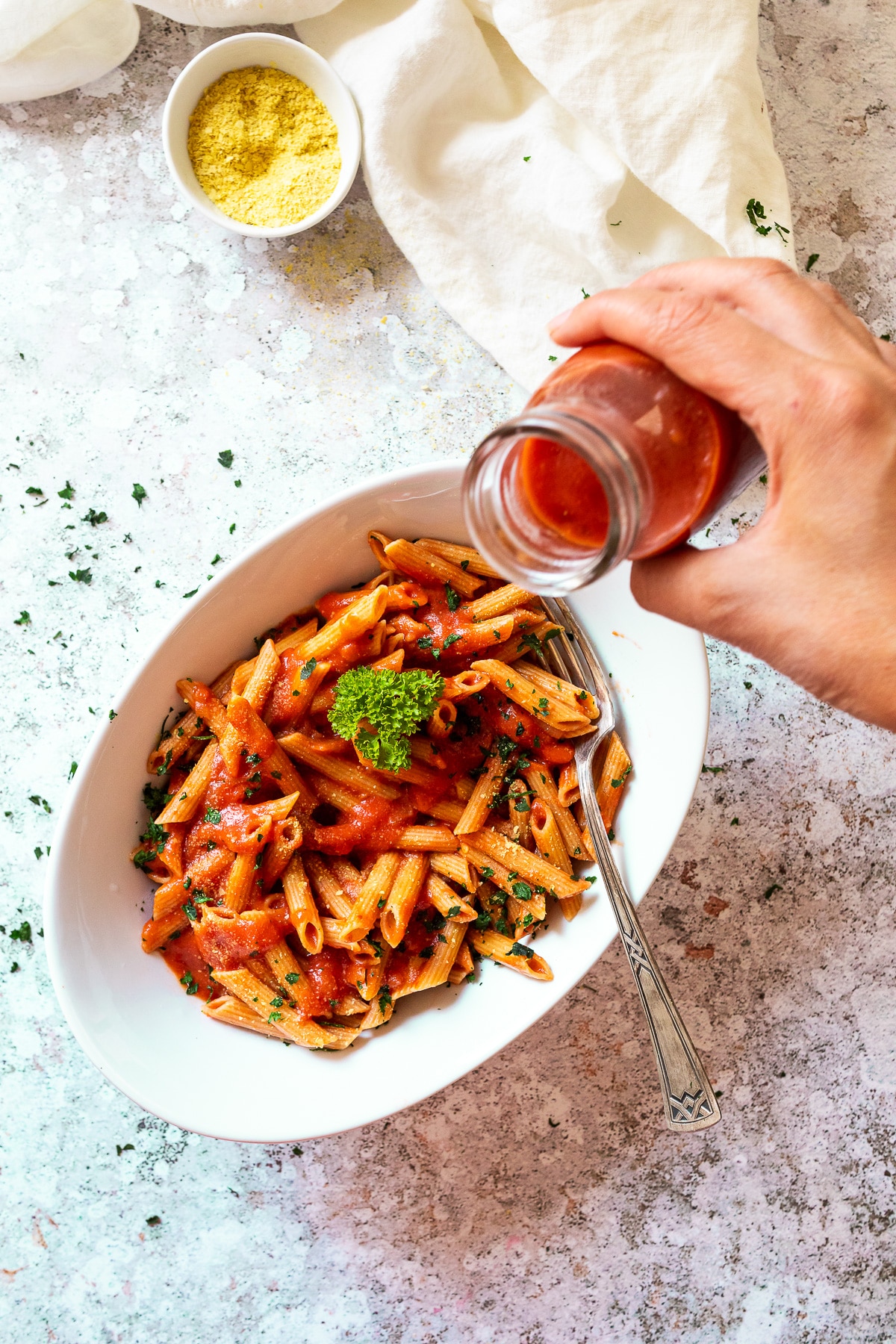 Substitutions
Penne: Use your favorite pasta. I love penne pasta, but you can also use lentil pasta, chickpea pasta, zucchini noodles, gluten-free pasta.
Vodka: We know that the alcohol in sauces doesn't completely go away. This is also the case with this tomato sauce. We reduce the vodka in the pan, but there is always some residual alcohol. Vodka helps the recipe bring out the sweetness of the tomatoes and intensify the creaminess. Firstly, you can replace vodka with other alcohol like gin and cognac. Here, just use an alcohol that is relatively tasteless. If you want to completely avoid alcohol in the sauce, I can recommend adding water and some squeezes of lemon juice. I use that often to make my creamy vodka tomato sauce.
Tomato Purée: Instead of tomato purée, you can also use a ready-made tomato sauce with the vodka sauce or crushed tomatoes, tomato paste with some water.
Cashews: This creamy tomato sauce gets its creaminess from a rich cashew cream. If you don't have cashews at home now, or you want to keep it budget-friendly, you can also use raw sunflower seeds. To do this, simply replace the sunflower seeds 1:1 with the cashews. You can also use a can of coconut milk or coconut cream, simply use 1 cup coconut milk instead of the cashews and water. So easy to make a dairy-free vodka sauce with different options, no need for heavy cream.
Parmesan: The Parmesan adds a nice flavor to this easy vegan vodka sauce recipe. You can also use nutritional yeast instead.
Variations
Pumpkin Purée: Instead of tomatoes, you can use pumpkins to make this creamy vegan vodka pasta sauce.
Spicy: Add a little kick to the traditional vodka sauce, add some more red pepper flakes or chili flakes.
Fresh Herbs: You can always add some fresh herbs like fresh basil to this creamy sauce.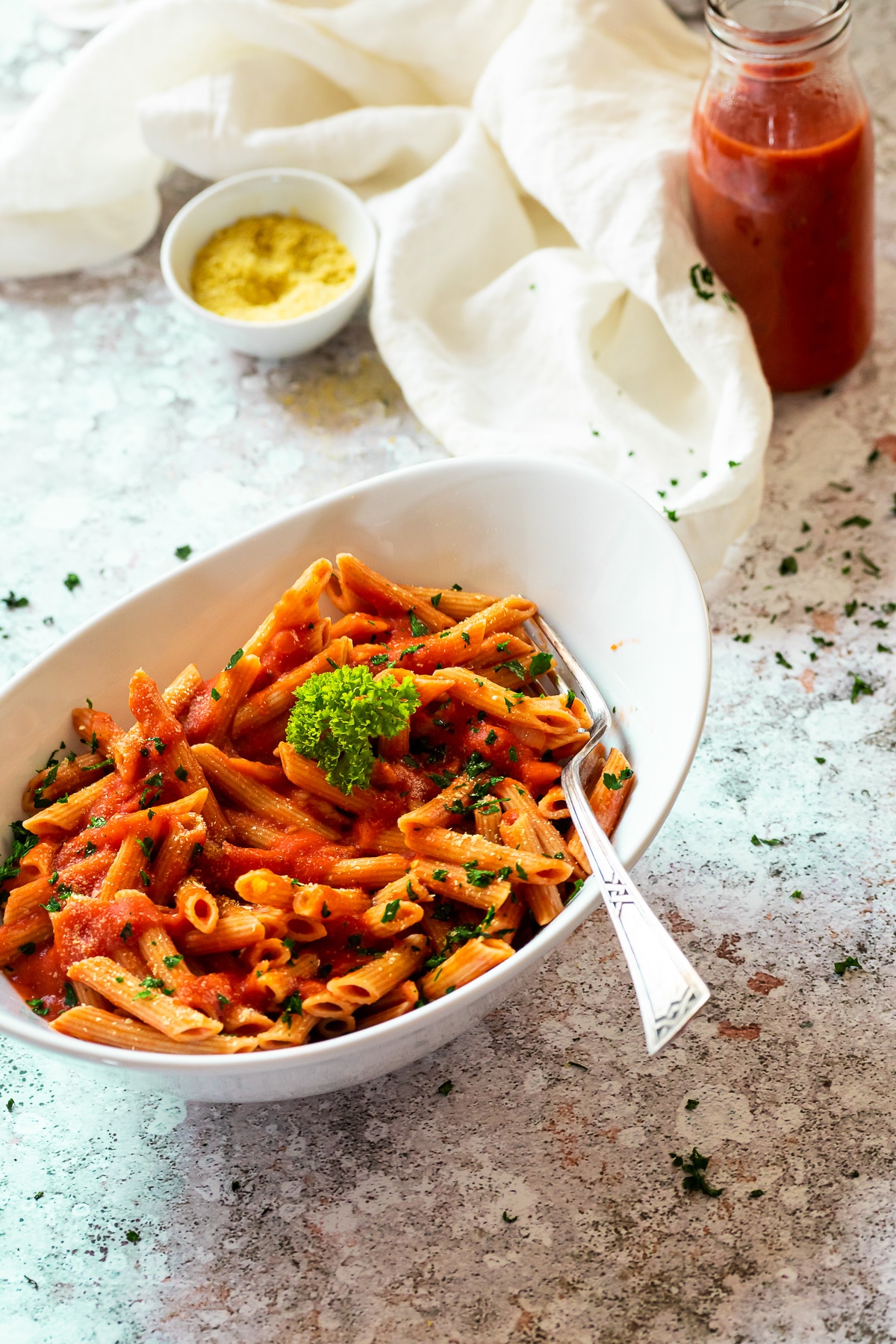 Serving Options
Planning date night? Some meal ideas you can serve with this pasta dish.
Appetizer:
Side dish:
Dessert:
Storage
How to refrigerate it? In an airtight container, the pasta can be kept in the refrigerator for about 4-5 days. To warm up, simply heat the pasta over medium heat. You can also quickly heat them up in the microwave
How to freeze it? You can also freeze this homemade sauce. Simply freeze in portions. I recommend freezing the sauce separate from the pasta. It will last there for about 2 months. Place in the fridge the night before to thaw.
You can also just freeze the sauce and cook the pasta fresh later.
Meal Prep
You can also prepare this tomato sauce in advance. It is also suitable as a meal prep. Just make the vodka sauce 1-2 days in advance and then just cook the pasta. You can also prepare the vodka sauce in larger quantities and then simply freeze it in portions. So you always have a delicious sauce at hand.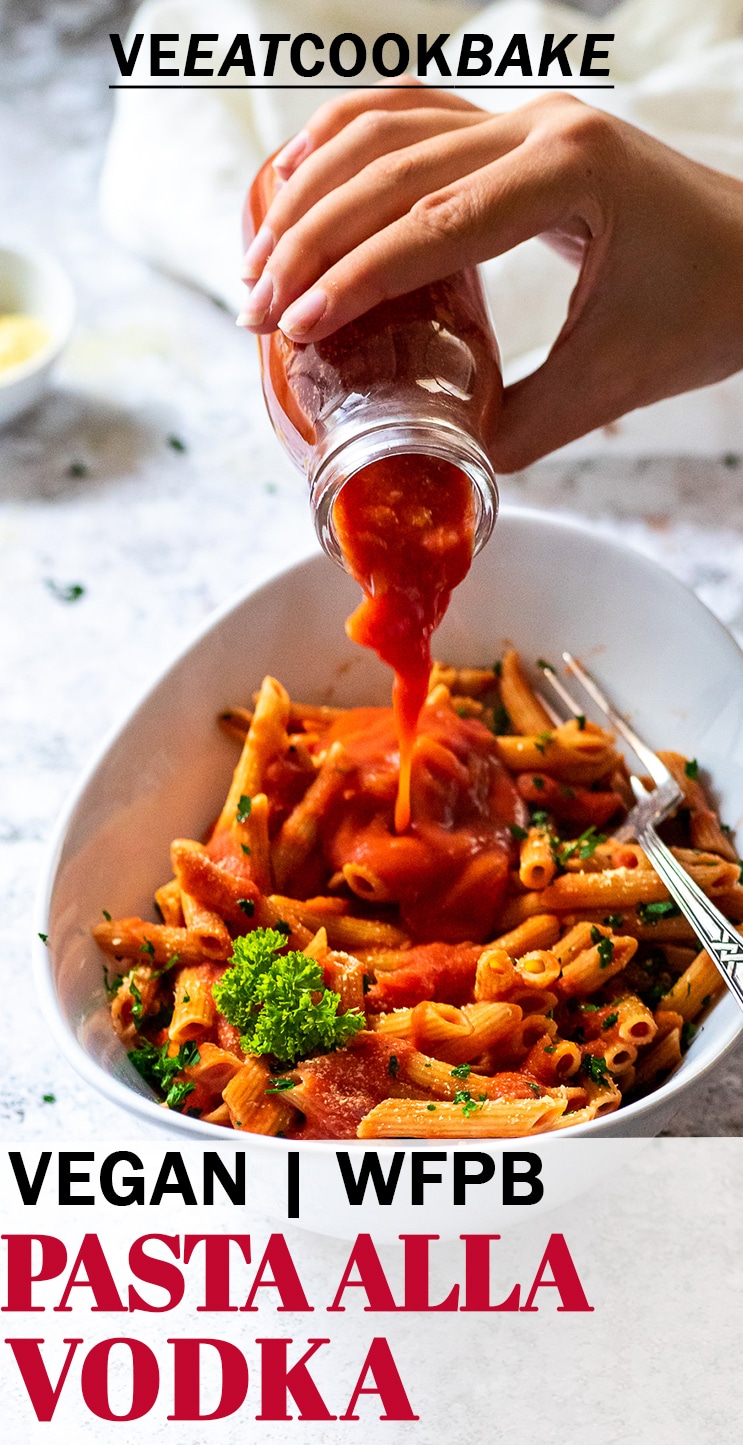 Tips
You can double or halve the penne alla vodka recipe. However, if you cut it in half, it can be difficult to puree the cashews in the blender. If you cut the recipe in half, I definitely recommend adding the tomatoes with the blender, otherwise there may not be enough in the blender, and you won't get the cashews or sunflower seeds creamy.
You can also simply prepare cashew cream in advance and then freeze it in portions. So you can always take something out and you have it ready.