Penne alla Vodka recipe without cream - this delicious pasta sauce is quickly conjured up with pantry ingredients. This aromatic vodka sauce not only tastes good with penne, it is also an amazing pizza sauce.
Try this easy vegan vodka sauce on a sandwich or eat it as a tomato soup. Yuuuum. Your dinner can be on your table within 30 minutes with this vegan pasta recipe.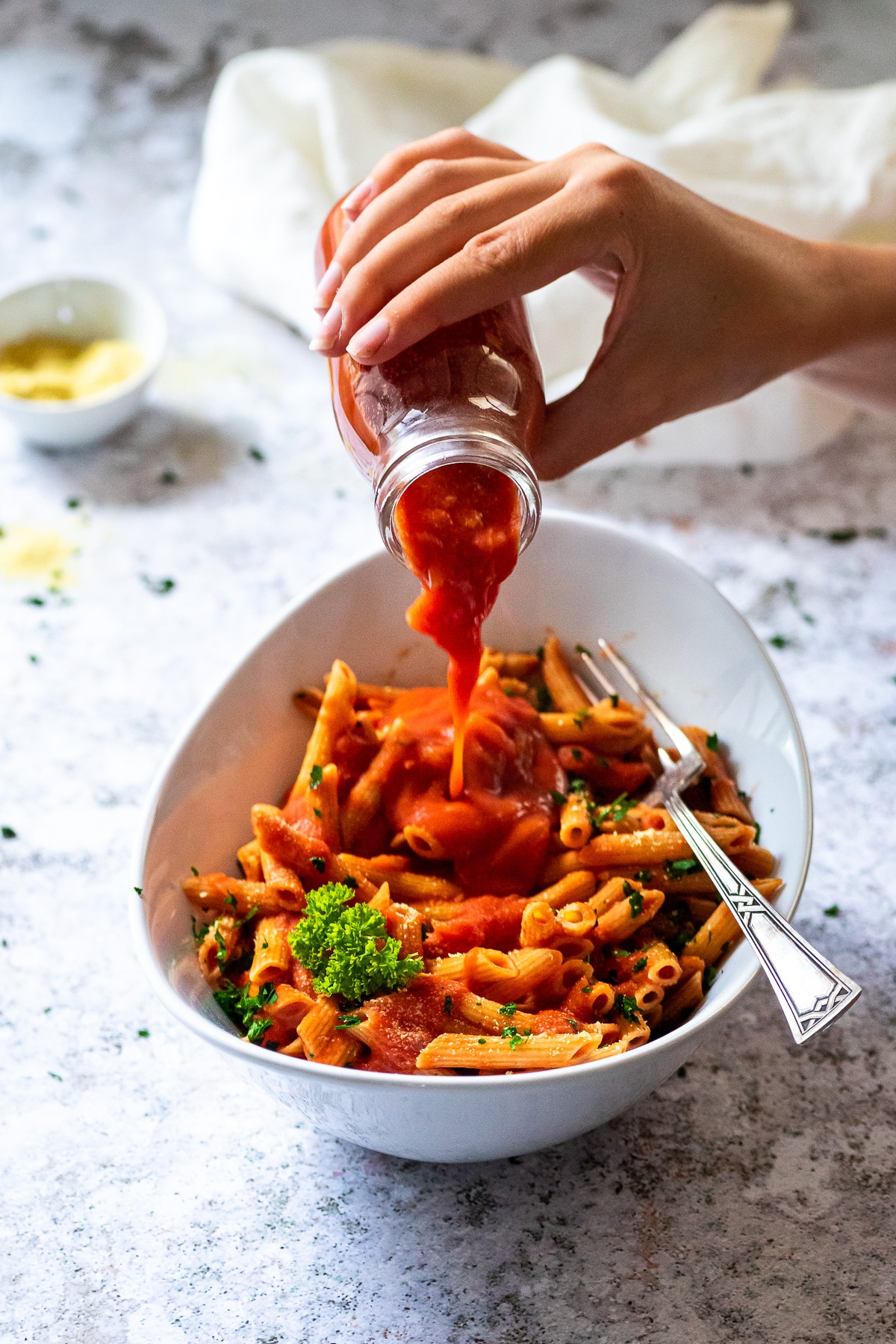 As an Amazon Associate, I earn from qualifying purchases. This post may contain affiliate links. Read More
These vegetarian and dairy free penne alla vodka are creamy, full of umami and slightly sweet thanks to the tomatoes.
Thanks to the vodka (alcohol) all the flavors really come out. Vodka is tasteless and is reduced in the sauce before you add the tomatoes. It helps to enhance the flavors of the tomatoes.
As with sauces with wine or beer, this tomato sauce gets such an amazing taste that you have to try it.
This healthy vodka sauce doesn't get the creaminess like the original with milk, butter and Parmesan. We use plant-based products for this vegan penne alla vodka sauce.
If you follow a whole food plant based diet and use alcohol in cooking, then this penne-alla-vodka recipe is for you. It works completely without oil and other highly processed foods. Below I also show you how you can substitute the vodka in this sauce.
With this recipe, let's take a look at how to make the vegan vodka sauce. I also give you substitution options.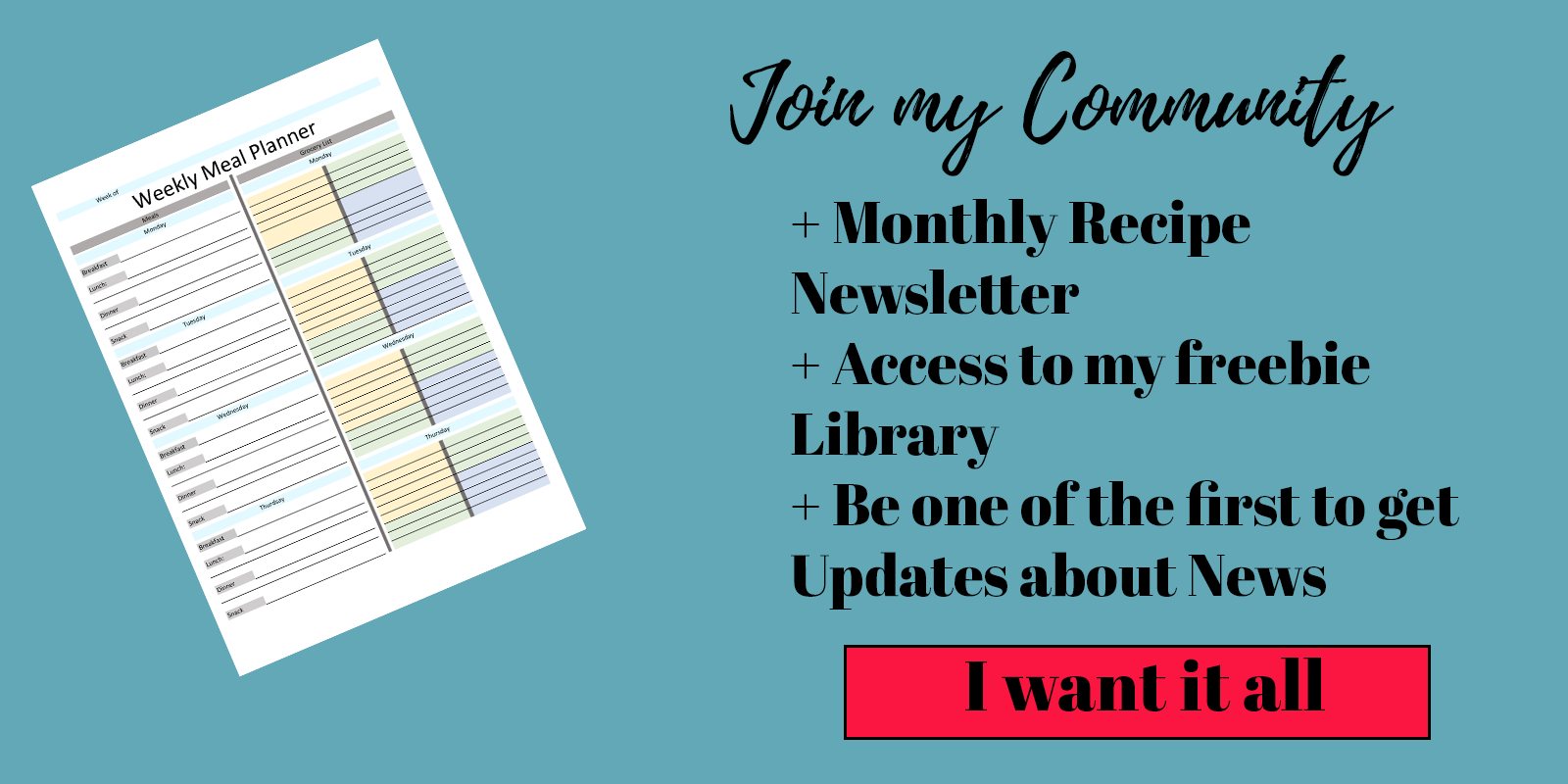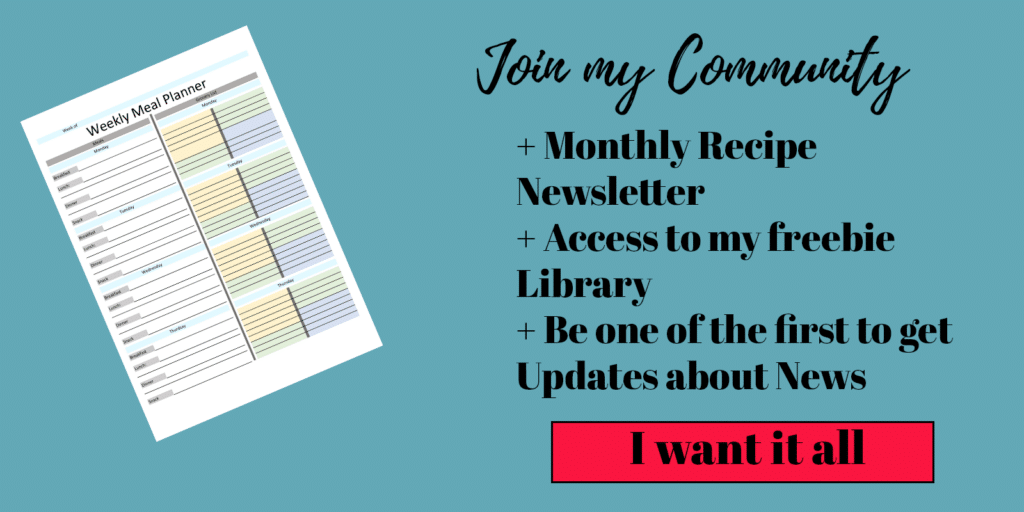 Ingredients
Now let's take a look at the ingredients, what's in vegan penne alla vodka. So that we can see from here how we can replace which ingredients, I'll briefly write down the ingredients here. You can find the exact quantities below.
Penne
Garlic Cloves
Onion
Vodka
Tomato Puree (passata)
Cashews
Water
Chilli Flakes
Vegan Parmesan
Onion Powder
Garlic Powder
Black Pepper
Parsley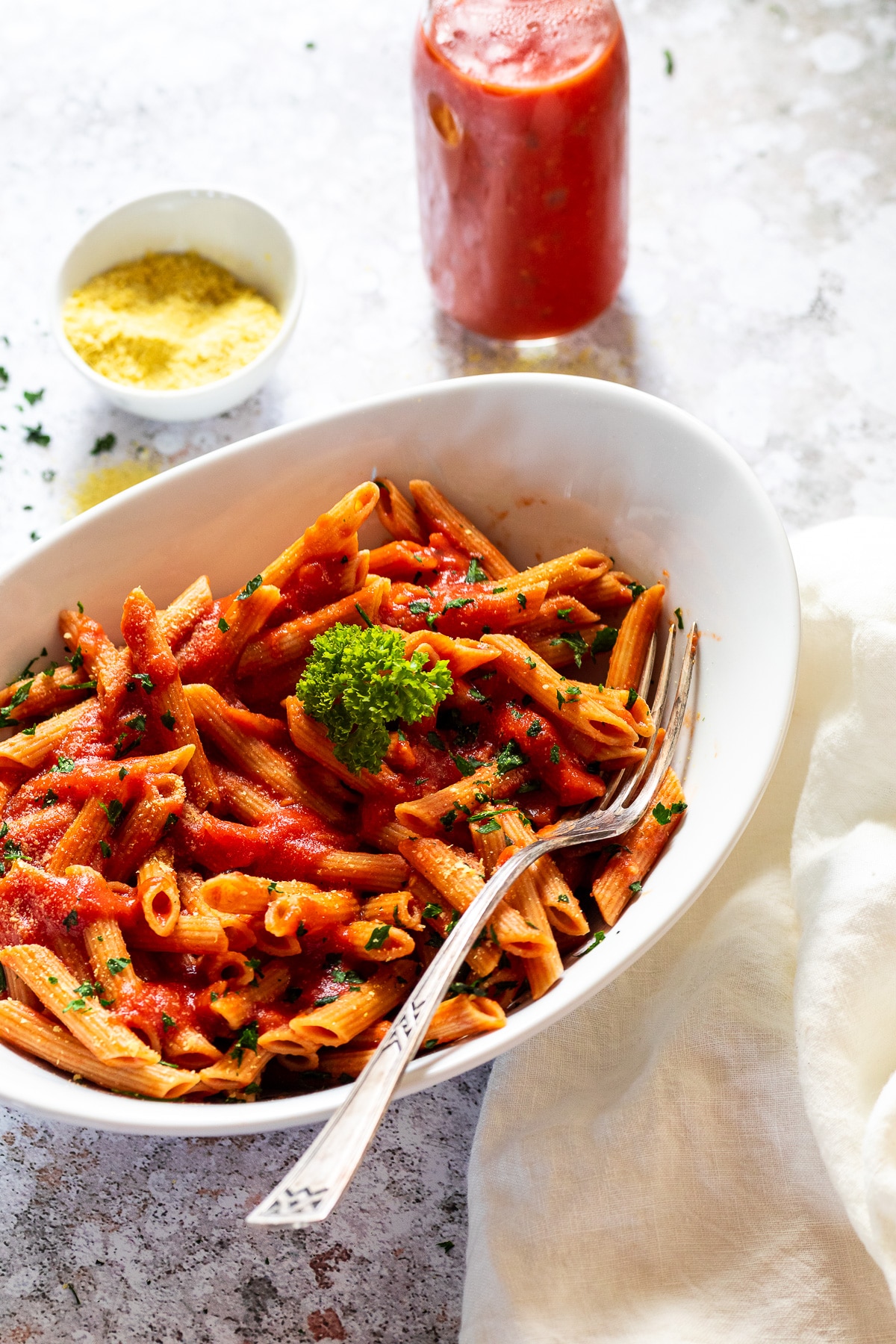 Substitutions
Now that we know what's in Penne alla Vodka, let's take a look at which ingredients we can replace.
Penne
You don't have penne at home? Use other pasta, just use your favorite pasta.
You can of course also use zoodles (spiralized zucchini) or lentil pasta or chickpea pasta.
Vodka
We know that the alcohol in sauces doesn't completely go away. This is also the case with this tomato sauce. We reduce the vodka in the pan, but there is always some residual alcohol.
Vodka helps the recipe bring out the sweetness of the tomatoes and intensify the creaminess. First of all, you can replace vodka with other alcohol. Here just use an alcohol that is relatively tasteless.
If you want to completely avoid alcohol in the sauce, I can recommend adding water and some squeezes of lemon juice.
Tomato Puree
Instead of tomato puree, you can also use a ready-made tomato sauce with the vodka sauce or chunky tomatoes, whole peeled tomatoes. I use tomato passata the most.
If you'd like to try a vodka sauce now, but unfortunately can't eat tomatoes, then use pureed butternut squash or other pumpkins. Here you may have to adjust the liquid.
Cashews
This delicious tomato sauce gets its creaminess from a cashew cream. If you don't have cashews at home now, or you want to keep it budget-friendly, you can also use raw sunflower seeds.
To do this, simply replace the sunflower seeds 1:1 with the cashews.
You can also use coconut milk, simply use 1 cup of coconut milk instead of the cashews and water.8
Parmesan
You can also use homemade parmesan for this dish. I use this vegan parmesan recipe.
You can of course also use store bought parmesan.
Variations
In addition to the plant-based diet, there are also other forms of diets such as gluten-free, paleo and keto. Here I want to show you how you can customize the Penne alla Vodka recipe.
Gluten free
The vodka sauce is already gluten-free. The point now is to replace the pasta. You can use gluten-free pasta, such as chickpea pasta or lentil pasta. You can use spiraled vegetables with this pasta.
Keto
Keto is about consuming as few carbohydrates as possible. Therefore, prepare zoodles instead of regular pasta. You can also use special keto noodles, here you just have to check whether they are vegan.
Tomatoes are very suitable for a keto diet, as they consist of about 90% water.
According to my research, vodka is also suitable for a ketogenic diet, as no sugar is added to it and no carbohydrates.
Paleo
In the Paleo diet, use pasta made from chickpeas or lentils instead of pasta made from grains.
Clear schnapps seems okay for a Paleo diet and doesn't necessarily need to be replaced.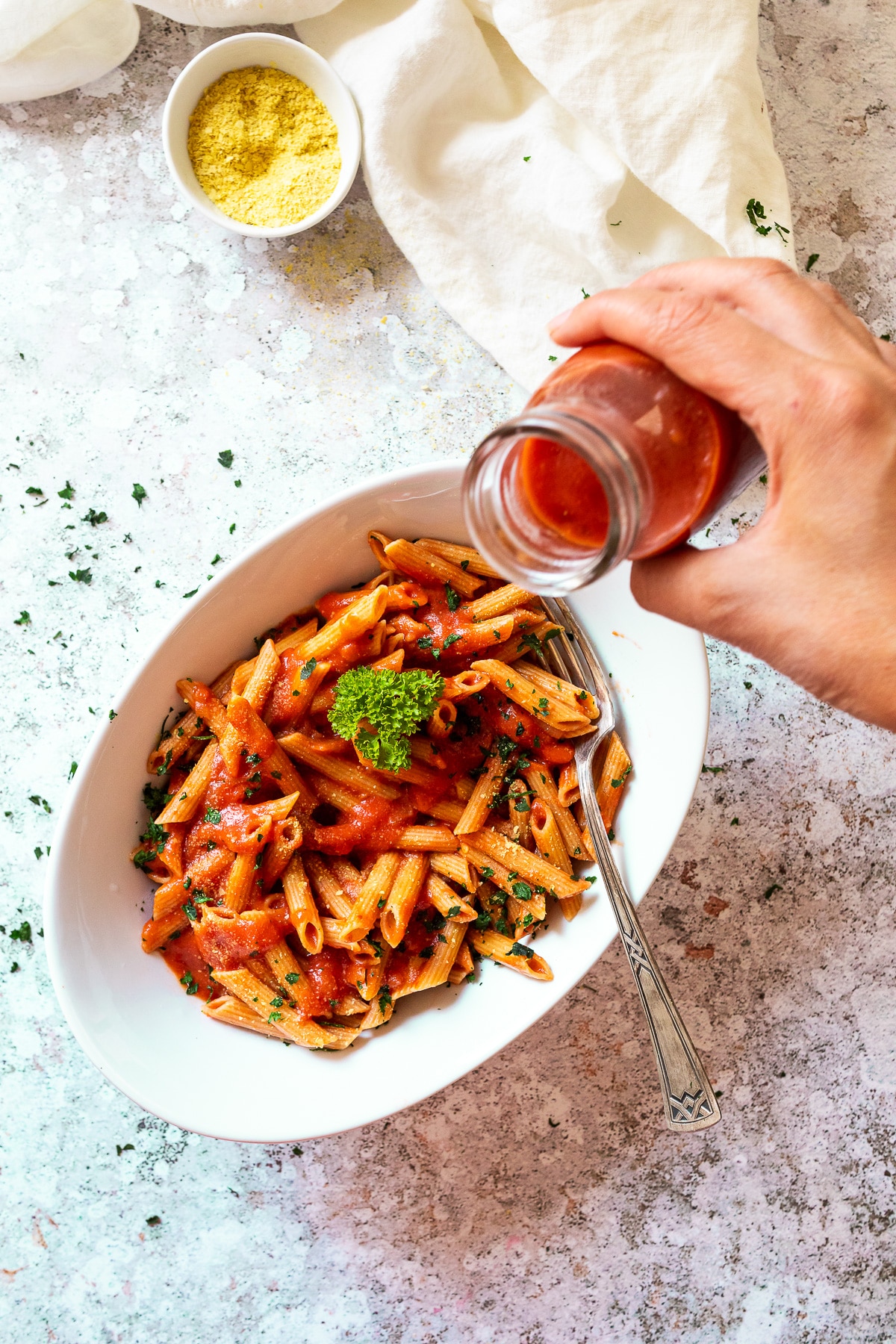 Instruction
Start with the penne, cook them according to the package instructions.
Now chop the onion and the garlic cloves and put ingredients are a sufficiently large pan.
Sautee the onions with a little water. Just add a small sip of water each time you notice the pan turning brown.
When the onions are lightly brown, add the vodka and let it simmer on medium heat for about 10 minutes.
In the meantime, you can mix the cashews with the water in a high speed blender. If you want to, you can also mix the tomatoes with the cashews.
Now add the cashew cream to the onions and season with chilli flakes, parmesan, chopped parsley, onion powder and garlic powder, and fresh ground black pepper.
Let the sauce simmer again for about 5 minutes and taste it. If the sauce is too thick for you, add a little more water. If it's too runny for you, let it boil down a little more.
Now fold the penne into the sauce and serve with parmesan and fresh parsley.
Prepare in advance
You can also prepare this tomato sauce in advance. It is also suitable as a meal prep. Just make the vodka sauce 1-2 days in advance and then just cook the pasta.
You can also prepare the vodka sauce in larger quantities and then simply freeze it in portions. So you always have a delicious sauce at hand.
Serving Options
Let's take a look at what you can serve with this vodka penne.
As appetizer:
As a side dish:
Side Salad
As dessert:
Storage
If you have leftovers, no problem. Here I will show you how you can store leftover vegan penne alla vodka.
How to refrigerate it?
In a sealed container, the pasta can be kept in the refrigerator for about 4-5 days. To warm up, simply heat the pasta over medium heat. You can also quickly heat them up in the microwave
How to freeze it?
You can also freeze the pasta. Simply freeze in portions. The pasta will last there for about 2 months. Place in the fridge the night before to thaw.
You can also just freeze the sauce and cook the pasta fresh later.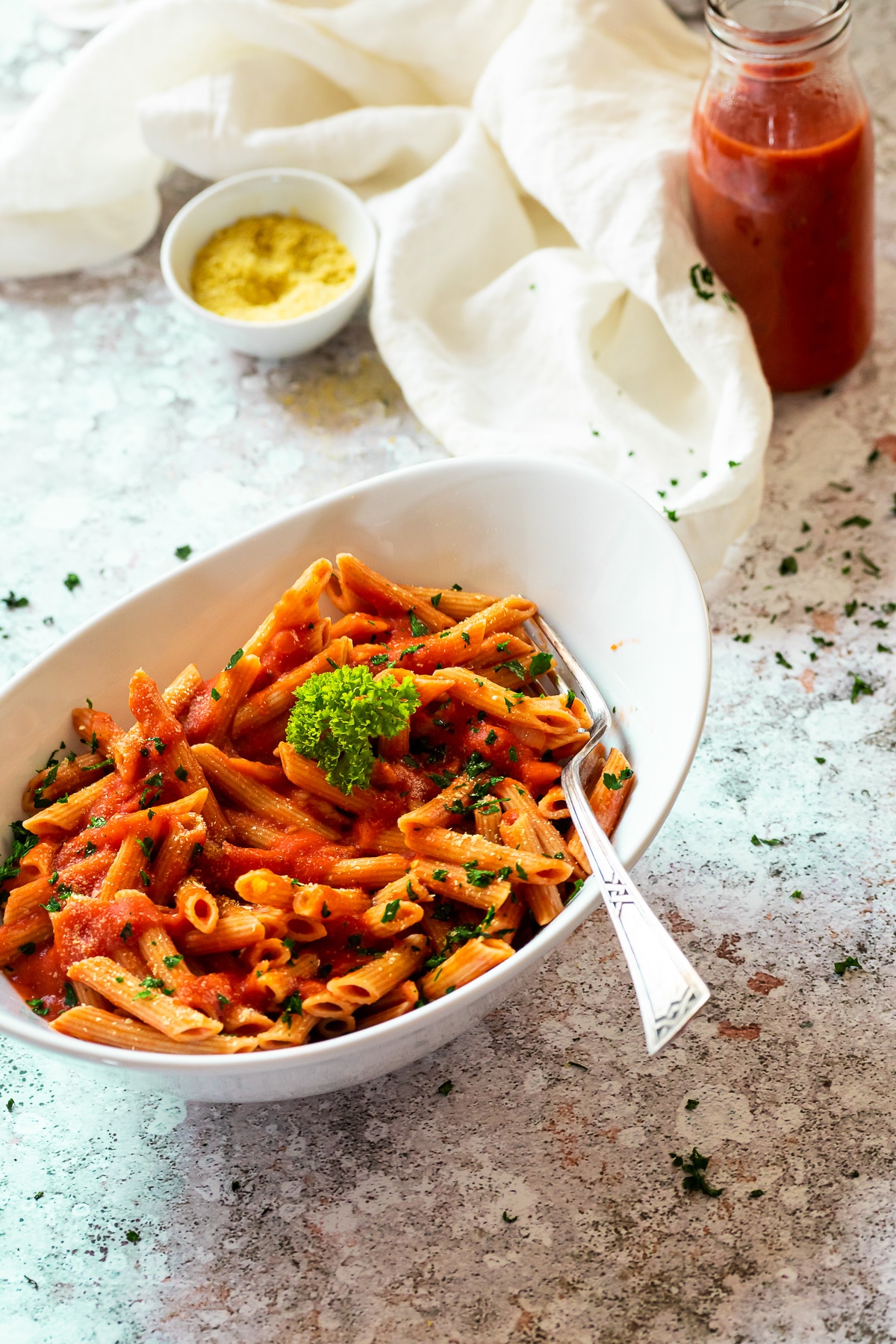 Tips
You can double or halve the penne alla vodka recipe. However, if you cut it in half, it can be difficult to puree the cashews in the blender.
If you cut the recipe in half, I definitely recommend adding the tomatoes with the blender, otherwise there may not be enough in the blender and you won't get the cashews or sunflower seeds creamy.
You can also simply prepare cashew cream in advance and then freeze it in portions. So you can always take something out and you have it ready.
If you've made more sauce than you can eat, freeze the rest and mix only as much pasta as you want to eat.
Depending on the high speed blender, I recommend soaking the cashews or sunflower seeds beforehand. You can do this overnight or you can put them in hot water for about 10 minutes.
More vegan pasta recipes:
Pumpkin Noodles ala Mac and Cheese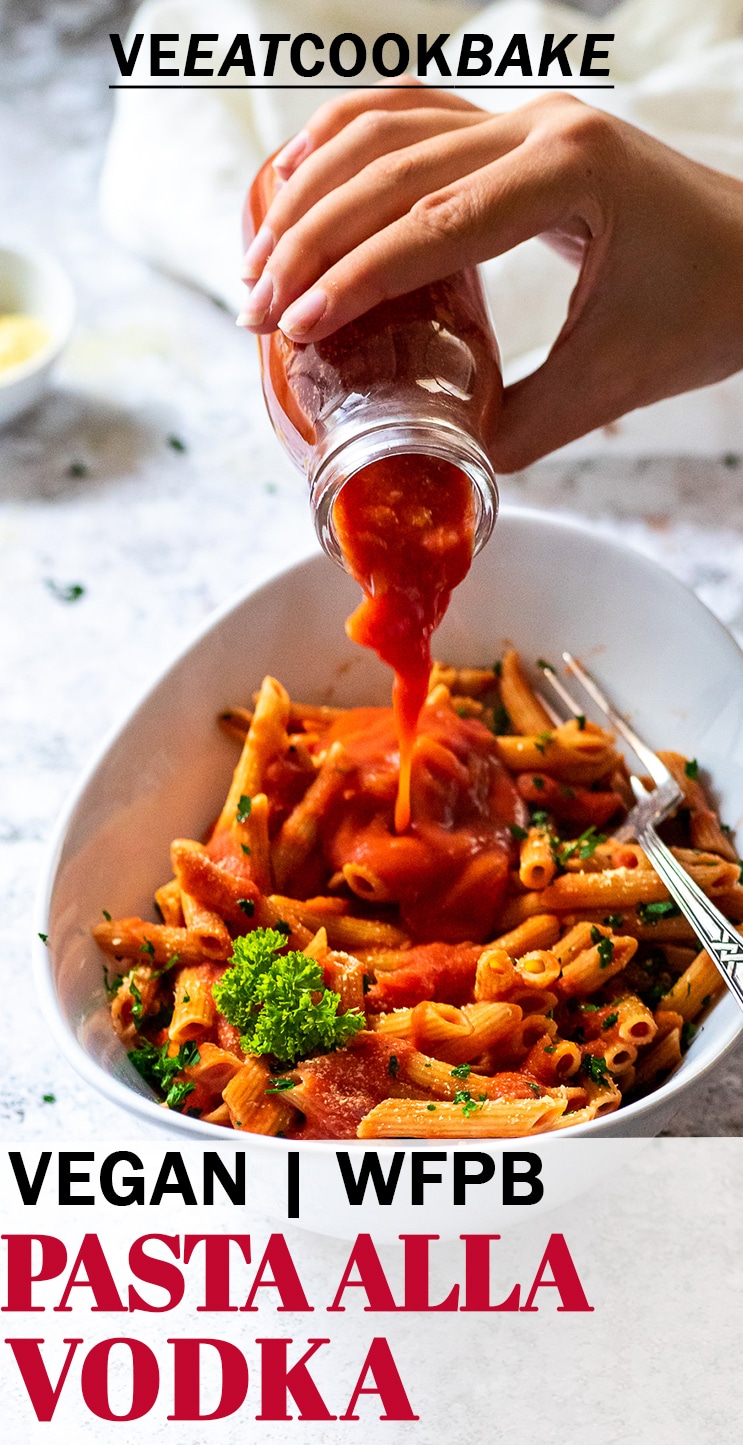 Have you tried the recipe?
If you tried the vegan Recipe, be so nice ♥ and let me know by rating the recipe and writing what you think about it in the comments. I would love to see your photo on Instagram or Facebook. To do this tag me with @veeatcookbake and my hashtag is #veeatcookbake. So that I can see your creation. Did you know you can add photos on Pinterest under the recipe Pin? I can't wait to see a photo of your creation there. You find me with @veeatcookbake.