If you're looking for a delicious vegan option that the whole family can enjoy, look no further than this scrumptious white lasagna! It's packed full with creamy Béchamel sauce, spinach and smoked carrots all layered between some classic Italian pasta.
The smoky taste of marinated carrots is sure to be an absolute hit with kids (my own couldn't get enough!), while the crispy top layer just puts it over-the-top in terms of flavor and texture. There really is nothing better when it comes to finding comfort food without dairy or lactose involved - try out this amazing twist on lasagna today!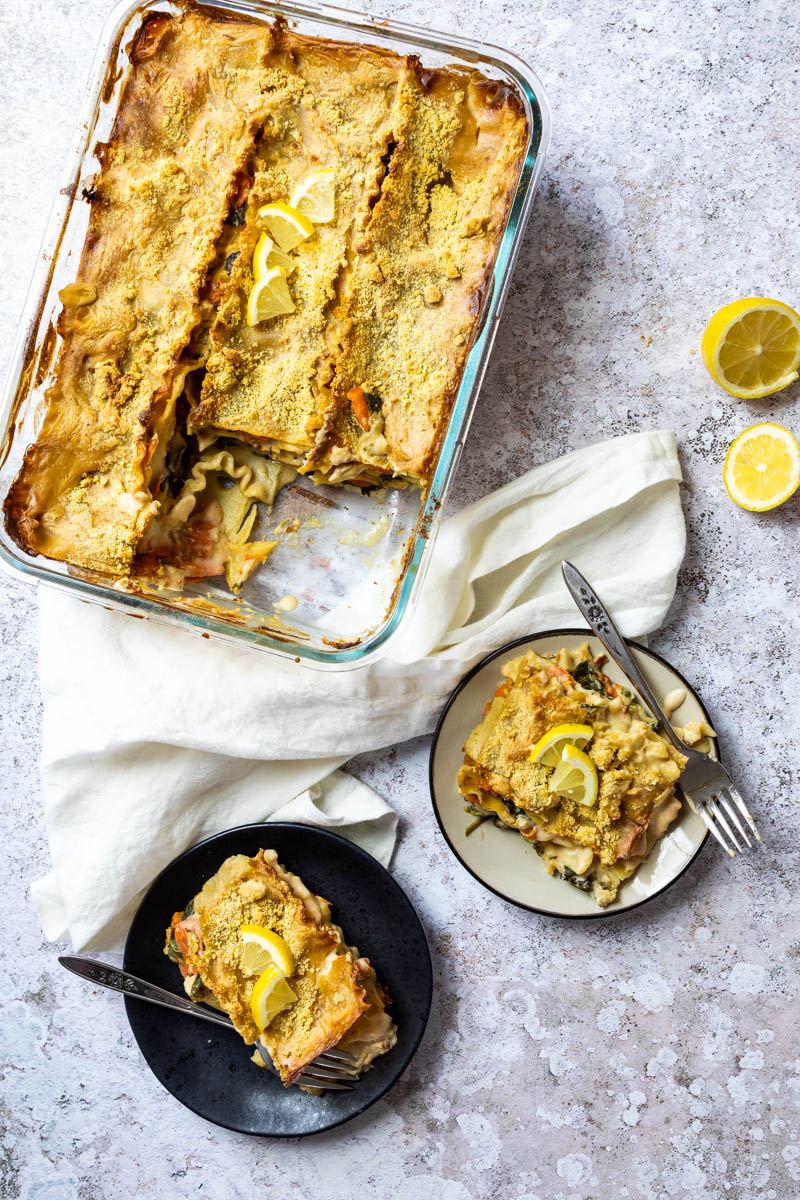 This recipe is inspired by my bolognese lasagna. It pairs well with Caesar salad, kale salad or crusty bread like a baguette.
As an Amazon Associate, I earn from qualifying purchases. This post may contain affiliate links. Read More
Ingredients
A quick list to make this white lasagna recipe.
You can find the ingredients with quantities and the recipe to print out on the recipe card below.
Raw Cashews
Flour
Vegan Milk
Vegetable Broth
Lemon Juice
Sea-salt
Black Pepper
Smoked Carrots
Yellow Onion
Frozen or Fresh Spinach
Lasagna Noodles
Sea Salt, Pepper, Nutmeg
Topping:
Instruction
Prepare the carrot salmon 1-2 days in advance.
Start soaking the cashews. If you have lasagna sheets that need to be pre-cooked, boil noodles al dente according to the package instructions. Let the spinach thaw if you use frozen.
Now dice the onion and sauté it vigorously in a small saucepan with a little water.
Add all the ingredients for the vegan bechamel sauce into a high-speed blender and blend until you get a creamy white sauce. Now add this to the onions and let it warm up briefly, but do not bring it to boil. It should start to thicken.
Season with sea salt, black pepper and nutmeg.
Assemble the Veggie Lasagna
Now start to layer the vegetarian lasagna.
Add some of the sauce to the bottom of the dish.
Now put a layer of lasagna sheets, then spinach, smoked carrots and cover with sauce. Cover with noodles again and continue until the pan is full. End with the cheese sauce and sprinkle some vegan Parmesan cheese.
Bake the lasagna at 350°F (180°C) for about 1 hour, or until the desired degree of browning is reached.
Make this vegan white sauce lasagna, check out my other pasta dishes like lasagna with red sauce, Mac and Cheese, Tomato Alfredo Sauce, Marinara Sauce.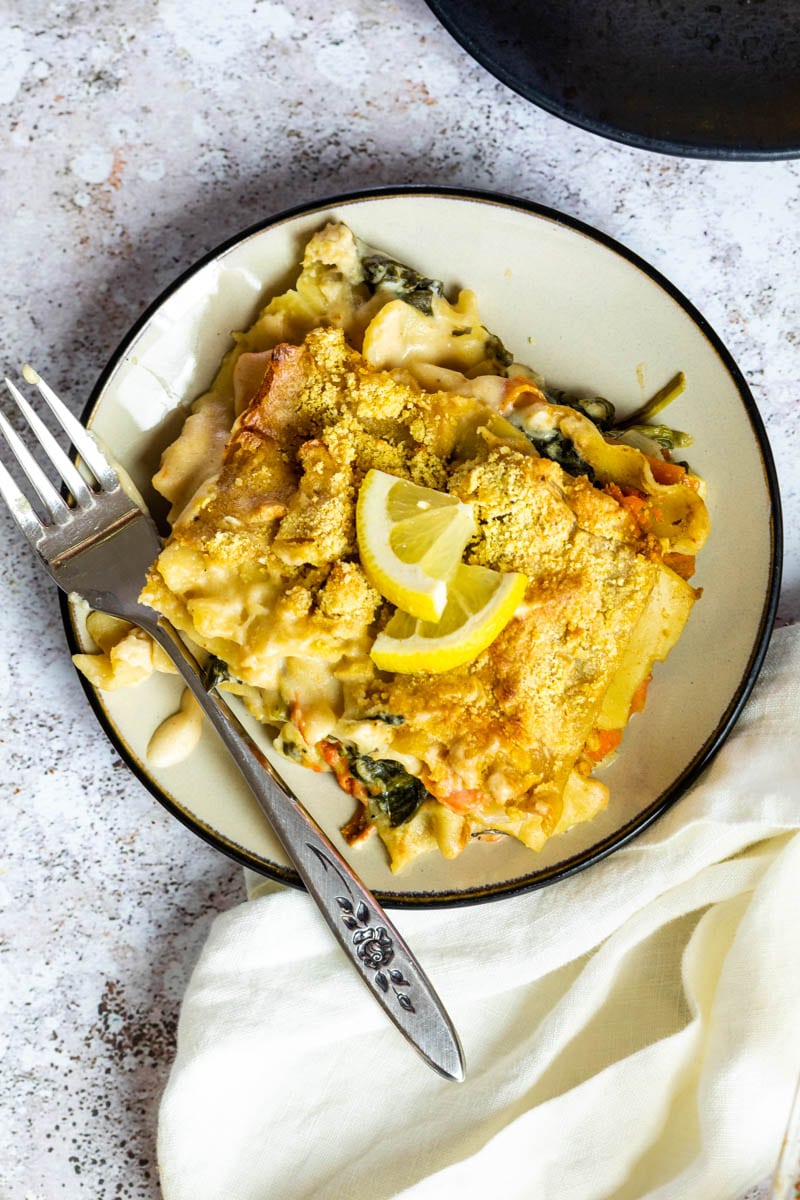 Substitutions
Smoked Carrots: To make this white sauce lasagna, you can leave out the carrots or cut the carrots in thin slices and use those.
Cashews: I love how creamy this sauce is. You can also use sunflower seeds or a combination of nuts/ seeds with white beans.
Milk: I usually use almond milk, but you can also use oat milk.
vegan Parmesan: Instead of Parmesan, you can also use nutritional yeast.
Spinach: You can sue fresh or frozen spinach. I love to use fresh baby spinach if I do not use frozen spinach.
Variations
Ricotta: Add layers of vegan ricotta, like tofu ricotta.
Vegan Sausage: Add some plant-based protein like these vegan sausage to this vegan lasagna recipe.
White wine: You can add a splash of white wine (non-alcoholic optional) to the sautéed onions and wait until overcooked.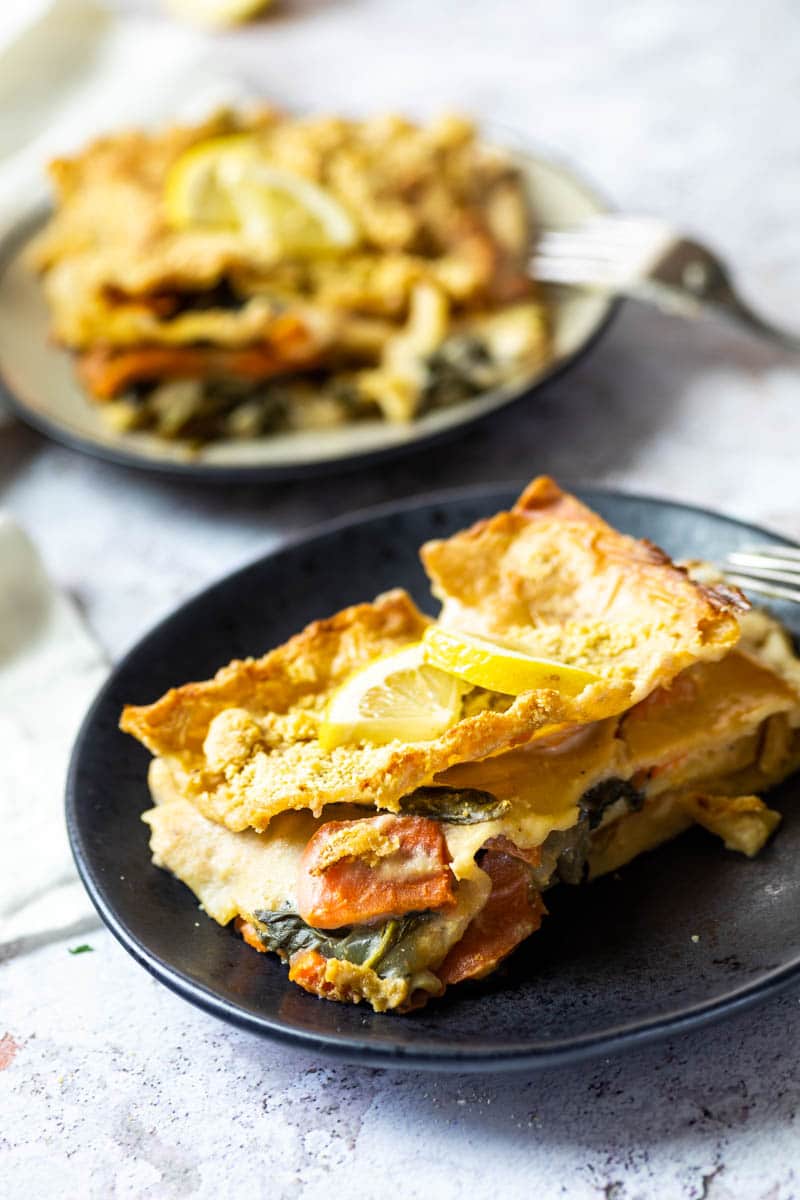 Equipment
Some kitchen tools that will help you to make the best vegetable lasagna.
Storage
Store leftovers of the vegan white lasagna in an airtight container in the refrigerator, and bake them again just before serving. You can also freeze the lasagna and then bake it again. This keeps the lasagna crispy on top and tastes like fresh baked.
Meal Prep
You can also prepare the lasagna ahead of time and put it in the fridge and bake it later. So you have less work. This vegan white lasagna is also suitable as a meal prep.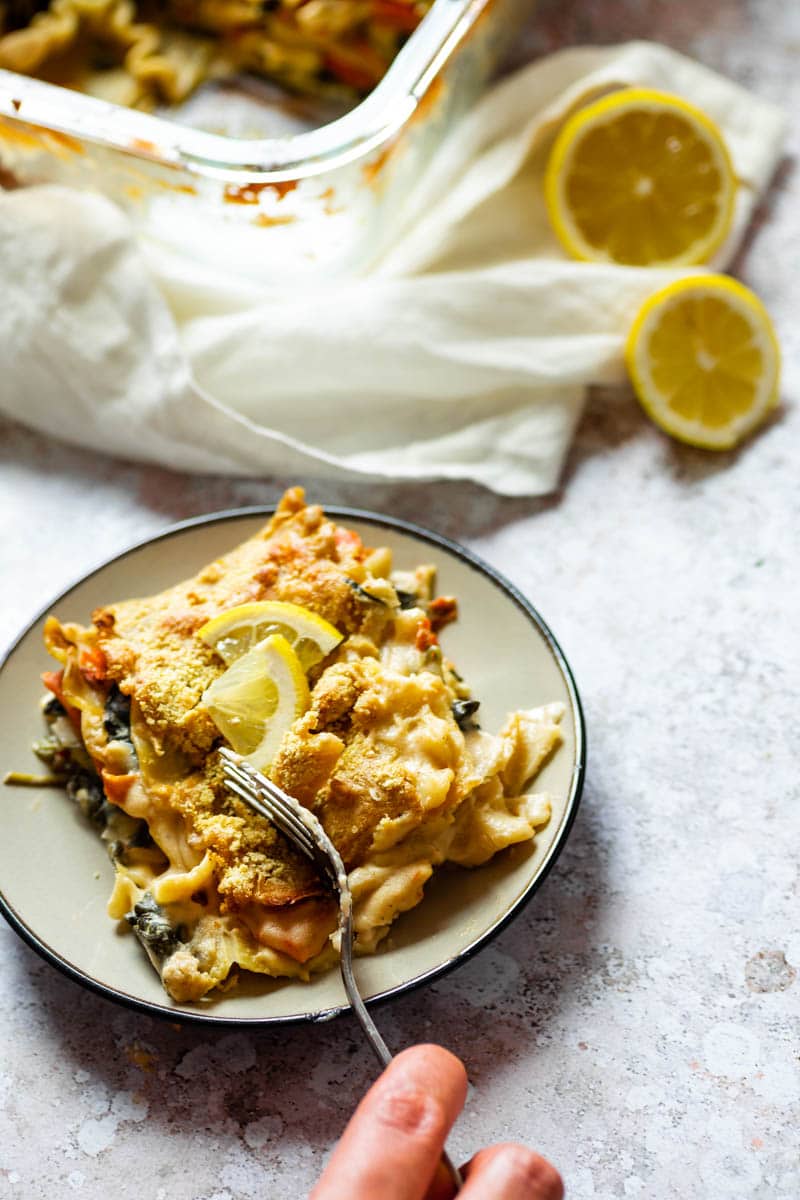 Tips
Use gluten-free lasagna pasta and instead of flour, cornstarch or gluten-free flour.
Fry mushrooms and use them instead of carrots.
Make sure that the sauce does not boil, but only thickens.
FAQ
Are Lasagna Noodles Vegan?
Basically yes. However, it depends. For example, here in the US, oven-ready lasagna noodles are not vegan because they contain egg. I usually buy the pasta for pre-cooking.
If you find vegan pasta without precooking, use it, so you have one less step to take.
Can I use the lasagna sauce for pasta?
You can also use the sauce to prepare a simple pasta dish with, e.g. spaghetti.
Add the spinach leaves to the sauce, and you will get a great and quick dish. You can also fold in the smoked carrots.