If you're looking for an authentic Pad Thai experience without any animal products, then this vegan tofu version is your go-to dish! In just 30 minutes and with the classic ingredients of curly rice noodles, spicy sweet sauce and delicious vegetables - like broccoli or baby bok choy - you can have a taste of Thailand in no time. Asian cuisine always has something special to offer; from coconut milk curries that come in red or green curry varieties to world-famous dishes such as Pad Thai.
So if it's thumbs up flavor but down on dairy and seafood that you're after, this veggie friendly recipe will satisfy all cravings deliciously!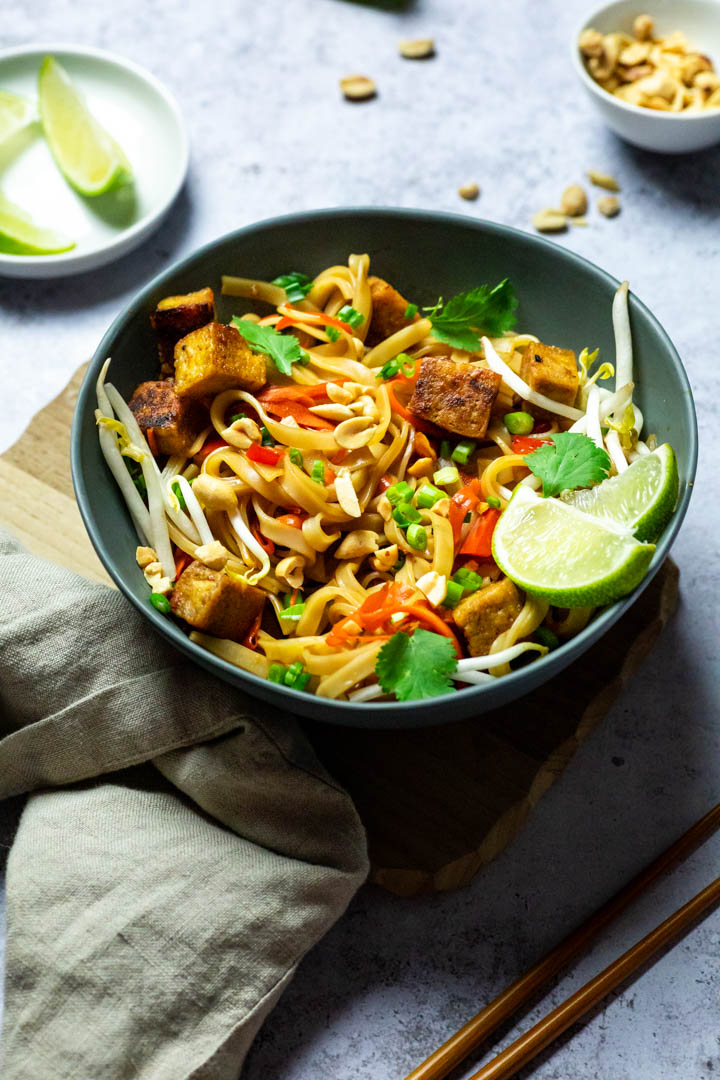 As an Amazon Associate, I earn from qualifying purchases. This post may contain affiliate links. Read More
Jump to:
Ingredients
A quick list of the simple ingredients you will need to make this vegetarian pad thai.
You can find the ingredients with quantities and the recipe to print out on the recipe card below.
Rice noodles
Garlic cloves
Shallots
Ginger
Extra firm tofu
Corn starch
Bean sprouts, fresh
Red Bell pepper
Green Onions
Carrots
Roasted peanuts
Lime
Coriander
Sauce Ingredients
Soy sauce or coconut aminos, tamari
Kelp powder
Maple syrup
Rice vinegar
Hot sauce like Sriracha or Tabasco
Miso paste or tamarind paste
Lime juice
Toppings
Lime Wedges
Fresh Cilantro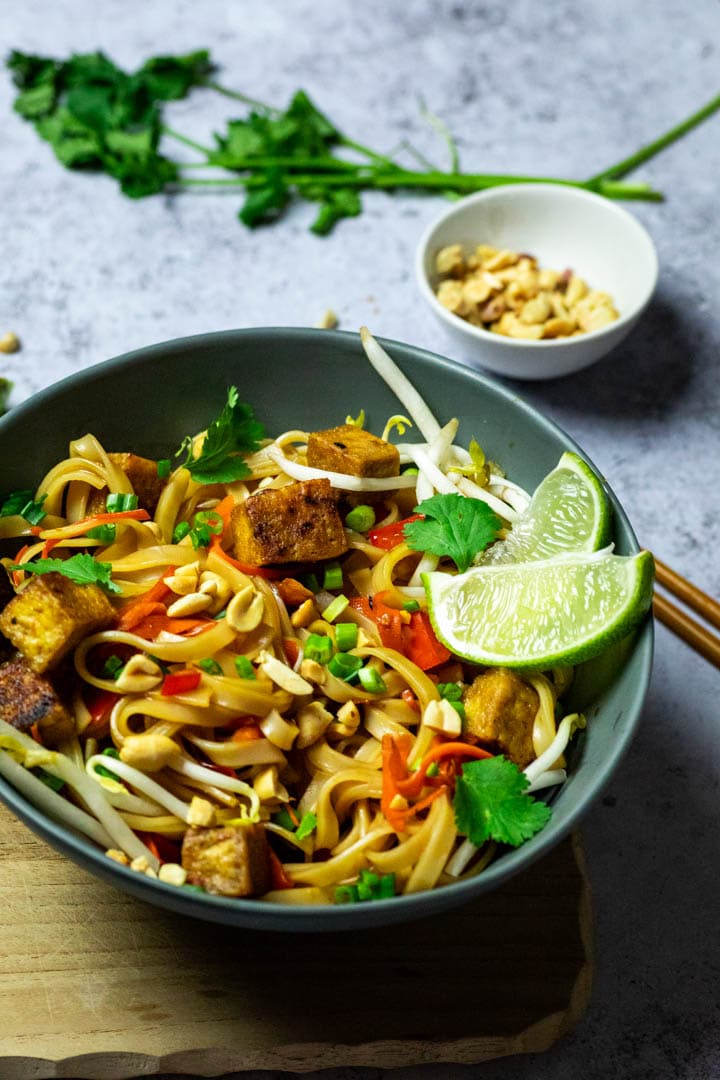 Instructions
First, cook the rice noodles according to the package directions.
Press the tofu and dice it. Now mix the tofu cubes with the cornstarch and briefly fry them vigorously in a wok or a coated pan. Now fry the chopped shallot and the chopped garlic cloves with the tofu. Add the ginger and the remaining vegetable ingredients and sautee everything with a little water on medium-high heat until golden brown.
Now mix all the ingredients for the sauce in a small bowl and pour them over the tofu and vegetable mixture.
Add the drained noodles to the crispy tofu.
Serve the pasta with peanuts, spring onions, and chopped fresh herbs like fresh cilantro, parsley.
How to cook Pad Thai noodles?
Rice noodles or Pad Thai noodles don't have to cook for long. Bring a pot with water to boiling and cook the pasta for about 3-4 minutes. Always look at the package instructions.
Make this pad thai, try my red curry, chop suey, tofu sweet sour, cauliflower butter or other vegan pasta recipes.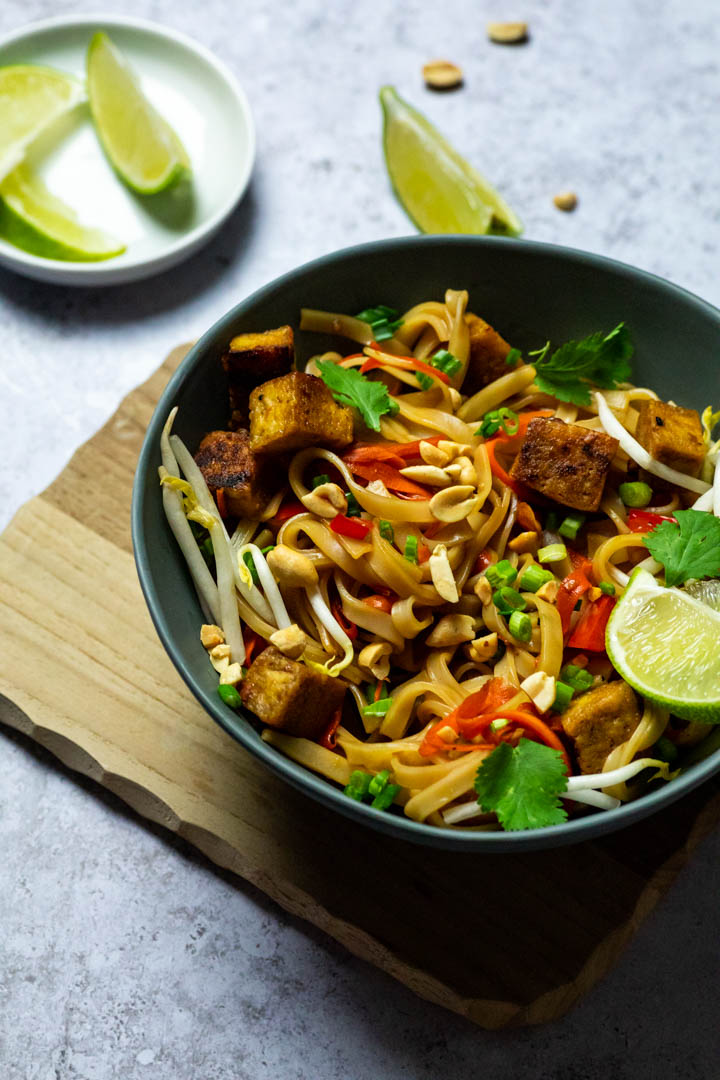 Substitutions
Flat Rice Noodles: You can use white rice noodles, brown rice noodles. If you do not have any rice noodles on hand, you can use whole wheat linguine.
Tofu: I love to use extra firm tofu, it holds the shape pretty nice. You can also use firm tofu.
Hot Sauce: Instead of hot sauce, use some chili flakes or red pepper flakes.
Soy Sauce: Instead of regular soy sauce, you can easily use tamari sauce or coconut aminos.
Tamarind: You can either use Tamarind Juice, Tamarind Concentrate or even Miso Paste. I sometimes use simple miso paste you can find in your local grocery store. Especially when you do not have Asian markets nearby. I love to keep it simple to make an easy vegan pad thai recipe.
Maple Syrup: You can also use coconut sugar instead of maple syrup.
Variations
Tofu Scramble: Instead of tofu cubes, you can add some tofu scrambles.
Vegan Shrimps: Add some sliced palm hearts and add them instead of the tofu or in combination with the tofu.
Equipment
Let us see what kitchen tools will help you to make the best vegan pad.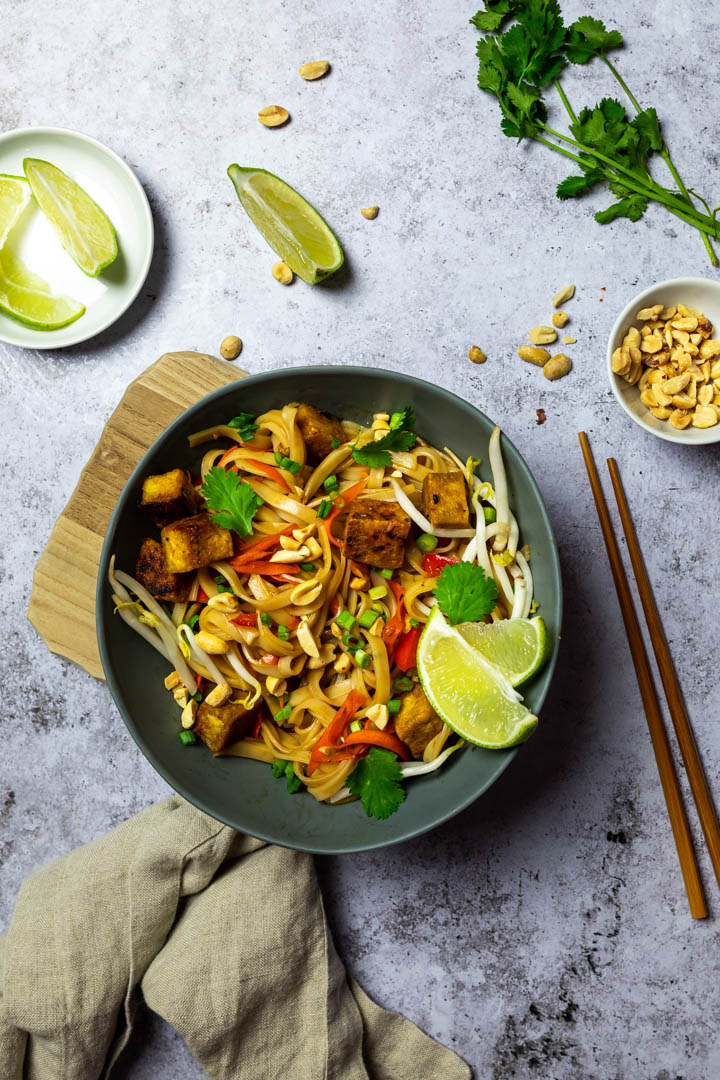 Storage
You got leftovers? You can store them easily in an airtight container for up to 5 days.
Tips for the best Pad Thai
Prepare everything in advance and have everything at hand. For example, cut the vegetables beforehand.
If you cover the tofu with cornstarch, it will be nice and crispy
Use a coated pan or a non-stick wok to avoid using oil.
Preheat the pan well before adding the tofu.
Steam the vegetables with a little water or vegetable broth so that nothing burns.
If you don't cook the noodles completely and heat them in a wok with the vegetables, they will be just right afterwards and won't fall apart.
If the noodles are a little too dry and sticky, just add a little water or vegetable broth.
Serve the dish immediately before the noodles start to stick.
If you don't have kelp powder, you can leave it out. The Kelp powder gives a special taste. You can also replace it with other algaes.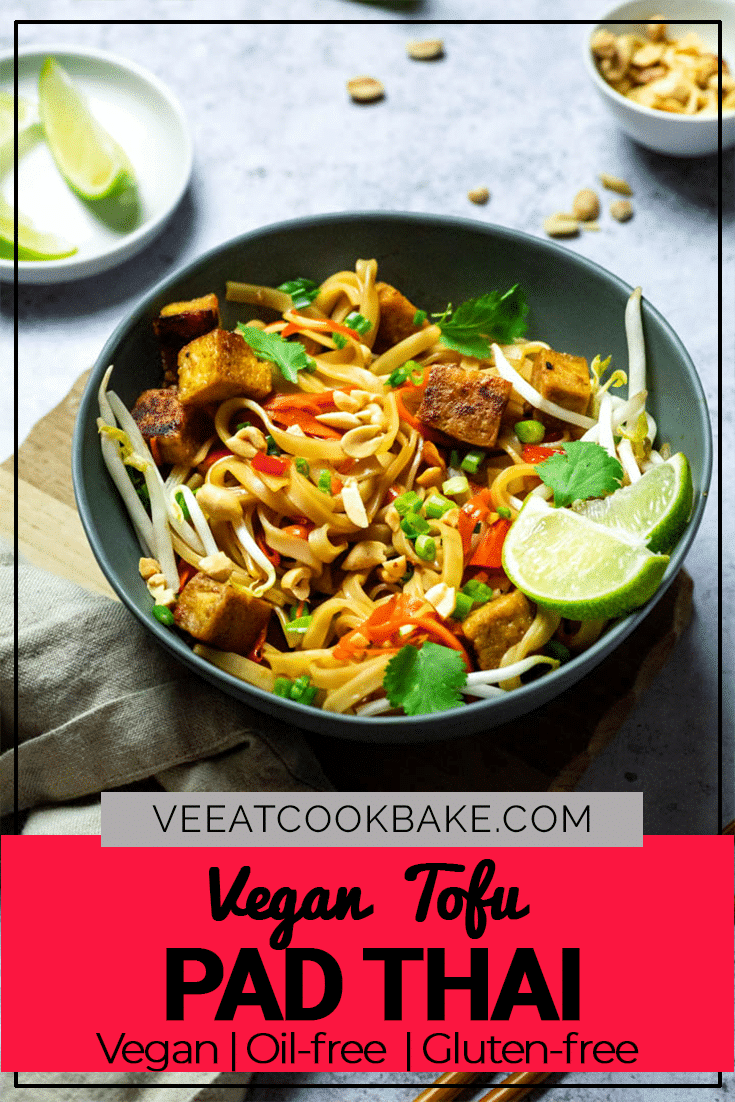 FAQ
What is Pad Thai?
Pad Thai or Phat Thai is a traditional noodle dish of the Thai cuisine. The dish is made from rice noodles, whisked eggs, fish sauce, tamarind paste, chopped cloves of garlic, chili powder, mung bean sprouts, crab, tofu or meat or seafood. Pad Thai is garnished with crushed peanuts, coriander leaves, lime, spring onions.

Is vegan Pad Thai gluten-free?
Basically, the dish is a gluten-free dish depending on which sauce you choose, whether you use soy sauce, tamari sauce or coconut aminos. For a soy-free sauce, use coconut aminos.
I want a classic Pad Thai dish with egg replacement. What can I use?
I prepared the Pad Thai without egg replacement. Since I didn't like dishes with egg before, I have no problem cooking the dish without egg here. If you would like to have a kind of scrambled egg in the recipe, you could prepare scrambled tofu from silken or soft tofu and then fold it in.
Here in the USA you can buy vegan scrambled eggs, which you could also use for this.
Instead of an egg replacement product, you could just add a little Kala Namak to add an egg taste.
Do I need Tamarind Paste for vegan Pad Thai?
As already mentioned, the traditional dish is prepared with tamarind paste. Tamarind gives the dish a sour, sweet taste. However, this ingredient is not easy to find. You could be successful in an Asia shop or you can order it here. If you have a white miso paste at home, you could use miso paste instead of tamarind paste to create a strong taste. Both work great.
How is the fish sauce replaced in traditional Pad Thai recipes?
I use more soy sauce (or Tamari sauce) and some kelp powder in this recipe. But if you absolutely want to use a vegan fish sauce, you can omit the kelp powder and replace some soy sauce with vegan fish sauce.
Can I prepare vegan Pad Thai low carb?
The traditional Pad Thai is prepared with rice noodles and is therefore anything but low carb. To make the dish low carb, just use a zucchini and a spiralizer and prepare zoodles. So you have the delicious Pad Thai sauce with a low carb alternative to noodles.