This creamy vegan chocolate pie is rich, incredibly chocolaty, velvety, silky and a healthier version of the classic chocolate pies from the USA.
This vegan chocolate cream pie is dairy-free, egg-free, oil-free, gluten-free and very easy to make.
With this wholesome pie with a no bake chocolate filling, nobody will notice that it is made from healthy ingredients.
Thanks to the pumpkin puree, cashews, tofu, dark chocolate and cocoa powder, this cake becomes a real taste experience.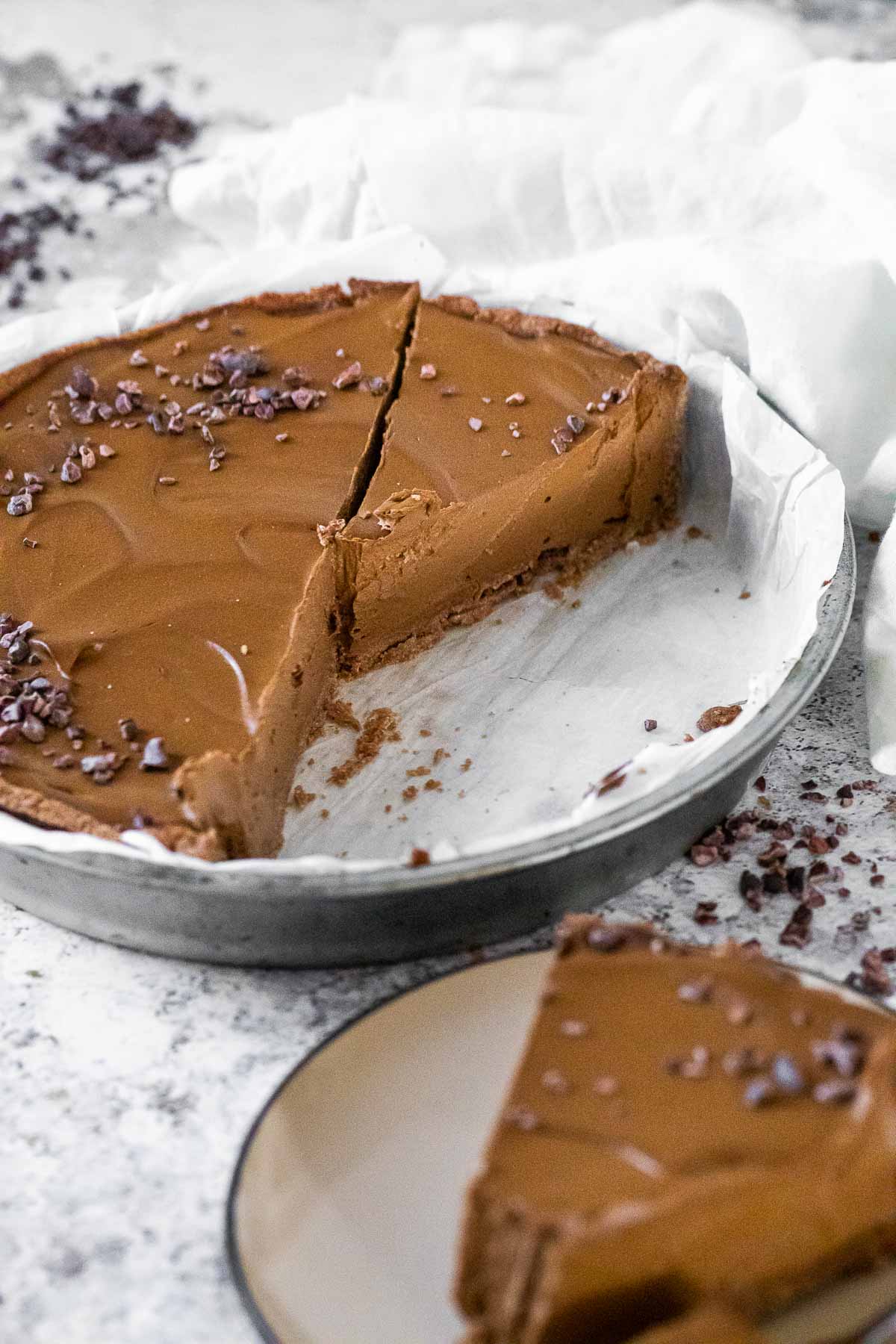 As an Amazon Associate, I earn from qualifying purchases. This post may contain affiliate links. Read More
Jump to:
None of your guests will notice that they are actually eating a pumpkin pie.
We make the shortcrust dough without oil, butter or margarine, so this vegan chocolate mousse pie is even whole food plant-based friendly.
We don't use highly processed foods, and yet this vegan chocolate tofu pie doesn't lose any of its flavor.
Are you now curious how you can conjure up such a great chocolate pie from these ingredients?
Then read on. I'll show you how you can prepare this vegan chocolate tart and how you can replace certain ingredients.
Ingredients
Now let's take a look at what exactly we use for this vegan chocolate pie. You can find the exact quantities below in the recipe card.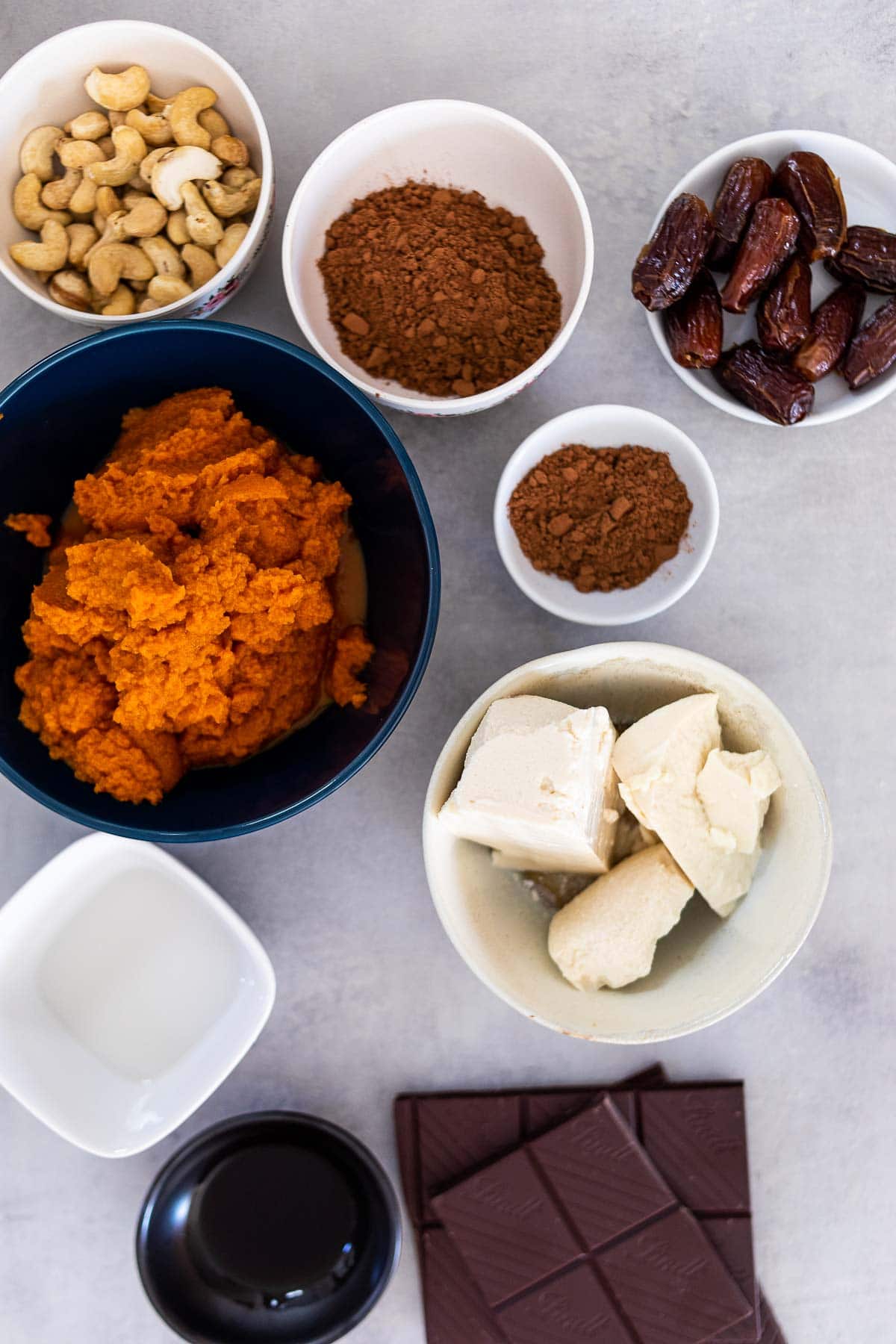 Dough:
Almond Flour
Whole Wheat Flour
Arrowroot Flour
Maple Syrup
Cocoa Powder
Water
Baking Powder
Filling:
Pumpkin Puree
Cashews
Almond Milk
Soft Tofu
Cocoa Powder
Dates
Vanilla Extract
Dark Chocolate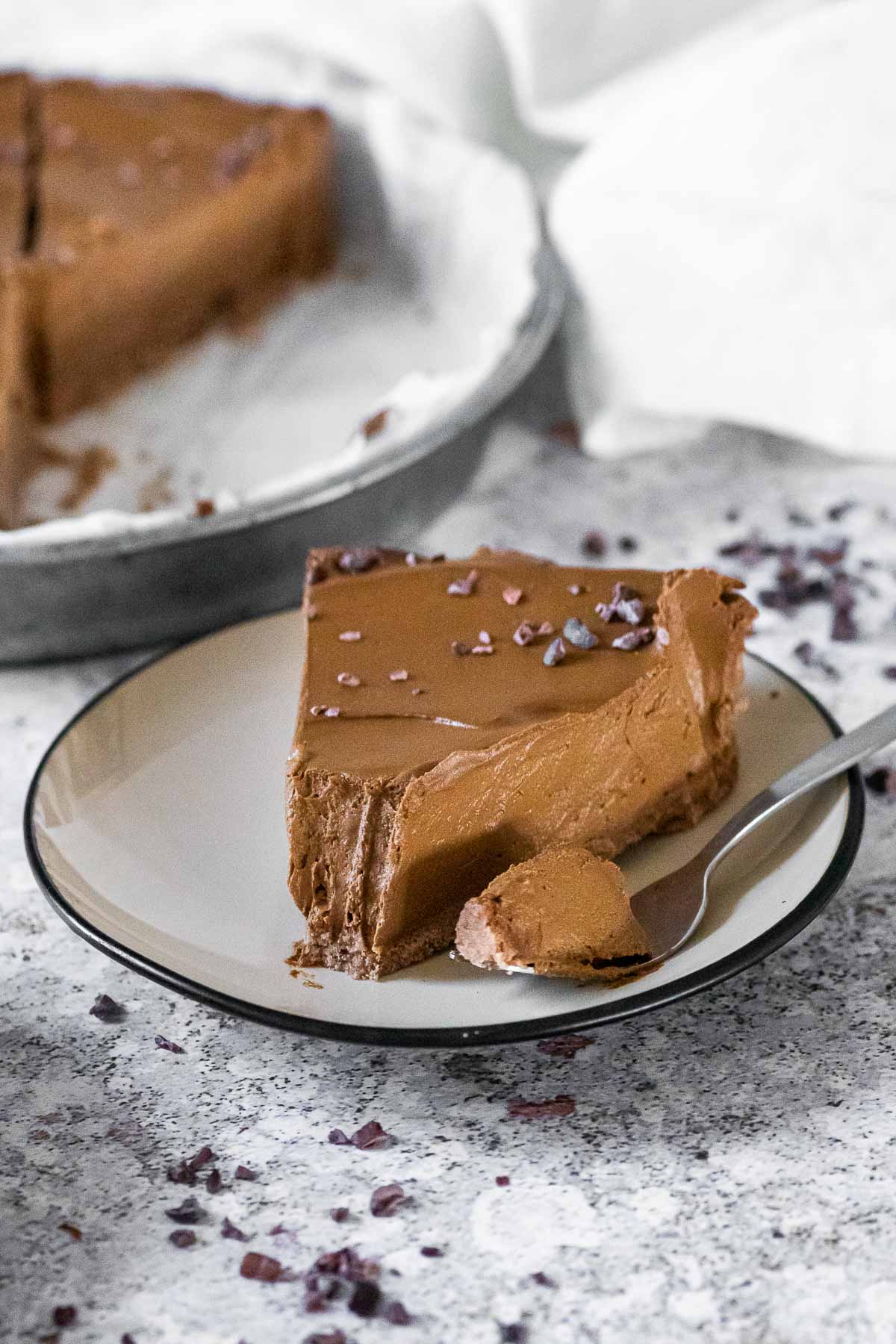 Substitutions
Let's take a look at which ingredients you can replace without hesitation.
Almond Flour
Almond flour is very finely ground almonds. You can either grind the almonds fine or buy almond flour yourself.
The almonds are used as a fat substitute, they are full of healthy fatty acids. If you do not want to consume almonds, you can also use macadamia nuts, pecans, or other seeds such as pumpkin seeds and grind them yourself into fine flour.
For this I use a high speed blender.
Whole Wheat Flour:
Instead of whole wheat flour, you can also use rice flour or oat flour. Just make sure that oats are certified gluten-free.
Arrowroot Flour
You can replace the arrowroot flour with tapioca starch for the chocolate pie.
Almond Milk
You can easily replace the almond milk with other plant-based milk alternatives. Rice milk, soy milk, or oat milk are ideal here.
Maple Syrup
Instead of maple syrup, you can also use date syrup or date paste. Both work very well for this shortcrust pastry.
Tofu
Instead of tofu, you can also use vegan yogurt. Take about 400 g here. Make sure that you don't add the yogurt to the blender, but rather fold it in later.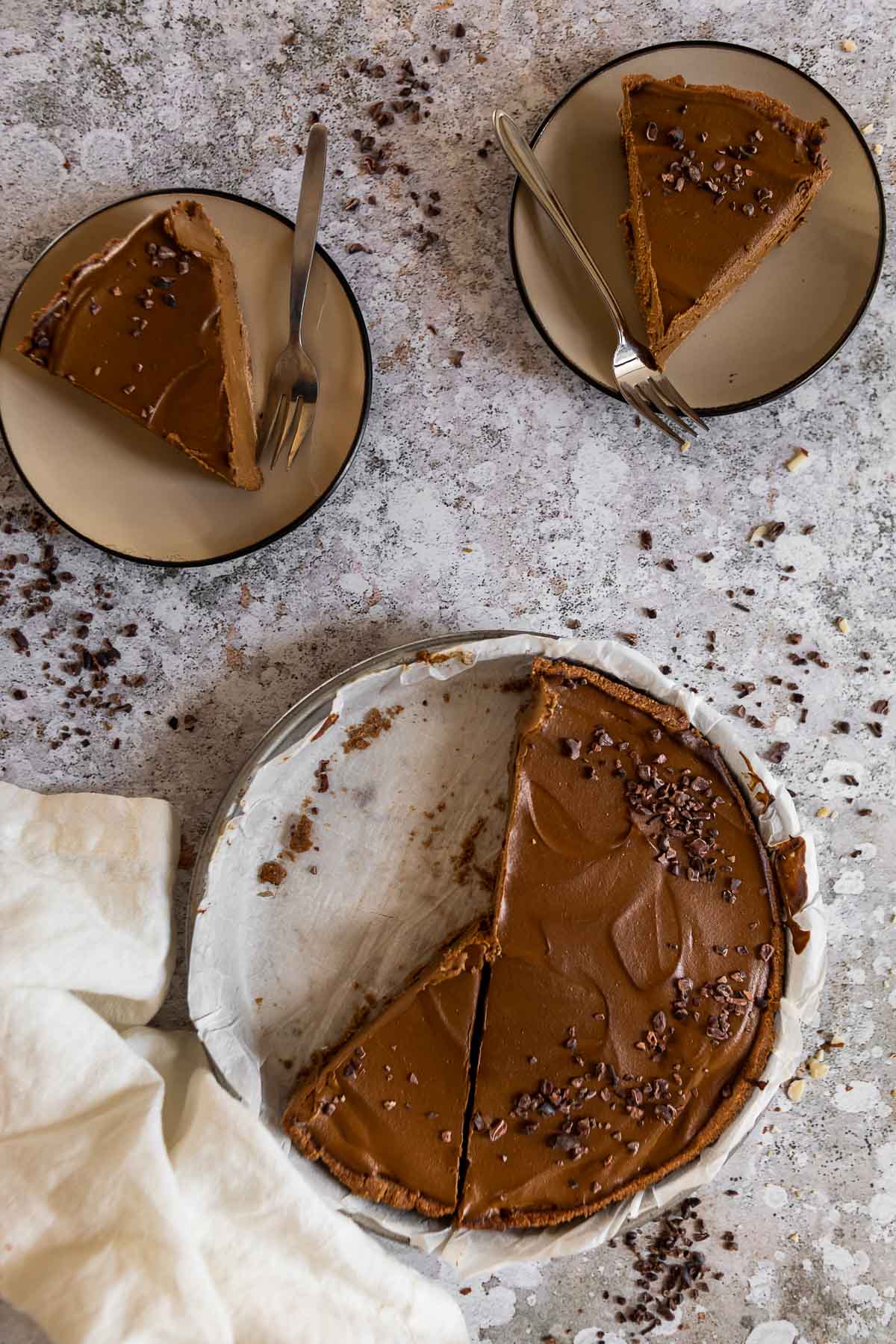 Variations
Now let's look at different diets and how we can adjust the recipe accordingly.
Gluten free
You can easily prepare the pie gluten-free by simply replacing the whole wheat flour with a gluten-free flour such as rice flour or oat flour.
Paleo
To make a paleo chocolate tart, replace the tofu with plant-based yogurt based on almonds, for example.
Keto
You could make the dough entirely from nuts and almonds and use the sweetener of your choice.
For the filling, replace the tofu with plant-based yogurt such as an almond-based one. Instead of the dates, use your sweetener of choice. Replace the chocolate with sugar-free chocolate.
Instructions
Soak the dates. While these are soaking, prepare the crust. Put almond flour, whole wheat flour, arrowroot flour, cocoa powder and baking powder in a mixing bowl and stir.
Add 2 tablespoons of maple syrup or date syrup and slowly add water. Knead the dough until it comes together. Then let it rest for 10 minutes.
Preheat the oven to 350°F or 180°C. Take a prepared pie form or spring form pan and roll out the dough about ¼" (4 mm) thick and round.
Place carefully on the pie pan. Press the dough into the mold, the dough should go up the edges.
Bake the crust for about 20-30 minutes, until it's cooked through.
In the meantime, let's prepare the chocolate filling.
Put the pumpkin puree, cashew nuts, silken tofu, cocoa powder, drained dates, almond milk, and vanilla extract in a high speed blender and blend it until it is super creamy without pieces.
There should be no more pieces or lumps.
Let the crust cool and melt dark chocolate in a double boiler.
Put the melted chocolate in the blender and mix well.
Pour the filling into the cake pan and let it sit in the refrigerator for at least 2 hours. Better overnight. The filling becomes firmer.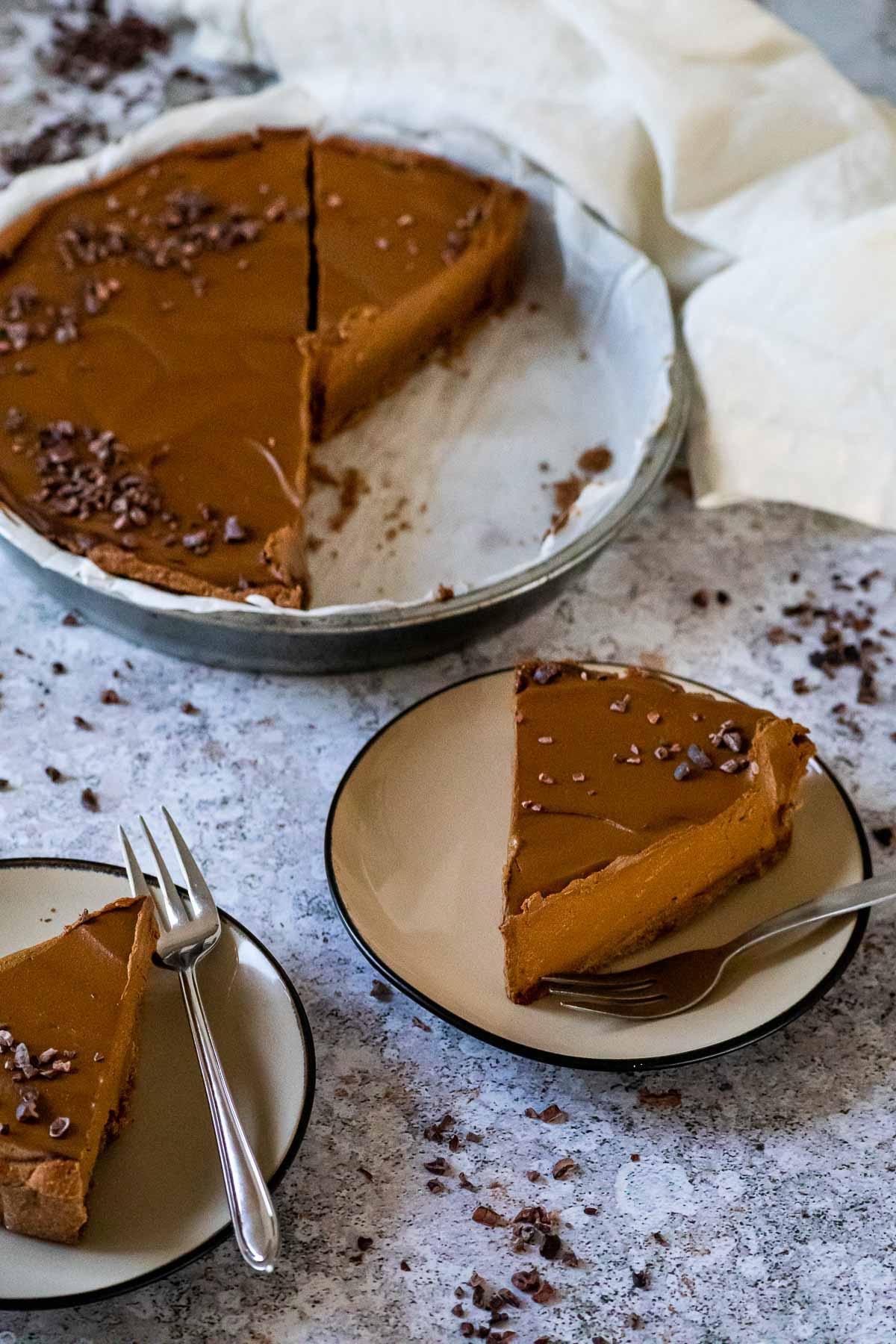 Prepare in Advance
I even recommend that you prepare the cake about 1 day in advance. Simply put the pie in a cake container in the refrigerator overnight.
So you can ensure that the cream is cut resistant.
Baking Time
The baking time for this vegan chocolate pie is around 30 minutes. The filling is not baked.
Serving Options
Serve this vegan chocolate pie as dessert or with your next cup of coffee or tea. This chocolate tart is also ideal for coffee and cake on birthdays.
Serve the pie with vegan whipped cream, coconut whipped cream or whipped aquafaba as a cream substitute.
You can also sprinkle the pie with cocoa nibs as shown in the photos.
Storage
Do you have something left of the pie and don't know how to store it?
How to refrigerate it?
This vegan chocolate pie is best stored in the refrigerator. Simply put it in a cake container. The tart stays there for about 5 days.
How to freeze it?
You can also freeze the tart and then simply take it out of the freezer 1-2 hours beforehand. I prefer the tart from the fridge.
Tips:
Use canned pumpkin puree or you can also make your own pumpkin puree.
Of course, you can also prepare a different crust or use a store-bought crust.
You can also prepare the chocolate filling on its own and serve it as a cream dessert.
If the cream is difficult to mix in the blender, keep trying to scrape it down. It may take a while for the cream to become really creamy. You can also add a little more almond milk, if necessary.
More Vegan Recipes: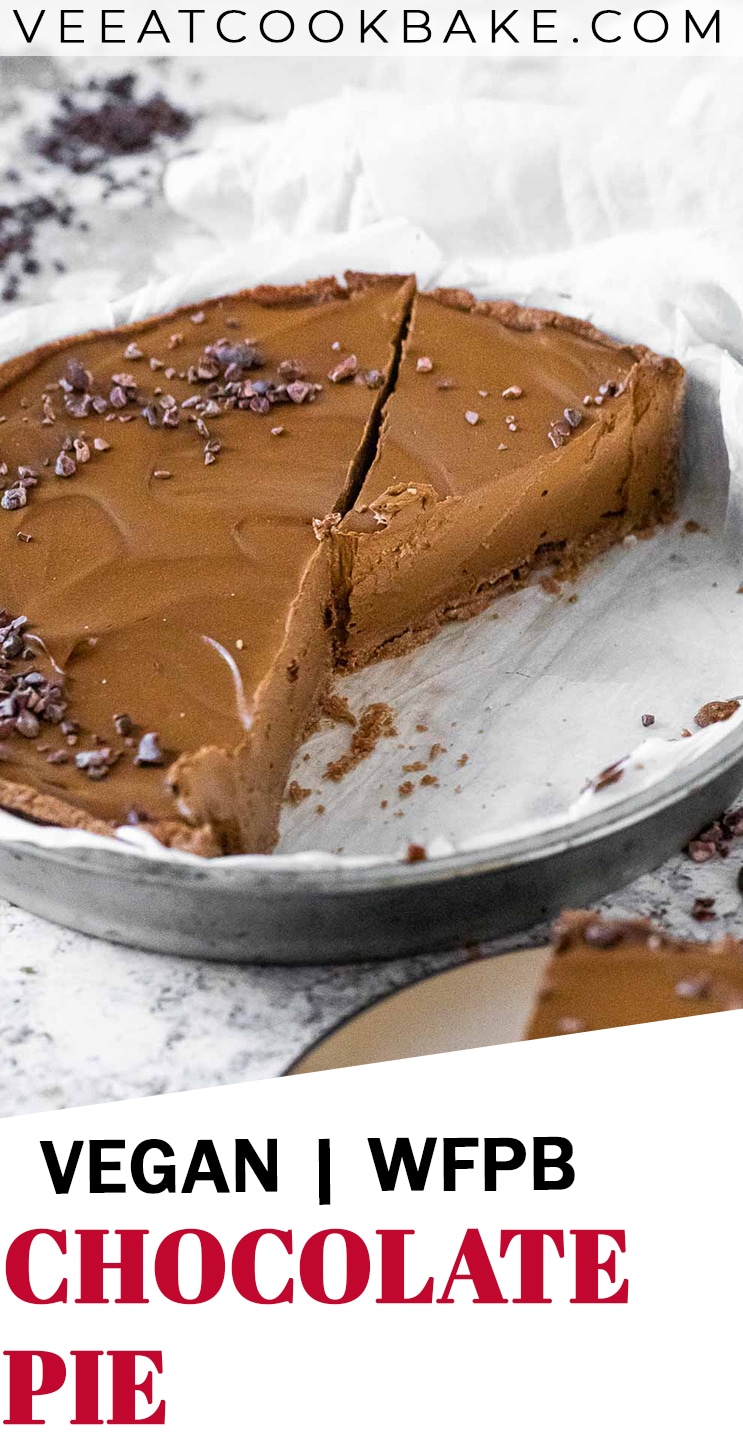 Have you tred the recip
If you tried the vegan Recipebe so nice ♥ and let me knw byrating the recipe and writing what you think about it in the comments.  I would love to see your photo on Instagram orFacebook. To do this tag me with @veeatcookbake andmy hashtag is #veeatcookbake. So that I can see your creation. Did you know you can add photos n Pinterest under the recipe Pin? I can't wait to see a photo of your creation here. You find me with @veeatcookbake