Vegan Russian Dressing is a creamy, oil-free sauce recipe that is quickly prepared in a high speed blender.
This Russian dipping sauce is perfect for sandwiches, salads and spreads.
It is very creamy, spicy and slightly hot and has all the flavors you might know from the classic Russian dressing with mayo.
Only this one is dairy-free, without oil, without sugar and made with whole food plant based ingredients.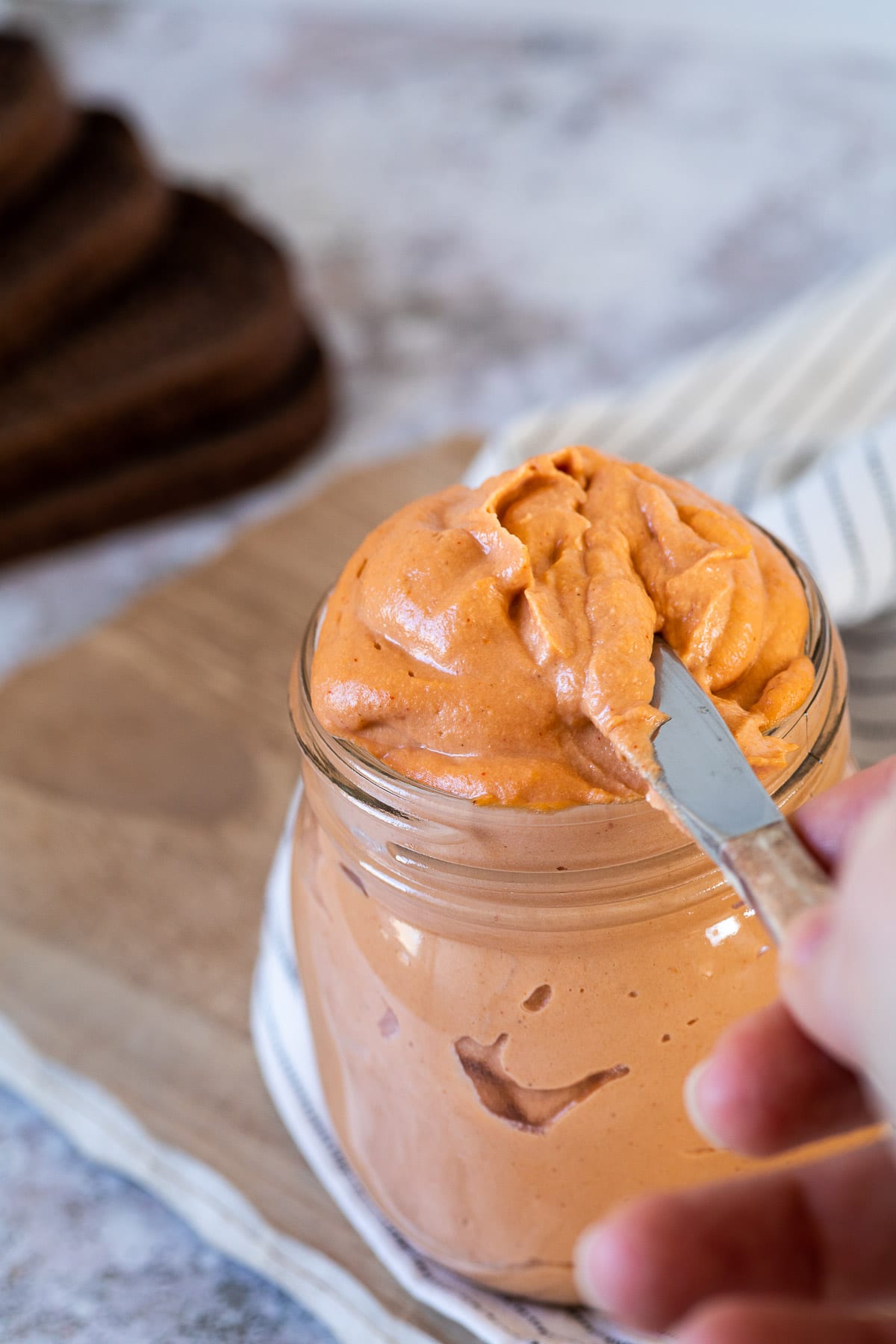 As an Amazon Associate, I earn from qualifying purchases. This post may contain affiliate links. Read More
Jump to:
You don't even need 5 minutes to make this delicious vegan Russian dressing.
Not only in the summer salad season as a salad dressing, this salad dressing is a great change from hearty sandwiches such as the well-known Reuben sandwich or bowls, this sauce also makes a great change in the cold season.
Difference Thousand Island and Russian Dressing
Thousand Island and Russian Dressing are very similar in color. There's a bigger difference in the ingredients list.
Russian dressing uses horseradish and chili sauce, which makes the sauce slightly hot.
While the Thousand Island Dressing uses pickles, which make the dressing more sour, sweet.
Where was Russian Dressing invented?
Even if the name suggests that Russian dressing was invented in Russia. Is it not true?
It is an American dressing that was invented in America (New Hampshire) in the early 1900s.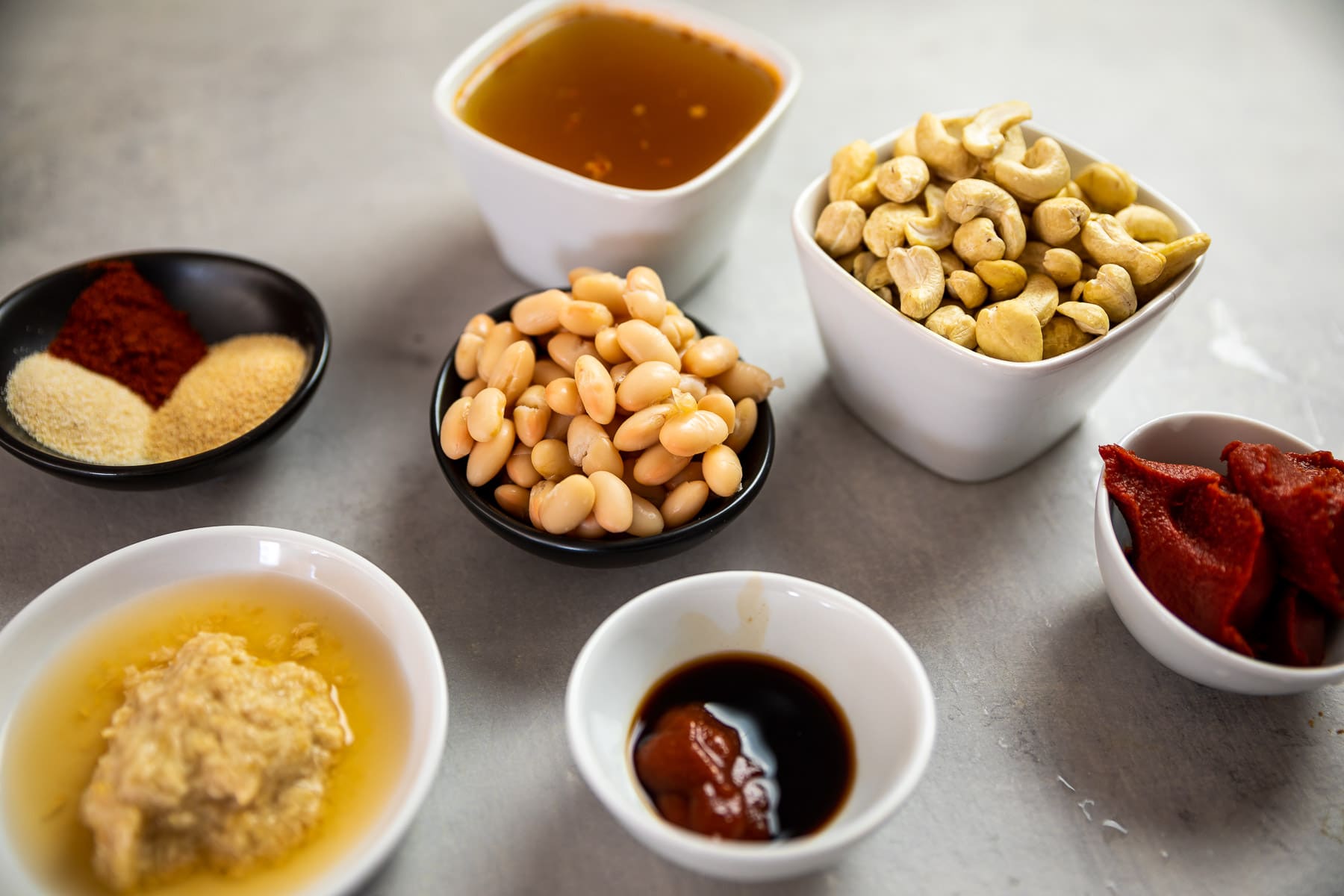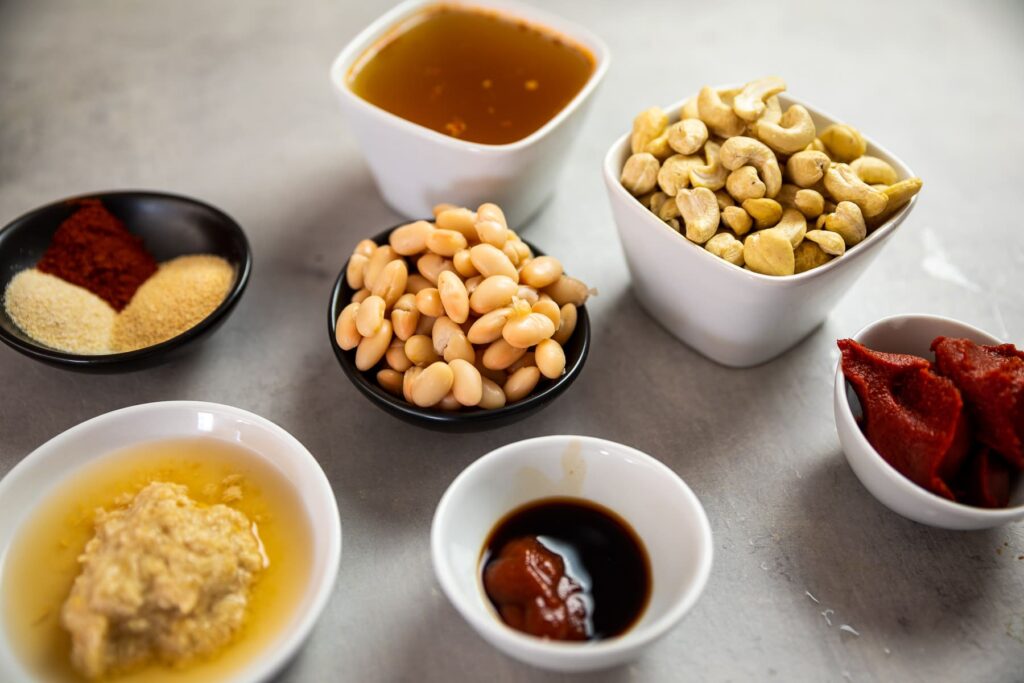 Ingredients
Now let's take a look at what exactly is in this vegan Russian Dressing. As always, the exact quantities can be found below in the recipe card.
Cashews
White Beans
Vegetable Broth
Tomato Paste
Onion Powder
Garlic Powder
Paprika Powder
Horseradish
Sriracha Sauce
Tamari
Apple Cider Vinegar
Salt and Pepper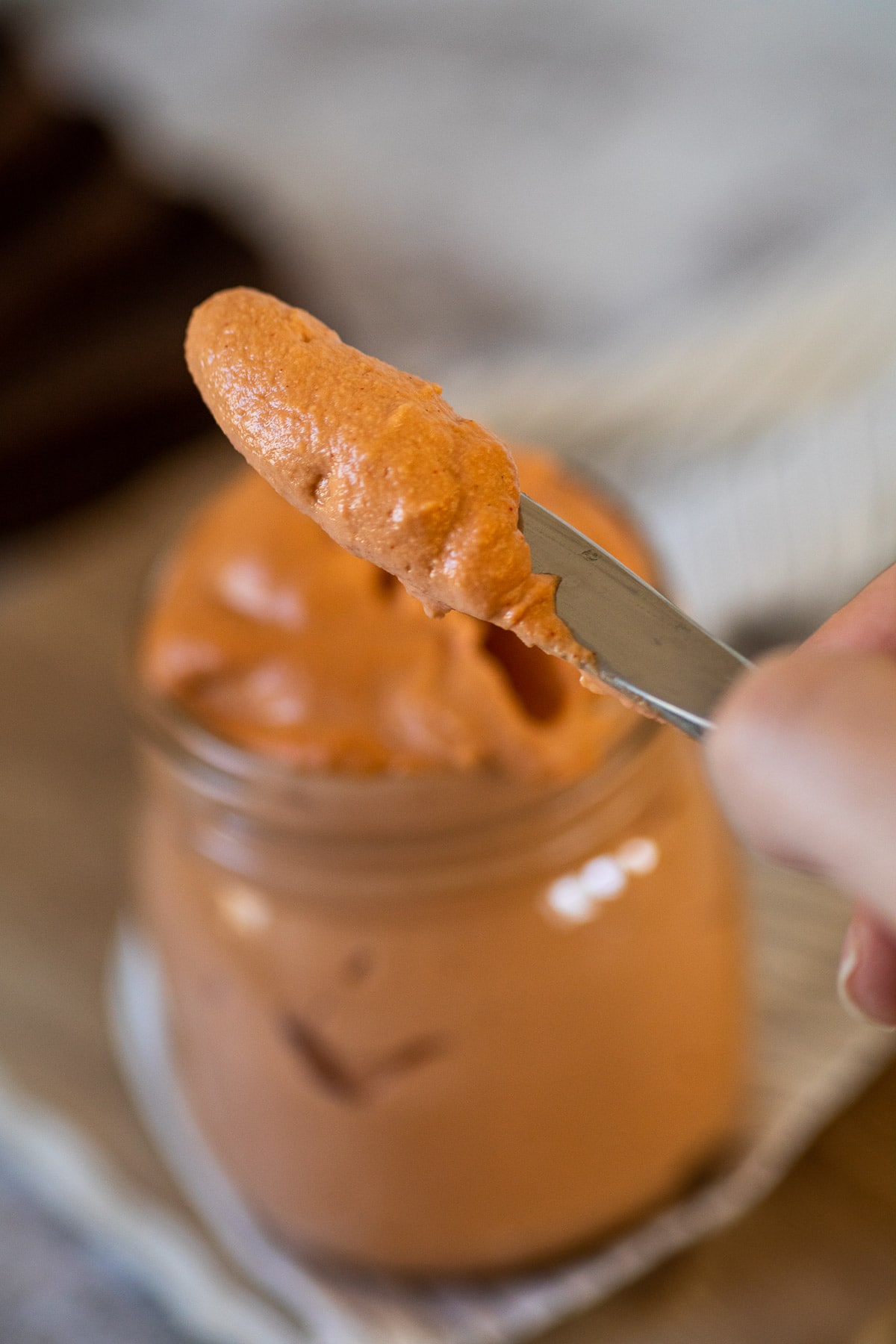 Substitutions
If you don't have all the ingredients on hand, let's take a look at what you can replace to make an incredibly delicious vegan Russian dressing.
Cashews
You can replace cashews with sunflower seeds. You can replace the cashews in equal parts.
White Beans
The white beans help make the dressing creamy, but not too heavy with the fat. We also add more nutrients to the dressing.
You can use kidney beans or chickpeas instead of white beans.
Horseradish
Use pickled horseradish if you can find one that doesn't contain cream or other animal ingredients.
You can also prepare it yourself.
Prepare Horseradish
Peel the horseradish with a peeler and cut it into large pieces. Now put the horseradish in a food processor with some apple cider vinegar and water and pulse until it is super finely chopped. Add enough water to get a smooth consistency.
Your horseradish is ready!
Sriracha Sauce
You can also use another hot sauce for the Russian dressing. Just take the one that suits you best.
Tamari Sauce
Tamari Sauce is a gluten-free soy sauce. You can also use a soy sauce or coconut aminos.
Apple Cider Vinegar
Don't have apple cider vinegar at home? You can also use regular vinegar. If you are using vinegar essence, please pour just a small sip and then taste it.
Apple cider vinegar is only with a 5% acidity. You can also use white wine vinegar.
Sea Salt
Instead of sea salt, you can also use Himalayan salt. Or you can leave out the salt for now.
The vegetable broth and the spices give the Russian dressing a good taste that you probably don't have to add salt and you can make a low-salt version.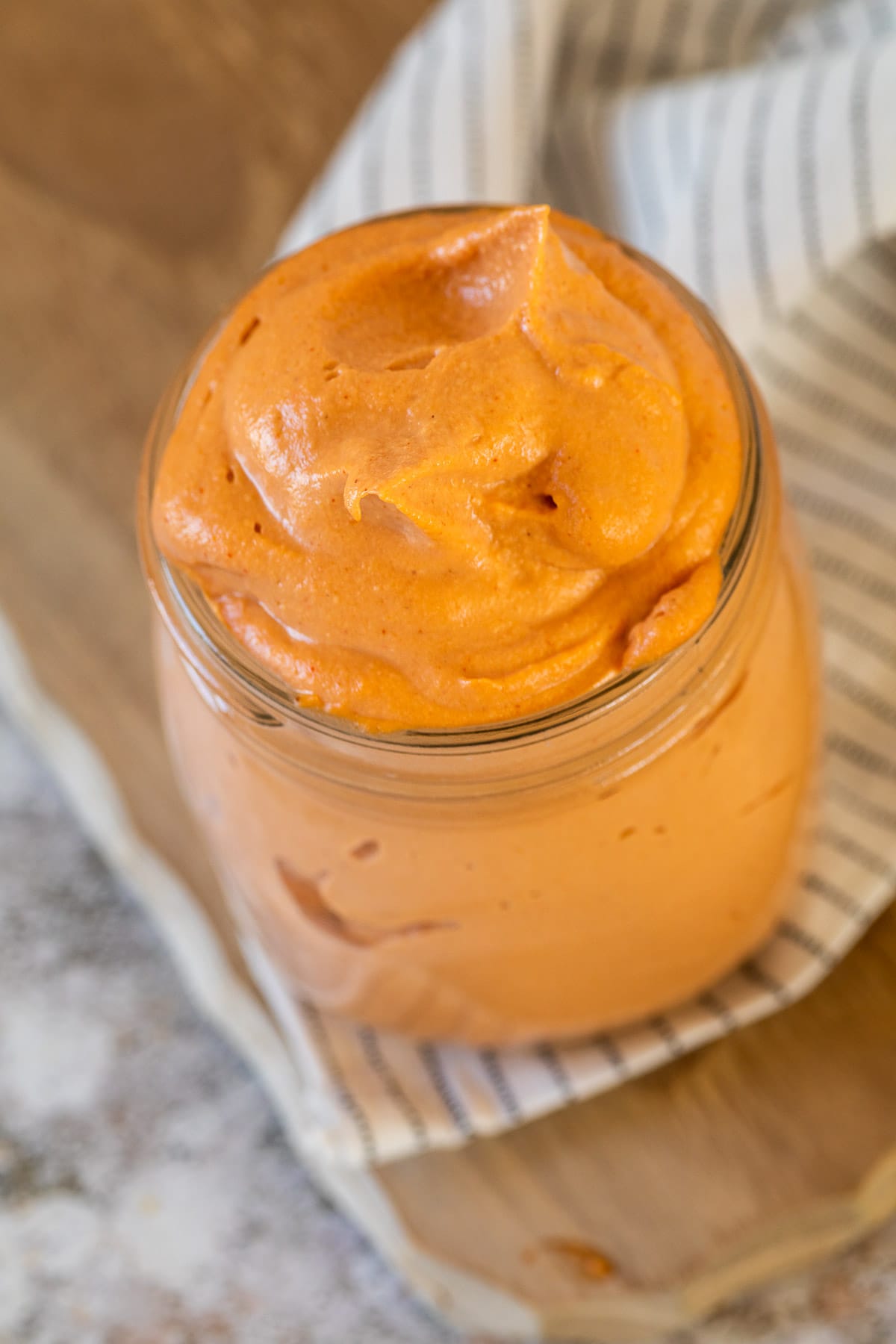 Variations
This vegan Russian Dressing is a dairy-free, oil-free, gluten-free, sugar-free dressing.
Nut free
Replace the cashews with sunflower seeds and you get a nut-free vegan Russian dressing.
Soy free
Instead of the tamari sauce, use coconut aminos.
But keep checking the packaging of the other ingredients, such as the hot sauce, to see if they contain soy.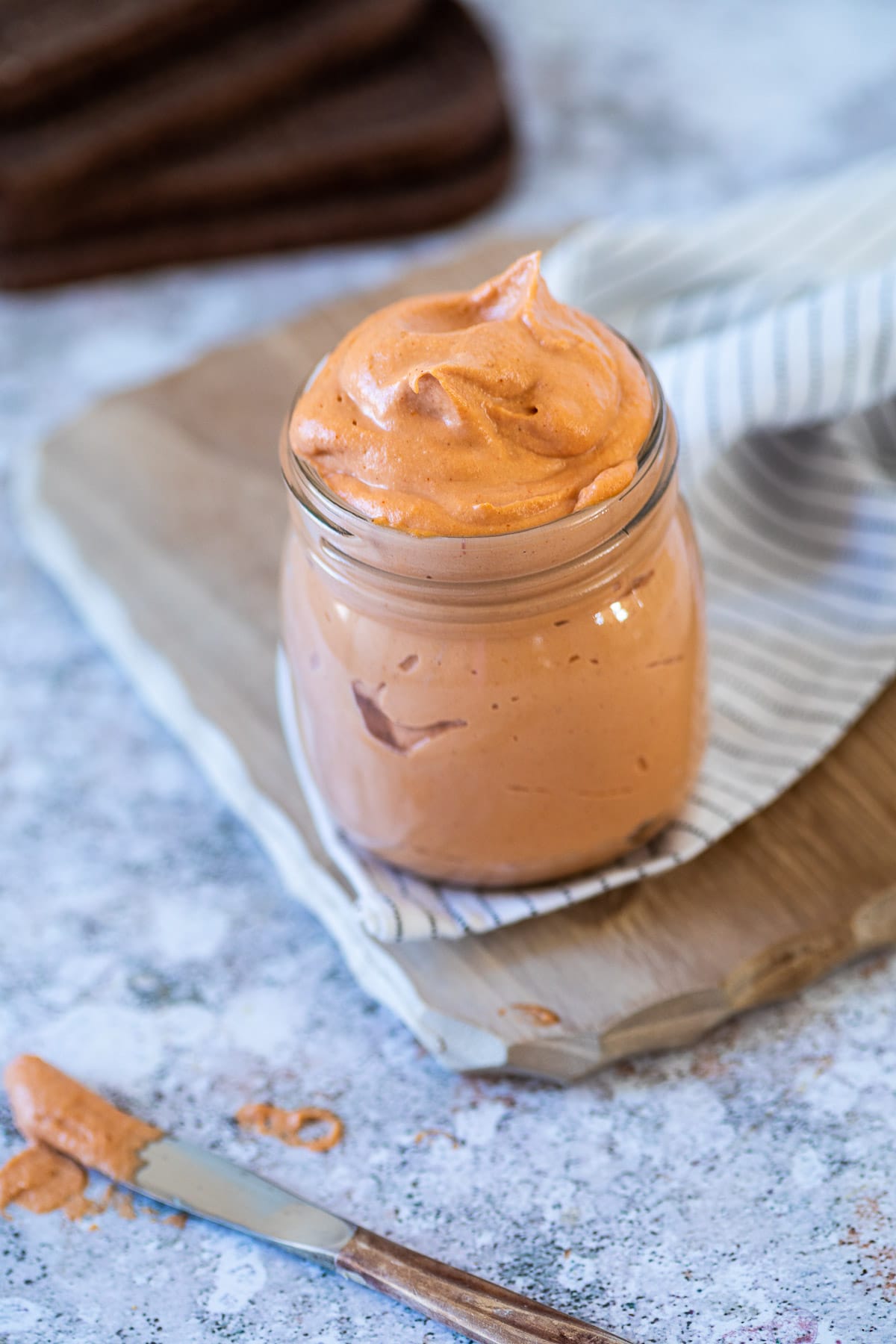 Instructions
Put all the ingredients in a high-performance mixer and mix until you get a cream without pieces. It can take a minute.
Season the Russian dressing with salt and pepper.
Prepare in advance
The vegan Russian Dressing can be prepared very well in advance, as it is very easy to store.
Recommended Equipment
What do you need for the dairy-free Russian dressing recipe?
Serving Options
This Russian dressing is not only delicious with salad or Buddha bowls.
The spicy, slightly hot taste gives sandwiches a special touch. Do you know the famous Reuben sandwich from the USA?
Check out my vegan Reuben sandwich with corned tempeh and sauerkraut.
You can also make a sandwich with my seitan roast turkey style and this dressing.
Storage
You have leftovers from the Russian dressing or did you prepare it in large quantities?
Then take a look at the following storage options.
How to refrigerate it?
The vegan Russian Dressing will keep in the fridge for about 5 days. Keep it in a sealed container. I prefer to use jam jars or mason jars.
How to freeze it?
Pour it into containers in portions and freeze. The dressing stays there for about 4 months.
Let it thaw in the refrigerator overnight. Just before serving, stir it vigorously so that it becomes creamy again.
Tips
I love making this Russian dressing in larger portions.
You can serve it during the week or you can freeze it and can use it to quickly conjure up a sandwich or a salad plate.
More vegan recipes
Buffalo Cauliflower Wings with Ranch Sauce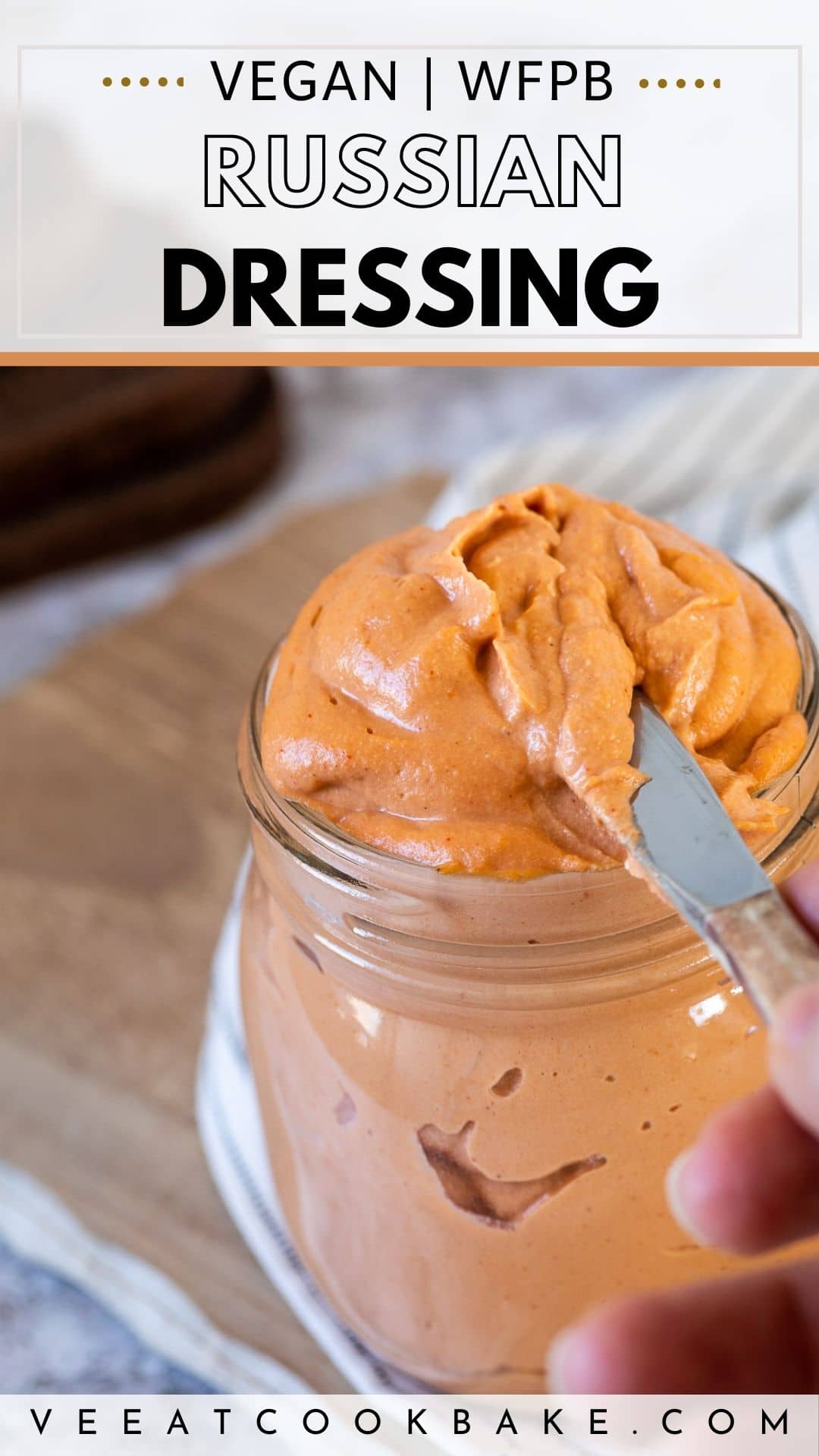 Have you tred the recip
If you tried the vegan Recipebe so nice ♥ and let me knw byrating the recipe and writing what you think about it in the comments.  I would love to see your photo on Instagram orFacebook. To do this tag me with @veeatcookbake andmy hashtag is #veeatcookbake. So that I can see your creation. Did you know you can add photos n Pinterest under the recipe Pin? I can't wait to see a photo of your creation here. You find me with @veeatcookbake