This post is also available in: Deutsch
*As an Amazon Associate, I earn from qualifying purchases. This post may contain affiliate links. That means if you click and buy, I may receive a small commission. Please see my full policy.*
Lentil Soup – a hearty vegan recipe which is perfect for cold winterdays or cool, rainy summer days. Warm up with this flavorful, smoky and quick Lenitl Soup. Make it for Dinner, Lunch or make a bigger batch for meal prepping and freezing.  vegan | gluten free | dairy free | oilfree | vegatarian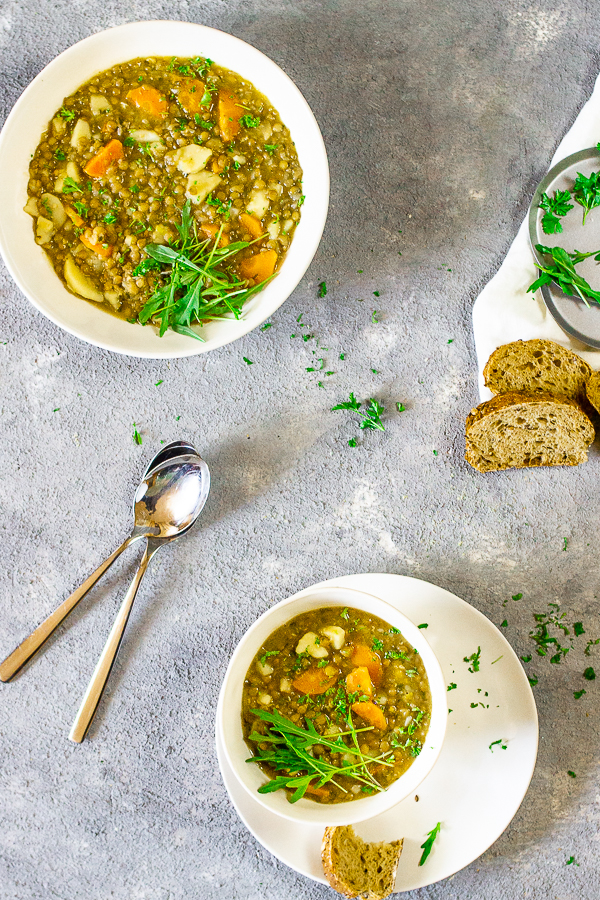 Summer is coming, or is it already arrived? Why a hearty soup, you ask yourself? This soup tastes great on cool, rainy summer days or even on hot days. I'm one of the people who can eat soup at any time of the year. So it is with the lentil soup. What kind of person are you?

For example, in the summer we also cook soup over the fire outside. We also have a great soup kettle that is simply hung over the fire pit. Check out my other soups here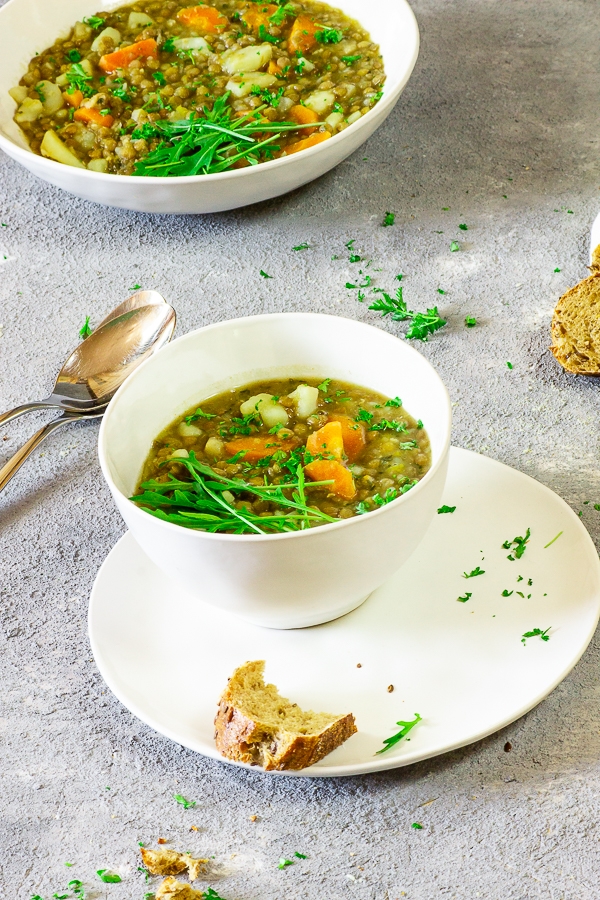 Use summer vegetables for the Vegan Lentil Soup
You do not want to miss out on the delicious summer vegetables in the summer? Then just take a few handfuls of your favorite vegetables and add them to the recipe.
Of course, you can do this in the winter with seasonal vegetables.
Add salt later to the Vegan Lentil Soup
When cooking lentils, it is important that you add the salt to taste, only after cooking. When the lentils already soft. Otherwise they need more time for getting soft.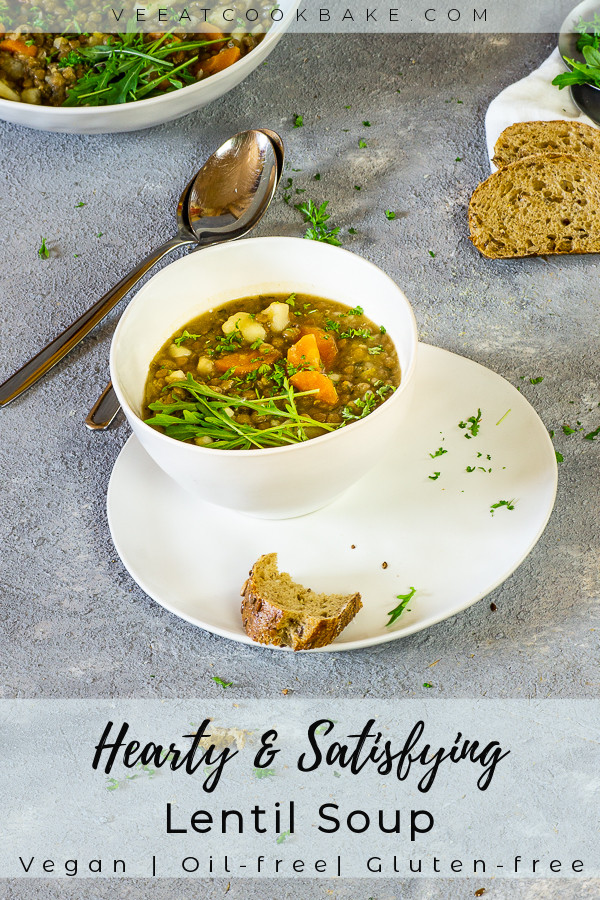 ---
Did you try the recipe?
If you did it, be so nice ♥ and let me know by rating the recipe and writing what you think about it. Tag me on Instagram too. I am @veeatcookbake and my hashtag is #veeatcookbake. So that I can see your creation. Did you know you can add photos on Pinterest under the recipe Pin? I can't wait to see a photo of your creation there. You find me with VeeatCookBake.
---
Hearty Lentil Soup - vegan, oilfree, glutenfree, whole foods, dairyfree
Hearty Lentil Soup - vegan, oilfree, glutenfree, whole foods, dairyfree Author: VeeatCookBake Cook time: 30 mins Total time: 30 mins You are looking for a lentil soup that is prepared quickly and also tastes delicious and hearty? Then I have just the right one for you.
Recipe type:
Soup, Stew, Dinner, Lunch
Cuisine:
vegan, dairyfree, oilfree, glutenfree, whole foods, german
Ingredients
2 cups of lentils
1.5 liters of water
1 carrot in bite sized pieces
2 potatoes in bite sized pieces
½ onion
1 clove of garlic
½ bunch of parsley
1 teaspoon of smoked salt
1 tablespoon of apple cider vinegar
1 tsp of Marmite
½ teaspoon white pepper, ground
1 tablespoon of nutritional yeast
Salt and pepper to taste
Instructions
Fry the diced onion and garlic in a little water.
Cut the potatoes and carrot into bite-sized pieces and place them with the lentils and water in a pressure cooker.
Cook the lentils for about 30 minutes. Let the pressure cooker cool down or let the steam out slowly.
Possibly you have to add some more water. Depending on how you like it the consistency.
Are the lentils soft enough for you, add the remaining ingredients.
Bring to boil againg and season with salt and pepper.
Must haves

---
Join my Mailing List and get a exclusive monthly recipe
---