Are you ready to tantalize your taste buds with an unbelievably delicious vegetable lentil soup? If the answer is yes, then get ready for this vegan and whole food plant-based (wfpb) oil free recipe that will make your kitchen smell absolutely divine!
Ready to dive in? This mighty veggie loaded hearty soup is full of fresh flavors from Garlic, Onions, Carrots and Celery blended together with satisfying lentils. Once simmered together in a pot of vegetable stock, it creates a perfectly filling meal that the whole family can enjoy.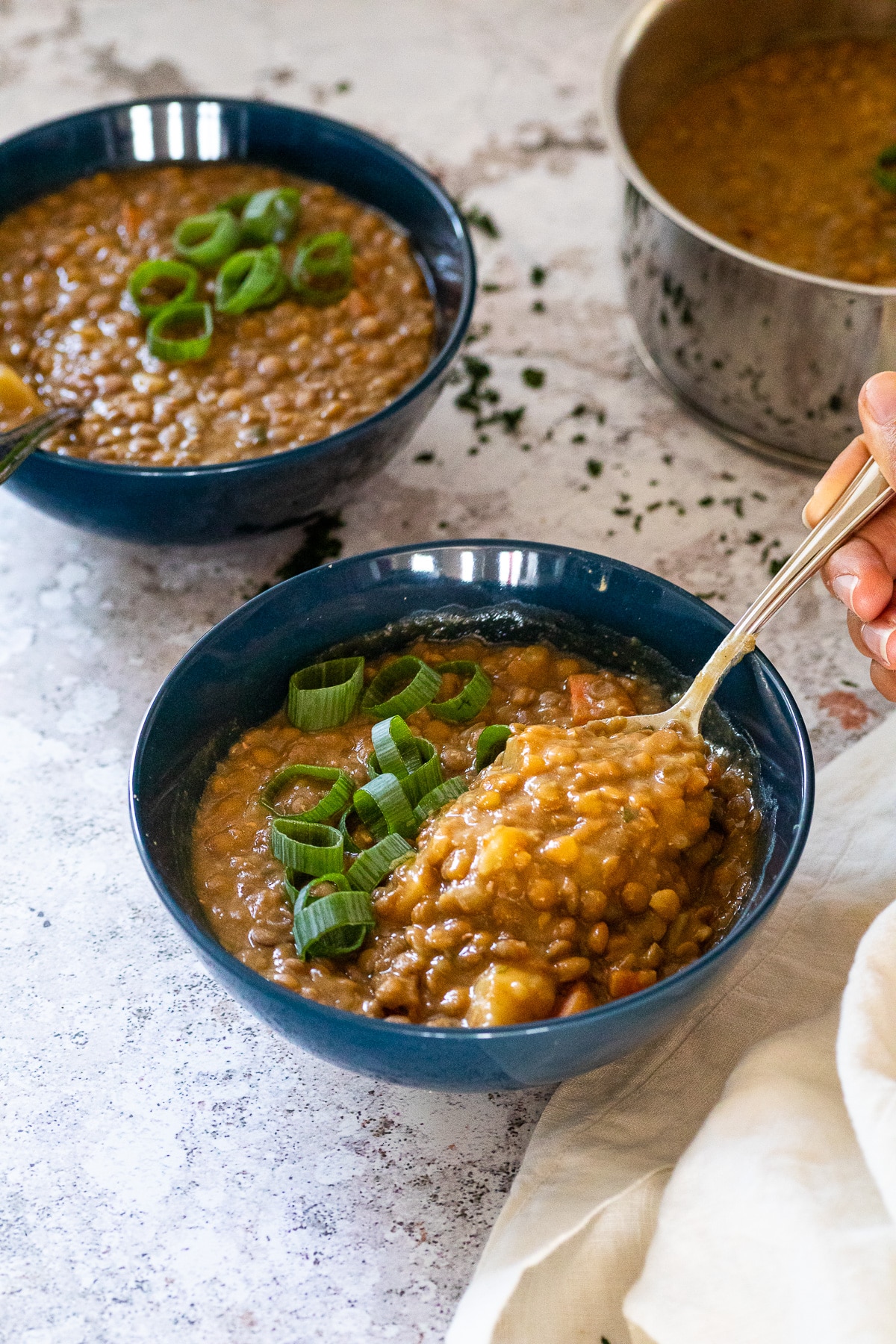 This recipe pairs well with a crusty bread like a whole wheat baguette, buckwheat bread, spelt bread. Roasted vegetables like brussels sprouts.
As an Amazon Associate, I earn from qualifying purchases. This post may contain affiliate links. Read More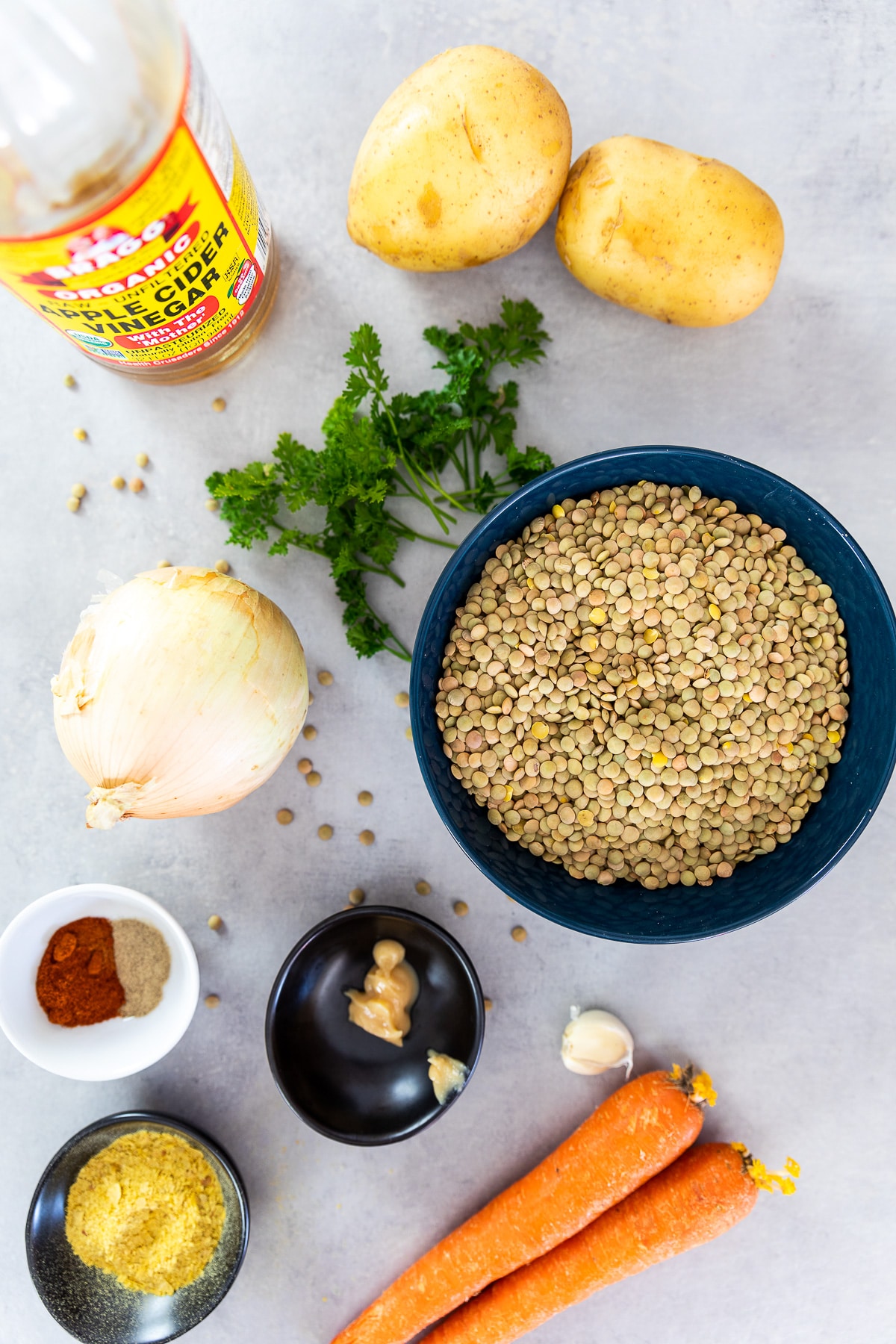 Ingredients
Let's take a quick look at the ingredients in this hearty vegan lentil soup.
You can find the ingredients with quantities and the recipe to print out on the recipe card below.
Brown Lentils
Water or Vegetable Broth
Carrot
Potatoes
Celery
Yellow Onion
Cloves of garlic
Parsley, fresh or dried
Smoked Paprika Powder
Apple Cider Vinegar
Miso Paste
White Pepper
Nutritional Yeast
Sea Salt
Apple Cider Vinegar
Instructions
Instant Pot
Dice the onion and the garlic clove. Sauté onions, garlic in a pressure cooker (instant pot) without the lid, on medium-high heat. Always add a sip of water so that they do not stick to the pot.
Cut the potatoes, celery and carrot into bite-sized pieces and place them with the lentils and the water or vegetable broth in the pressure cooker.
Cook the lentils under high pressure for about 15-20 minutes. Let the pressure cooker cool down and let the pressure release naturally. Takes about 10 minutes. After the 10 minutes let the remaining pressure out. You can also use the quick release.
You may have to add some more water or vegetable broth. Depending on how thick you like the soup. Add the remaining ingredients to this creamy soup.
Stove Top
You can also make this vegan lentil soup recipe on the stove top follow the instructions above and gentle simmer for about 40 min or until lentils are soft. The cooking time will be longer.
Slow Cooker
This vegetable lentil soup is easily prepared in a crock pot add all the ingredients except the miso paste and cook on high for about 6 hours.
Hint: If you want to season your lentil soup, make sure that you only add salty products such as miso paste after cooking. Salt can prevent the lentils from becoming soft.
Make this soup, check out my soup with green beans, butternut squash soup and more of my vegan soup recipes.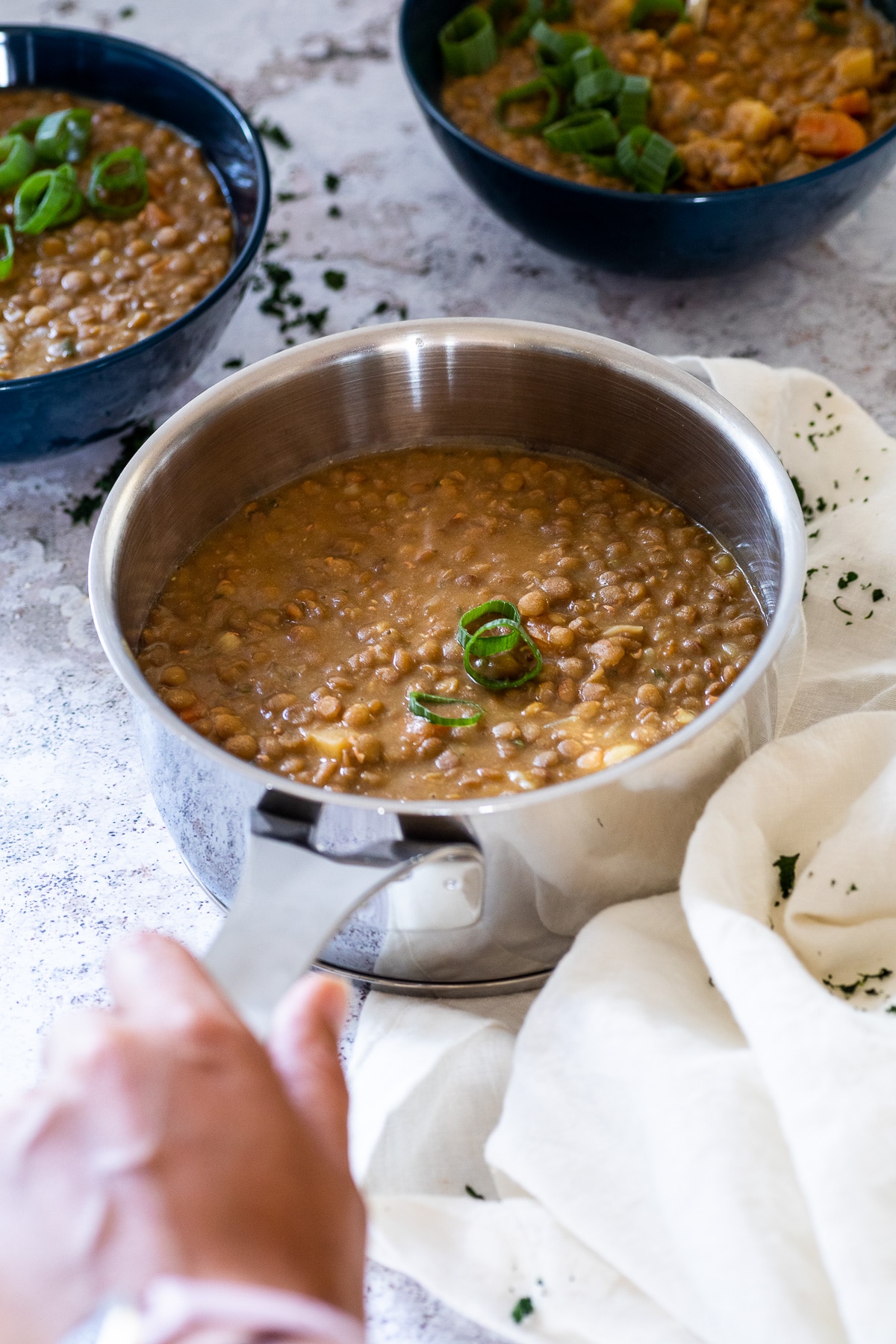 Substitutions
Lentils: I usually prepare this lentil vegetable soup with brown or green lentils. These keep their shape and at the same time thicken the soup. You can also use black lentils, but the soup will not turn out as creamy as it does with the other lentils. I cannot recommend red lentils or yellow lentils. These disintegrate very easily and quickly, and you will and up with a mushy soup. For red lentils, I recommend making red lentil dal.
Miso Paste: Instead of Miso you can also use soy sauce or coconut aminos to great this delicious umami flavor. You can also add a teaspoon of vegetable stock powder to give some extra flavor.
Nutritional Yeast: You can omit the nutritional yeast flakes but I think they give that certain something and a great taste to this healthy lentil soup recipe.
Parsley: If you do not have fresh parsley on hand you can add 2 teaspoon dried parsley.
Variations
Italian: Add some italian seasoning and fire-roasted tomatoes to these hearty lentils.
Leafy Greens: Ad some leafy green like chopped spinach, kale or tatsoi to this lentil stew recipe.
Curry: Add your favorite curry powder like garam masala to this easy lentil soup recipe. You can always change the flavor profile of the soup and will never get boring. Vegan Diet is so versatile.
Brown Rice: You want it more filling, serve some brown rice with this good lentil soup.
Serving Ideas
Equipment
Some kitchen tools that will help you make this vegan lentil soup recipe!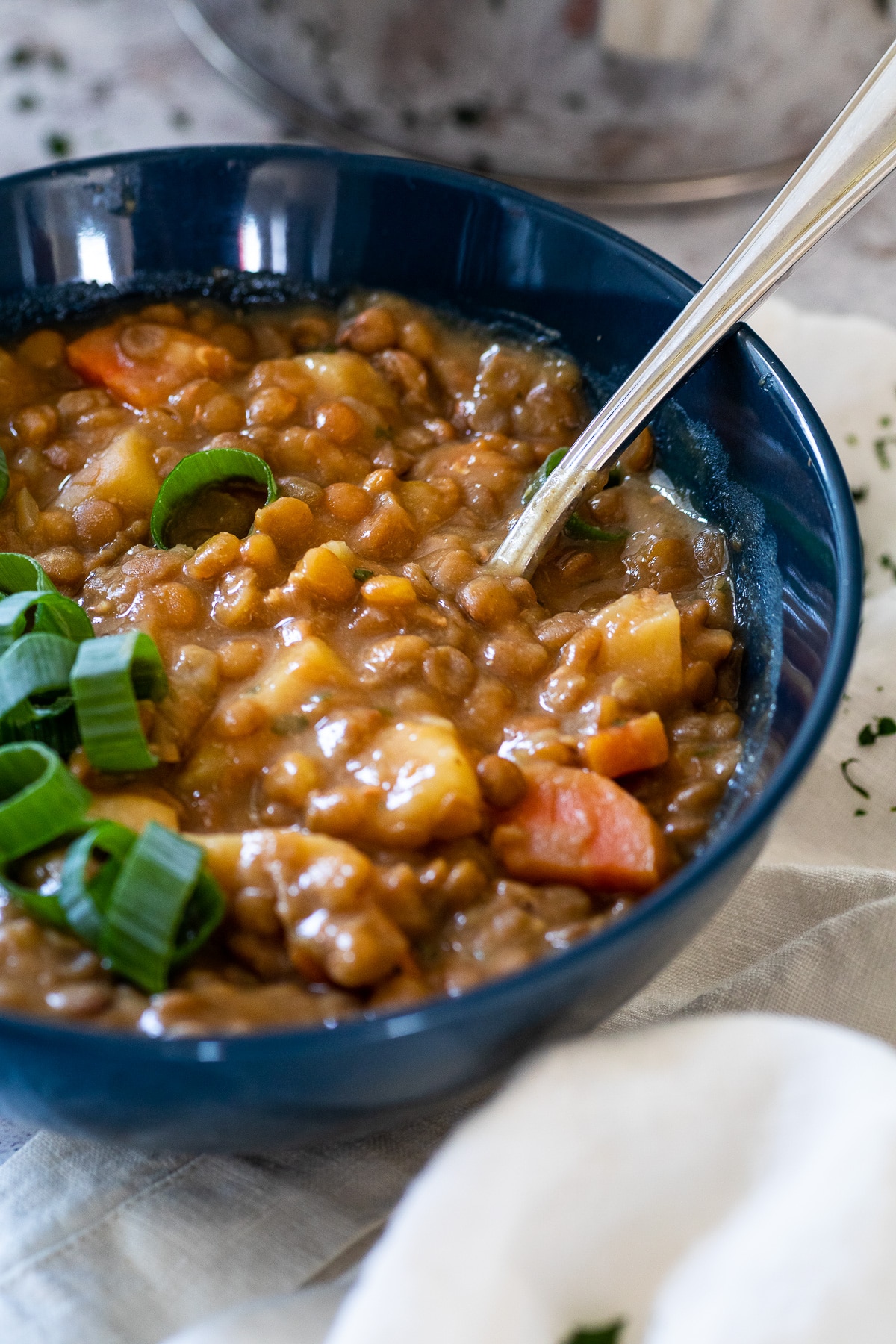 Storage
Refrigerator: Let the soup cool and store it in an airtight container in the fridge for up to 5 days. Simply warm the soup in a pot over medium heat until it is warm.
Freezer: Freeze this soup in portions in a freezer-safe container. It will last for about 2-3 months. To serve, let it thaw overnight in the fridge. To warm up, perform the steps as described above over medium heat.
Meal Prep
If you have checked out my Instagram stories, you see that I love my meal prep. And this soup is easy to prepare in bigger batches and freezer cups of the soup. So you always have some on hand.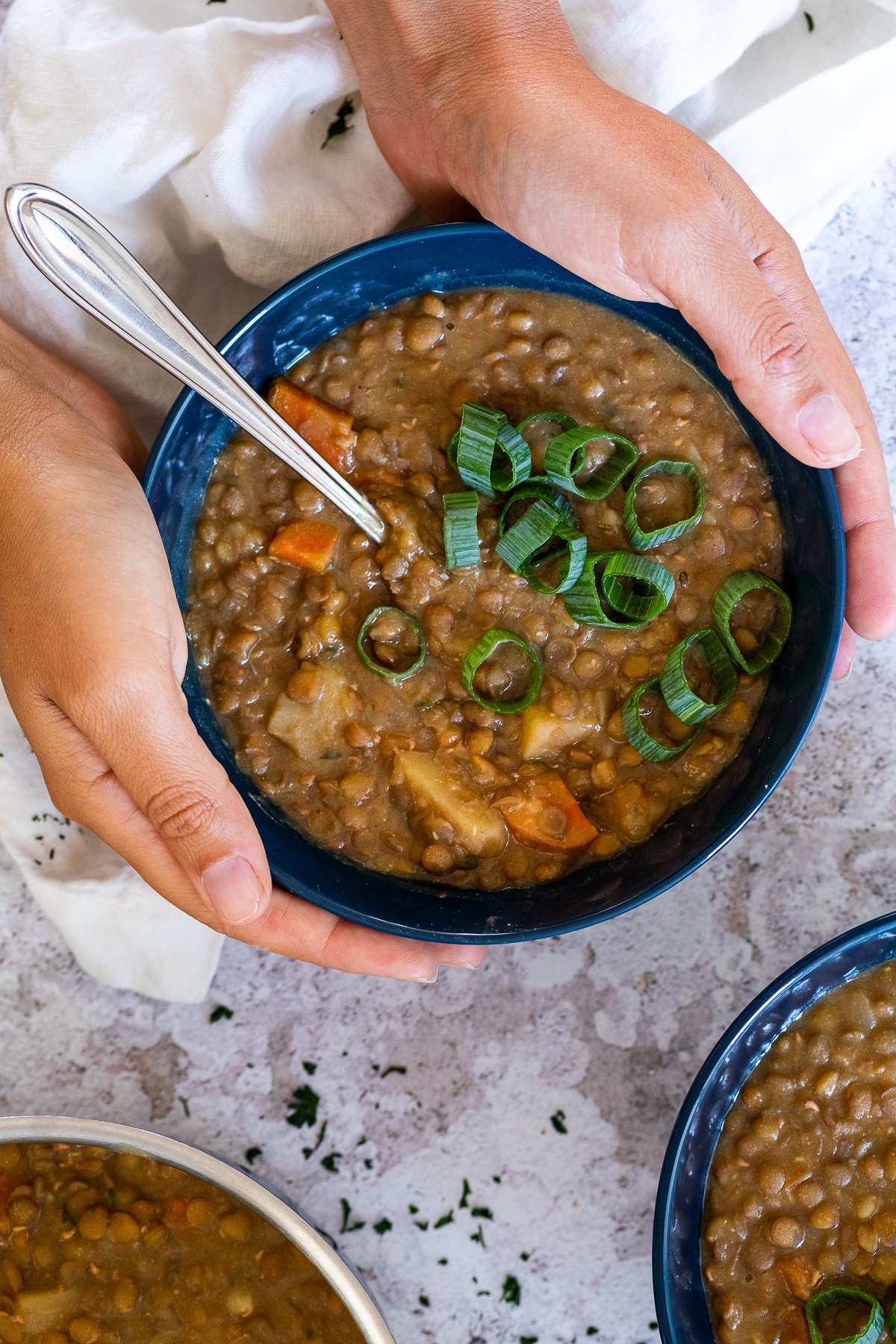 Top Tips
You can also add a little more apple cider vinegar. I usually add a good splash at the end because we like the vinegar flavor in lentil soups. Here you can adapt it to your own taste. Like the sour taste of vinegar in this soup.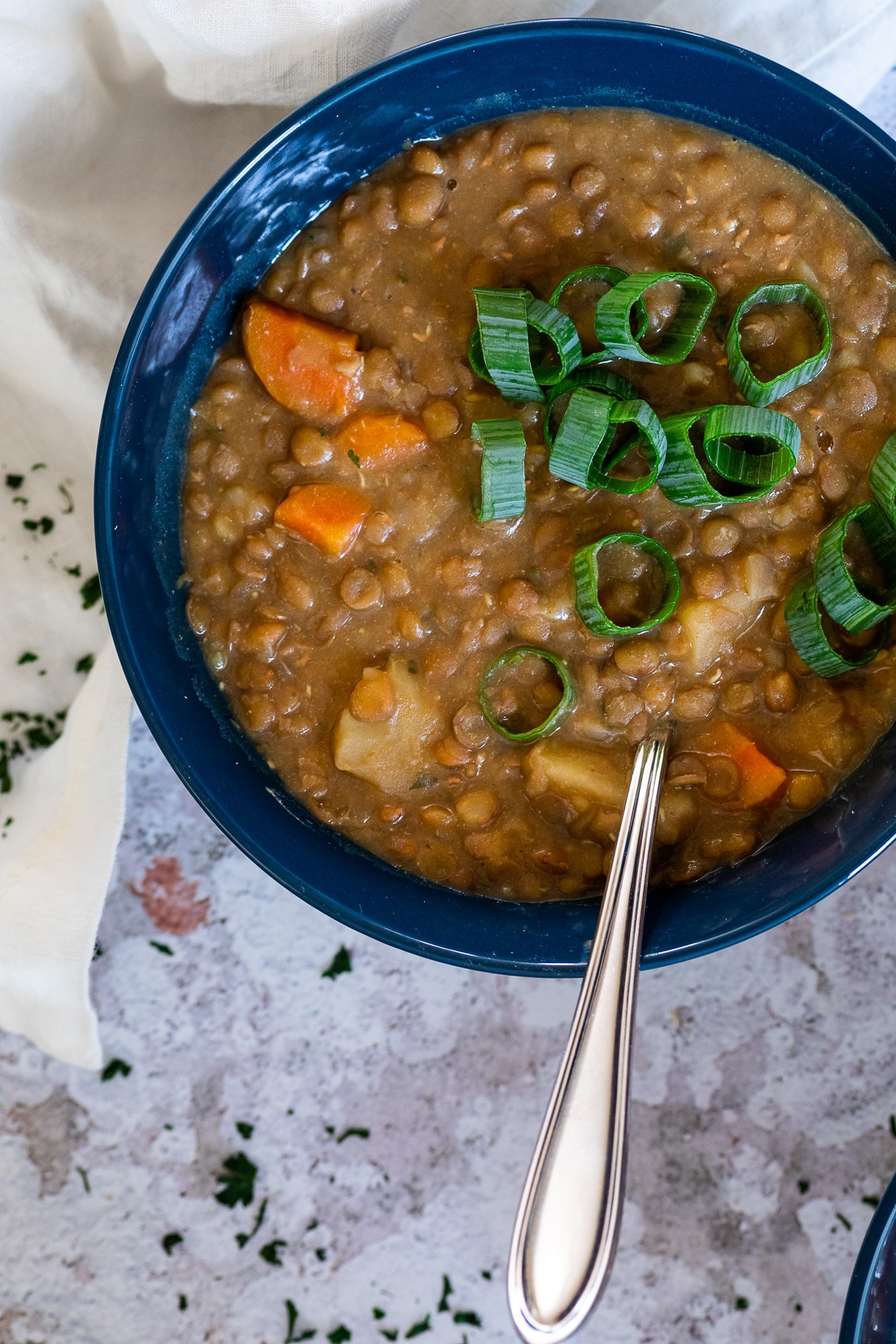 FAQ
Are the lentils soft enough for you?
Add chopped parsley, smoked paprika, apple cider vinegar, miso paste, white pepper, nutritional yeast and give it a good stir.
Bring to boil again and season with sea salt and pepper to your own taste buds.
Which Instant Pot Size?
Put this lentil soup in a 4-6 (quart) liter pressure cooker. You can also put it in an 8 liter pot. Make sure that the pot is not too small, otherwise the soup may not be able to boil properly under pressure. Make sure you're not over the max line.