This post is also available in: Deutsch
*As an Amazon Associate, I earn from qualifying purchases. This post may contain affiliate links. Read More
This potato soup is not just a perfect meal on cool days. This vegan soup is filling and made super fast. It takes you about 30 minutes and few ingredients to prepare this great soup – a great dinner for the week. This potato soup gets its special taste thanks to the celery root, leek and parsley.
vegan | vegetarian | gluten free | healthy | wholesome | soy free | nut free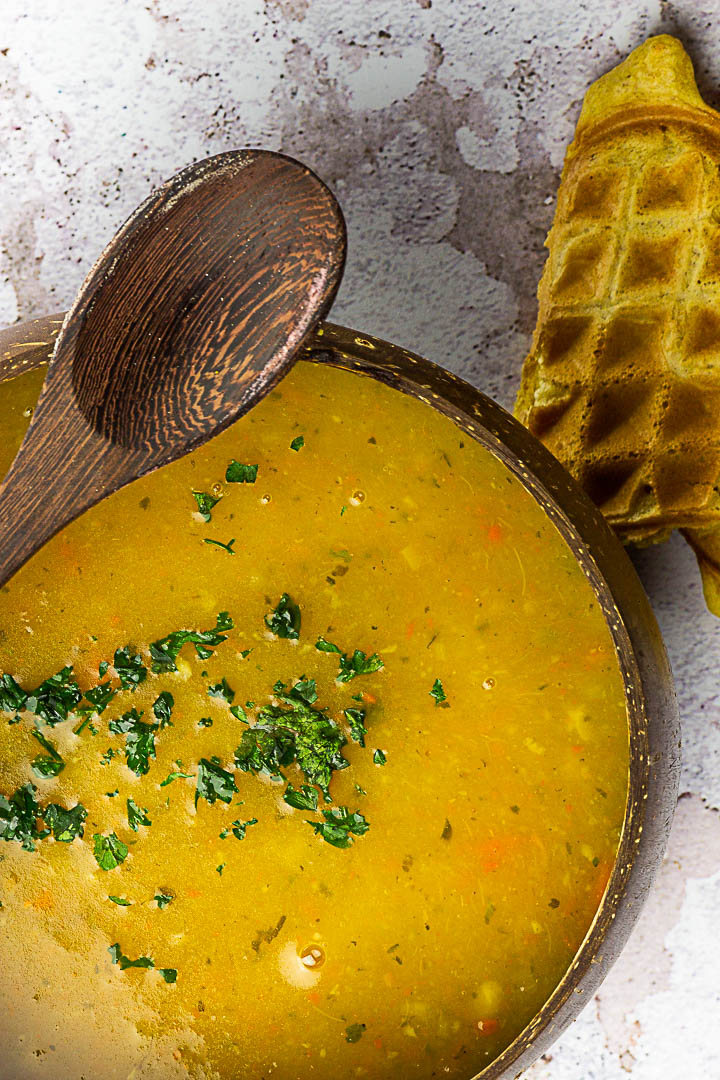 I belong to the kind of person who can eat soups and stews all year round. And this classic potato soup has always been one of my favorite foods, no matter how hot it is outside. And of course in autumn and winter months, this warming and satisfying soup is perfect for getting cozy and snuggled up inside.
My vegan potato soup is one of the dishes I prepare if I do not know what to cook. And served with apple pancakes or waffles, this soup is just yum.

What do you need for a vegan potato soup?
Onion

Garlic cloves

Potatoes

Carrots

Celery root

Leek

Parsley

Vegetable stock

Dried lovage (opt)

Liquid smoke

Salt & pepper to taste
The full list can be found below in the recipe card.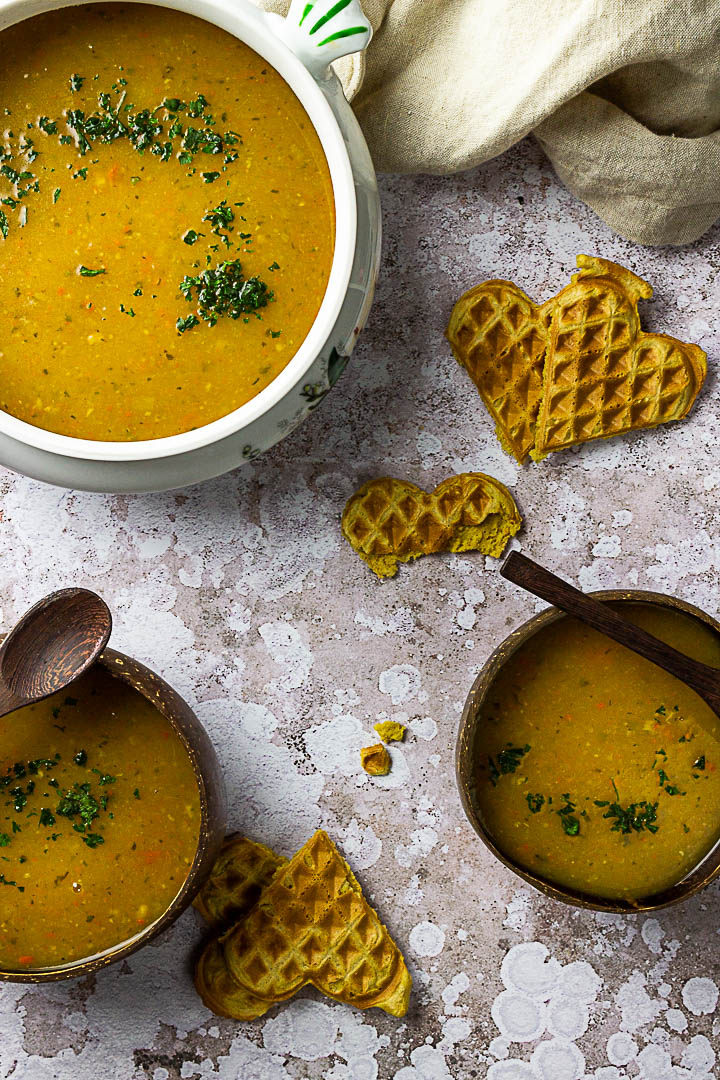 How to make a vegan potato soup?
First, saute the onions and chopped garlic in a sufficiently large pot.
Now add all remaining ingredients and let cook until the potatoes are soft. Use a knife and stab in the potatoes. If there is no resistance, the potatoes are cooked.
Now take an immersion blender or add the sauce to your high speed blender and puree the soup.
Season the soup with salt and pepper.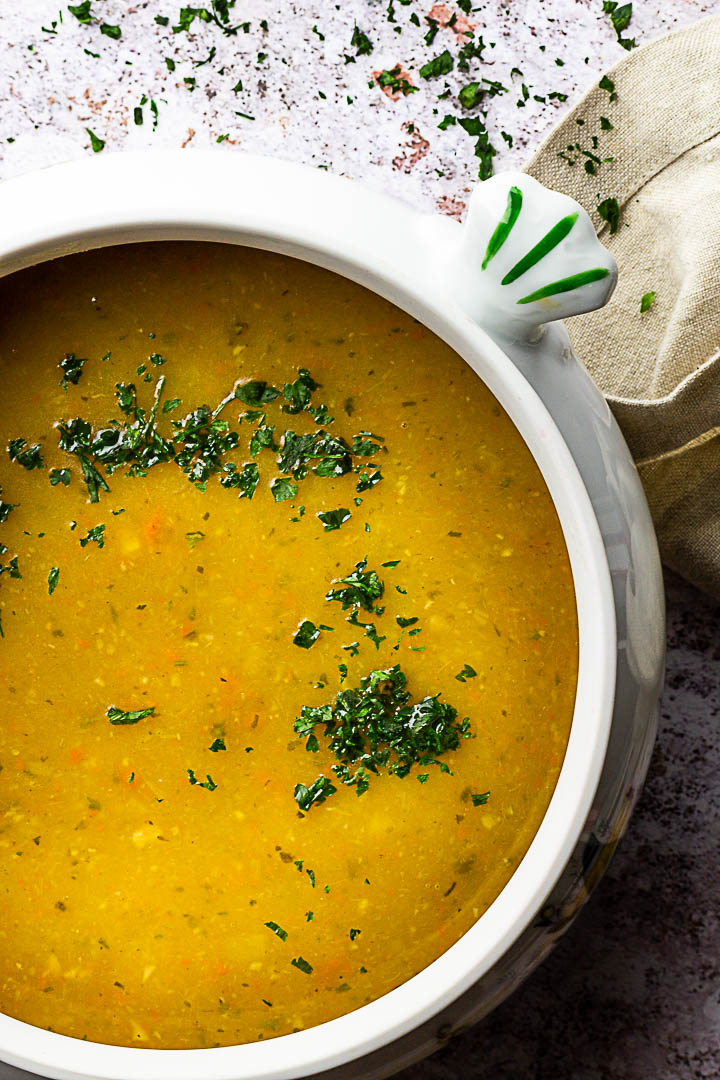 Which potatoes are best for a potato soup?
For a potato soup, which is also creamy, it is better to use floury potatoes with a high starch content like Yukon Gold Potatoes or Russets. If you would rather have a coarse potato soup with bits, use potatoes with low starch like red skinned potatoes.
Tips to cook the perfect potato soup:
Use an immersion blender for the potato soup. You do not necessarily need a high speed blender. It's enough if you purée the soup in the pot. If you're using a high speed blender, watch out for the heat. It is best to leave off the middle cap or let the soup cool down first.

You can also add a dash of coconut milk to make the soup even creamier. Take the coconut milk out of the can. Or take another heavy cream alternative.

If you want the soup to be coarse and not completely mashed. Take out 1-2 scoops and then puree. After pureeing, add the skimmed soup again.

Top the soup with croutons or coconut bacon. Or serve the soup with a baguette, waffles or apple pancakes.

You can also prepare the soup in a pressure cooker or instant pot. First saute the onions and garlic and when all ingredients have been added, cook under pressure for about 10 minutes. Then the potatoes should be soft.
How can I prepare a potato soup with pieces?
If you want the potato soup chunky, then take just as described in the tips above of the soup away. Here you can decide how much soup you want to skim off. After pureeing just add the soup again.
You can also puree the soup very roughly, while I leave the immersion blender at the lowest level.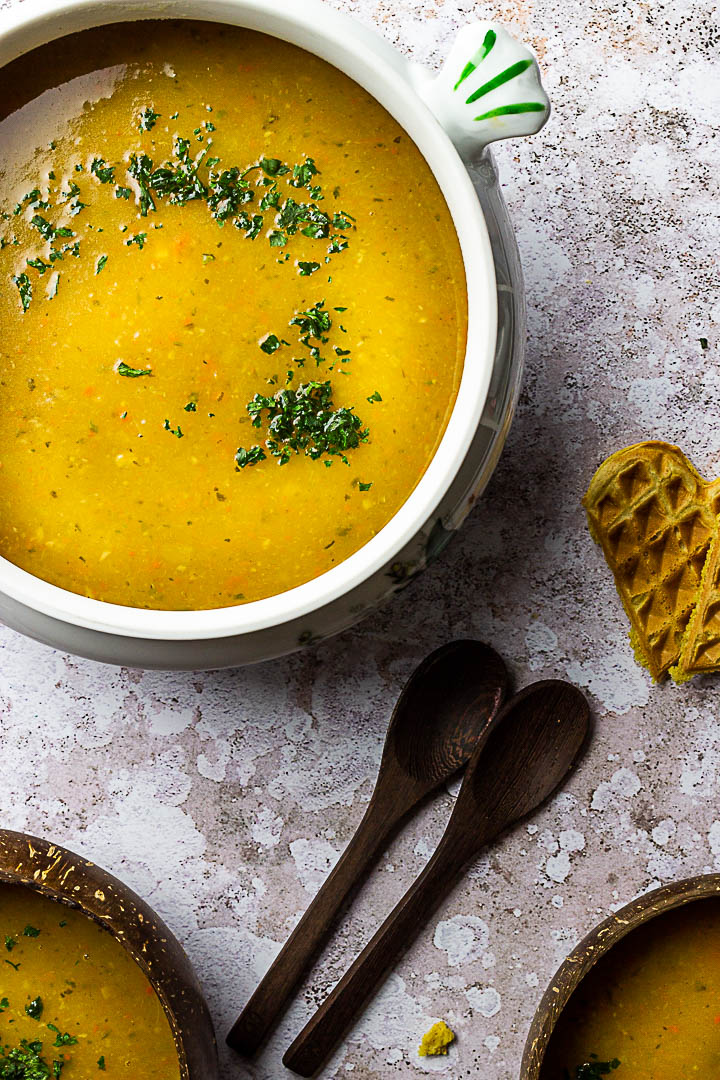 Are potato soups vegan or vegetarian?
Often Potato Soups are made with bacon or a beef broth. Therefore, most potato soups are not vegan or even vegetarian. Or potato soups are served with sausages. You can easily prepare your own vegan potato soup.
When you're in the restaurant, ask how it's cooked. Maybe this can then be veganized easily.

Can you freeze potato soup?
You can freeze a potato soup very well. However, you have to pay a lot of attention. Otherwise, the consistency and taste may change. And we do not want that, right?
Freeze only creamy mashed potatoes without pieces, otherwise the potatoes will be mushy, glassy and sweet. Why does the potato get sweet? The potato converts starch into sugar. This process requires the potato for the metabolism. However, if the potato drops below 39 F( 4 degrees Celsius), the metabolism slows down, but it will continue to produce sugar. In the cool temperature, however, the potato does not need the sugar and is thus stored in the potato itself. And the potato gets sweeter. The potato gets soggy because the water in the cells freezes and the membrane is destroyed.

Add milk, cream and other fillings like coconut cream, croutons later. After thawing and heating, the greasy components in the coconut milk will flocculate and that does not look so appetizing right?
If you like the taste of frozen potatoes you have to find out on your own. Some people find that nothing changes in taste and others say the taste changes a lot. Anyway, it's best to eat the soup within 6 weeks.
Yes, potato soup can be frozen relatively well. Before you freeze the soup in a plastic box or in a freezer bag, you should let it cool completely.
How long does the vegan potato soup hold?
If you store the soup in an airtight container and place it in the refrigerator, it will last for 3-4 days.
More soups:
Do not forget to Pin on Pinterest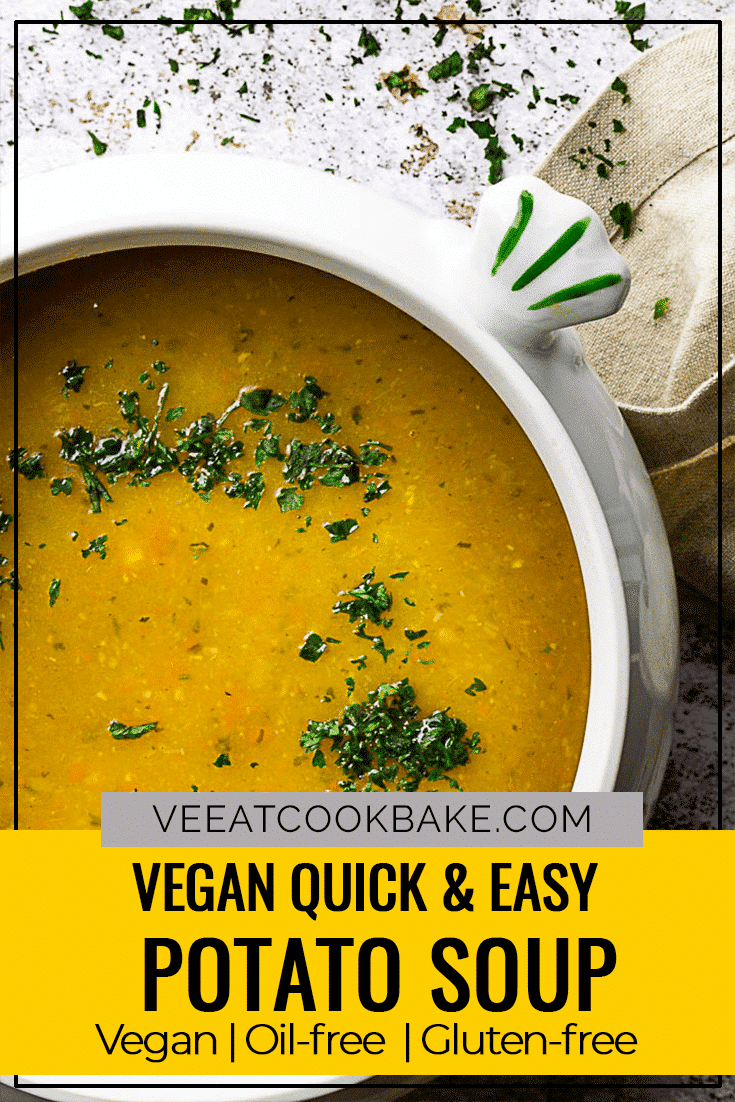 Have you tried the recipe?
If you tried the vegan Potato Soup, be so nice ♥ and let me know by rating the recipe and writing what you think about it in the comments. Tag me on Instagram too. I am @veeatcookbake and my hashtag is #veeatcookbake. So that I can see your creation. Did you know you can add photos on Pinterest under the recipe Pin? I can't wait to see a photo of your creation there. You find me with @veeatcookbake. I also would love to hear your feedback so I can share it on my social media channels.

This post may contains affiliate links and I may receive a very small commission if you buy through these links at no extra cost. Thank you very much for supporting Ve Eat Cook Bake! More information can be found here.
---