Vegan Witch Finger Cheese Breadsticks - This recipe is a must if you like to serve dips at parties like Halloween. Here we will prepare a cheesy whole grain dough and wrap the Halloween fingers with vegan parmesan cheese.
Vegan | vegetarian | wholesome | eggless | milk-free | lactose-free | oil-free | sugar free | wfpb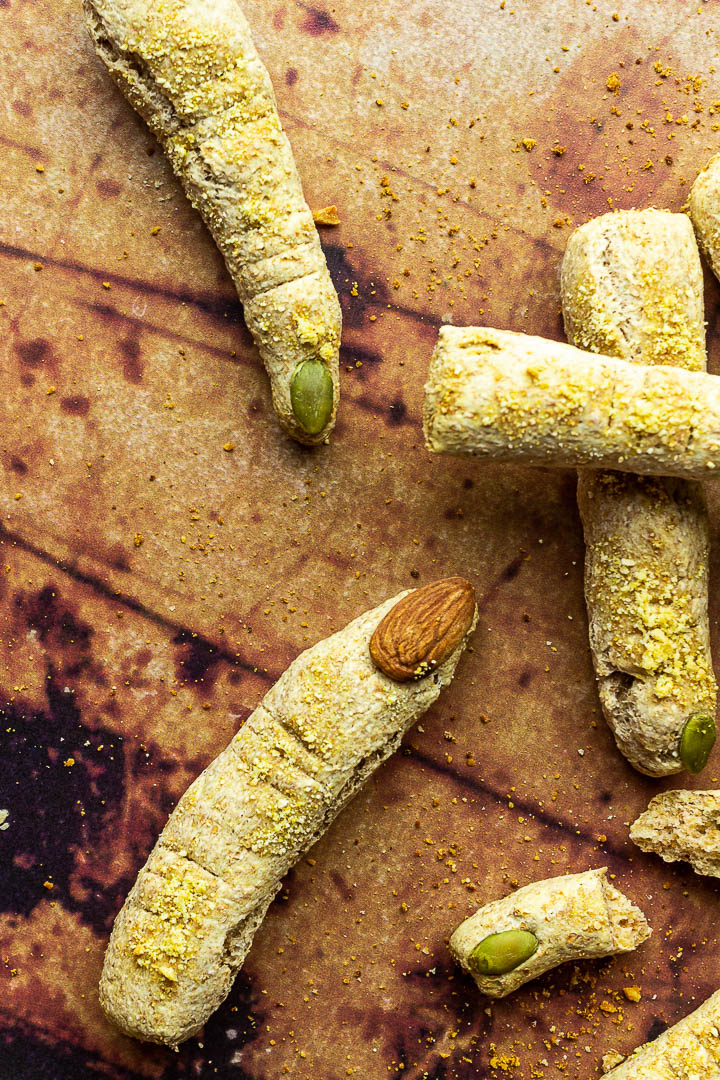 I love breadsticks that taste nicely cheesy. How about you? Here we prepare a delicious yeast dough that is quickly prepared.
For Halloween, I shaped the dough as witch fingers. As fingernails you can use almonds or pumpkin seeds. Especially as a nut-free variant, the dark pumpkin seeds are amazing for spooky fingers.
I used to love cheese bread sticks with the classic American ranch dip. And as you can see, you can make a very simple healthy version of this greasy junk food.
When we make these witch fingers, these are gone in no time. John, our children and of course me, cannot get enough of these amazing breadsticks.
You won't love these breadsticks only for Halloween. You will want these other times as well. Make these simple as normal bread sticks and serve them to other occasions such as Easter, Thanksgiving, Christmas, 4th of July and so on.
What do I need for these Halloween breadstick fingers with cheese flavor?
You really do not need many ingredients. For one, you need a portion of my pizza dough. Of course you can use just half of the dough recipe here or do more, depending on how many guests or for which occasion you need them.
Then we need vegan Parmesan. Normally, I always have something in the fridge here. You never know when you might need the lactose-free Parmesan. .
Now you need whole almonds or pumpkin seeds, which we will use as witchy fingernails.
Doesn't that sound great, you only need 3 different basic recipes and one of them you might always have in the fridge like me.
Even the pizza dough could be ready for you in the freezer.
How do I prepare these Halloween fingers?
You prepare my favorite pizza dough. The dough will be later the finger itself.
Then you prepare the Parmesan. In a food processor or high speed blender this is made within seconds.
After allowing the pizza dough to rise, divide the dough into 4 equal parts.
Now you roll the dough into a long line like a snake. About as thick as your fingers. Note that the dough is still rising during baking. You can also roll out the dough slightly thinner.
Now you divide the snake into 2.5 inch (4cm) pieces, as big as a finger. Of course you can measure with your own finger to make it easier.
Now, brush the dough with some water and sprinkle some vegan cheese over it.
Take the almonds or pumpkin seeds and press them on one end of the finger so that it looks like a fingernail.
If you want, you can still scrape the dough in places where we usually have those little wrinkles.
Now the fingers are baked for about 10 minutes. Check how it looks. We do not want them so dark.
If you do not like whole grain dough, no problem. You can prepare the dough without any problems with white all-purpose flour. I personally love the full and nutty taste of whole wheat or spelt flour.
[ezcol_1half]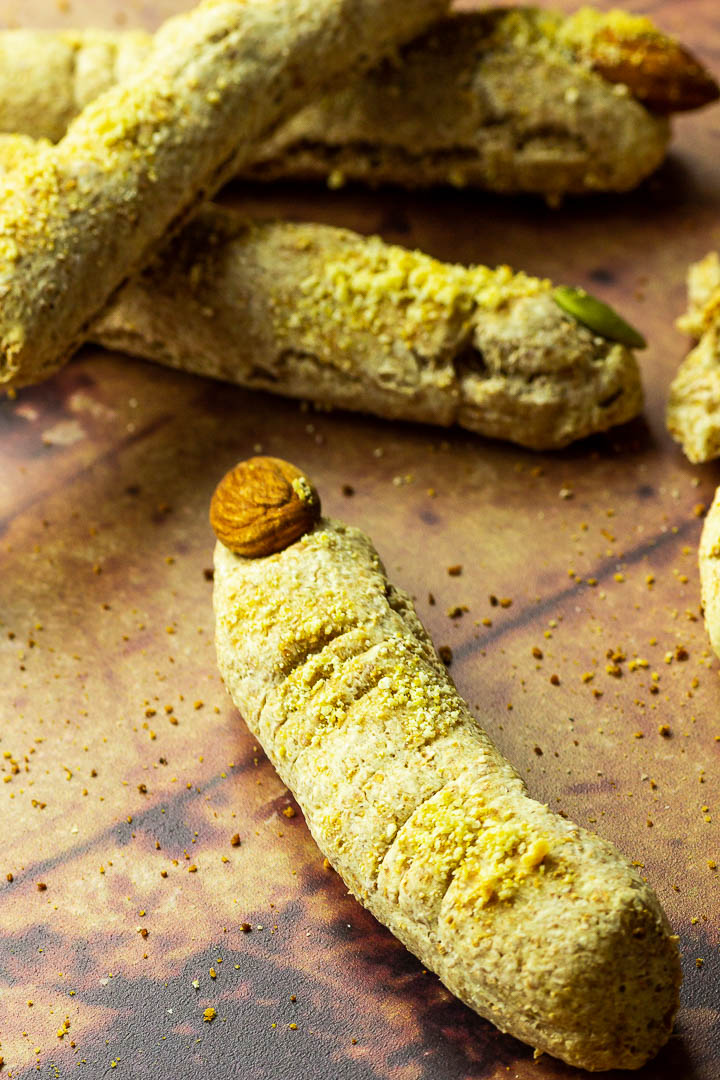 [/ezcol_1half] [ezcol_1half_end]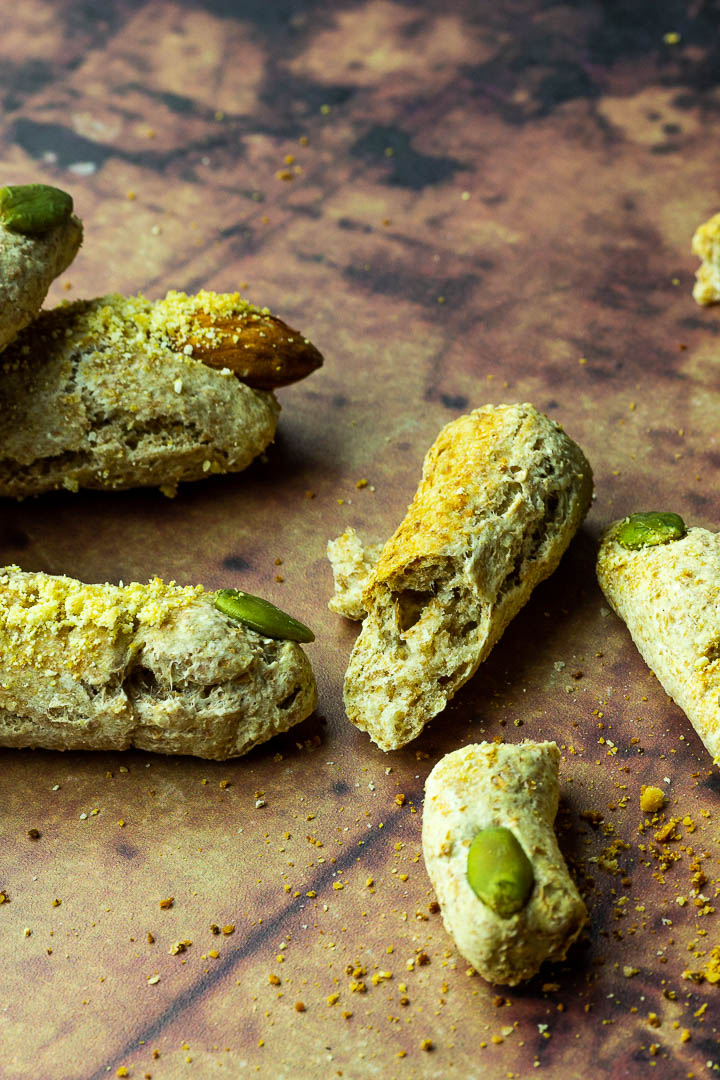 [/ezcol_1half_end]
When can I prepare these vegan witch fingers?
If you do not want the stress on Halloween, you can prepare it without a problem the day before. Place the dough covered in the fridge. And take it out of the fridge for about 1 hour before baking. It is important that the dough is room temperature before baking.
Can I freeze the prepared cheese bread sticks?
Yes, you can do that. I would first put them on a baking tray with baking paper and then freeze. And only when they are frozen, place into a container. If you put them raw in the container and then freeze, then they will stick together. And we do not want that, right?
A perfect family activity on Halloween?
I love to involve my kids especially when you shape the dough. It is like play dough for them and my kids have so much fun with helping. And the best part they learn early how to bake or cook from scratch. And I think that is an important skill for later, what do you think about it? Everyone gets some dough and can roll it out and divide it into finger-sized snakes. Likewise, my kids can brush the dough with some water and sprinkle with the vegan parmesan. Or simply attach the "fingernails".
Which dips are suitable for these creepy Halloween witch fingers?
How about a cheese dip like this Obatzda?
Like pizza bread, there is also an excellent delicious pizza sauce.
As mentioned above, a ranch dressing.
Or hummus like this basil hummus could match perfectly.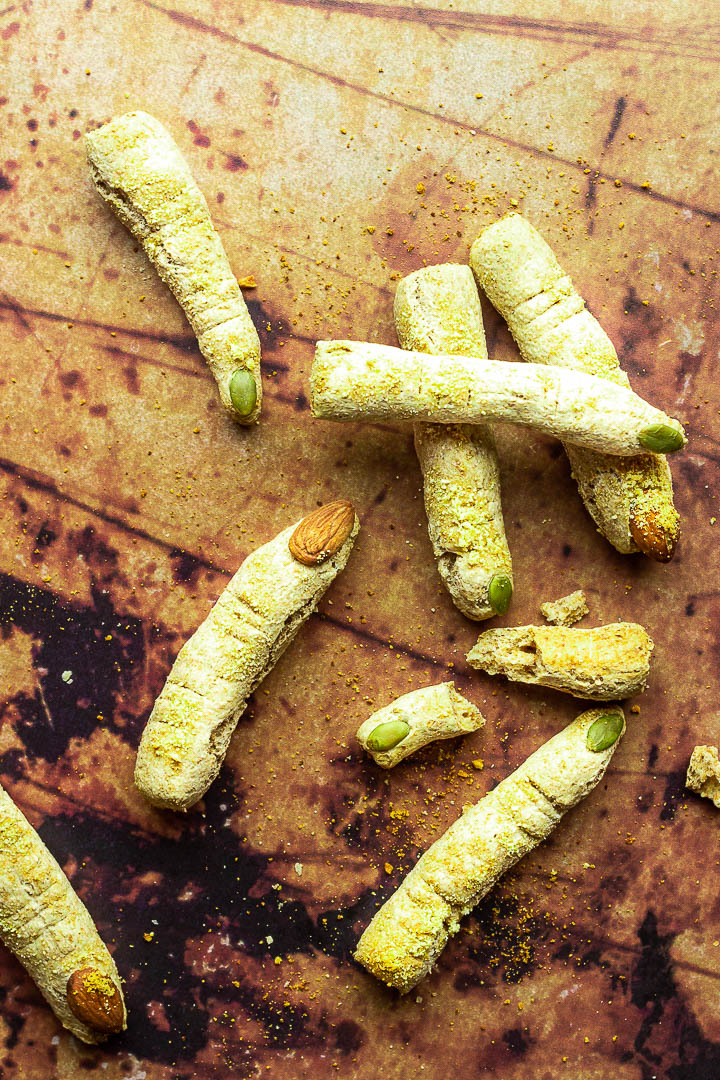 You feel like trying out more of these bread recipes like these witch fingers, then look here:
You love Halloween Recipes:
Do not forget to Pin on Pinterest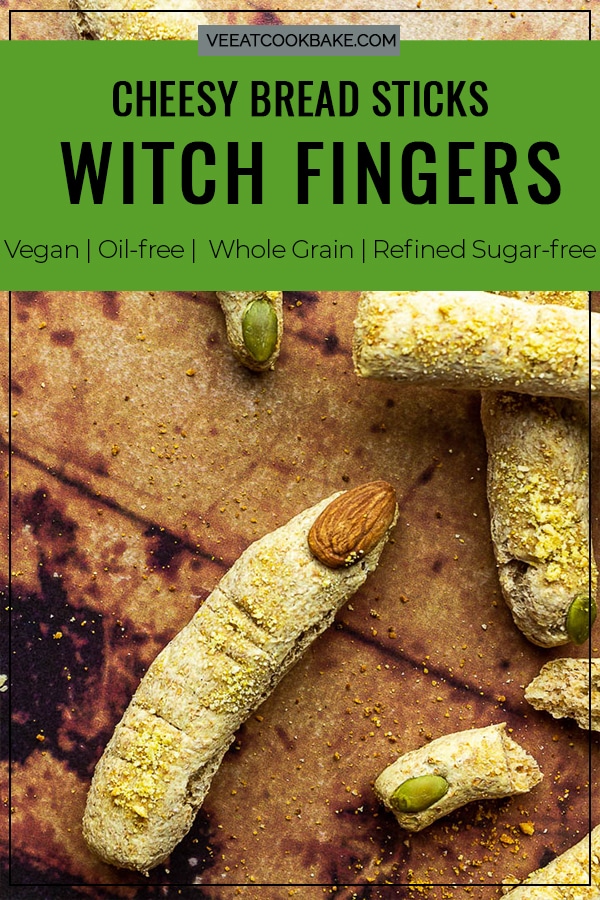 Have you tried the recipe?
If you tried the vegan Witch Finger Cheese Bread Sticks, be so nice ♥ and let me know by rating the recipe and writing what you think about it in the comments. Tag me on Instagram too. I am @veeatcookbake and my hashtag is #veeatcookbake. So that I can see your creation. Did you know you can add photos on Pinterest under the recipe Pin? I can't wait to see a photo of your creation there. You find me with @veeatcookbake. I also would love to hear your feedback so I can share it on my social media channels.

This post may contains affiliate links and I may receive a very small commission if you buy through these links at no extra cost. Thank you very much for supporting Ve Eat Cook Bake! More information can be found here.
---