Get ready to spook your guests this Halloween with a delicious vegan-friendly dish! Spooky Vegan Halloween Spaghetti is an easy and scrumptious meal, made up of freshly prepared tomato sauce (marinara) that's overflowing with olives and hearts of palm "eyes". Perfect for both adults and little ones alike.
So why not treat everyone to this festive platter in time for the big Trick or Treat night? And don't forget - you can whip it up real quick using classic ingredients like pasta & tomatosauce. Get cooking now - Happy Haunting!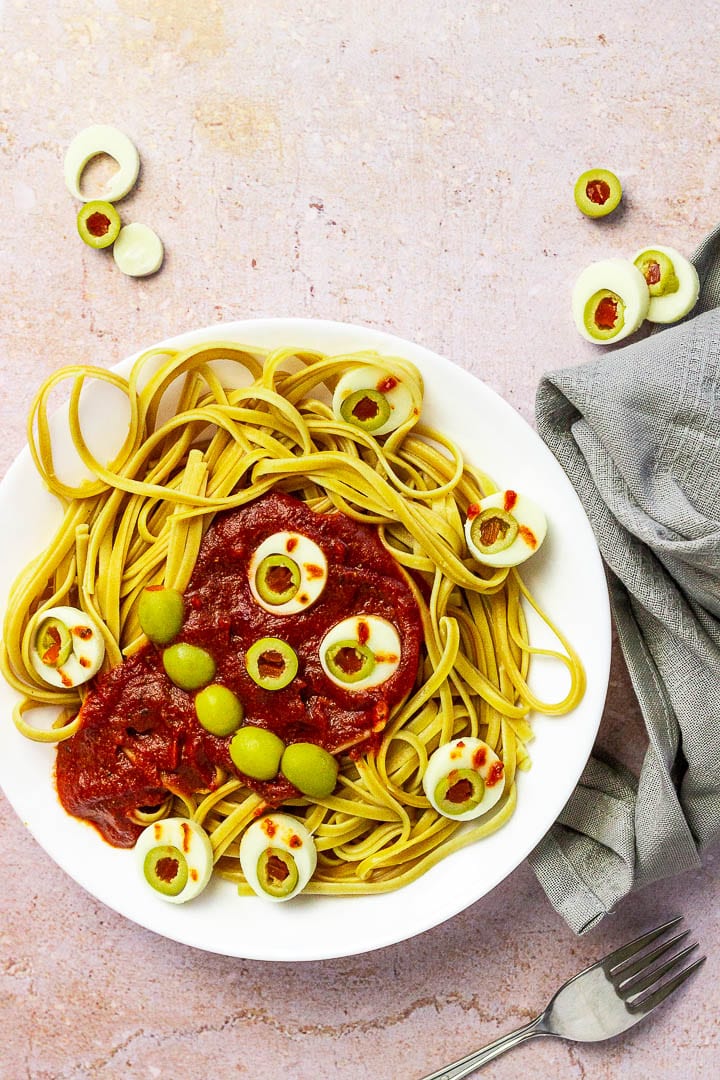 This recipe pairs well with my cheesebread witchfingers, graveyard mousse au chocolate or my Halloween Jack o'lantern Pizza Soup.
As an Amazon Associate, I earn from qualifying purchases. This post may contain affiliate links. Read More
Jump to:
Ingredients
Here is a quick list of the simple ingredients you will need to have a great spooky season.
You can find the ingredients with quantities and the recipe to print out on the recipe card below.
Spaghetti
Tomato Sauce
Palm of hearts,
green olives with pimento
Topping: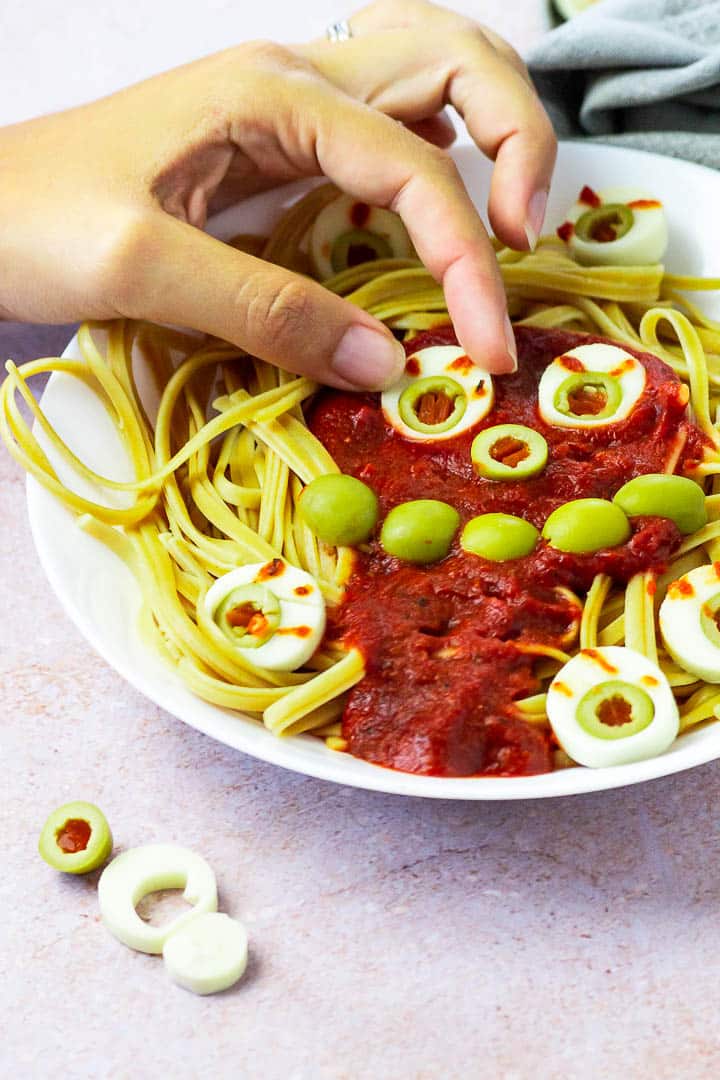 Instructions
First thing, you should prepare a tomato sauce. From the tomato sauce we will make the "head".
Cook the spaghetti al dente. The spaghetti are the hairs. If you find green pasta or any other color, you are welcome to take it. So the vegan Halloween spaghetti with eyes is even spookier.
To create the eyes, we need heart of palms, these should represent the eyeball. We also need green olives with Pimento to make the eyes, nose and mouth for the face.
Eyes
The googly eyes for Halloween pasta are super easy and quick to prepare. You just have to cut the hearts into 0.5 - 1 cm (¼" to ½") thick slices. Now you push out the middle section. This is easy, just push the part out.
You should halve the olives and place the olive half with cut-side forward in the palm hearts. And voilà, your edible Halloween eyes are ready.
Now you can take a toothpick and lightly paint red veins with the tomato sauce on the eyeball. So the eyes look even scarier.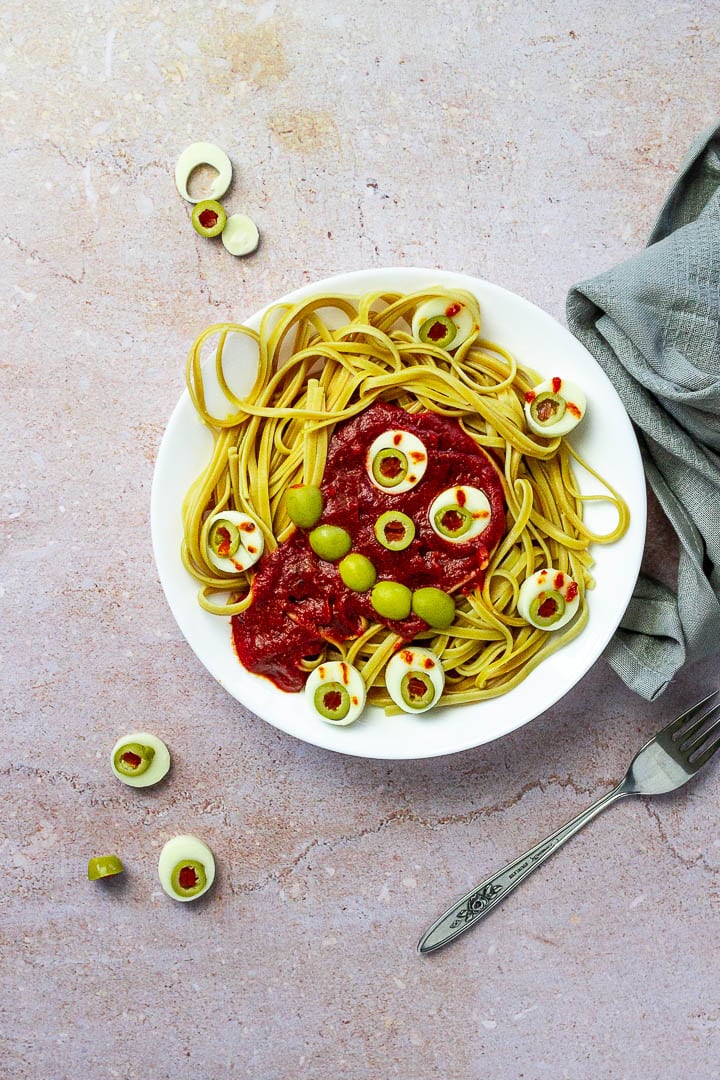 Substitution
Tomato Sauce: Make your favorite tomato sauce, or a green sauce.
Pasta: To make this spooky spaghetti, I recommend using spaghetti noodles. You can decide if you want whole wheat, gluten-free pasta or even black bean pasta.
Green Olives: You can easily use black olives instead of green. Fill the black olives with diced bell peppers.
Variations
Pumpkin Sauce: Try my Pumpkin Cheese Sauce instead of the tomato sauce.
Meatballs: Add some vegan meatballs to make a vegetarian Halloween dinner.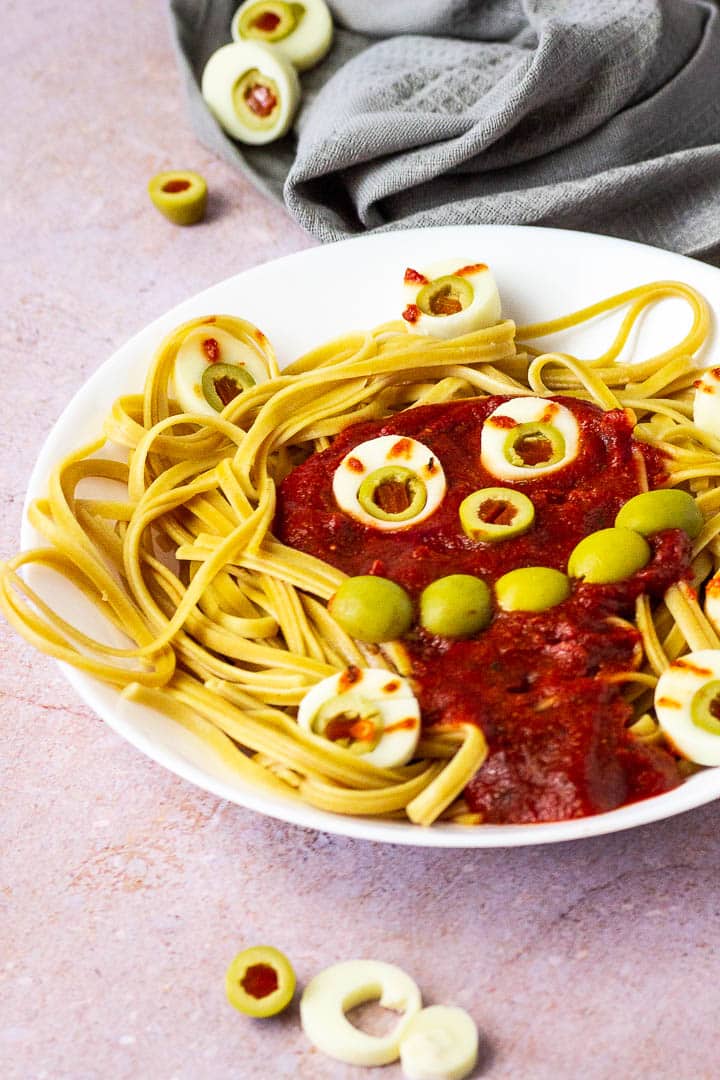 Equipment
For this spooky dish you will not need much, a large pot, chef knife and a cutting board.
Storage
Store the ingredients separately in an airtight container. Let the pasta and sauce cool to room temperature before you store them in the fridge. You can easily prepare this recipe in advance.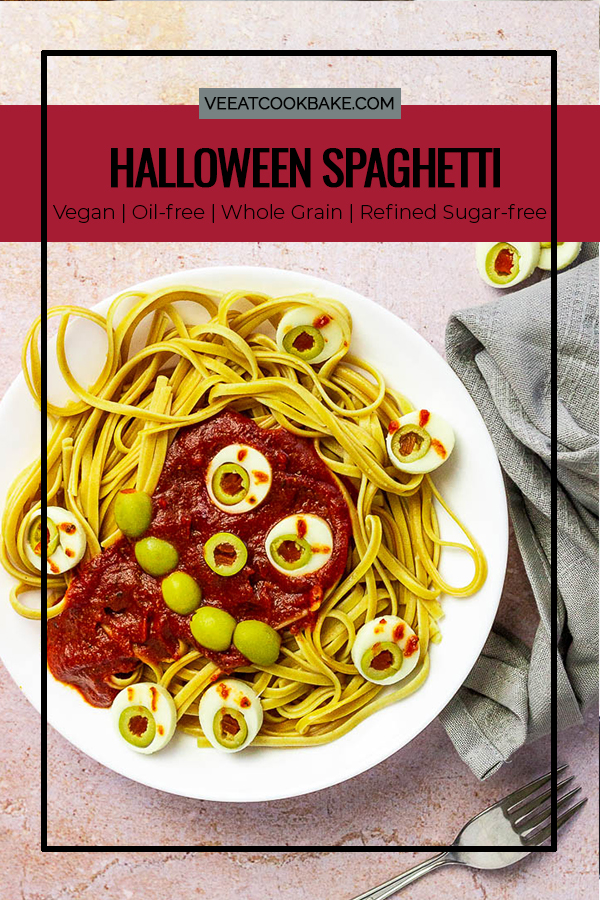 What are hearts of palms?
Palm hearts are the edible part of stem and leaves at the top of a palm tree. They are obtained from various palms such as cabbage palms, peach palms and more. These have a delicate consistency and taste slightly nutty.
In Europe and North America, these hearts are only found canned in brine.