Spooky Vegan Halloween Spaghetti - a quick and easy dish with a delicious homemade tomato sauce (marinara sauce) made with fresh tomatoes, olives, and hearts of palm eyes. If you are looking for a delicious dish for young and old, then I'm sure this will be the best dinner for you and your guests.
Vegan | vegetarian | oil-free | sugar-free | dairy-free | gluten-free opt. | wholesome | wfpb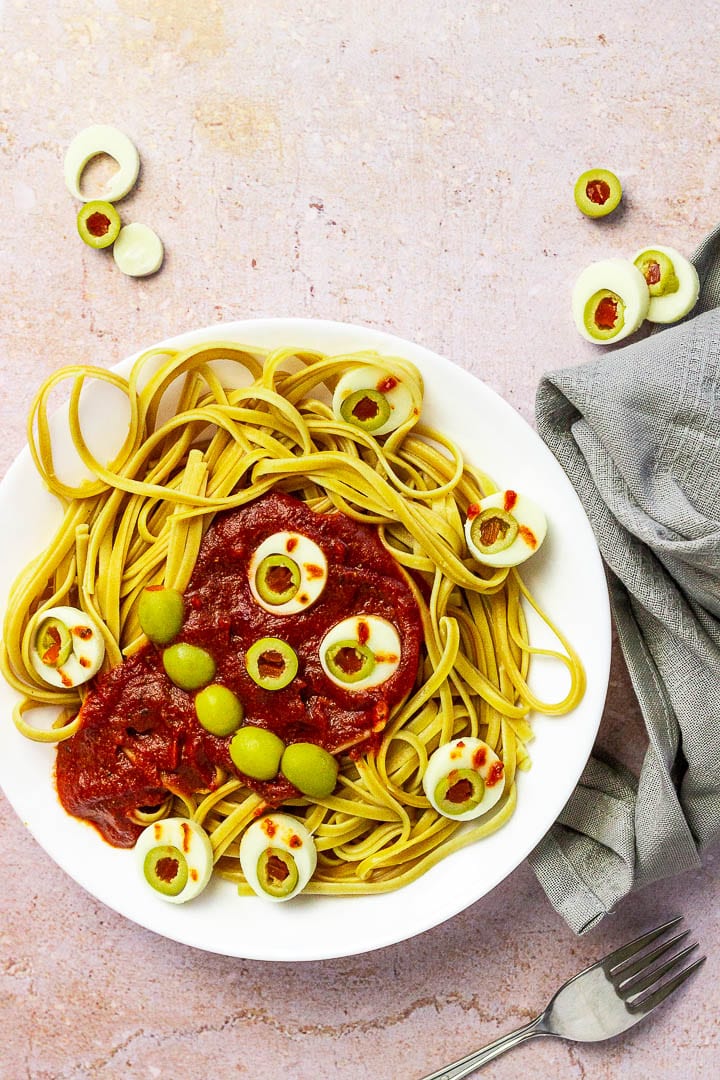 The time has come and Halloween is coming up. Here in the US it is celebrated with a big trick or treat for the little ones and why not prepare such a dish for the special day or your Halloween party?!
Thanks to the prepared eyes made of olives with pimento and hearts of palms, which really are finished in no time, this vegan Halloween spaghetti dish is perfect for such an occasion. And who does not love pasta with tomato sauce. Isn't this one of the most popular dishes ever?!
And from a classic dish with marinara sauce, we quickly prepare a vegan Halloween spaghetti dish with eyes.
What ingredients do I need for a spooky Halloween pasta dish?
First, you should prepare a tomato sauce like this one. From the tomato sauce we will make the "head".
Then you should buy whole grain spaghetti or linguine. The spaghetti are the hairs. If you find green pasta or any other color, you are welcome to take it. So the vegan Halloween spaghetti with eyes is even spookier.
To create the eyes, we need heart of palms, these should represent the eyeball. We also need green olives with Pimento to make the eyes, nose and mouth for the face.
[ezcol_1half]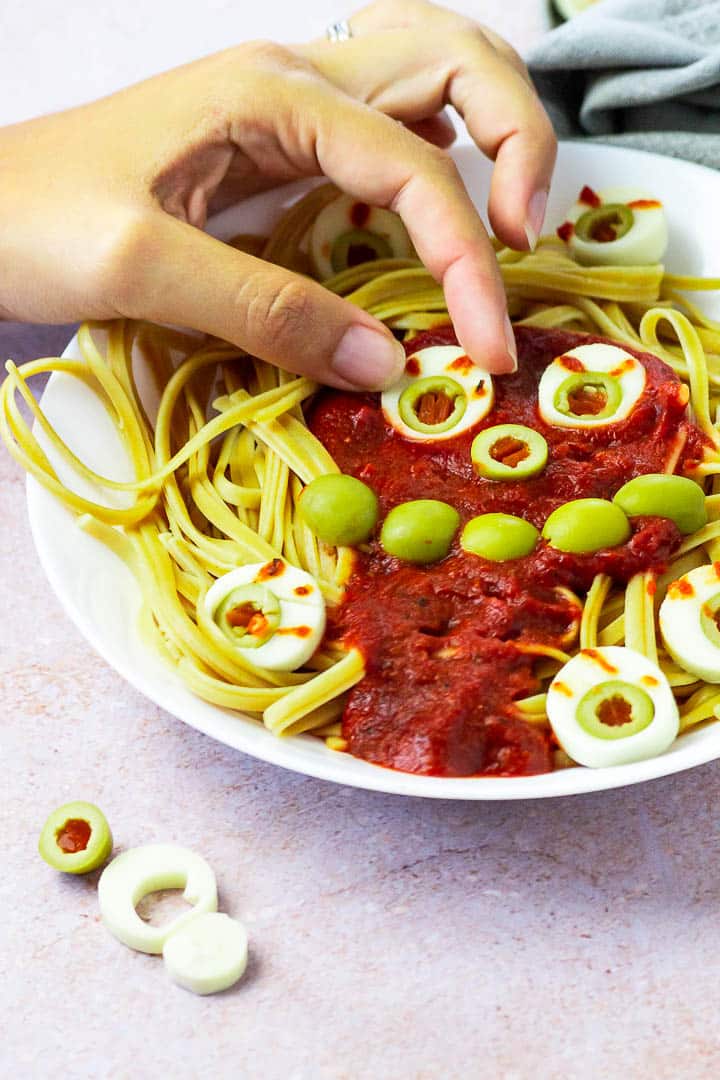 [/ezcol_1half] [ezcol_1half_end]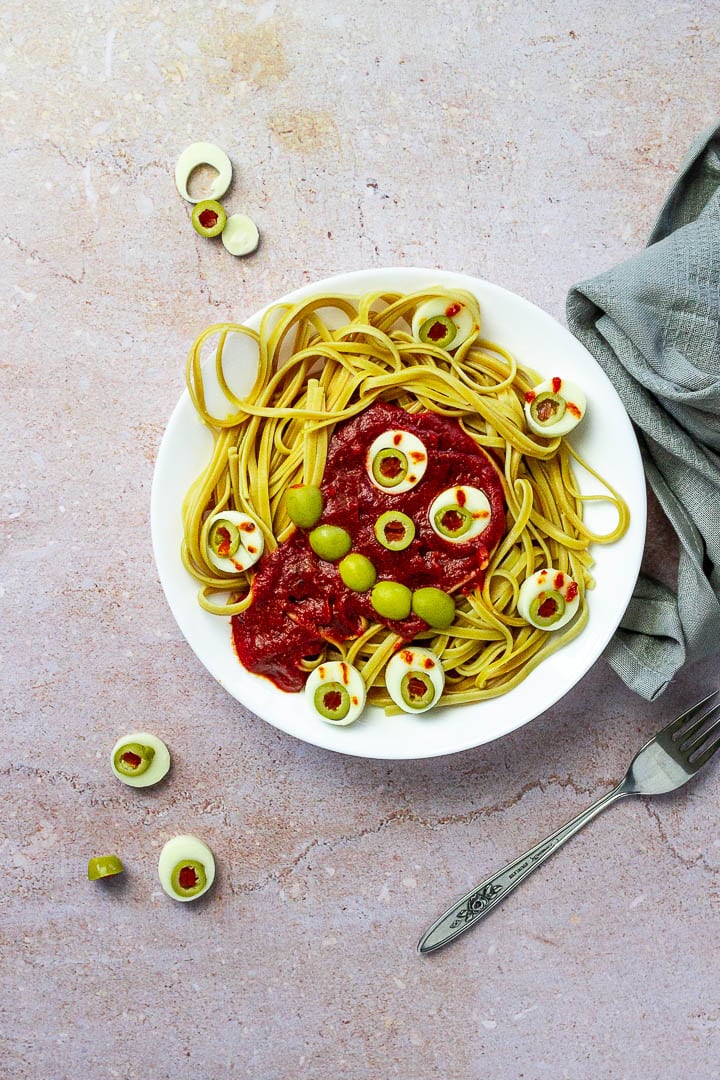 [/ezcol_1half_end]
How are the eyes prepared for the vegan pasta dish?
The eyes for vegan Halloween pasta are super easy and quick to prepare. You just have to cut the hearts into 0.5 - 1 cm (¼" to ½") thick slices. Now you push out the middle section. This is easy, just push the part out.
You should halve the olives and place the olive half with cut-side forward in the palm hearts. And voila your edible Halloween eyes are ready.
Now you can take a toothpick and lightly paint red veins with the tomato sauce on the eyeball. So the eyes look even scarier.
Which pasta is suitable for this dish?
Since we use the pasta as hair, the best are spaghetti or linguine. Here you can also use green or different colored pasta to get more pep in your dish.
Unfortunately, I have not found any colored whole grain pasta. But maybe you have more luck.
If you do not eat gluten, you can also buy gluten-free pasta. Because the rest of the dish is gluten-free naturally.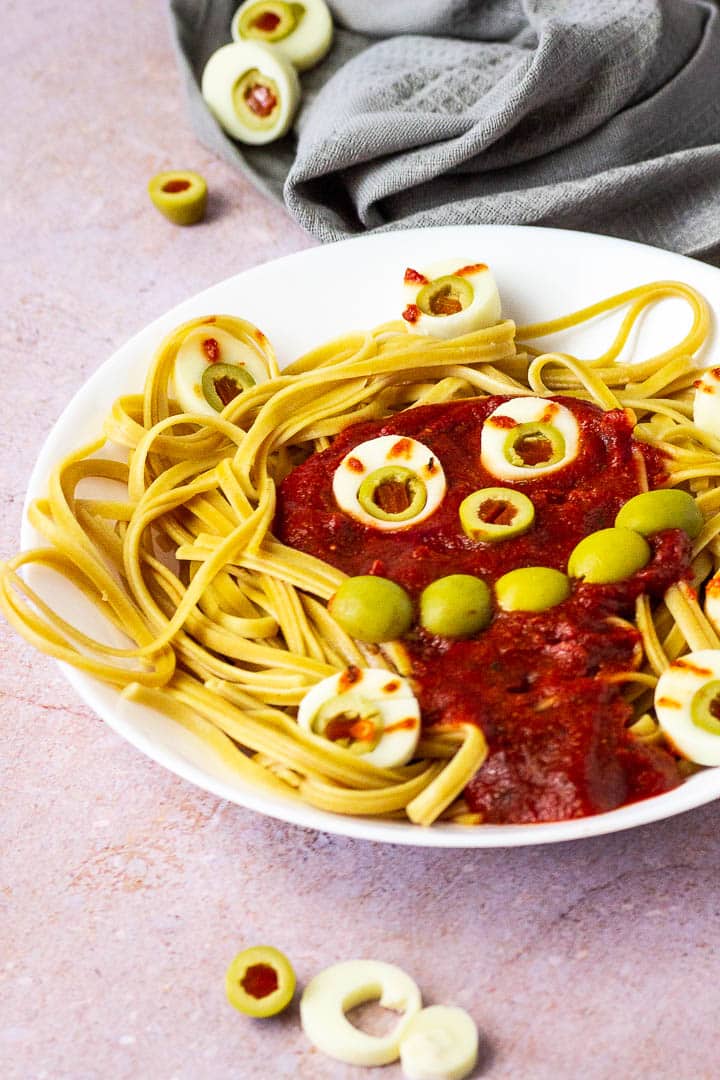 Which pasta sauce should I use for a vegan Halloween spaghetti dish?
I think this looks best with a tasty tomato sauce. Of course, you can also use a creamy Alfredo sauce with tomatoes and dried tomatoes. Or a basil pesto sauce made from fresh basil.
What are hearts of palms?
Palm hearts are the edible part of stem and leaves at the top of a palm tree. They are obtained from various palms such as cabbage palms, peach palms and more. These have a delicate consistency and taste slightly nutty.
In Europe and North America, these hearts are only found canned in brine.
More Halloween dishes you might like:
Do not forget to Pin on Pinterest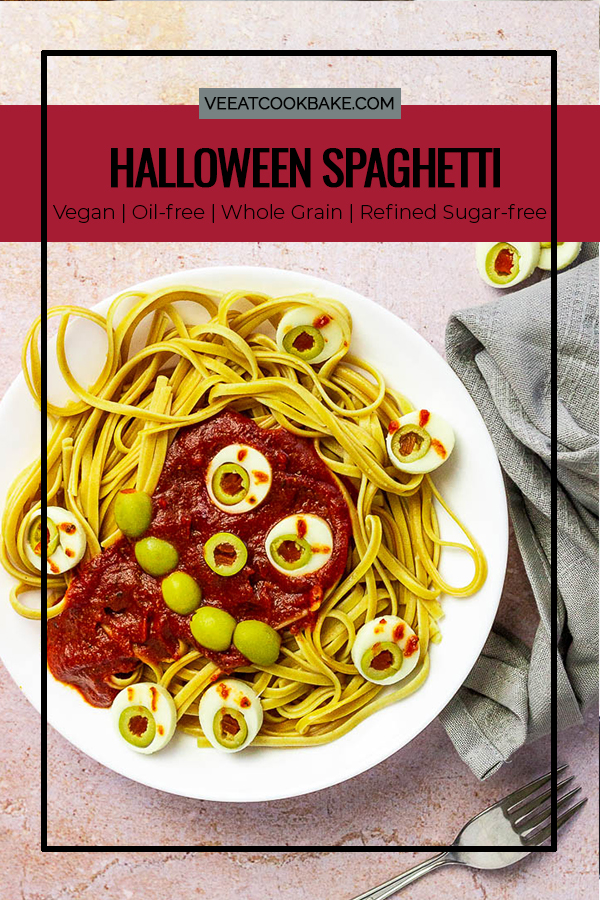 Have you tried the recipe?
If you tried the vegan Parmesan, be so nice ♥ and let me know by rating the recipe and writing what you think about it in the comments. Tag me on Instagram too. I am @veeatcookbake and my hashtag is #veeatcookbake. So that I can see your creation. Did you know you can add photos on Pinterest under the recipe Pin? I can't wait to see a photo of your creation there. You find me with @veeatcookbake. I also would love to hear your feedback so I can share it on my social media channels.

This post may contains affiliate links and I may receive a very small commission if you buy through these links at no extra cost. Thank you very much for supporting Ve Eat Cook Bake! More information can be found here.
---