This post is also available in: Deutsch
*As an Amazon Associate, I earn from qualifying purchases. This post may contain affiliate links. That means if you click and buy, I may receive a small commission. Please see my full policy.*
This super delicious, vegan apple cinnamon cheesecake with Spekulatius crust uses winter spices to make a proper taste experience. Firstly,a crunchy Spekulatius crust filled with a creamy, seasoned cheesecake filling and infused with apple pieces and cinnamon gives this vegan apple cinnamon cheesecake something special. vegan | opt. gluten free | dairy free | soy free | egg free | less sugar | oil-free filling
,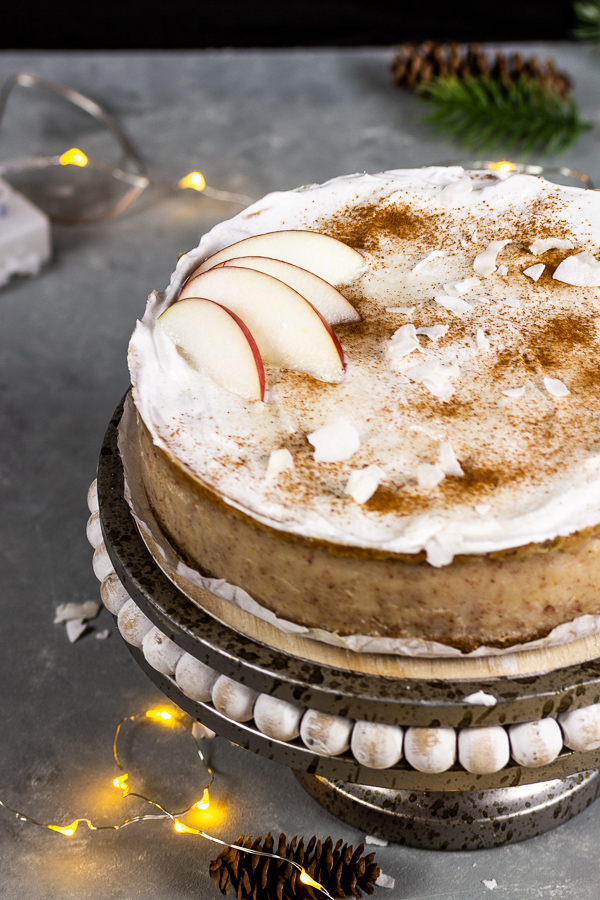 A fast vegan cheesecake crust
Firstly, it could not be better than a quick crust for this delicious, vegan apple cinnamon cheesecake. Most important, what you need for the cheesecake base are spekulatius cookies (for a wintry cake you use spekulatius / gingerbread and the rest of the year vegan butter biscuits or the Lotus cookies)
Vegan Apple Cinnamon Cheesecake perfect for the Christmas Days or cozy Winter Days
This delicious vegan apple cinnamon cheese cake smells wintery with its spices and the cheesecake is a tempting dessert for your delicious Christmas menu or New Year's Eve Menu, may take a look at my recipe ideas for a holiday menu. While it is customary in Germany to meet for coffee/ tea and cake, this vegan apple cinnamon cheesecake will amaze everyone and no one will note that this vegan apple cinnamon cheesecake gets along without any animal products.

Which type of apple should you use for the vegan apple cinnamon cheesecake
Actually I prefer sweet rather than sour apples, because the apple sweetens the vegan apple cinnamon cheesecake and we can easily use less sweeteners. In't it that great? In addition, the types I like the most are Jonagold, Pink Lady and Golden Delicious. Of course you should just try what you like the best in the cake. Maybe you already have your favorite apple type? Then I would like to read in the comments below, which you like to use.
Do you need the creamy topping for the vegan apple cinnamon cheesecake
In fact, the vegan apple cinnamon cheesecake tastes great even without topping. If you want to give up the coconut flavor of coconut cream, this can be done without problems. You'll still be excited about this delicious vegan apple cinnamon cheesecake and you will not just eat one piece ;).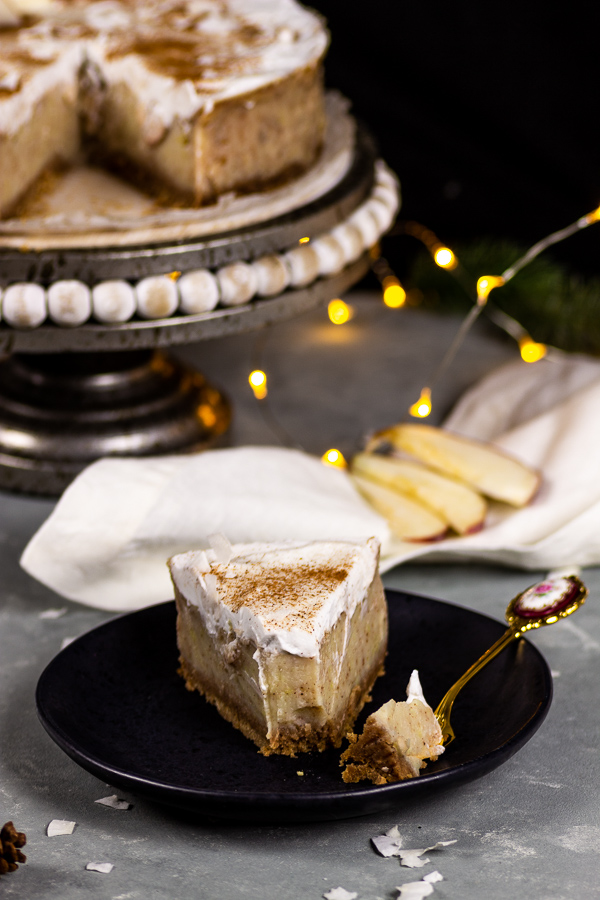 More cake recipes:

---
Did you try the recipe?
If you did it, be so nice ♥ and let me know by rating the recipe and writing what you think about it. Tag me on Instagram too. I am @veeatcookbake and my hashtag is #veeatcomforts. So that I can see your creation. Did you know you can add photos on Pinterest under the recipe Pin? I can't wait to see a photo of your creation there. You find me with VeeatCookBake.
---
Now let's start with the vegan apple cinnamon cheesecake
Vegan Apple Cinnamon Cheesecake with Gingerbread crust
This super delicious, vegan apple cinnamon cheesecake with gingerbread uses winter spices to make a proper taste experience. A crunchy spekulatius crust filled with a creamy, seasoned cheesecake filling and infused with apple pieces and cinnamon gives this vegan apple cinnamon cheesecake something special. vegan | opt. gluten free | dairy free | soy free | egg free | less sugar | oil-free filling
Recipe type:
cake, dessert, snack
Cuisine:
wintery, christmas, thanksgiving, vegan, dairy free, egg free, gluten free
Ingredients
Crust
100 g spekulatius cookies, vegan
3 tablespoons almond butter
Cheesecake filling
690 g of plant yoghurt unsweetened
300 ml plant drink
2 pinches of turmeric
20 g of vanilla sugar
40 g Sweetener of your choice like coconut sugar
5 tablespoons cornstarch
1 big apple (sweet variety)
1 tsp cinnamon
Topping
200 g coconut cream ( coconut milk overnight in the fridge, we need just the creamy part)
½ teaspoon cinnamon
2 tablespoons of maple syrup
Instructions
For the crust, mix the spekulatius cookies and the almond butter in a Food Processor until a homogenous mass
Now press the mass into a 18 cm with baking paper spring form and bake it in an preheated oven (175 ° C) for 15 min.
For the cheesecake mixture, stir all ingredients except the apple. Cut the apple into small cubes and dribble it with a little lemon juice. Lift the apple under the mass.
In the meantime, let the crust cool down completely.
Now spread the mixture on the cake and bake at 175 ° C (convection) for 75 min. After the baking time, let the cheesecake cool in the oven for about 15 minutes.
It's best to leave the cheesecake in the fridge overnight (leave it in the cake pan) and prepare the topping the next day.
Simply whip up the coconut cream, the maple syrup and the cinnamon and spread on the cake. Now you can decorate the cake with some cinnamon and / or apples, gingerbread crumbs
---
Make sure you get my monthly excl. recipes + access to my Freebie Library
---