Vegan Cinnamon Apple Caramel Cheesecake - an easy vegan cheesecake with a shortcrust pastry, an apple-cinnamon-cheesecake filling, topped with a caramel layer, vegan cream layer and fried cinnamon apples make this cake your special Christmas dessert. The shortcrust is very reminiscent of delicious spekulatius, only healthier.
vegan | opt. gluten free | dairy-free | soy free | egg-free | refined sugar free | oil-free | wholesome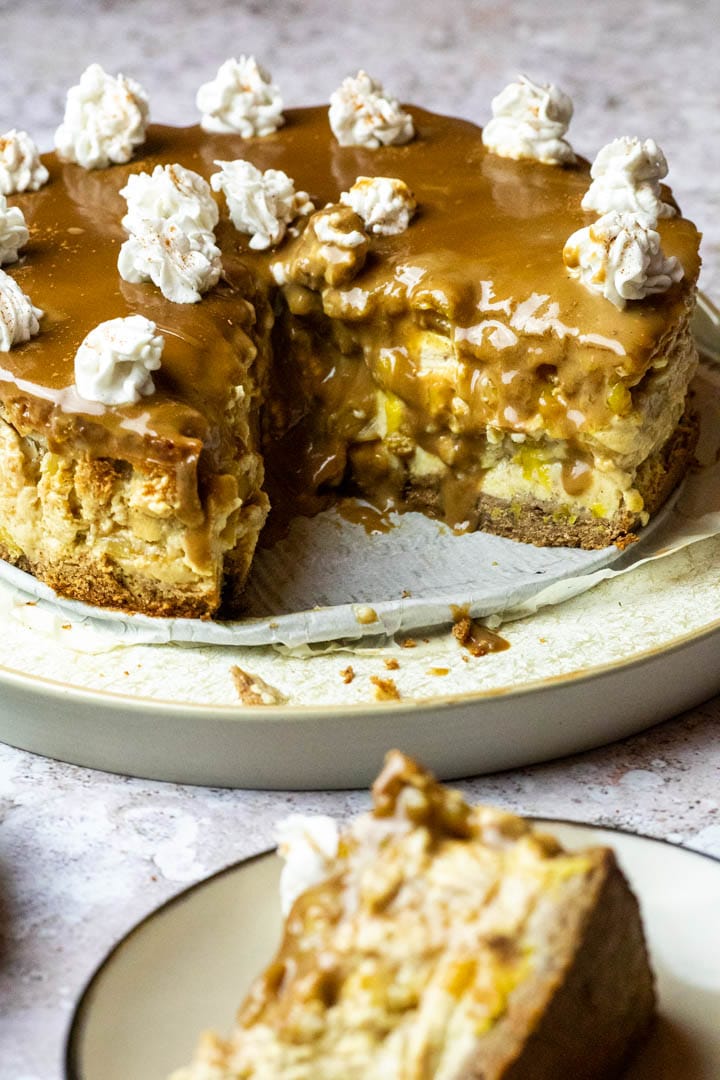 Do you like to eat cheesecake in all possible variations? Whether it's a classic cheesecake, NY style cheesecake or even vegan curd cream pies like this Mandarin cake or even Snow White Cake, they all make my heart beat faster.
If you bake this vegan apple cinnamon caramel cheesecake, your whole apartment will smell delicious after winter. Bake this special cake for your next Christmas dinner as a dessert or for your next cup of tea/coffee. Whether vegan or not, everyone will love this cake.
What do you need for this vegan apple cinnamon caramel cheesecake?
Crust
Whole wheat flour
Almond flour
Ground flax seeds + water
Nut butters
Maple syrup
Cinnamon
Nutmeg
Clove ground
Ground ginger
Cardamom, ground
Cheesecake Filling
Unsweetened plant yoghurt
Plant milk
Turmeric
Vanilla sugar
Sweetener of your choice, such as coconut blossom sugar
Corn starch
Apple (sweet variety)
Cinnamon
Caramel topping
Coconut milk
Coconut sugar
Vanilla
Cream Topping
200g coconut cream (coconut milk in the refrigerator overnight, we only need the creamy part)
2 tablespoons maple syrup
For the apple topping:
Apples, peeled and diced
Maple syrup
Water
Cinnamon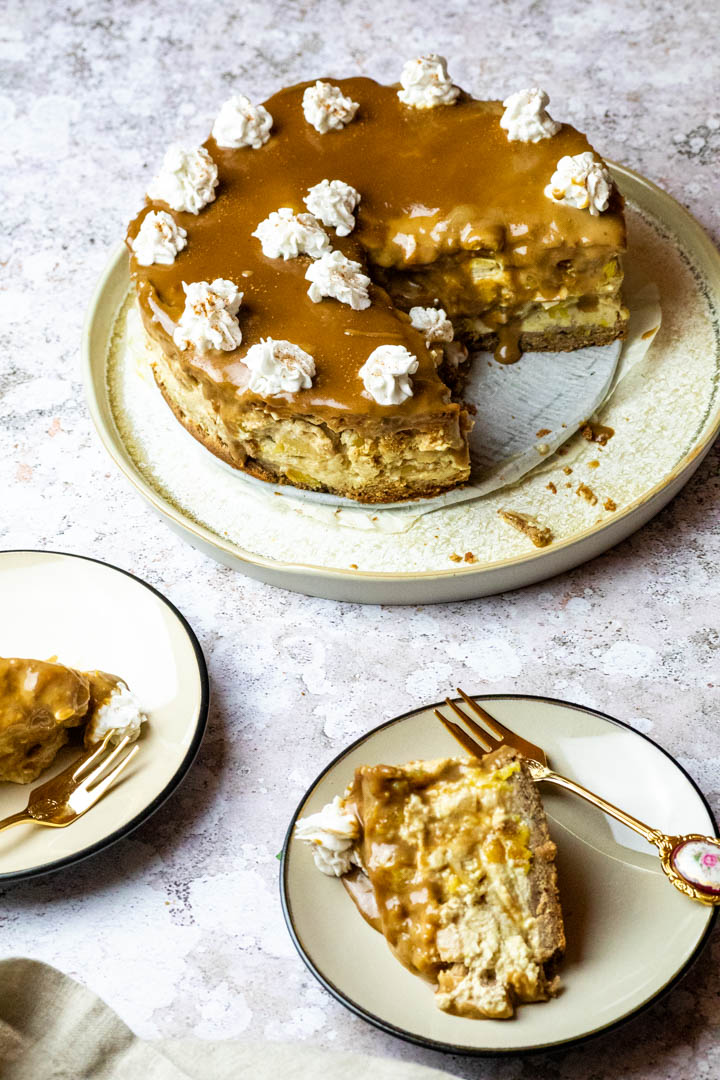 What kind of apples go perfectly with apple cheesecake?
Use a sweet apple variety like Pink Ladies, Golden Delicious or Jonagold. This way the vegan apple cinnamon caramel cheesecake is sweetened by the apple, and we can use fewer sweeteners.
Of course, you can just use the apple variety that tastes best for you.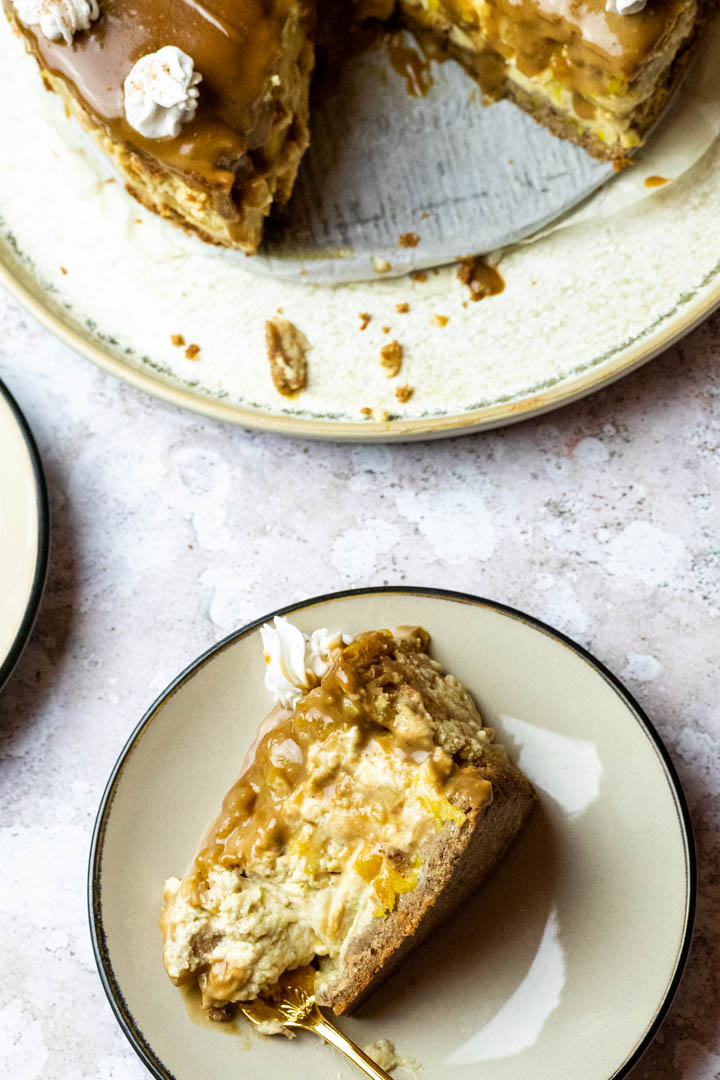 How to Make Vegan Apple and Cinnamon Caramel Cheesecake?
Crust
Preheat the oven to 350F (175C). For the crust, process all ingredients with your hands into a shortcrust pastry. And spread into an 8 inch (20cm) Springform. I like to put baking paper on the base, so the cheesecake comes out of the form easier after baking.
Cheesecake Filling
Mix all ingredients except the apples until creamy. Finely chop and fold the apple in. Now pour the cheesecake filling into the springform and bake the cheesecake for 60 minutes in the oven. Make sure the cheesecake does not get too dark. Allow the cheesecake to cool completely in the form.
Caramel layer
Start about 4 hours before you need the caramel sauce. Put all the ingredients in a saucepan and stir vigorously. Bring the caramel sauce to a boil. Reduce the heat as soon as it boils and simmer for about 25-30 minutes with gentle stirring. Continuously scrape the sides and bottom of the pot. Now simmer for another 25-30 minutes, until the caramel is thickened. Keep stirring so that nothing burns. While it is cooling, it is still thickening. After cooling for 10 minutes, stir briefly. After cooling, place in a glass bowl, cover, and store in the refrigerator until use.
When the cheesecake is completely chilled, spread the caramel sauce evenly on the cake and put the cake in the fridge for about 2 hours. The caramel sauce should be stronger now
Coconut cream
Stir all ingredients for the coconut cream in a mixer with the whisk attachment. Stir for about 3-5 minutes until the cream is airy.
Spread the cream on the solidified caramel. I like to do that the next day and let the cheesecake in the fridge overnight.
Apple Topping
Cut the apples into slices and put all the ingredients with the apples in a pot and heat them, let them boil until they soften. Remove from heat and let cool. If these are cold, you can distribute these on the cake. The cake is ready to serve.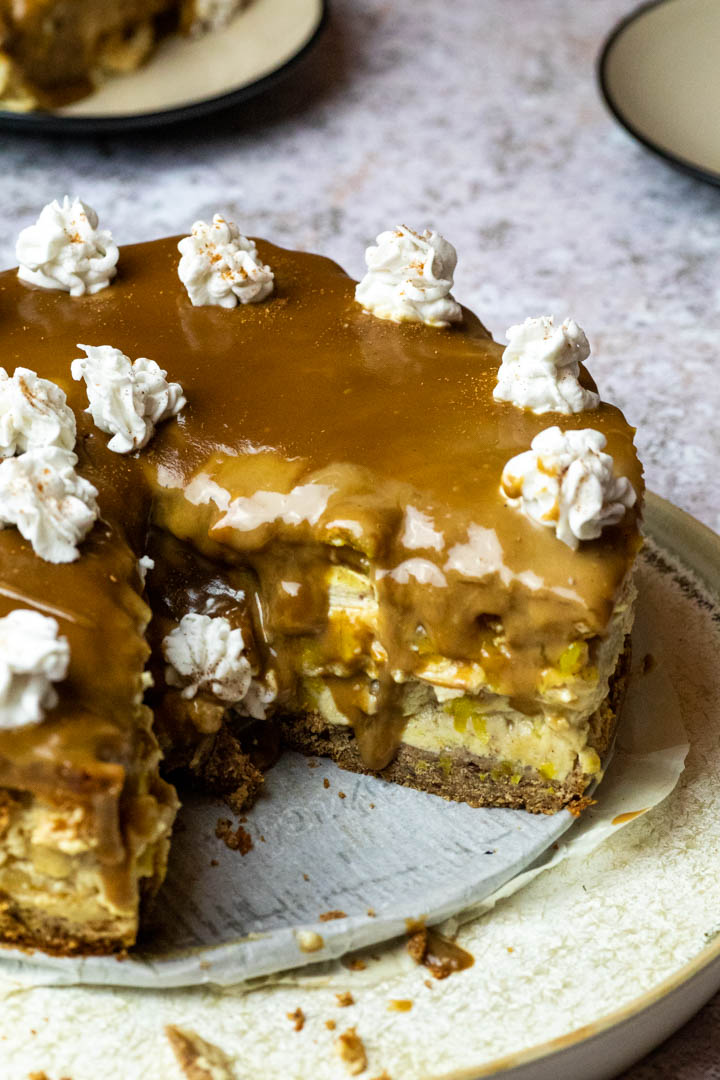 Can I make this cake gluten-free?
To make the cake gluten-free you have to replace the flour in the dough. Just use a gluten-free baking mix.
I do not like the creamy topping!
In fact, the vegan apple cinnamon cheesecake tastes great even without topping. If you do not like the coconut flavor of coconut cream, you can easily omit it. You will still be amazed by this delicious vegan apple cinnamon caramel cheesecake and you will not just eat one piece;).
How long does vegan apple-cinnamon-caramel-cheesecake last?
I always use a cake container and store the cake in the fridge. So the cake lasts 3-4 days. Mostly, we ate the cake in 2 days. It just tastes too good not to eat it.
More vegan desserts:
Snow White Cake (Cherry Chocolate Cheesecake)
Do not forget to Pin on Pinterest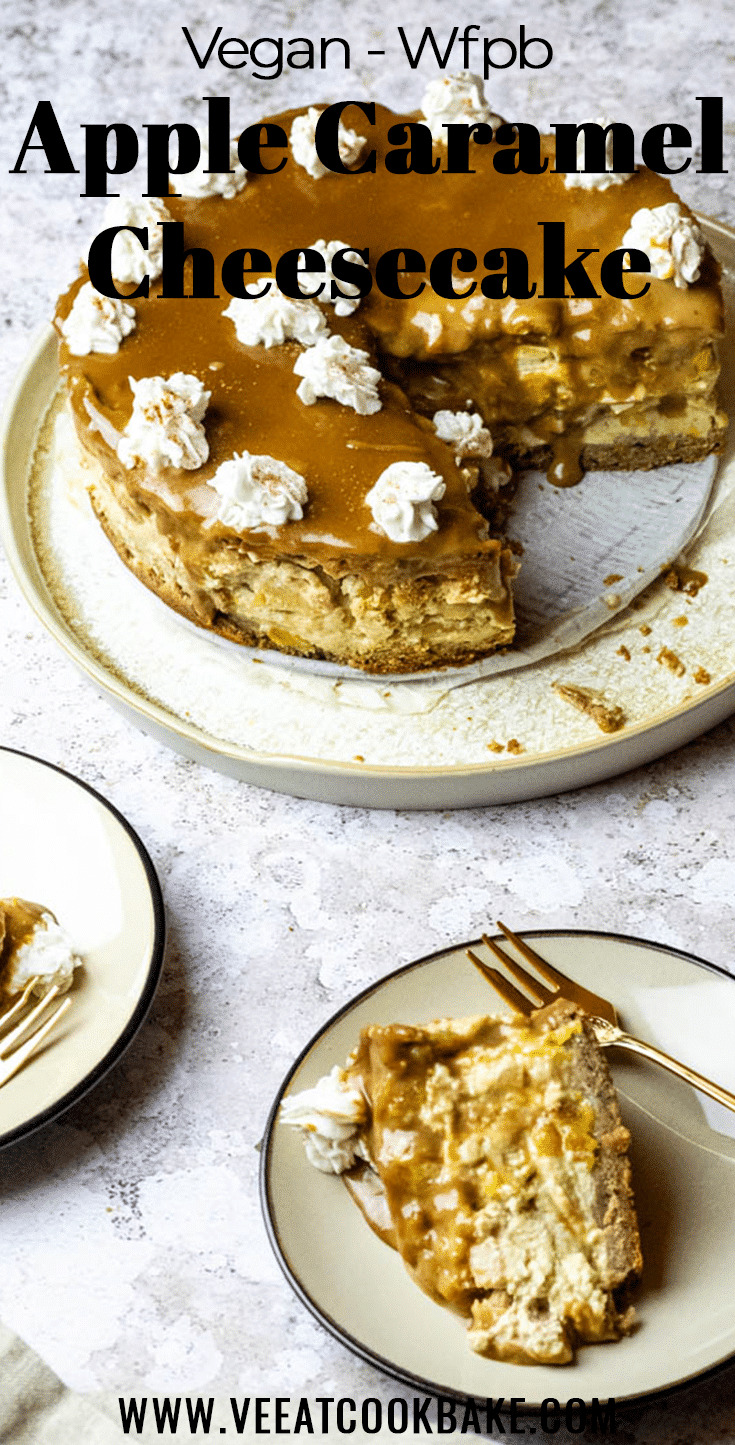 Have you tried the recipe?
If you tried the vegan Cinnamon Apple Caramel Cheesecake, be so nice ♥ and let me know by rating the recipe and writing what you think about it in the comments. Tag me on Instagram too. I am @veeatcookbake and my hashtag is #veeatcookbake. So that I can see your creation. Did you know you can add photos on Pinterest under the recipe Pin? I can't wait to see a photo of your creation there. You find me with @veeatcookbake. I also would love to hear your feedback so I can share it on my social media channels.

This post may contains affiliate links and I may receive a very small commission if you buy through these links at no extra cost. Thank you very much for supporting Ve Eat Cook Bake! More information can be found here.
---