Vegan Apple Crumble is made of a layer of baked cinnamon - apples covered with a crumble-like layer and an Apple Crumble or Apple Crisp is served with vanilla ice cream or whipped cream. Perfect as a warming dessert for Christmas or other cold days. This sugar-free and oil-free version of this dessert is a healthy alternative with nut butter and almonds and your house will smell cozy like Christmas.
vegan | vegetarian | whole food plant-based | sugar free | oil-free | milk-free | healthy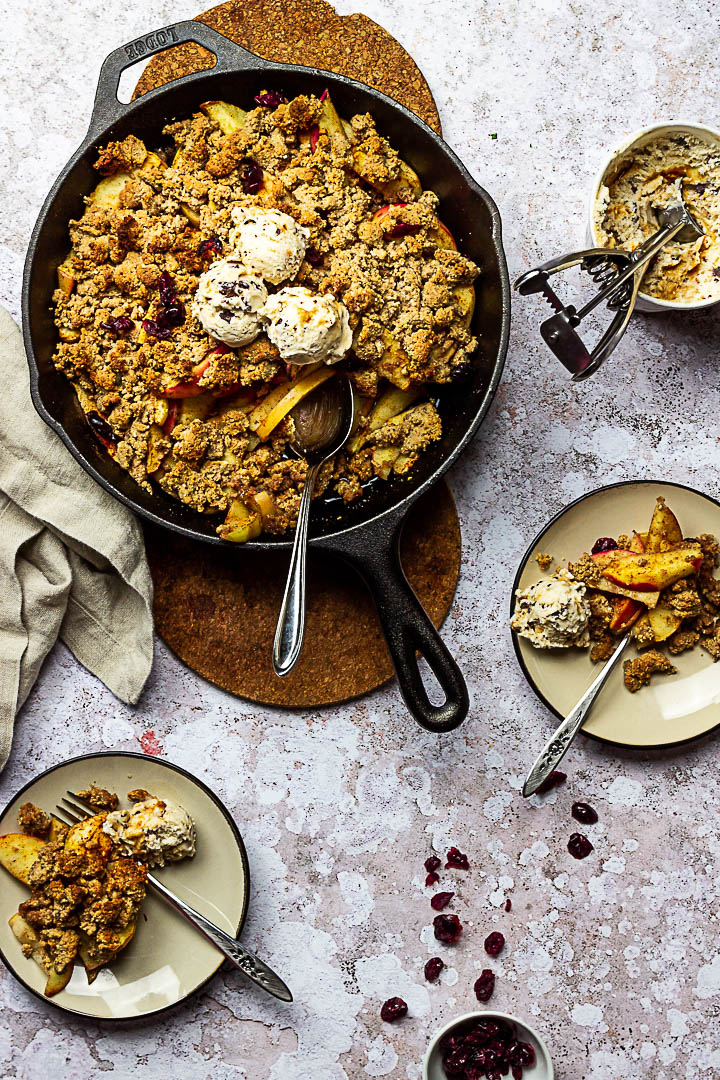 If you like, you can sprinkle the Apple Crumble with a portion of roasted pecans.
Apple Pie, Apple Cake, and Apple Crumble are classic American desserts, and being married to an American means I'm making more and more American recipes that I'll share with you.
If you like apple pie, or generally cooked apples, you should definitely try this great version. Who does not like crumbles and apples and you found a great and quick way to enjoy both together.
What do you need for a vegan Apple Crumble?
Whole grain flour
Almond flour
Almond butter
Maple syrup
Apples, pitted and cut
Maple syrup
Cinnamon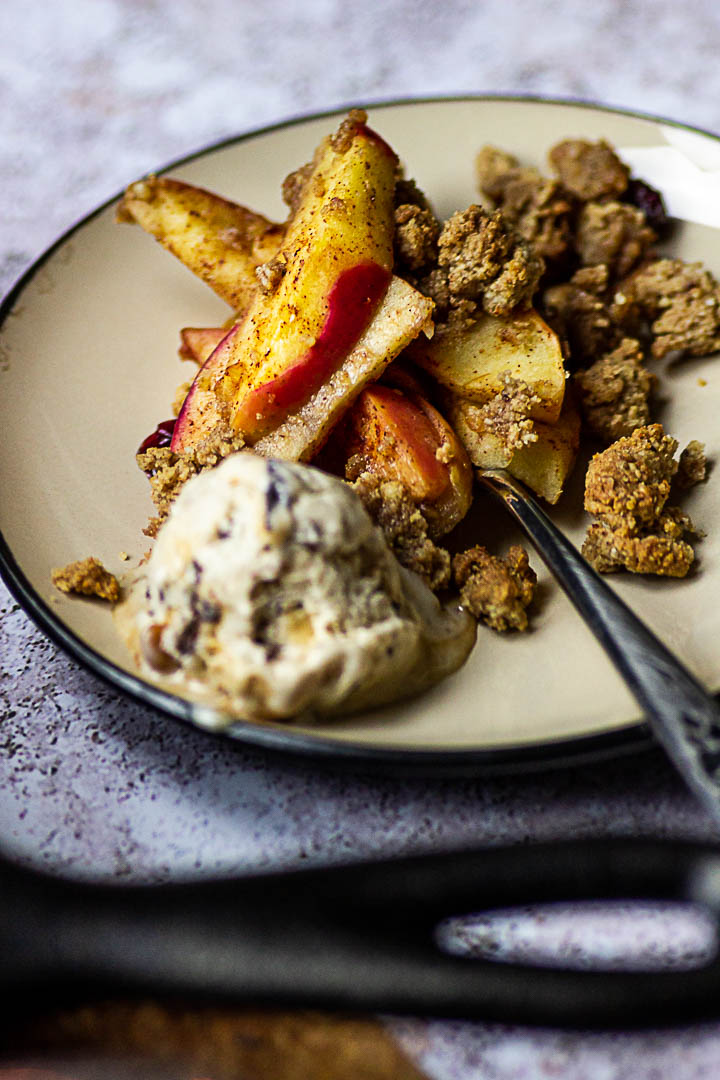 How is an Apple Crumble made?
First take the apples and cut them small, you can cut apple slices or dice the apple. Remove the core. I usually cut with the peel on. Now mix the apple with the remaining ingredients for the filling and put it in a pan.
Now prepare the crumble topping in a bowl. To do this, simply use your hands to process all ingredients into a crumbly dough and place on the apple filling.
Preheat the oven to 350°F (175°C) and bake the apple crumble for about 35 minutes. Take it out of the oven and let it cool again for about 10 minutes before you serve it.
Which apples are best for a vegan Apple Crumble?
Best suited are apples that have a sweet taste, such as Granny Smith apples. Granny Smith are relatively firm and keep very well when baked.
You can also use Honeycrisp, Pink Lady, Braeburn, Jonagold and Golden Delicious varieties. My favorite variety is Honeycrisp and Jonagold, for example.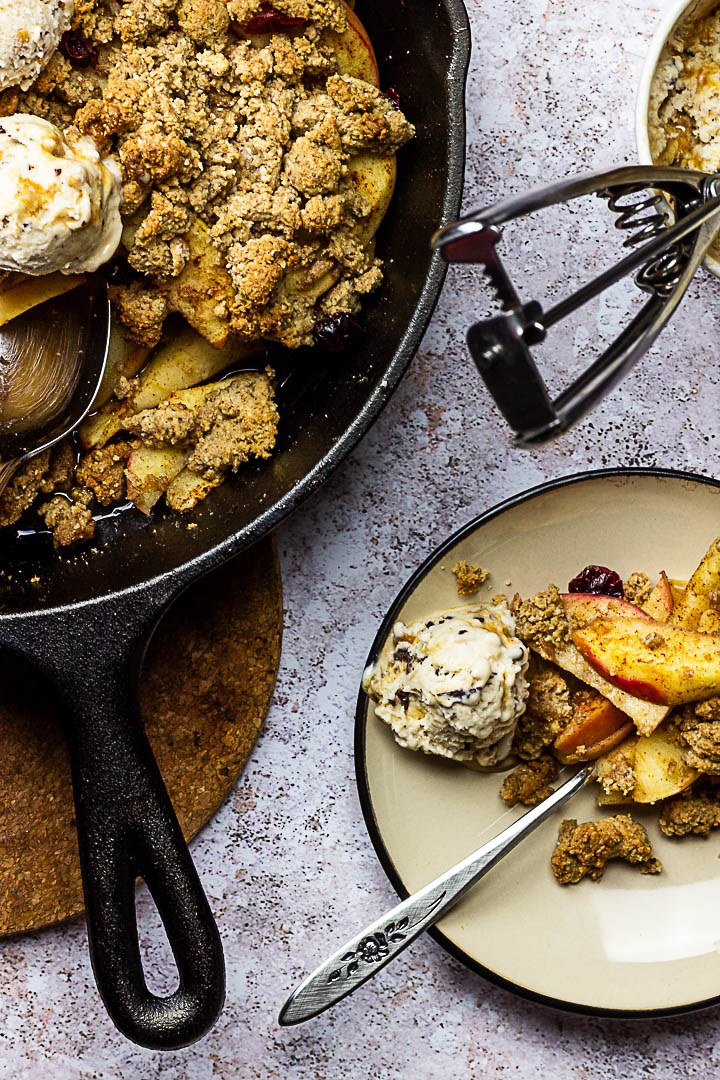 HOW TO SERVE VEGAN APPLE CRISP
Classically, an Apple Crumble or Apple Crisp is served with a scoop of vanilla ice cream. You can either buy vegan vanilla ice cream or make yourself vanilla ice cream.
We ate the Apple Crumble with caramel-vanilla ice cream. And it was delicious. Tastes so good with baked cinnamon apples.
The apple crumble is hot or warm and the cold ice melts on it. It becomes a real taste experience.
You can also do it with vegan whipped cream, e.g. Serve coconut cream with it. We do this sometimes too.
Can you also make the Apple Crumble gluten-free?
I have not tried it yet. But there's nothing to say against it. You can either use oat flour instead of whole wheat flour. Or a finished gluten-free baking mix. For oat flour, make sure it is gluten-free.
Simply replace the flour 1: 1 with a gluten-free flour.
What is the difference between an Apple Crumble, Apple Crisp and Apple Cobbler?
Apple Crumble: This is a baked fruit dessert with a layer of crumbles (streusel). A classic crumble rarely contains nuts or oats as a topping but a crumbly combination of flour, sweetener, and butter. I love streusel made of ground nuts, flour and nut butter. This is very reminiscent of an apple crumb cake only without a base dough.
Apple Crisp: is also a baked fruit dessert with a crunchy layer on top. The crunchy toppings may be a mixture of flour, oats, nuts, butter and sweeteners, as well as cinnamon. Oats and nuts will not be ground into flour, but will remain coarse.
Apple Cobbler: is a fruit dessert in a deep bowl or pan. The apples are covered with a thick shortcrust pastry and are more reminiscent of a bottomless apple pie. You can also make a base and then prepare a deep dish pie.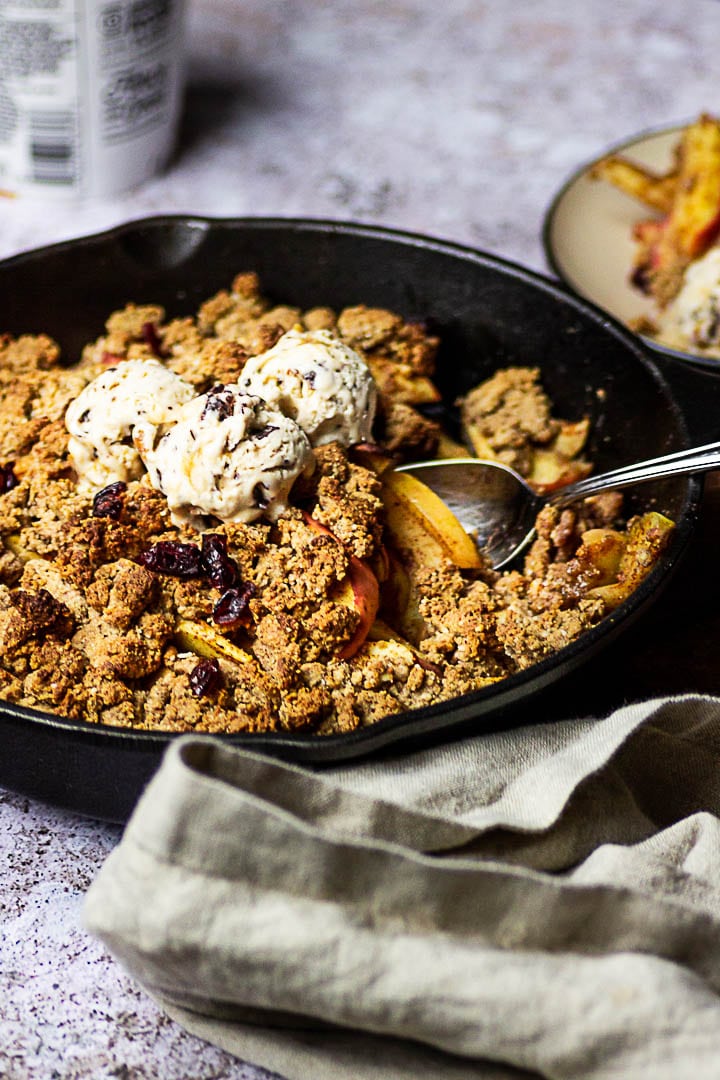 Further vegan desserts:
Do not forget to Pin on Pinterest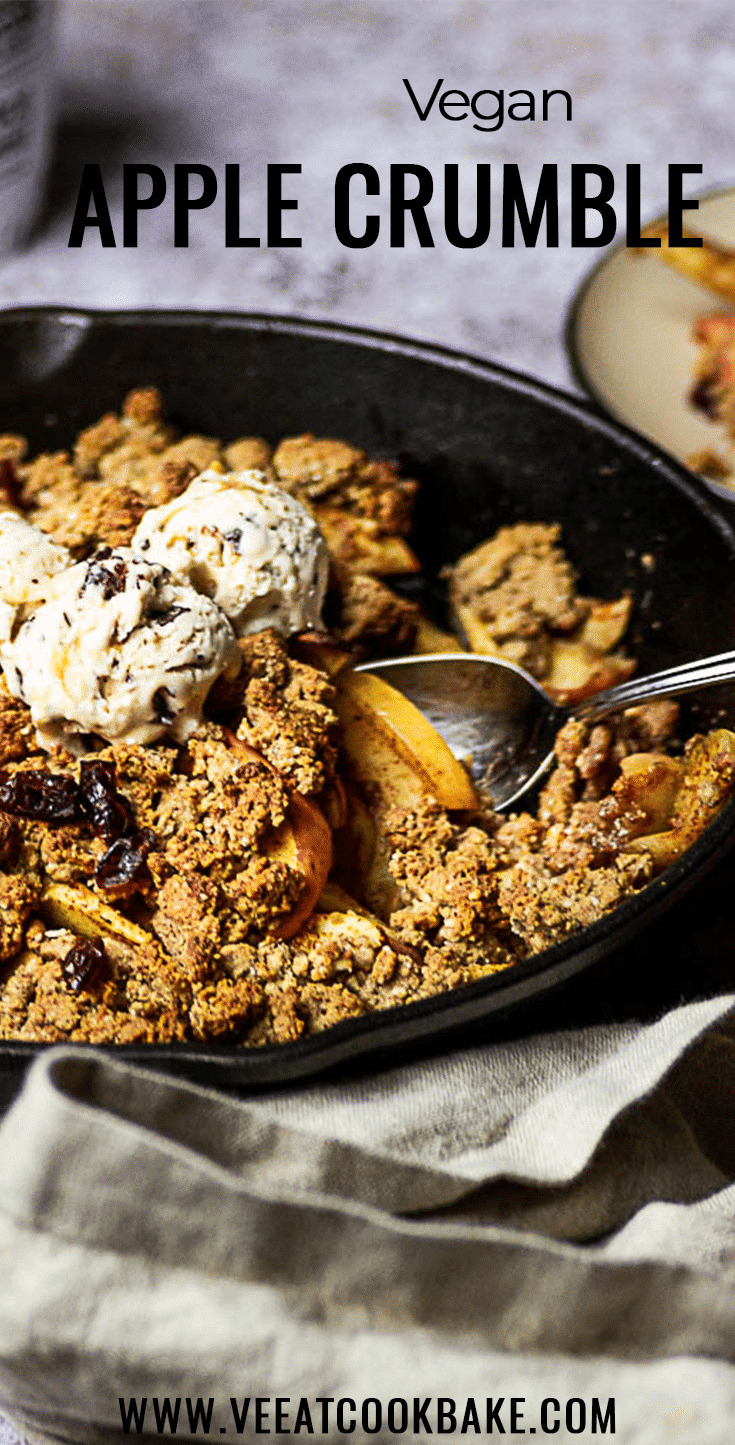 Have you tried the recipe?
If you tried the vegan Parmesan, be so nice ♥ and let me know by rating the recipe and writing what you think about it in the comments. Tag me on Instagram too. I am @veeatcookbake and my hashtag is #veeatcookbake. So that I can see your creation. Did you know you can add photos on Pinterest under the recipe Pin? I can't wait to see a photo of your creation there. You find me with @veeatcookbake. I also would love to hear your feedback so I can share it on my social media channels.

This post may contains affiliate links and I may receive a very small commission if you buy through these links at no extra cost. Thank you very much for supporting Ve Eat Cook Bake! More information can be found here.
---