Vegan Pumpkin Pie - American Pumpkin Pie is not delicious only for Thanksgiving. You can make this pie in a few minutes. A whole-grain shortcrust pie crust made from spelt, cashew butter, which works completely without butter, margarine or oil. The filling makes this cake so delicious. The combination of ginger, allspice, cinnamon and nutmeg in this vegan pumpkin pie makes you want to grab seconds. And this spice combination makes this pumpkin pie an authentic vegan dessert for your holidays.
Vegan | vegetarian | plant-based | egg free | dairy-free | Whole grain | soy free | wfpb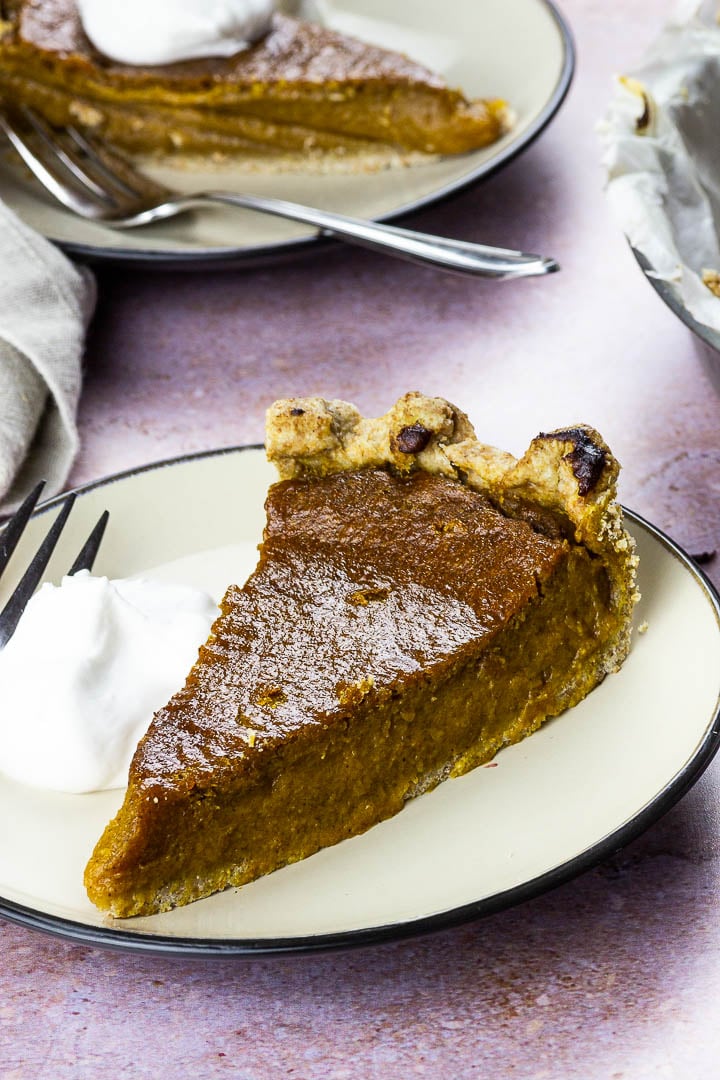 It's the time of the year where Pumpkin Spice is in everything from Pumpkin Spice Coffee or Latte, Pumpkin Spice Donuts, Pumpkin Spice Hummus, Pumpkin Spice Cheesecake, and so much more.
Here in the US, a pumpkin pie is a must-have on Thanksgiving. This is a quick dessert where your guests do not notice that the cake was made without eggs, milk or other animal products.
Before I met my husband, I didn't even have the idea to bake a pumpkin pie. I ate my first pumpkin pie in 2013 and the deliciously spiced pie convinced me that I would have to show it to you. I just use less sweetener than the traditional American version because it's kind of too sweet for me otherwise.
The consistency of the Pumpkin Pies is not too firm and can't be too wobbly. After cooling this vegan pie, you can cut the pumpkin pie without it collapsing. And that is a must, isn't it?
What ingredients do I need to bake a vegan pumpkin pie?
You do not need many ingredients for a pumpkin pie and you may even have plenty of it in your pantry at home.
Whole Grain Flour Spelt or Wheat

Almond Flour
Maple syrup
Tahini or Cashew butter
Plant drink
Coconut milk from the can
Coconut sugar
Corn starch
Vanilla extract
Ginger powder
Nutmeg
Allspice
Cinnamon
How do I prepare the vegan pumpkin pie?
First, preheat the oven to 350F (175C).
Then you start with the dough by mixing all ingredients into a homogeneous elastic dough. Roll it out very thin and put it in a baking paper-lined pie pan.
Now place the pan in the fridge. If you have dough pieces leftover, you can still cut out shapes to later decorate on the pumpkin pie.
While the cake is in the fridge, take all the ingredients for the pumpkin pie filling and stir it with a hand mixer or stand mixer until creamy.
Once mixed, you can pour the filling into the pie and bake in the preheated oven for about 1 hour.
The pumpkin pie will still be a bit wobbly when taken out. This is completely normal. When the cake is completely chilled, the pumpkin filling will be firm.
Serve the pumpkin pie with delicious homemade coconut cream. To do this, simply whip up firm coconut milk with maple syrup and starch until Whipped Cream consistency. I prefer to use my stand mixer because it can take a bit of time.
[ezcol_1half]
[/ezcol_1half] [ezcol_1half_end]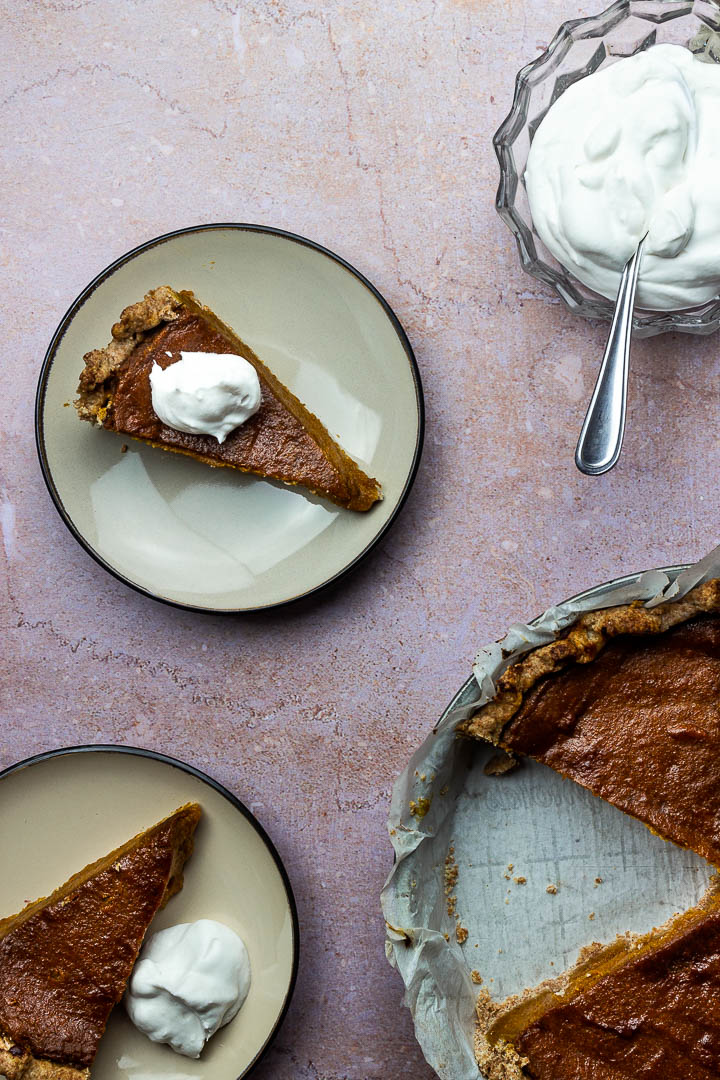 [/ezcol_1half_end]
Which coconut milk is suitable for the pumpkin pie filling?
It's best to use coconut milk from the can. I find these mostly in the Asian aisle in the supermarket. Before you open the coconut milk. Remember to shake well we want all the coconut milk for the vegan pumpkin pie, not just the firm part.
What pumpkin puree should you use?
If you want to go fast or you are lazy, you can buy ready-made pumpkin puree from the can. I used that for this cake. But you can also use homemade puree, just roast the pumpkin in the oven and then puree in a high speed blender and voila your homemade pumpkin puree is ready.
Depending on the type of pumpkin used, your pie may be lighter or darker after baking.
Which pie crust is best?
If you do not insist on whole grain, you can buy ready-made pie crust, a lot are vegan. Or you can quickly make your own as stated in the recipe below. Of course you can also use all purpose flour instead of whole wheat or spelt flour. I love whole grain flour and as it is healthier too, you will find more and more whole grain flour recipes on my blog.
How long does the vegan pumpkin pie last?
This question is great. So we usually eat it within 2 days because the pumpkin pie just tastes too good. However, I guess the pie will easily last 4-5 days. I just have not tried it yet.
You can also freeze the baked pumpkin pie and then bake it again later.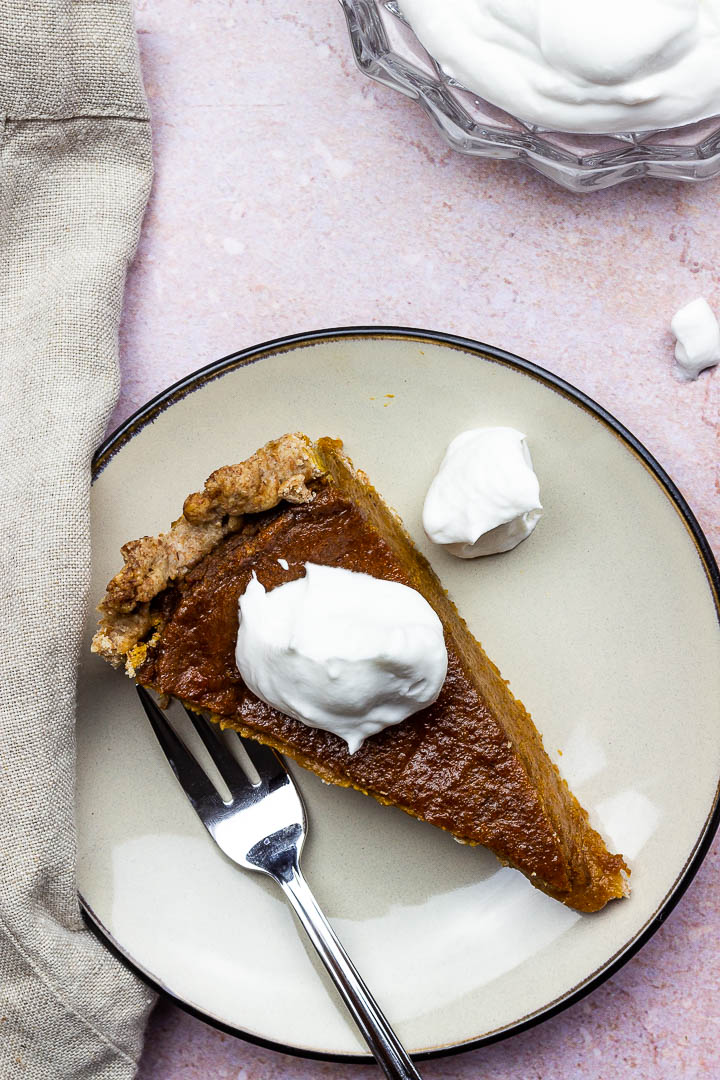 What is a great egg substitute for the pumpkin pie?
In this case, I simply use corn starch, as it thickens the filling nicely and creates a perfect consistency.
Do you have any other experience with egg substitute? I would be happy to hear from you in the comments.
More vegan Desserts:
Classic Apple Crumble (vegan, wfpb, sugar-free)
Quick Vegan Raspberry Cream Dessert
Vegan Chocolate Cherry Cheesecake (Snow White Cake)
Do not forget to Pin on Pinterest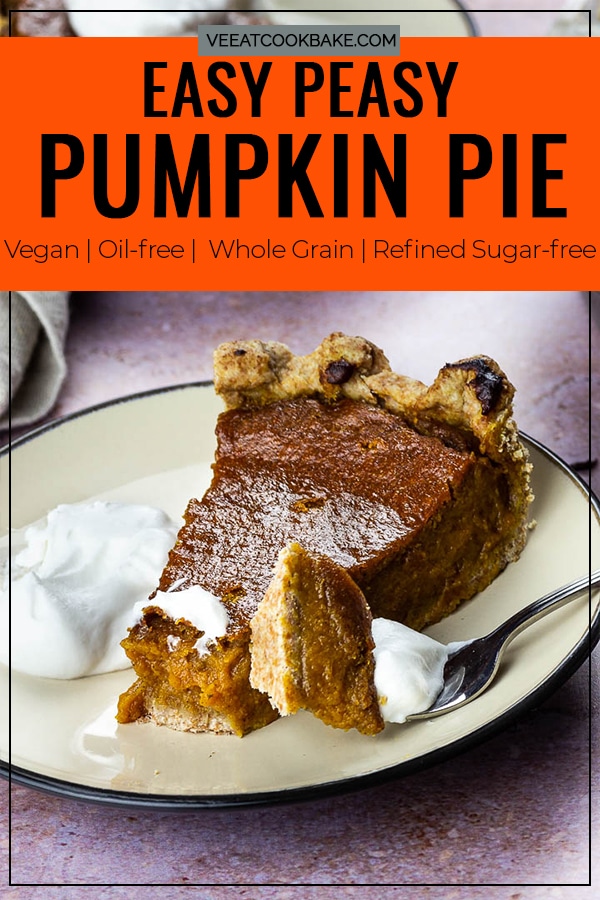 Have you tried the recipe?
If you tried the vegan Pumpkin Pie, be so nice ♥ and let me know by rating the recipe and writing what you think about it in the comments. Tag me on Instagram too. I am @veeatcookbake and my hashtag is #veeatcookbake. So that I can see your creation. Did you know you can add photos on Pinterest under the recipe Pin? I can't wait to see a photo of your creation there. You find me with @veeatcookbake. I also would love to hear your feedback so I can share it on my social media channels.

This post may contains affiliate links and I may receive a very small commission if you buy through these links at no extra cost. Thank you very much for supporting Ve Eat Cook Bake! More information can be found here.
---