Vegan Stuffing is a traditional American recipe.
Vegan Thanksgiving Stuffing includes toasted bread, zesty celery, onions, and other spices such as sweet marjoram, which is strongly reminiscent of its relatives oregano, smoky-spicy thyme, slightly bitter and resinous rosemary, as well as the unmistakable sage-taste.
This vegetarian Stuffing Recipe should not be missed as a Thanksgiving side dish.
This is traditionally filled in a turkey, but we can simply enjoy this stuffing vegan as a side dish or in a seitan roast.
As an Amazon Associate, I earn from qualifying purchases. This post may contain affiliate links. Read More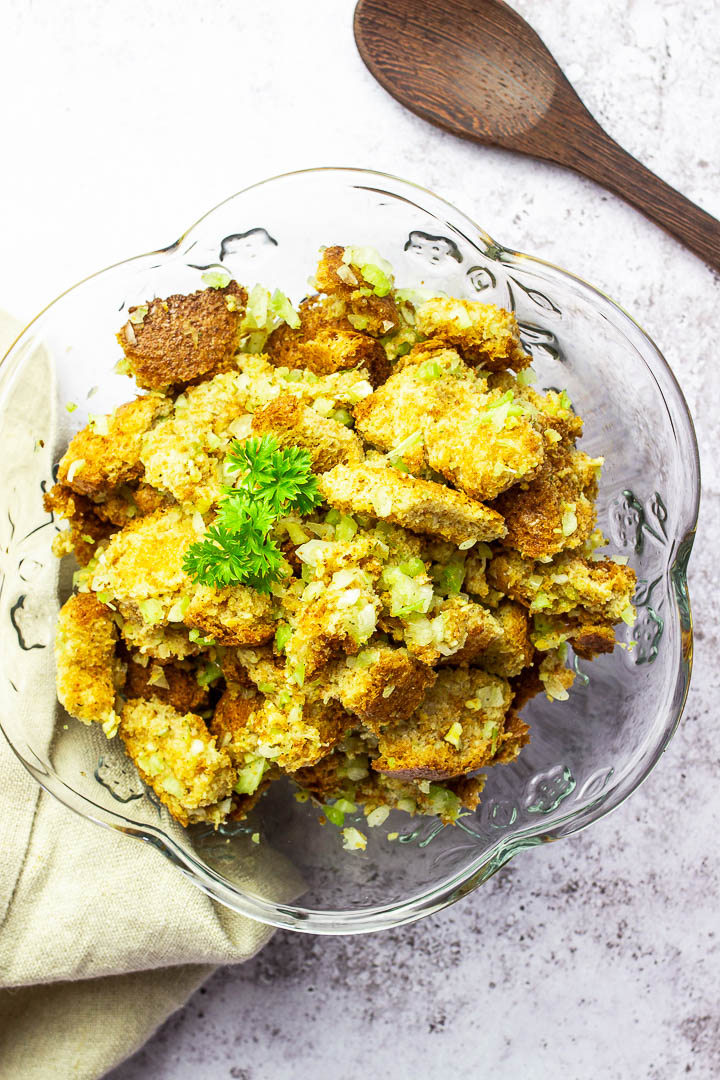 If you are thinking of what you can or should serve for Thanksgiving as a side dish, such a stuffing is part of a classic Thanksgiving dinner.
And do you know what, when you eat gluten free, this is super easy to make as a gluten free vegan stuffing. You just have to use your favorite gluten free bread for it.
This stuffing is prepared super fast and perfectly fits for any holiday dinner.
This stuffing cannot be missed even non-vegans. With the zesty flavor and the perfect combination of herbs, this is great as a potluck for a Thanksgiving or Christmas party, which does not specifically have to be vegan.
After eating this flavorful whole food plant based stuffing you won't need a vegan stuffing mix. You will see how easy and quick this stuffing is prepared.
Such a simple vegan stuffing doesn't have to be missing on a Thanksgiving holiday.
Normally the stuffing serves as a turkey filler, but as a vegan, we do not have to go without a great stuffing and can serve it as a garnish or as a filling for a seitan roast.
The best thing is that turkeys do not have to suffer.
And if you like to try new recipes, I can always recommend this.
As you surely know I am from Germany and an American Stuffing has never belonged to the family tradition at Christmas.
I ate stuffing with my American Husband for the first time and I have to say that it tasted delicious right from the start.
And since then we've been preparing this stuffing at least once a year and it tastes even better every year.
And now living here in the US, it must of course not be missing on the traditional feast days.
And since we always bring our own food here in the US, and we maintain a traditional Thanksgiving, just in vegan.
One thing I have to say, it's so easy to make a vegan stuffing and your guests would have no idea that this stuffing is vegan.
The typical American serves the stuffing with typical seasonings and herbs to make it a comfort food.
If you want to bring extra flavor into it, you can sauté the onions, garlic and celery for a short time.
The stuffing gets its texture thanks to the toasted bread. And you can easily replace the typical chicken broth with vegetable broth.
As a butter substitute, I like to take some Aquafaba or more vegetable broth.
Ingredients
If you already know more of my recipes, you will surely know that I try to bake and cook without oil and would rather resort to full-bodied fats.
And with this stuffing, you will not even miss the butter-soaked bread. You can find the exact quantities in the recipe card below.
What you need for vegan stuffing is this:
slices of wholegrain bread
celery stalks
medium onion
tablespoons chopped parsley
sage, dried
thyme, dried
marjoram, dried
white pepper, ground
rosemary
vegetable broth
Aquafaba
Sea Salt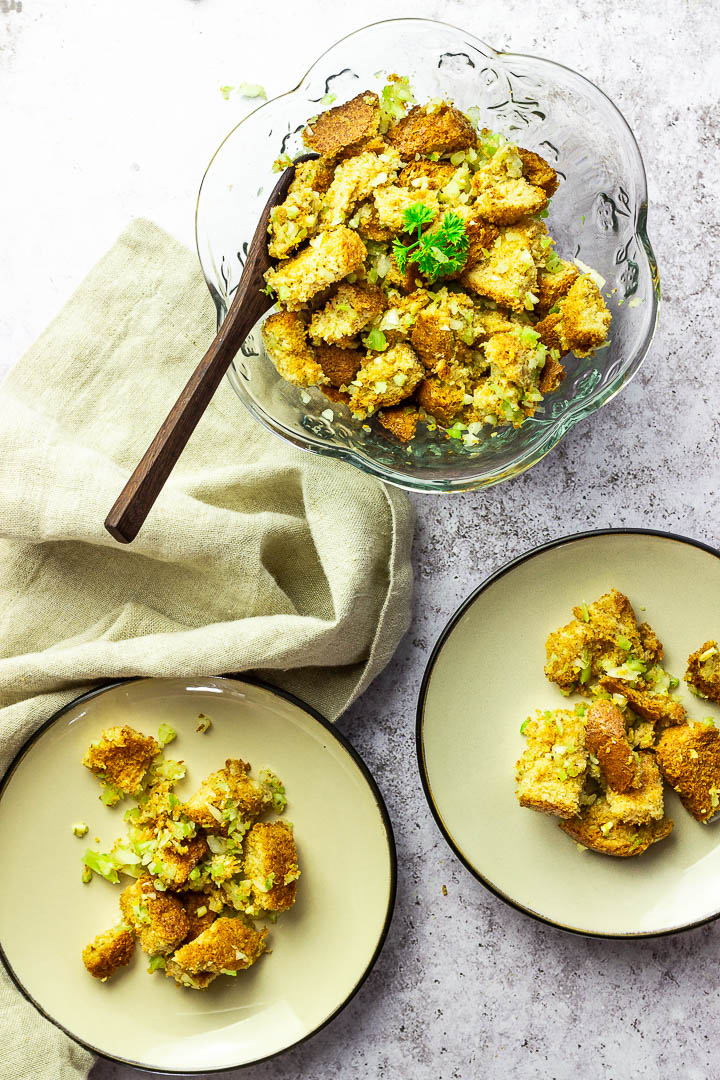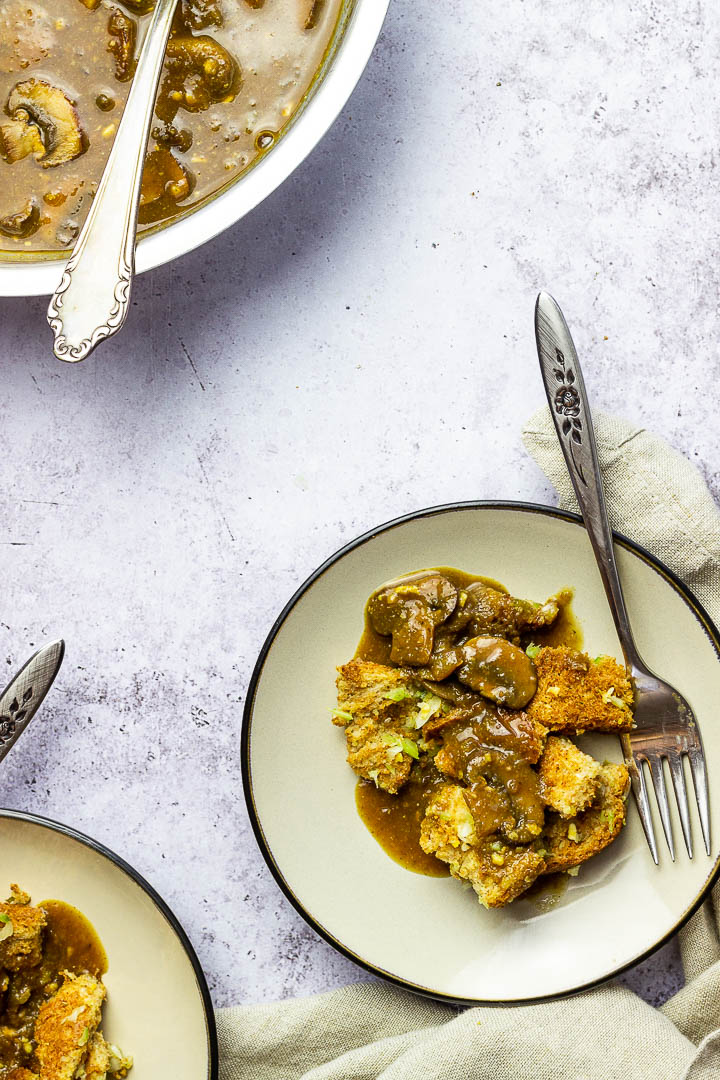 How best to roast the bread?
I simply use my toaster here and let it toast pretty dark.
So, the bread gets its classic roasted taste and you have virtually no work. All you have to do is cut the bread.
Another variation is that you can cut the bread into cubes and then roast in the oven until it has the color you want.
I like to use the toaster method because I often bake other dishes in the oven.
Tips to choose the best bread
I usually take a whole wheat toast and toast it before cutting, so it retains its texture. And the stuffing is not too pulpy.
You can also use two different breads, or bread rolls to make it a touch fancier. For example, a grain bread or how about a potato bread.
Like mentioned above you can easily use your favorite gluten free bread like a buckwheat bread or any other bread you prefer.
How much vegetable broth should I give to the vegan stuffing?
It depends entirely on your taste, as you like the consistency.
Some people prefer pudding (moist) others prefer a dry stuffing. Therefore, the amount of vegetable stock in the recipe is more of a recommendation.
You can add more or less liquid. Slowly add the liquid and let it soak up the bread before you add more.
How to fry onions without oil?
I recommend you use a non-stick pan.
You add just enough water so that the pan is covered and lets the liquid evaporate.
When you notice that the onions are getting stuck on the pan, add some more water.
You continue until the onions turn golden brown and caramelize.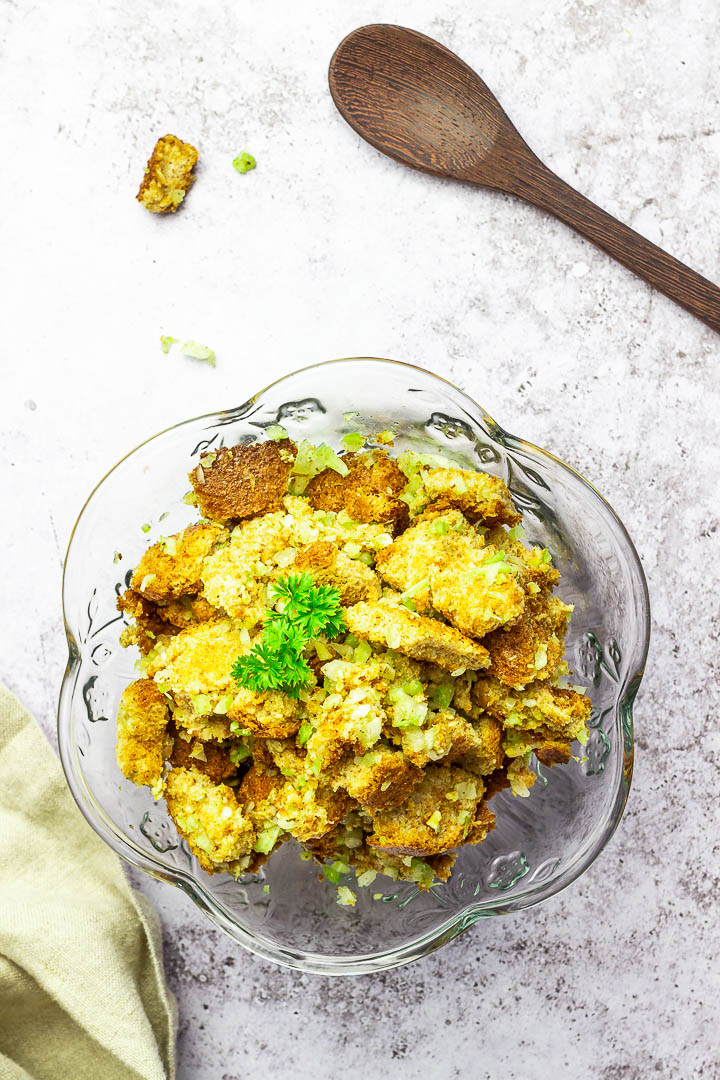 Tips:
Of course, if you do not have whole grain bread, you can use other things as well. Or you can add different breads.
Roast your bread neatly. So you get the best taste in your filling.
You can also simply cut the bread into cubes and let it air dry overnight.
Try to make sure that your bread is properly toasted through, otherwise you will get a soft filling.
If your stuffing is too moist, just add a little more bread.
If your stuffing is too dry, just add some vegetable stock.
Thanks to the roasted bread you do not have to bake the stuffing extra again, so you have room in the oven for your other side dishes or dishes.
More vegan side dishes for Thanksgiving: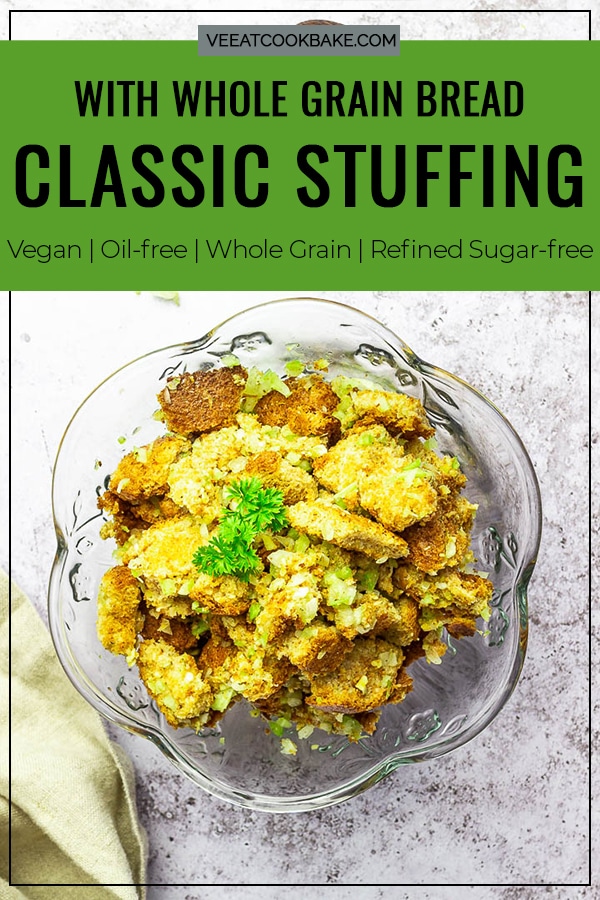 Have you tred the recip
If you tried the vegan Recipebe so nice ♥ and let me knw byrating the recipe and writing what you think about it in the comments.  I would love to see your photo on Instagram orFacebook. To do this tag me with @veeatcookbake andmy hashtag is #veeatcookbake. So that I can see your creation. Did you know you can add photos n Pinterest under the recipe Pin? I can't wait to see a photo of your creation here. You find me with @veeatcookbake