If you're looking for something savory and delicious, but vegan, oil free, and gluten free to boot - this vegan shakshuka recipe is the perfect dish!
This healthy version of a traditional egg dish replaces the eggs with chickpeas that will give it plenty of nutrient-rich plant proteins. What makes this Isrealic Style Recipe a protein-rich breakfast ideal for a vegan sunday brunch.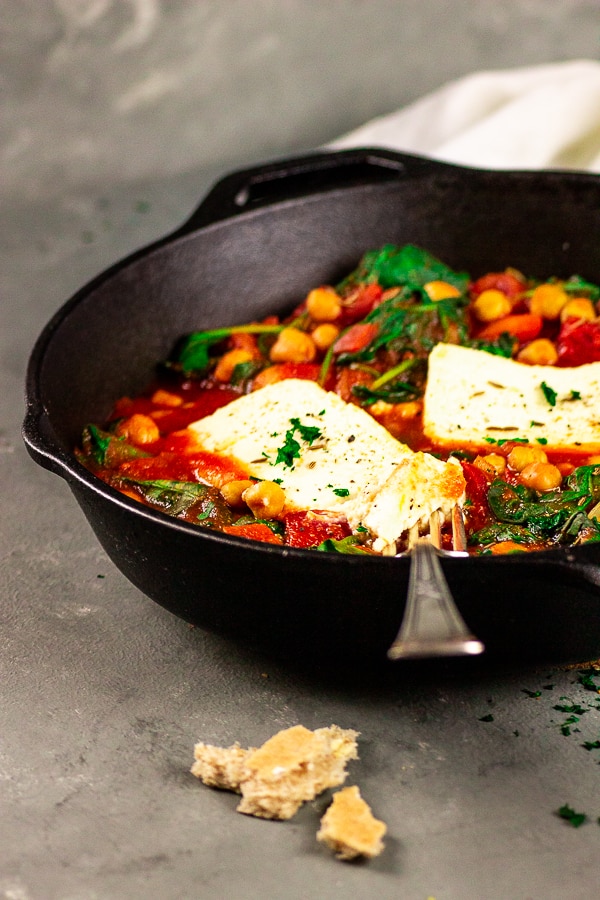 The smoky flavors from the paprika and cumin combined with creamy vegan Feta really make this meal stand out in terms of flavor, while still being incredibly simple to make.
To get your daily portion of greens, we add some Spinach to my plant based shakshuka style skillet. Plus, feel free to top with fresh avocado or your favorite hot sauce for an extra kick of flavor. Ready? Let's get cooking!
This recipe pairs well with this whole wheat flatbread recipe. I also got a great feta cheese recipe that I use to make this shakshuka breakfast.
As an Amazon Associate, I earn from qualifying purchases. This post may contain affiliate links. Read More
Jump to:
Ingredients
Here is a list of ingredients you will need for this chickpea spinach skillet.
You can find the ingredients with quantities and the recipe to print out on the recipe card below.
Vegan Feta
Diced Tomatoes (Canned)
Tomato Purée (Canned)
Chickpeas
Spinach
Onion
Garlic Cloves
Oregano
Parsley
Sage
Thyme
Cumin Powder
Paprika Powder
Optional
Chili Powder
Sea Salt or Black Salt (Kala Namak)
Black Pepper
Instructions
Start by finely dicing the onions and garlic. Steam these in a little water until they are translucent.
Now you add the chickpeas and fry them briefly.
Add the spinach and let it wilt.
Now add the chunky tomatoes and tomato puree, as well as the spices. Season the rich tomato sauce with salt and pepper.
Now cut the feta into 4 equal parts and place it in the pan. Now let the pan simmer on low to medium heat until the feta is soft.
Be careful not to stir the pan.
Hint: Use some Indian black salt to add some egg flavor. No need for vegan eggs.
Substitutions
Would you like to substitute ingredients, but you don't really know where to start?
Here, I give you options on how you can substitute ingredients without losing the taste of the one pan vegan chickpea shakshuka.
Chickpeas - You can replace the chickpeas with white beans or pinto beans. To do this, just use the same amount of the other beans. Those are high protein as well.
Vegan Feta - For the vegan shakshuka you can either use homemade vegan feta or use purchased vegan feta. You can also put my vegan fried egg on it and serve it.
Spinach - If you don't have spinach at home, you can use other leafy vegetables. For example, you can use kale instead of spinach.
Tomato Puree - To make this chunky tomato sauce you can also use tomato paste, but you got to add a little water.

Variations
You can always add some other ingredients to your own preferences.
Crunch: Add seeds like pumpkin, sunflower seeds or even nuts like walnuts or pistachio.
Fresh herbs: Add some fresh herbs like parsley, chives, cilantro, green onions
Grains: You want this to be a main dish, cook some whole grains like rice, farro, millet, quinoa.
Spicy: Add some red pepper flakes, chili flakes or hot sauce, pepper sauce to make it spicier.
Toppings: You can top it with avocado, vegan yogurt
Bread: Soak up this delicious tomato sauce with some crusty bread or toast.
Vegetables: Add more veggies to this oil free shakshuka! I love to add vegetables like eggplants (aubergine) and zucchini. Those fit perfect to a spiced tomato sauce.
Equipment
You are going to need a frying pan or large skillet like a cast iron skillet. I love that this is an oven-safe skillet. You also will need a cutting board and a good knife (the brand I use) and a cooking spoon.
Storage
Vegan Shakshuka stores in an airtight container in the fridge for around 5 days. First, let it cool completely. Reheat it in the microwave or on the stove top.
Prepare in Advance
You can also prepare this a couple of days earlier to have a healthy meal for breakfast on hand.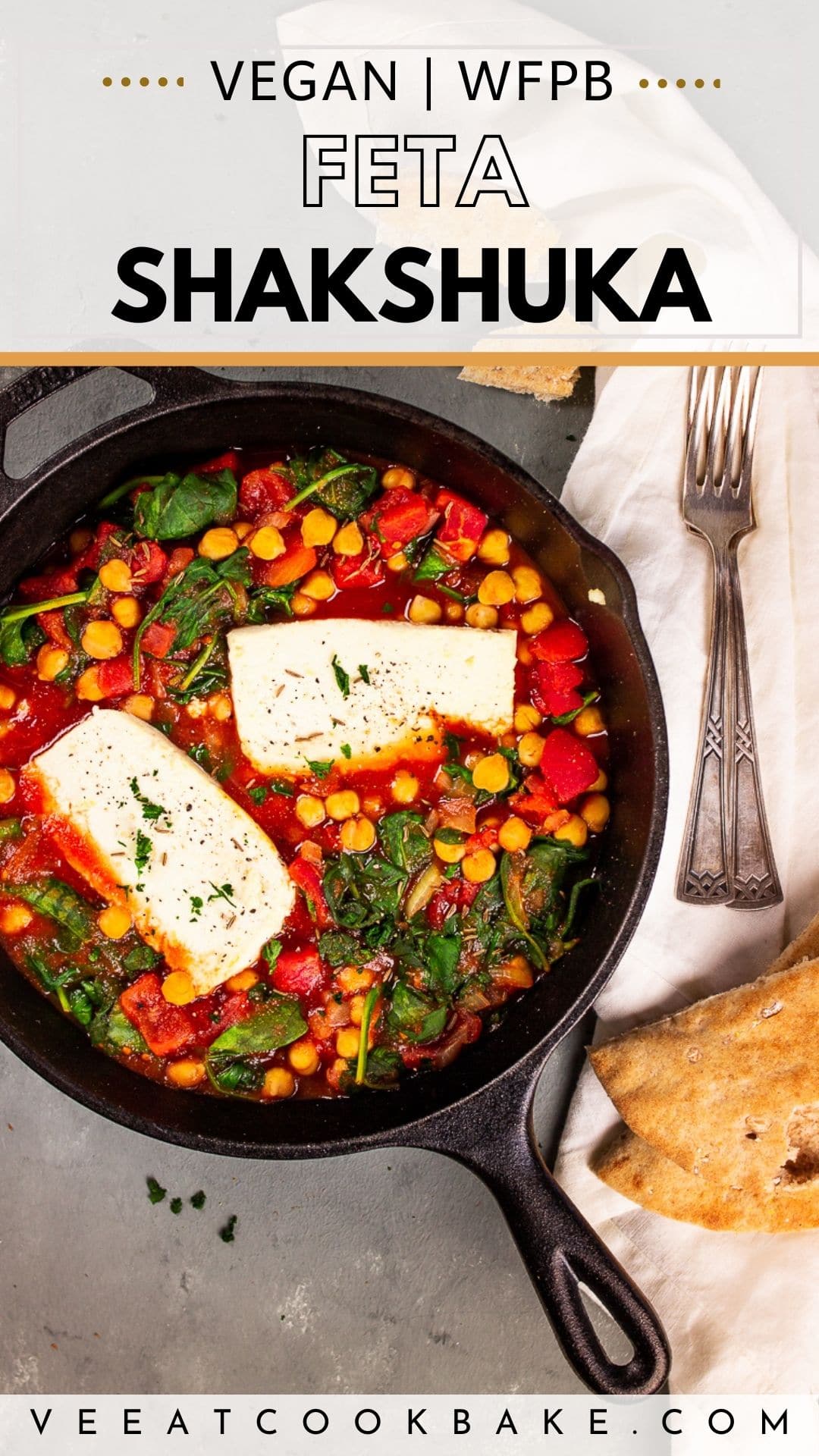 Top Tip
Season the sauce properly before adding the vegan feta, once the feta is in it is difficult to season the sauce.
It is best to use a can with sun-ripened tomatoes, so you have the full tomato flavor. I like to use an Italian can here.
FAQ
What is Shakshuka?
Traditional Shakshuka Recipe is made with poached eggs and a tomato sauce with paprika. You can eat the African Dish without a side dish, or serve it with crusty bread like naan or pita bread. The origin of the dish is from North Africa and was brought to Israel by North African immigrants, where it is now a traditional dish.
You can find Shakshuka in many Middle East countries, and each country has its own version. I tried my own version and the vegan feta and spinach make this pan incredibly delicious, and you can completely go without egg substitutes.
Shakshuka is traditionally eaten as breakfast.
What is similar to shakshuka?
One of its cousins is eggs in purgatory recipe. Made with tomato sauce and red pepper flakes.
Can you eat shakshuka leftovers? Can I meal prep it?
You can easily eat leftovers. I recommend to not add the vegan cheese to it yet. Instead, just freeze the sauce and add the vegan feta later when you reheat it.