This vegan chickpea shakshuka with vegan feta is super quick to prepare and is a great meal for during the week. Not only can you prepare it traditionally for breakfast, this chickpea pan can also be made very well as a light dinner with naan bread or flatbread.
This great Shakshuka can be on your table within 30 minutes. This dish is made from wholesome vegetable ingredients. It's oil free and gluten-free.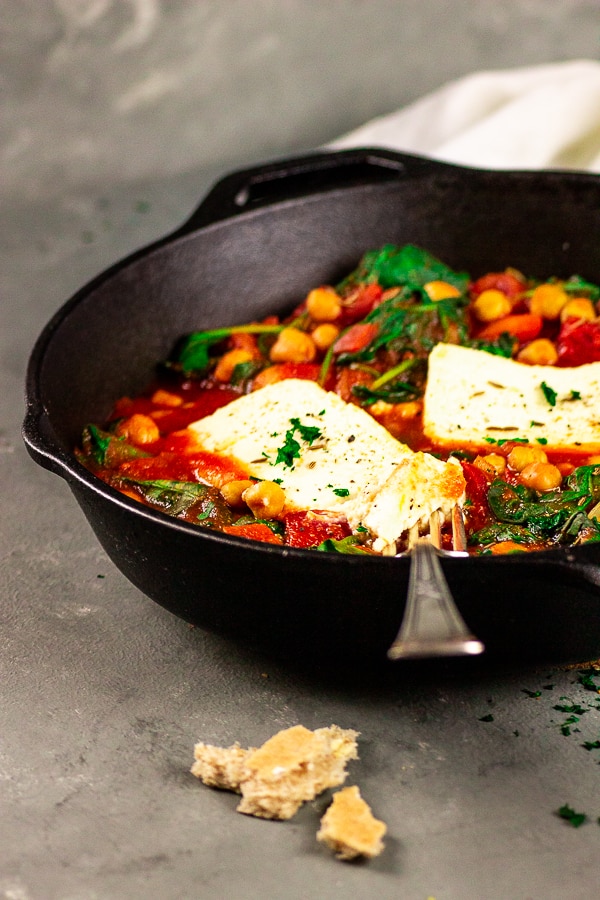 As an Amazon Associate, I earn from qualifying purchases. This post may contain affiliate links. Read More
Jump to:
I made a Shakshuka style pan of chickpeas and feta from the Israeli classic, which makes it a protein-rich breakfast.
Not only can you have something sweet for breakfast, this hearty pan warms you up, especially on cooler days.
This vegetable shakshuka is made in a pan with tomatoes, spinach, chickpeas and feta and is well seasoned. Egg-free Shakshuka is very easy to make without sacrificing taste.
What is Shakshuka?
Traditionally, Shakshuka is made with poached eggs and a tomato sauce with paprika. You can eat the Israeli classic without a side dish or serve it with naan or pita. The dish is originally from North Africa and was brought to Israel by North African immigrants, where it is now a traditional dish.
You can find Shakshuka in many Middle Eastern countries, and each country has its own version. I tried my own version and the vegan feta and spinach make this pan incredibly delicious, and you can completely go without egg substitutes.
Shakshuka is traditionally eaten as breakfast.

Ingredients
Now let's take a look at what goes into the Shakshuka style pan. You will see it is relatively easy. The exact quantities can be found below in the recipe card.
Vegan Feta
Tomatoes, diced
Tomato Puree
Chickpeas
Spinach
Onion
Garlic
Oregano
Parsley
Sage
Thyme
Cumin
Paprika Powder
Chili Powder
Sea-salt
Pepper
Substitutions
Would you like to substitute ingredients, but you don't really know where to start? Here I give you options on how you can substitute ingredients without losing the taste of the vegan Shakshuka.
Chickpeas
You can replace the chickpeas with white beans. To do this, just use the same amount of white beans.
Vegan Feta
For the vegan shakshuka you can either use homemade vegan feta or use purchased vegan feta.
You can also put my vegan fried egg on it and serve it.
Spinach
If you don't have spinach at home, you can use other leafy vegetables. For example, you can use kale instead of spinach.
Variations
We are happy to take a look at variations here in order to adapt it to different forms of nutrition.
Gluten-free
This vegan Shakshuka pan is already a gluten-free pan. You don't have to make any adjustments here.
Nut free
Depending on which feta you use, this is already a nut-free dish.
Soy free
My feta recipe is not soy-free and is made from tofu. If you now use a different feta, you can also make this soy-free, or you can add more chickpeas.
Directions
Start by finely dicing the onions and garlic. Steam these in a little water until they are translucent.
Now add the chickpeas and fry them briefly.
Add the spinach and let it wilt.
Now add the chunky tomatoes and tomato passata, as well as the spices. Season the sauce with salt and pepper.
Now cut the feta into 4 equal parts and place it in the pan. Now let the pan simmer on low to medium heat until the feta is soft.
Be careful not to stir the pan.
Prepare in advance
The best way to prepare the feta is 1-3 days in advance.
You can prepare the whole pan in advance and then simply heat it up again and only then add the feta.
Storage
How to refrigerate it?
You can keep leftovers in the refrigerator. Simply put in an airtight container and store in the refrigerator for up to a week.
Simply place in a small pan or in the microwave to heat up.
How to freeze it?
To freeze the vegan Shakshuka, simply freeze it in portions. To thaw, simply place in the refrigerator overnight and warm up as described above.
Serving Suggestions
The best side dish for this vegan Shakshuka is pita, naan, challah (brioche) or crusty bread (sourdough bread).
If you don't want to serve bread with it, just serve roasted potatoes, cereals such as quinoa, farro, freekeh, barley, millet.
Tips
Do it directly in a pan, so you not only have less to rinse and clean, you can also serve it directly in the pan.
Season the sauce properly before adding the vegan feta, once the feta is in it is difficult to season the sauce.
It is best to use a can with sun-ripened tomatoes, so you have the full tomato flavor. I like to use an Italian can here.
More vegan Recipes: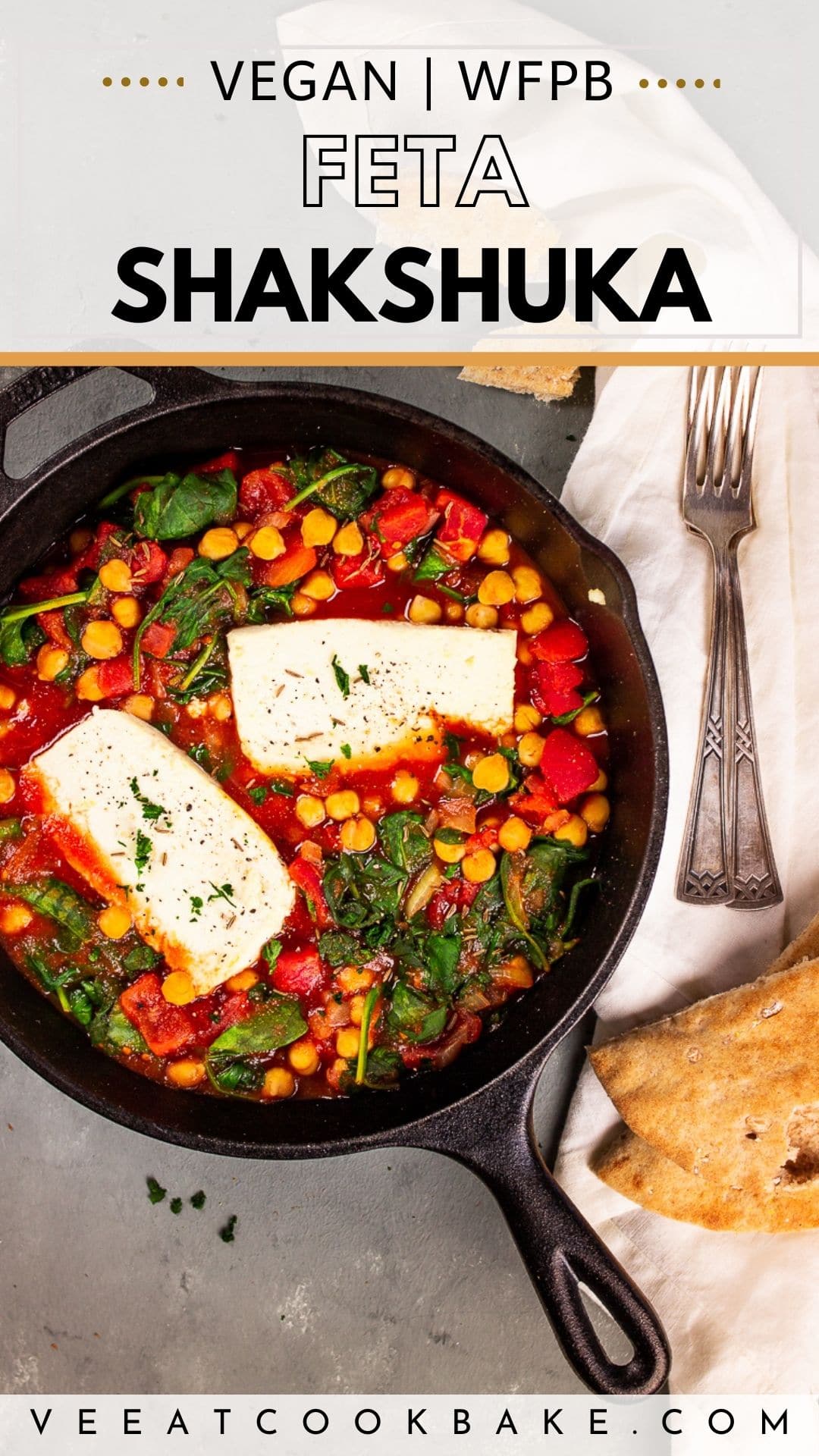 Have you tried the recipe?
If you tried the vegan Recipe, be so nice ♥ and let me know by rating the recipe and writing what you think about it in the comments. I would love to see your photo on Instagram or Facebook. To do this tag me with @veeatcookbake and my hashtag is #veeatcookbake. So that I can see your creation. Did you know you can add photos on Pinterest under the recipe Pin? I can't wait to see a photo of your creation there. You find me with @veeatcookbake.