Vegan Feta Chickpea Skillet with Spinach - A fast and delicious dinner which is whipped up in minutes. Prepare this one-pot skillet on weekdays and serve it with delicious Naan bread. Vegan | Vegetarian | Gluten-free | Dairy-free | Lactose-free | plant-based


Vegan Feta Chickpea Skillet with spinach and tomatoes - A light dinner
Do you always eat some light meals for dinner which do not lay heavy in your stomach!? If so you will love this fast vegan feta chickpea skillet with spinach and tomatoes. I'll like to use my homemade vegan feta cheese, which is easy to make. You need just a bit more time ahead. You can also use a purchased feta alternative. What cheese do you miss or you would miss with on a plant-based diet?
What should you eat with this vegan feta chickpea spinach skillet?
When you are a Carby than you can eat everything with it from potatoes, rice, pasta to bread. We eat mostly naan or pita bread. And we love to tunk the bread in this heavenly dish, and what is better than to do this?! This vegan feta chickpea skillet is naturally gluten-free and as a gluten-free side you can eat easily filling brown rice or potatoes.

This vegan feta cheese chickpea spinach pan is
light dinner
versatile side dishes
easy to cook
very yummy
If you like this recipe "vegan feta chickpea pan", check it out here:
Try my homemade feta cheese. It is perfect to use it like you would use normal Feta. Or this veggie quiche with Crumbs. If you like quick food then check out this super fast carbonara.
You like the recipe? Do not forget to Pin on Pinterest!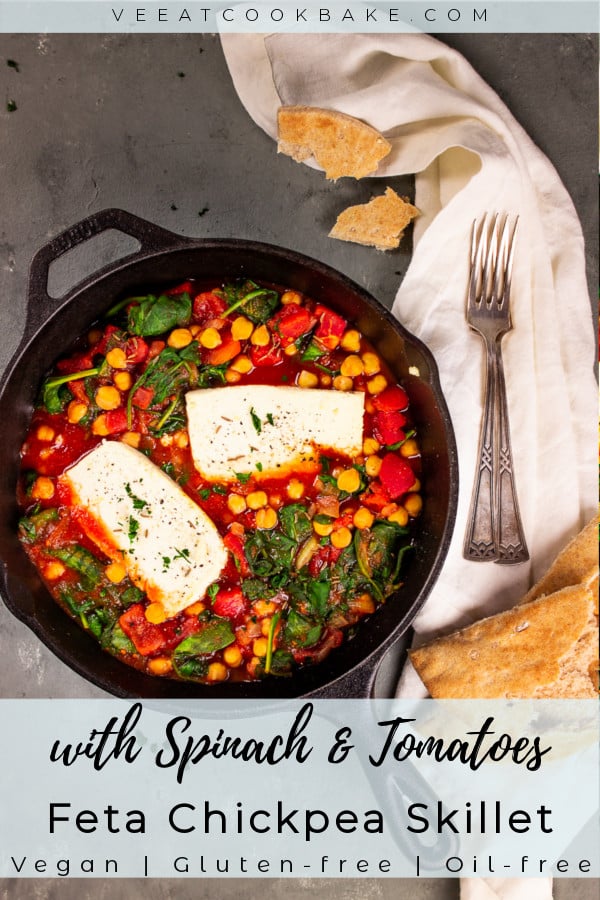 ---
Have you tried the recipe?
If you did it, be so nice ♥ and let me know by rating the recipe and writing what you
think about it. Tag me on Instagram or Facebook too. I am @veeatcookbake and my hashtag is #veeatcookbake. So that I can see your creation. Did you know you can add photos on Pinterest under the recipe Pin? I can't wait to see a photo of your creation there. You find me with VeeatCookBake.
---

This post may contains affiliate links and I may receive a very small commission if you buy through these links at no extra cost. Thank you very much for supporting Ve Eat Cook Bake! More information can be found here.
---
---