With this delicious, vegan creamed savoy cabbage with carrot salmon and rice you get a delicious recipe, which turns into a pure taste experience. A creamy savoy cabbage with a refreshing lemon note and a touch of nutmeg paired with the smoked carrot salmon and brown rice. The fresh ingredients are not only healthy but in this combination a pure Soulfood. A perfect midweek dinner or prepare this as a special meal for your guests. vegan | oil-free | plant-based | whole foods | gluten free | vegetarian | dairy-free | refined sugar free

Vegan creamed savoy cabbage with carrot salmon and rice - veggie disliker have no chance
This deliciously tasty creamed savoy cabbage with carrot salmon tastes indescribably good. The neighbor of my grandmother would say veeery delicious. In this delicious dish with the combination of the spices and the creamy sauce, veggie haters will be delighted. Not only my husband found this food irresistibly tasty, even my daughter could not get enough of it - if this does not speak for the dish;)

A whole food plant based dinner with the vegan creamy savoy cabbage and carrot salmon
With all the natural ingredients you will not only get a tasty dish which is pure comfort. You also get a super healthy dinner which is full of vitamins and nutrients. This vegan creamed savoy cabbage does not require any highly processed oils and tastes super refreshing with the help of the lemon. The vitamin C of the lemon helps you to absorb iron better. If you do not find savoy cabbage in the store, just take a normal green cabbage or Chinese cabbage or try spinach / kale.

I hope you like this vegan creamed savoy cabbage, it is:
healthy
wholesome
a pure comfort food
prepared quickly
More vegan Recipes you may like:
---
Have you tried the recipe?
If you have, be so nice ♥ and let me know by rating the recipe and writing what you think about it. Tag me on Instagram or Facebook too. I am @veeatcookbake and my hashtag is #veeatcomforts. So that I can see your creation. Did you know you can add photos on Pinterest under the recipe Pin? I can't wait to see a photo of your creation there. You find me with VeeatCookBake. I will share your photos on Instagram and Facebook.
---
Now finally to the vegan savoy cabbage recipe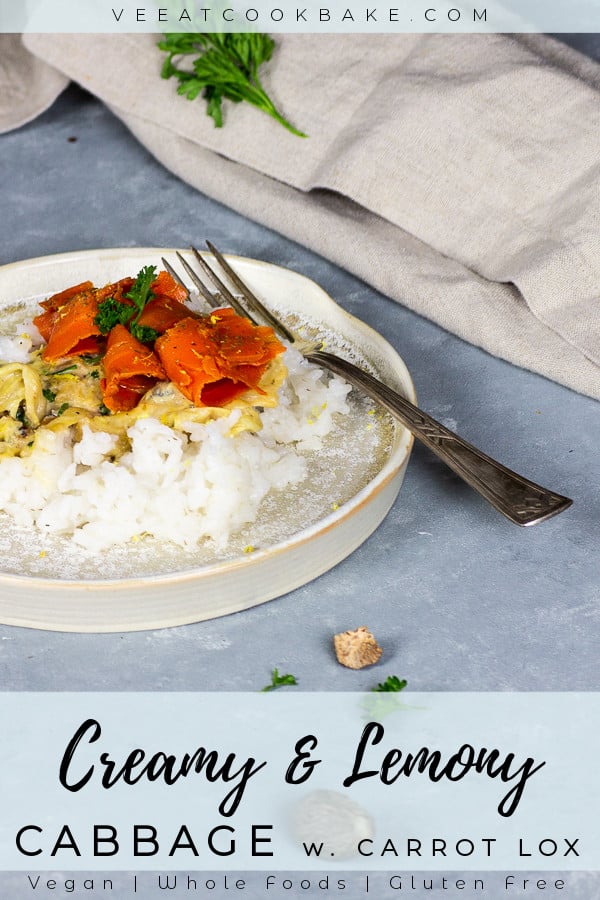 ---
---