If you're looking to get more creative with sauerkraut, why not try out this flavorful and surprisingly easy-to-make vegan sauerkraut soup? With only a few simple ingredients - likely already stashed away in your pantry at home - you can whip up an amazing vegan dish.
Just 30 minutes of cooking will give you a delicious taste experience that is perfect for lunch or as a light dinner. So make yourself some tasty sauerkraut soup tonight!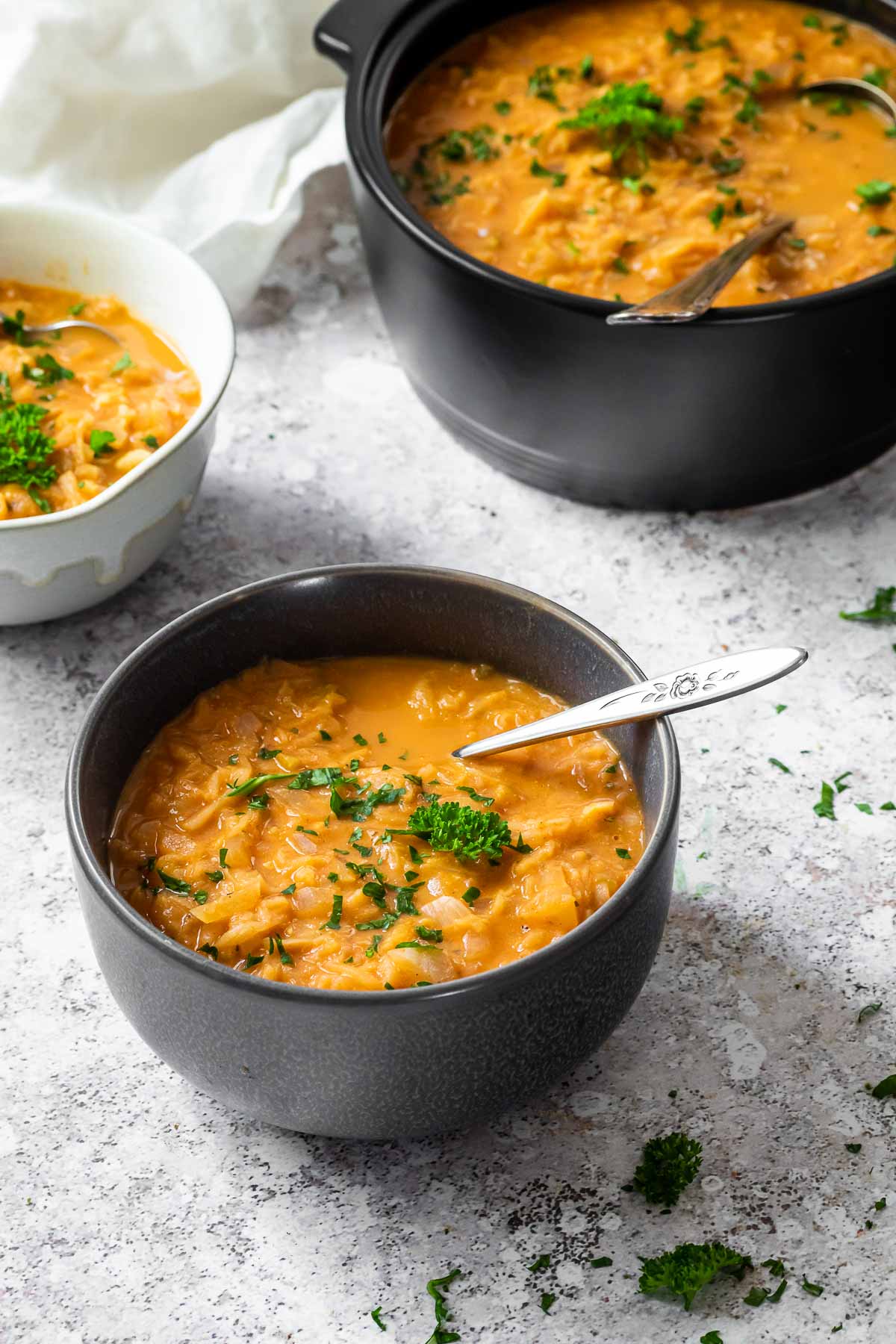 This sauerkraut soup is inspired by my other German recipes like onion tart. It pairs well with crusty bread like homemade baguette.
As an Amazon Associate, I earn from qualifying purchases. This post may contain affiliate links. Read More
Jump to:
Ingredients
Before we go straight to the vegetarian sauerkraut soup recipe, I would like to show you what's in this vegan sauerkraut soup.
You can find the ingredients with quantities and the recipe to print out on the recipe card below.
Onion
Garlic Cloves
Celery
Sauerkraut
Vegetable Broth
Paprika Powder
Smoked Paprika
Tomato Paste
Marjoram
Raw Cashews
White Beans, canned
Water
Sea Salt
Black Pepper
Topping
Fresh Parsley
Roasted Sweet Potato
Fresh Dill or other Fresh Herbs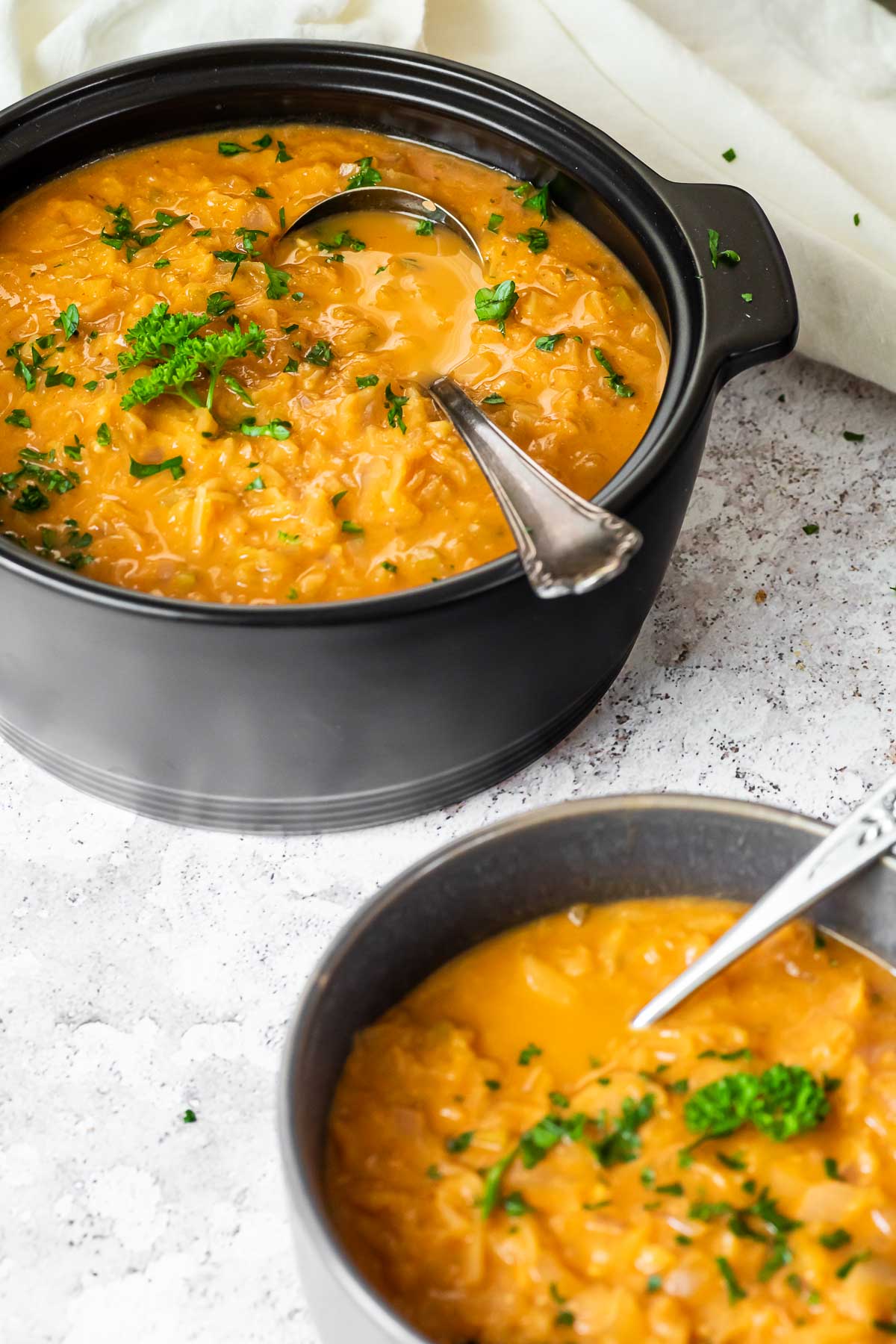 Instructions
Finely dice the onions and garlic cloves. Sauté them in a large enough pot with a little water on a medium-high heat. Add a sip of water occasionally if you notice the bottom is turning a little brown or onions are starting to stick to the pot.
In the meantime, dice the celery finely and add them to the onions.
While you are sautéing the celery with the onions, blend the cashews, drained white beans and water in a high-speed blender until they are creamy.
Now add the sauerkraut and vegetable broth to the onions and stir it vigorously. Now season with paprika powder, tomato paste, pepper, marjoram, chicken stock powder, caraway seeds. Vigorously stir the soup and let it simmer on low for about 10 minutes.
Now add the cream and stir the soup. Season the soup to your own taste buds.
Hint: You can easily make this soup in an Instant Pot or Slow Cooker. I would cook the soup in the slow cooker for 3 hours on low heat.
Make this soup, check out my other favorite vegan soup recipes like tomato soup, potato soup, dal with red lentils, lentil soup and my other vegan soup recipes.
Substitutions
Let's take a look at what we can replace in the sauerkraut soup. Here I would like to give you options to adapt the soup to your diet.
Tomato Paste: If you can't eat tomatoes, you can also try to replace the tomato paste with e.g. paprika paste or pumpkin purée. I haven't tried it myself, but I can well imagine that it tastes very good.
Vegan Chicken Stock Powder: You can find the recipe for the powdered chicken stock on my blog. You can also use a purchased one or leave it out. In my opinion, it gives the sauerkraut soup a special taste.
Cashews: The cashews make the sauerkraut soup nice and creamy. However, if you don't want to use cashews, you can use sunflower seeds. You do this in the same way as with the cashews. Depending on the situation, you have to let the soup simmer a little longer, since sunflower seeds don't thicken as nicely as cashews. You can also use coconut milk instead.
White Beans: Do you want to prepare the sauerkraut soup without legumes? No problem. Instead of the white beans, just use more cashews or sunflower seeds. I like to use the white beans to integrate more nutrients and so that the soup is not too high in fat.
Sauerkraut: Use store-bought sauerkraut or homemade. You could easily use some green cabbage. Sauerkraut is made from green cabbage. It will not have the classic sauerkraut taste, though.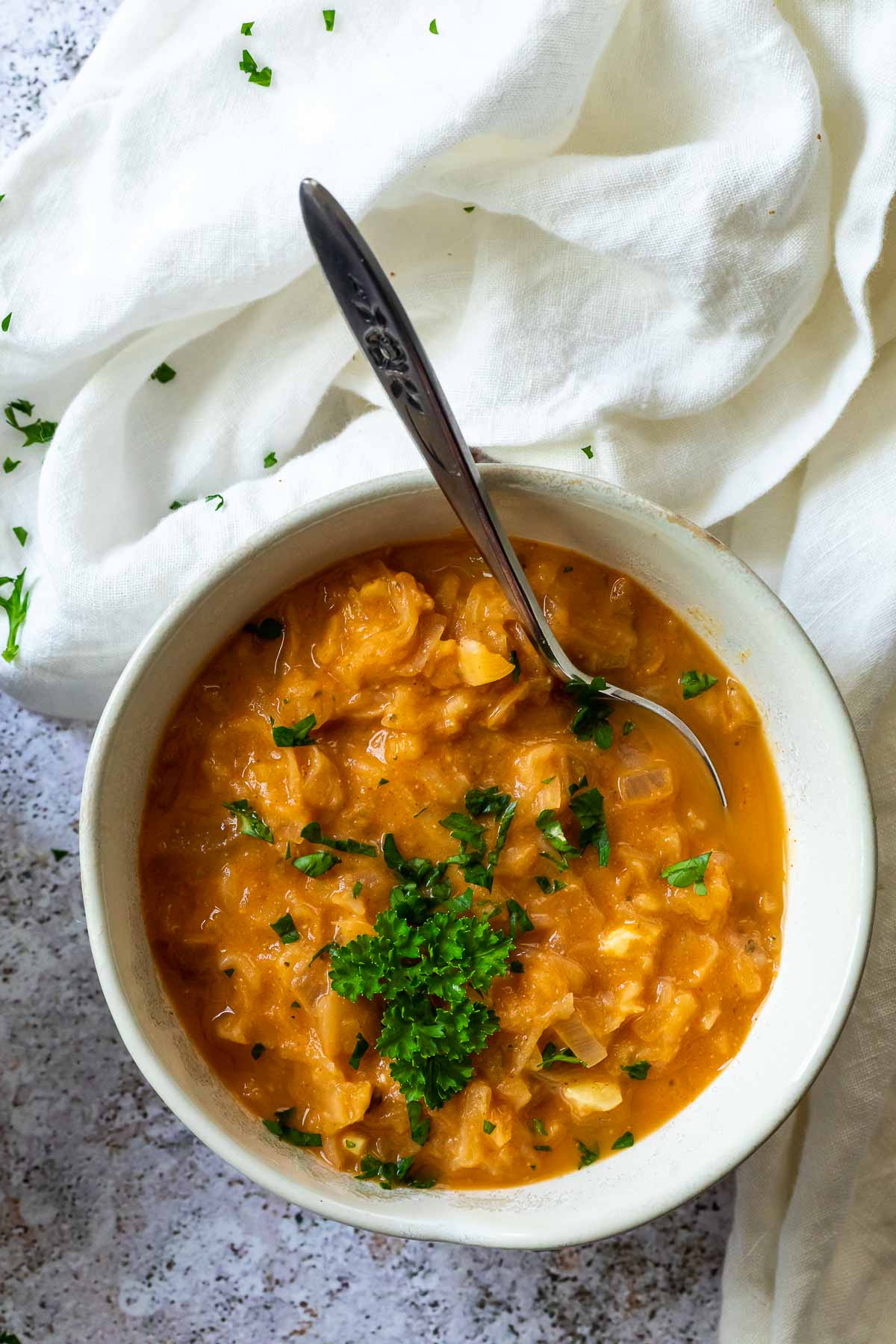 Variations
Italian Seasoning: Add some Italian herb seasoning.
Spicy: Fire-roasted tomatoes with chilies, cayenne pepper, red pepper flakes will add a nice kick.
Beans: You want to add more plant-based protein, add some kidney beans, green beans or black beans for a sauerkraut black bean soup.
Potatoes: I love the sauerkraut potato combo. Add some diced Yukon gold potatoes to this creamy cabbage soup.
Citrus: Add some lime juice or lemon juice. This will add some more vitamins c.
Umami: You want to add more umami flavor, add some soy sauce or coconut aminos to this delicious soup.
Equipment:
Some kitchen tools that will help you make this soup.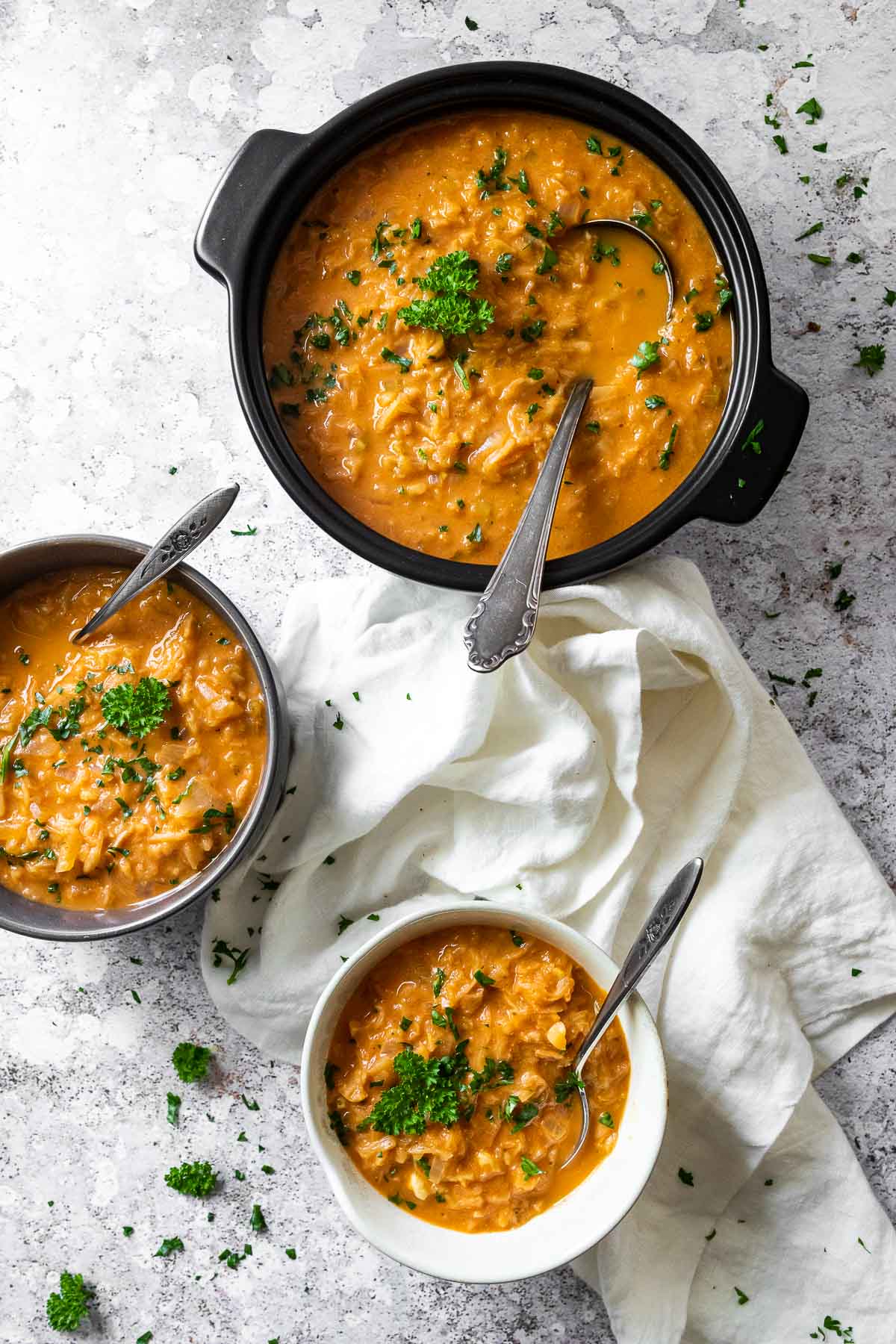 Serving Options
You can serve this sauerkraut soup as a starter or as a light main course. You can either serve rolls or bread with it. Serve some brown rice with this easy soup recipe. I think the sour cabbage soup is a full meal and doesn't need any side dishes. However, if you are missing carbs, you can make the soup with a few potatoes.
Storage
Do you have some leftovers from the soup and don't really know what to do with them? Here I'll show you how to store it.
How to Refrigerate It? You can store them in the refrigerator in an airtight container for about 4-5 days. To warm up, simply heat the soup in a pot over medium heat or briefly put in the microwave. I love to use glass container.
How to Freeze It? This vegan sauerkraut soup can also be frozen and prepared in large quantities. Simply freeze the sauerkraut soup in portions in freezer-safe containers. Take them out the night before and thaw them in the refrigerator.
Meal Prep
This healthy soup is great as a meal prep, and you can prepare it 2-3 days in advance and then all you have to do is heat it up.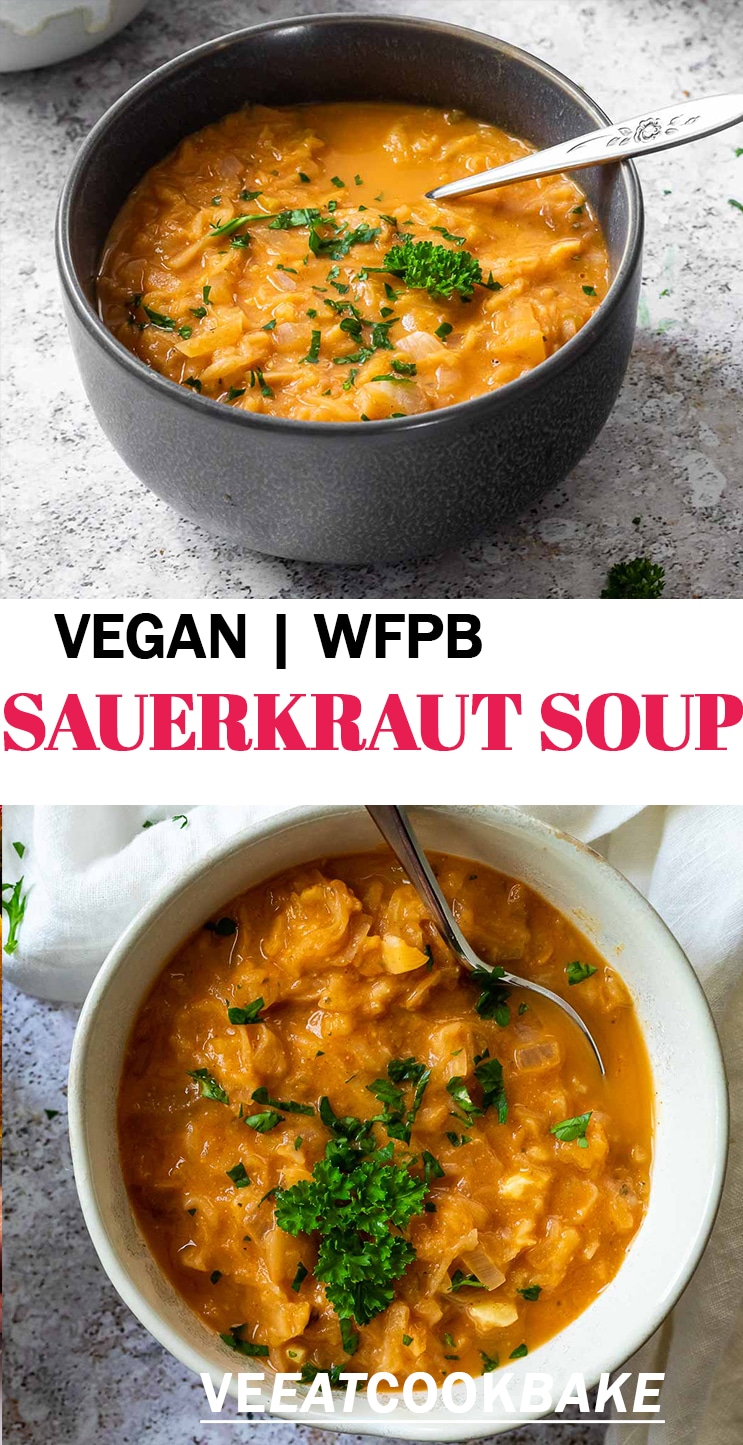 Tips
Add variety to the soup and add a few carrots or other vegetables.
Make sure that you caramelize the onions properly, they give the soup a wonderful note.